The Hitachi Deskstar 5K4000 represents the first major leap in hard drive capacity we've seen in over a year. The 5K4000 provides 4TB of bulk storage coupled with Hitachi's CoolSpin technology to deliver quiet and power-friendly operation. Along with big capacity, the 5K4000 gets an updated SATA 6Gb/s interface, 32MB cache buffer and delivers media transfer rates up to 162MB/s.
The Hitachi Deskstar 5K4000 represents the first major leap in hard drive capacity we've seen in over a year. The 5K4000 provides 4TB of bulk storage coupled with Hitachi's CoolSpin technology to deliver quiet and power-friendly operation. Along with big capacity, the 5K4000 gets an updated SATA 6Gb/s interface, 32MB cache buffer and delivers media transfer rates up to 162MB/s.
The Deskstar 5K4000 takes over as the premier offering in the "green" hard drive space. With hard drive market consolidation and the exit of Seagate from the green drive business, being the premier offering isn't as hard as it used to be. That doesn't mean it isn't important though, Hitachi has long stood out as an innovator in the hard drive space. With the Western Digital deal expected to close soon, the combined talent should continue to drive development and secure Hitachi/WD as the go to vendor for consumers who want big hard drive capacity with lower operating costs.
With the 5K4000, Hitachi isn't breaking a ton of new engineering ground, they're leveraging their five-platter design that's long been a staple of Hitachi hard drives. Of course the 800GB platters are more dense than the 600GB platters used in the Deskstar 5K3000, offering end users a 33% bump in total capacity. Other highlights include Advanced Format (4K), which allows for higher hard drive capacities and increased error correction capabilities, and Hitachi's eighth-generation Advanced Power Management.
The Hitachi Deskstar 5K4000 is available in a single 4TB capacity option with a street price of $370. Hitachi includes mounting screws in the retail kit, along with three year warranty and 3GB of free online backup.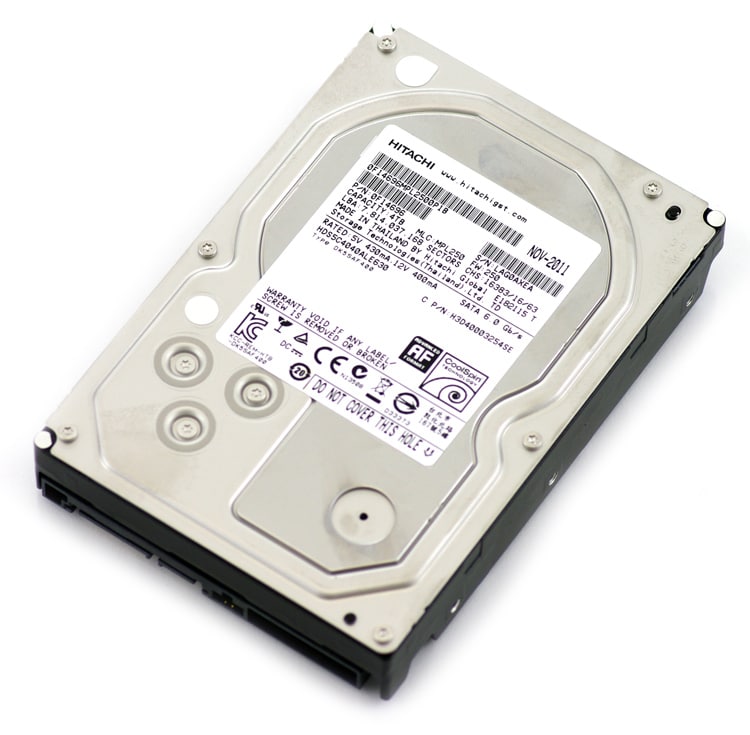 Hitachi Deskstar 5K4000 Specs (HDS5C4040ALE630)
Interface – SATA 6Gb/s
Max. areal density (Gbits/sq. in) – 443
Sector Size – 512e
Data buffer – 32MB
Media transfer rate – 162 MB/s
Error rate (non-recoverable, bits read) – 1 in 1014
Load/unload cycles – 600,000
Startup (A, max.) 1.2 (+5V) & 1.5 (+12V)
Idle Avg – 4.9w
Dimensions – 101.6mm x 147mm x 26.1mm
Weight (typical) – 690g
Environmental: Operating

Shock (half-sine wave (G 2ms)) 70
Vibration, random (G RMS 5 to 500 Hz) 0.67 (XYZ)
Relative humidity (non-condensing) 8% to 90%
Ambient temperature 5 to 60C

Idle (Bels, typical) 2.5
Three year warranty
Aesthetics
The Hitachi 5K4000 has a clean appearance with understated silvery top panel and black on white drive sticker. Hitachi doesn't put a huge emphasis on advertising their brand on the drive itself, where others like Western Digital color coordinate the drive classes with the brand logo displayed prominently.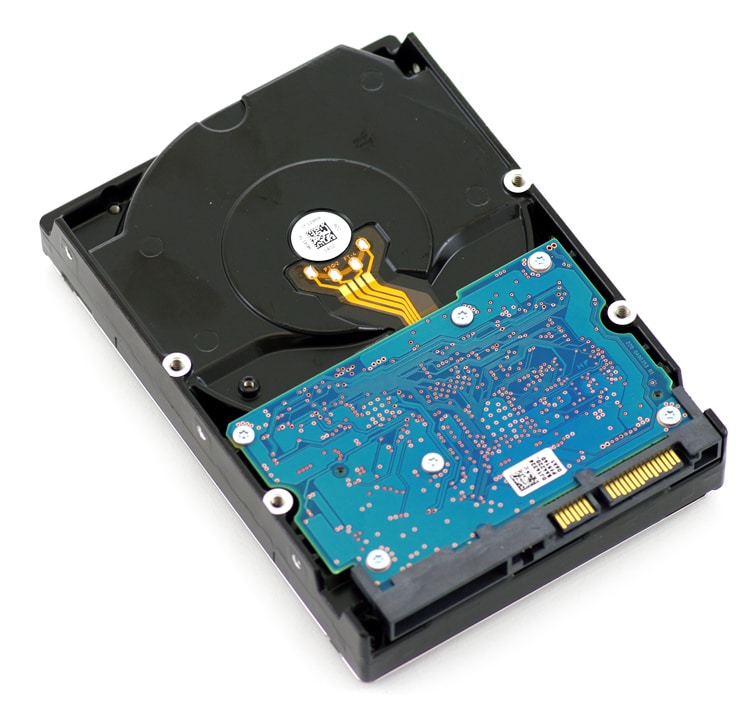 The bottom of the drive is basic, following the traditional design of having the main circuit board components facing inwards. This allows certain parts to shed heat into the drive body for better cooling management as well as preventing components from being knocked off when roughly handled.

The front of the 5K4000 includes the standard SATA power and data connection, with a single jumper section. No mention of the jumper pins are given on the drive cover, although one of the Hitachi service manuals make note that it is used to enable Power-up in Standby. This is primarily used to minimize startup power requirements of a computer as a whole, by allowing the controller to sequence how the drives connected to it are powered up. Instead of having a handful of drives all spinning up at the same time, the controller can stagger the spin up sequence.
Disassembly
It is fairly simple to take the Hitachi Deskstar 5K4000 apart with a Torx screwdriver. After removing six T-8 sized screws, the circuit board lifts up easily exposing the underside of the hard drive and a small vibration isolation pad.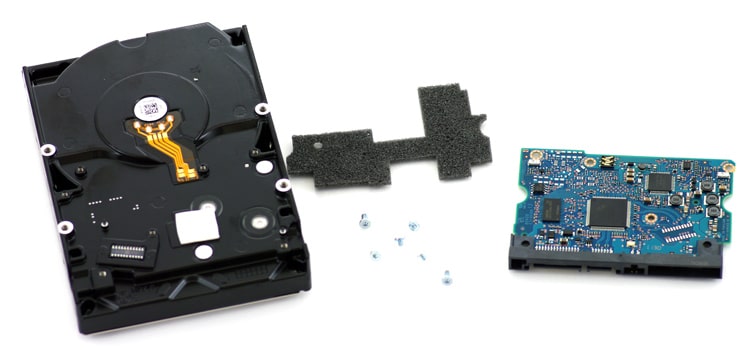 Hitachi uses a thin foam sheet in-between the circuit board and drive body for vibration dampening, as well as a thermal pad to pull heat away from the controller.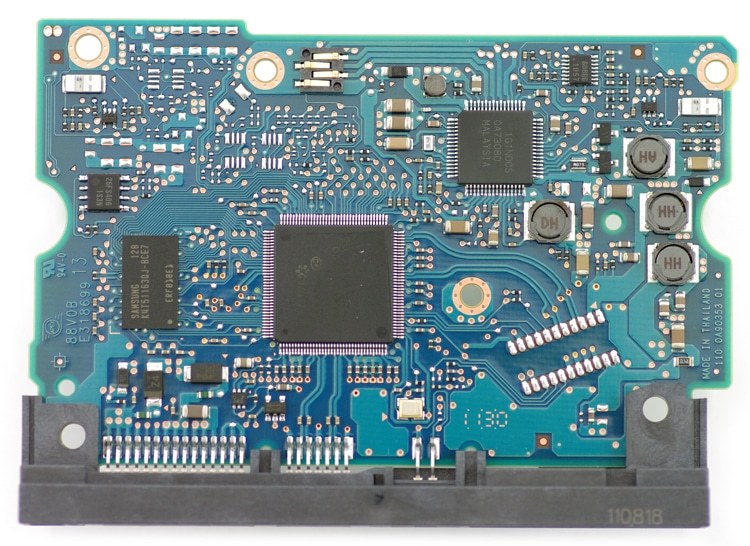 The 5K4000 is powered by a LSI TNN6F37020Q controller, with a 64MB K4T51163QJ-BCE7 Samsung DDR2 memory module for cache, although only 32MB is stated as being utilized. Overall a very well-organized layout on this particular drive.
Synthetic Benchmarks
The Hitachi Deskstar 4K5000 has a SATA 6Gb/s interface, 4TB capacity, 5K spindle speed, five 800GB platter configuration and 32MB cache. The comparables used for this review include the following hard drives: Western Digital Caviar Green (3TB, 5400 RPM, 4x750GB, 64MB cache), Western Digital AV-GP (3TB, 5400 RPM, 4x750GB, 64MB cache), Western Digital Caviar Green EARS (2TB, 5400 RPM, 4x500GB, 64MB cache), Samsung Spinpoint F4EG (2TB, 5400 RPM, 3x667GB, 32MB cache) and the Seagate Barracuda Green (2TB, 5900 RPM, 3x667GB, 64MB cache). All drives are tested on the StorageReview client testing platform.
Hitachi claims a peak media transfer rate of 162MB/s for the 5K4000 which applies to sequential read speed from the drive. In our first test we look at large-block 2MB sequential read and write performance of the Hitachi Deskstar 5K4000 using IOMeter.

In a straight line performance test the 4TB Hitachi DeskStar 5K4000 measured 125.5MB/s read and 121.9MB/s write. This put it in the middle of the pack in terms of transfer speed.
Our next test looks at large-block random transfer performance, still using IOMeter.

In our random transfer test the 5K4000 measured 48.4MB/s read and 24.6MB/s write. Those speeds put it towards the bottom of the pack in read speed, and pretty far under in write speed. As the first low-power 4TB drive we have reviewed, it's hard to say how other drives might perform in this area.
Next we turn to small-block random transfers in our 4K IOMeter test.


In random 4K transfer conditions the Hitachi 5K4000 measured 49.6 IOPS or 0.19MB/s read and 55 IOPS or 0.21MB/s write.
As a factor of 4K write speeds, our next test measured write latency. We look at both average and peak response times in our 4K transfer test.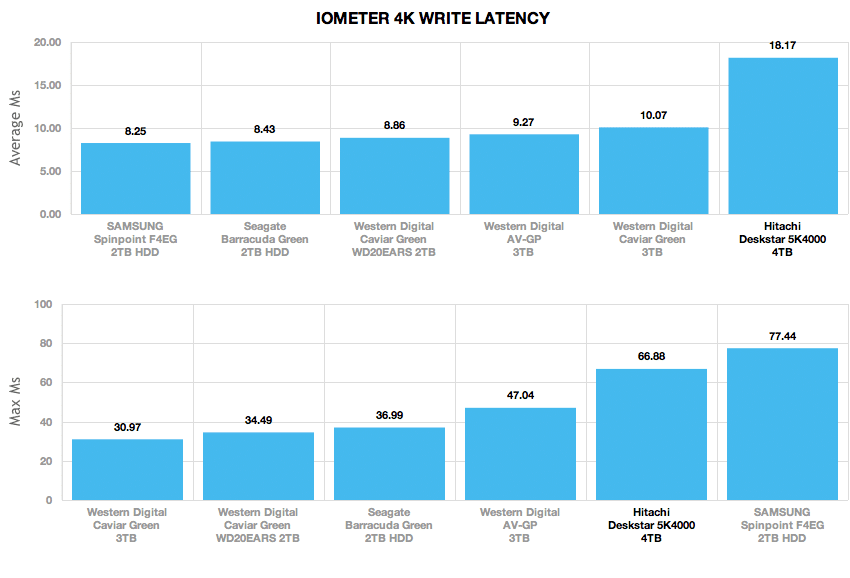 The Hitachi Deskstar 5K4000 measured an average response time of 18.2ms with a peak of 66.9ms.
Using CrystalDiskMark we measured performance from the inner and outer tracks of the 5K4000, showing fastest and slower performance depending on where data resides on the platters.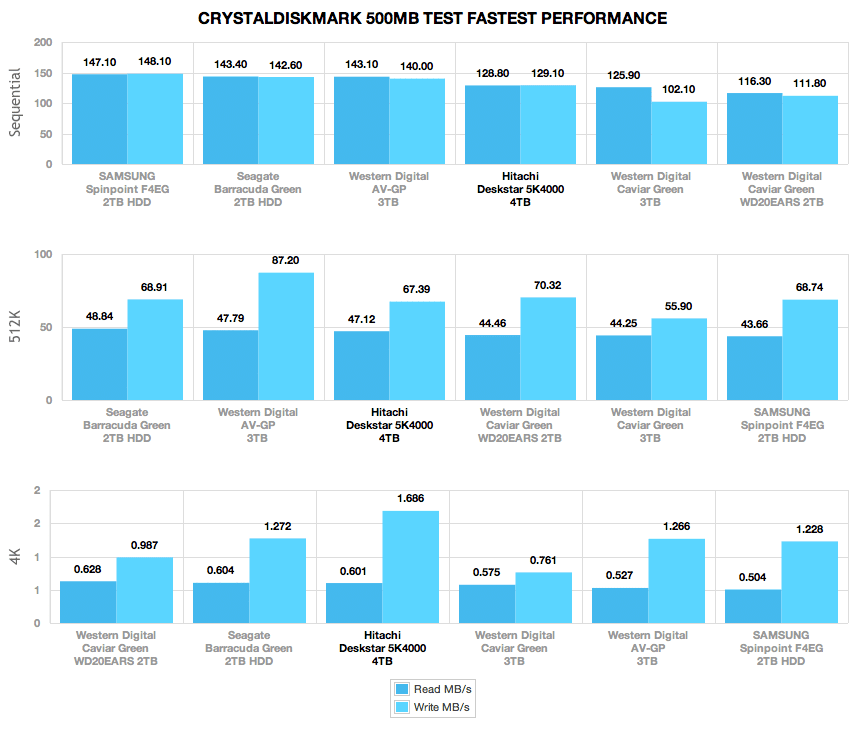 On the fastest portion of the drive the speeds measured 128.8MB/s read and 129MB/s write.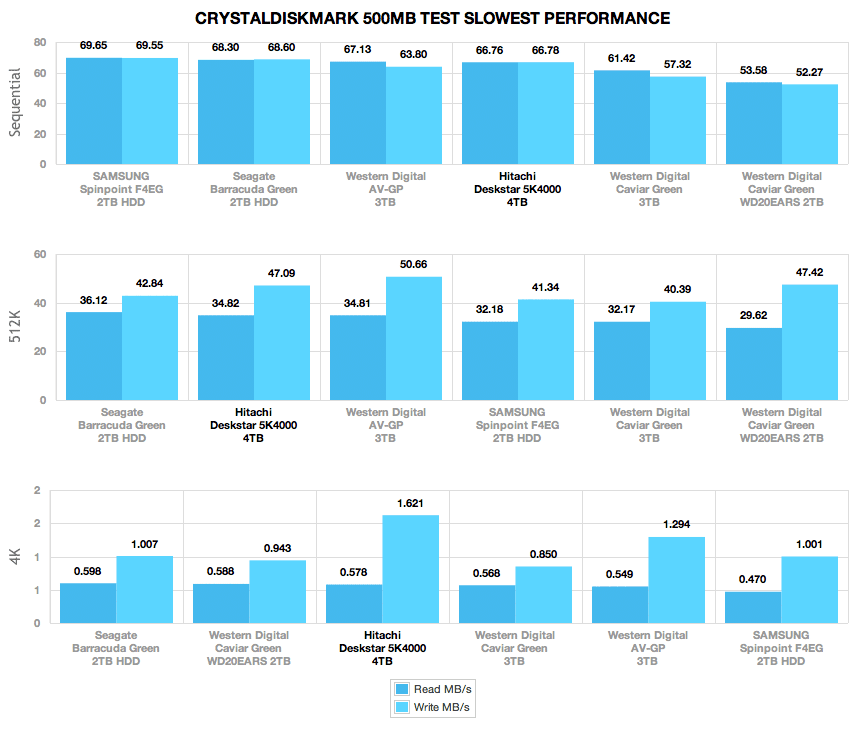 On the slowest section of the drive speeds measured 66.76MB/s read and 66.78MB/s write.
Our last group of IOMeter synthetic benchmarks looks at mixed-load server profiles including Database, Workstation, File Server, and Webserver. The Hitachi 5K4000 stayed towards the middle section of the pack under our mixed workload tests.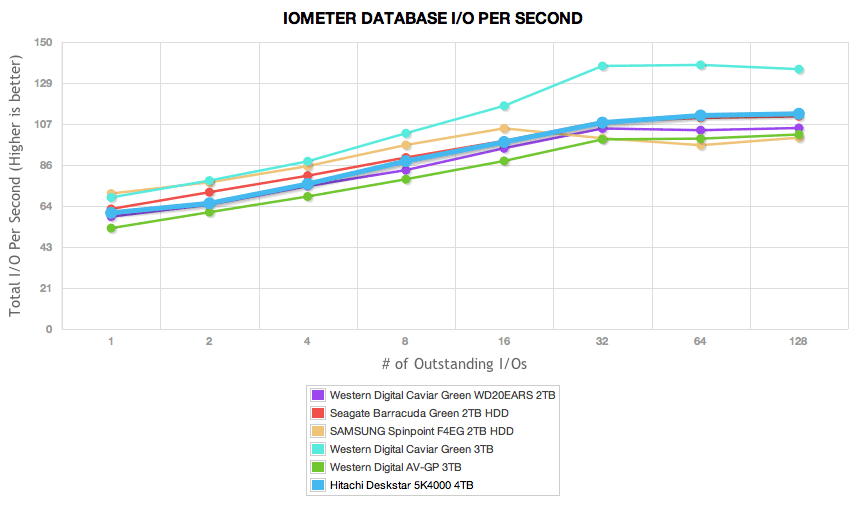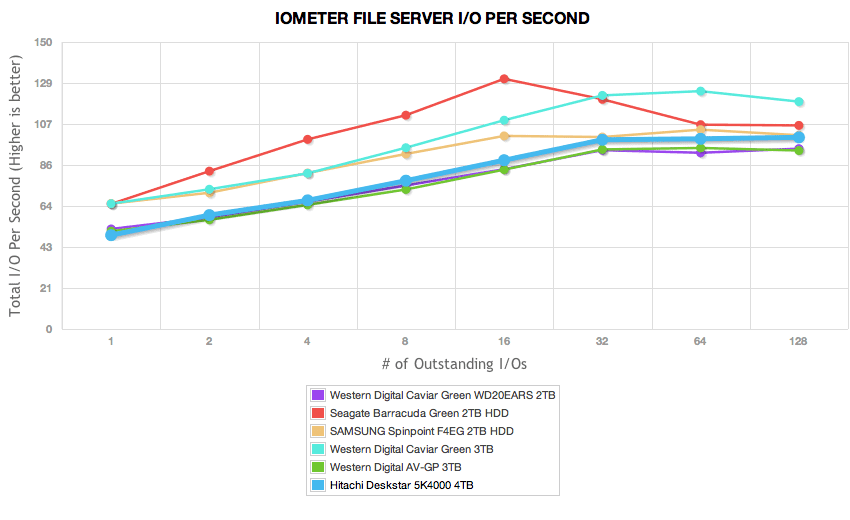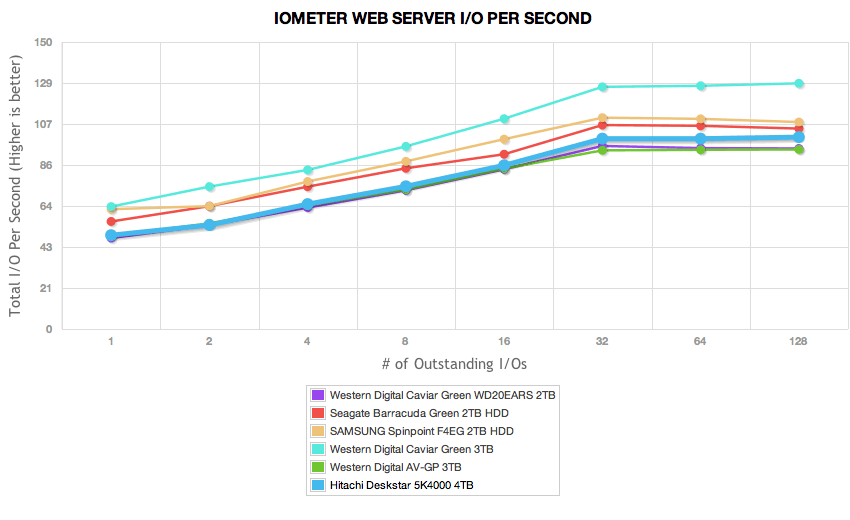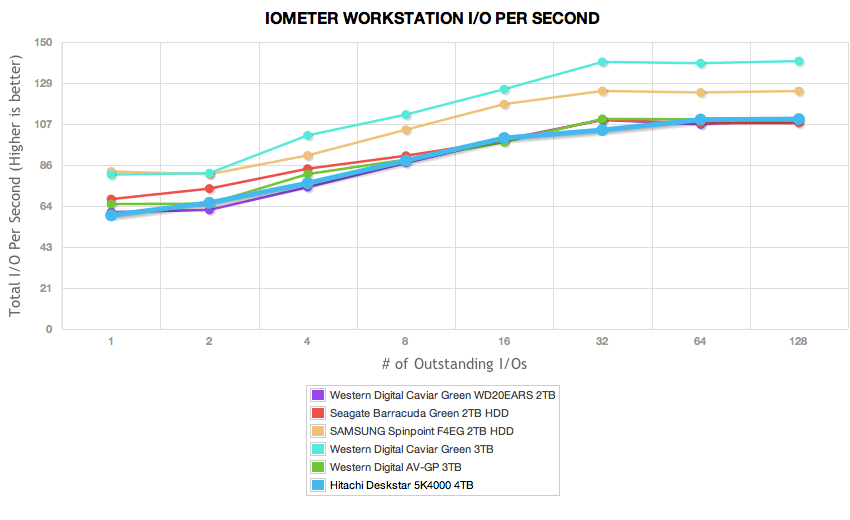 Real-World Benchmarks
In our HTPC trace we include: playing one 720P HD movie in Media Player Classic, one 480P SD movie playing in VLC, three movies downloading simultaneously through iTunes, and one 1080i HDTV stream being recorded through Windows Media Center over a 15 minute period. Higher IOps and MB/s rates with lower latency times are preferred. In this trace we recorded 2,986MB being written to the drive and 1,924MB being read.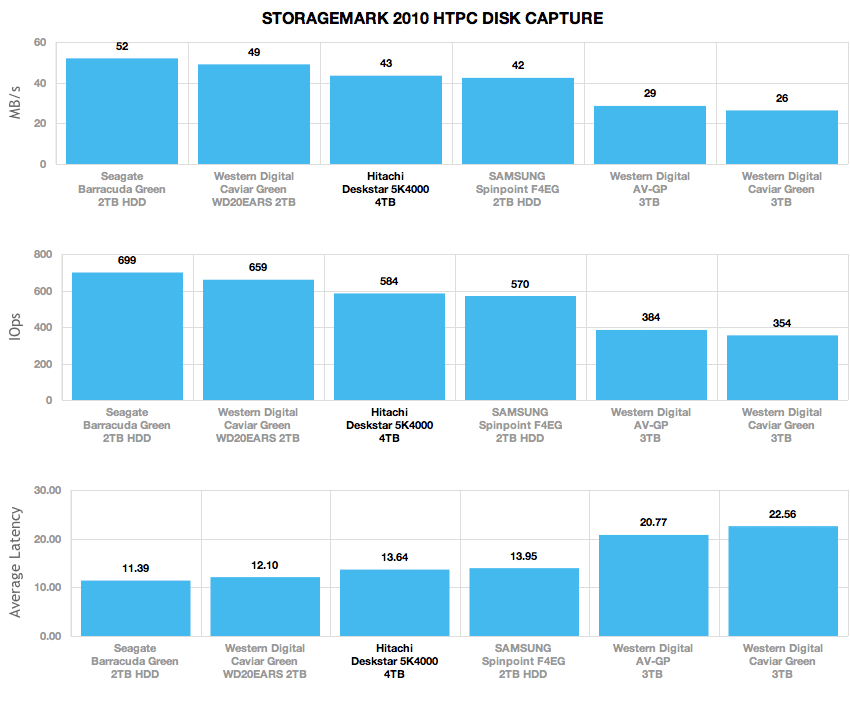 The Hitachi 5K4000 came in solidly at the middle of the pack of low-power hard drives, measuring 584 IOPS and 43.44MB/s average during the trace.
Our next trace covers disk activity in a gaming environment. Unlike the HTPC trace, this one relies heavily on the read performance of a drive. To give a simple breakdown of read/write percentages, the HTPC test is 64% write, 36% read, the Productivity test is 59% write and 41% read, while the gaming trace is 6% write and 94% read. The test consists of a Windows 7 Ultimate 64-bit system pre-configured with Steam, with Grand Theft Auto 4, Left 4 Dead 2, and Mass Effect 2 already downloaded and installed. The trace captures the heavy read activity of each game loading from the start, as well as textures as the game progresses. In this trace we recorded 426MB being written to the drive and 7,235MB being read.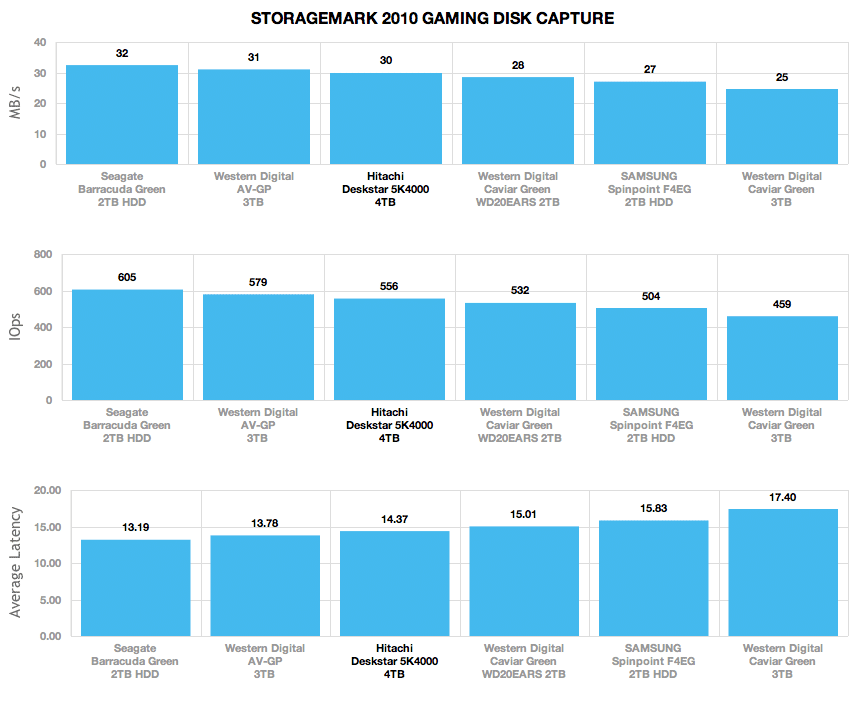 In a gaming environment the Hitachi Deskstar 5K4000 also performed fairly well, with an average speed of 555 IOPS and 29.84MB/s
Power Consumption
One of the main draws to low-power hard drives are their power sipping capabilities in a bulk storage environment. With multiple drives generally found in a NAS or RAID environment running 24/7, saving power helps cut utility fees. Power also has a direct correlation with thermal output, so less power used will also mean less heat expelled into the surrounding environment.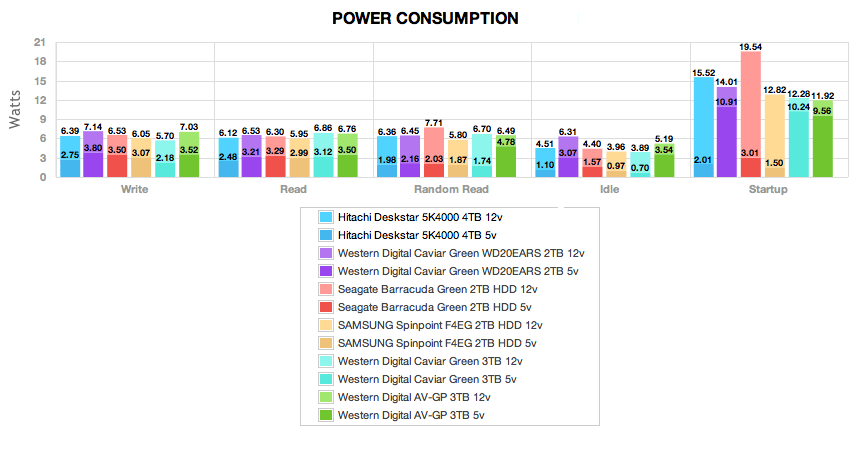 Power usage from the Hitachi Deskstar 5K4000 ranked middle of the pack, below the Western Digital 3TB models. Startup requirements measured 15.52 watts, with active power usage measuring just over 6 watts. At idle the 5K4000 used 4.51 watts, just under the rated spec.
Conclusion
While not providing chart-topping speeds, the Hitachi Deskstar 5K4000 does offer reliable performance throughout, generally in the middle of the pack of green drives that aren't exactly perfect size comps. But that's what has happened in the eco-friendly hard drive space, there's been a lack of innovation or increased capacity options due to Seagate's exit from this segment and the pending wedding of Western Digital and Hitachi. The lack of attention to the green drive segment though is Hitachi's gain, as the 5K4000 will definitely find traction amongst those who want big capacity.
The use cases for the Deskstar 5K4000 are robust – NAS users who are bay constrained can now raise their total capacity by at least a third, or perhaps even 100% if still on 2TB drives. With all the SSD caching growth, a beefy 4TB sitting behind something like an OCZ Synapse also makes a ton of sense, since the SSD and caching software will deliver big performance, while the 5K4000 holds more data than any other single drive. It's not just consumers who are going to benefit either; even the enterprise may let the low cost 5K4000 sneak into a datacenter where big cheap storage is more important than anything else, especially as they wait for the enterprise-grade Ultrastar 5K4000.
The 5K4000 is the first generally available 4TB bare drive to hit the market. While Seagate offers a 7,200 RPM 4TB Barracuda XT in an external enclosure, they haven't yet shipped a 4TB drive in bare form and WD hasn't announced a 4TB drive of any kind yet. Buyers then who want a high capacity drive have either the 5K4000 at 4TB or have to drop down to 3TB alternatives. The 5K4000 is a good performer relative to its category, so at least the one 4TB available is a good one.
Pros
Largest capacity hard drive on the market
Strong performance with mid 120MB/s read/write sequential transfer speeds
No power increase for the bigger capacity
Cons
Bottom Line
Eco-friendly storage still has big potential, especially as users find new and creative ways to give bulk storage more pep with caching and NAS systems grow into the home. Hitachi leverages tremendous depth of experience with the Deskstar 5K4000 to deliver steady performance that includes legendary reliability and a three-year warranty, the longest in the green drive segment.

Hitachi Deskstar 5K4000 at Amazon.com