The Micron RealSSD P400e is designed for the entry-level enterprise SSD space, an increasingly popular segment that is largely read centric, making it the perfect playground for low cost MLC SSDs. The P400e features Micron's home grown 25nm MLC NAND, SATA 6 Gb/s interface and Marvell controller. Micron uses the popular 2.5" form factor, but with a 7mm z-height, giving the P400e more flexibility for use within 1U servers and embedded applications like switches and routers.
The Micron RealSSD P400e is designed for the entry-level enterprise SSD space, an increasingly popular segment that is largely read centric, making it the perfect playground for low cost MLC SSDs. The P400e features Micron's home grown 25nm MLC NAND, SATA 6 Gb/s interface and Marvell controller. Micron uses the popular 2.5" form factor, but with a 7mm z-height, giving the P400e more flexibility for use within 1U servers and embedded applications like switches and routers.
The entry-level enterprise SSD space is one that's been a bit of a grey area for some time. These largely read-heavy uses don't require the endurance of more expensive SLC or even eMLC SSDs. That's why at times, enterprise users have even used substantially lower cost client SSDs in some of these applications as endurance isn't much of a concern, and even if the drive gets burned up, the cost of buying several client SSDs is still lower than enterprise specific alternatives. This mindset is shifting though, now that Micron and other Tier 1 SSD manufacturers are crafting low cost MLC SSDs specifically for this scenario.
The P400e lives a parallel life to the consumer focused Crucial m4 with much of the same build and design. They both leverage the same 25nm Micron MLC NAND and Marvell 9174 controllers. The core differences between the two SSDs are around firmware build and data path protection. The P400e has firmware that's tweaked for light enterprise use and offers enterprise data path protection that includes memory path error correction, which isn't found on client drives. While the P400e carries a higher price tag than the m4, the additional data protection and duty-specific firmware makes the P400e a compelling option for entry enterprise users who have been somewhat neglected until recently.
The Micron P400e is available in a range of capacities including 50GB, 100GB, 200GB and 400GB options. The 100GB and larger drives offer endurance of 175TB written, while the boot focused 50GB capacity comes in at 87.5TB. On the top end the RealSSD P400e delivers performance of 350 MB/s sequential 64K read, 140MB/s sequential 64K write and 50,000 random 4K read IOPS and 7,500 random 4K write IOPS. Our review model is the 200GB capacity.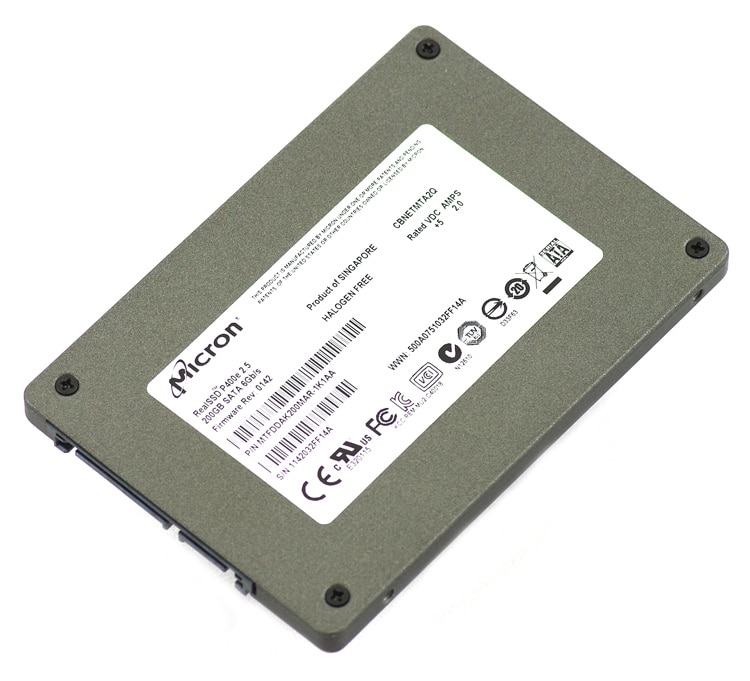 Micron RealSSD P400e Specifications:
Capacities Offered

50GB – MTFDDAK050MAR-1J1AA
100GB – MTFDDAK100MAR-1J1AA
200GB – MTFDDAK200MAR-1K1AA

186GB Usable / 256GB NAND
Firmware Tested – 0142

400GB – MTFDDAK400MAR-1K1AA

Micron 25nm Consumer MLC NAND Flash
Marvell 9174 SATA 6Gb/s Controller
RoHS-compliant package
SATA 6 Gb/s interface
7.0mm z-height
Industry-standard, 512-byte sector size support
Native command queuing support with 32-command slot support
ATA-8 ACS2 command set compliant
ATA security feature command set and password login support
Secure erase (data page) command set: fast and secure erase
Self-monitoring, analysis, and reporting technology (SMART) command set
50GB Performance

Sequential 64K Read: 350 MB/s
Sequential 64K Write: 100 MB/s
Random 4K Read: 50K IOPs
Random 4K Write: 7K IOPs

100GB, 200GB, 400GB Performance


Sequential 64K Read: 350 MB/s
Sequential 64K Write: 140 MB/s
Random 4K Read: 50K IOPs
Random 4K Write: 7.5K IOPs

Reliability

MTBF: 1.2 million device hours
Static and dynamic wear leveling
Uncorrectable bit error rate (UBER): <1 sector per 1015 bits read
Low power consumption

Endurance: Total bytes written (TBW)

50GB: 87.5TB
100–400GB: 175TB

SATA connector: 5V ±5%
2.5-inch drive: 100.5mm x 69.85mm x 7.0mm
Field-upgradable firmware
Operating temperature 0°C to +70°C
Design and Disassembly
The 200GB Micron RealSSD P400e has a design mirroring the look of the family of drives from Crucial and Micron. The case is very simple, with metallic gray paint. The body is made of metal alloy, with a sturdy metal top cover. The RealSSD P400e leverages the versatile Micron SSD case, which can be set up as either a 7mm or 9.5mm tall drive by switching the internal shim.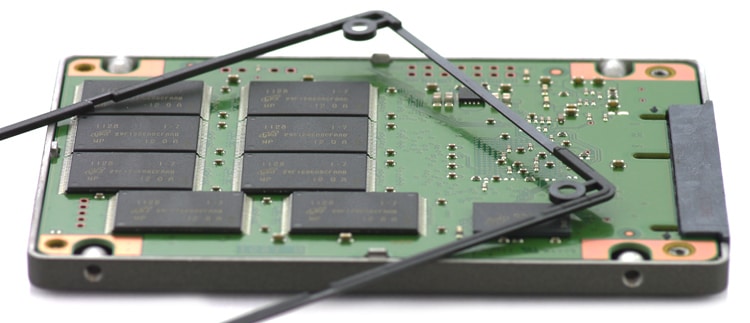 The front of the Micron RealSSD P400e offers the industry-standard SATA power and data connection. Service pins are located on the rear of the SSD, though all firmware updates are handled through software by burning an ISO image to a CD or DVD (or USB stick) and flashing the firmware through low-level operating system.

The design of the RealSSD P400e doesn't differ much from the client or other enterprise SSDs Micron sells. Opening the drive up shows a very similar layout to the 256GB Micron RealSSD C400 or the consumer-branded Crucial m4. One addition to the P400e though is a single thermal pad on the bottom half of the SSD that is designed to draw thermal energy away from the Marvell 9174 SATA 6Gb/s controller.

Utilizing the same Marvell 9174 controller also found in the consumer-oriented C400/m4, the P400e offers enhanced firmware features for enterprise usage. The most notable is the over-provisioning, which brings the drive capacity down from a raw 256GB to usable 186GB. This helps with background activities during heavy-write workloads, as well as increases the drive lifespan. This is important, as the P400e uses the identical consumer MLC NAND as the Crucial m4, instead of eMLC NAND found in many Enterprise-targeted SSDs.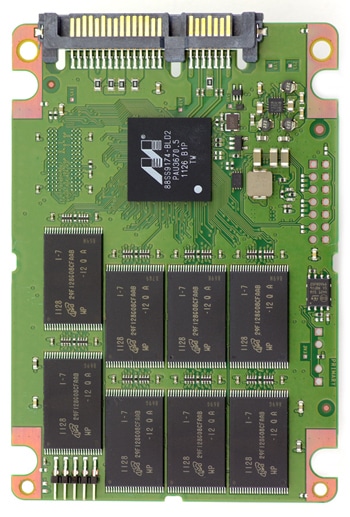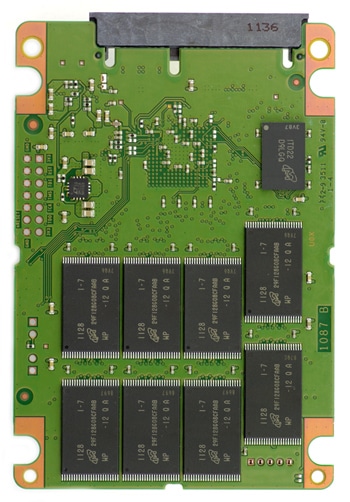 Both sides of the Micron P400e circuit board are populated with eight 16GB Micron 25nm consumer-MLC NAND pieces, giving it sixteen in total. This is the same PCB layout as the 256GB Crucial m4 or Micron C400.
Enterprise Benchmarks
The Micron RealSSD uses Micron's 25nm Consumer MLC NAND, a Marvell 9174 controller and a 6.0Gb/s SATA interface; our review unit is 200GB. The comparables used for this review include the following recently tested enterprise SSDs: Smart Storage XceedIOPS2 (200GB, SandForce SF-2582, Toshiba 32nm NAND, SATA), Micron P300 (100GB, Marvell 9174, Micron 34nm SLC NAND, SATA), Toshiba MKx001GRZB (400GB, Marvell 9032, Toshiba 32nm SLC NAND, SAS), the Samsung SM825 (200GB, Samsung S3C29MAX01-Y330, Samsung 30nm eMLC NAND, SATA), and the Hitachi Ultrastar SSD400M (400GB, Intel EW29AA31AA1 controller, Intel 25nm eMLC NAND, SAS). All enterprise SSDs are benchmarked on our enterprise testing platform based on a Lenovo ThinkServer RD240. All IOMeter figures are represented as binary figures for MB/s speeds.
Our first test looks at the speed in a sequential write environment with large block transfers. This particular test uses a 2MB transfer size with IOMeter, with 4k sector alignment and measures performance with a queue depth of 4. In this scenario Micron claims a read speed of 350MB/s and a steady-state write speed of 140MB/s for their 200GB P400e.

We measured a read speed of 394.24MB/s and an average write speed of 257.94MB/s in our large-block sequential transfer test. The read speeds were higher than those of the RealSSD P300, although the write speeds came in lower.
Our next test looks at a random access profile, but still maintaining a large block transfer size of 2MB, we start to see how performance varies in a multi-user environment. This test keeps the same queue depth level of 4 that we used in the prior sequential transfer benchmark.

In our random transfer test the Micron RealSSD P400e offered higher read speeds again compared to the P300, measuring 388.17MB/s compared to 299.33MB/s. Write speeds though measured lower, with the P400e averaging 79.52MB/s while the P300 had 98.87MB/s.
Moving to an even smaller random access transfer size of 4K, we get closer to the packet size that might be found in a heavy random access environment such as a server setting with multiple VMs accessing the same array. In the first test we look at expanded 4K read performance and how it scales from a queue depth of 1 to a maximum of 64. For reference Micron lists a peak 4K random read speed of 50,000 IOPS.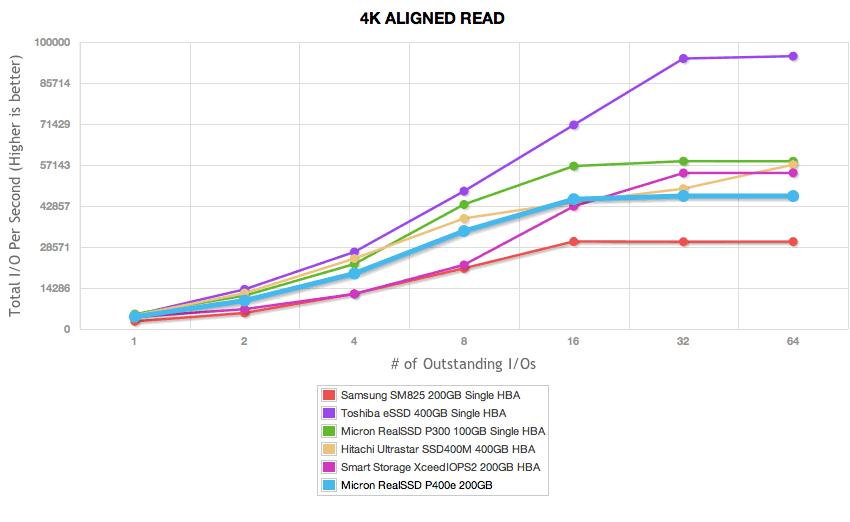 Random 4K read speeds from the P400e were very similar to those of the RealSSD P300, with similar ramping as the queue depth increased. We measured a peak of 46,330 IOPS at a queue depth of 64 while the P300 topped at 58,447 IOPS.
Our next test looks at 4K random write performance at a static queue depth of 32 and results are recorded and averaged once the drives have reached steady state. While IOPS performance is a good metric to measure steady-state performance, another key area of interest is around average and peak latency. Higher peak latency figures can mean certain requests can backed up under heavy continuous access. Micron lists the RealSSD P400e as having a 4K random write speed of 7,500 IOPS.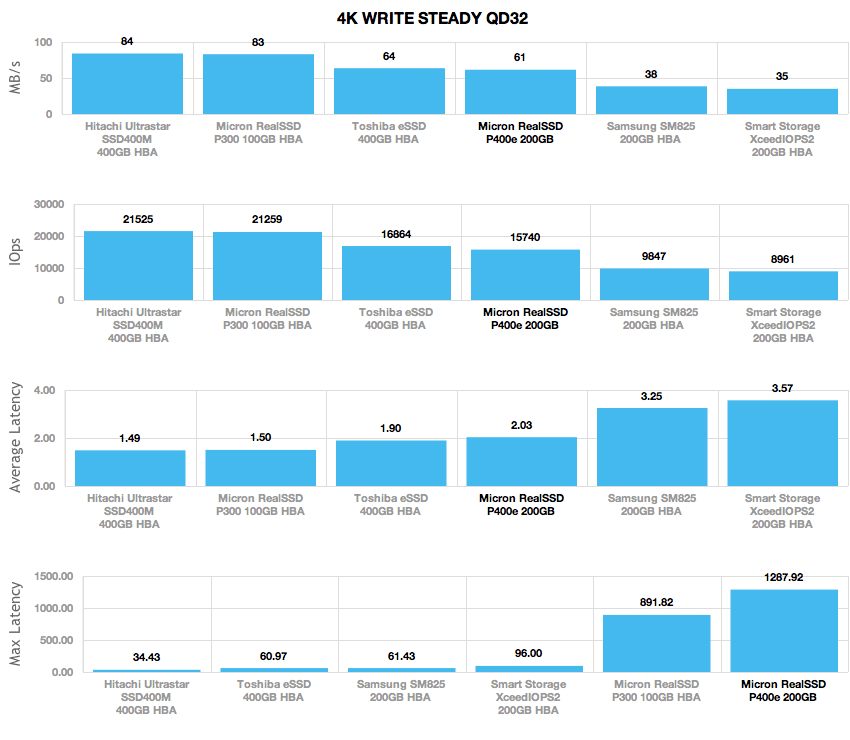 The Micron RealSSD P400e outperformed the spec sheet in our 4K steady-state benchmark (as well as the P300 originally), measuring 15,740 IOPS over the 7,500 IOPS listed. This compared to 21,259 IOPS from the RealSSD P300.
Our last series of synthetic benchmarks compare both enterprise drives in a series of server mixed-workloads with a static queue depth of 32. Like the synthetic benchmarks at the start of this review, these tests are also measured in steady state. Each of our server profile tests has a strong preference towards read activity, ranging from 67% read with our database profile to 100% read in our web server profile.
The first is our database profile, with a 67% read and 33% write workload mix primarily centered on 8K transfer sizes.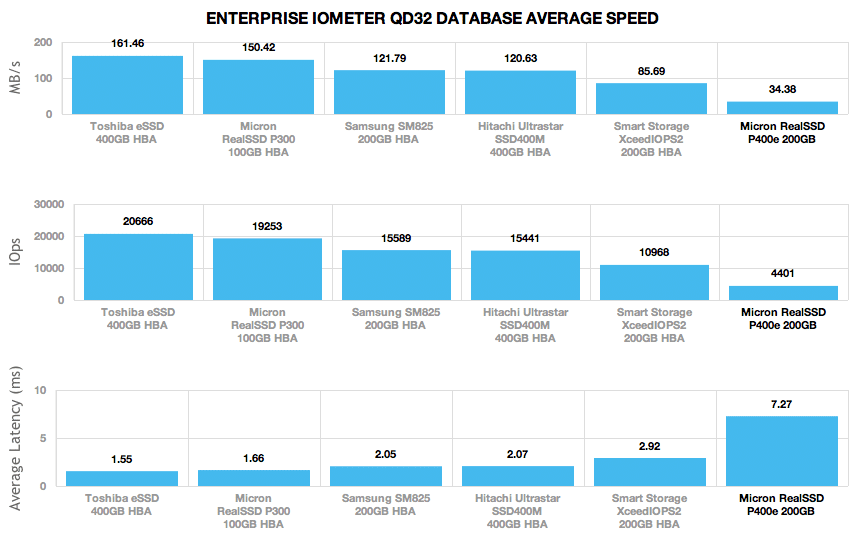 In our Database profile the Micron RealSSD P400e scored under the SLC and eMLC enterprise SSDs, as well as the Micron P300. It measured an average speed of 34.38MB/s or 4,401 IOPS.
The next profile looks at a file server, with 80% read and 20% write workload spread out over multiple transfer sizes ranging from 512-byte to 64KB.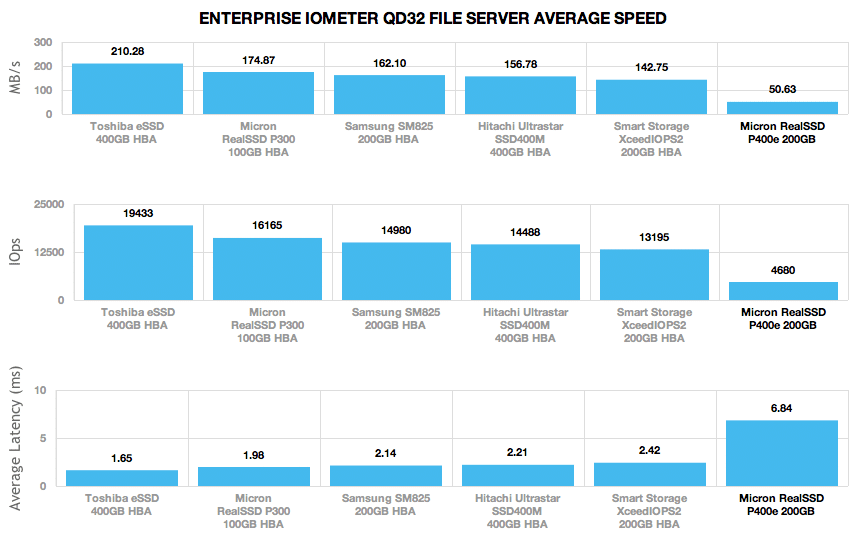 In the File Server workload the P400e again trailed behind the SLC and eMLC offerings, measuring 50.63MB/s or 4,680 IOPS average. This compared to 174.87MB/s and 16,165 IOPS from the P300.
Our web server profile is read-only with a spread of transfer sizes from 512-byte to 512KB.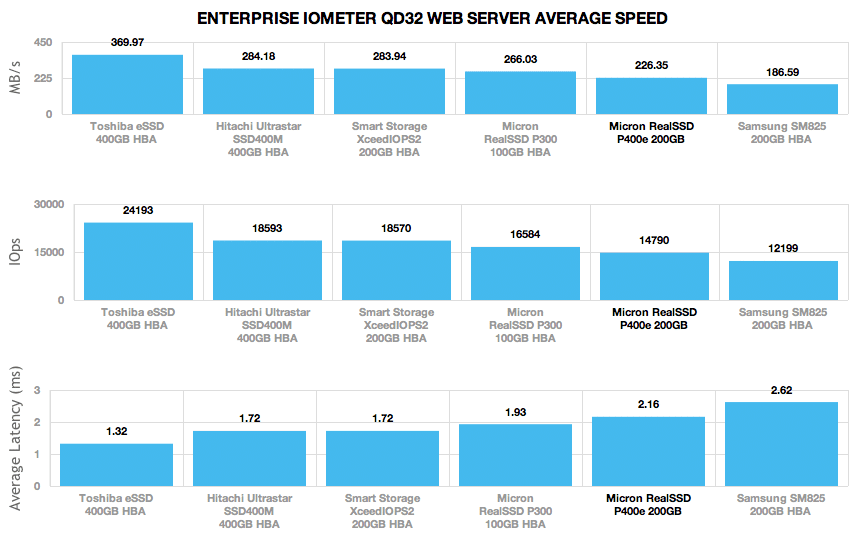 As we switched to a more read-heavy profile covering Web Server workloads, the Micron RealSSD P400e picked up some speed, getting an average of 226.35MB/s and 14,790 IOPS over the duration of the test. The P300 scored slightly higher, measuring 266.03MB/s and 16,584 IOPS.
The last profile looks at a workstation, with a 20% write and 80% read mixture using 8K transfers.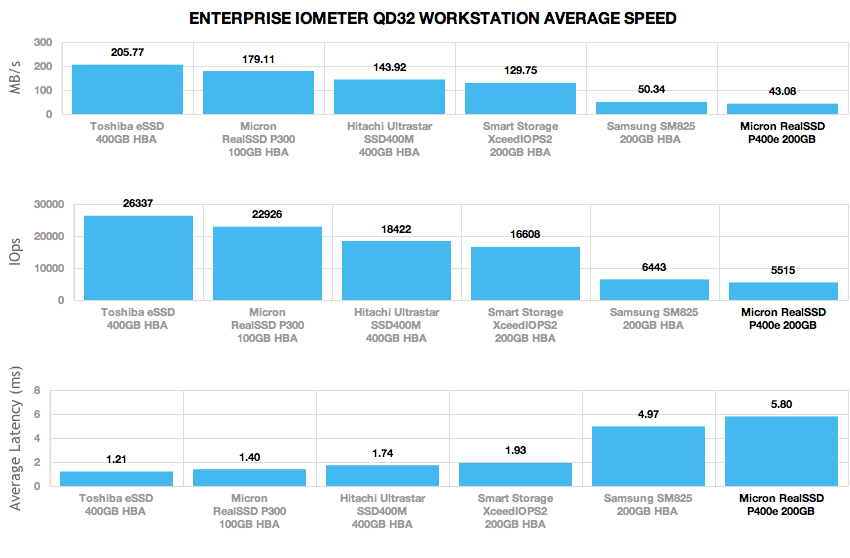 In our final workload profile covering workstation performance the RealSSD P400e slipped behind the faster eMLC and SLC SSDs, scoring an average of 43.08MB/s and 5,515 IOPS.
Enterprise Power Consumption
When it comes to choosing drives for the datacenter or other densely-packed storage environment, performance isn't the only metric companies are interested in when looking at SSDs or hard drives. Power consumption can be a huge deal in certain cases, so it makes sense that you would want to know how a drive would perform under a constant workload.
In the Enterprise Power section of this review, we look at each drive under the same conditions we used to test the read and write speeds in earlier. This includes sequential and random 2MB transfers with a queue depth of 4 and small random 4K read and write transfers at a queue depth of 32. As with our previous tests we are measuring all figures in a steady-state to put the drive into its most power-hungry conditions.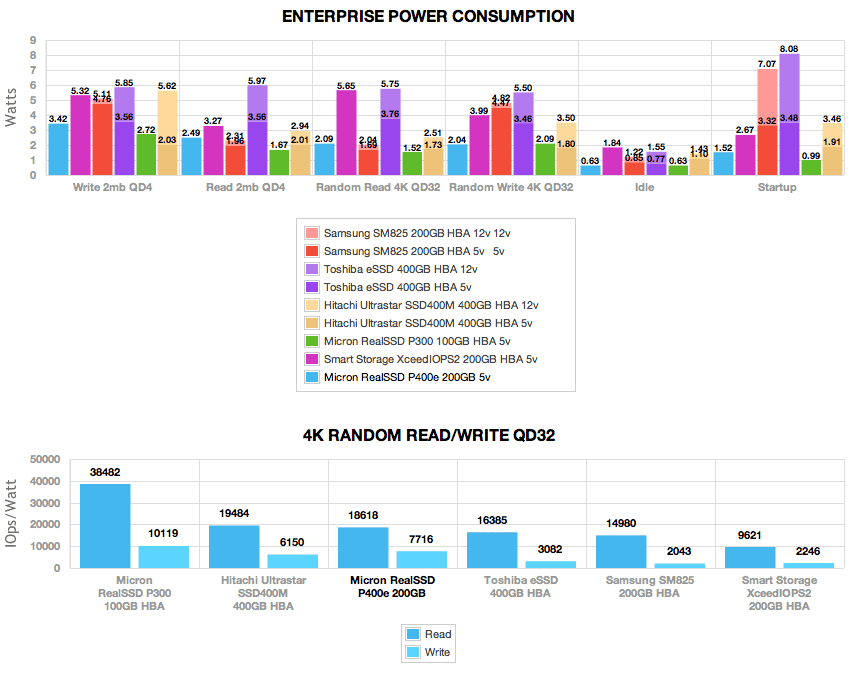 Under all conditions except start-up, the Micron RealSSD P400e used 3.42 watts or less. The most power hungry activity for the P400e was sequential QD4 2MB write, using 3.42 watts averaged over the duration of the test. Second was random 2MB QD3 sequential read, third was random QD32 4K read with 4K QD32 steady write coming in fourth. During sequential QD4 2MB read and write access the P400e used more power than the P300.
A large push for an MLC or eMLC SSD in a datacenter environment is around cost per GB and IOPS/watt. We calculated a figure of 18,618 IOPS/watt in pure random 4K read at a queue depth of 32, dropping to 7,716 IOPS/watt if you instead look at steady 4K random write. This compared to 38,481 IOPS/watt read or 10,119 IOPS/watt write on the Micron P300 or 19,484 IOPS/watt read or 6,150 IOPS/watt write on the Hitachi Ultrastar SSD400M. It really comes down to the needs of the business, finding the best blend of power to performance (or just straight performance) that factors in when buying the SSD or hard drive.
Conclusion
While certainly not the fastest enterprise SSD we've looked at recently, that's not the ultimate goal of the Micron P400e. The P400e prefers to be positioned in environments where there will be 70% or more of read activity, making it an entrprise-ready drive that's much lower cost than eMLC and SLC alternatives. The P400e also features firmware tuned for this duty and enterprise data path protection. These two features are critical differentiators when compared to something like the Crucial m4 and other client SSDs that at times wiggle their way into this category of entry-level enterprise use.
In areas where read speed is expected, the P400e didn't disappoint, offering sequential transfer speeds topping 394MB/s, random large-block transfers topping 388MB/s, and random 4K speeds peaking at 46,000 IOPS. The RealSSD P400e also offered strong speeds in our Web Server test, averaging a speed of 226MB/s and 14,790 IOPS. Given the limited 0.175PB of endurance of the P400e compared to 3PB and above from other similar capacity eMLC SSDs, you won't see many enterprise buyers choosing this product for those installations. It's hard to complain much given the intentions of this drive, but if we have to nitpick, write-heavy mixed workloads saw significant performance drops compared to other eMLC offerings, with Database and File Server profiles being hardest hit, even with the P400e's strong random 4K write speeds.
Another key area where the Micron RealSSD P400e really showed strength was our enterprise power tests, where it used very little power, only being beaten by the smaller-capacity 100GB P300. With this minimal power draw the P400e was able to generate 18,618 IOPS/watt random 4K read and 7,716 IOPS/watt random 4K write.
Overall we were impressed by the Micron RealSSD P400e, hitting a lower price/performance mark than other eMLC solutions by leveraging consumer-grade MLC NAND. For business and enterprise buyers that don't need the endurance of an eMLC or SLC SSD, but still want more enterprise-grade features than a consumer SSD has to offer, the RealSSD P400e comes in with a great mix of performance and value.
Pros
Higher than listed write transfer speeds
Low power consumption compared to eMLC SSDs
Strong read-oriented mixed workload performance
Low cost using consumer MLC NAND with enterprise-grade firmware and support
Cons
Fraction of the write-endurance of eMLC SSDs
Weaker performance in scenarios with constant write-activity
Bottom Line
The Micron RealSSD P400e is a flexible 7mm SATA SSD full of Micron's best (and low cost) 25nm MLC NAND and firmware geared for entry enterprise use. The SSD provides great value and performance for the read-centric markets it's intended, giving the enterprise a great low cost alternative that's enterprise ready.