Hi there, I'm Vince and I'm a Digital Imaging Technician (DIT) in the film industry and a member of IATSE Local 600. I also do video editing and color grading from home. You may know my work if you've ever checked out one of StorageReview's YouTube videos; I've been editing them since April 2020 (podcasts, too). My homelab serves two primary functions: first and foremost, it's fast storage for editing videos directly over the network in real time; and second, it's a backup target for all of my various devices. The first is achieved through my FreeNAS server with 8x4TB drives in raidz1 (more on this later). The second is done through the only functioning Apple Xserve 2,1 in my county through Time Machine backups.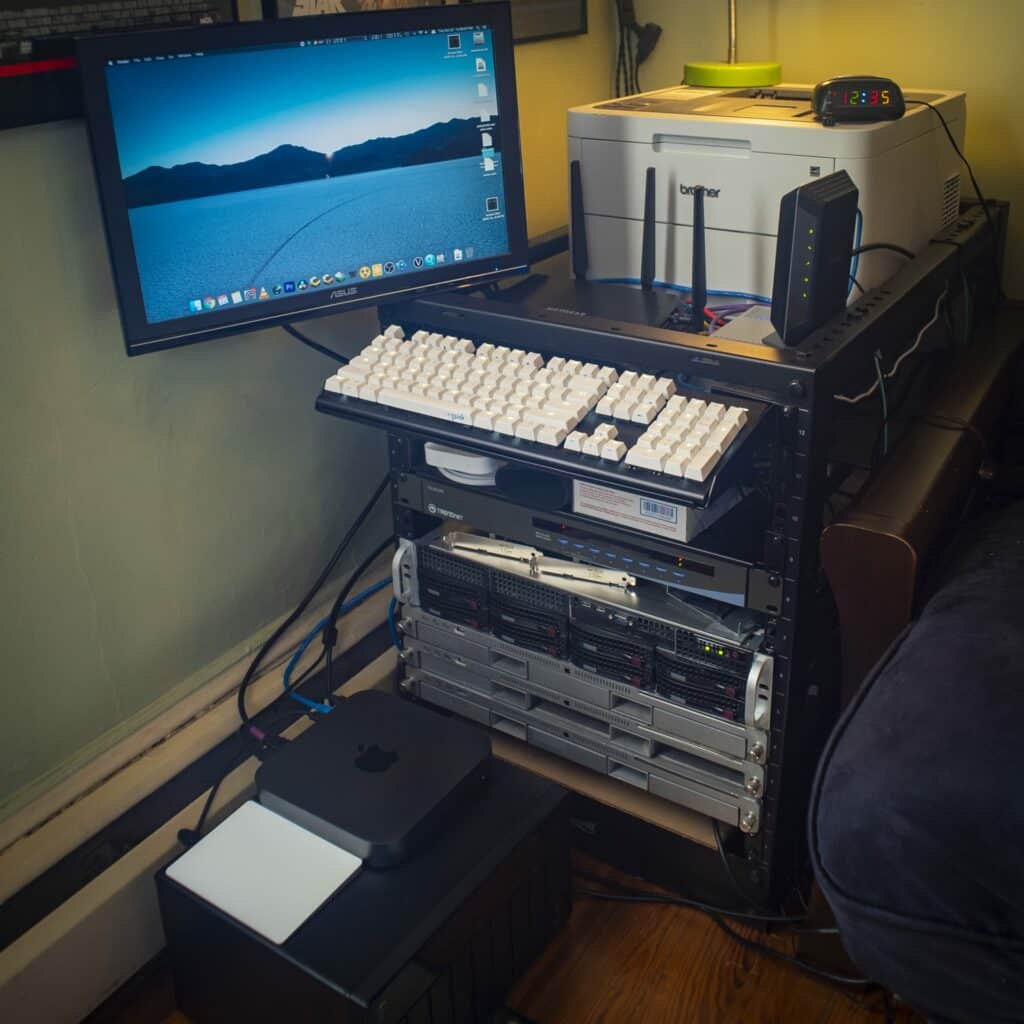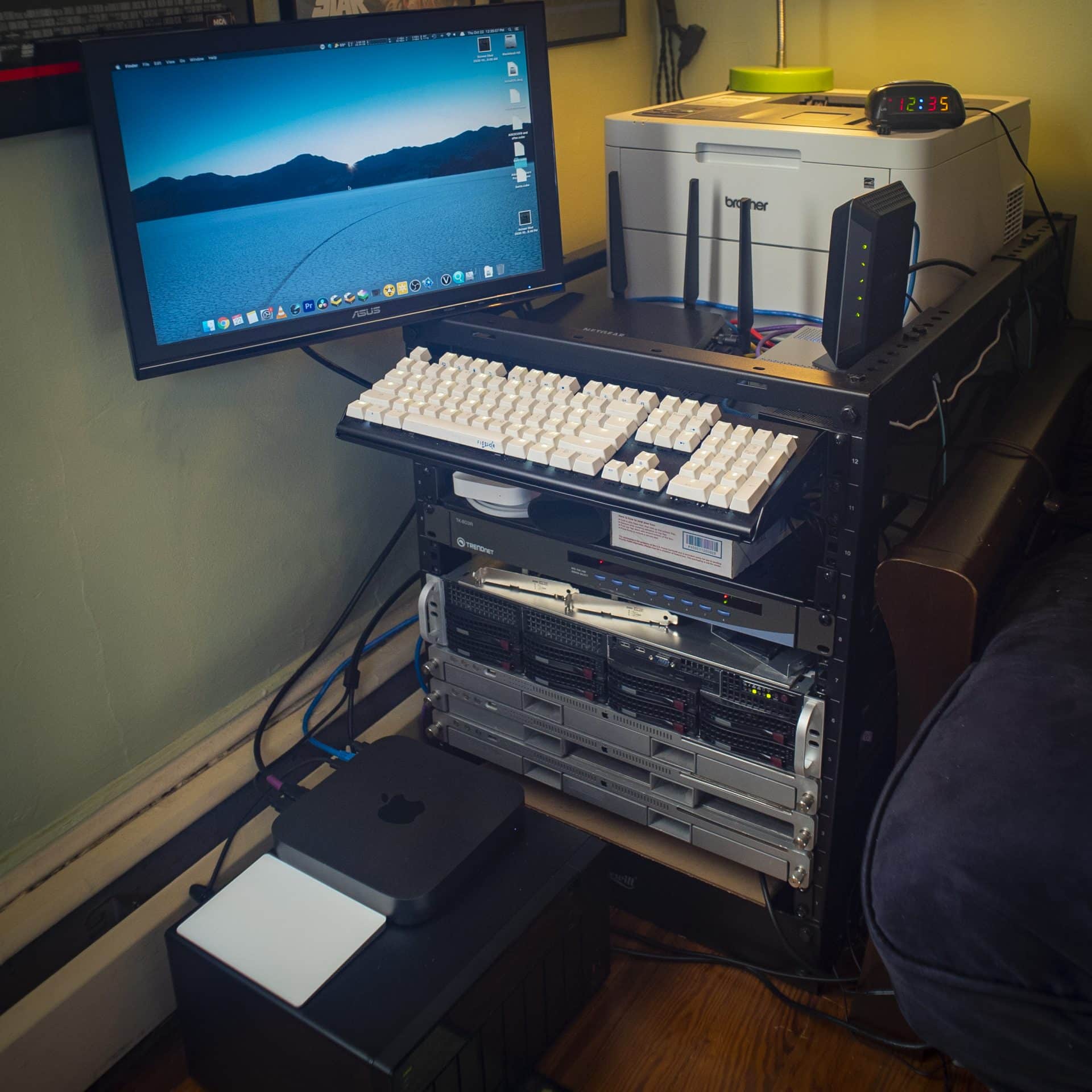 Here's everything on/near the rack from top to bottom:
Brother HL-L3210CW Color Laser Network Printer
Netgear CM700 Cable Modem
Netgear Nighthawk X4S R7800 Router running DD-WRT
MikroTik CRS305 4-port 10Gbit Switch
TP-Link TL-SG108 8-port Unmanaged Gigabit Switch
RaspberryPi 4 running PiHole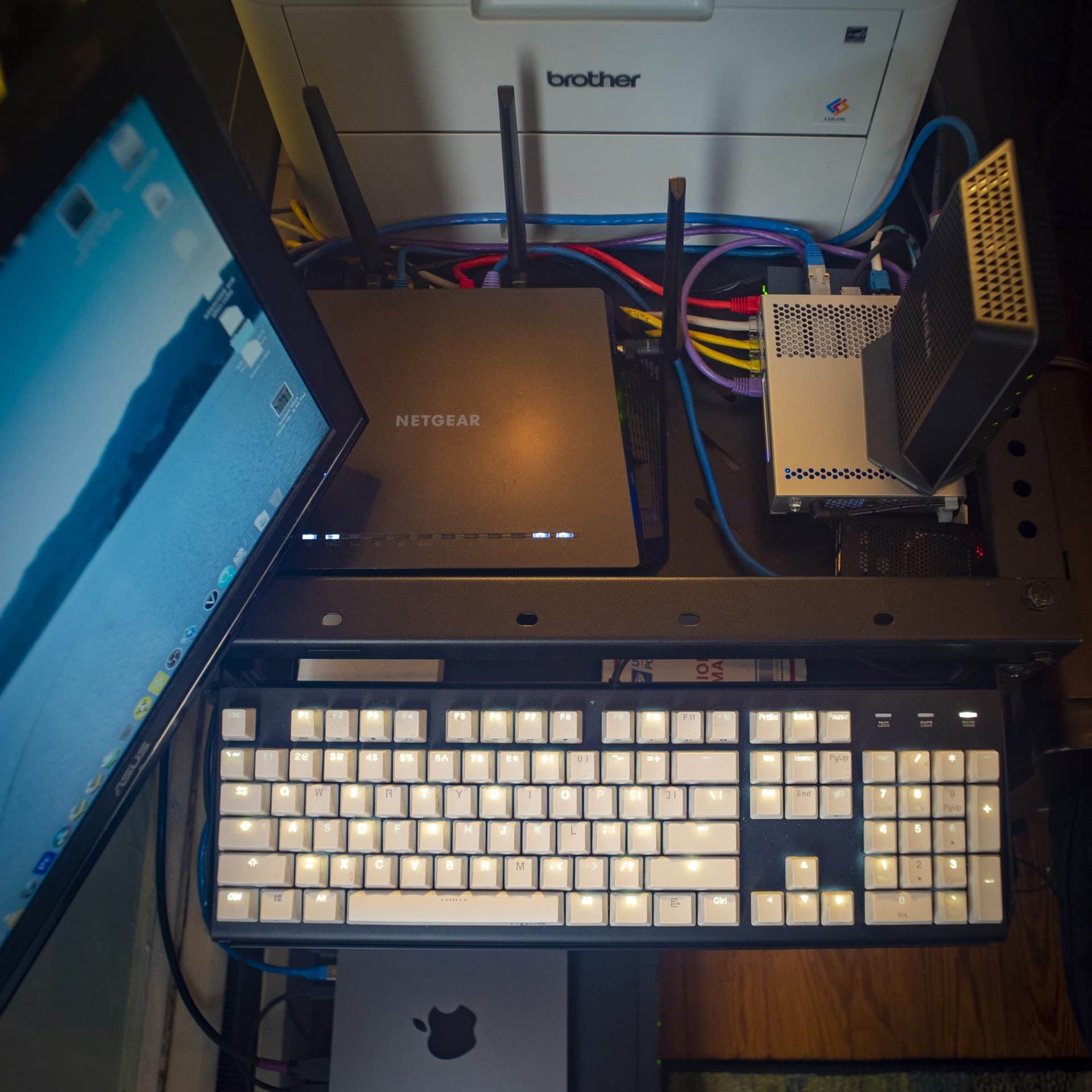 Apple Airport Express (not in use)
TRENDnet 8-port KVM
Misc. Junk (mostly spare ATTO HBAs)
SuperMicro CSE-825 Chassis – FreeNAS Server

8x4TB HDDs in raidz1, ~24TB usable, ~5TB free
Supermicro X10SL7-F Motherboard
Intel Xeon E3-1240L v3
16GB DDR3 ECC
Dell H310 IT-mode flashed HBA
Mellanox ConnectX-3 10Gbe NIC

Apple Xserve 1,1 (x2, inop)
Apple Xserve 2,1

macOS Sierra with ServerOS
Dual Intel Xeon E5462
8GB DDR2 ECC
2x1TB JBOD

Apple Mac Mini (2018)

Intel Core i7-8700B 6c/12t
32GB DDR4
10Gbe Ethernet

QNAP TVS-872XT Thunderbolt 3 NAS

4x16TB Seagate IronWolf Pro HDDs (RAID5)
4x1TB Seagate IronWolf 125 SSDs (RAID5)
My home lab setup is pretty small compared to most, but having a small 10Gbe network is great for editing videos. I ran fiber from the 10Gbe switch to my home office on the other side of my house and I edit 4K footage directly off the FreeNAS server with zero issues. My editing rig is a custom built AMD Ryzen 9 3900X-based system in a custom PowerMac G5 case that I modified to accept a standard ATX motherboard and modern parts. Specs are: ASRock X570 Taichi, AMD Ryzen 9 3900X, 4x8GB Trident Z Neo (32GB, 3600MHz, CL16), NVIDIA Quadro RTX 8000, Thunderbolt 3 AIC, Mellanox ConnectX-3 10Gbe NIC, 2x 10TB Seagate IronWolf Pro in RAID1, 2TB Samsung 960 Pro NVMe SSD, 128GB OCZ Vertex 4 SSD (can you believe this thing still works?), EVGA 750W PSU, custom watercooling loop, lots of RGB. 
The Apple Xserves are mostly for show, but I do use the newer Xerve 2,1 as a Time Machine backup for my MacBook Pro and Mac mini once a week. "Why don't you just use the FreeNAS server as a Time Machine backup target?", I can hear you saying. Well, I have an Xserve and I need an excuse to use it. It stays off and unplugged when not in use, because even when it's powered down, the PSU fan is loud as hell. It sure is nice to look at, though. 
The Mac mini and QNAP TVS-872XT are my newest additions and primarily travel with me to work, as I use them on set for media management, live color grading, and transcoding footage. More on this set up later. When at home, the QNAP is a backup target for the FreeNAS server and the Mac mini is nice to look at. I have the QNAP configured with 4x16TB Seagate IronWolf Pro HDDs in RAID5 for about 44TB usable, and 4x1TB Seagate IronWolf 125 SSDs in RAID5 with 25% Over Provisioning for about 2TB usable. Both storage pools are fast, and 2TB may not seem like a lot, but the main function of the flash array is to facilitate offloading multiple camera cards and transcode footage all at the same time. Over Thunderbolt 3, I get about 1,300MB/s write and 1,700MB/s read from that array, which isn't too bad. Expect a full review of this unit from me sometime in the near future here on StorageReview.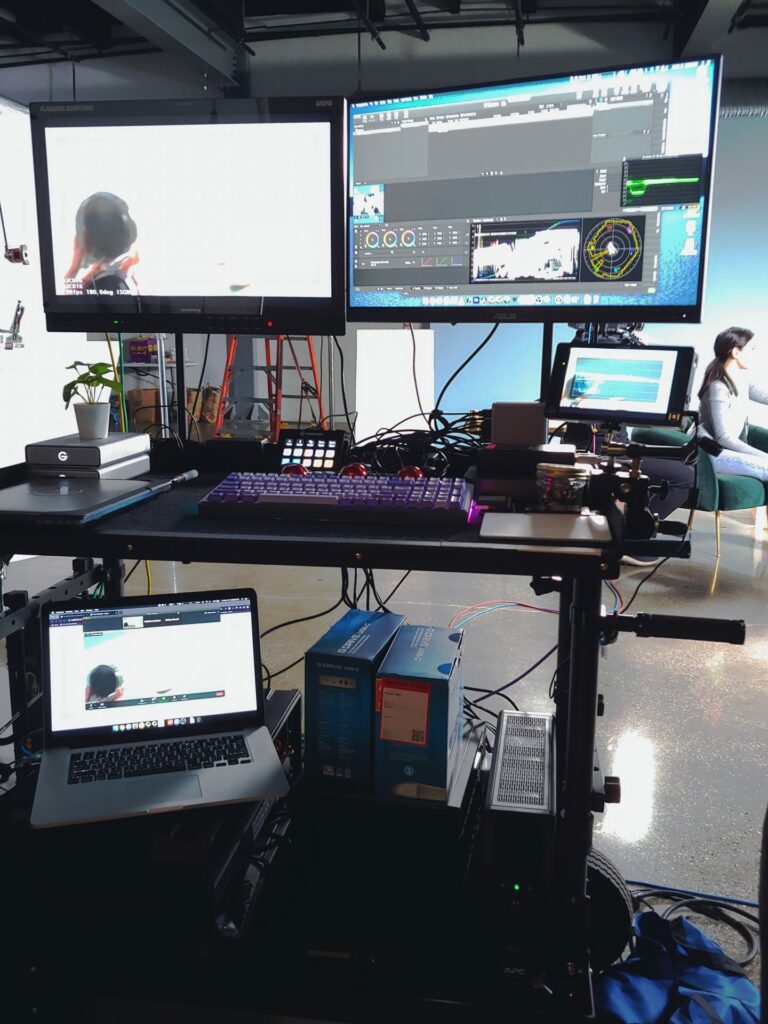 This is a typical setup for on-set color grading, media management, and transcoding for me. The Mac mini is buried under wires up top and the QNAP NAS is on the bottom between the UPS and the video router/networking box. Left monitor is a Flanders Scientific DM240, right monitor is an ASUS ProArt PA278QV. I have a StreamDeck for shortcuts, a CalDigit TS3+ dock, Tangent Ripple control surface, Magic Trackpad, and a Melody96 keeb (whatup r/mk). The MacBook Pro is streaming over Zoom, I have an APC 1500VA Sine Wave UPS, a Blackmagic Smart Videohub 12×12, and so much more AKS I can't even name it all. I like to think of it as my Home Away from Home-lab. All on my Inovativ Ranger cart affectionately known as Carty Rae Jepsen.