There have been several methods of Out-of-Band (OOB) Management for server assets over the years. The two that are still quite popular are KVM (Keyboard/Video/Mouse) switches that are often IP-enabled, and some form of Lights Out Management such as HP's iLO (Integrated Lights-Out Management.) All Out-of-Band Management solutions can make maintaining and supporting servers elsewhere more convenient whether located across a building or on the other side of the world.
There have been several methods of Out-of-Band (OOB) Management for server assets over the years. The two that are still quite popular are KVM (Keyboard/Video/Mouse) switches that are often IP-enabled, and some form of Lights Out Management such as HP's iLO (Integrated Lights-Out Management.) All Out-of-Band Management solutions can make maintaining and supporting servers elsewhere more convenient whether located across a building or on the other side of the world.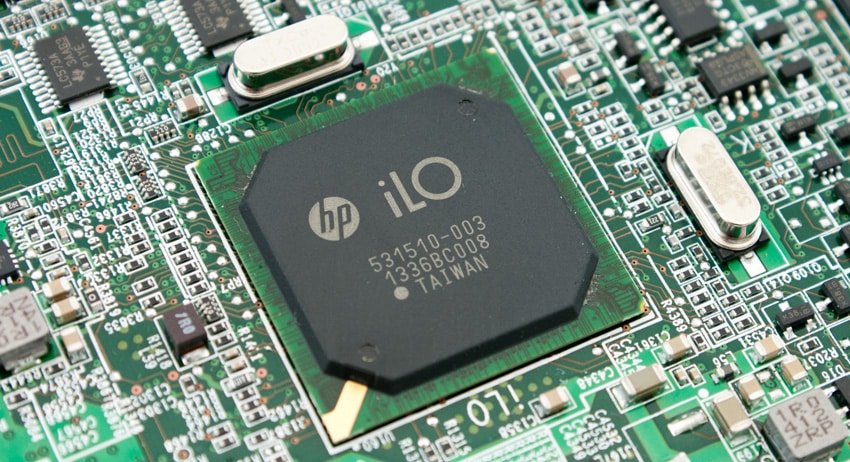 Lights out Management solutions like HP's iLO are superior to KVM solutions in that they add things such as power management to the remote management of the server. Some add considerably more capabilities such as: hardware performance control, health monitoring, and provisioning assistance. HP iLO also offers faster time to resolution due to its remote access and troubleshooting features, where users can remotely access the server using an industry standard scriptable interface, remote console, or Virtual Media features to perform various basic management functions. In addition, its embedded support (Direct Connect and Remote Support) reduces time, cost and complexity.
Every few years, HP upgrades the capabilities of its management processors. In HP servers designated as "G8" and "G9" models, the available iLO is version is iLO4, which roughly translates to servers on the market since 2012. We've reviewed various HP servers over the past years that are compatible with iLO4: HP DL360p Gen8, DL360 Gen9, and the DL380p Gen8.
A quick list of features of iLO4 includes:
Remote console (also in previous versions)
Power control (also in previous versions)
Manage virtual media (also in previous versions)
Agentless Management
Active Health System
Embedded Remote Support
iLO Federation Discovery & Heath
RESTful API
HP iLO version 2.0 also features RESTful APIs, which is the new server management interface with HP ProLiant Gen9 that be used to perform configurations, inventory and monitor the server. HP RESTful API reduces HP ProLiant Gen9 server configuration complexity by exposing content regardless of location whether programming directly into individual tools, the web, or through the HP RESTful Interface Tool. Because it uses either the REST language or tool's language, it also uses the same set commands no matter what the tools' unique language may be. Other benefits of the RESTful APIs feature include easier access to information, which eliminates multiple tools to run scripts and provision server; remote and secure capabilities, which take advantage of HTTPS protocol; and the ability to script and expose new functionality with little to or no firmware upgrade dependencies.
HP offers two options for RESTful API programming: the HP RESTful API, which is for direct programming and total tool-less access
for custom scripting as well as the ability to write your own integration with open programming options; and the HP RESTful Interface Tool, which allows for simple scripting with command shells. For more information, read HP's solution brief.
Quick Start
HP provides a setup/install guide for iLO but the basic setup is quite simple. Connect an Ethernet connection to the iLO management port on the rear of the server. Basic network and user information can be configured on system boot by pressing F8 when prompted. In this mode, you can set network information such as IP, netmask, and gateway as well as change the built-in user information as required. Once booted, the main iLO interface is accessed by using a web browser pointed to the IP you just assigned to the iLO.
The interface is laid out in very user-friendly way with its navigational tree view situated on the left side of the page. The top-level options include: Information, iLO Federation, Remote Console, Virtual Media, Power Management, Network, Remote Support, and Administration. Each of these iLO branches has a submenu, which can be accessed by clicking the specific + icon. In addition, the BL c-Class branch is included when a ProLiant server blade is being used, while the Remote Management Tool Name a branch is included when remote management tool is used with iLO.
Fig. 1 (Overview)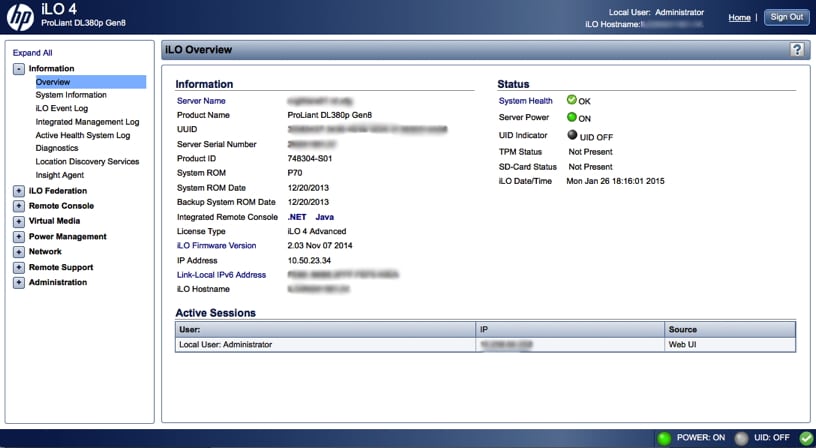 Standard Lights Out Features
Remote Console:
As with most solutions, a remote console can be accessed to check on or work with a system completely independent of what any OS might be doing. There are 3 options in iLO4: a .Net interface, a Java interface, or a mobile app.
.NET gives access to the system's Keyboard, video, and mouse (or KVM) and enables the control of Virtual Power and Virtual Media from a single console via a browser on a Windows client. The .NET supports Console Capture, Shared Console, Virtual Folder, and Scripted Media (on top of the standard features).
Java also gives access to the system's KVM to allow control of Virtual Power and Virtual Media from a Java-based console and includes the iLO disk image tool and Scripted Media.
The iLO Mobile App (iOS and Android) provides Integrated Remote Console access from your smart phone or tablet.
Fig. 2 (Remote Console)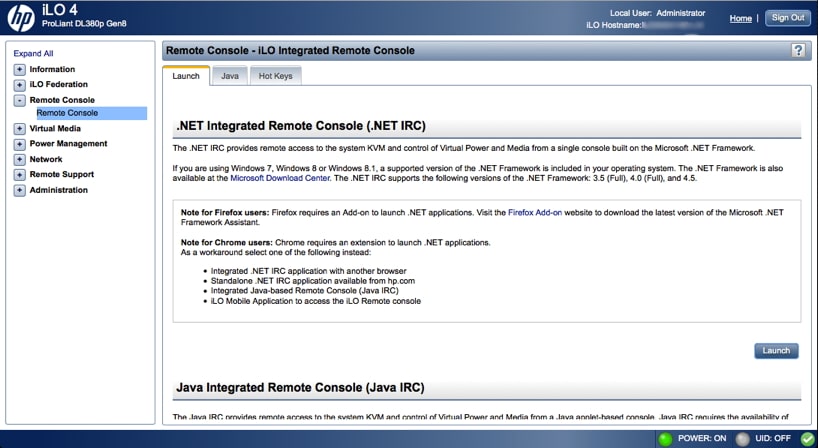 Virtual Media:
Closely related to the remote console capability is virtual media management to mount disk images for installations. While the Virtual Media feature supports ISO images up to 8TB, the maximum file size also depends on other elements including the single file size limit for the file system where the ISO image is stored and the SCSI commands the server OS supports.
If using iLO for the first time, the host operating system may prompt the user to complete a New Hardware Found wizard.
The boot order for the system can also be adjusted in this section.
Fig. 3 (Virtual Media)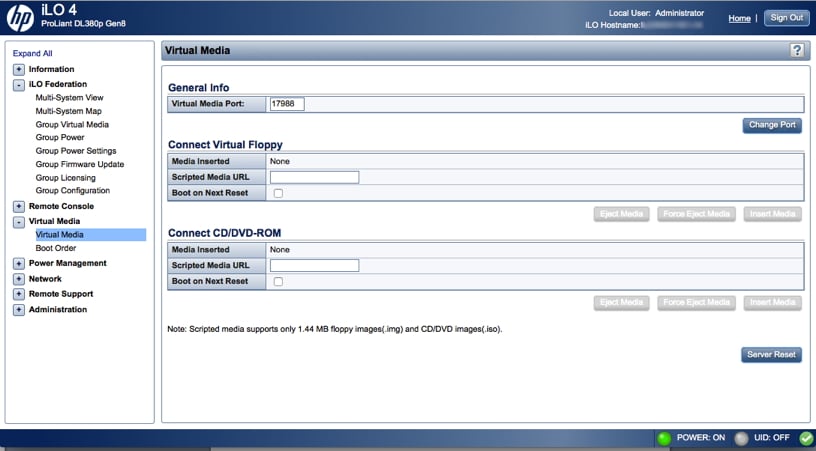 Power Control:
The ability to directly control the power of the system can be critical in recovering a system where an OS has crashed or to recover from certain hardware issues.
Fig. 4 (Power Control)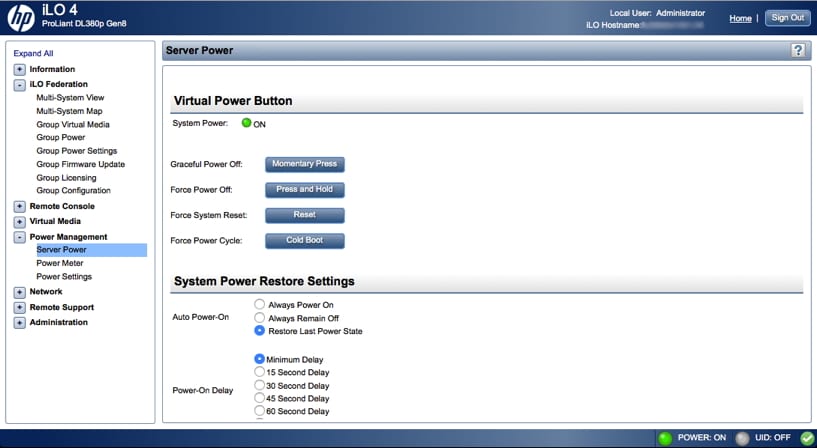 Advanced Options
iLO Federation:
The iLO of a server can discover other iLO processors via several methods including multicast. By default a system will find others in the same network via that multicast (subject to the configurations of your network.)
This allows for an interesting group view of systems and their health status. The figure below shows an example of a group of servers discovered and indicates that one is currently in a degraded status. You could can link directly to the iLO of the degraded system as well.
Here are a list of features and their functionality under iLO Federation. Some of these features do need the Advanced Licence (see the Licence section as well):
Multi-System View – Show other discovered iLO processors and those system statuses.
Multi-System Map – Shows peer to peer iLO systems.
Group Virtual Media – Batch control virtual media across server groups.
Group Power – Batch power control across server groups.
Group Power Settings – Batch power capping across server groups.
Group Firmware Update – Show firmware versions and optionally batch update across server groups.
Group Licensing – Batch apply license activation keys across server groups.
Group Configuration – Define server groups and access.
Fig. 5 (MultiView)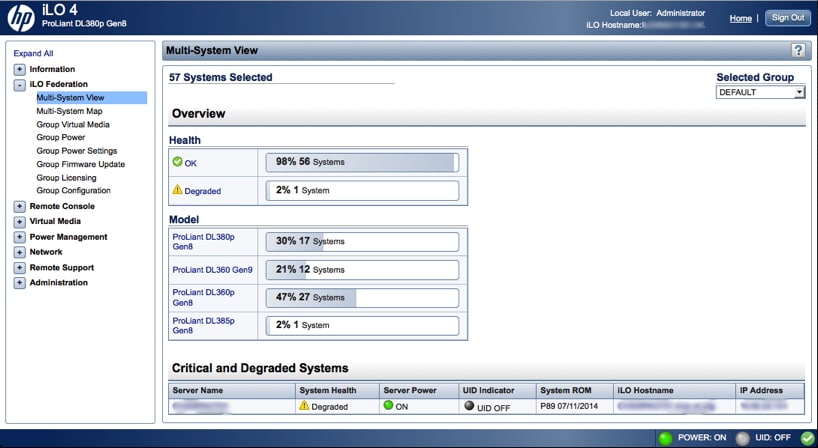 Server Health:
Health was touched upon in the federated view above. However, there are quite a few categories of health that can be drilled into. This area can also confirm information about what hardware options are installed in the system.
The Health Summary page displays the status of monitored subsystems and devices, which will vary depending on the server type.
If the server is powered off, the system health information will display information current as of the last power off. In addition, health information is only updated when the server is powered on and POST has been completed.
Fig. 6 (Health Overview)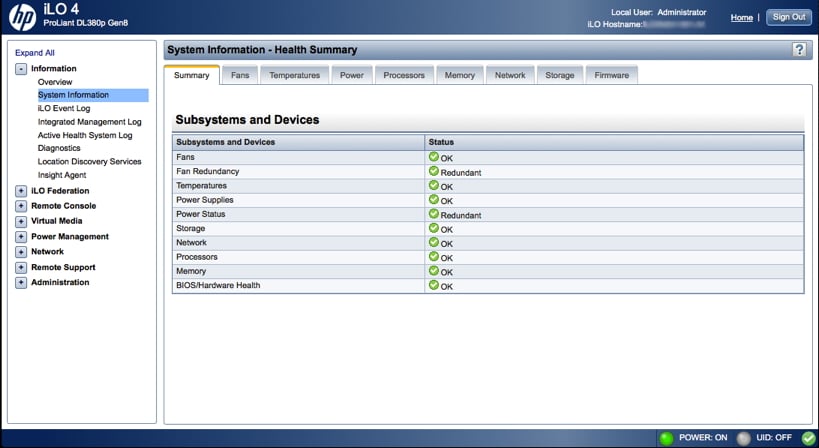 Power Management:
Various settings can be controlled to balance power and performance. You can also view the power usage at the current time and over various timeframes in graph form. The Power Management menu has three available options: Server Power, Power Meter, and Power Settings.
On the Server Power page, the Virtual Power Button section shows users the current power state of the server, as well as the available options for remotely controlling server power.
The Power Meter page displays the server power consumption over a spefic window of time. The graphs that users can access include the 24-Hour History Graph, which shows the power usage of the server over the previous 24 hours; and the 20-Minute History Graph, which shows the power usage of the server over the previous 20 minutes. Also available is the Power History option, which displays power readings (average, maximum, and minimum power) from three time periods: 5 minutes, 20 minutes, and 24 hours
The Power Settings allows users to control and view the power management features of the server, which vary based on the server configuration.
Fig. 7 (Power Settings)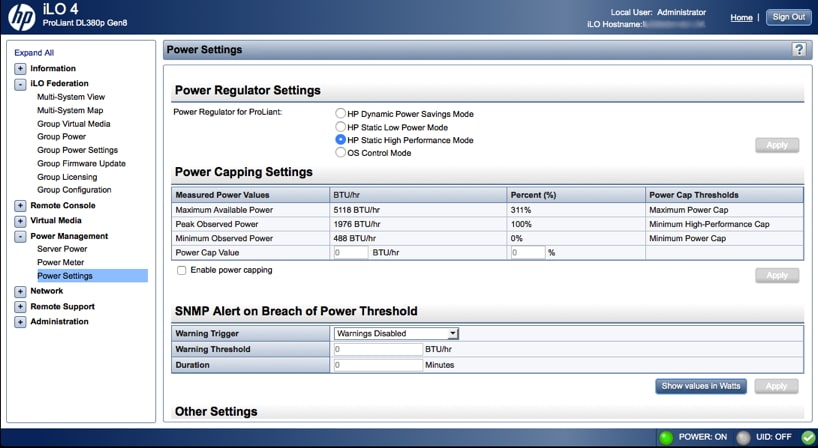 Fig. 8 (Power Meter)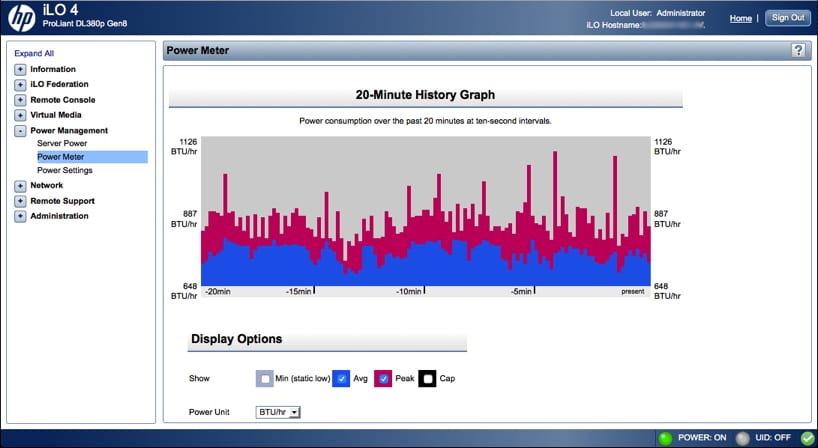 Other Advanced Features
Another feature to consider implementing is to integrate with an existing HP System Insight Manager (SIM). An iLO processor can be linked to the server within SIM and SSO authentication can be setup to jump directly from the server object in a SIM console into the iLO for said system.
Directory/Domain Integration allows you to use an existing directory (like Active Directory) to handle the authentication and authorization for iLO users. This centralizes the password management to a single location making management of many iLO-enabled systems more scalable. It is possible by setting up the Kerberos configuration to automatically authenticate based on a user's system being logged into a domain without prompting again for iLO access.
Licences
HP iLO comes in three different licences depending on your business use case. The HP iLO Advanced License is designed for enterprise businesses who desire smart remote functionality for all HP ProLiant servers and enables the full implementation of iLO Federation.
The HP iLO Essentials License is designed for small and medium business, offering full remote server management through the Integrated Remote Console (IRC), virtual media, and built-in rapid discovery of all iLOs. This licence is available on all HP ProLiant Gen8 e-series servers, HP MicroServer Gen8 and HP ProLiant Gen9 100 series servers and below.
The HP iLO Scale-Out License is designed for web hosting, cloud service providers, and high performance computing data centers, that need manage substantial scale out environments . This licence is available on the HP ProLiant Gen8 DL 160, all HP ProLiant Gen8 SL and BL servers and HP ProLiant Gen9 SL servers.
Conclusion
HP iLO4 is a powerful management option as well as a central component of a comprehensive management solution when paired with HP SIM/SUM. The management capabilities far outstrip what is possible in most KVM solutions and integrate tightly with other HP products and customer infrastructure. While many buyers of small numbers of servers don't contemplate management as part of the buying decision, perhaps they should. HP iLO 4 makes server management very easy not just at scale, but even small organizations can benefit from the basic Essentials license that offers several key features including full remote server management.