The HP StoreVirtual 4335 Hybrid Storage array is the latest storage system designed to give small and midsized businesses highly virtualized application performance while cutting costs by dynamically by moving data between solid state and traditional hard disk drives. The 4335 is a 1U system based on HP's ProLiant Gen8 server technology that ships with 10 drives: 3x 400GB mainstream enterprises SSDs and 7x 900GB 10K SFF SAS drives. The 4335 is also equipped with 4x 1GbE and 2x 10GbE ports with integrated lights out (iLO 4) to help provide users with complete system control. For resiliency and improved performance, the StoreVirtual 4335 is designed to be clustered together. For cluster management HP offers StoreVirtual Centralized Management Console (CMC) to aggregate all of the nodes in a single pane of glass.
The HP StoreVirtual 4335 Hybrid Storage array is the latest storage system designed to give small and midsized businesses highly virtualized application performance while cutting costs by dynamically by moving data between solid state and traditional hard disk drives. The 4335 is a 1U system based on HP's ProLiant Gen8 server technology that ships with 10 drives: 3x 400GB mainstream enterprises SSDs and 7x 900GB 10K SFF SAS drives. The 4335 is also equipped with 4x 1GbE and 2x 10GbE ports with integrated lights out (iLO 4) to help provide users with complete system control. For resiliency and improved performance, the StoreVirtual 4335 is designed to be clustered together. For cluster management HP offers StoreVirtual Centralized Management Console (CMC) to aggregate all of the nodes in a single pane of glass.

Looking at the larger family, the HP StoreVirtual 4130 and 4330 are built for cost optimization while the 4530/4730/4630 are meant for scalability. The HP StoreVirtual 4335 Hybrid Storage is designed for midmarket performance with an emphasis toward ease of use, with its 3ms latency and simple deployment and management. Making the 4335 easy to buy, HP promises that critical business data will remain available while being easy to setup, grow, and maintain. HP also ensures that this approach to storage allows for an innovative data protection level across the entire cluster, which reduces vulnerability without driving up costs the way traditional SANs may.
On the hardware side, as noted, the 4335 uses the tried and true ProLiant Gen8 server platform, which is a standard bearer in the enterprise server space. To accommodate availability needs, the units feature hot-swap dual power supplies, redundant fans and of course redundant hot-swap drives with an integrated storage controller that has flash-backed write cache. RAID can be configured in RAID5 or RAID6 on each machine, with wider Network RAID levels per volume that includes 10+2, which maintains up to four copies of data to accommodate for severe failures.
HP StoreVirtual Storage portfolio is powered by LeftHand OS. StoreVirtual may also be purchased as well as a virtual machine, StoreVirtual VSA, which can turn any server into a full-featured storage server. The OS is fully featured and includes the expected enterprise features like thin provisioning, replication (synchronous and asynchronous), Multi-Site SAN (distributed architecture), smart clone support, snapshot support and cluster management. The systems also feature DSM for Microsoft MPIO, which improves performance for Windows-based workloads and deep VMware integration including VAAI support, VASA support, snapshot integration with vCenter and vMSC certification. All of these services come with the purchase of the system, which is often not the case in enterprise IT, where additional licenses are common.
The Adaptive Optimization (AO) tiering functionality is the biggest selling point of the StoreVirtual; it provides users with functionality that automates the intelligent movement of recently accessed data between HDDs and SSDs. Keeping with the simplicity theme, it's not something that needs to be scheduled and managed; simply turn it on or off for each volume and you're done. AO continues to move and monitors data at a granular page size of 256KB. AO is also intelligent in that it knows what else is going on within the system and throttles back data movement when the system is active, ensuring applications aren't hampered by background data migration. HP indicates that the AO capability significantly improves application performance compared to HDDs adding that it delivers 59% lower cost than using SSDs alone. As a result, SMB customers spend less on storage while supporting more workloads thanks to the benefits of the hybrid configuration.
StoreVirtual 4335 is available with a list price of $41,000, with a standard configuration of seven 900GB Small Form-Factor 10K SAS drives, three 400GB Enterprise Mainstream SSDs, LeftHand OS with an all-inclusive software licensing and three-year warranty. While the StoreVirtual 4335 may be operated in single units, most deployments include two or more to take advantage of data protection features. Our review set consists of three 4335's.
Specifications
Model: (F3J70A)
Capacity

7.5TB Starting
240TB Maximum

Drive description

(3) 400GB Solid State Drive
(7) 900GB 6G 10K SFF Dual-port ENT SAS Included

Host interface

1GbE iSCSI (4) Ports
10GbE iSCSI (2) Ports

Storage expansion options

Use storage clustering capability and add incremental StoreVirtual storage nodes into the array to expand storage.

Management features

Centralized Management Console, CLiQ command-line interface, REST API interface, HP ProLiant Integrated Lights-Out 4 Remote Management, Baseboard Mgmt Controller IPMI 2

Clustering support: Hyper-redundant clustered storage
Replication support: LeftHand Remote Copy Asynchronous Replication with Bandwidth Throttling; Multi-Site/Disaster Recovery with Synchronous Replication
Thin provisioning support: LeftHand Thin Provisioning
Smart clone support: LeftHand SmartClone
Snapshot support: LeftHand Application Managed Snapshots
Availability features

Redundant, hot swap power supplies
redundant fans
redundant, hot plug hard drives, integrated storage controller with flash backed write cache
disk RAID 5 and 6
hyper-redundant clustered storage
Network RAID levels (per volume) 0,5,6,10,10+1, and 10+2 for up to four copies of your data allows data to remain available in the event of a disk, controller, storage node, power, network, or site failure.

Compatible operating systems

Windows Server 2012 R2, Windows Server 2012, Windows Server 2008
VMware vSphere 5.0, 5.1, 5.5
Red Hat Enterprise Virtualization, Red Hat Enterprise Linux 6
SUSE Linux Enterprise Server 11/11 SP1/SP2/SP3
Ubuntu Server Edition 10.04 LTS,12.04 LTS, 12.10, and 13.10
HP-UX 11i
IBM AIX 7.1
SUN Solaris Enterprise System
Citrix XenServer 6.2x
Oracle VM 3.2.2 and 3.2.8
OpenStack (Diablo, Essex, Folsom, Grizzly, Havana, Icehouse)

Dimensions and weight: Minimum dimensions (W x D x H) 1.7in x 17.1in x 27.5in
Weight: 42.3lbs
Warranty: 3 Years
Design and Build
The HP StoreVirtual 4335 Hybrid Storage is built on a 1U HP storage server platform, housing ten drive bays, which are labeled in the software as 1 through 10. The SSD drives must be installed in bays 8, 9, and 10 (located on the far right of the front panel). Each bay has its own set of drive LEDs to indicate whether the drive can be removed safely as well as other information (Locate, Activity Ring, Do Not Remove, and, Drive Status). Also located on the front panel on the far right are the Active Health and Network Status LEDs.

Under the hood lays a single CPU, a 2.5GHz 6-core Intel Xeon E5-2640 processor paired with 32GB of RAM. In addition, the 4335 has removable hot-plug fan modules (for easy serviceability), a 10Gb Ethernet card, and a removable riser cage assembly for two PCIe 3.0 Slots.

The back panel of the 4335 shows a plethora of ports and functionality, including 4 USB connectors (which are not used for storage operation), video and serial connector, four 1GbE ports and an iLO Management Engine NIC connector for system management.
Usability/Data Services
The LeftHand OS software package comes pre-installed on the HP StoreVirtual 4335 and the Centralized Management Console (CMC) is used to manage the cluster. Each node may be addressed for KVM services via iLO. The CMC makes repetitive tasks simple. For instance, when deploying our 3-node cluster for the first time there was a firmware update each system needed. A simple click to update button took each node through the process on its own, with no further interaction or disruption required. For larger clusters, ease of management like this is important. It's worth noting that this sort of resiliency is built into the platform throughout, HP quotes five 9's of availability with plenty of replication support to ensure HA accessibility.
Similarly, nodes can be added to the StoreVirtual cluster at any time within the CMC. If we were to grow the cluster from three nodes to four, the LeftHand OS scale-out model stripes all data for all volumes across all of the nodes. The new resources including storage, memory, CPU and the like, are aggregated and applied for all volumes to provide linear scalability in performance as new nodes come online. The process of adding a node takes just a few clicks and the data restripe process can be throttled to minimize I/O impact to applications, or accelerated to speed the process. Either way, the cluster remains online the entire time. In addition, using what HP calls Peer Motion technology, customers can protect their StoreVirtual investment over time. Peer Motion allows for management groups of multiple generations of platforms together, migration of volumes between clusters of different generation and disk configuration and supports remote copy between dissimilar arrays. This also works with the StoreVirtual VSA, which offers quite a bit of flexibility within the environment.
HP StoreVirtual arrays include a robust core set of enterprise data services. Primary among these is thin provisioning which is supported and recommended for all applications. HP has demonstrated consistent performance between thin provisioned volumes and full provisioned volumes and sees equal performance between the two. Much of this comes down to page size; LeftHand OS uses an allocation size of 256k where competitive solutions often reach into multi-MB range. The result is efficient and lean thin provisioned volumes over time.
Snapshots are also included; Snapshots can be handled manually or via schedule and a retention policy can be defined to keep snapshots around on a time or number of snaps basis. LeftHand OS snapshots are thin provisioned to be space efficient and do not require capacity reservations, which helps the 4335 be more space efficient. HP offers integrations with VMware vSphere and Windows VSS to enable application-managed snapshots and StoreVirtual is the first primary storage array directly integrated with Veeam to provide rapid VM level backup and recovery. HP also includes StoreVirtual Recovery Manager, which simplifies the data recovery process by allowing users to mount and recover data from StoreVirtual snapshots for a single application.
The LeftHand OS has a bunch of other core features as well that help it differentiate. Multi-Site SAN lets organizations automatically and synchronously mirror data between two or three sites for increased availability. These sites can range from within a rack to across campus or between datacenters connected by high-speed links up to 100km or more. HP offers One View for vCenter which allows most storage tasks to be completed through familiar hypervisor tools; similar tools exist for Microsoft Virtual Machine Manager. All of these software features are included in the core pricing of StoreVirtual without a need for further licenses.
Looking deeper into management, the HP CMC offers a wizard to create management groups, clusters, and volumes. When creating a volume manually, simply choose the volume name and size. On the advanced tab, users can choose the cluster, data protection level, type, and provisioning. Additionally, users can choose whether they want to use HP's Adaptive Optimization functionality for each volume.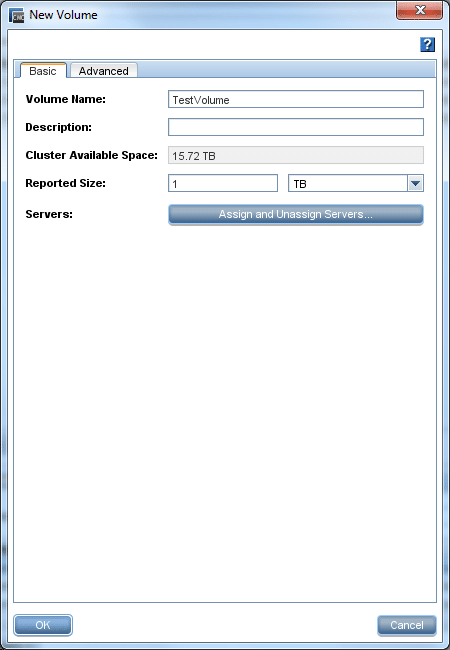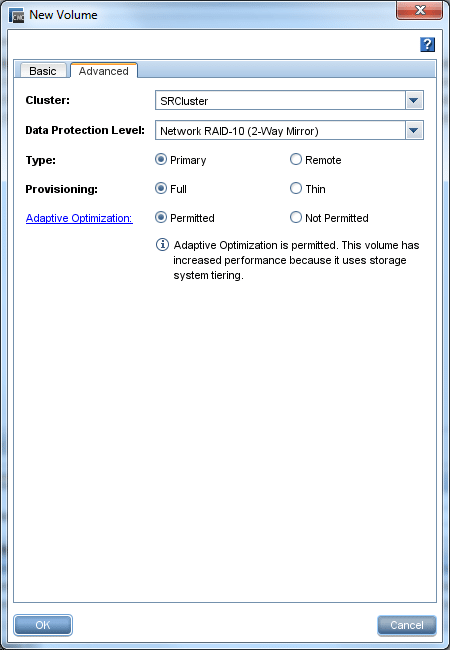 Below shows the drill-down to the volume level along with its available features.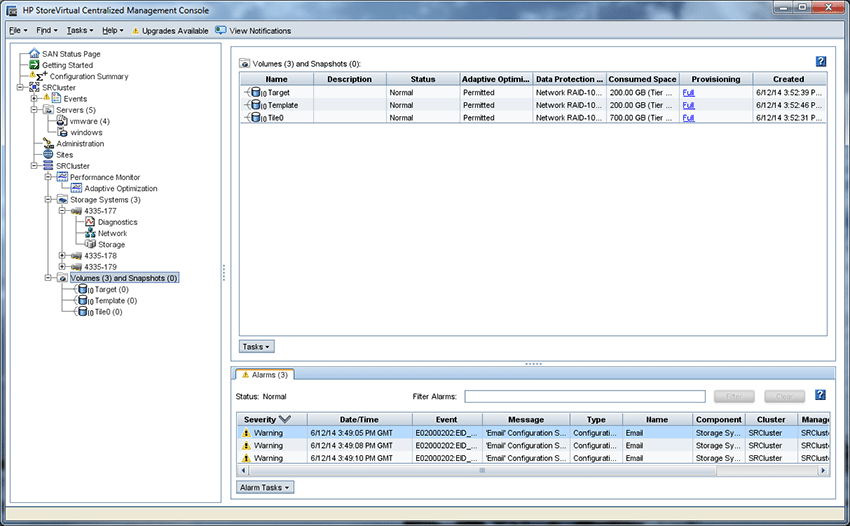 The Clusters level shows a great detail of information as well as a variety of options including remote snapshots, time, DNS, registration and map view (the latter displays the relationships between clusters, sites, volumes, and systems).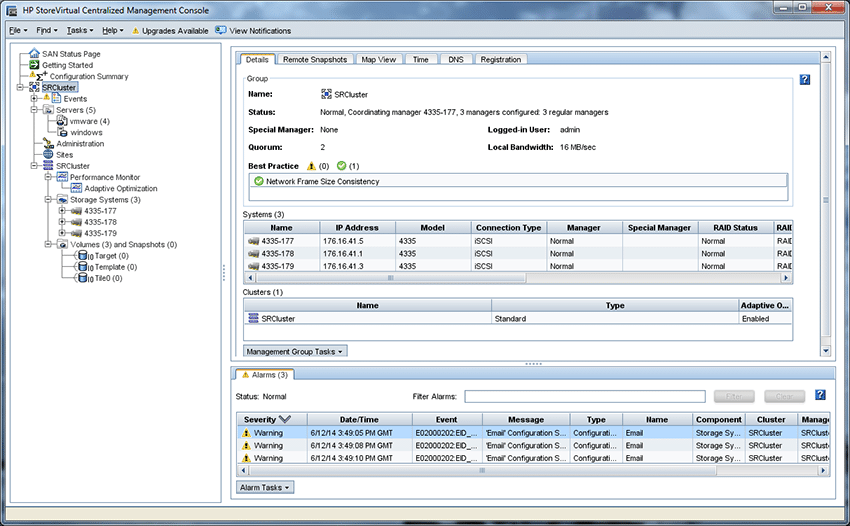 The Performance Monitor and Adaptive Optimization (AO) section is located in the navigation pane below each cluster. The AO functionality requires a cluster that contains one or more AO-capable storage systems. Users would use this feature on volumes that might benefit from increased performance.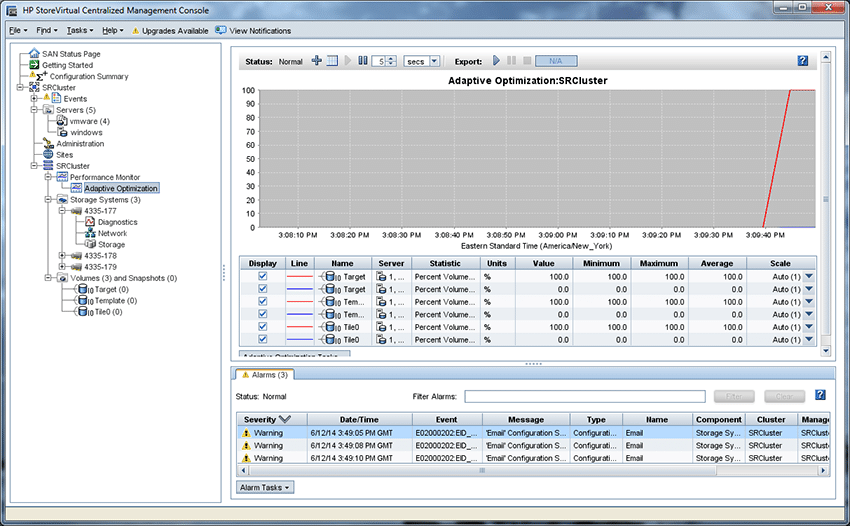 Users are shown specific information on Storage Systems when they are selected.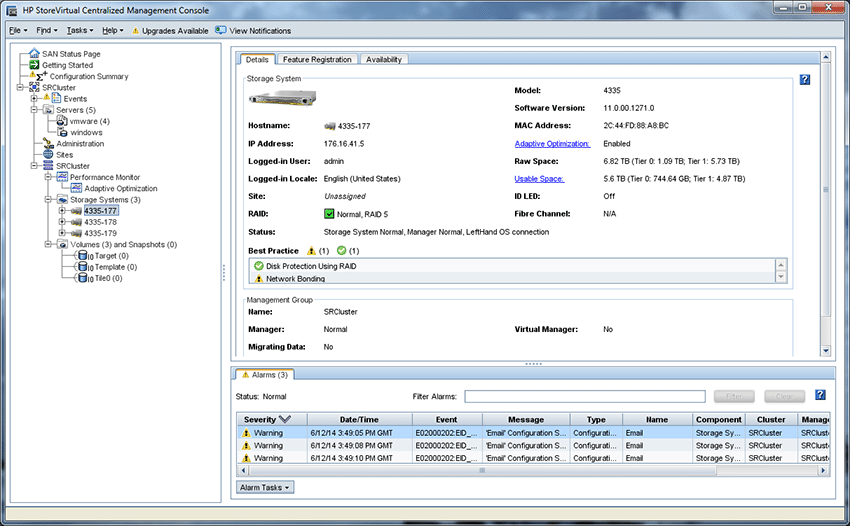 The Network section is where users can configure elements such as the speed and duplex, which is found in the RCP Status tab.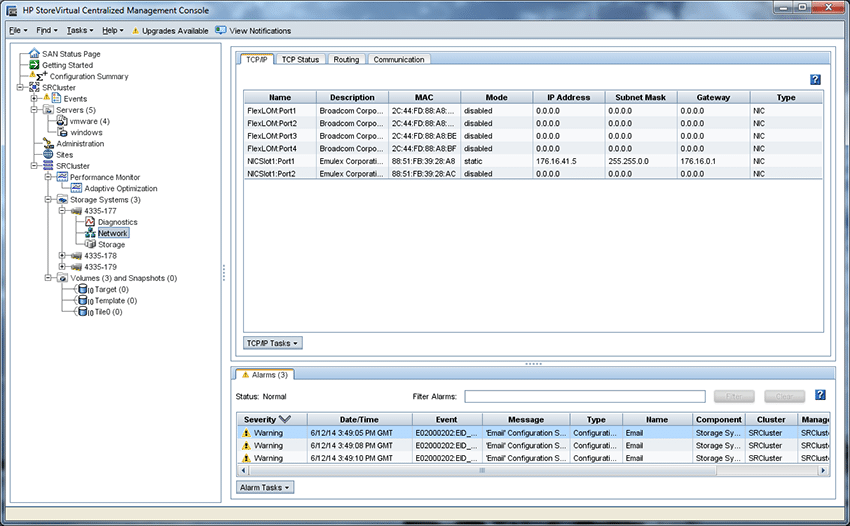 The Storage section allows users to view the RAID and Disk setup.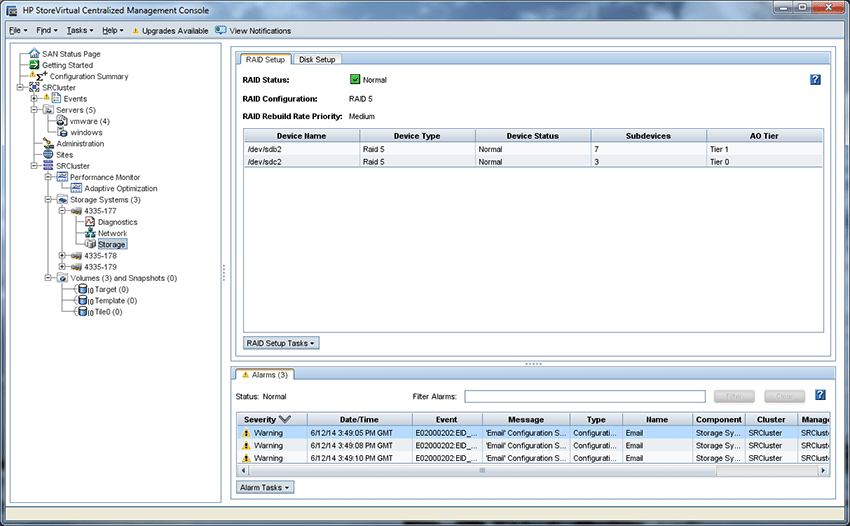 Testing Background and Comparables
We publish an inventory of our lab environment, an overview of the lab's networking capabilities, and other details about our testing protocols so that administrators and those responsible for equipment acquisition can fairly gauge the conditions under which we have achieved the published results. To maintain our independence, none of our reviews are paid for or managed by the manufacturer of equipment we are testing.
We will be comparing the 3x HP StoreVirtual 4335 cluster to the X-IO ISE 710, Dell EqualLogic PS6110XS, and Dell EqualLogic PS6210XS.
With each platform we test, it is important to understand how each vendor configures the unit for different workloads as well as the networking interface used for testing. The amount of flash used is just as important as the underlying caching or tiering process when it comes to how well a hybrid array will perform in a given workload. The following list shows the amount of flash and HDD, how much is usable in our specific configuration and what networking interconnects were leveraged. We have also included list pricing for comparative purposes.
HP StoreVirtual 4335 – 3 Nodes

List price: $41,000 per node, $123,000
Flash: 1.2TB usable (400GB SSDs x 3 RAID5 per node, network RAID10 across cluster)
HDD: 10.8TB usable (900GB 10K HDDs x 7 RAID5 per node, network RAID10 across cluster)
Network Interconnect: 10GbE iSCSI, 1 x 10GbE Twinax per controller

Dell EqualLogic PS6210XS

List price: $134,000
Flash: 4TB usable (800GB SSDs x 7 RAID6)
HDD: 18TB usable (1.2TB 10K HDDs x 17 RAID6)
Network Interconnect: 10GbE iSCSI, 2 x 10GbE Twinax per controller

X-IO ISE 710

List price: $115,000
800GB Flash (200GB SSDs x 10 RAID10)
3.6TB HDD (300GB 10K HDD x 30 RAID10)
Network Interconnect: 8Gb FC, 2 x 8Gb FC per controller
Each of the comparable arrays was also benchmarked with our Lenovo ThinkServer RD630 Testbed:
2 x Intel Xeon E5-2690 (2.9GHz, 20MB Cache, 8-cores)
Intel C602 Chipset
Memory – 16GB (2 x 8GB) 1333Mhz DDR3 Registered RDIMMs
Windows Server 2008 R2 SP1 64-bit, Windows Server 2012 Standard, CentOS 6.3 64-Bit

Boot SSD: 100GB Micron RealSSD P400e

LSI 9211-4i SAS/SATA 6.0Gb/s HBA (For boot SSDs)
LSI 9207-8i SAS/SATA 6.0Gb/s HBA (For benchmarking SSDs or HDDs)
Emulex LightPulse LPe16202 Gen 5 Fibre Channel (8GFC, 16GFC or 10GbE FCoE) PCIe 3.0 Dual-Port CFA
Mellanox SX1036 10/40Gb Ethernet Switch and Hardware
36 40GbE Ports (Up to 64 10GbE Ports)
QSFP splitter cables 40GbE to 4x10GbE
Application Performance Analysis
Our first two benchmarks of the HP StoreVirtual 4335 3-node cluster are the VMware VMmark Virtualization Benchmark and our Microsoft SQL Server OLTP Benchmark which both simulate application workloads similar to those which the StoreVirtual and its comparables are designed to serve.
The StorageReview VMmark protocol utilizes an array of sub-tests based on common virtualization workloads and administrative tasks with results measured using a tile-based unit. Tiles measure the ability of the system to perform a variety of virtual workloads such as cloning and deploying of VMs, automatic VM load balancing across a datacenter, VM live migration (vMotion) and dynamic datastore relocation (storage vMotion). The StoreVirtual 4335 stayed with the pack up until 6 tiles, where it started to slip compared to the Dell and XIO solutions. In terms of peak performance the StoreVirtual topped out at 8 tiles, where others climbed to 10-tiles.
An issue we saw during the VMmark testing process was the length of time required before hitting a passing run at the highest tile capability. The Dell EqualLogic PS6210XS hit its top run on the first try, since it was able to fit all 10 tiles completely into flash. The X-IO ISE 710 was also able to hit 10 tiles on the first run we performed, by its use of an incredibly aggressive tiering process that moves data quickly in real-time. When testing the HP StoreVirtual 4335, it took two runs to move all of its hot data into Tier 0, which probably contributed to the ceiling we found in VMmark specifically. Additionally, we know that AO gets de-prioritized when the system is under load, so that's also a contributing factor. Adding another 4335 node would of course resolve this issue as the performance scales linearly, especially for this test which is the most intensive an array faces in our lab. A dedicated MPIO driver may also help here if HP releases one for StoreVirtual in the future. The driver does make a big difference in Windows environments, as we'll see next in the SQL Server testing.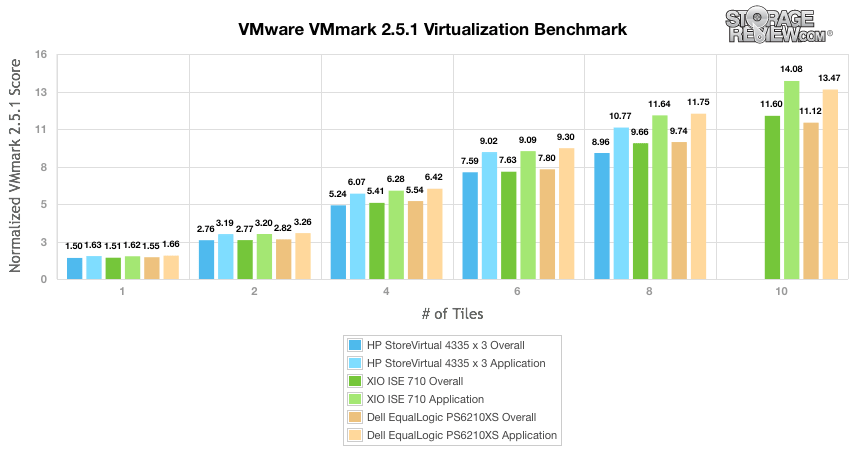 StorageReview's Microsoft SQL Server OLTP testing protocol employs the current draft of the Transaction Processing Performance Council's Benchmark C (TPC-C), an online transaction processing benchmark that simulates the activities found in complex application environments. The TPC-C benchmark comes closer than synthetic performance benchmarks to gauging the performance strengths and bottlenecks of storage infrastructure in database environments. Our SQL Server protocol uses a 685GB (3,000 scale) SQL Server database and measures the transactional performance and latency under a load of 30,000 virtual users and then again with a half-size database of 15,000 virtual users.
We leveraged the HP MPIO driver in the Windows SQL Server benchmark to access the full potential of the array. For Windows-based environments, the MPIO driver is easy to deploy and offers tremendous performance gains. A brief example; in a 4k random read test without the driver in place we measured 96k IOPS and 2.64ms average latency. With the driver installed the cluster peaked at over 141k IOPS and 1.81ms average latency, a near 50% gain in IOPS and big improvement in latency. Anyone putting StoreVirtual to work in a Windows environment should install the MPIO driver without hesitation.
With a load of 15k virtual users, the StoreVirtual 4335 was the second-best performer with 3144.8TPS.

The average latencies had a good spread across the group with 15k virtual users; there was a modest gap between the top performer (XIO710 with 19ms) and the StoreVirtual 4335, which had an average latency of 26m. There the gap nearly doubles to the PS6210XS. The Dell EqualLogic PS6110XS had the slowest performance.

With a workload of 30,000 virtual users, the StoreVirtual 4335 held its own against the XIO 710 and Dell EqualLogic PS6210XS (6153.1TPS and 6135.5TPS, respectively) with 6142.3TPS. The Dell EqualLogic PS6110XS was the slowest device tested with 3459.5TPS.

The results of the average latency benchmark were consistent with those of the TPS test; the StoreVirtual 4335, XIO 710, and Dell EqualLogic PS6210XS were the top three performers with 142ms, 133ms, and 146ms, respectively.

Enterprise Synthetic Workload Analysis
Prior to initiating each of the fio synthetic benchmarks, our lab preconditions the device into steady-state under a heavy load of 16 threads with an outstanding queue of 16 per thread. Then the storage is tested in set intervals with multiple thread/queue depth profiles to show performance under light and heavy usage.
Preconditioning and Primary Steady-State Tests:
Throughput (Read+Write IOPS Aggregated)
Average Latency (Read+Write Latency Averaged Together)
Max Latency (Peak Read or Write Latency)
Latency Standard Deviation (Read+Write Standard Deviation Averaged Together)
The synthetic analysis incorporates four profiles, including 4k and 8k 70/30 benchmarks which are widely used in manufacturer specifications and benchmarks:
4k – 100% Read and 100% Write
8k – 70% Read/30% Write
Our first benchmark measures the performance of random 4k transfers comprised of 100% write and 100% read activity. During the six-hour preconditioning period we verified the data we were measuring was fully tiered on the SSDs to show optimal performance out of the array when configured as eight LUNs. The StoreVirtual 4335 had the best read performance with 141kIOPS. The second-highest read performer was the Dell EqualLogic PS6210XS with 133kIOPS. The XIO 710 had the best write performance with 30kIOPS.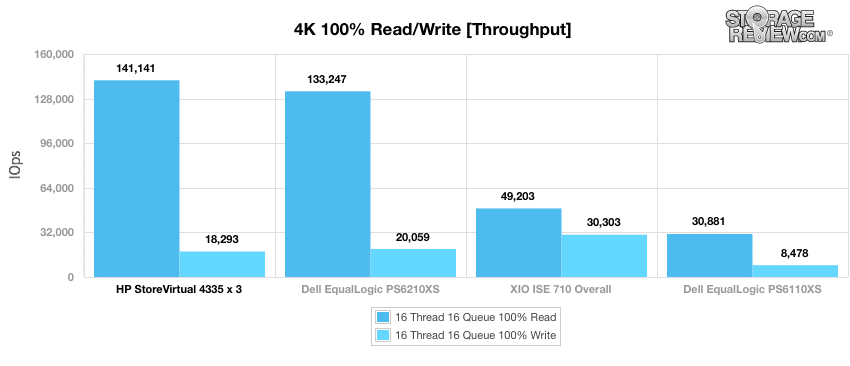 Once again, the StoreVirtual 4335 had the fastest read performance out of all of the devices tested, followed closely by the Dell EqualLogic PS6210XS. The fastest write performance went to the XIO 710 with 8.44ms.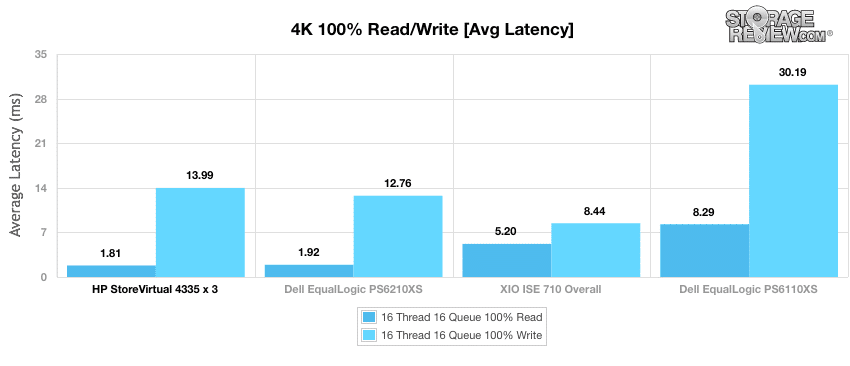 The XIO 710 was the top performer in both read and write functions in terms of max latency, with 51.9ms and 146ms, respectively. The StoreVirtual had the second-best read performance (96.5ms) but had the slowest write performance with 516.1ms, though it wasn't far behind the Dell EqualLogic PS6210XS and Dell EqualLogic PS6110XS (499.2ms and 407.0ms, respectively).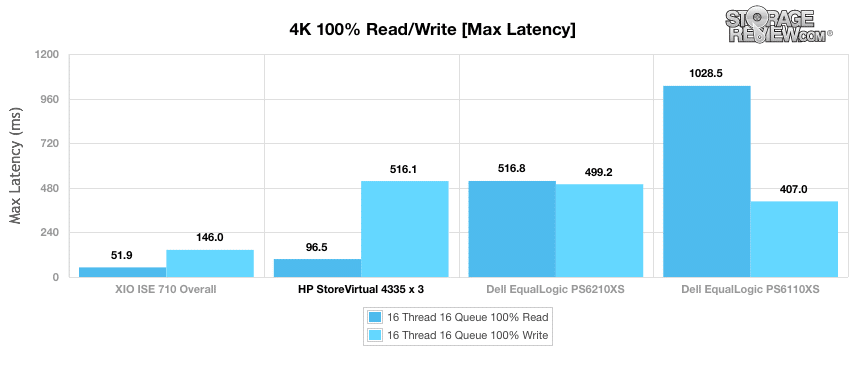 The StoreVirtual 4335 had the most consistent read performance of all of the devices tested (0.93ms), but the least consistent write performance (12.93ms). The XIO 710 showed the best function consistency with 5.43ms.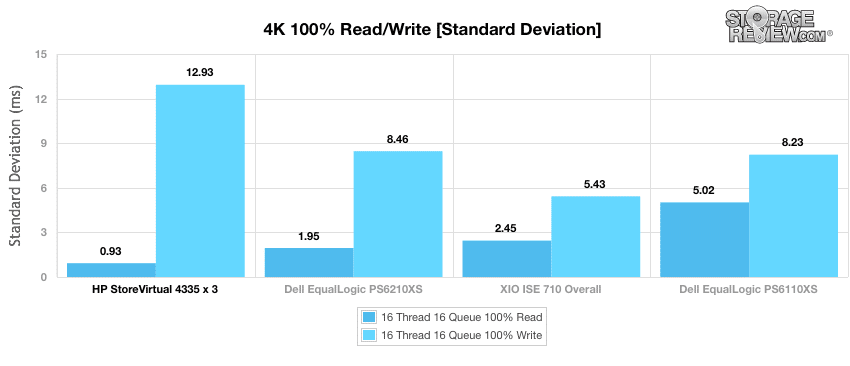 The StoreVirtual 4335 finished out our 70% read 30% write protocol as the top performer, though it started out towards the bottom of the pack and requiring higher queue depths to saturate performance. The older Dell EqualLogic PS6110XS, as expected, was the slower performer through the duration of the test, and the XIO 710 was the fastest performer for almost the entire test.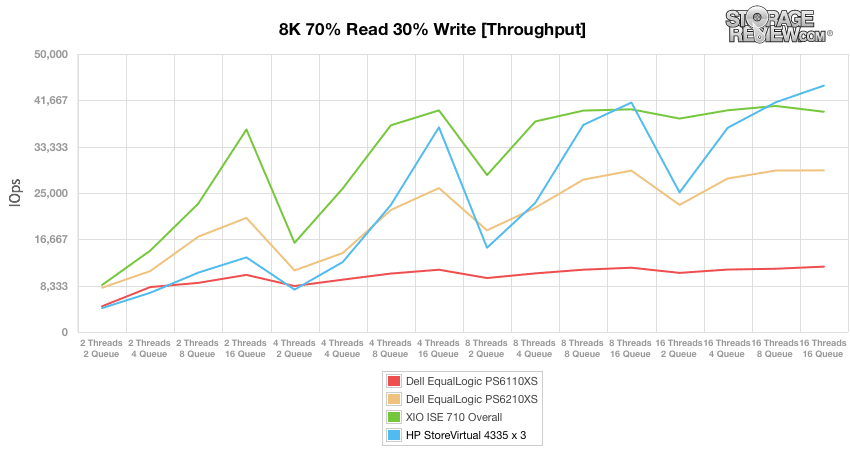 The XIO 710 was the fastest device for most of the test offering the lowest average latency, while the StoreVirtual 4335 overtook it towards the end of the benchmark.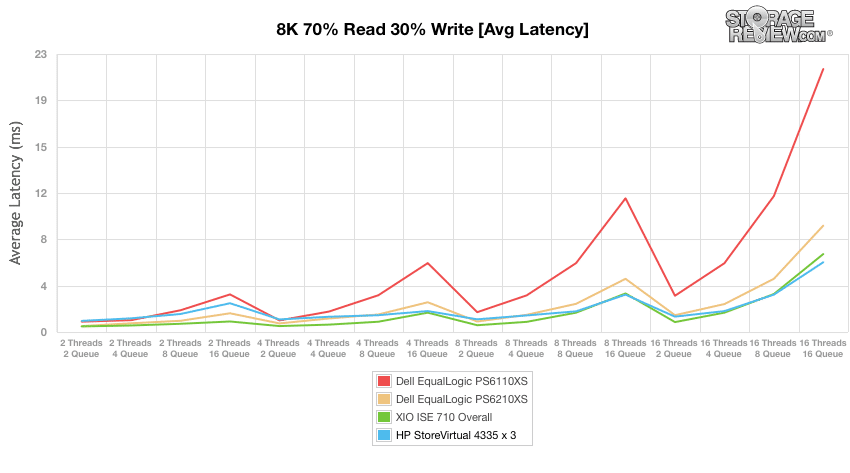 The results of the maximum latency benchmark were fairly consistent with the other mixed protocols, although in this test the StoreVirtual 4335 started out stronger than it did in past benchmarks. With the exception of one latency spike, the XIO 710 was the highest performer. The Dell EqualLogic PS6110XS and Dell EqualLogic PS6210XS were neck and neck, the latter slightly outpacing the former.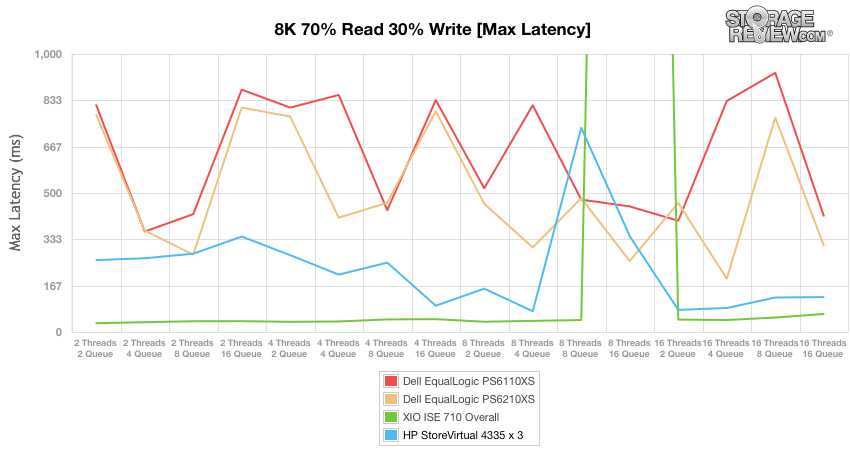 The standard deviation benchmark showed results very similar to the first two mixed protocols; the StoreVirtual 4335 started out weak and finished relatively strong, the XIO 710 was the top performer for the most part, and the Dell EqualLogic PS6110XS stayed at the bottom of the pack through the duration of the test.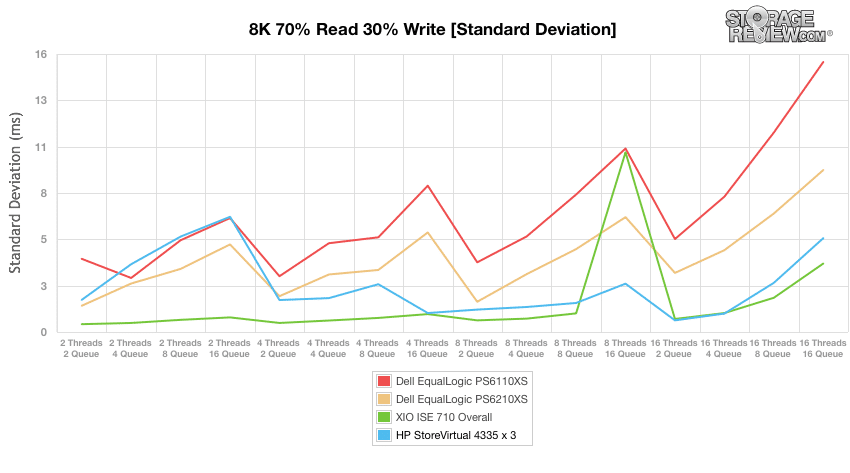 Conclusion
The HP StoreVirtual 4335 offers SMBs an easy to deploy 1U hybrid storage platform that's built on a market leading server platform. The 4335 is equipped with 10 drives, including 3x 400GB mainstream enterprise SSDs and 7x 900GB 10K 2.5" SAS drives. The system also includes 4x 1GbE and 2x 10GbE ports, redundant power supplies and fans, and a storage controller with flash-backed write cache. On the software side, StoreVirtual comes with integrated lights out (iLO 4) for system management, and Centralized Management Console (CMC) for 4335 cluster management and a deep pool of data services.
On the software and data services side, the StoreVirtual 4335 is highlighted by Adaptive Optimization (AO) tiering functionality allows for greater performance thanks to automated tiering that requires no user intervention, it's a simple on/off switch for each volume. The only down side with the tiering is that the progression can be sluggish when under heavy load, though this is by design to ensure application availability. The 4335 also offers features like thin provisioning, snapshotting, multi-site availability, replication and a management interface that accommodates multiple generations and types (VSA) of StoreVirtual. The HP licensing scheme is simple, all of these features are included in the unit price. There are no additional licenses required, which is uncommon in enterprise storage; most other arrays have additional cost to access the entire feature set.
In our first application test with VMmark, the StoreVirtual 4335 offered largely good results. At lower tile loads the StoreVirtual 4335 cluster matched the others in the group, but performance slipped and scalability capped at 8-tiles while other hybrids in this group climbed to 10-tiles. Changing the environment to Windows, which can leverage HP's MPIO driver, we found very strong performance in the SQL Server test, coming in a close 2nd in both 15k and 30k VU tests. In synthetic 4k random transfer workloads, the StoreVirtual 4335 was the strongest in read performance, ranking at the top in throughput and latency. 8k random mixed workloads test told a similar story, the 4335 finding itself at the top of pack once again and handily beating its competition in throughput.
There are a number of ways companies approach hybrid storage. To increase storage or capacity, some scale up by adding shelves to existing deployments while others scale out by adding new compute/storage nodes. HP StoreVirtual is a scale out model designed to maximize system availability to meet five 9's uptime (99.999%) and to make dropping in additional 1U nodes a simple task. There is a trade-off though; the 4335 sees some storage reduction since parity exists at both the local node and networked storage level due to the single controller per node design. Effectively what this means is in our case, the 2.4TB of SSD storage across three nodes, becomes 1.2TB usable. This isn't a problem in most cases, especially when HP has enhanced driver support, like in Windows environments. In other areas like what we saw with VMmark though, the system latency and available flash capacity may be limiting factors. StoreVirtual is more than just an emphasis on performance though; the nodes are easy to manage on their own, easy to manage in large groups and the inclusive data services let the 4335 reach into markets where less-featured systems can't even play. In total the 4335 is a refined system that is a complete offering playing well on its own as primary storage for a small business, or as part of a larger storage scheme in a classic ROBO hub and spoke configuration.
Pros
Built on top-quality server platform
Adaptive Optimization tiering technology beneficial and requires no management
Enterprise feature-rich functionality for the SMB/midmarket
Pricing includes licenses to all software features
Microsoft MPIO driver offers big performance jump for Windows shops
Cons
No VMware-specific drivers (yet)
Tiering progression could be faster
Bottom Line
HP StoreVirtual 4335 Hybrid Storage is ideal for SMBs and ROBO scenarios that need a quality full-featured enterprise storage product with a tilt toward ease of deployment, management and robust data services. That's not to detract from performance; the cluster we tested posted impressive results almost everywhere, with especially impressive numbers in Microsoft-oriented environments.
HP StoreVirtual 4335 Product Page