The Dell UltraSharp 27 Ultra HD 5K (UP2715K) is touted as the industry's first 5K monitor designed for media professionals or others looking for an Ultra High Definition monitor. Coupled with high-quality, built-in speakers by Harman Kardon, Dell's new monitor features 14.7 million pixels at an optimal native resolution of 5120 x 2880 (seven times greater than a 1080p monitor), which allows it to boast some serious color definition: both precise and accurate.
The Dell UltraSharp 27 Ultra HD 5K (UP2715K) is touted as the industry's first 5K monitor designed for media professionals or others looking for an Ultra High Definition monitor. Coupled with high-quality, built-in speakers by Harman Kardon, Dell's new monitor features 14.7 million pixels at an optimal native resolution of 5120 x 2880 (seven times greater than a 1080p monitor), which allows it to boast some serious color definition: both precise and accurate.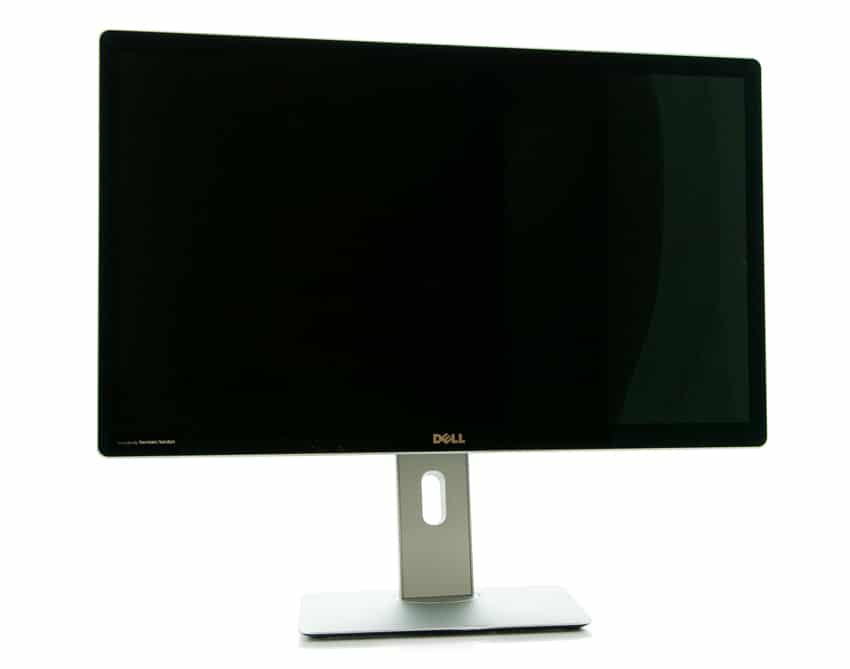 Dell's new 5K monitor features a Custom Color mode, fine-tune and adjust onscreen colors by leveraging a plethora of color parameters including: RGBCMY saturation, RGBCMY hue, RGB gain and RGB offset. For even more customization capabilities, the UP2715K features a 12-bit user-accessible 3D LUT (look-up table). Graphic designers and other areas where details are important will definitely find notice the difference, as Dell PremierColor provides factory-tuned 99% AdobeRGB and 100% sRGB coverage as well as best-of-class grayscale tracking. Dell also includes a color calibration factory report, which guarantees that colors will be true-to-life.
Backed by Dell's 3-Year Advanced Exchange Service and Premium Panel Guarantee, the UltraSharp 27 Ultra HD 5K goes for roughly $1,575 USD. The price tag was actually significantly higher when it was originally announced; however, in the wake of Apple's announcement of their all-in-one 27 inch 5K computer platform roughly a year ago, Dell lowered their price by $500 dollars (from $2,500) and again later the next year.
Specifications
Diagonally Viewable Size: 27″ (27-inch wide viewable image size) or 68.5cm
Aspect Ratio: Widescreen (16:9)
Panel Type, Surface: In-plane switching, anti-glare with hard coat 3H
Optimal resolution:

5120 x 2880 at 60 Hz (Dual DP cable required)
3840 x 2160 at 60Hz (single DP cable required)

Contrast Ratio: 1000: 1 (typical)
Dynamic Contrast Ratio: Mega7
Brightness: 350 cd/m2 (typical) / 50 cd/m2 (min)
Response Time: 8 ms (gray to gray)
Viewing Angle: 178° vertical / 178° horizontal

Color Support:

Color Gamut (typical): Adobe RGB 99%, sRGB 100%

1.074 Billion colors (True 10 Bits)

Pixel Pitch: 0.116 mm
Pixel Per Inch (PPI): 218
Backlight Technology: LED
Display Type: Widescreen Flat Panel Display
Display Screen Coating: Antiglare with hard-coating 3H
Security:

Security lock slot (cable lock sold separately)
Anti-theft stand lock slot (to panel)

Connectivity

1 Mini DisplayPort
2 DisplayPort (DP1, DP2)
5 USB 3.0 ports – Downstream (4 at the back, 1 with battery charging)
1 USB 3.0 port – Upstream
1 Media Card Reader

Built-in Devices

USB 3.0 Hi-Speed Hub (with 1 USB upstream port and 5 USB downstream ports)
Acoustics by Harman Kardon (2 x 16W=32W)

Electrical

Voltage Required: 100 to 240 VAC / 50 or 60 Hz ± 3Hz / 1.8 A (typical)
Power Consumption (Operational): 100 (typical) / 170W (maximum)
Power Consumption Standby / Sleep: Less than 1.2W
Audio Output: Acoustics by Harmon – Integrated 2 x 16W speakers
The UP2715K is equipped with a wide range of connection ports, allowing it to support a variety of different peripherals for both the PC and Mac. The high-current USB 3.0 port located on the back of the monitor provides twice the power for both charging and powering BC1.2 compatible USB devices. Also located on the back are two additional upstream USB 3.0 ports as well as four downstream USB 3.0 ports, two DisplayPorts (for 5K support), a Mini DisplayPort (for 4K support) and a media card reader. Additionally, the built-in, high-fidelity Harman Kardon stereo speakers boast some pretty impressive audio and video performance. Both speakers are positioned in the 'down-firing' mode and are specifically tuned by Harman Kardon with a total wattage of 32W (or 2 x 16W).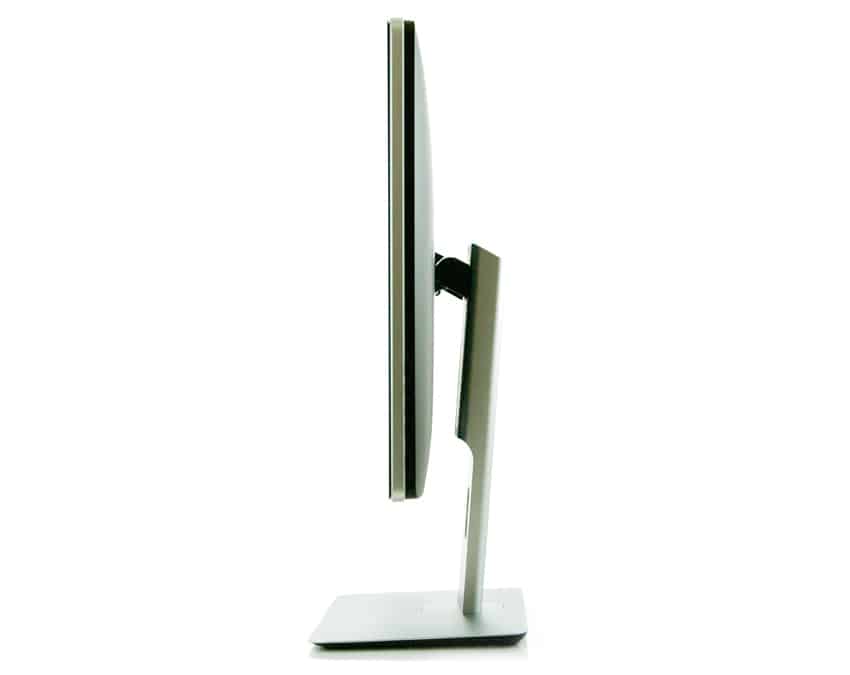 As we touched on in our review of the Dell UltraSharp 32″ 4K monitor, stepping up from a traditional 720p or 1080p monitor to one with a dramatically higher resolution offers many benefits. If you multitask and previously required multiple monitors to show all of the windows open that you are working in, a 4K or 5K monitor allows you to consolidate down to one monitor. You free up space on your desk and from an ergonomics standpoint you are moving your neck less since all of the stuff you are working on it directly in front of you. While new 5K monitor is only offered in a 27″ size versus 32″ of the 4K monitor, the smaller physical size does help condense all the information in a tighter field of vision. In practice this means less tilting of moving your head around to see things on different corners of the screen.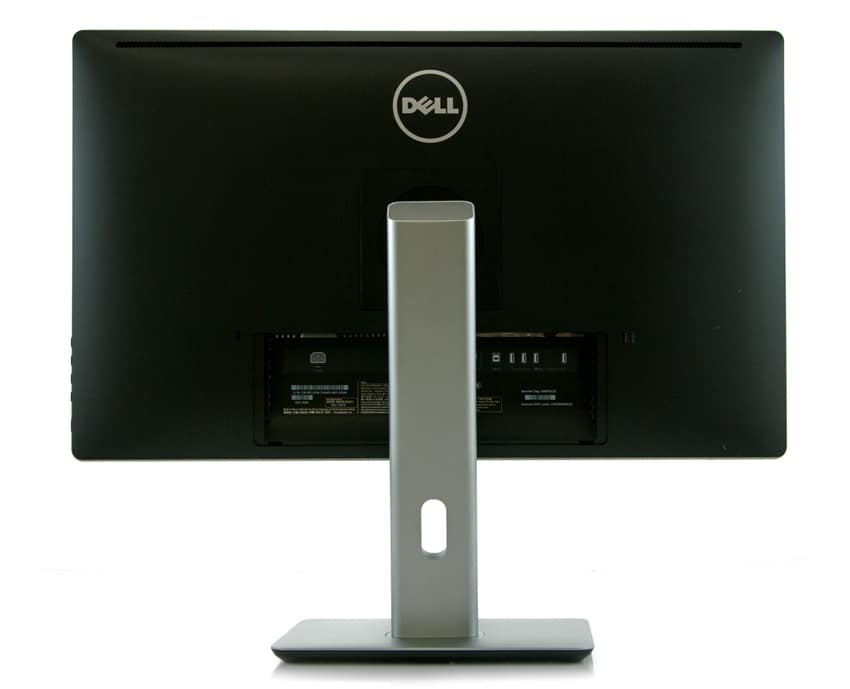 When comparing the UP2715K against the larger UP3214Q, there are some significant differences (besides resolution) that play a role into how each one might be leveraged in a given environment. First the things both monitors have in common are their color support specs; both offer 10-bit color rendering, as well as support 99% Adobe RGB and 100% sRGB color gamut. They also both have matching brightness and contrast specs. Unlike the 32″ UP3214Q, the 27″ UP2715K comes with glossy screen cover with an anti-reflective coating, whereas the former primarily leverages a matte finish to reduce reflections and glare. Another addition for the UP2715K is it includes on-board speakers, although depending on if its a private or more public business setting this may or may not be an advantage.
In our day to day usage, the UP2715K's resolution offered advantages as well as disadvantages. With Windows 8.1, the panel's native 5120 x 2880 resolution was handled well by most applications, but certain system elements didn't know how to adjust as others. Software such as remote desktop, web browsers, photo editing software or office programs all easily handled the added resolution. Certain Windows system elements though did present some challenges, such as task bar popups or other sideline items that render at an incredibly small size. While still very crisp and beautifully rendered, they needed a close inspection to read. This is less of the monitor's fault though and just a growing pains problem with Windows designed to work with legacy hardware. To some extent we noticed this using the 32″ 4K monitor, but with the bump in resolution and the smaller physical size the issue was magnified.
Another benefit we noticed in the lab was our staff writer using the UP2715K. Our staff writer uses Macintosh products, specifically this 2011 Mac Mini. The setup took less than a minute as he only needed to plug in the power supply and connect to the Mac with a Thunderbolt cable. The resolution automatically configured and unlike the Windows connection, there was no issue regarding notifications or having icons shrink to the point where they couldn't be read (this generation of Mac Mini only supports a resolution up to 2560 x 1440). With a smaller desk, the larger 32" monitor may end up being more of an encumbrance for our staff writer. However the 27" screen is larger than the screen he typically uses and found that we could navigate through the multiple windows he keeps open for research much more quickly. The high resolution also aided him in photo editing as he was able to see much more detail and better contrast in lighting versus his usual monitor.
Compared to the 32″ 4K monitor from Dell, the 27″ UP2715K with its glossy surface did offer what we felt to look like more vivid and rich photo rendering, which from a personal standpoint worked quite well for activities such as photo or video editing, as well as normal web browsing activity. The matte-finish on the 32″ 4K monitor though did seem more friendly on the eyes for detail-oriented work such as editing code, working in SSH or telnet sessions or areas where less glare from the matte finish out-weighed the visual benefits of the glossy UP2715K. This is one area where it really comes down to personal preference though, since they are both fantastic monitors.
Conclusion
To fully leverage the Dell UP2715K at its native resolution requires a compatible graphics card with two DisplayPort 1.2 connections. This is a slight step above most monitor upgrades that are completely plug and play within reason (4K monitors do require a fairly modern platform to connect to) If you have a video card that is only compatible with DP 1.1, the monitor will only work at a lower resolution. Once the graphics card is sorted out, the 27″ Dell UP2715K monitor offers plenty of advantages in an ever-crowded market segment. The 27″ screen comes with a drool-worthy 5K resolution, supports support 99% Adobe RGB and 100% sRGB color gamuts and includes fairly stout speakers integrated into the monitor.
There are certainly advantages to using a 27 inch 5K monitor. The higher resolution gives users a ton of real-estate to work with while removing the need for extra monitors. Depending on the application the added resolution can be leveraged to allow objects to be rendered more smoothly or allow an increase in information being presented on the screen at one time. Beyond its impressive resolution our subjective take on the screen's rendering capabilities were that it offered a rich and vibrant viewing experience which helped when viewing or editing online media.
The monitor also offers productivity and workflow benefits. For IT administrators, this could mean having a monitoring app, management app (or two), browser session and even a video surveillance window all running at the same time in a single view. Being able to do more on a single desktop nets efficiency gains and makes flipping back and forth between applications much more fluid. While high-resolution monitors are typically marketed to the media professional crowd, heavy workstation users will benefit from the UP2715K as well, getting more done on one screen that ever before.
The Dell UltraSharp 27 Ultra HD 5K (UP2715K) on Amazon
Sign up for the StorageReview newsletter