The NETGEAR ReadyNAS 212 (RN212) is a NAS aimed at home users and small offices. The NAS has two bays and a maximum capacity of 12TB, populating both bays with 6TB drives. The NAS uses a quad-core 1.4GHz ARM Cortex processor that allows them to deliver real-time 1080p high-definition video transcoding, according to NETGEAR few other consumer NAS can claim real-time HD transcoding. NETGEAR goes on to say that this NAS, along with its 4-bay model (RN214), are the first ARM-based designs to support this transcoding feature in a cost-effective solution.
The NETGEAR ReadyNAS 212 (RN212) is a NAS aimed at home users and small offices. The NAS has two bays and a maximum capacity of 12TB, populating both bays with 6TB drives. The NAS uses a quad-core 1.4GHz ARM Cortex processor that allows them to deliver real-time 1080p high-definition video transcoding, according to NETGEAR few other consumer NAS can claim real-time HD transcoding. NETGEAR goes on to say that this NAS, along with its 4-bay model (RN214), are the first ARM-based designs to support this transcoding feature in a cost-effective solution.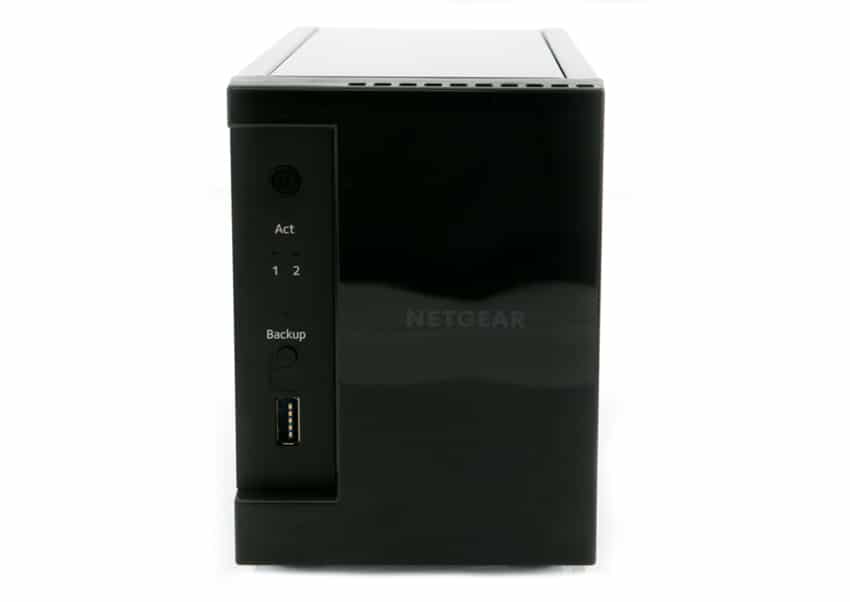 Along with its transcoding ability, NETGEAR claims throughput speeds of 200MB/s read and 160MB/s write. To help the NAS reach this performance it has 2GB of memory and link-aggregation to deliver twice the throughput. The new NAS also claims near-0 throughput degradation anti-virus scanning and comes with NETGEAR's five levels of data protection:
Automatic multi-folder backup and RAID, which keeps the integrity of your data even in the event of hard drive failure
Exclusive snapshot technology keeps historical versions of data, to easily revert files if necessary
Real-time anti-virus software protects against viruses and malware
Bit rot protection defends against media degradation
Free cloud resources for additional backup
Aside from its performance claims the RN212 does everything one would expect from a home NAS. This includes automatic backups from both PC and Macs, the RN212 supports Time Machine from Apple. Users can sync folders between the RN212 and their PCs. And photos can be backed up on-the-go from mobile devices.
The NETGEAR ReadyNAS 212 comes with a 3-year warranty for the chassis along with 3 year XpressHW hardware replacement, and either 1 or 3-year OnCall 24×7 packages depending on the ProSupport Service packs purchased. The NETGEAR ReadyNAS 212 has a street price of $330 for the diskless version.
NETGEAR ReadyNAS 212 specifications
Number of bays: 2
Max capacity: 12TB (6TB x 2)
CPU: Quad core 1.4GHz High Performance ARM Cortex A15
Memory: 2GB Ram
Drive types supported: SATA/SSD 2.5" or 3.5"
Hot swappable drives
External Ports:

eSATA x1
LAN x 2 Gigabit Ethernet
USB x 3 USB 3.0

Physical:

Dimensions DxWxH: 220 x 101 x 142mm
Weight: 2.03kg

Support and warranties
Chassis: 3-year
ProSupport Service Packs Available: 200 series
OnCall 24×7: 1 year: PMB0311 or 3-year: PMB0331
XpressHW Replacement: 3-year: PRR0331
Design and build
The NETGEAR ReadyNAS 212 is a small black NAS that is only a little larger than the drives it houses. The frame is black metal with a plastic door on the front that swings open to the left for access to the drives. The door has NETGEAR branding in white letters dead center. To the left of the door from top to bottom is the power button, an activity LED light, Disk 1 and Disk 2 LED lights, a backup button, a USB and Backup LED light, and a USB 3.0 port.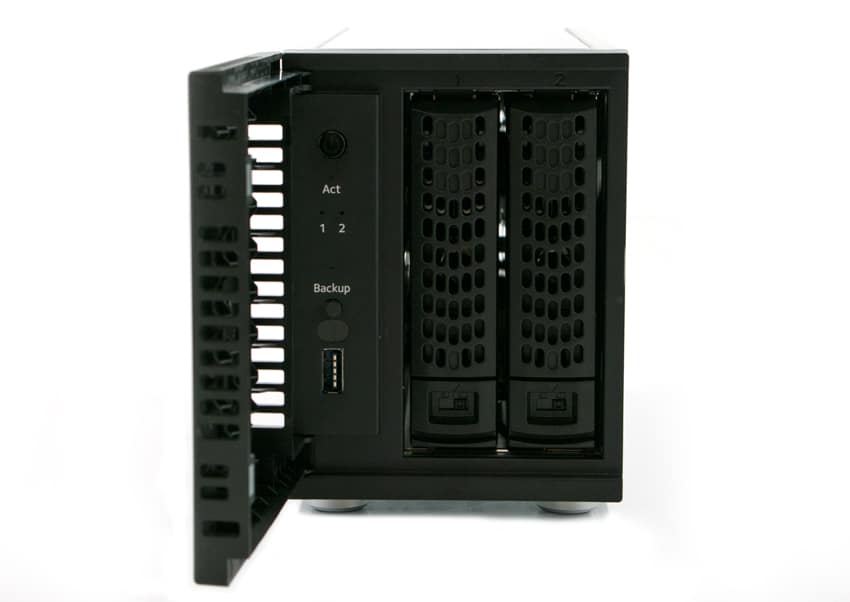 The sides of the device have NETGEAR branding and exhaust vents.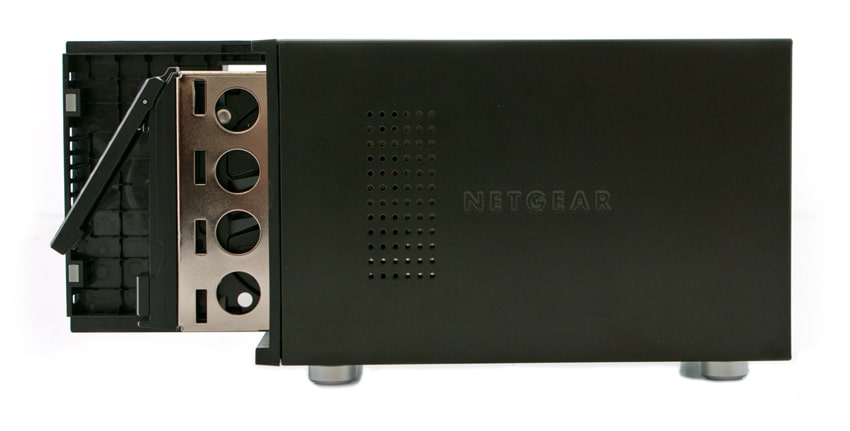 Going around to the back of the device, we see that the majority of the back is taken up by an exhaust fan. Along the bottom running from left to right is the Kensington lock, 2 USB 3.0 ports, an eSATA port, 2 LAN Gigabit Ethernet ports, a recessed reset button, and the power supply.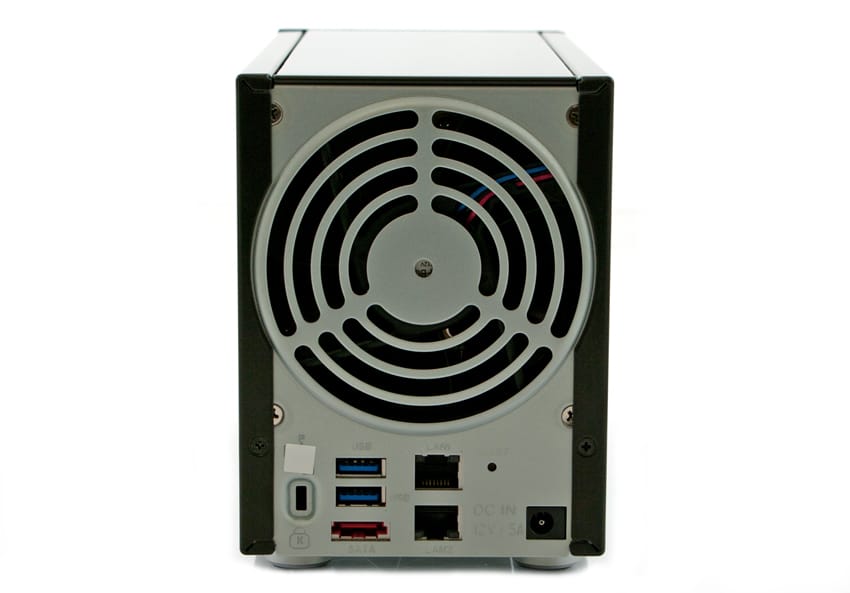 Usability
NETGEAR's ReadyNas devices are powered by the ReadyNas OS, currently in version 6.2. Once the NAS is populated, powered up, and connected to the local network users can find it by going to http://readycloud.netgear.com and pressing discover. Once the ReadyNas is discovered it just needs to be setup through the wizard.
Once everything is setup and the user is logged in they see the main screen of the GUI. The main page has what one might expect including general information about the device, how much capacity has been used, and the apps that are installed on the NAS. Across the top are tabs for System, Shares, iSCSI, Accounts, Network, Apps, Cloud, Backup, Admin password, Language, as well as a help and refresh button.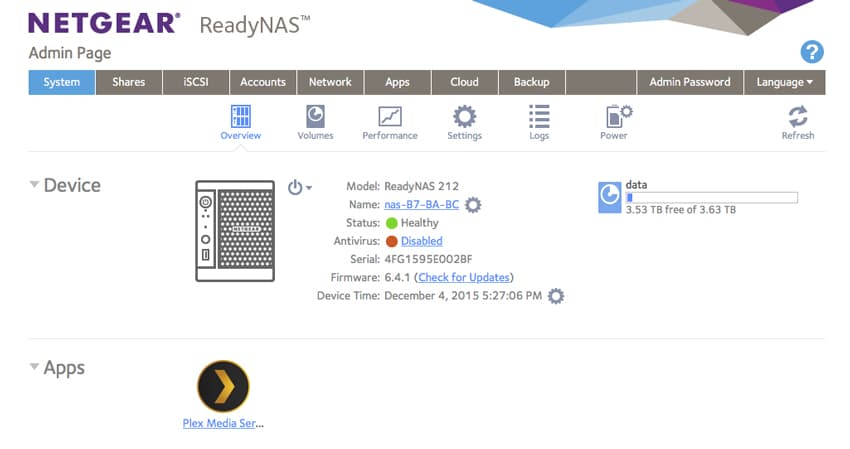 Within the System tab are tabs for Overview (which is what is pictured above), Volumes, Performance, Settings, Logs, and Power. The Volumes tab shows users how much of the volume is taken up by either data or snapshots. It also tells the user the type of drives and the RAID configuration.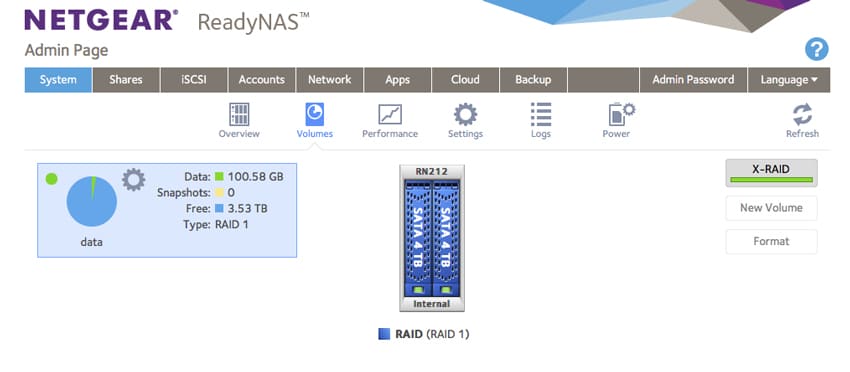 The Performance tab under System gives users a read out of the temperature of the drives and CPU as well as the RPM of the system fan.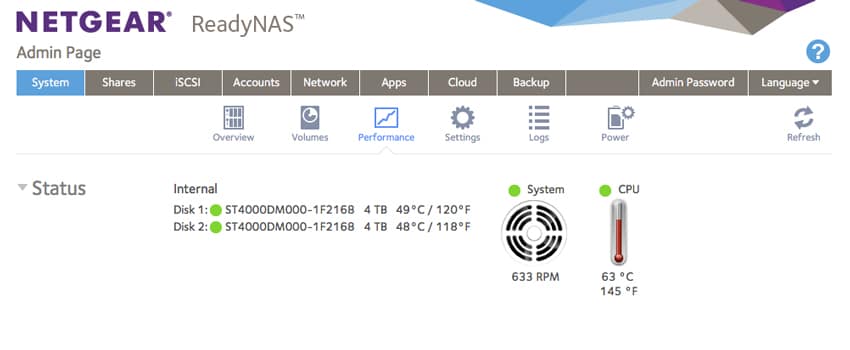 The Shares tab allows admins to setup and view shares as well as browse through them and check a specific timeline of shares setup and usage.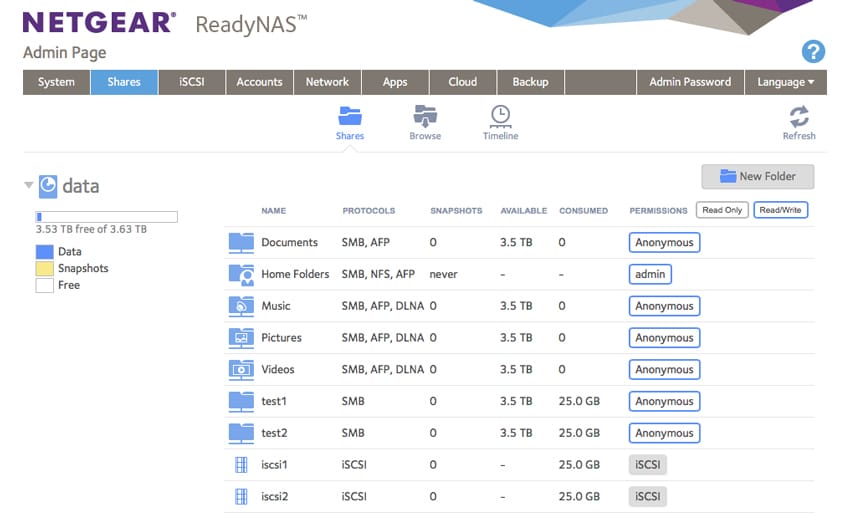 The iSCSI tab lets admins setup LUNs and groups as well as provide information on the properties of the iSCSI protocols as well and the ability to remove them.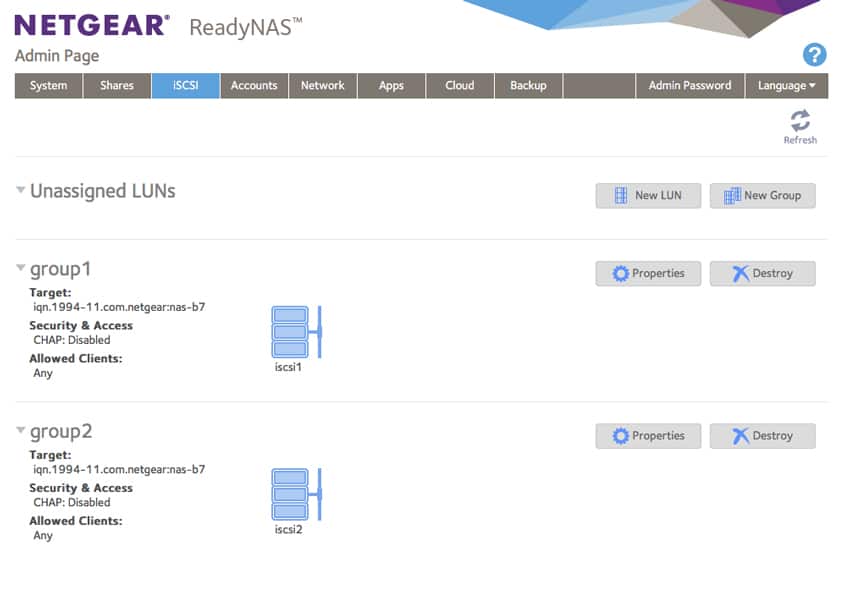 The Accounts tab shows the various user accounts and gives admins the ability to setup new accounts and groups as well as cloud users.

The Network tab shows exactly how each network port is setup providing information such as MAC address, IP settings, IP addresses, and bandwidth.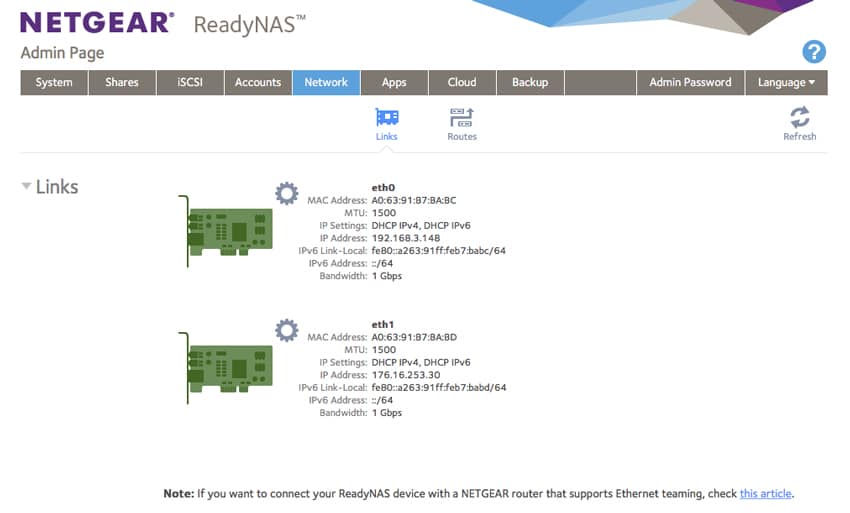 The Apps tab shows both installed and available apps on the NAS device. Users can launch the apps from this tab and update them if need be.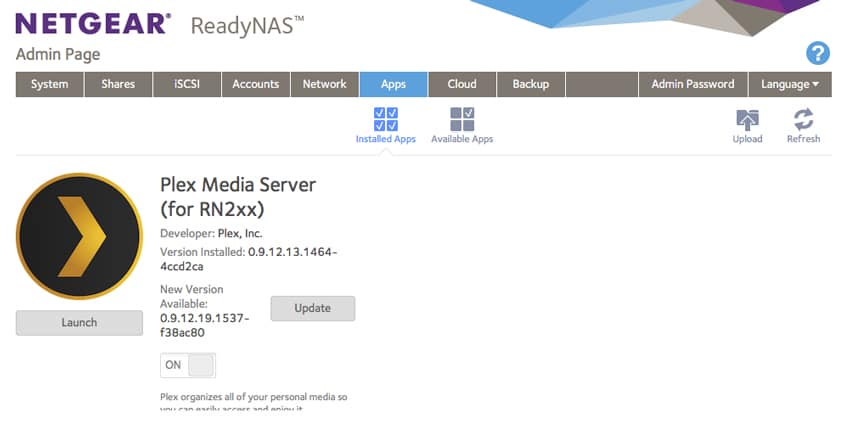 The Cloud tab enables a cloud sync ability so users can sync their mobile devices as well as remote usage back to their NAS at home or in the office.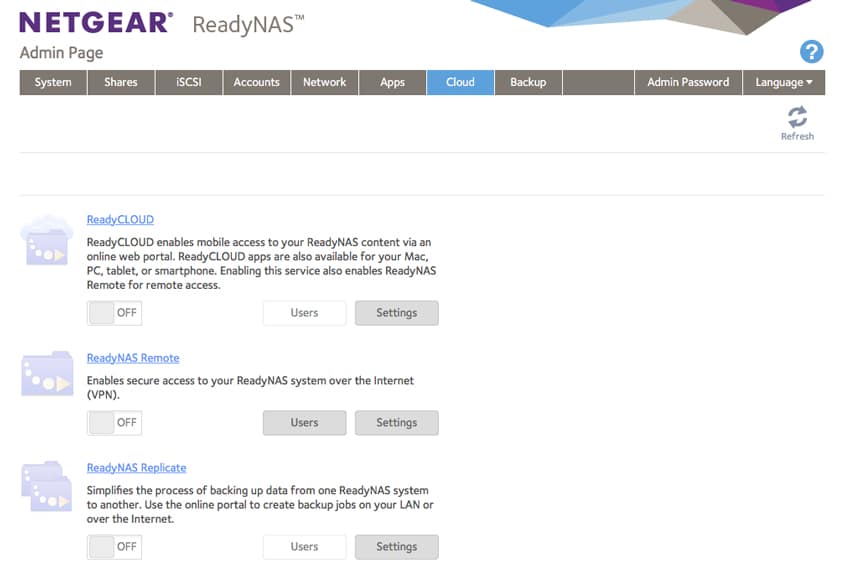 The Backup tab, as the name implies, is for setting up computer backup jobs.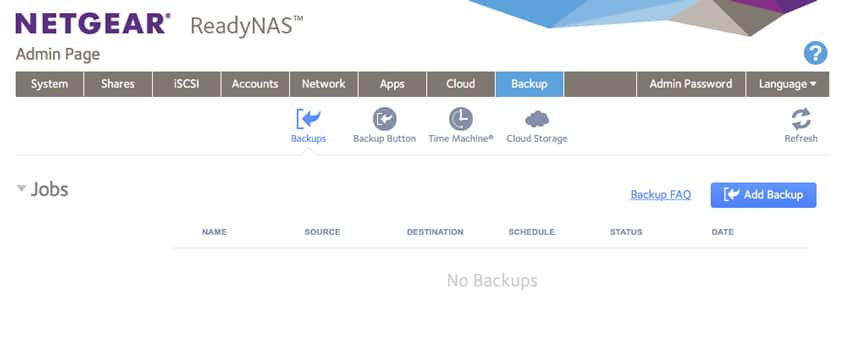 Testing Background and Comparables
NETGEAR supplied us with two Seagate 4TB Desktop Drives. Though with the diskless model users can supply their choose of drives as we stated in our Pick The Right Drive For The Job article, desktop drives are not ideal in a NAS. We tested both CIFS and iSCSI performance using RAID1 configuration.
The StorageReview Enterprise Test Lab allows us to provide relevant and unbiased benchmarks of enterprise storage devices by establishing a testing environment comparable to what IT administrators encounter in real datacenter and field deployments. The Enterprise Test Lab incorporates a variety of servers, networking, power conditioning, and other infrastructure to design real-world configurations that accurately reflect the performance of storage devices during reviews.
We incorporate details about our lab environment and testing protocols into the review so that administrators and those responsible for equipment acquisition can fairly gauge the conditions under which we have achieved these published results. None of our reviews are paid for or controlled by the manufacturer of equipment we are testing. Additional details about the StorageReview Enterprise Test Lab and an overview of its networking capabilities are available on those respective pages.
Enterprise Synthetic Workload Analysis
Our enterprise hard drive benchmark process preconditions each drive into steady-state with the same workload the device will be tested with under a heavy load of 16 threads with an outstanding queue of 16 per thread, and then tested in set intervals in multiple thread/queue depth profiles to show performance under light and heavy usage. Since hard drives reach their rated performance level very quickly, we only graph out the main sections of each test.
Preconditioning and Primary Steady-State Tests:
Throughput (Read+Write IOPS Aggregate)
Average Latency (Read+Write Latency Averaged Together)
Max Latency (Peak Read or Write Latency)
Latency Standard Deviation (Read+Write Standard Deviation Averaged Together)
Our Enterprise Synthetic Workload Analysis includes four profiles based on real-world tasks. These profiles have been developed to make it easier to compare to our past benchmarks as well as widely-published values such as max 4k read and write speed and 8k 70/30, which is commonly used for enterprise drives.
4k

100% Read or 100% Write
100% 4k

8k 70/30

70% Read, 30% Write
100% 8k

128k (Sequential)

100% Read or 100% Write
100% 128k
In the first of our enterprise workloads the 4k throughput, we saw a read throughput of 367 IOPS in iSCSI configuration, which was much higher than the CIFS throughput at 231 IOPS. The write configuration was much closer at 213 IOPS in iSCSI and slightly better in CIFS with 220 IOPS.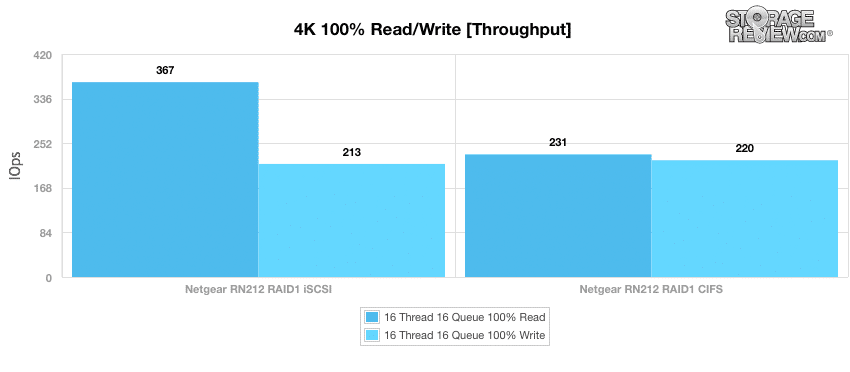 Average latency gave us similar placement with the iSCSI coming out with the best latency in read with 696.78ms but just losing out on the write with a latency of 1,196.38ms to the CIFS 1,161.22ms.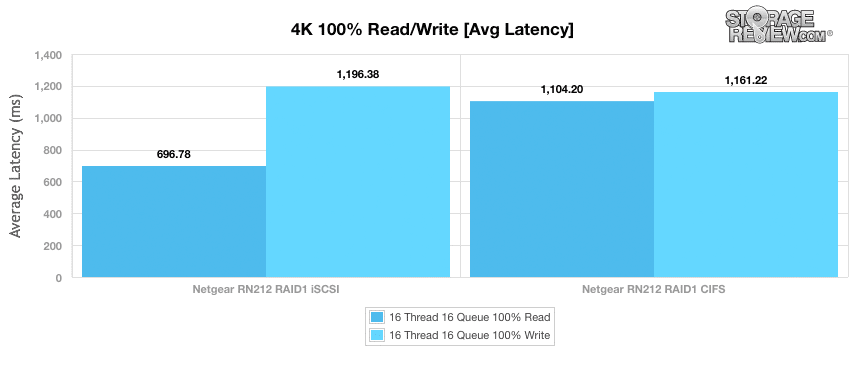 With max latency the iSCSI once again came out with the best read speeds of 1,989.6ms however its write speed was massively spiked up to 56,627ms. The CIFS configuration was more in line overall with a read latency of 2,892ms and a write latency of 4,2696.6ms.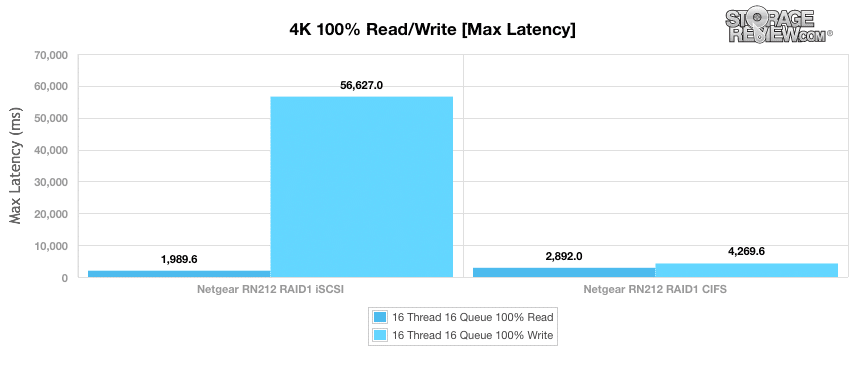 With standard deviation we saw another huge spike with the iSCSI write being jumping up to 4,008.11ms. iSCSI also came in second with a read latency of 365.4ms. CIFS on the other had gave us read latency of 208.04ms and write latency of 951.47ms.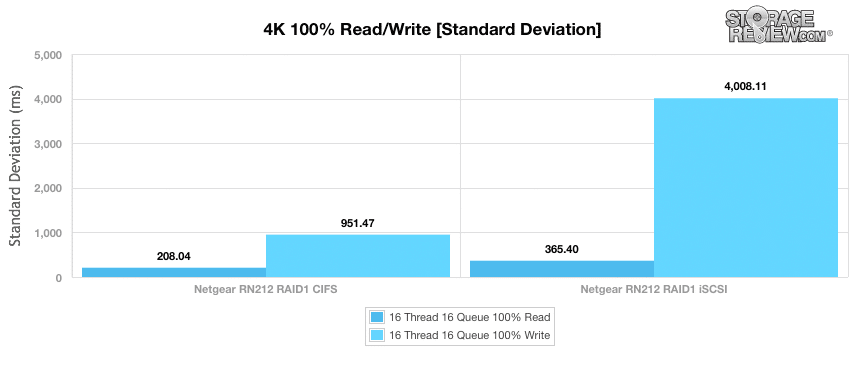 Our next benchmark measures 100% 8K sequential throughput with a 16T/16Q load in 100% read and 100% write operations. In this test, the iSCSI took the top spot in both read and write with a read throughput of 26,196 IOPS and a write throughput of 13,622 IOPS.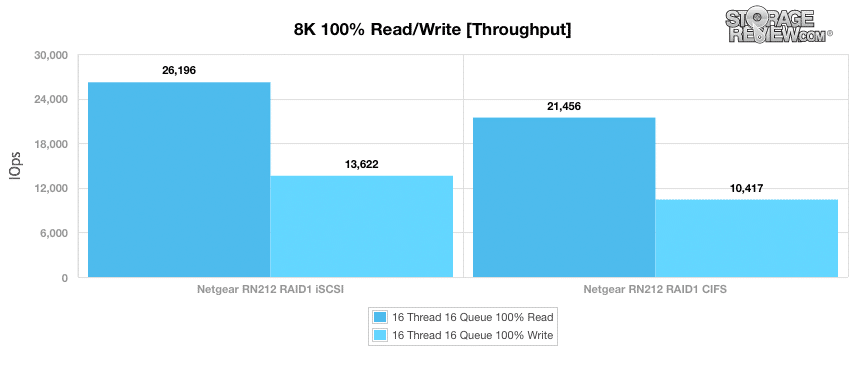 Compared to the fixed 16 thread, 16 queue max workload we performed in the 100% 4k write test, our mixed workload profiles scale the performance across a wide range of thread/queue combinations. Here we can see that the iSCSI started off stronger and stayed in the lead throughout our entire test peaking at 369 IOPS.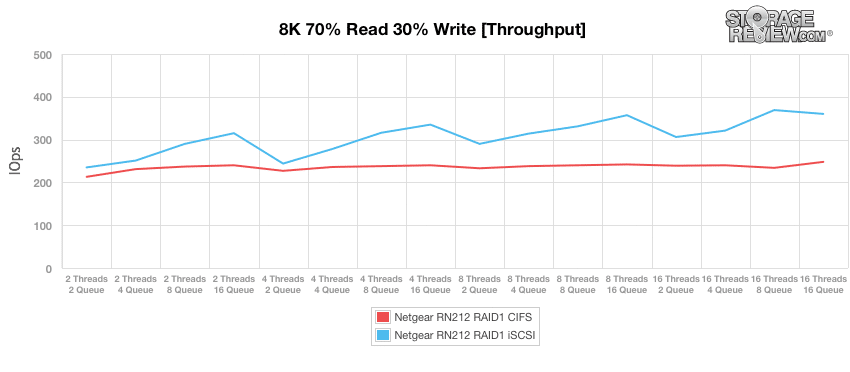 Average latency gives us the same placement with iSCSI staying in the lead throughout and having more shallow spikes.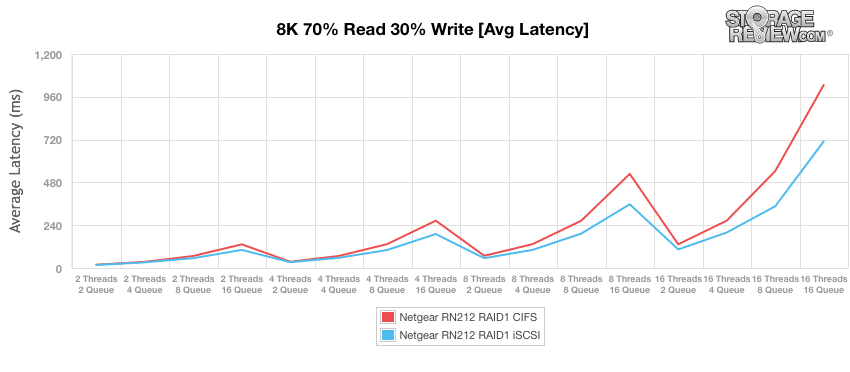 Max latency saw iSCSI suffer from higher latency than CIFS at certain points. iSCSI finished with lower latency though CIFS was lower than iSCSI for a good portion of the test.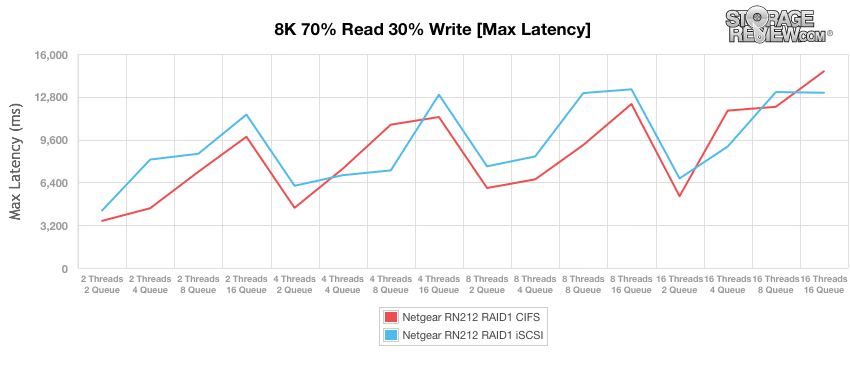 Standard deviation saw the two configuration run much closer to one another throughout often trading which one had better latency. CIFS finished lower.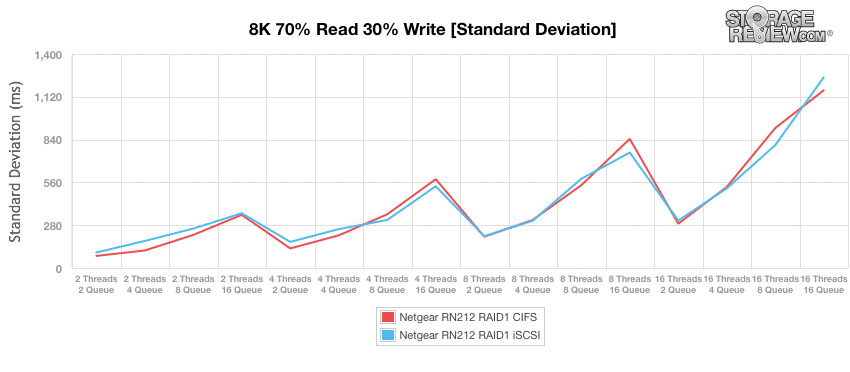 The last test in our Enterprise Synthetic Workload testing is the 128k test, which is a large block sequential test that shows the highest sequential transfer speed for a platter drive. Looking at the 128k performance of 100% write and 100% read activity, we see both iSCSI and CIFS running neck and neck. In read iSCSI gives us 231MB/s and CIFS gives us 230MB/s. In write iSCSI gives us 184MB/s while CIFS gives us 186MB/s.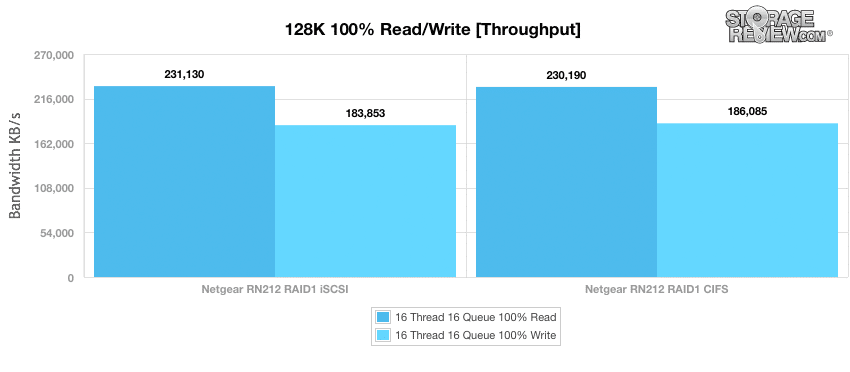 Conclusion
NETGEAR's new ReadyNAS 212 (RN212) is designed for SOHO and home users. It comes with up to 12TB of capacity (6TB x 2), a 1.4GHz processor, and 2GB of memory. The RN212 is one of the few commercial available NAS devices that support real-time 1080p HD video transcoding. The RN212 comes with a 5-year warranty and with NETGEAR's 5 levels of data protection.
For performance we used the drives supplied to us by NETGEAR. These were 4TB Seagate Desktop drives, and as we have said in the past Desktop drives may not be ideal for usage in NAS devices. For our 4k tests we saw throughput as high as 367 IOPS and average latency as low as 696.78ms. Our sequential 8k test showed a throughput of 26,196 IOPS read and 13,622 IOPS write. Looking at large block sequential we saw speeds read speeds at 231MB/s and write speeds of 186MB/s; higher than the speeds claimed by NETGEAR.
Pros
Good overall performance
Large Block sequential faster than claimed
Cons
Some large spikes in max latency under high workloads
The Bottom Line
The NETGEAR ReadyNAS 212 is an affordable NAS that is ideal for home users that need to transcode full HD video in real time.
NETGEAR ReadyNAS 212 on Amazon
Sign up for the StorageReview newsletter