At the end of last year Intel announced a new SSD product, diminutive in size but not performance, the Intel SSD 310. Available in 40GB and 80GB capacities, the mSATA SSD promises to deliver mainstream SSD speeds in a form factor an eighth of the standard 2.5″ SSD size. The SSD 310 is finding its way into a variety of products – serving as the main drive in ruggedized tablets to duty as a dedicated boot drive in standard notebook PCs. No matter how it's used though, the Intel SSD 310 may be a glimpse into the future as SSD form factors shrink and shift away from typical 2.5″ drive bay constraints.
At the end of last year Intel announced a new SSD product, diminutive in size but not performance, the Intel SSD 310. Available in 40GB and 80GB capacities, the mSATA SSD promises to deliver mainstream SSD speeds in a form factor an eighth of the standard 2.5″ SSD size. The SSD 310 is finding its way into a variety of products – serving as the main drive in ruggedized tablets to duty as a dedicated boot drive in standard notebook PCs. No matter how it's used though, the Intel SSD 310 may be a glimpse into the future as SSD form factors shrink and shift away from typical 2.5″ drive bay constraints.
Since the SSD 310 connects through an mSATA slot to interface with a notebook or small form-factor device, it is important to clarify that most users aren't going to be able to buy the 310, take out their WWAN card and all of a sudden have a new SSD. While the drive will fit and won't get zapped, the mini-PCIe slot has to be configured by the machine's OEM for SATA signals, so for most current notebooks the card simply won't work. Intel did mention a standard that allows properly configured slots to accept both types of cards, but its not common and so far didn't have any devices listed with that capability. To that end, our review drive came with an interposer adaptor card so we could easily test it in our desktop-based test rig.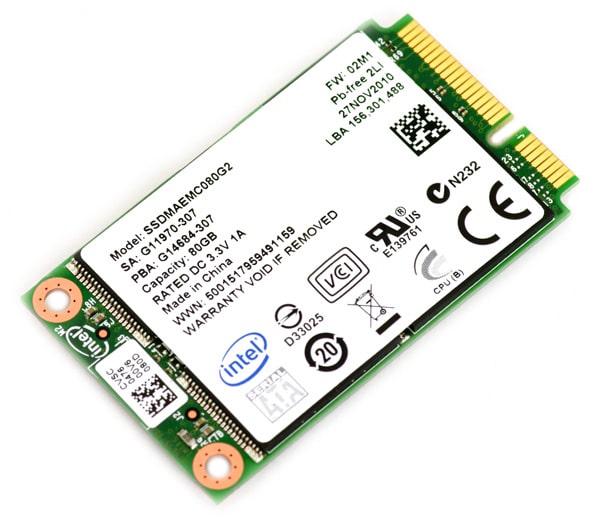 Intel Solid-State Drive 310 Series Specs
Capacity 40GB and 80GB
34nm Intel NAND Flash Memory Multi-Level Cell Components
Sustained Sequential Reads – up to 170 MB/s (40GB), up to 200 MB/s (80GB)
Sustained Sequential Writes – up to 35 MB/s (40GB), up to 70 MB/s (80GB)
Read Latency 65 microseconds (40GB and 80GB)
Write Latency – 110 microseconds (40GB), 75 microseconds (80GB)
Interface Compatible with SATA 1.5 Gb/s and 3 Gb/s
Full-sized mSATA form factor (50.80 mm x 29.85 mm)
Less than 4.85 mm thick
Weighs less than 10 grams
1.2 million hours Mean Time Before Failure (MTBF)
Power Consumption Active: 150 mW Typical
Idle: 75 mW Typical
Operating Temperature 0°C to 70°C
Intel Solid-State Drive Toolbox
Aesthetics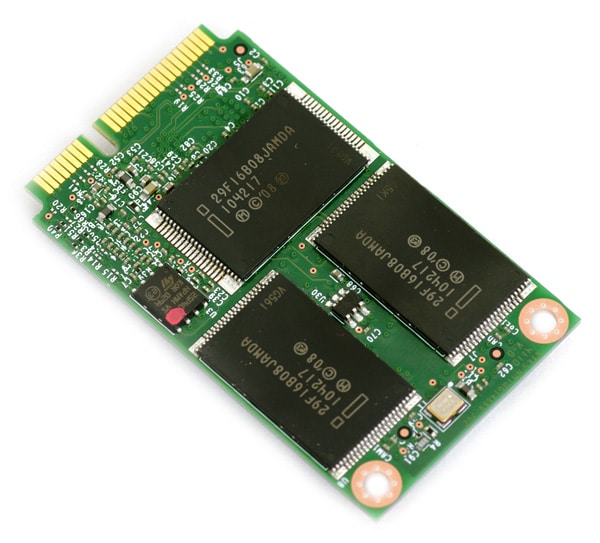 The mSATA Intel SSD 310 is a drive barely larger than the components soldered to it. Measuring less than 2 by 1.2-inches, this SSD is the smallest drive we have reviewed at StorageReview to date. To get an idea of how small this thing really is, we placed it on top of a naked 160GB Intel X25-M SSD. As you can see below, even though it is half the capacity, it is much, much smaller than half the size – an eighth to be exact.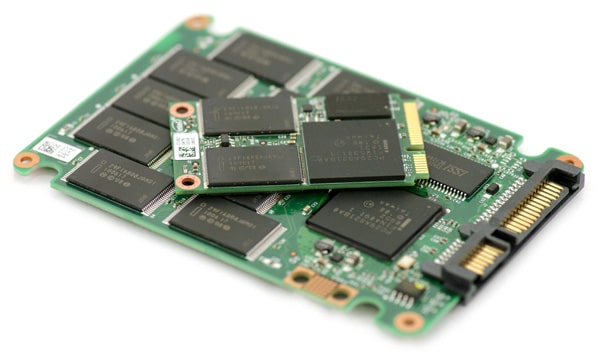 The Intel 310 series SSD is roughly the same size and uses the same connector as the popular mini-PCIe interface. For those who haven't been inside a notebook in a while, that is the accepted standard for Wi-Fi and WWAN cards and some SSDs. Now with that said, they are completely different in everything except looks. The connector on both devices is physically identical, but share different pins and signals for data. Thankfully the guys working on this new standard used the same pins for power, so you don't have to risk blowing up your notebook or this SSD if you stick it in the wrong slot.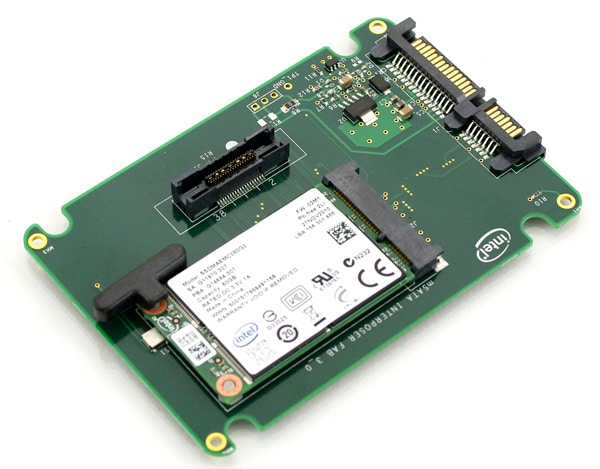 In my opinion the coolest part about this drive is something the standard consumer will never get to buy. For testing purposes, Intel was kind enough to include an mSATA sled to interface the Intel SSD 310 with a standard SATA power and data connection. While somewhat limited to testing only mSATA devices, this card does offer a handy tool-less retention mechanism as well as activity lights.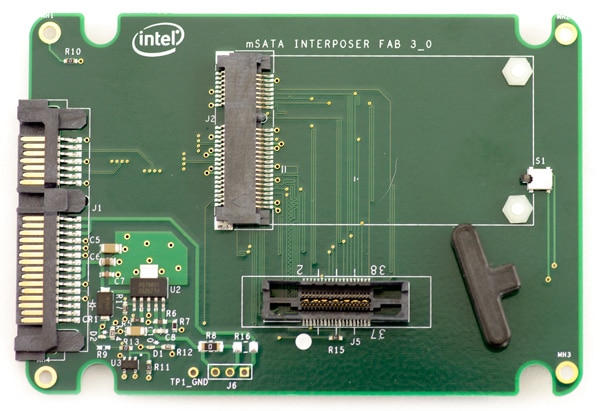 Disassembly
Besides being the smallest drive we have reviewed to date, the Intel 310 SSD is also the only one we didn't need to take apart aside from externals and flash media. By its design, the PCB is completely exposed. We did technically have to remove a sticker, so I guess that might be the only step required.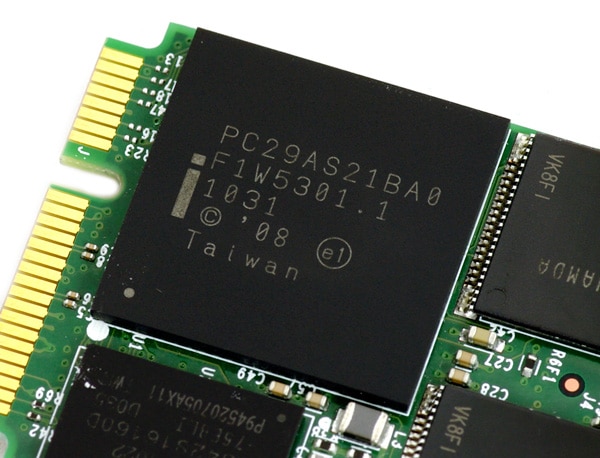 Intel uses the same in-house PC29AS21BA0 controller on the 310-series SSD as they do on both the 160GB X25-M and the 40GB X25-V.
The board makes use of only five 16GB Intel 29F16B08JAMBA flash modules, and a smaller (in size, not capacity) 32MB IS42S16160D DDR chip.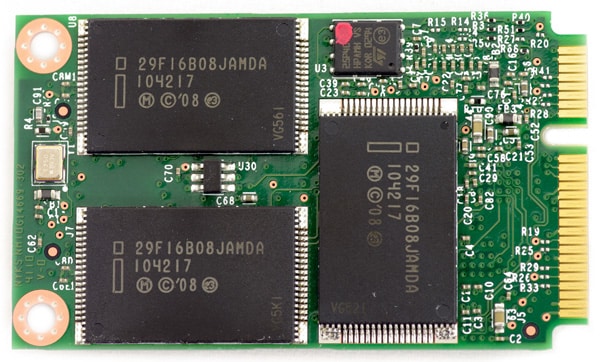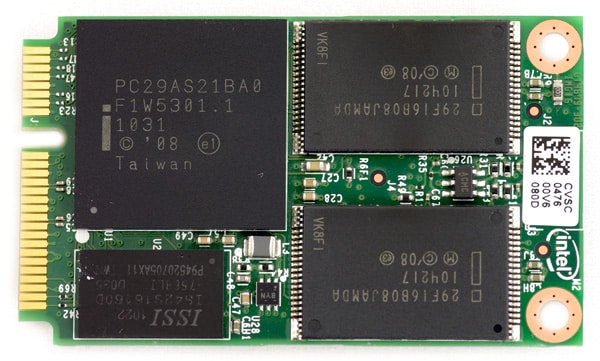 Synthetic Benchmarks
The Intel SSD 310 has similar advertised speeds as its larger brothers, which isn't a surprise given the near-identical components. With the 80GB capacity model, Intel advertises a 200MB/s read speed and 70MB/s write speed. To test these claims we turned to our trusty copy of IOMeter.
With 4K-alignment, the Intel 310 managed an average "right on the money" 203MB/s read and 75MB/s write.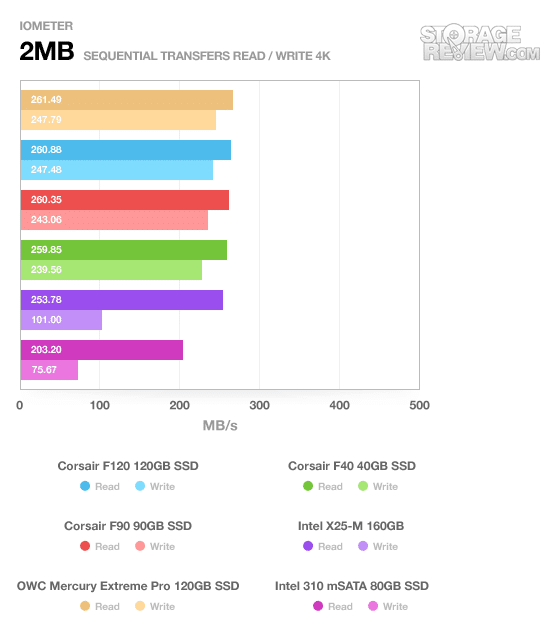 Switching to random 2MB transfers, the read speed dropped slightly to 180MB/s, but the write speed increased to 79MB/s.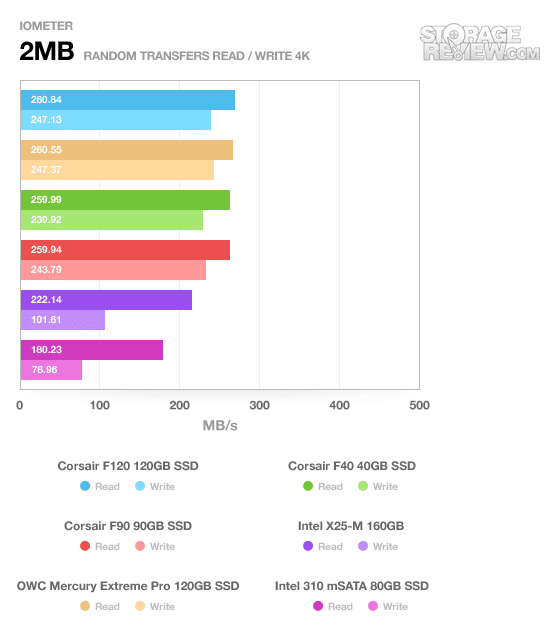 In our random 4K transfer test, the mSATA 310 SSD offered similar read performance as the 160GB X25-M with an average write speed of 14.2MB/s, but a slower write speed measuring 58MB/s.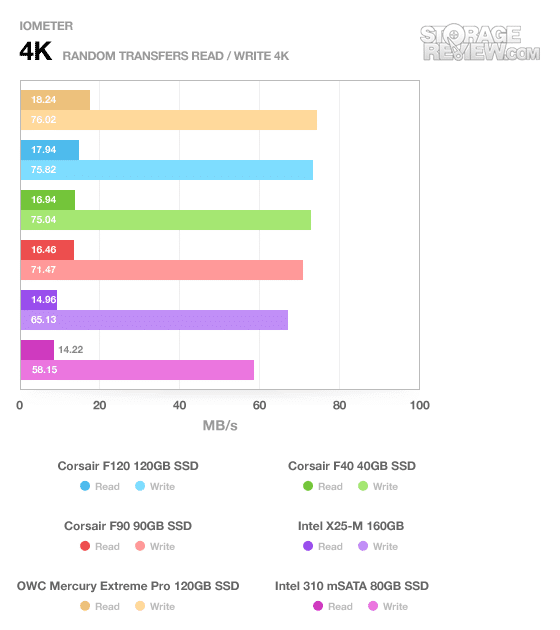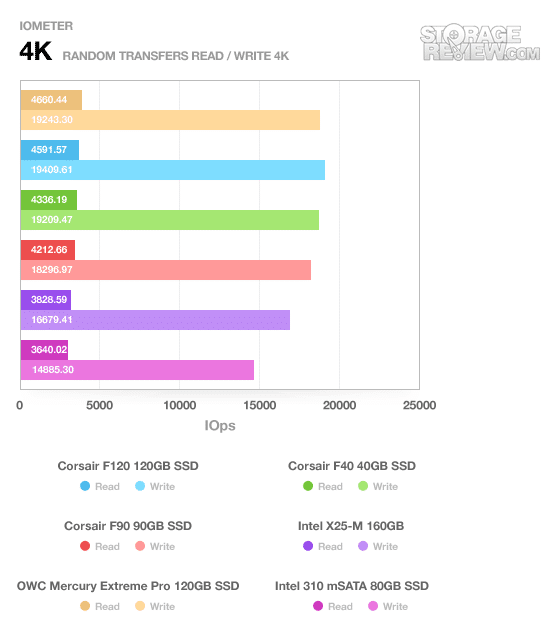 4K-write latency on the small 310 series SSD came in at the bottom of our top-tier list, but still measured an impressively fast 0.066ms average write speed with a 286ms max latency.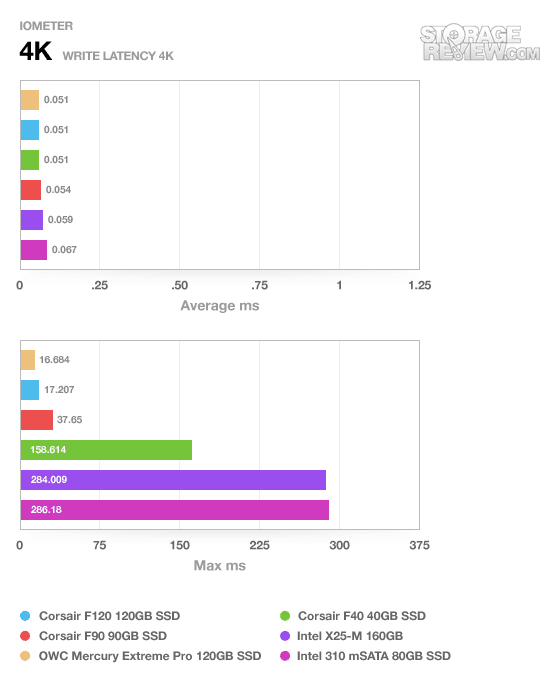 CrystalDiskMark showed fairly similar results that we saw using IOMeter. The primary difference being that the peak read and write speeds were roughly 10MB/s higher in the sequential file transfer test.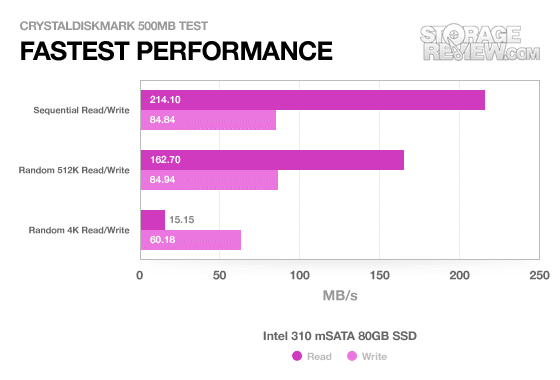 Along with straight read and write tests, IOMeter is very helpful to see the performance of a given drive with a variable queue depth. Using our server profile tests, we saw the Intel SSD 310 paired very close to the Intel 160GB X25-M. Both showed strong NCQ support and scaled well as the demands increased.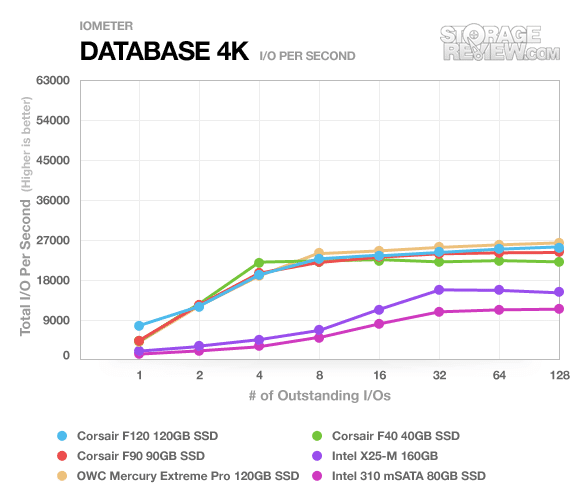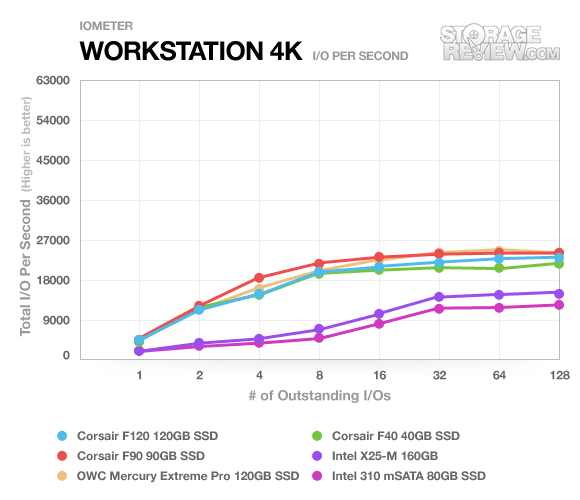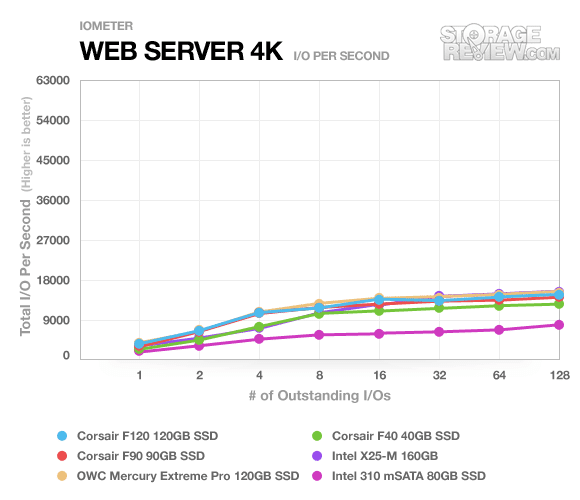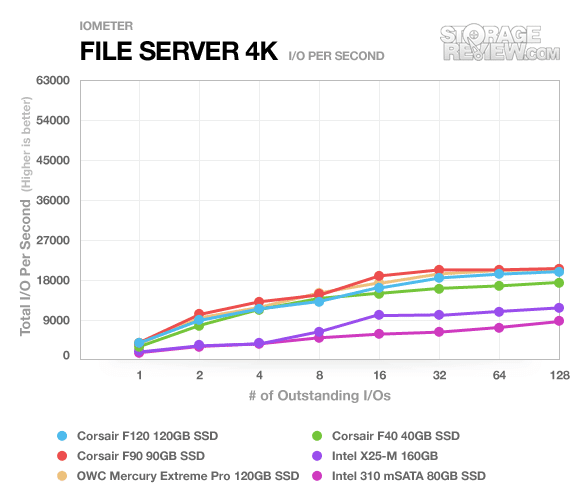 Real-World Benchmarks
The 80GB Intel SSD 310 performed right about where we had expected it to in our synthetic benchmarks, given its lower capacity and fewer channels than the larger 160GB brother. To that end, in our real-world tests we added the X25-V to the mix, to see which drive it came closer to. As you will see below, it paired up quite well with the X25-M, trailing just slightly behind in most of our traces.
Our custom StorageMark 2010 traces break down drive performance by scenario, which aim to mimic common everyday situations.
The first real-life test is our HTPC scenario. In this test we include: playing one 720P HD movie in Media Player Classic, one 480P SD movie playing in VLC, three movies downloading simultaneously through iTunes, and one 1080i HDTV stream being recorded through Windows Media Center over a 15 minute period. Higher IOps and MB/s rates with lower latency times are preferred. In this trace we recorded 2,986MB being written to the drive and 1,924MB being read.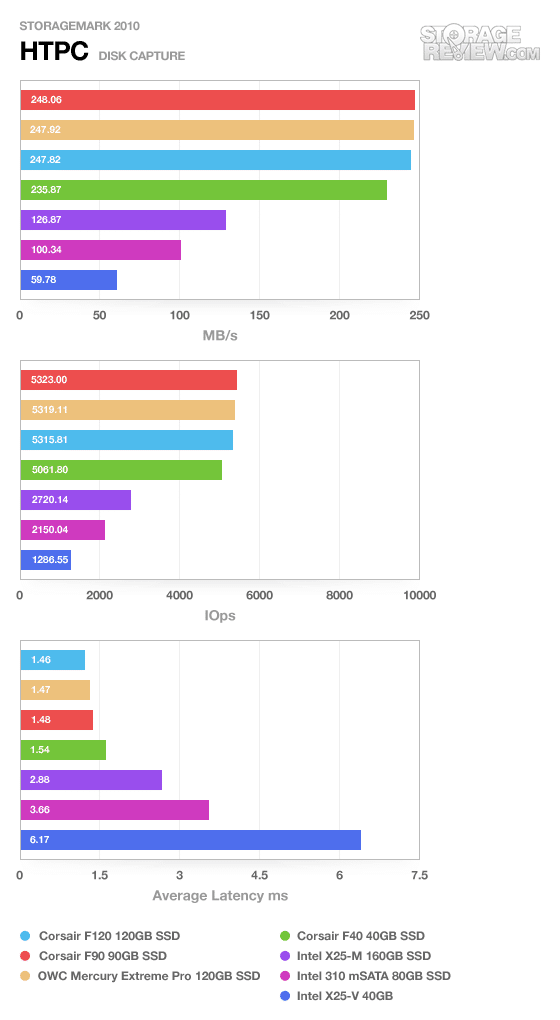 In the HTPC trace the Intel 310 trailed behind the 160GB X25-M by roughly 26MB/s, but maintained roughly a 40MB/s lead on the smaller 40GB X25-V.
Our second real-life test covers disk activity in a productivity scenario. For all intents and purposes this test shows drive performance under normal daily activity for most users. This test includes: a three hour period operating in an office productivity environment with 32-bit Vista running Outlook 2007 connected to an Exchange server, web browsing using Chrome and IE8, editing files within Office 2007, viewing PDFs in Adobe Reader, and an hour of local music playback with two hours of additional online music via Pandora. In this trace we recorded 4,830MB being written to the drive and 2,758MB being read.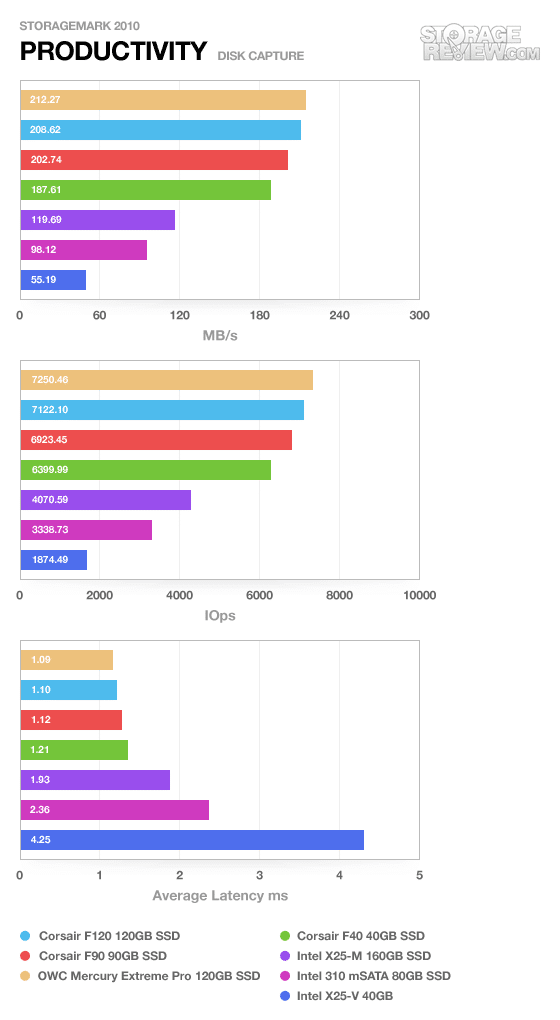 In the productivity trace the gap between the X25-M and the SSD 310 series dropped to 21MB/s while on the opposite end it widened to 43MB/s faster than the X25-V. Not too shabby for a drive that is slightly bigger than an SD-card.
Our third real-life test covers disk activity in a gaming environment. Unlike the HTPC or Productivity trace, this one relies heavily on the read performance of a drive. To give a simple breakdown of read/write percentages, the HTPC test is 64% write, 36% read, the Productivity test is 59% write and 41% read, while the gaming trace is 6% write and 94% read. The test consists of a Windows 7 Ultimate 64-bit system pre-configured with Steam, with Grand Theft Auto 4, Left 4 Dead 2, and Mass Effect 2 already downloaded and installed. The trace captures the heavy read activity of each game loading from the start, as well as textures as the game progresses. In this trace we recorded 426MB being written to the drive and 7,235MB being read.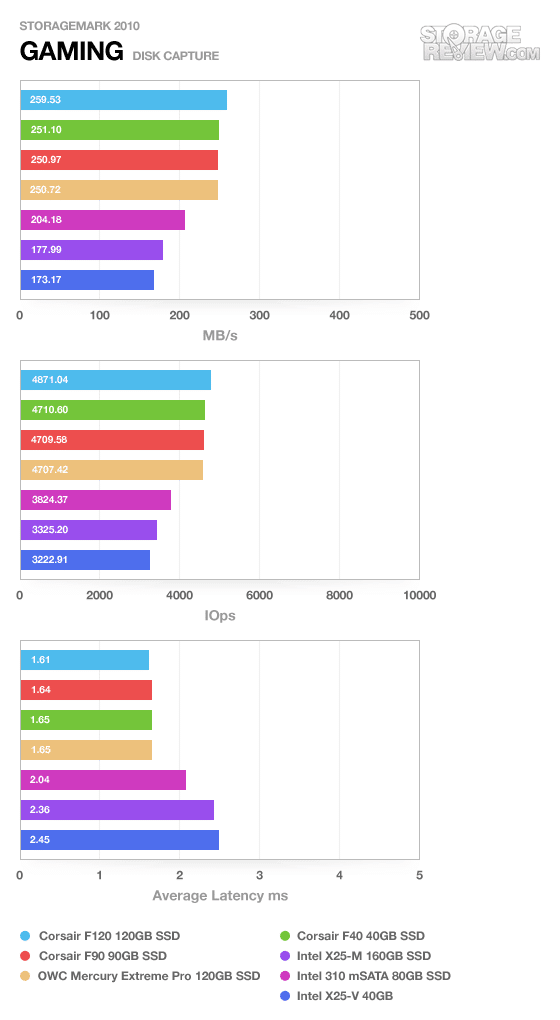 In the gaming trace the 80GB mSATA 310 took a surprising lead over the X25-M, with an average transfer speed of 204MB/s compared to 177MB/s on the X25-M and 173MB/s on the X25-V. Still not as fast as the assortment of SandForce-models by Corsair, but very quick nonetheless.
Power Consumption
If you compare the power stats of all of the current Intel SSD's, you will find Intel claims the same 150mW active power rate, and 75mW idle power consumption. In standard usage all of these drives draw far more power than that, but the key point is that Intel rates them all in the same range. Since our tests were performed using our Intel-provided sled, results may vary when compared to the drive installed directly in a notebook or motherboard without additional LEDs or power regulators.
Power consumption was very much in line with what we found on the 160GB X25-M, but in every single category the SSD 310 measured slightly higher. It's hard to say if some of this came from the conversion sled or not. Given the same controller, same type of flash and same amount of RAM, it wasn't a huge surprise that the 310 scored where it did, although we had hoped the results were going to be slightly lower.
Warranty
There is a 3-year warranty on the mSATA Intel SSD 310. This is the same length you would find on full-size 2.5″ SSDs sold by Intel, Corsair, OCZ, Western Digital and others. When sold as a part of a notebook, chances are it will be warrantied through that particular manufacturer, reflecting the same length of warranty as the whole notebook or tablet its installed in.
Conclusion
The mSATA Intel SSD 310 family proves that smaller doesn't always mean slower when it comes to storage. Unlike miniaturized hard drives, which were slower in every way, SSD's don't lose speed just by decreasing their package size. As the SSD 310 has shown, Intel and others are more than capable of fitting their standard controllers, flash memory, and RAM on super-small circuit boards. This gives users all the performance of a full-size SSD, but without the size associated with the becoming-out-dated 2.5" notebook hard drive bay that was designed around magnetic storage many years ago.
Unlike every other review we have published, the Intel SSD 310 Series is unique in that it isn't being sold or targeted towards consumers. It is the type of drive you will find in an OEM product, since notebooks designed for it would have included the drive or at least support for it out of the gate. While it shares the same look and interface connector as the common mini-PCIe wireless cards, it won't work unless the manufacturer specifically designed the slot for it.
With that out of the way, we did find that the performance of this drive lives up to Intel's reputation. If you happen to run across a notebook in the coming months offering one of these drives, don't hold back thinking it will underperform since it is just as fast most of the SSDs on the market right now. It also offers the same reliability we have come to enjoy from the ever-popular X25-M and X25-V series of SSDs, just in a much smaller package.
Pros
Same components as the larger Intel SSDs, just mounted to a smaller board
Very small
Same level of performance as Intel X25-M (capacity permitting)
Cons
Shrink ray didn't decrease power consumption
Form-factor might cause confusion with overly-eager early adopters
Bottom Line
The Intel SSD 310 is a unique family of products that is going to add not only flexibility, but performance to an entire range of products from tiny ruggedized tablets to full-sized notebooks. While it doesn't quite hang with the venerable X25-M, we're still happy with the performance and look forward to the forthcoming devices designed with this SSD inside.