The Intel SSD 520, code name Cherryville, is the latest consumer SSD offering from Intel which breaks a tremendous amount of new ground for the company and the SSD industry at large. The big highlight is that Intel has transitioned to a SandForce processor in the SSD 520, away from the Marvell processor used in the SSD 510. Intel claims the SSD 520 to be their fastest SSD to date and there's little reason to doubt them. With the highest quality 25nm IMFT NAND available and the speedy SandForce processor combined, the SATA 6Gb/s SSD 520 cranks out quoted sequential read speeds of 550 MB/s and writes of 520 MB/s.
The Intel SSD 520, code name Cherryville, is the latest consumer SSD offering from Intel which breaks a tremendous amount of new ground for the company and the SSD industry at large. The big highlight is that Intel has transitioned to a SandForce processor in the SSD 520, away from the Marvell processor used in the SSD 510. Intel claims the SSD 520 to be their fastest SSD to date and there's little reason to doubt them. With the highest quality 25nm IMFT NAND available and the speedy SandForce processor combined, the SATA 6Gb/s SSD 520 cranks out quoted sequential read speeds of 550 MB/s and writes of 520 MB/s.

Intel's brand has long been synonymous with quality, stability and support. Specifically on the SSD front, we know Intel does more testing to ensure reliable performance and host system compatibility than perhaps anyone else in the industry. This legendary quality then is an interesting juxtaposition with SandForce, which is more known for raw speed and performance, than reliable client computing. Intel rightfully shares these concerns and in fact spent over a year validating the SandForce processor, now LSI SandForce.
Intel has quite a bit at risk by moving to SandForce. Clearly they felt the SSD 510, which is being retired, didn't have enough performance capability to satiate the enthusiast buyer, and on that front Intel is correct. The SSD 520 definitely provides top-class performance thanks to the SF-2200 processor, giving Intel access to the high-performance SSD market again. To mitigate reliability concerns Intel has invested substantially to make sure the 520 lives up to user expectations. This means the SSD 520 has been validated in 120 client system types and has passed over 5,000 unique tests during the validation cycle. These tests include things like: electrical validation, signal integrity, unplanned power loss, SATA error injection, temperature monitoring, workload testing and so on. To further ensure consumers feel safe buying the SSD 520, Intel is including a five year warranty, which effectively protects customers for the projected useful life of the drive. All things considered, Intel is certainly doing more for ensuring reliable SandForce SSD operation than virtually everyone else using the same processor.
The component validation of the SSD 520 is one thing, but the other key for Intel is firmware. While many manufacturers use the same firmware for SandForce-based SSDs, those with engineering knowhow can accomplish a great deal within the firmware to tune for performance, stability and compatibility. Intel uses a unique firmware build that they co-defined with LSI SandForce. The firmware is worth mention, as it's a key differentiator from other SandForce SSDs that share like hardware components.
With reliability concerns addressed, we turn to performance. SandForce SF-2200 processors dominate our list of fastest SSDs, and we generally expect the Intel SSD 520 to be no different. The 550 MB/s and 520 MB/s sequential read and write speeds are about as good as it gets in the client SSD space. For the 240GB SSD 520, Intel quotes random 4 KB read IOPS of 50,000 and writes of 60,000 once the drive is conditioned (80,000 out of the box). To get there, Intel leverages their own IMFT 25nm MLC NAND, selecting the best part of the wafer for these drives, along with a SATA 6Gb/s interface and the aforementioned co-developed firmware.
The SSD 520 ships in capacity points to hit all uses and budgets, in both an UltraBook friendly 7mm drive height, and a more mainstream 9.5mm drive height with included spacer. The 7mm 520's come in 120GB, 180GB and 240GB capacities, the 9.5mm drives will ship in 60GB, 120GB, 180GB, 240GB and 480GB capacities. All drives are compatible with Intel's SSD Toolbox, which is a fantastic tool that lets users manage, optimize and update their SSD through a simple interface. Street pricing of the Intel SSD 520 will be evident once the SSDs get into the retail channel, however 1,000 unit quantity pricing is: 60GB – $149, 120GB – $229, 180GB – $369, 240GB – $509 and 480GB – $999.
In this review we're working with the 240GB SSD 520 in single drive client-focused scenarios. Because Intel quality is respected within the enterprise, we expect the Intel SSD 520 to find its way into several uses ranging from web serving to workstation use. To that end, our Intel SSD 520 Enterprise Review covers the drive in steady state performance scenarios. With the Intel SSD 520 likely being an upgrade offering from notebook and desktop OEMs, our Intel SSD 520 RAID Review examines the SSD 520 in usage scenarios paired with a Lenovo ThinkPad W520 in addition to an array of RAID test.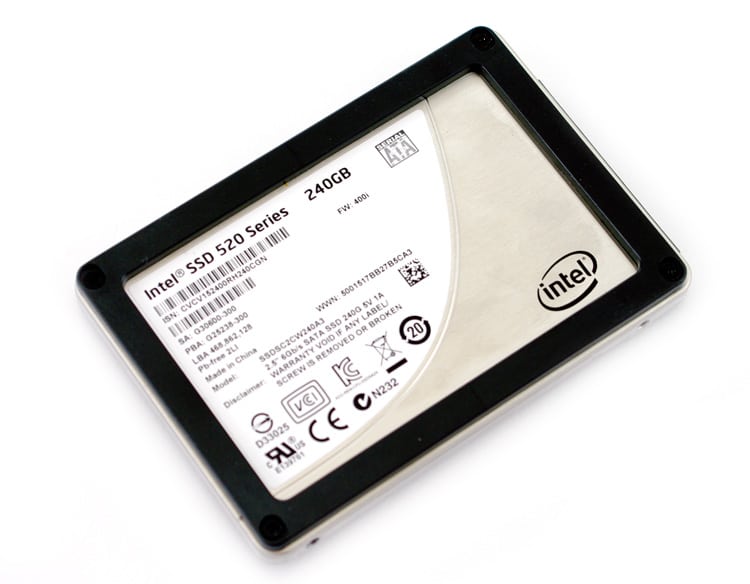 Intel SSD 520 Specs
Form Factors: 2.5-inch (7mm and 9.5mm z-height)
Capacity

7 mm: 120/180/240 GB
9.5 mm: 60/120/180/240/480 GB

LSI SandForce SF-2281 Controller
Intel 25nm Synchronous NAND MLC Flash Memory
SATA 6Gb/s interface
Sustained sequential read: Up to 550 MB/s
Sustained sequential write: Up to 520 MB/s
Random 4K read:  50,000 IOPS
Random 4k write: 60,000 IOPS
AES 256-bit Encryption
Intel SSD Toolbox Compatible
Power – Active – Up to 850mW (TYP), Idle: 600 mW (TYP)
Uncorrectable Bit Error Rate (UBER): 1 sector per 1016 bits read
Mean Time Between Failures (MTBF): 1,200,000 hours
Lifetime Endurance – 36 TBW Minimum (5 Years, 20GB written per day)
Weight: up to 78 grams
Firmware Reviewed: 400i
5-year warranty
Aesthetics
The Intel SSD 520 shifted away from the 9.5-mm two-piece construction of the previous SSD 510 and to the same modular body style seen on the Intel SSD 320 and SSD 710. The case has a silver alloy design, based around a 7mm height with an added shim to allow it to be mounted in enclosures expecting a 9.5mm tall body. As you can see below, it's a simple matter to use shorter screws and no shim, to have a shorter drive without any other changes. This is a big deal as Intel continues to push the UltraBook form-factor, which needs 7mm SSDs and HDDs to meet overall thickness requirements.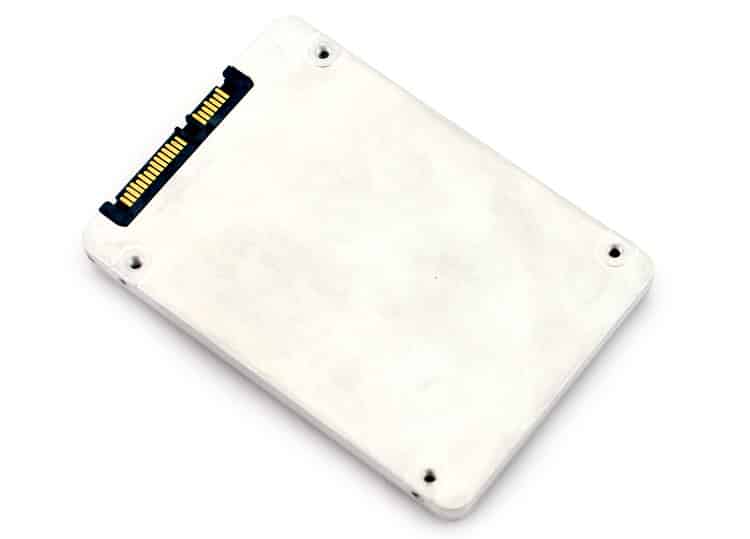 The bottom is bare metal without any stickers present. The top sticker is all that Intel has used over the years, listing the various important pieces of information such as model number, capacity, serial number, firmware version, and the like.

The front of the SSD 520 has the same SATA power and data connection without any service-mode pins located near it. All firmware updating takes place through the Intel SSD Toolbox, without any hardware intervention.

Disassembly
Taking the 240GB Intel SSD 520 apart is very easy with a simple Phillips head screwdriver. After removing the four screws located at the corners, which also hold the shim in place, the shim and top cover easily lift up. Once that is removed you are greeted with the underside of the circuit board, which in this case only includes NAND pieces. New compared to the SSD 320 or SSD 710 layout is a thermal pad on the bottom half of the case to draw heat away from the SandForce processor.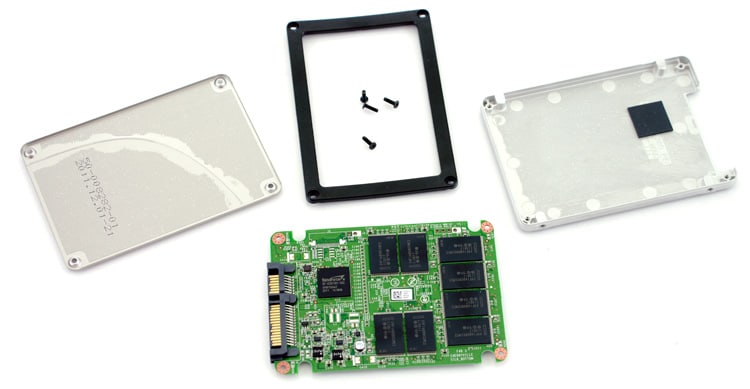 At the heart of the Intel SSD 520 is the LSI SandForce SF-2281 processor, new to Intel SSDs.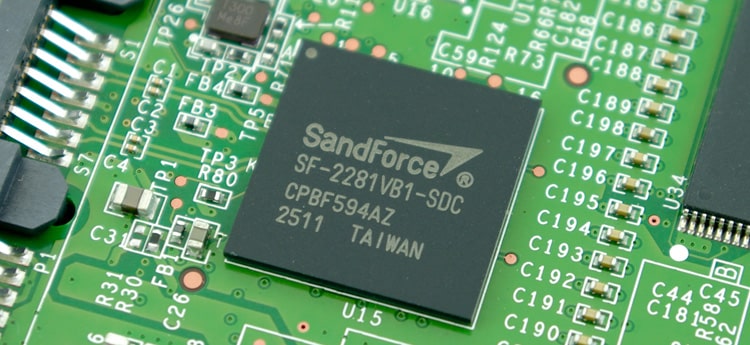 The flash is comprised of sixteen 25nm Intel 29F16B08CCME2 16GB pieces, which according to Intel are the "cream of the crop" when it comes to selection from the Intel NAND Factory. When you make the NAND yourself, you can dictate who gets what, and in this case Intel picks the highest grade pieces for themselves. What this means for the consumer is no matter what, if you buy Intel SSDs you get the best Intel components.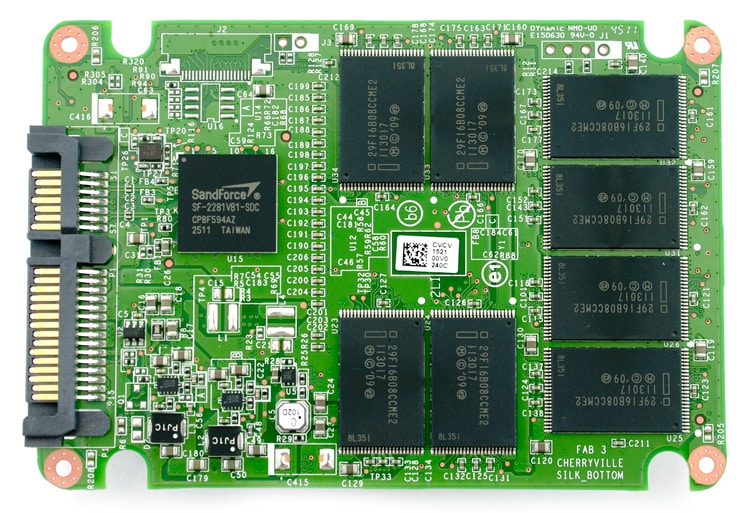 The bottom of the Intel SSD 520 is pretty bare, not counting the eight 25nm 16GB NAND pieces soldered to it. All of the cool stuff is situated on top.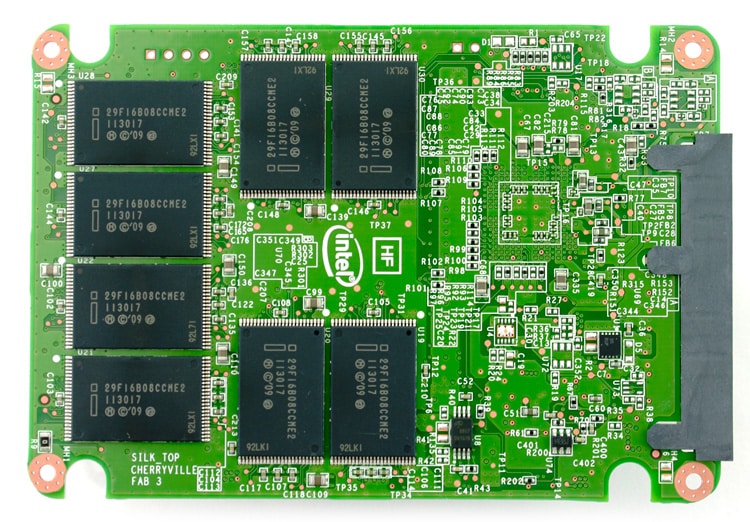 Synthetic Benchmarks
With advertised transfer speeds listed at 550MB/s read and 520MB/s write, we were anxious to see how the drive performed in our benchmarks. While these are usually the top speeds claimed by other SandForce SSDs, Intel's claim that their firmware is unique and superior to others on the market made us wonder how results may play out differently in our testing.
Since it has been so long since we originally reviewed and tested the Intel SSD 510 on our older test platform using a SATA 6.0Gb/s RAID card, we rebenchmarked it on our current-generation consumer testing platform for equal comparisons. By way of other comparables, we included the entire current Intel SSD family, along with the OCZ Vertex 3 Max IOPS, overall the fastest client SSD we've tested to date.
For the 240GB capacity, Intel lists the peak sequential transfer speeds of 550MB/s read and 520MB/s write on the SSD 520 with compressible or repeating data. Switching to randomized or incompressible data though, these speeds drop to an advertised 550MB/s read and 235MB/s write. To put these claims to the test, we used our 2MB sequential transfer test in IOMeter.

We measured an average read speed of 495MB/s and a write speed of 462MB/s with compressible data, which dropped to 486MB/s read and 290MB/s write with incompressible or random data. These speeds were very close to the OCZ Vertex 3 MAX IOPS equipped with Toggle NAND, though Intel took a 25 MB/s lead in the random write test. Compared to the previous generation Intel SSD 510, the 520 had a lead in read speed, but dipped slightly below the average write speed when working with incompressible data.
Our next test looks at random 2MB transfers instead of sequential, showing what performance might look like during multiple file transfer requests.

In our 2MB random transfer test the Intel SSD 240 using synchronous NAND held up very well against the toggle NAND equipped OCZ Vertex 3. With repeating data the Intel SSD 520 measured 497/466 MB/s R/W while the Vertex 3 MI got 495/458 MB/s R/W. Switching to incompressible data the SSD 520 slowed to 481/286 MB/s compared to 500/223 MB/s on the Vertex 3 Max IOPS.
Moving on to even smaller transfer request sizes, our next section looks at random 4K read and write performance at a queue depth of one, and later moves to expanded queue depth tests.


The Intel SSD 520 scored well with its high 4K random read speeds measuring 7,589 IOPS with repeating data and 7,298 IOPS with random data. Write speeds measured 20,473 IOPS and 19,682 IOPS for repeating and random respectively.
In our expanded 4K random read and write tests, we look how well each drive performed with multithreaded access.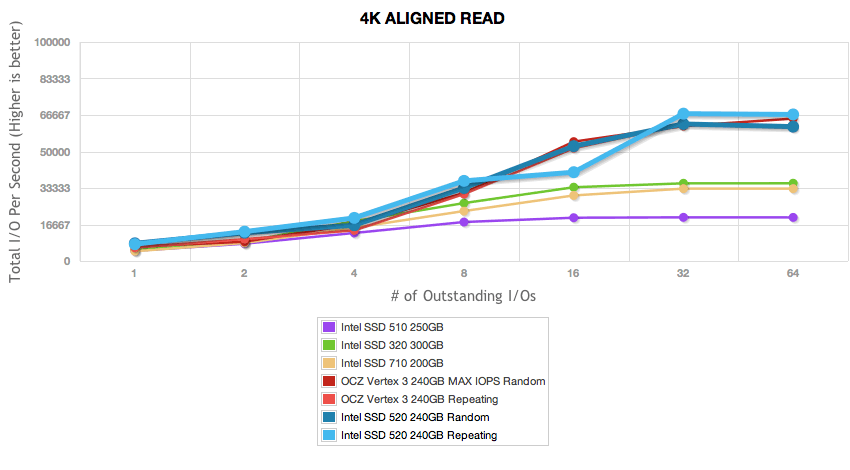 At their peaks, the Intel SSD 520 measured 67,269 IOPS while the OCZ Vertex 3 Max IOPS scored 62,403 IOPS at a queue depth of 32 with repeating data.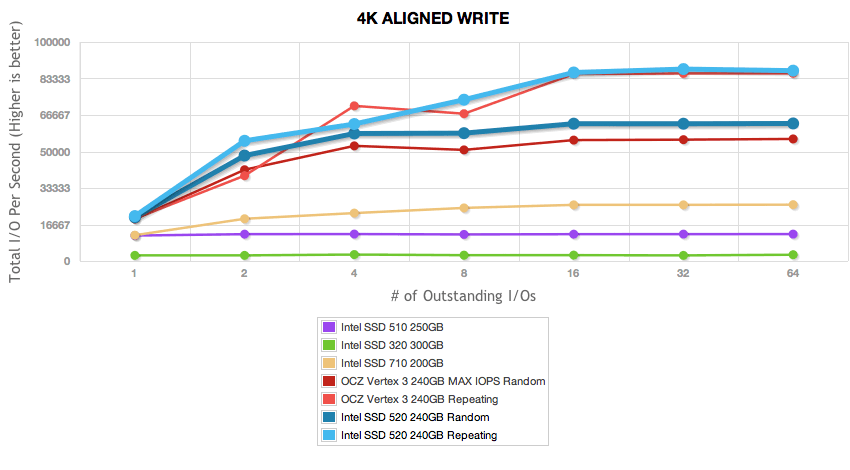 Looking at the random write speeds, the OCZ Vertex 3 Max IOPS and Intel SSD 520 both scored very well with repeating data, leveling off around 85,600 IOPS and 87,600 IOPS respectively. Switching to incompressible data, the Intel SSD 520 tapered off at 62,600 IOPS while the Vertex 3 Max IOPS leveled off at 55,700 IOPS.
In our 4K write latency test, which measures access times at a queue depth of 1, the 240GB Intel SSD 520 scored very well with average response times of 0.0484ms with incompressible data and 0.0503ms with compressible data. Peak latency times were also excellent, measuring 32.9ms and 38.3ms for repeating and randomized respectively.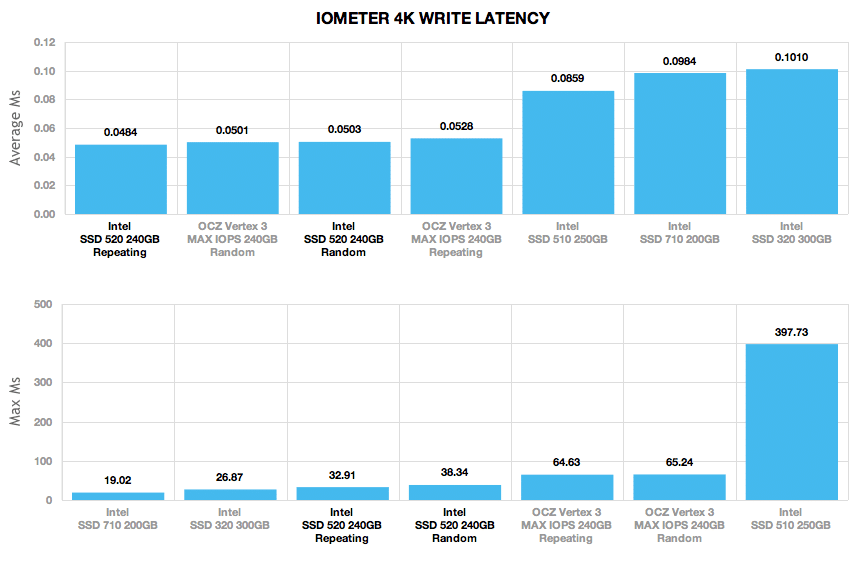 Using CrystalDiskMark with randomized data, we noted similar read and write speeds as what we found with our incompressible IOMeter testing, although CDM did give slightly higher write speed figures.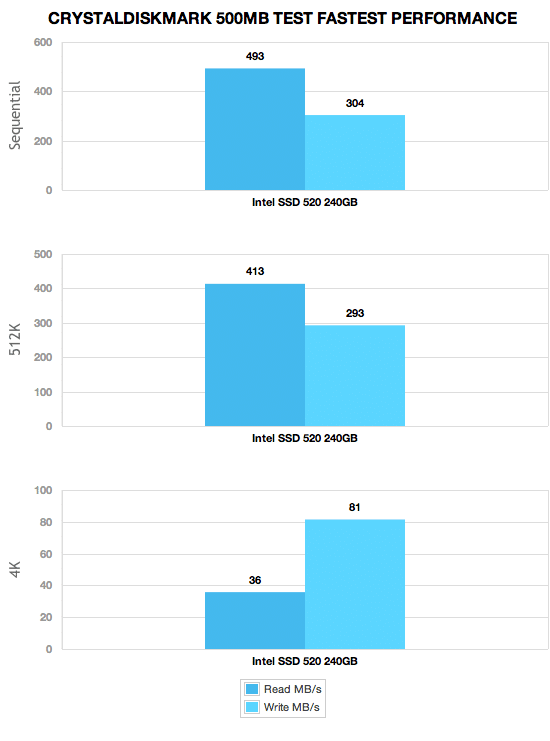 Our last group of consumer IOMeter synthetic benchmarks looks at mixed-load server profiles including Database, Workstation, File Server, and Webserver. Looking at the performance of the Intel SSD 520 with repeating data, it led the pack in all areas at higher queue depths. When we changed to incompressible data though, speeds were near parity or below the toggle-NAND equipped OCZ Vertex 3 Max IOPS SSD.
The first is our database profile, with a 67% read and 33% write workload mix primarily centered on 8K transfer sizes.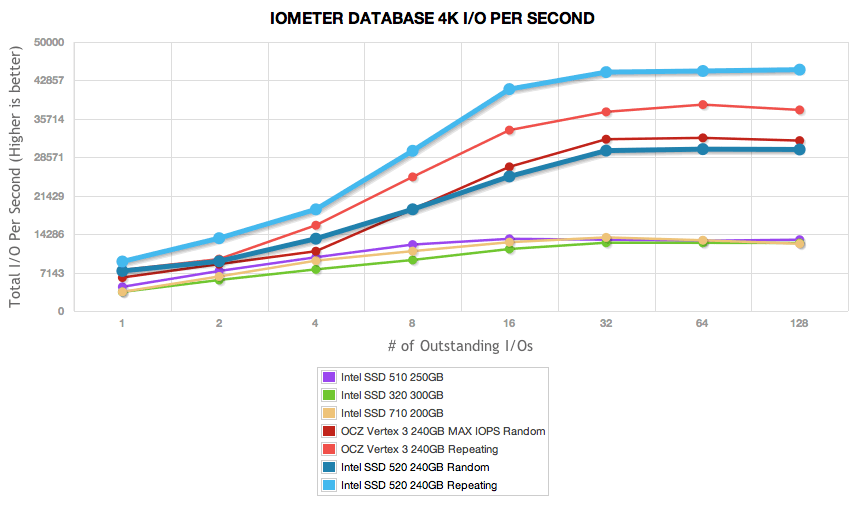 The next profile looks at a file server, with 80% read and 20% write workload spread out over multiple transfer sizes ranging from 512-byte to 64KB.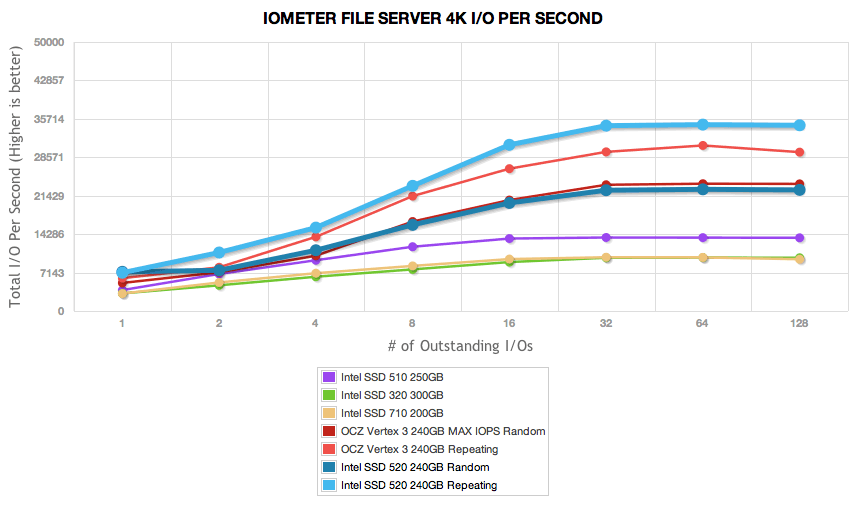 Our web server profile is read-only with a spread of transfer sizes from 512-byte to 512KB.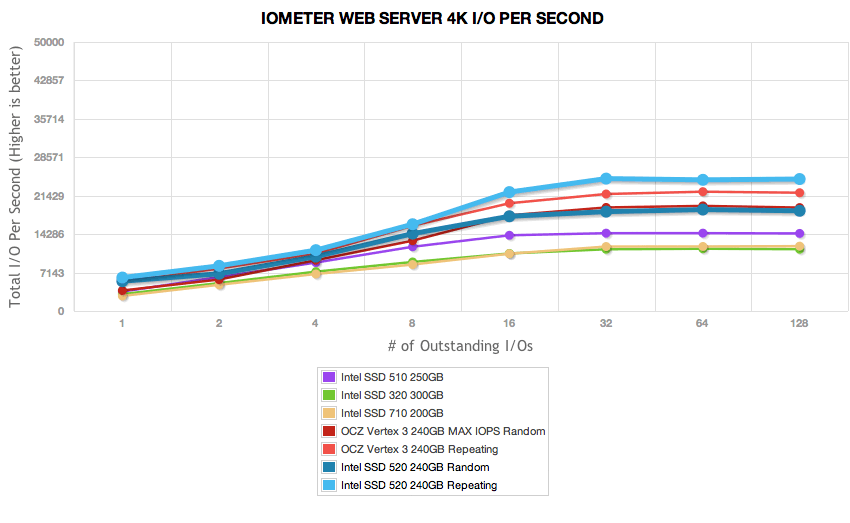 The last profile looks at a workstation, with a 20% write and 80% read mixture using 8K transfers.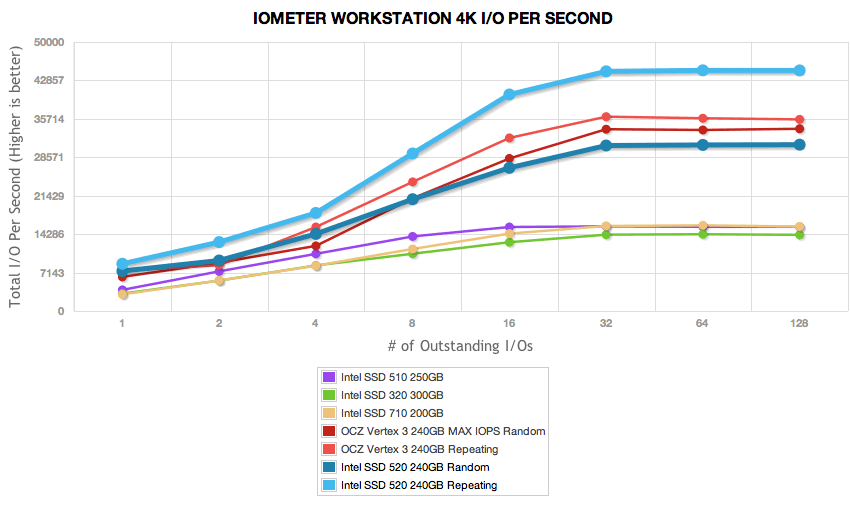 Real-World Benchmarks
If you are new to StorageReview, one thing we try to focus on is how any given drive might perform under real-world conditions. For the average user, trying to translate random 4K write speeds into an everyday situation is pretty difficult. It helps when comparing drives in every setting possible, but it doesn't exactly work out into faster everyday usage or better game loading times. For this reason we turned to our StorageMark 2010 traces, which include HTPC, Productivity, and Gaming traces to help readers find out how a drive might rank under their conditions.
The first real-life test is our HTPC scenario. In this test we include: playing one 720P HD movie in Media Player Classic, one 480P SD movie playing in VLC, three movies downloading simultaneously through iTunes, and one 1080i HDTV stream being recorded through Windows Media Center over a 15 minute period. Higher IOps and MB/s rates with lower latency times are preferred. In this trace we recorded 2,986MB being written to the drive and 1,924MB being read.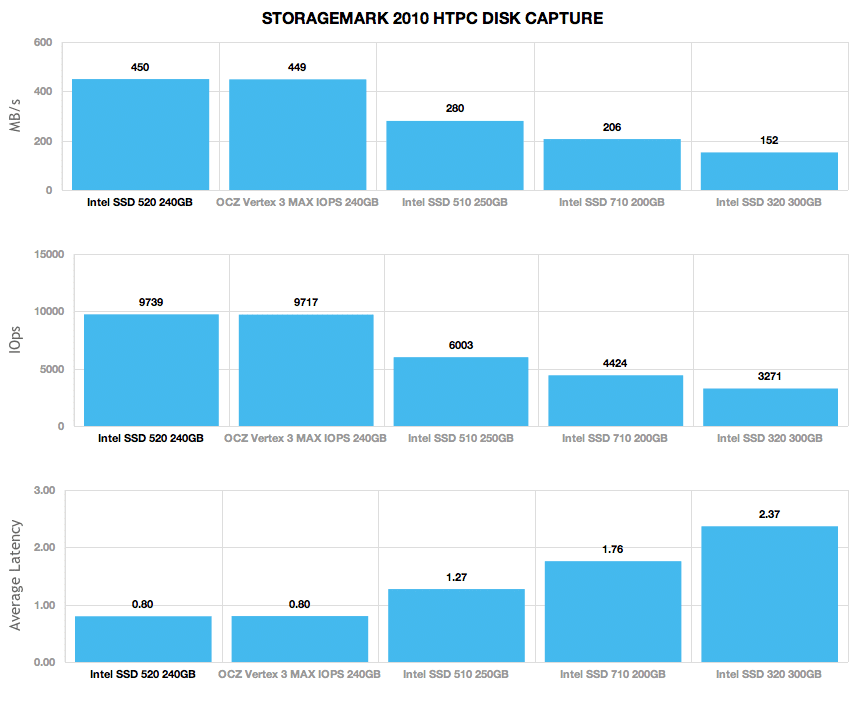 In our HTPC trace the Intel SSD 520 measured 450MB/s average compared to 449MB/s with the OCZ Vertex 3 MAX IOPS, a practical dead heat.
Our second real-life test covers disk activity in a productivity scenario. For all intents and purposes this test shows drive performance under normal daily activity for most users. This test includes: a three hour period operating in an office productivity environment with 32-bit Vista running Outlook 2007 connected to an Exchange server, web browsing using Chrome and IE8, editing files within Office 2007, viewing PDFs in Adobe Reader, and an hour of local music playback with two hours of additional online music via Pandora. In this trace we recorded 4,830MB being written to the drive and 2,758MB being read.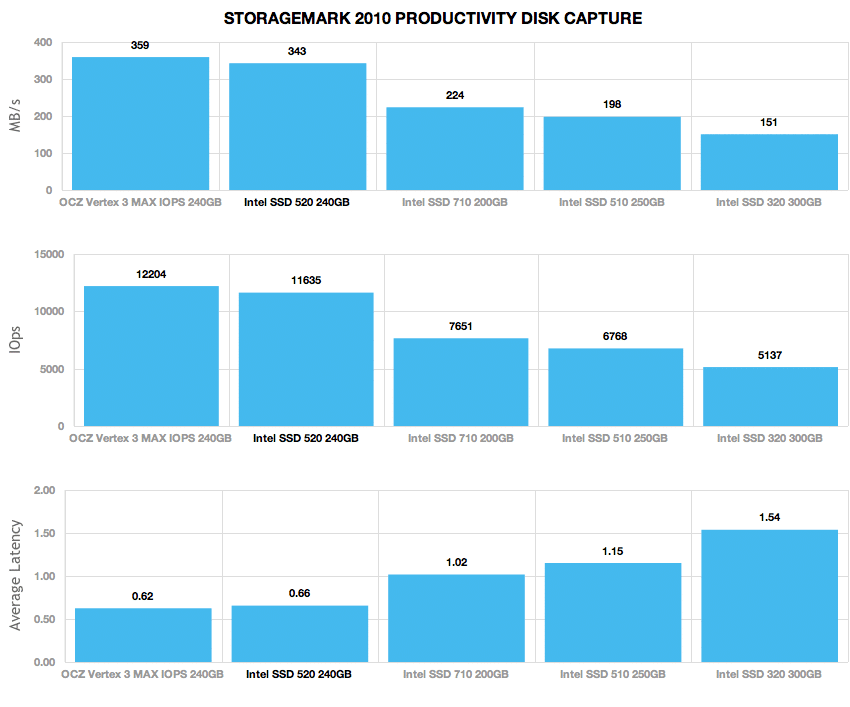 In a productivity setting, the Intel SSD 520 slipped behind the OCZ Vertex 3 MAX IOPS, measuring 343MB/s versus 359MB/s average from the V3 MI.
Our third real-life test covers disk activity in a gaming environment. Unlike the HTPC or Productivity trace, this one relies heavily on the read performance of a drive. To give a simple breakdown of read/write percentages, the HTPC test is 64% write, 36% read, the Productivity test is 59% write and 41% read, while the gaming trace is 6% write and 94% read. The test consists of a Windows 7 Ultimate 64-bit system pre-configured with Steam, with Grand Theft Auto 4, Left 4 Dead 2, and Mass Effect 2 already downloaded and installed. The trace captures the heavy read activity of each game loading from the start, as well as textures as the game progresses. In this trace we recorded 426MB being written to the drive and 7,235MB being read.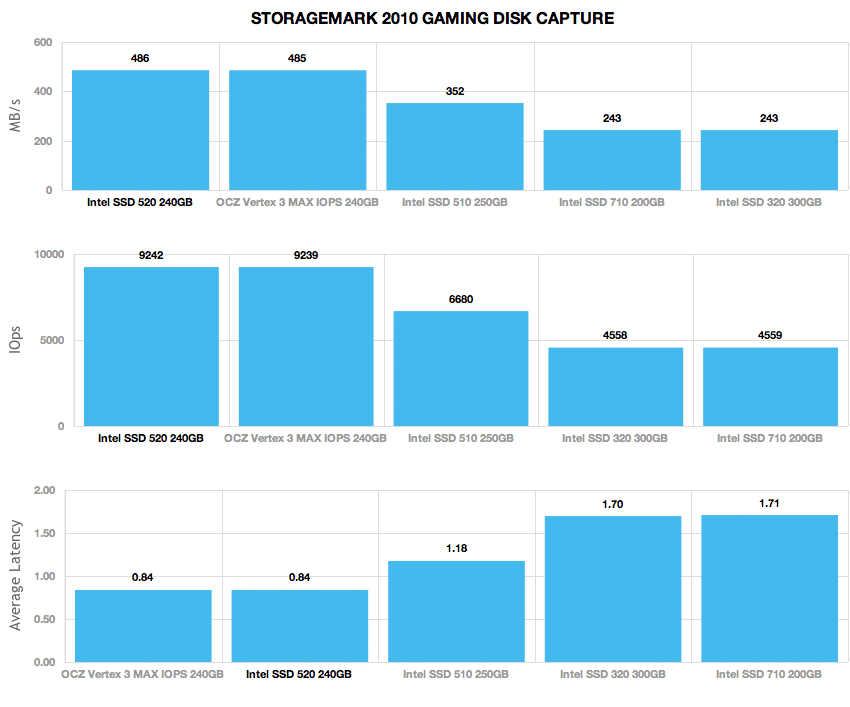 In our read-heavy gaming trace, the Intel was back on top with a razor-thin lead over the OCZ Vertex 3 MAX IOPS, measuring 486MB/s average versus 485MB/s from the V3 MI. These speeds were well above the previous generation Intel SSD 510 as well as the SATA 3.0Gb/s Intel SSD 320.
Power
With one of the main draws towards SSDs being their lower power consumption for the side effect of extended battery life in notebooks, we pay close attention to how much power these drives consume during our tests. Applying the same read and write profiles that we performed at the beginning of this review, we measure the power used by the SSD during these read or write profiles. SandForce SSDs heavily rely on compression for faster speeds and less write amplification, as a result we measure power with both compressible and incompressible data.

Intel listed an active power rate of 0.85W and an idle 0.6W. We came close to the idle power rate with a measurement of 0.81 watts, although our active tests ranged from 1.59 watts up to 3.65 watts with a constant 2MB sequential transfer of incompressible data. Compared to other SandForce-powered SSDs we have reviewed, the Intel SSD 520 ranked well, although towards the middle of the pack in power usage.
Conclusion
If our review of the Intel SSD 520 shows anything, it's that engineering is a key component when it comes to SSD performance. Specifically, when thinking about the effort that went into development of the firmware on the SSD 520, we see the effort pays off. The SSD 520 essentially trades first or second place throughout our benchmarks with the OCZ Vertex 3 Max IOPS, which has been the fastest SSD to this point. Compared with many vendors who use SandForce processors but who do not have in-house engineering to optimize firmware, there's clearly a great divide between the top performers and everyone else.
When looking at performance, the firmware gives the SSD 520 the biggest boost in write speeds compared to other SandForce drives. We see big gains in write speeds in both 2MB and 4K testing. Interestingly, while the writes don't quite catch up to the Marvell-based SSD 510, they're pretty close, and the read speeds leave the 510 in the dust. Moving to real world profiles, The Intel SSD 520 and Vertex 3 Max IOPS basically run hand-in-hand, leaving every other SSD behind.
The other major benefits of Intel engineering are harder to define. We don't have hundreds of SSDs and systems to test compatibility and we don't have five years to operate these drives to determine a reliability score. We can however rely on Intel's testing methodology and rigor, which is at the top of the industry. Intel also gets to use the best NAND their fabs craft to give their SSDs just a little more muscle. Combining all these elements, the Intel SSD 520 offers a very compelling high-performance, high-reliability solution for demanding enthusiasts.
Pros:
Exceptionally strong performance up against OCZ Vertex 3 Max IOPS
Incredibly fast compressible speeds in our mixed-workload tests
Industry-leading reliability testing
Custom firmware and engineering shows its value
Cons:
More expensive than other SandForce SF-2200-powered SSDs with synchronous NAND
Bottom Line
When we reviewed the Intel SSD 510, we called it a comfortable pair of shoes due to the midrange performance but supreme reliability. If we're keeping with shoe references this time around, the SSD 520 is a great pair of running shoes with little rocket boosters on each side. The 520 brings industry-leading SSD performance to the table, paired with the support, reliability and compatibility buyers long for. Even with a price premium at launch, the 520 is an easy to recommend SSD and sets the bar for what other SSDs should aspire to be.

Related Intel SSD 520 Content
Intel SSD 520 RAID Review
Intel SSD 520 Enterprise Review
Intel SSD 520 at Amazon.com