The Kingston SSDNow V Series drive (SNV425-S2) represents the manufacturer's entry-level consumer solid state drive. Built in three capacities (30, 64, and 128GB), the V Series drives are designed as an upgrade option for those seeking the performance of an SSD, but at a lower price point than the current crop of enthusiast- and enterprise-centric solid state drives.
The Kingston SSDNow V Series drive (SNV425-S2) represents the manufacturer's entry-level consumer solid state drive. Built in three capacities (30, 64, and 128GB), the V Series drives are designed as an upgrade option for those seeking the performance of an SSD, but at a lower price point than the current crop of enthusiast- and enterprise-centric solid state drives.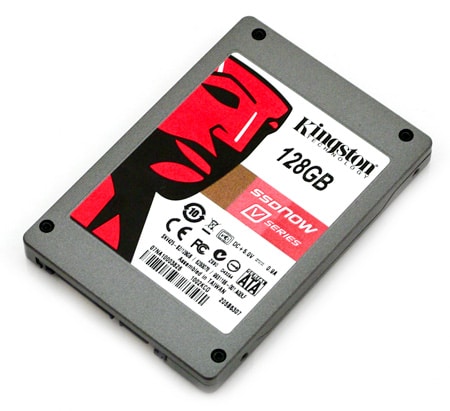 In theory, the idea is a great one. In practice, several manufacturers (including Kingston) have made forays into entry-level SSDs in the past, with performance and reliability results that were…mixed, to put the matter politely. With promises that many past bugs have been ironed out and pricing low enough to get our attention, though, we were more than willing to see what kind of performance Kingston's latest budget SSD offering could serve up.
Aesthetics
On the outside, the Kingston SSDNow V Series drives are nearly identical to the V+ Series device we reviewed back in March. A machined alloy shell does a nice job of looking higher-end than your typical OEM drive. A prominent logo label on one side of the drive displays pertinent specs and identifying information.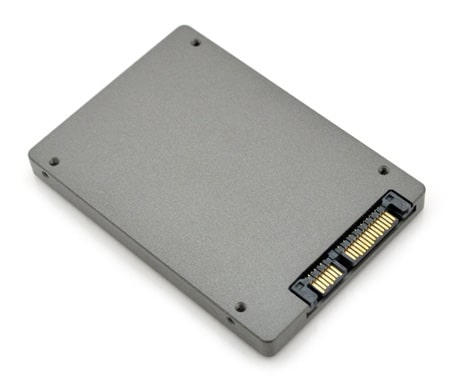 SATA and power connectors are arranged in the standard configuration, and from the back the drive (still) looks nearly identical to the V+ Series devices, only without the latter models' four jumper pins.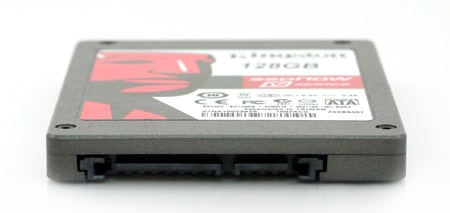 In keeping with the V Series' positioning as a storage solution for consumer and small-business users looking to make the jump to SSD, Kingston's V Series devices come as both standalone drives, but also in a pair of bundled configurations. These notebook and desktop transfer bundles are designed to make it easy to offload the entire contents of your current hard drive (OS included) onto your new SSD, and include Acronis's True Image disk cloning software for making an exact duplicate of your PC's hard drive. A USB enclosure (for the notebook bundle), or a SATA cable extender and bay mounting bracket (for the desktop bundle) simplify the process of hooking up the new drive temporarily to pull data from the old.
Disassembly
The V Series drives break down like other Kingston SSDs we've reviewed, using a quartet of allen-head screws to hold the two case halves together.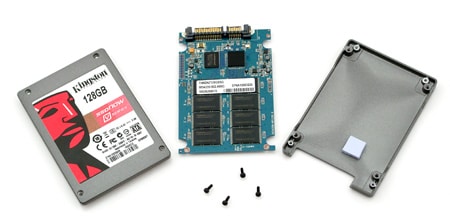 Being an SSD, you won't find even a hint of moving parts inside this drive. Instead, a double-sided PCB houses two rows of Toshiba flash chips, a Toshiba TC58NC controller chip (with native TRIM support), and a Winbond-branded memory module.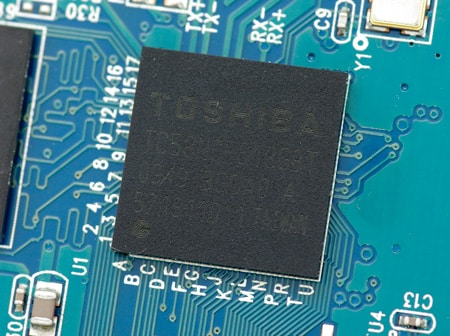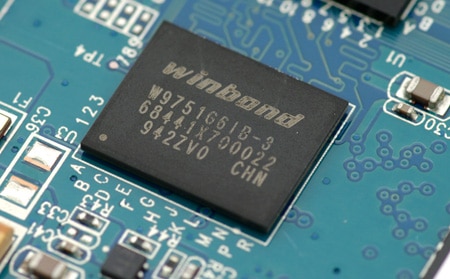 Interestingly, the board layout bears little resemblance to the internals of Kingston's V+ Series prosumer SSDs, and the V Series drives also trade the large combination thermal pad/shock absorber seen on the V+ models for a sparse single pad over the controller unit.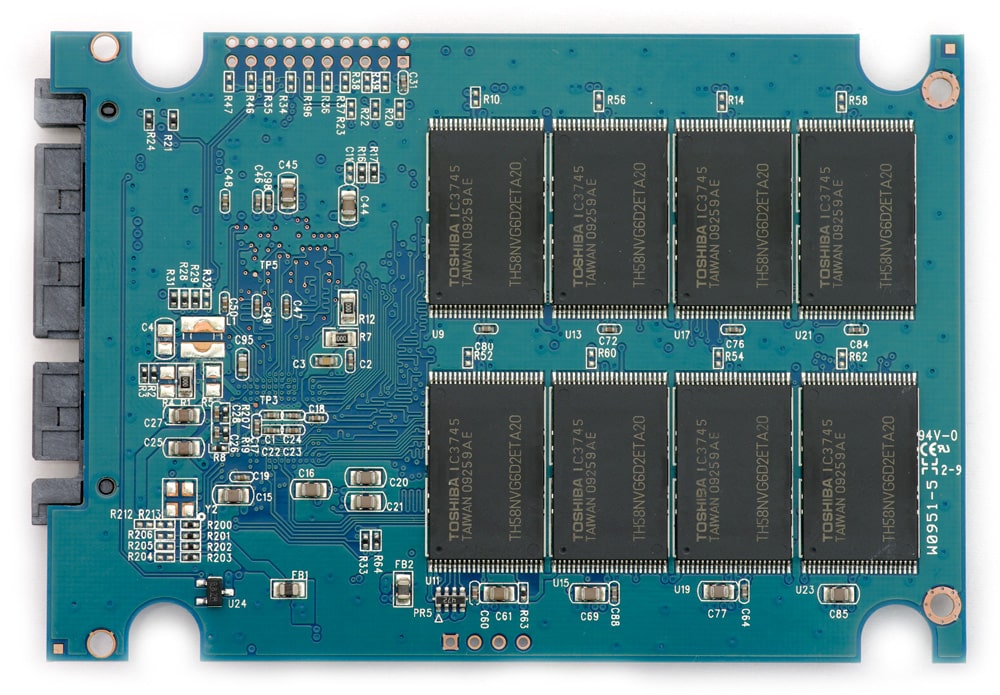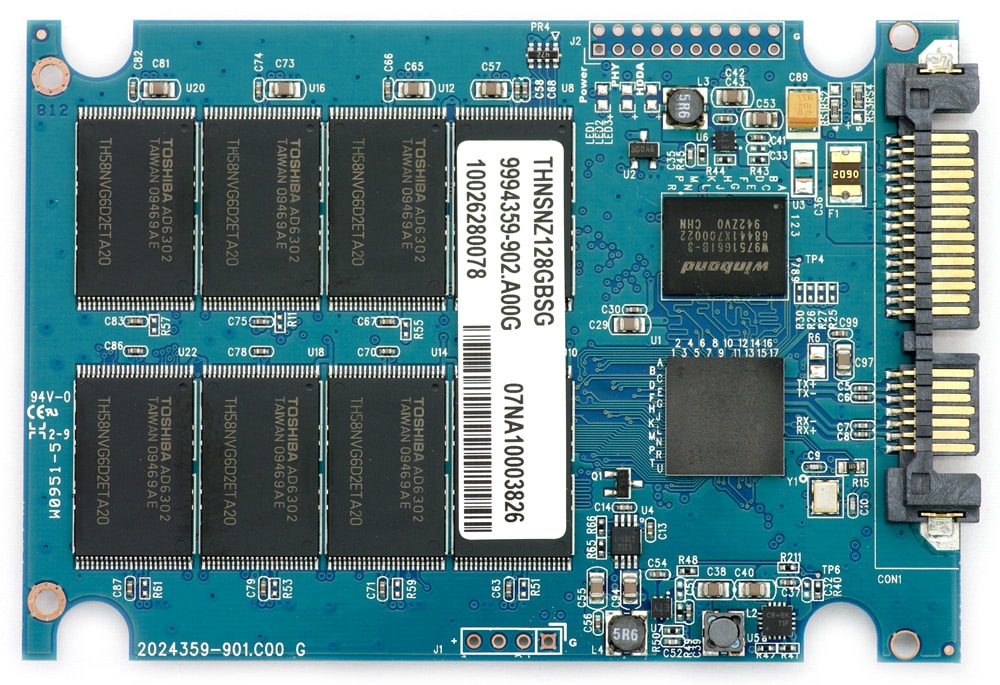 Our test unit's 128GB of storage comes courtesy of 16 Toshiba TH58NVG6D2ETA20 8GB NAND chips.
Benchmarks
Having explored our V Series review unit's physical construction, we put the device through its paces using a standard battery of synthetic and real-world assessments. Being an SSD – albeit a consumer-grade one – we expected to see some serious read/write speed improvements, and a basic performance snapshot (courtesy of the CrystalDiskMark benchmarking platform) bears this out.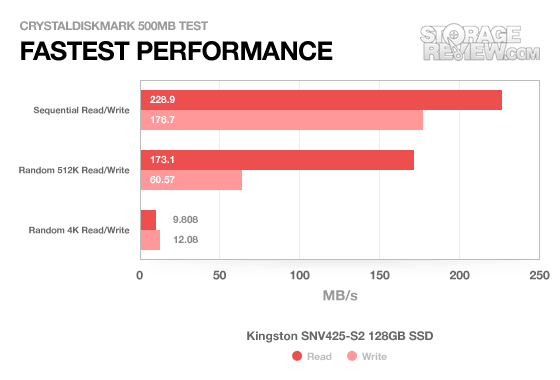 With sequential read speeds above 225 MB/s, the V Series drive actual bests the newer Kingston V+ Series device in this test. And while performance is average all around compared to other consumer-grade SSDs in most respects, the V Series drive succeeds in blowing even the fastest HDDs out of the water in most basic performance measures.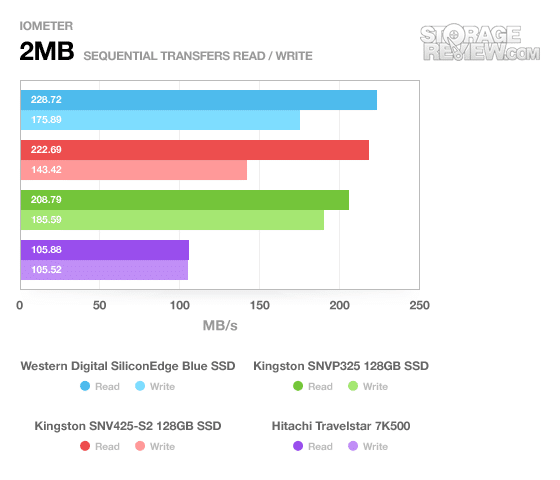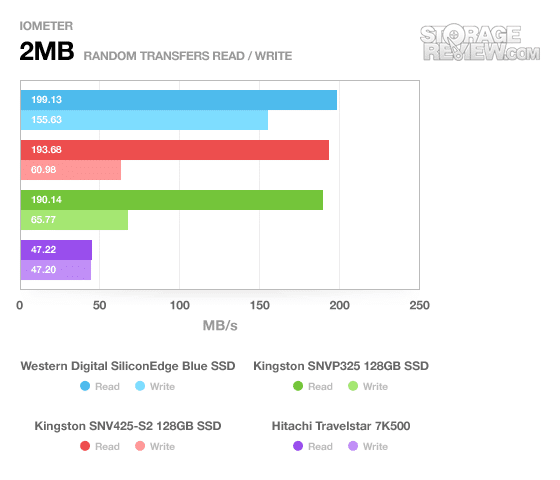 In our IOMeter benchmarks, the 128GB V Series drive continues to show its read-speed prowess. As above, although it lacks the quick write times of some costlier SSDs in both sequential and random tests, the lack of moving parts (no need to move a physical head to different platter locations for random data access, for instance) puts Kingston's entry-level unit head and shoulders above rapid notebook-form HDDs like the Hitachi Travelstar 7K500 in terms of both data transferred and operations performed.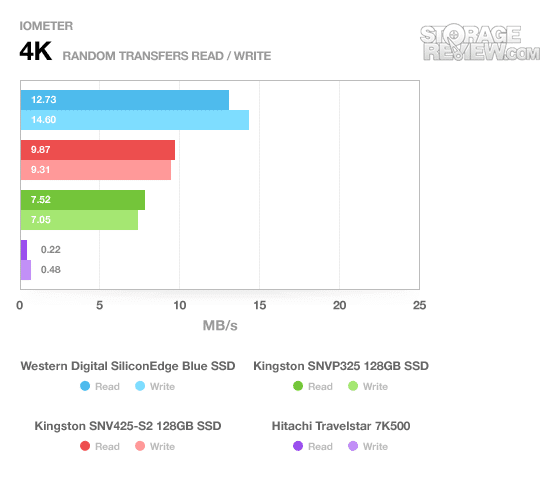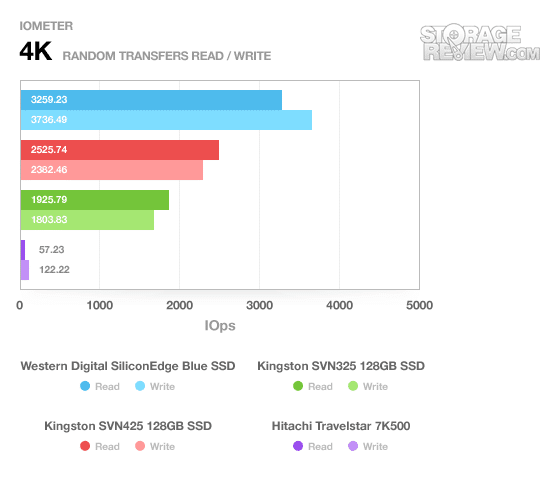 Average write latency performance was also toward the better end of average, though the device's occasional uptake problems are reflected in exceptionally long maximum times for this test.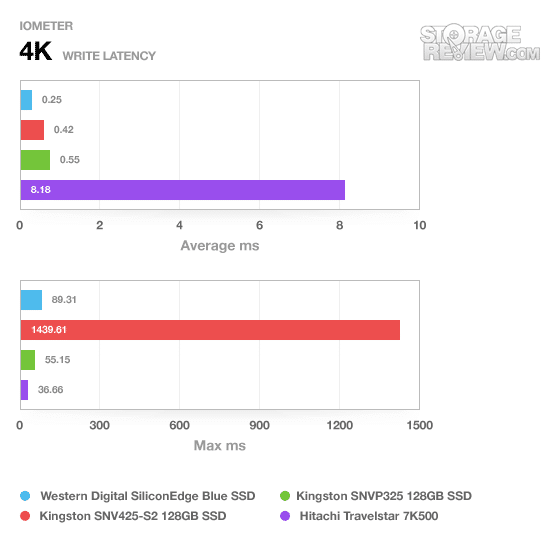 For multi-user performance testing, we again use IOMeter, with four standard server profiles: Database, Workstation, Web Server, and File Server. This testing scheme quickly exposes the V Series drive's less-than-optimal performance in enterprise situations. No doubt this is a squarely consumer-oriented device; at the same time, the V Series turns does manage to hold its own in most respects against its corporate neighbor, the Kingston SSDNow V+.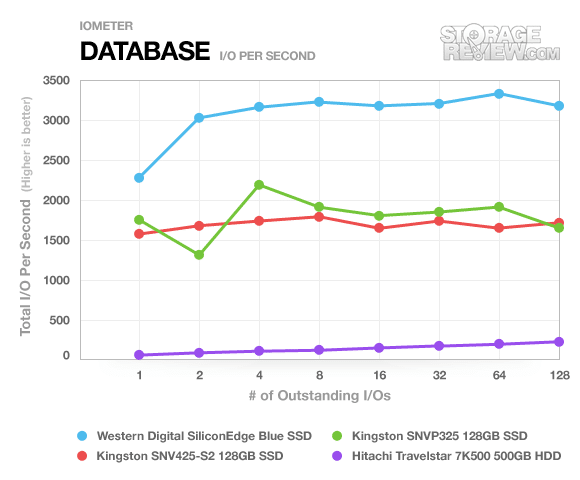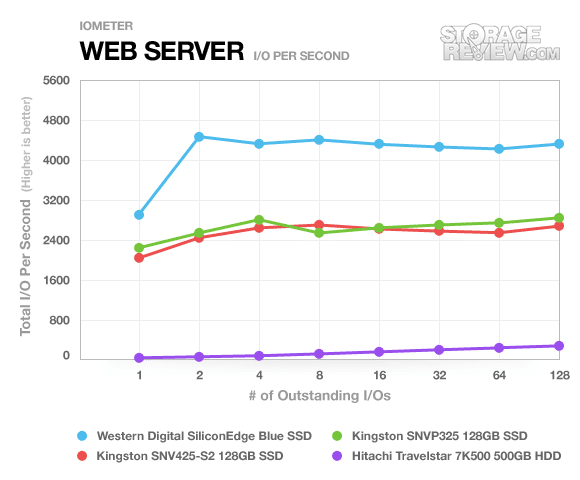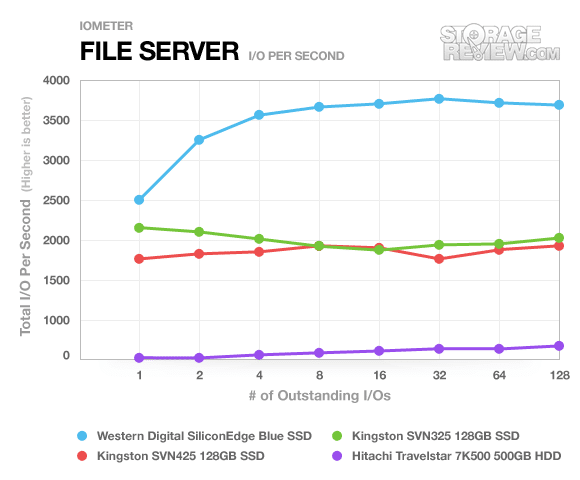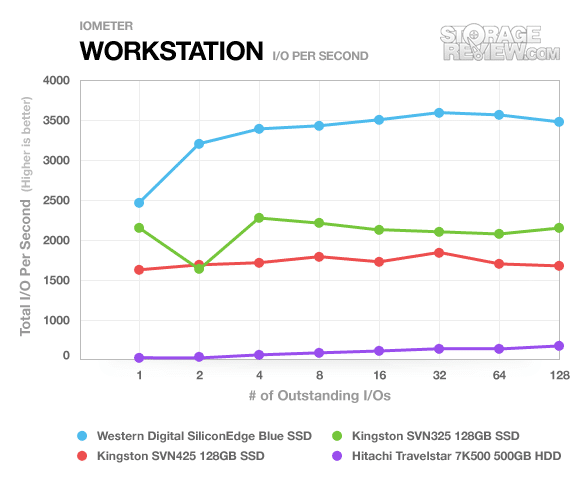 In reviewing the Kingston V+ Series, we noted that its performance often showed little if any improvement when compared with the V Series drive – in synthetic benchmarking situations, that is. In order to get a better idea of this drive's real-world potential, we called on our proprietary StorageMark 2010 benchmark (which plays an I/O trace of real-world usage activity). For this review, we looked at our HTPC disk-capture, which includes: playing one 720P HD movie in Media Player Classic, one 480P SD movie playing in VLC, three movies downloading simultaneously through iTunes, and one 1080i HDTV stream being recorded through Windows Media Center over a 15 minute period.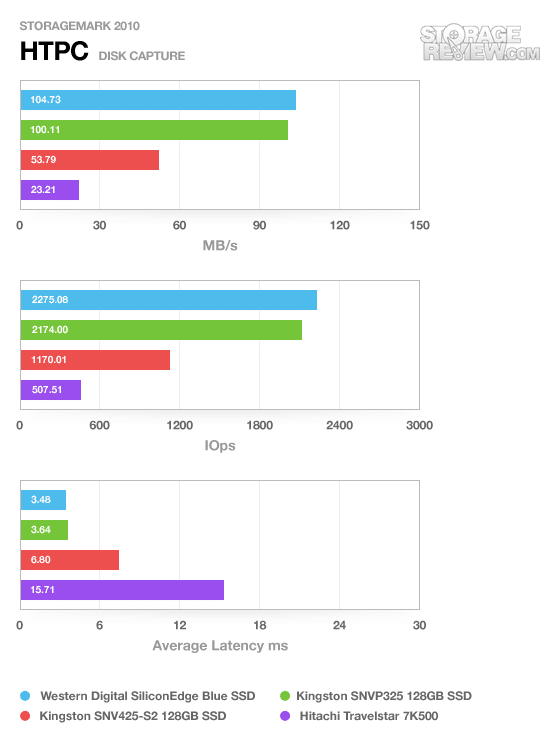 Based on this testing protocol, the V Series drive only manages to pull roughly have the speed of its more expensive Kingston peer in terms of MB/s, operations, and latency. If the V Series doesn't exactly shine among higher-end SSDs, however, it's also worth reiterating that, in this test as well, the device still manages to turn in a performance that is twice as fast in every respect as one the fastest 2.5 inch form-factor HDDs we've reviewed to date.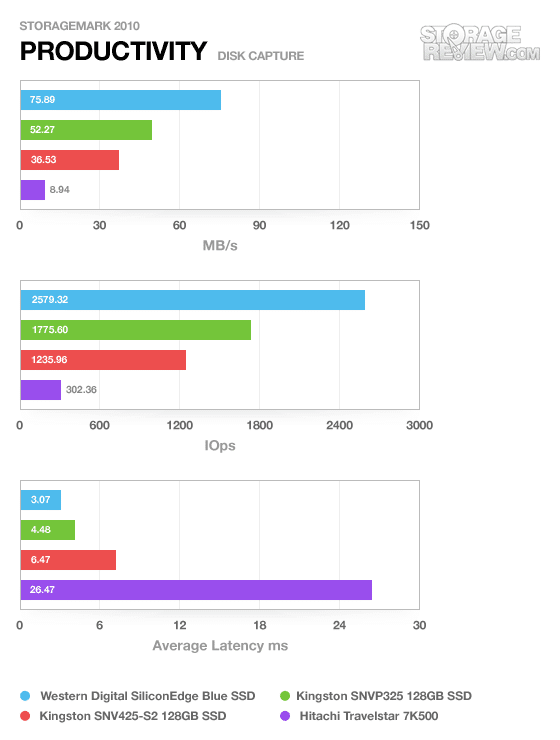 Just like the HTPC trace the Kingston SNV425-S2 came in at the bottom of the group but in the Productivity trace it had a smaller gap. Even with it closing the gap slightly it still doesn't hold a candle to the 119MB/s average that the Intel X25-M manages or even the 55MB/s that the Intel X25-V gets. Even with these differences it still performs much better than its spinning notebook hard drive counterpart.
Power Consumption
Besides speed, it's fair to expect that power consumption (or, more correctly, lack thereof) is one of the key advantages that an upgrade from HDD to SSD buys you. Unfortunately for this drive, while we were willing to forgive its speed limitations compared to its flash-based brethren, its voracious appetite for power may be inexcusable for many.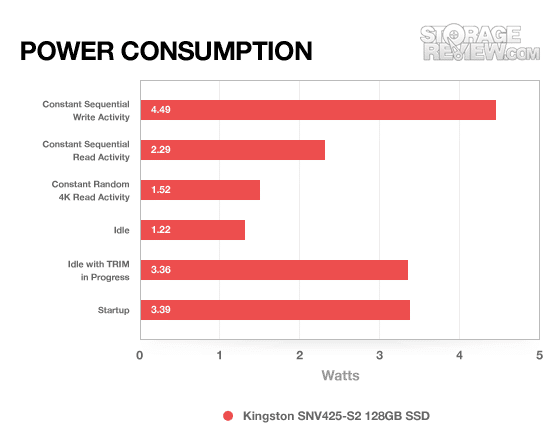 Like the WD and other Kingston SSDs we've looked at lately, the V Series exhibits a noticeable bump in power draw when TRIM activities are underway. More concerning, however, is the amount of power that the device draws at idle. Whereas most of its competitors in this segment show a barely discernible amount of power consumption at idle, the V Series racks up more watts sitting still than the V+ drive register in random 4K read test – and more than many HDDs use at idle as well. For notebook users, this means your battery life is, at the very least, unlikely to improve much (if at all) following a V Series upgrade.
Warranty
Kingston offers the same fairly generous three-year warranty on every SSD they make, from enterprise drives the consumer-oriented V Series. Like the higher-end V+ drives, the 128GB V Series devices also come with a 1,000,000 hour average lifespan rating.
Conclusions
For casual users, the Kingston SSDNow V Series has one particularly alluring feature: price. Coming in under $300 for the 128GB version with one of the transfer bundles (or closer to $250 as a drive only), the V Series represents one of the better values currently on the market. But while the performance impediments that plagued many a previous budget SSD are nowhere to be found in this device – and the drive adds longevity-focused features like TRIM support – things aren't all sunshine and roses for the V Series.
For starters, the Kingston's better apparent price-to-performance ratio than many of its competitors exists mostly on paper. In our real-world performance tests, the drive's speed promises never fully translated to the kind of quantitative productivity and server-capability improvements we look for in a mid-level SSD. And power consumption leaves a whole lot to be desired, even by the standards of HDD technology. To this end, the slightly more expensive V+ Series devices may well be the better long-term investment for those looking to pinch pennies on a solid state migration, but not willing to give up battery life to get there.
All of that said, for home users looking to dip their toe into the waters of SSD the V Series' price is hard to argue with, and the ease afforded by Kingston's transfer bundles makes drive replacement hard to mess up (even for those who've never swapped a drive before). In short, if it's scalding performance you seek, you'll have to look elsewhere.
Pros:
Transfer bundles make drive swapping easy
Cons:
Draws more power than some HDDs
Only half as fast as many consumer SSDs
Bottom Line
It's far from a top performing SSD, but at this price (and with features that make getting your new drive set up quickly and easily), the 128GB Kingston SSDNow V Series drive is a decent gateway to solid state storage.