The 5big NAS Pro is LaCie's latest NAS featuring the Neil Poulton design users are long familiar with as well as an updated 2.13GHz dual-core Intel 64-bit Atom processor and an impressive 4GB of RAM. LaCie utilizes their own LaCie NAS OS3 in this model, diverging from the Windows Storage Server 2008 R2 Essentials in the 5big Office + NAS. The updated OS offers a single user interface for local and cloud storage creating a hybrid cloud via Wuala (the cloud provider with which LaCie merged a few years back). Hardware features include five drive bays, a solid aluminum structure, and plenty of connectivity via USB 3.0 and gigabit Ethernet ports. Designed for small businesses, LaCie's target market is offices with up to 50 concurrent users.
The 5big NAS Pro is LaCie's latest NAS featuring the Neil Poulton design users are long familiar with as well as an updated 2.13GHz dual-core Intel 64-bit Atom processor and an impressive 4GB of RAM. LaCie utilizes their own LaCie NAS OS3 in this model, diverging from the Windows Storage Server 2008 R2 Essentials in the 5big Office + NAS. The updated OS offers a single user interface for local and cloud storage creating a hybrid cloud via Wuala (the cloud provider with which LaCie merged a few years back). Hardware features include five drive bays, a solid aluminum structure, and plenty of connectivity via USB 3.0 and gigabit Ethernet ports. Designed for small businesses, LaCie's target market is offices with up to 50 concurrent users.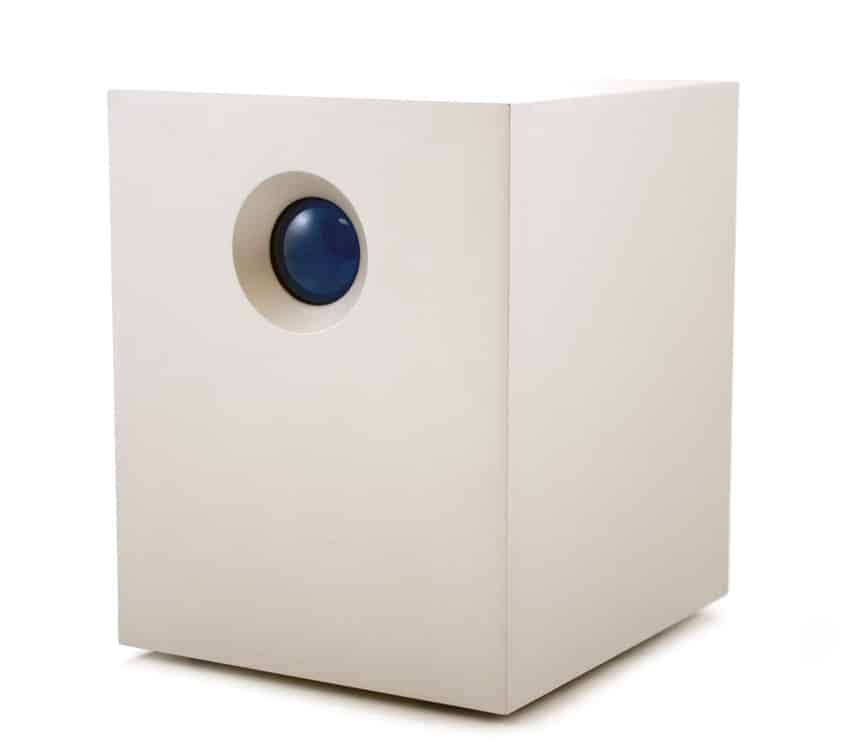 Our 5big NAS Pro review model shipped with 5 Seagate Desktop HDDs providing 10TB of total capacity. In documentation, Seagate identifies these Desktop HDDs as the new version of their previous model Barracuda drives, just with a new naming convention. The drives are a solid 7,200 RPM and each hold 2TB. Users may not see all 10TB of course as they will have the option to select different RAID schemes (0, 1, 5, 5+ spare) which may limit usable capacity.
The LaCie 5big NAS Pro is currently available and comes in 3 versions: a diskless model at $499, 10TB at $1,139, and 20TB at $2,199. All versions provide 5GB of Wuala cloud storage for free and up to 100GB free for three months. Users may also opt to upgrade to cloud storage capacities ranging from 20 GB to a gigantic 1TB for an annual or more flexible monthly fee. Business plans are available too; users can obtain service with 100GB spread between 5 users at $429 a year.
LaCie 5big NAS Pro Specifications
Capacity: 0 TB (diskless), 10TB, 20TB
Interface

2x Intel Gigabit Ethernet 10/100/1000 Base-TX
Dual link aggregation IEEE 802.3ad

Operating System: LaCie NAS OS3
Processor/RAM : Dual-core 2.13GHz Intel 64-bit Atom processor
4GB DDR III RAM
File Access

Wuala Secure Cloud Storage: Manage cloud, remote, and local storage from a single interface; secure remote access through standard web browser or iOS/Android mobile app
Compatible with PC, Mac, Linux, iOS, and Android

Network Protocols

File Server: SMB, AFP, FTP, SFTP, NFS
Web access: HTTP, HTTPS
Others: Apple Bonjour, BitTorrent, NTP, 802.3ad for link aggregation and failover, iSCSI, DHCP, APIPA

Expansion Ports

2 x USB 3.0 and 2 x USB 2.0
1 x Standard VGA-compatible 15-pin

Burst Transfer Rate : Read: up to 210MB/s (RAID 0); 194MB/s (RAID 5) and Write: up to 150MB/s (RAID 0); 110MB/s (RAID 5)
RAID Modes : Standard RAID modes: 0, 1, 5, 5+Spare
SimplyRAID for automatic RAID migration, expansion, and support for mixed capacities
Backup Solutions

PC to NAS: using client software (Time Machine, Windows Backup, etc.)
NAS to DAS: scheduled, automatic, and restore
NAS to NAS: scheduled, encrypted, compressed, and automatic to local or remote NAS

Special Features

Print server
Download (torrent) machine
Time Machine compatibility
Encryption for cloud storage
Active Directory support
Kensington lock compatible

Administration

Rescue utility for NAS OS setup and repair
Direct access to NAS using Wuala and LaCie Network Assistant (Windows and Mac OS X)
User friendly management interface (Dashboard)

Multimedia

UPnP A/V media adapter compatible
Photo browser and audio streaming through web interface iTunes (DAAP) server

Power Supply : 100-240Vca; 47-63Hz
Power Consumption : Off: 1.9W; Idle: 56.5W; Full Load: 71W; Disk Hibernation: 1.9W
Environment & Power

Energy-efficient process with Level V power supply
Recyclable: Aluminum, ROHS compliant
Automatic standby mode; scheduled On/Off; Wake on LAN
Low noise emission (25dB)
Uninterrupted Power Supply (UPS) support

Dimensions : 173 x 220 x 196 mm / 6.8 x 8.6 x 7.7 in.
Weight : Without disks: 4.7 kg / 10.4 lbs.
With five disks: 7.6 kg / 16.8 lbs.
Recommend Number of Simultaneous Users : 50
Design and Build
The 5big NAS Pro maintains LaCie's design status quo with its appearance nearly identical to the 5big Office + that we reviewed a little while back. In fact, the weight at just over 10 pounds diskless and nearly 17 pounds loaded with drives is identical to that of the 5big Office +. The enclosure also features the standard, rugged aluminum construction found on other LaCie models. This design really feels like it could stand up to abuse in the event of an accident, although for the most part we imagine the NAS will be stationary given its hefty weight.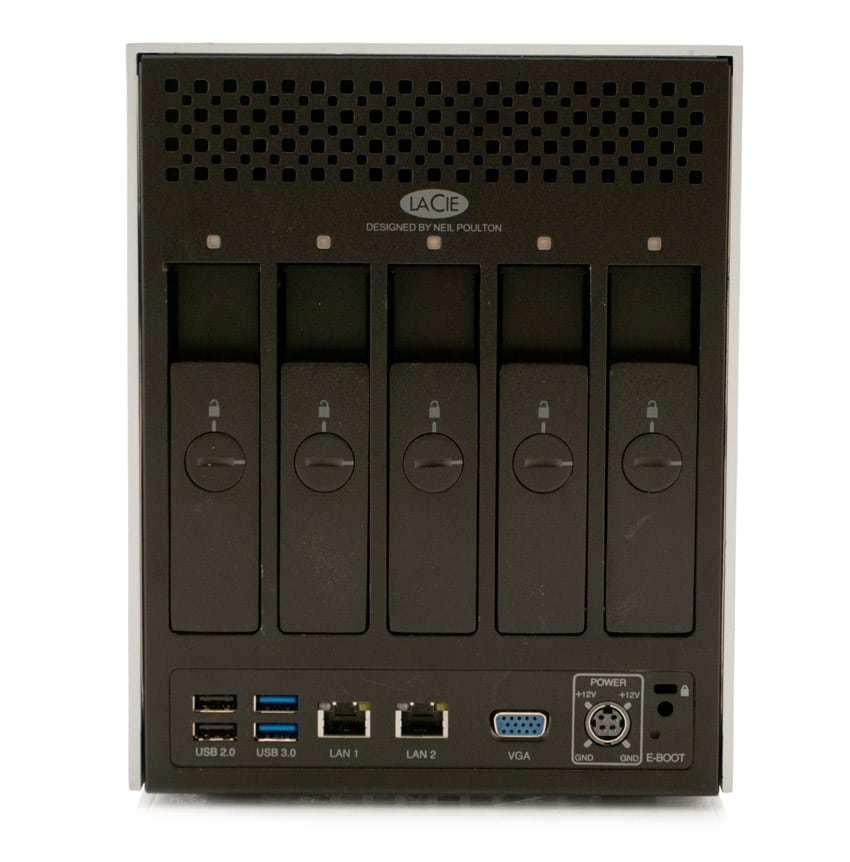 The rear of the 5big NAS Pro features the unit's connectivity, ventilation for the internal fan, and easy access to the drives. The front is minimalist featuring a simple LED button that powers the NAS on and off or sets it into deep sleep. On the back of the unit, users will see the USB 2.0 and USB 3.0 expansion ports (two of each). That's also where users find the two gigabit Ethernet ports, a VGA input, the power input, a Kensington lock slot, and a button labeled e-boot that helps users to repair or recover drives.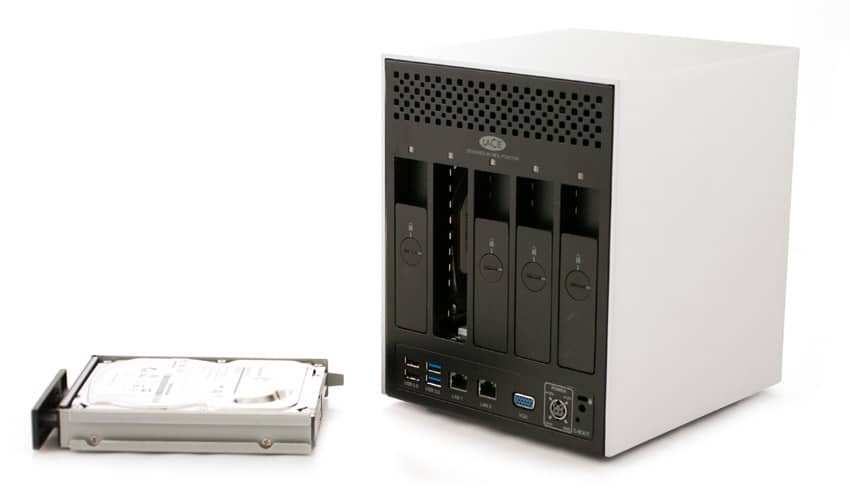 The drives themselves are accessible by twisting to unlock. Design-wise, this is safe and unique because it ensures that drives won't pop-out if they get bumped. Unlocking can be done with a fingernail or a coin, but LaCie also includes a plastic piece that makes it even easier to twist the lock. That piece doubles as a pin to reach and press the e-boot button. Inside, the drives are surrounded by a solid metal casing, but users will need to take out 4 screws to access the drives. By no means is this a deal breaker, but some other NAS units feature tool-less removal for easier maintenance.
Setup
Setting up the LaCie 5big NAS Pro isn't a difficult task, and even inexperienced or first-time NAS users can do it without stress. As our model comes with drives, five 2TB Desktop HDDs (formerly known as Barracuda drives), there are only 3 steps. Users who purchase the bare model will have a few extra steps, but they are very manageable. Users begin by simply plugging in the included Ethernet cable and the power plug. Turning the unit around, users press the big blue button on the front, and to finish up the simple process, users type in an included web address. Our test model wasn't able to access the website, so we downloaded the Lacie Network Assistant on the support page which got us up and running immediately. The Network Assistant primarily gives users 1-click access to the dashboard and the ability to see drive contents.
Usability
When users begin operating the 5big NAS Pro, they will need to mount the drive. Once this is done, the admin can go to the dashboard to configure the 5big NAS Pro. The design is fairly intuitive and the GUI is clean. The LaCie dashboard is designed and geared toward offices, and with that in mind, its GUI is also solid and would be easy for any user to figure out. The background, layout and general color scheme have a professional office feel that will feel right at home in an up to 50 user-environment.
Users click on the section they want to configure and can then return to the home screen (dashboard view) by clicking the house at the top of the screen. Also up top, users have access to shutdown options, logging out, and a file browser that gives a Windows Explorer type view of the device's contents.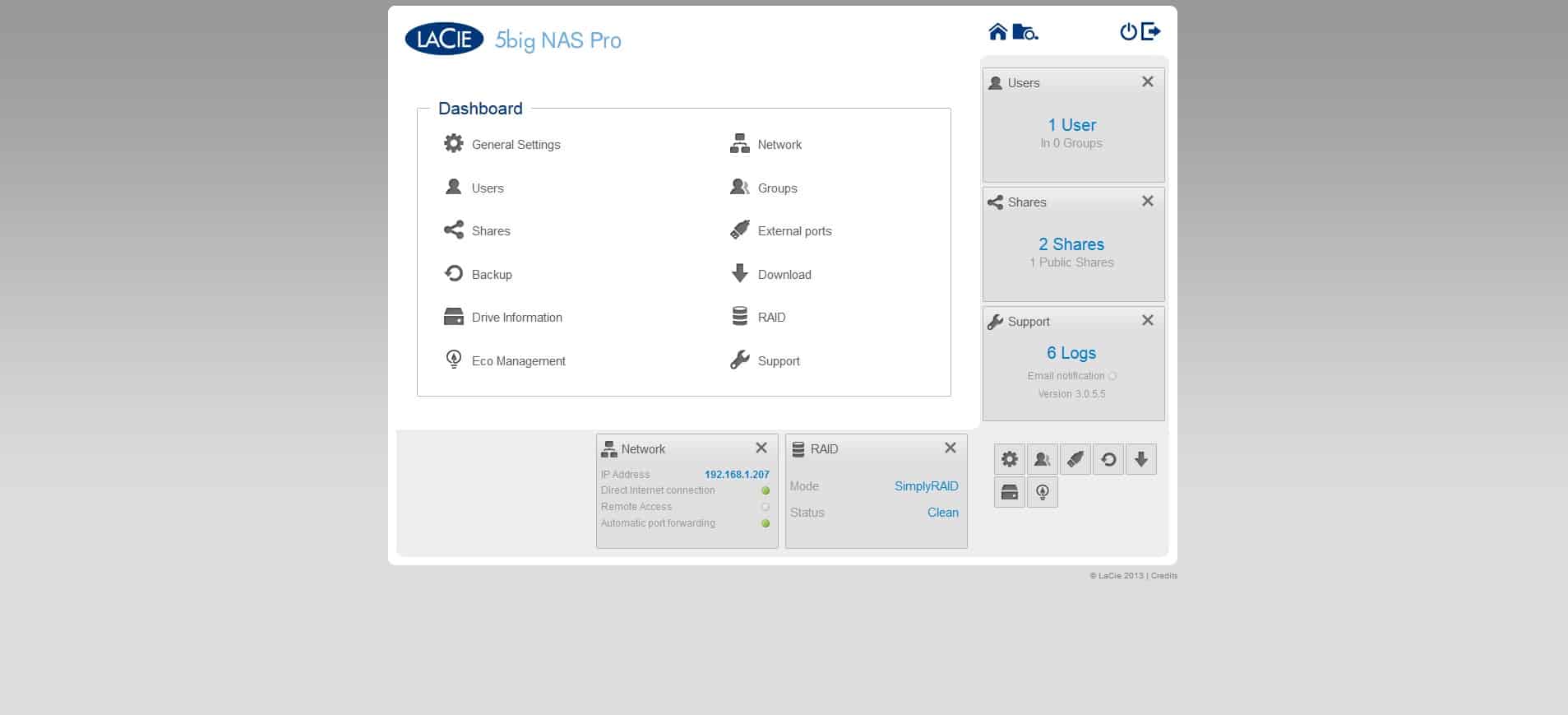 On the bottom of the dash, users will find the other available tools including eco management and backup options.
Our LaCie 5big NAS Pro with drives comes preconfigured and set to SimplyRAID mode to provide data protection while still optimizing available storage capacity. This mode requires a minimum of 2 or 3 drives depending if users choosing single or double security – single security allocates one drive as backup and double security allocates two drives (thus using 2TB or 4TB in our review model). Users may also choose to manually select which drives are part of the RAID array and if they want to use RAID 0, 5, or 6. All of these choices are designed to provide users with customizable settings that allow them to choose to increase either security or capacity or balance the two.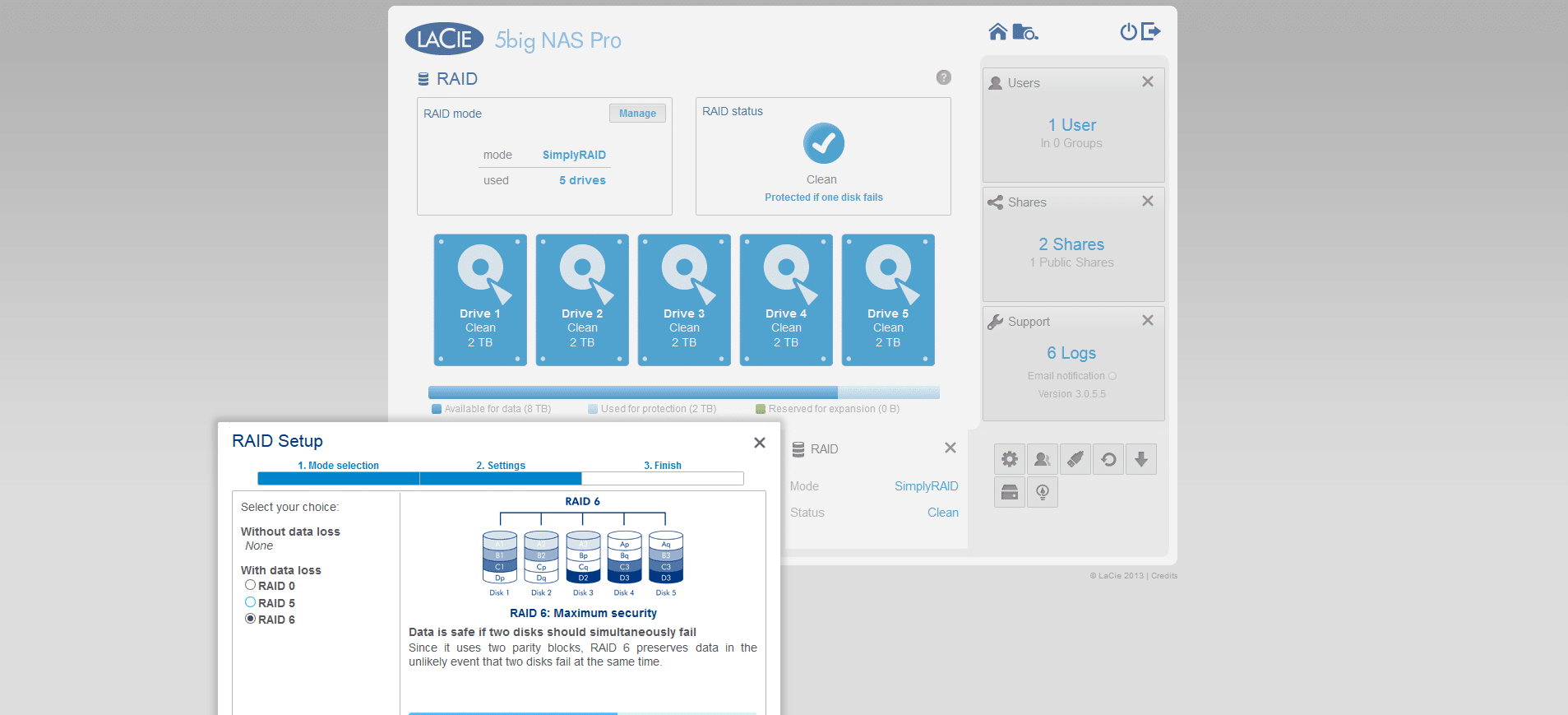 As with other NAS devices that we have reviewed, the 5big NAS Pro offers users eco management tools. The most significant feature for business owners is the ability to manage power consumption by scheduling the NAS to power on and power off at selected times for each day of the week. These tools also allow users the ability to set configurations with UPS devices to prepare for potential power failures.
Mobility is in the minds of most NAS manufacturers these days, and LaCie clearly understands that concept; their merger with Wuala has thrust them into a unique position by enabling them to offer both NAS and cloud storage. Users can integrate these services to create a hybrid cloud. Wuala allows users to access content from anywhere in the world. Users can download the Wuala app for iOS or Android and can also download the Wuala client to their Mac, Linux, or Windows computer.
We installed the iOS app and registered for the business version of Wuala. We felt impressed with how simple it was to navigate. From the home screen, users can access different groups, devices, and folders. Using Wuala's interface, users can find, access, and modify their files at any time, and they can keep their computer's contents separate from the contents they share with their business group. Tools designed for business include: file sharing including the ability to restore up to 10 different versions of the same file, up to 256-bit encryption technology with data stored in three different geographic locations (in fact, three different countries) and simple plan upgrades to add users and/or capacity.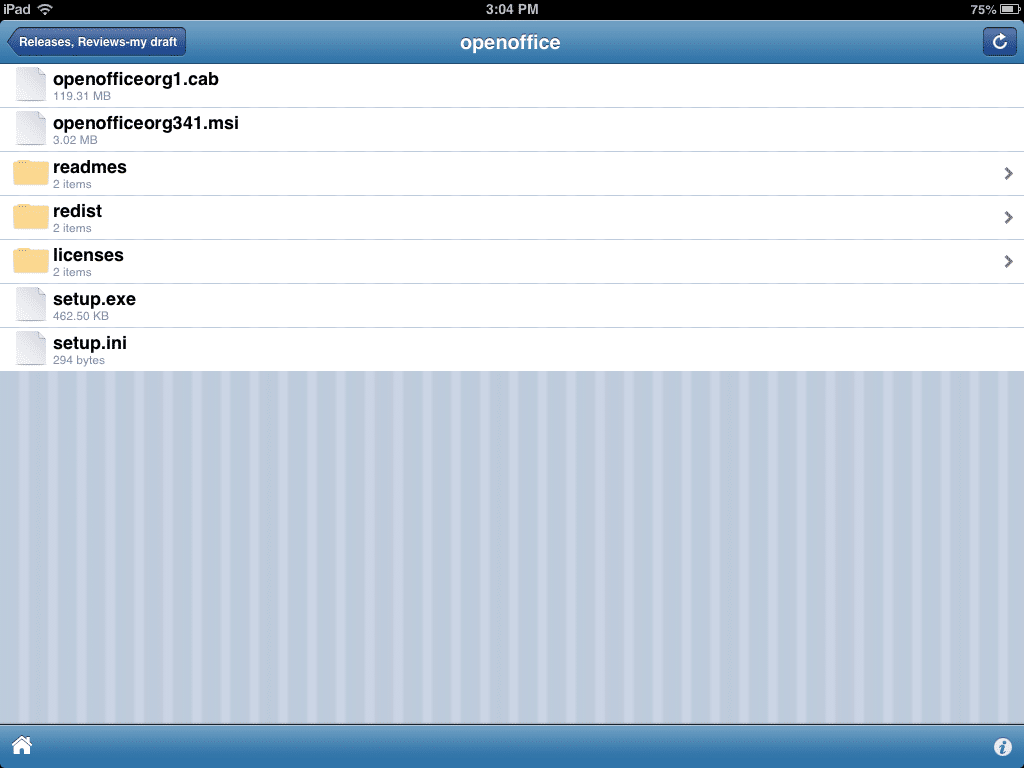 Testing Background

The LaCie 5big NAS Pro is natively based in Linux, but we tested it over both iSCSI and SMB to gauge its performance for Linux and Windows-based applications. We benchmarked the LaCie 5big NAS Pro on our testing platform based on a Lenovo ThinkServer RD630. The ThinkServer RD630 is configured with:
2 x Intel Xeon E5-2620 (6 core, 2.0 GHz, 15MB, 95W)
Windows Server 2008 R2 SP1 64-Bit
Intel C600 Chipset
Memory – 16GB (2 x 8GB) 1333Mhz DDR3 Registered RDIMMs
Enterprise Synthetic Workload Analysis
Our enterprise hard drive benchmark process preconditions each drive into steady-state with the same workload the device will be tested with under a heavy load of 16 threads with an outstanding queue of 16 per thread, and then tested in set intervals in multiple thread/queue depth profiles to show performance under light and heavy usage. Since hard drives reach their rated performance level very quickly, we only graph out the main sections of each test.
Preconditioning and Primary Steady-State Tests:
Throughput (Read+Write IOPS Aggregate)
Average Latency (Read+Write Latency Averaged Together)
Max Latency (Peak Read or Write Latency)
Latency Standard Deviation (Read+Write Standard Deviation Averaged Together)
Our Enterprise Synthetic Workload Analysis includes four profiles based on real-world tasks. These profiles have been developed to make it easier to compare to our past benchmarks as well as widely-published values such as max 4k read and write speed and 8k 70/30, which is commonly used for enterprise drives. We also included two legacy mixed workloads, the traditional File Server and Webserver, each offering a wide mix of transfer sizes.
4k

100% Read or 100% Write
100% 4k

8k 70/30

70% Read, 30% Write
100% 8k

128k (Sequential)

100% Read or 100% Write
100% 128k

File Server

80% Read, 20% Write
10% 512b, 5% 1k, 5% 2k, 60% 4k, 2% 8k, 4% 16k, 4% 32k, 10% 64k

Webserver

100% Read
22% 512b, 15% 1k, 8% 2k, 23% 4k, 15% 8k, 2% 16k, 6% 32k, 7% 64k, 1% 128k, 1% 512k
In the first of our workloads, we measured a sample of random 4k performance with 100% write and 100% read activity to get our main results. The LaCie 5big NAS Pro measured greater read performance in iSCSI at 797 IOPS read, but provided less throughput at 83 IOPS in write activity. SMB yielded 217 IOPS read and 345 IOPS write.

In our main average latency segment with a load of 16T/16Q, over iSCSI we measured a low average read latency of 320.80ms and a write latency of 3056.75ms from the LaCie 5big NAS Pro and with SMB 1173.02ms for reads and 742.00 for writes.

Measuring just read activity, the LaCie 5big NAS Pro iSCSI had a max response time of 866.0ms while the write activity max latency was 5390.0ms. The SMB test results were 1646.0ms for read and 3326.0 for writes.

Reviewing the 4k latency consistency in our standard deviation section, the LaCie 5big NAS Pro iSCSI tested at 39.63ms read standard deviation and at 484.28ms write standard deviation. SMB had comparable but slightly more latency at 70.43ms for reads and 506.99ms for write activity.

Compared to the fixed 16 thread, 16 queue max workload we performed in the 100% 4k write test, our mixed workload profiles scale the performance across a wide range of thread/queue combinations. In these tests, we span workload intensity from 2 threads and 2 queue up to 16 threads and 16 queue. In the expanded 8k 70/30 test, the LaCie 5big NAS Pro didn't scale that much as the effective queue depth increased. iSCSI performance saw some improvement between 2T/2Q to 16T/16Q while SMB performance remained rather flat.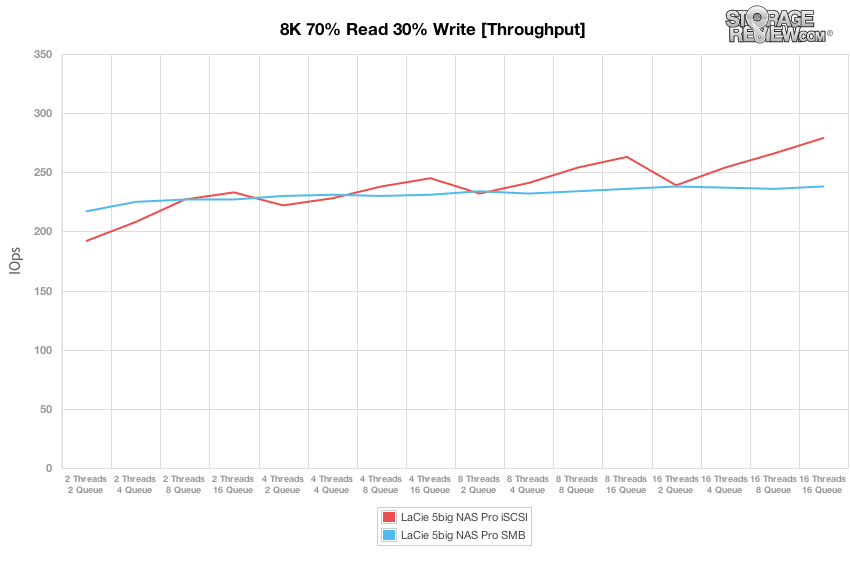 Looking over the 8k 70/30 average response times, the LaCie 5big NAS Pro over iSCSI was held to a narrow margin, though SMB peaked higher at the queue depths.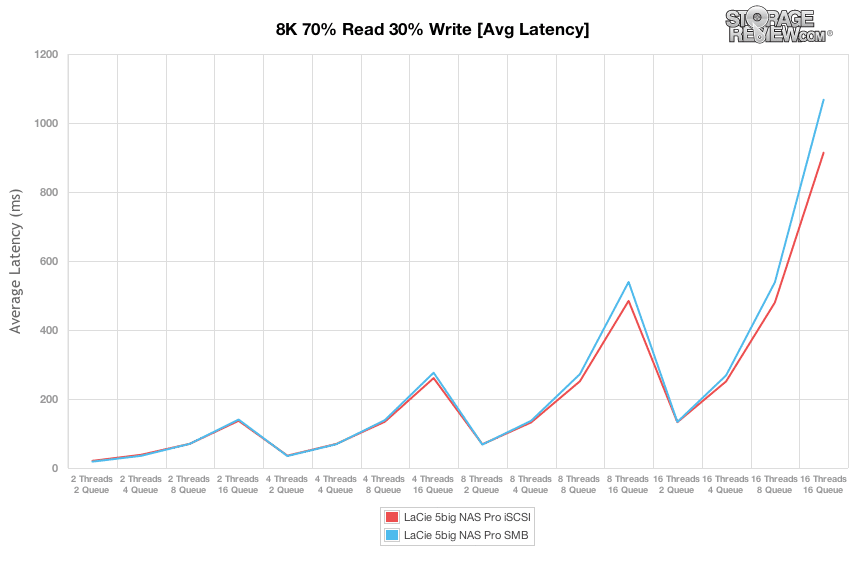 Over the duration of our primary tests at varying thread and queue depth levels, the LaCie 5big NAS Pro offered lower peak response times over iSCSI than it did over SMB.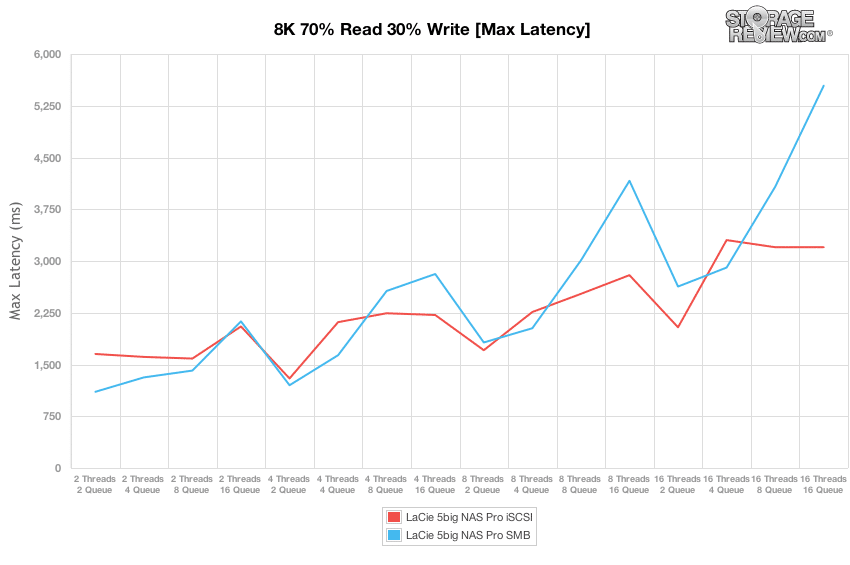 For the entirety of the thread/queue spectrum, the LaCie 5big NAS Pro iSCSI performance offered better latency consistency than its SMB mode.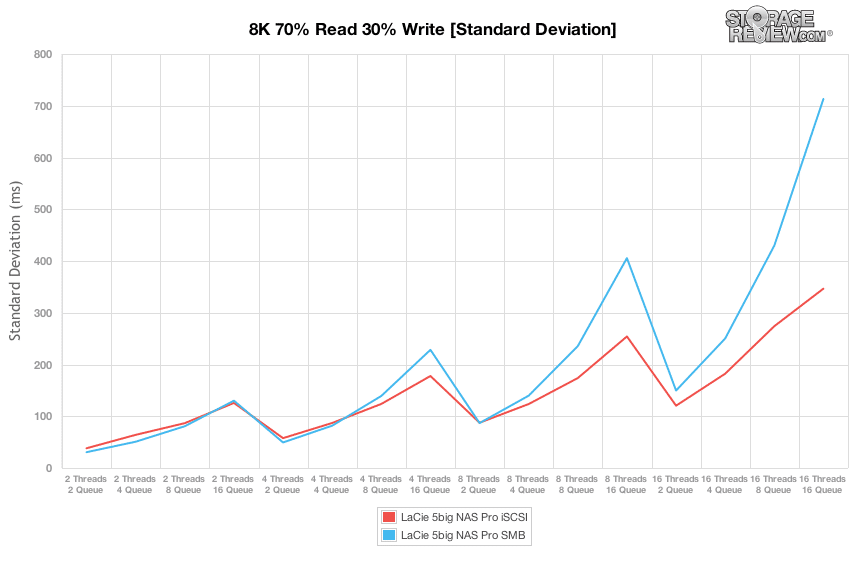 Throughput in our sequential 8k 100% Read/Write testing for the LaCie 5big NAS Pro in iSCSI was at 13,167 IOPS read and 2,235 IOPS write, and SMB at 24,530 IOPS read with 7,085 IOPS write. Here, the SMB performance with sequential traffic was far greater than iSCSI.

Bumping the transfer size up to 128k in our Enterprise Synthetic Workload we looked to saturate the networking connections for both iSCSI and SMB. Looking at the 128k performance of 100% write and 100% read activity, the LaCie 5big NAS Pro iSCSI measured at 112,960 KB/s read and 41,900 KB/s write, which were quite a bit lower than the 218,424 KB/s read and 149,365 KB/s write for SMB.

The next workload we used is our File Server profile which puts the drives through wide transfer spread ranging from 512b to 64k. We scaled the thread and queue count from 2T/2Q up to 16T/16Q. Under this range of workloads, the LaCie 5big NAS Pro iSCSI had IOPS consistently up in the 230-250 range while SMB ranked lower in the 170 IOPS range throughout.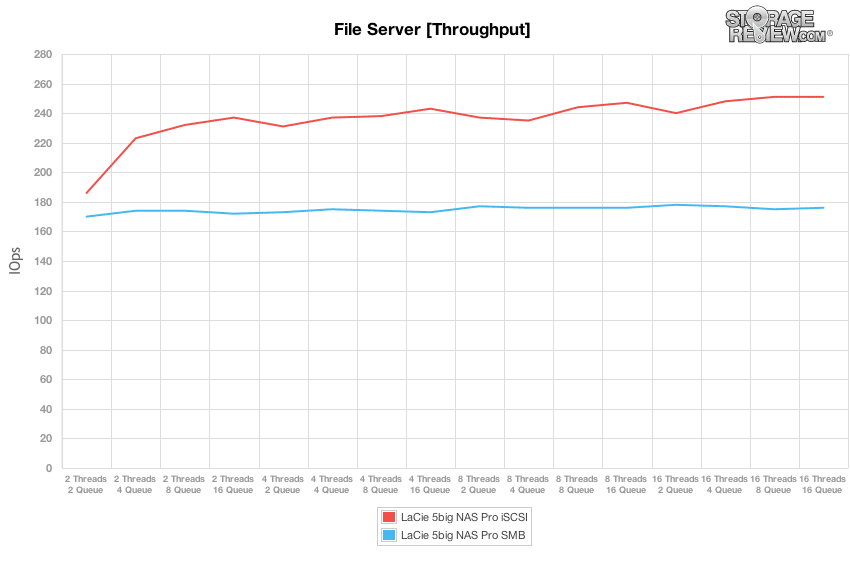 At all queue depths, the LaCie 5big NAS PRO iSCSI had lower average latency topping at just over 1,000ms compared to over 1,400ms for SMB.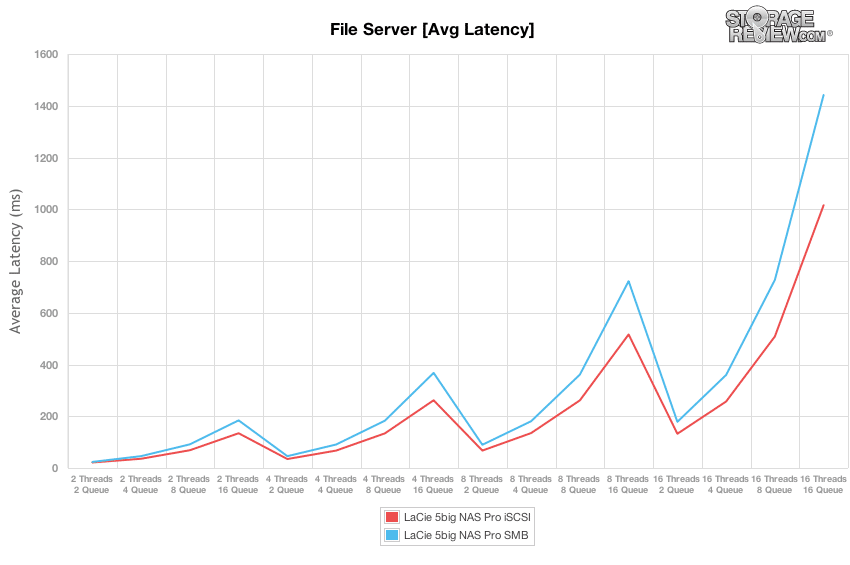 Comparing peak response times in our File Server profile, the LaCie 5big NAS Pro SMB performed with lower latency until 4T/16Q where the iSCSI started coming closer changing the lead for lower latency several times.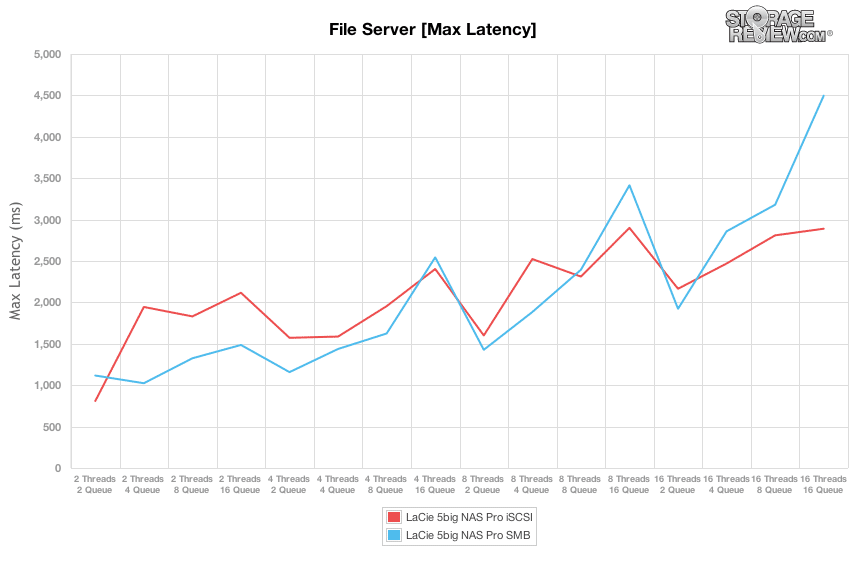 Looking at the latency standard deviation, the LaCie 5big NAS Pro iSCSI featured better latency consistency throughout, which was magnified at higher effective queue depths.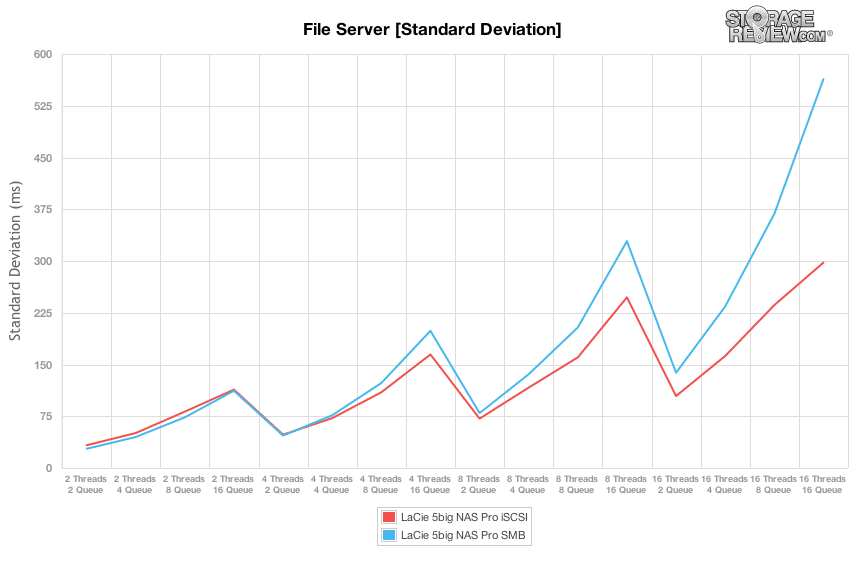 Our final test is the Web Server test, which is traditional 100% read activity and a transfer spread between 512b-512k. The LaCie 5big NAS Pro performed with nearly triple the IOPS in iSCSI peaking around 560 IOPS versus around 190 IOPS with SMB.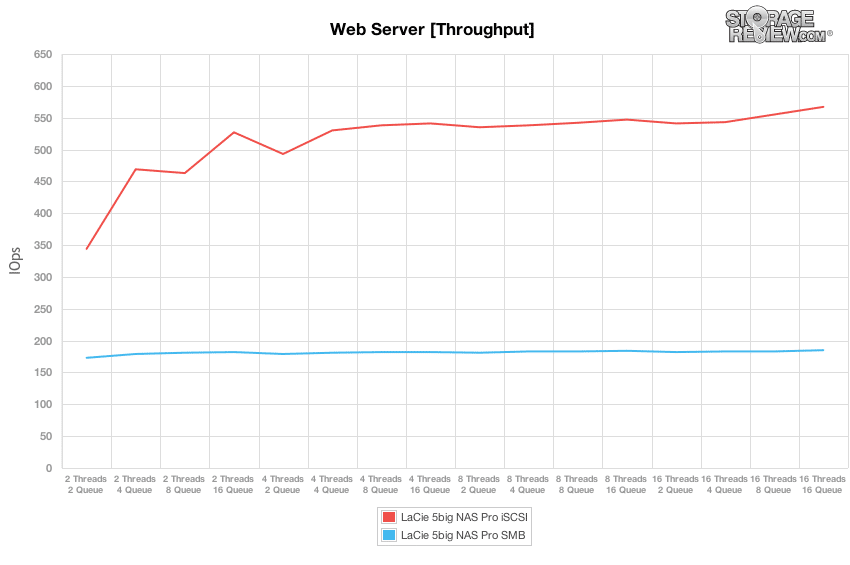 The LaCie 5big NAS Pro iSCSI performed with far lower average latency than with SMB in our next test of average latency in the Web Server profile.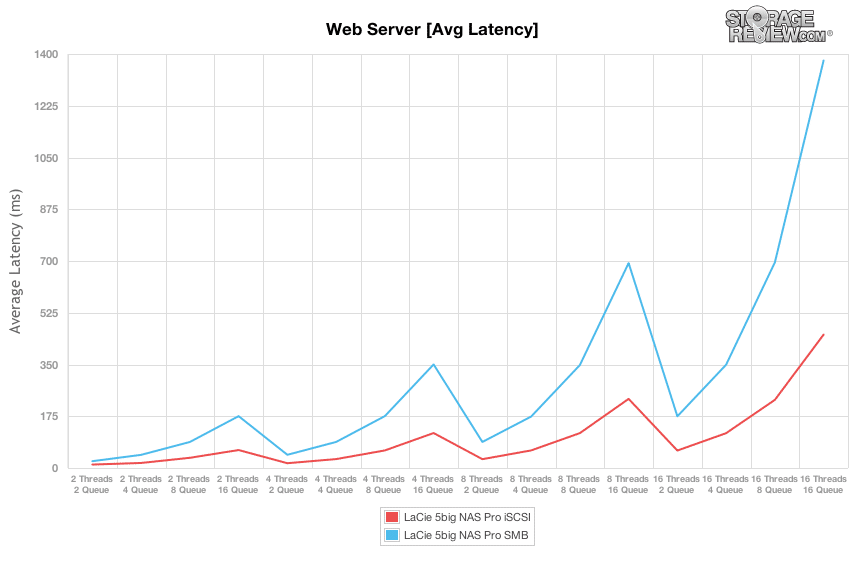 Looking at Max Latency in our Web Server profile, the LaCie 5big NAS Pro iSCSI peaked in the 700-1,000ms range, consistently stronger than the SMB which ranged 1,000-6,000ms for most of the test and spiked all the way up to 15,000ms at 16T/16Q.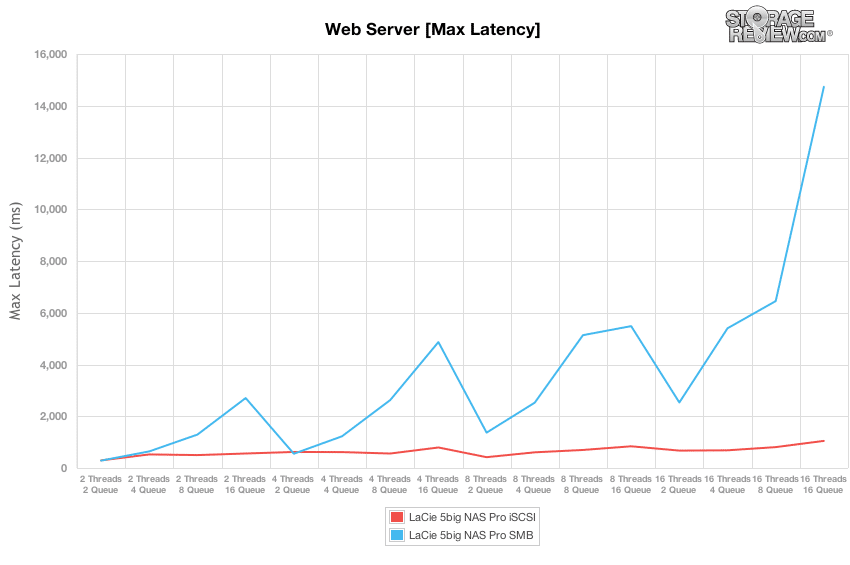 Comparing latency consistency in our read-only Web Server profile, the LaCie 5big NAS Pro iSCSI offered far better latency consistency across the spectrum.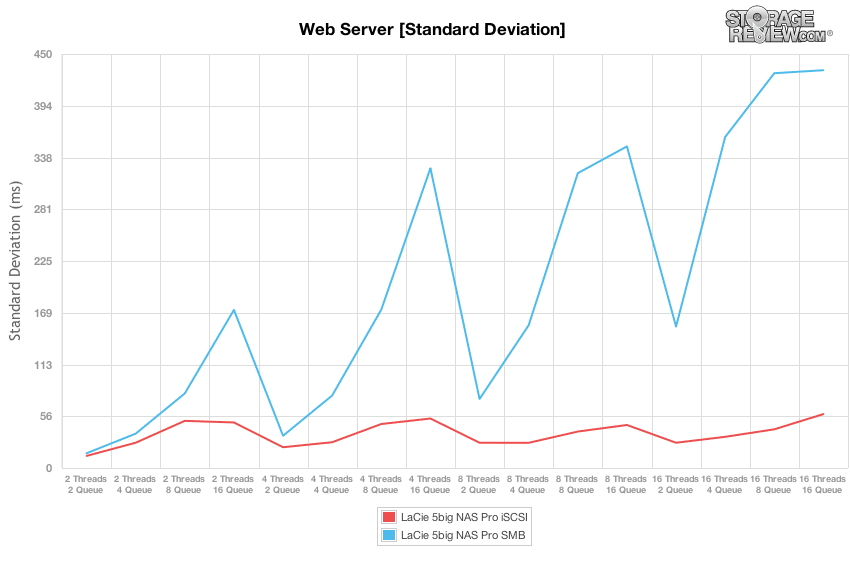 Conclusion
LaCie's 5big NAS Pro has five drive bays in a durable aluminum chassis with connectivity including both USB 3.0 and dual gigabit Ethernet NICs. It also has a strong hardware configuration with a 2.13GHz dual-core Intel 64-bit Atom processor and 4GB of RAM. For the OS in this particular model, LaCie has opted to incorporate their own Linux-based LaCie NAS OS 3. Doing so enables LaCie to create a single GUI through which users can access their local and cloud-based storage (cloud storage from LaCie's Wuala). This particular LaCie is rated to handle up to 50 users at a time, making it ideal for a range of office deployments.
In our testing, we configured our hard drives in RAID 5 group, which was then split into two SMB and one iSCSI shares (the GUI currently limits you to one iSCSI LUN with an adjustable size thoug LaCie indicates an update will allow more flexibility in June). In our testing we saw peak bandwidth over SMB measuring about 220MB/s read and 150MB/s write, which surpassed the RAID5 spec listed for this model. Over iSCSI this performance dropped to 113MB/s read and 42MB/s write since we were limited to one iSCSI LUN. For sequential access SMB performance offered the best performance, whereas iSCSI offered the best random access. This was the opposite of what workgroup users would want, since SMB access would be needed for multiple users with iSCSI being limited to only one system. Other Linux-based NAS units from manufacturers such as Synology support upwards of 256 iSCSI shares.
Overall performance was fairly good for this particular platform, although the GUI seems to be over-simplified to the point to removing features that would be required in a larger workgroup environment, such as the single iSCSI LUN limitation.
Pros
Professional feel to app and dashboard layout
Clean enclosure and interface design
Cons
Support for only 1 iSCSI share, limiting optimum performance for multiple users
Weak SMB performance in mixed workloads
Bottom Line
The LaCie 5big NAS Pro has a durable aluminum build, supports 5 drives with multiple RAID-types and supports scalability for up to 50 simultaneous users. It also offers LaCie's NAS OS 3.0, which is aimed at simplifying user setup and management.
LaCie 5big NAS Pro at Amazon.com