The LaCie Fuel is the company's first mobile, wireless hard drive and is also the first product collaboration between Seagate and LaCie since Seagate acquired LaCie last year. Wireless drives–those that generate their own Wi-Fi networks so users can stream content to Macs or iOS devices–have been around for a little while now. Seagate's own Wireless Plus has seen two generations in this space. LaCie, as they are oft to do, has taken this concept a bit further by taking the design forward and making Apple-centric enhancements.
The LaCie Fuel is the company's first mobile, wireless hard drive and is also the first product collaboration between Seagate and LaCie since Seagate acquired LaCie last year. Wireless drives–those that generate their own Wi-Fi networks so users can stream content to Macs or iOS devices–have been around for a little while now. Seagate's own Wireless Plus has seen two generations in this space. LaCie, as they are oft to do, has taken this concept a bit further by taking the design forward and making Apple-centric enhancements.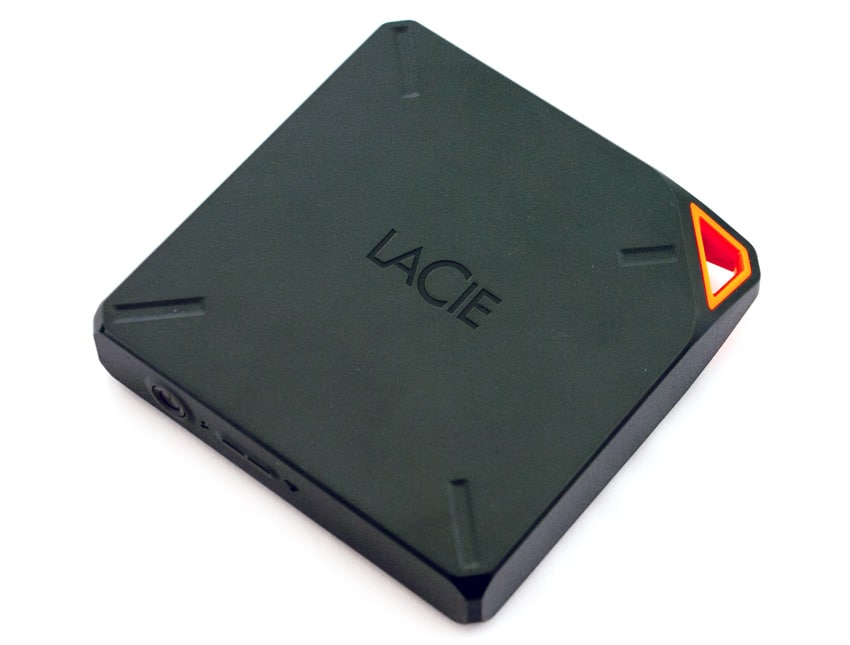 At its core, the battery powered LaCie Fuel adds 1TB of external storage capacity and connects to mobile smart phones or laptops over Wi-Fi with the ability share its contents with a maximum of five devices at a time. This allows users to watch movies or backup data from anywhere, without the use of cables and an Internet connection. Additionally, AirPlay compatibility means that users can easily stream movies on the big screen with Apple TV or even music to compatible speakers. This latest device from LaCie is also more Apple-focused, as it is designed specifically for the iPad, iPhone; however, it carries its signature pro smarts into the design. If there is an Internet connection nearby, the Fuel can serve as a hotspot by allowing you to share that Internet connection with up to five users simultaneously.
If you are at all acquainted with Seagate's Wireless Plus drive, then the LaCie Fuel will already feel very familiar. That being said, there are a few core differences between the Fuel and the Seagate offering. Unlike the Wireless Plus, the Fuel has Dropbox integration and is shipped pre-formatted in exFAT, which is very handy for Apple users as it will work right out of the box. LaCie seems to want their new drive to be as easy to use as possible, a very welcomed feature for wireless devices.
The LaCie Fuel is backed by 2-Year Limited Warranty and is available for $199.99.
Specifications
Item Number: 9000436U
Capacity: 1TB
Interface: Wi-Fi 802.11 b/g/n
USB 3.0
Battery Life: 10 hours*
Wi-Fi Range: 150 feet (45 meters)
Max. Connected Devices : 5 (3 for streaming HD video)
Dimensions:  115 x 115 x 23mm / 4.5 x 4.5 x 0.9in.
Weight: 0.3kg / 9.7oz.
Box Contents:

LaCie Fuel
USB 3.0 cable
USB wall charger
Quick Install Guide

Warranty: 2-Year Limited Warranty
Design and Build
As the name implies, the LaCie Fuel imitates the look of a gas canister or the German designed Jerrycan. One could also mistake it for an optical drive, as it's similar in size and shape. LaCie, however, says the design is supposed to resemble the look of a fuel cell.
The chassis consists of ABS plastic and though the Fuel doesn't have a premium-quality feel when it's being handled (like their aluminum products), it doesn't feel cheap either. That said, its charcoal color and unique design make it a very attractive looking drive.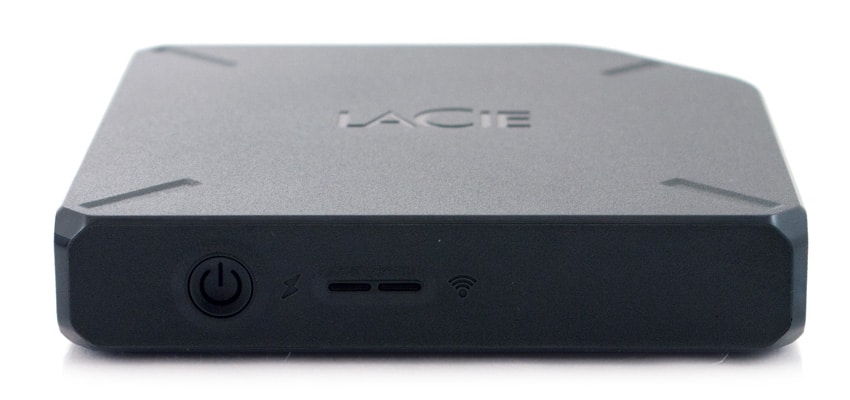 On one of the corners of the Fuel is an orange loop hook, which contrasts nicely with color of the chassis. This suggests that LaCie is expecting users to attach it to their packs as they walk around the city or go out into the wild. This is unlikely to happen since most people are protective of their data and don't want to create any extra scenarios where their content could be damaged. Regardless, it's there if you feel like slinging it over your shoulder during a stroll for some reason.
The power button is located on the front panel as well as two LEDs, which can be used when the drive is disconnected from a computer. When the Fuel is connected to a computer, it will function as a portable bus-powered hard drive. Once the LaCie Fuel is turned on, the green power LED illuminates.  The blue Wi-Fi LED will flash as it tries to establish a wireless connection. Once it has done this, the blue LED stays solid.
While Seagate's Wireless Plus is designed so users can swap in adapters for compatibility with different types of connections (e.g. Firewire, Thunderbolt, and others), the Fuel is only equipped with one Micro-USB 3.0 port.
The LaCie ships with a USB cable, which is used to charge the device to connect to a computer.
Usability
Right away, users will find that the LaCie Fuel is very easy to use out of the box since comes pre-formatted in exFAT, which means it's immediately usable by both Apple and PC devices. Once the drive is turned on, wait for the blue LED to remain static then look for the wireless network on your computer or mobile device. The name should be quite obvious; however, the SSID can be changed to whatever the user wants.
Surprisingly, there is no password on the drive by default, which means that anyone can connect to it, download content, and upload to the drive. This is a process flaw that was overlooked by LaCie since it really should be a mandatory part of the setup process, thus users should make sure to set a password during the first use or risk making their data readily available.
To get the free Seagate Media app, simply navigate to laciefuel.com or download from the appropriate app store. Though the app isn't that great in terms look and feel, it is very familiar and easy to use as it is the same standard Seagate app that used with their previous wireless HDDs. That said, LaCie will be releasing a newer, more up-to-date app shortly. We were able to get a hands-on preview at CES 2014, and were very impressed with the new, more modern UI, that better suits this type of product.
Diving into the current application, the main screen has a rather large menu to switch between media types, which makes it very easy to navigate. The iPhone has a full-screen menu while a drop-down menu located at the top of the screen is used on the iPad. The Media view option allows users to filter files by videos, photos, music, documents, or recent files. Folder view gives users the choice of either viewing media stored on the users' Apple/Android/Kindle device or the media stored on the LaCie Fuel. Users can also sort files using thumbnails, list view, genre, and year.
Users can manage content through a browser as well as the wireless network; however, it's much quicker to move a lot of files by connecting using the USB 3.0 cable. Once connected, Fuel will appear as a standard drive where you can drag-and-drop files into folders, which can also be easily created.
The browser application is virtually identical to the tablet app, though the smartphone app is somewhat constrained and makes more use of menus.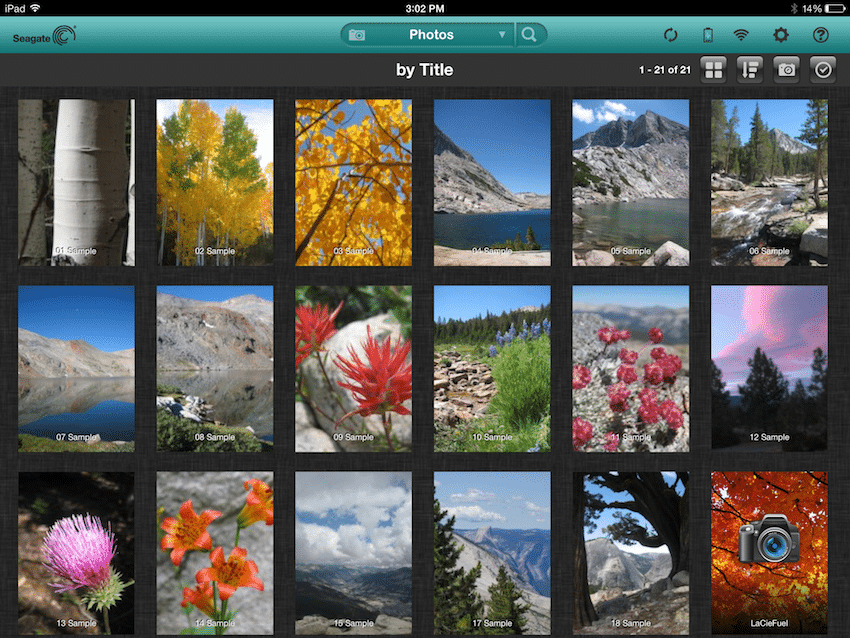 The top-right corner is where all the features and viewing options are located, including the wireless settings. Connecting to Wireless networks are easy; simply click the wireless icon at the top right and select the name of choice.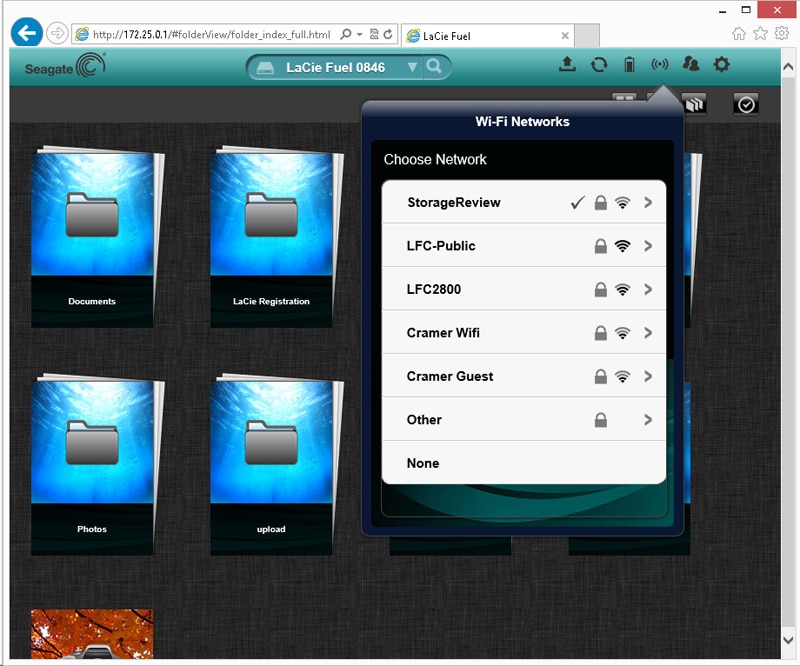 The Sort feature, which allows users to select their content to be listed by name, date, size, or type. You can also change it to a more detailed view in List mode.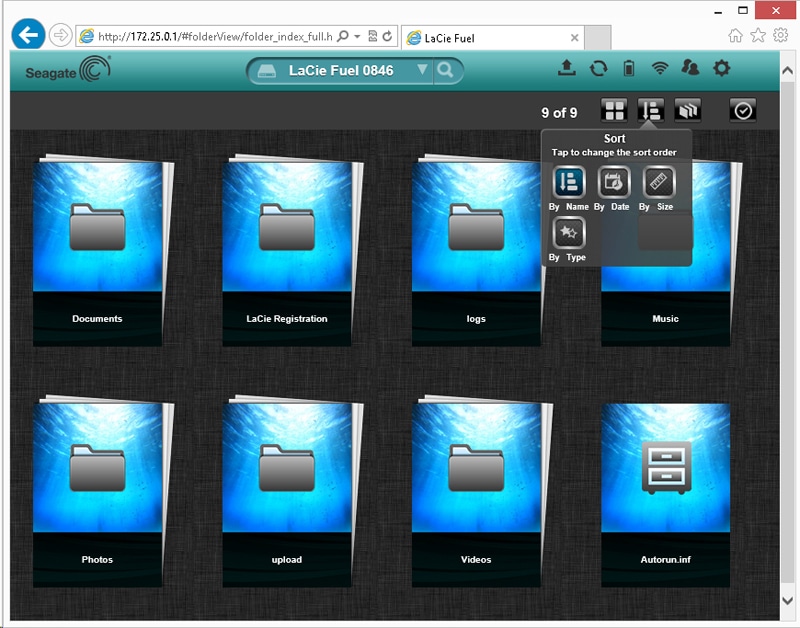 The settings can be found by clicking the cog icon. Everything is laid out very simply and easy to navigate.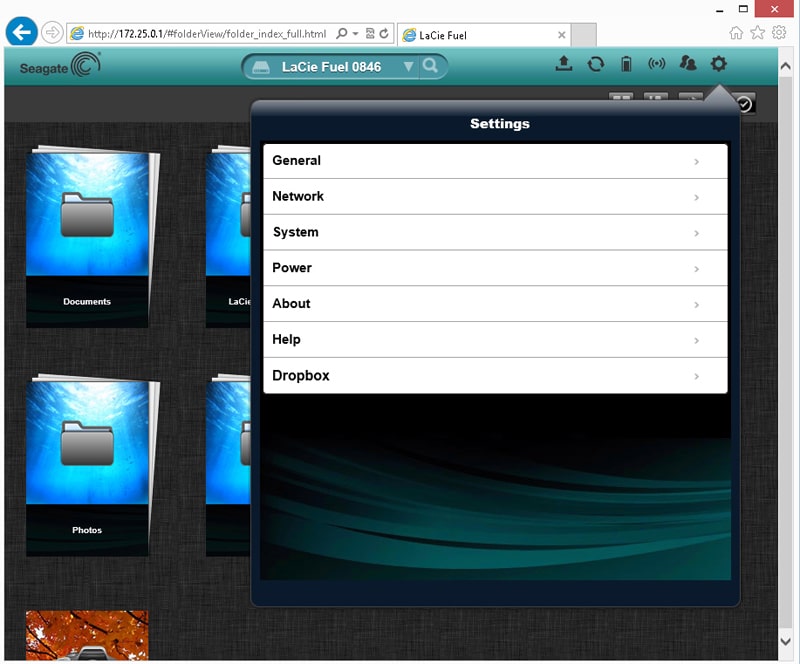 The General settings section gives users the ability to change the name of their device as well as the language.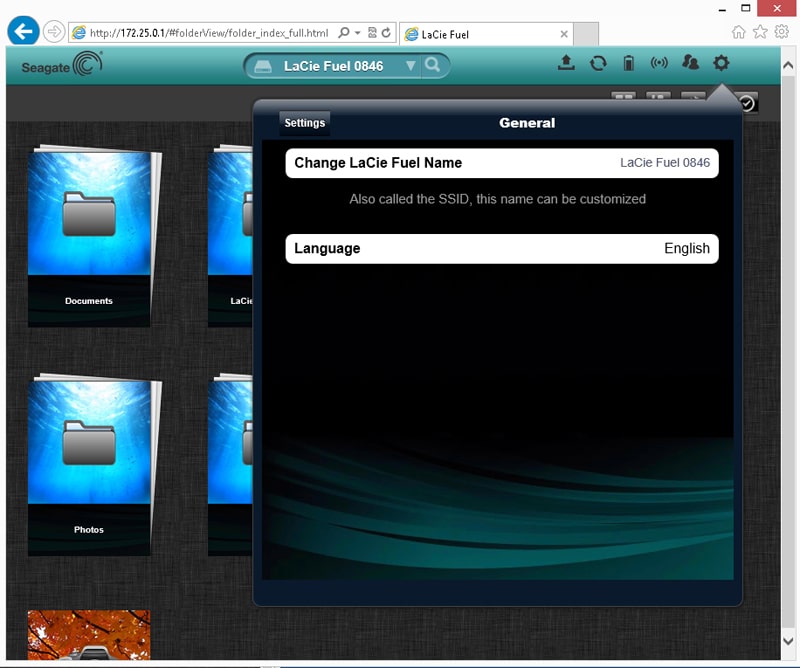 System settings allows users to shutdown or restart the LaCie Fuel as well as to reset it to default factory settings.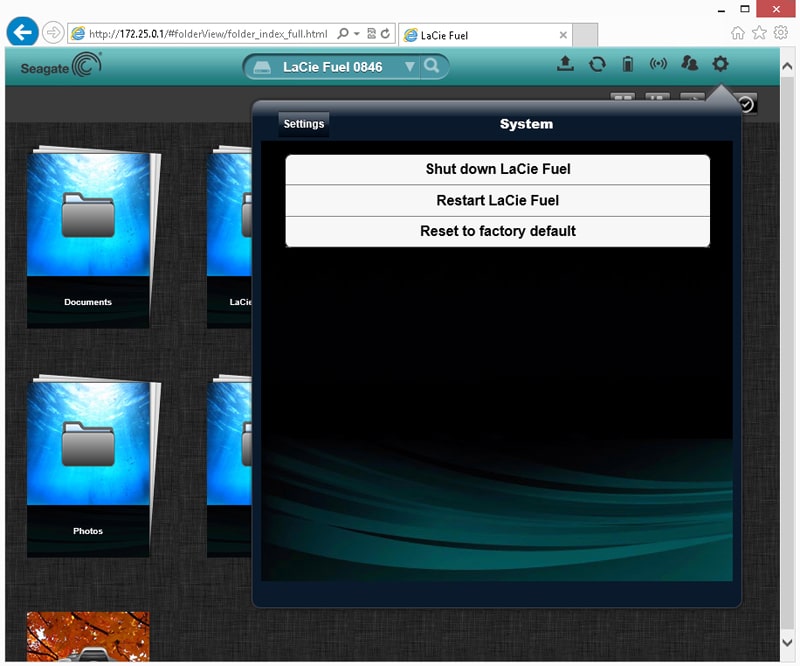 Users can also change the power settings. LaCie claims in the specifications that the drive has a 10-hour battery-life, which is ideal since that is approximately the same life-span of a charged iPad. However, the battery life of a portable hard drive is always a variable and mostly depends on usage. Users will be more likely to hit the 10-hour mark if they use the app's smart power feature. When this option is turned on, the LaCie Fuel will function in the Eco mode, which essentially turns off features that are only useful when at home.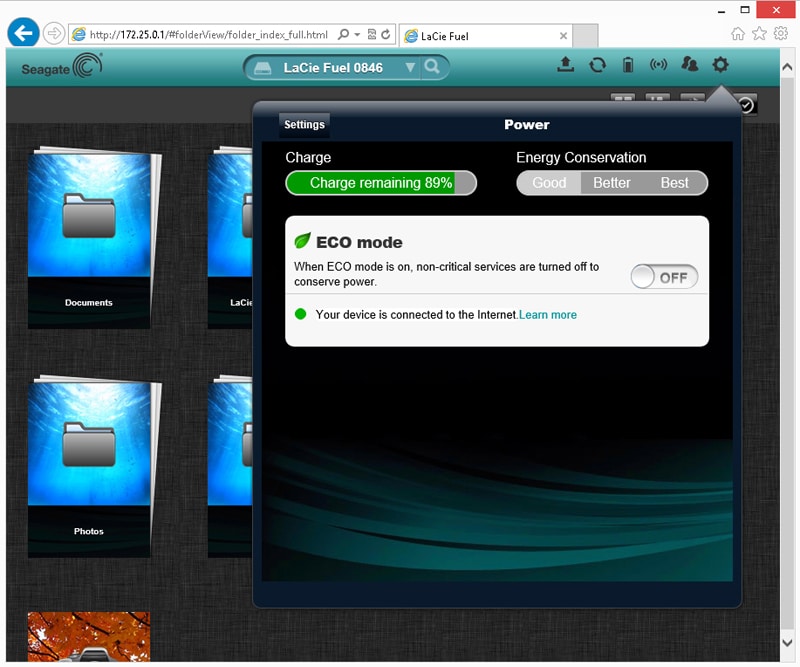 The Dropbox settings section allows users to connect directly to their Dropbox account, adding it as a folder to the LaCie Drive. This is a handy feature for people who use that specific cloud service often, as many do.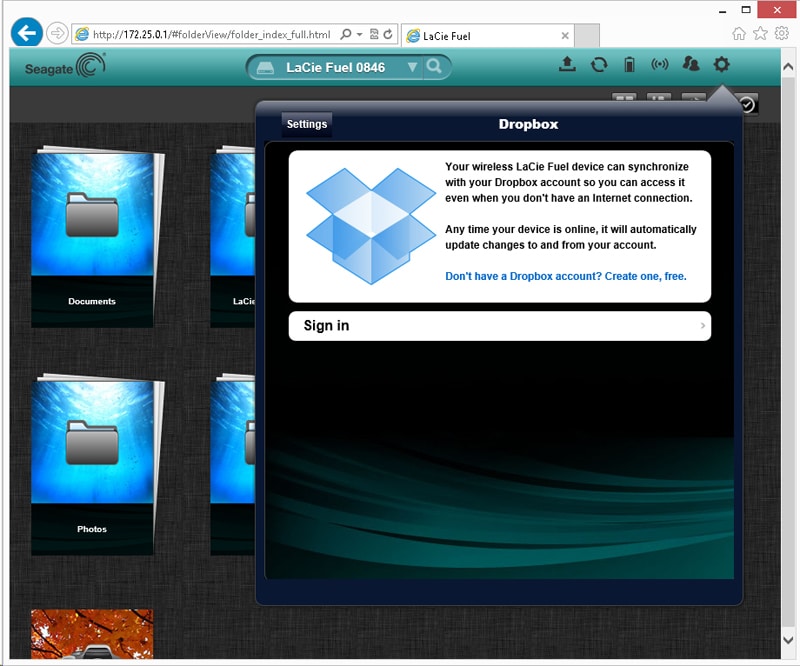 The Network settings display how many users are connected to the wireless drive as well as enabling password protection. LaCie has indicated that up to five users can access the drive at one time; though this functionality does work well, we did notice a bit of lag with multiple connections, such as with thumbnails and refreshing of folders. This issue isn't exclusive to Fuel though, there's just a certain trade off when enabling many people at once to access the drive.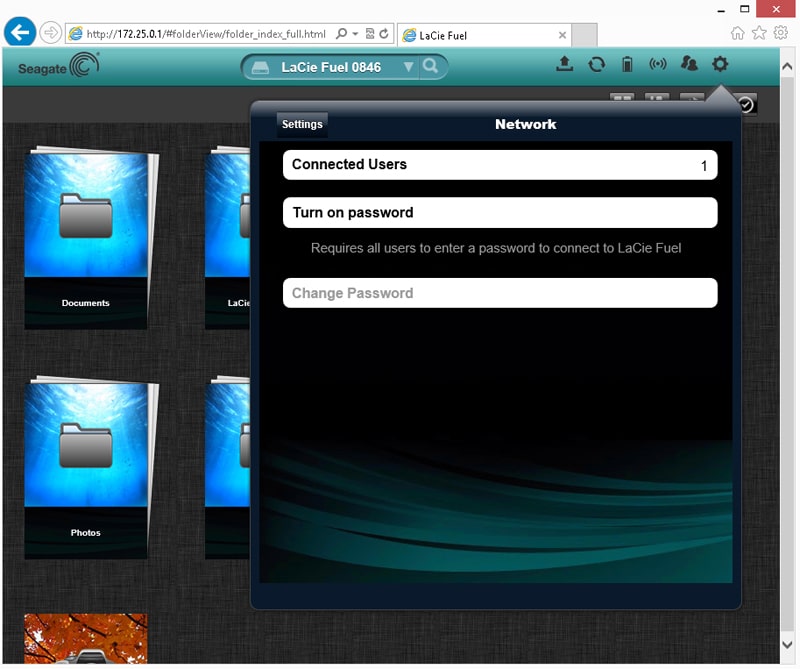 Performance
Benchmarking Comparables for this review:
We will be comparing the LaCie Fuel to the Seagate Wireless Plus and Corsair Voyager Air; both come in 1TB capacities and are priced similarly to the Fuel. Consumers should be aware that these tests will apply to USB 3.0 speeds and that wireless performance will be slower and more variable based on a variety of factors.
Using our Consumer Testing Platform, we measured 2MB sequential speeds. The LaCie Fuel tested relatively close to the Seagate Wireless Plus. The Fuel clocked in at at 98.3MB/s read and 109.1MB/s write, while the Wireless Plus delivered a bit more, boasting 115.50MB/s read and 114.42MB/s write. The Corsair Voyager Air came in nearby at 105.14MB/s read and 104.77MB/s write.
When testing with 2MB random transfer speeds, the LaCie Fuel measured read and write speeds at 71.2MB/s and 79.7MB/s respectively, while the Seagate Wireless Plus showed 47.28MB/s read and 47.63MB/s write and the Voyager Air posted 69.00MB/s read and 50.02MB/s write. This time, the Fuel came in on top; by a significant margin.
Conclusion
The LaCie Fuel delivers exactly what is intended. It's not inexpensive though but if you're willing to invest the $200, you net a drive with the ability to store essentially unlimited media into something small enough to fit into an backpack or laptop bag while on the go. The LaCie Fuel also supplies users with a decent mobile file server in areas with poor Wi-Fi connection or smart phone data coverage, which is ideal when groups co-workers are out of the office and need access to documents and files. We found the signal of the Fuel itself to be reliable and ever present being powered on for more than a week in our office and never refusing a connection from devices ranging from iOS and Android mobile units to a variety of Macs and PCs.
As far as performance goes, the Fuel reaches the performance level of Seagate's older solution as far as sequential transfer speeds go, posting results of 98.3MB/s read and 109.1MB/s write. In the random column with the same file transfer size, however, we measured a substantial improvement over Seagate's offering with reads at 71.2MB/s and writes at 79.7MB/s, almost double that of the Wireless Plus' performance numbers which also bests the 1TB offering from Corsair. In wireless use cases the drive speed won't matter quite as much, though when direct connected over USB 3.0, the boost in throughput is welcome.
Aside from the performance and design, the LaCie Fuel offers a few enhancements over the Seagate product. Primarily the ExFAT formatting, which enables it to work with Apple products out of the box, and the new Dropbox integration. We're also enthusiastic to see LaCie's UI design team get some influence on the look and feel of the interface. The device itself is roughly at price parity with other 1TB wireless drive solutions on the market so buyers really need to decide if they want the wireless access or if they can make due with a more traditional direct attached portable drive. If wireless it is, overall the Fuel is at the  head of the class for this category.
Pros
Multiple users can connect at once
Dropbox integration
Attractive, solid design
Cons
Apps need more modern UI (it's coming)
Bottom Line
The LaCie Fuel proves 1TB of wireless storage that is well-built, easy to use and offers the fastest hard drive of any other product in this class. While it's hard to differentiate in this category, the Fuel manages to stand out as a best in class offering.
LaCie Fuel at Amazon
Discuss This Review