In the last four years, we have gone from using local-based applications to using those as well as SaaS and streaming applications. To accommodate this new work style, companies need compact, durable, and performant desktop computers. Enter the Lenovo ThinkCentre Neo 50q Gen 4 Tiny. This is not the most powerful system in the Lenovo lineup but it is, as our testing and analysis show, more than adequate to handle the workload of most employees.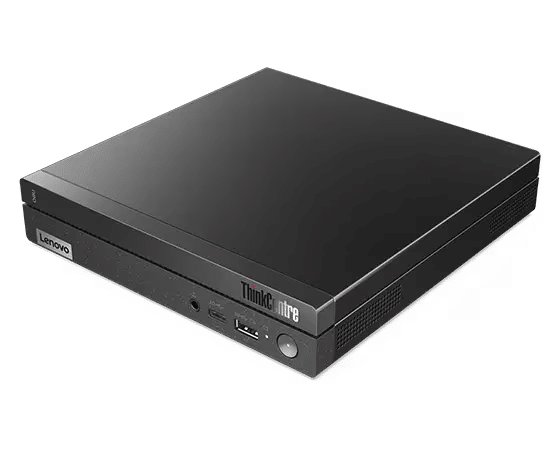 Lenovo ThinkCentre Neo 50q Gen 4 Tiny Specifications
The Neo 50q Gen 4 is designed to meet the needs of home users, start-ups, or small to medium-sized businesses. Lenovo first announced this device at CES 2023, and it is now starting to come onto the market. It comes in many different configurations with its most powerful configuration powered by a 13th Gen Intel Core i5 H-series mobile processor, 32GB of DDR4, and 1TB of SDD storage. For expandability, it has a BTB punch-out slot that lets users have an extra DP, VGA, or COM port if required.
On the OS side, it is available preconfigured with Windows 11 Pro for those who need to run local applications and remote applications. For those that purely run remote applications, it can be ordered with a choice of thin client OSes including Windows 10 IoT, IGEL, or LeTOS OS. This option allows a company to have a single hardware platform regardless of whether it is being used as a local desktop or as a thin client.
Sustainability is an important consideration for many companies. To address these considerations the chassis of the ThinkCentre neo 50q is made of post-consumer recycled content and carries numerous eco-friendly certifications, such as Energy Star 8.0, EPEAT Gold, TCO 9.0, TÜV Ultra Low Noise, GreenGuard/VOC certification, ErP Lot3, etc.
The device that we received had a 13th generation Intel Core i5-13420H processor, 16 GB DDR-3200 RAM, 256 GB SSD PCIe drive, and had Windows 11 Pro 64 preinstalled on it.
The i5-13420H processor has eight cores – four performance (P) cores and four efficient (E) cores. The P cores have a max turbo speed of 4.60 GHz while the E cores have a max turbo speed of 3.4 GHz. The base power of the processor is 45 W and a max draw of 95 W. The processor has an embedded UHD GPU which has 48 execution units with a max frequency of 1.40 GHz.
The system was launched in Q1 of 2023 and carries a starting price of $699 on the Lenovo web store, though most organizations buying several will negotiate a more aggressive price.
Lenovo ThinkCentre Neo 50q Gen 4 Tiny Build and Design
The device came in a sturdy 19.5 x 10.5 x 5.5 cardboard box that should offer adequate protection during shipping.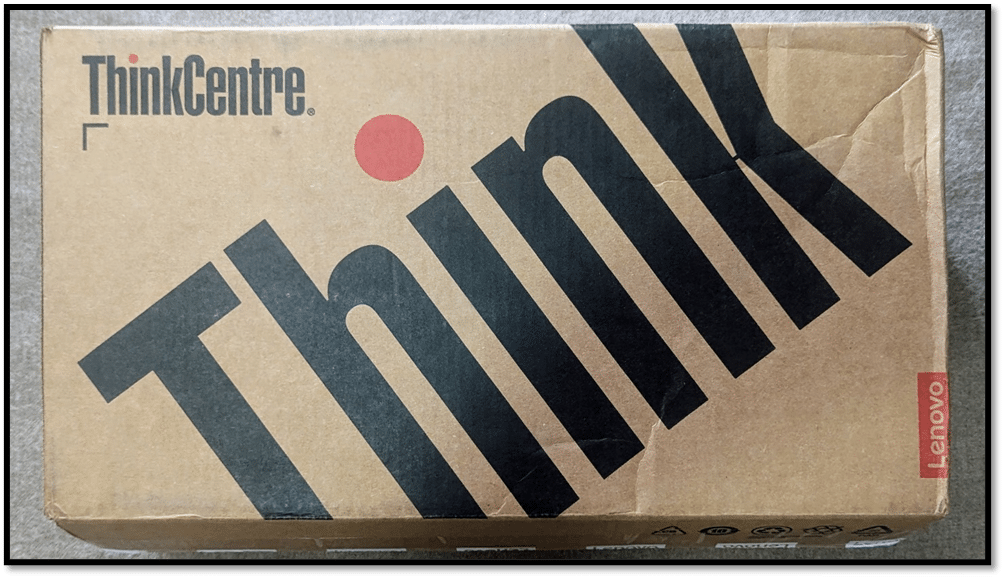 The device came wrapped in a plastic bag nestled between two cardboard blocks.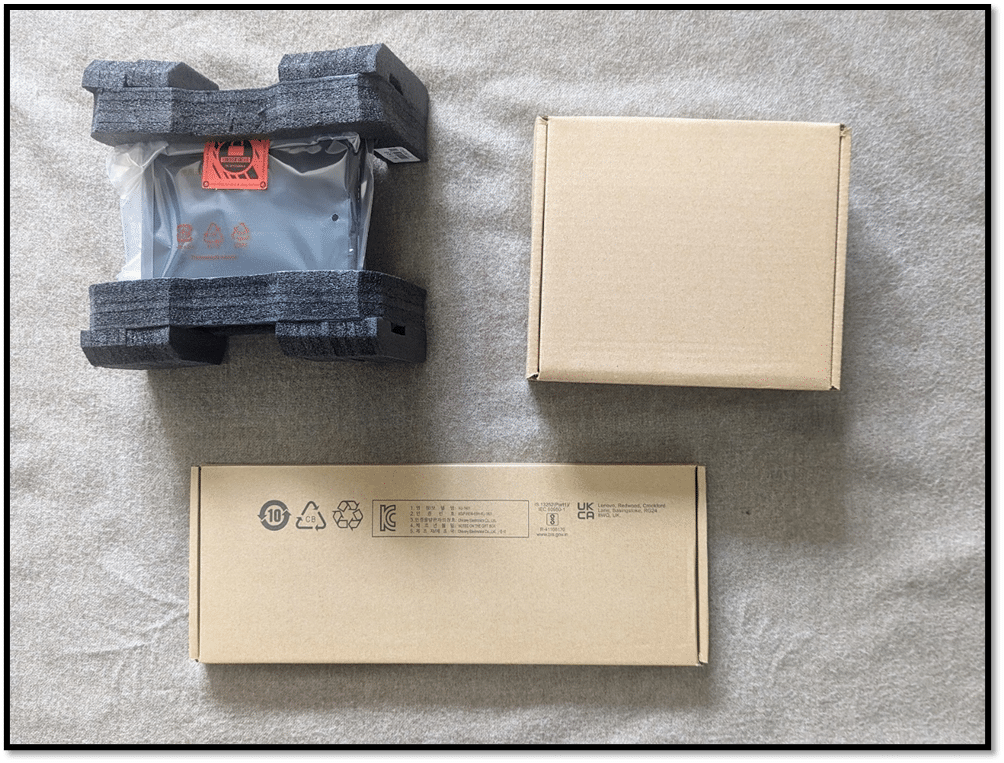 The box includes the device, stand, keyboard, mouse, power supply, and Wi-Fi antenna.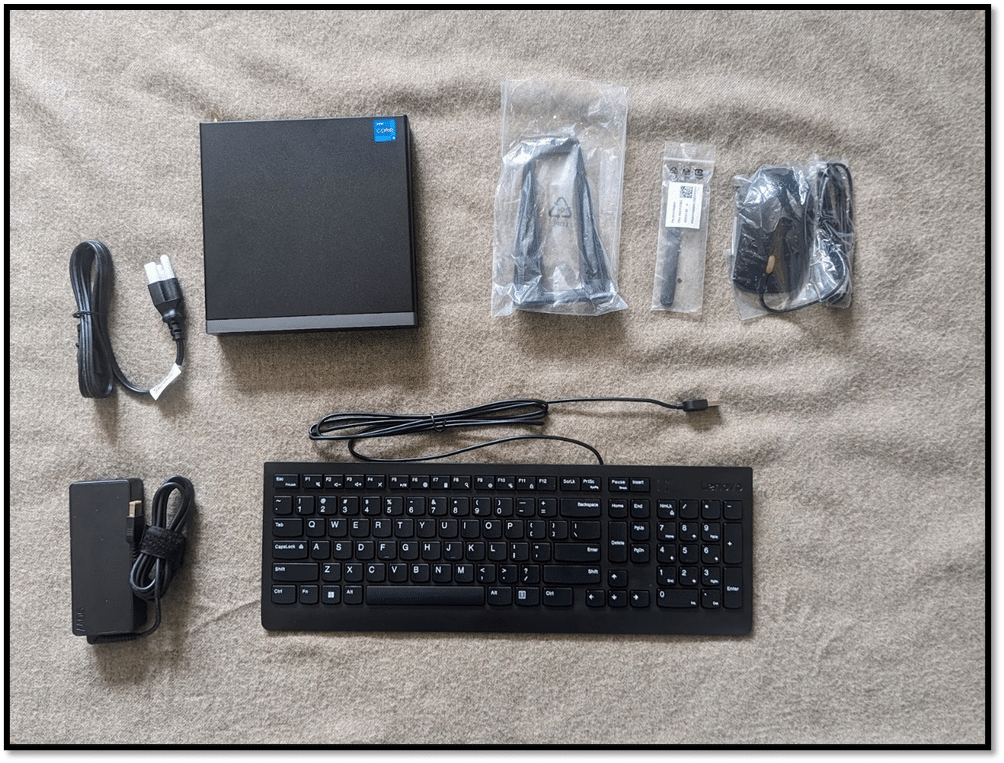 On the front of the device is a power-on button with an indicator light, a USB 3.2 Gen 2 port, an always-on USB-A 3.2 Gen 2 connector, and a 3.5 mm headphone/microphone combo port.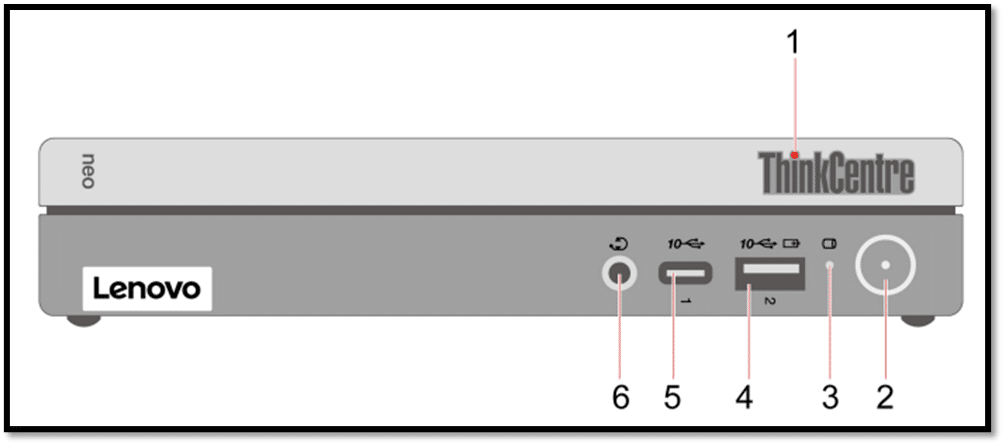 The back of the device has a security lock, optional connector slot (ours had a Display port), Wi-Fi antenna slot, RJ45 Ethernet connector, USB-A 3.2 Gen 2 connector, USB-A 2.0 connector, USB-A 2.0 connector (with smart power-on feature), HDMI out connector, USB-A 3.2 Gen 2 connector, primary DisplayPort connector, connector for the power adapter.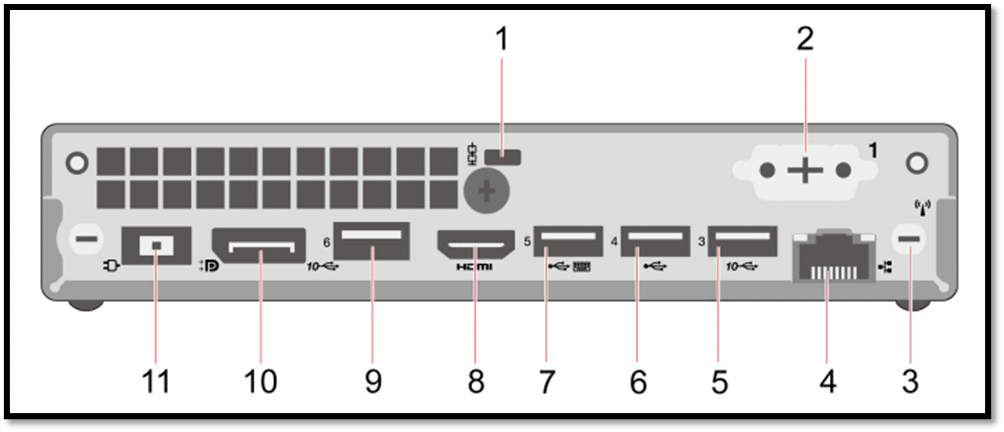 The sides are perforated for ventilation, and four holes in the bottom can be used for VESA mounting. The vertical stand is not physically attached to the device.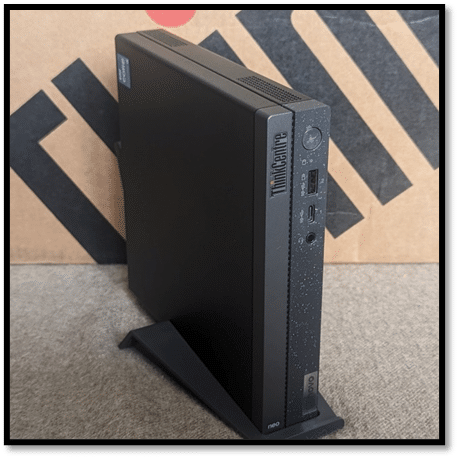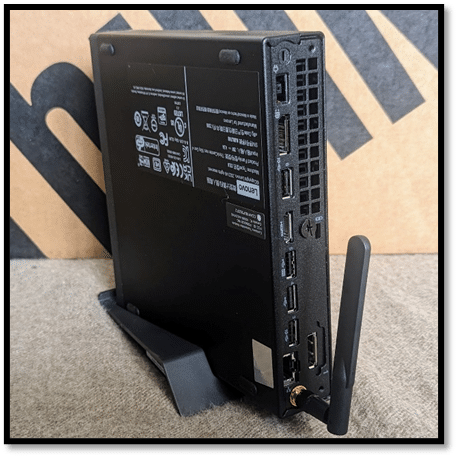 The bottom of the device can be slid off to expose the motherboard by removing a single screw. The screw is not captive. The motherboard has a fan that covers the RAM and processor.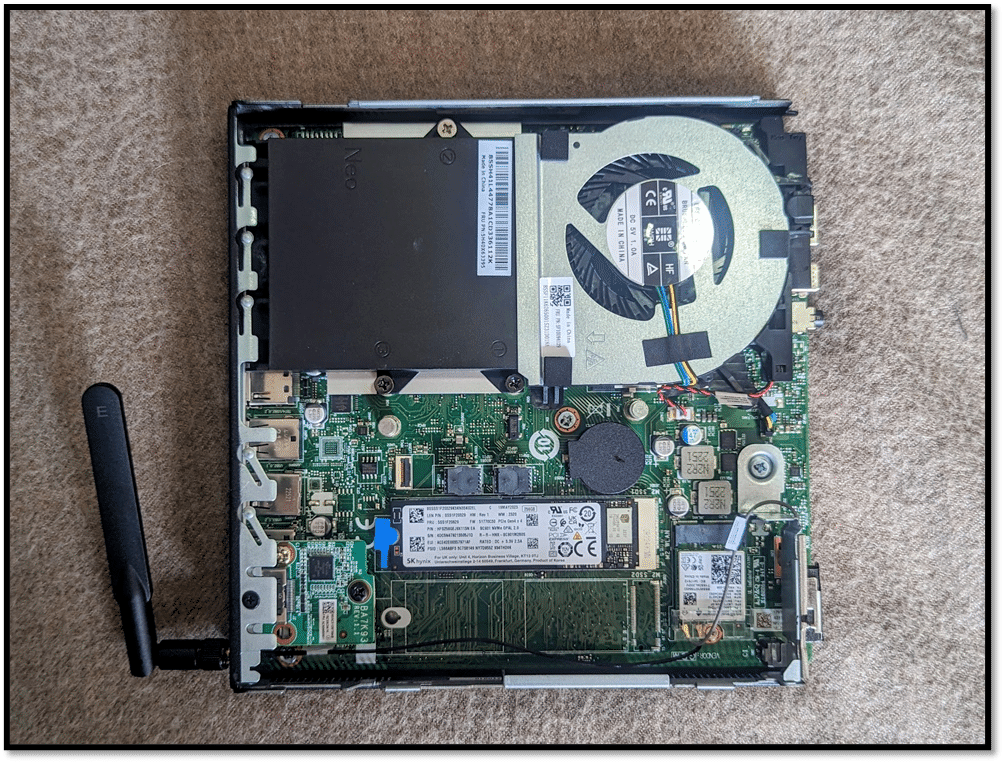 First Boot and Initial Configuration
We connected a 2K monitor using the DisplayPort connector for system configuration, initial boot-up and our subsequent testing.
During the power-on sequence, we saw a Lenovo splash screen.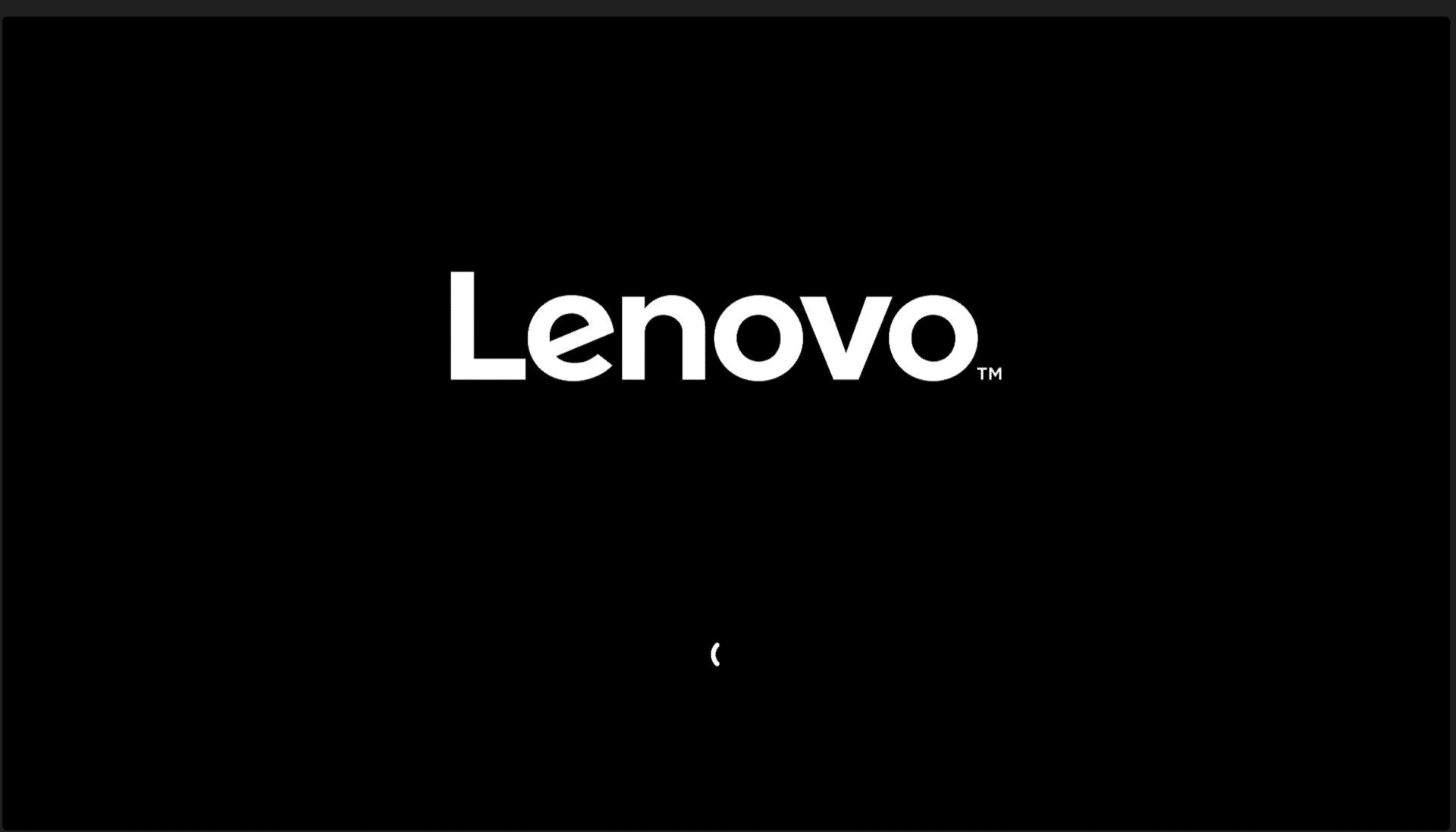 We were then presented with the Windows 11 installation screen. During the initial configuration, we added it to our Wi-Fi network. We updated the system to the latest builds before any of our testing.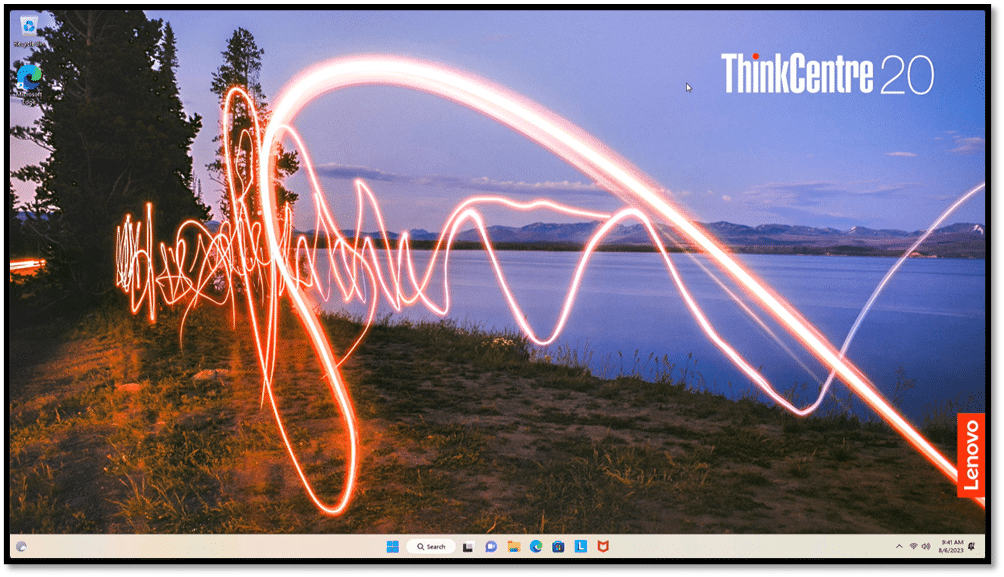 SPECworkstation 3
We ran SPECworkstation3, which specializes in benchmarks designed to test key workstation performance aspects. It uses over 30 workloads to test CPU, graphics, I/O, and memory bandwidth. The workloads fall into broader categories such as Media and Entertainment, Financial Services, Product Development, Energy, Life Sciences, and General Operations. We will list the broad-category results for each instead of the individual workloads.
Unfortunately, the Media and Entertainment section errored out in the storage section but the other test was completed successfully.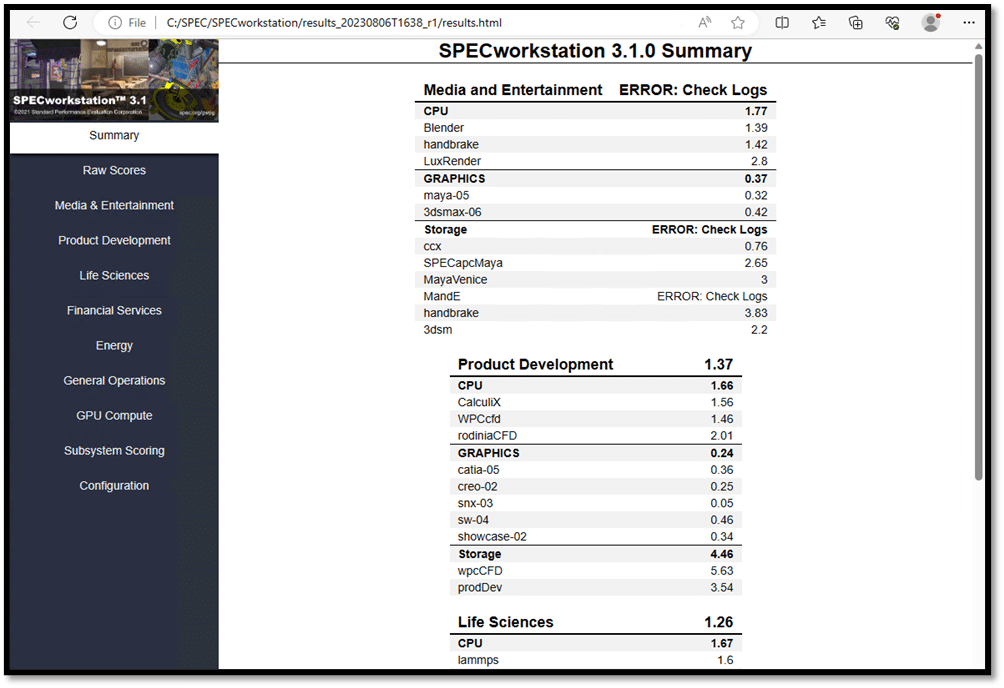 Media and Entertainment – CPU 1.77, Graphics 0.37
Product Development 1.37
Life Sciences 1.26
Financial Services 2.22
Energy 1.36
General Operations 1.65
GPU Compute 0.13
This test indicated to us that the Neo 50q is perfectly adequate for most common workloads, but the iGPU will clearly hold it back from doing much more.
Testing a Cloud-Based Virtual Desktop
One of the ways companies are assisting the hybrid workforce is by using cloud-based desktops. These desktops can provide applications or entire desktops to workers that have unique security, cost, or hardware requirements that would not be practical to run on each worker's desktop.
To see how well the Neo 50q would handle a Horizon cloud-based desktop we installed the Horizon client and used it to connect to a VMware TestDrive hosted desktop.
To monitor the resource usage of the Neo 50q we installed ControlUp Edge DX on the system. Disclaimer – Tom Fenton (one of our analysts) works for ControlUp.
On the virtual desktop, we opened a Chrome web browser and streamed a video at 1080p. The video played with just a few jitters, and the audio was passed through without any jitters.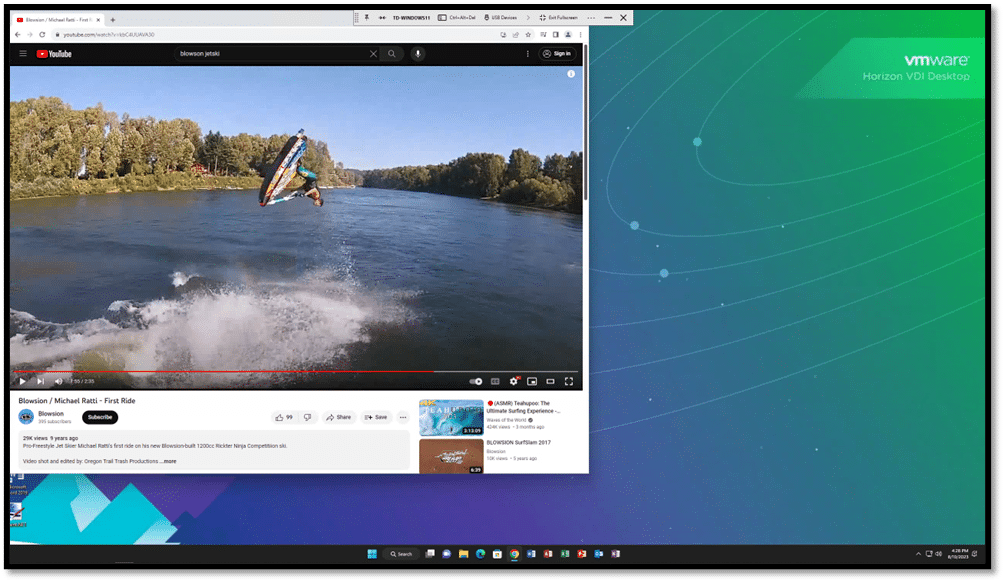 When we played the video at 1080p in full-screen mode, the Edge DX dashboard showed that around 13% of the CPU capacity and 7GB of the 16GB of RAM was used while streaming about 2Mb/s of network traffic.
Many companies choose to stream individual applications rather than entire desktops. We streamed PowerPoint, Word, and Firefox and used them without experiencing any delay or difficulty.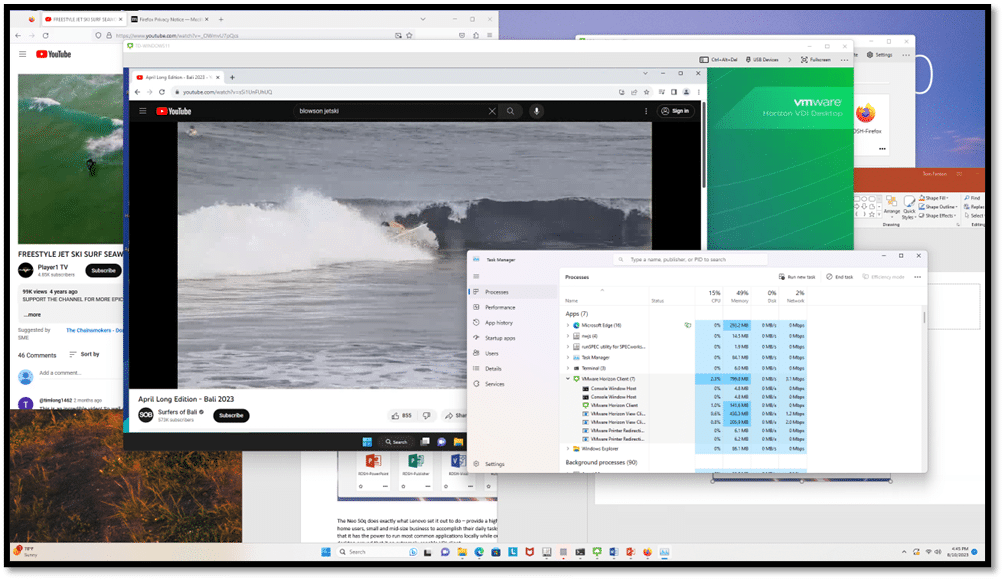 Conclusion
The Lenovo ThinkCentre Neo 50q Gen 4 Tiny does exactly what Lenovo set it out to do – provide a high-quality, reliable platform for home, small, and mid-size business users to accomplish their daily tasks – that's also affordable. The SPEC benchmark confirmed that it has the power to run common applications locally, though users with a more intensive graphics need should step up to a more performant system. Our testing with the Horizon desktop and applications also proved that it is an extremely capable VDI client.
It has enough ports to allow connectivity for most users. If more connectivity is needed the unit's BTB punch-out option lets an extra DP, VGA, or COM port be used with it. In the unlikely event that even more ports are needed a docking station could be used with one of the device's USB 3.2 Gen 2 ports.
Users will like the small size of the device which allows it to sit unobtrusively on a desktop or it could be mounted to the back of a monitor. Users and officemates will like that it is extremely quiet – we bearly heard the fan run even when running our benchmarks. Overall this system gets our recommendation for its affordability/performance profile.
ThinkCentre Neo 50q Gen 4 Tiny at Lenovo
Engage with StorageReview 
Newsletter | YouTube | Podcast iTunes/Spotify | Instagram | Twitter | TikTok | RSS Feed