The ThinkServer SA120 by Lenovo is a 12-bay 2U JBOD that features an expansion capability to support four 2.5" drives (in addition to the 12 3.5" drives) with an optional SSD expansion pack for up to 51.2TB of storage. This positions the ThinkServer SA120 in a unique spot in the market, giving buyers the best of both worlds with flash cache plus high-capacity storage in a single compact storage shelf.
The ThinkServer SA120 by Lenovo is a 12-bay 2U JBOD that features an expansion capability to support four 2.5" drives (in addition to the 12 3.5" drives) with an optional SSD expansion pack for up to 51.2TB of storage. This positions the ThinkServer SA120 in a unique spot in the market, giving buyers the best of both worlds with flash cache plus high-capacity storage in a single compact storage shelf.
The concept of a storage shelf, or JBOD, is one of the more basic in storage architecture. The chassis essentially houses the drives, connecting to a host machine via SAS cable and HBA or RAID card. This type of arrangement continues to be popular when enterprises want to keep the storage local to the host, but have perhaps grown out of available drive bays, or have other unique requirements and aren't in need of a full-on SAN with its own storage controllers. In fact, looking forward, we'll be showing these same configurations of hard drives paired with caching solutions to show how flash and software can benefit large arrays of hard drives in an enterprise environment. The use cases for JBOD continue to expand with new technology and powerful compute power on the host side.
The ThinkServer SA120 is intelligently designed, as Lenovo has built the DAS with a focus on easy maintenance with tool-less components as well as hot-swap fans and power supplies. It also uses common parts with ThinkServer rack and tower servers for even more streamlined management. The SA120 is equipped with high efficiency 80 PLUS redundant power supplies to help ensure that it continues running in the event of hardware failure (while also reducing power consumption).
Our ThinkServer SA120 setup includes the optional SSD expansion pack. Lenovo provides a variety of warranty upgrades and rapid-response services on top of a standard 3-year warranty.
ThinkServer SA120 Specifications
Form Factor: 2U Rack
Dimensions (HxWxD): 3.4" x 17.6" x 15.19"
Storage Capacity

Front panel: 12x 3.5" 6Gbps SAS
Optional rear panel: 4x 2.5" 6Gbps SATA SSD

Back Panel Connectors

1 SAS (SFF 8088) In connector
1 SAS (SFF 8088) Out connector
1 RJ11 serial port

Fans: 2x hot-swappable redundant fans
Static rail kit
Warranty: 3 years
Design and Build
The ThinkServer SA120 ships in a 2U rack form factor with up to 12 3.5" hot-swap SAS HDDs and up to four 2.5" hot-swap SATA SSDs in the rear. Drive access spans the entire face of the device. Two to eight storage arrays could be connected to a server through cascading mode. The device itself has a solid and rugged design with branding on both left and right ear caps. The integrity and cooling of the SA120 are protected with blank drive trays (if there are any vacant bays).

The front of the SA120 shows status indicators (Power-status, System identification (ID), Temperature-status, and System error LEDs), which are located on the left hand side of the device. In addition, each bay has a SAS-connector-status LED, rear I/O module status LED, Debug, SAS-out, and SAS-in connectors. There is no power switch on the storage array, as it turns on when you connect it to AC power.
The back panel shows two separate controllers, each equipped with a power supply, fan assembly, 2.5" drive cage (SATA-to-SAS), and two 2.5" drive bays.
Testing Background and Comparables
The ThinkServer SA120 JBOD supports both 3.5" and 2.5" SAS and SATA hard drives. For this review, we are using 6TB Seagate Enterprise Capacity SAS HDDs connected to a LSI 9300-8e HBA, leveraging Windows Storage Spaces. We configured the 6TB Seagate HDDs in a mirror (RAID10) configuration with Toshiba HK3R2 800GB (also in mirror) for cache.
We tested the ThinkServer SA120 JBOD on a Haswell-based SAS3 testing platform with the following configuration:
2 x Intel Xeon E5-2697 v3 (2.6GHz, 35MB Cache)
Windows Server 2012 R2 Standard
Intel C612 Chipset
Memory – 256GB (16 x 16GB) 2133Mhz DDR4 Registered RDIMMs
LSI 9300-8e SAS/SATA 12.0Gb/s HBA
Enterprise Synthetic Workload Analysis
Our Enterprise Synthetic Workload Analysis includes four profiles based on real-world tasks. These profiles have been developed to make it easier to compare to our past benchmarks as well as widely-published values such as max 4k read and write speed and 8k 70/30, which is commonly used for enterprise systems.
4k

100% Read or 100% Write
100% 4k

8K (Sequential)
8k 70/30

70% Read, 30% Write
100% 8k

128K (Sequential)
With workloads composed of random 4k operations, the ThinkServer SA120's HDD/SSD cache configuration reached 36,250 IOPS for write operations and 88,918 IOPS for read operations. In our HDD configuration, it posted 2,440 write and 6,478 IOPS read.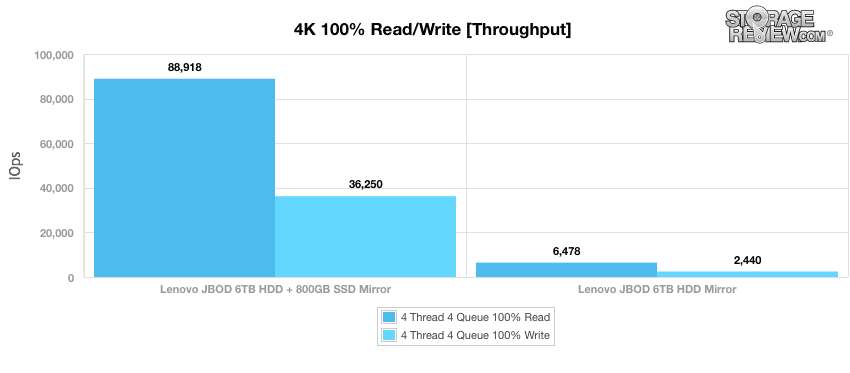 Switching to our latency tests, the SA120 in the JBOD HDD/SSD configuration showed an impressive 2.878ms read and 7.059ms in average latency. Our JBOD HDD Mirror configuration posted an average latency of 39.511ms read and 104.896ms write.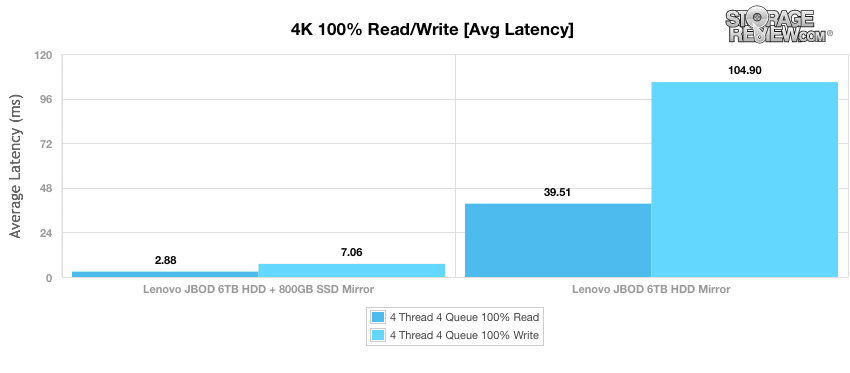 In our max latency tests, the 6TB HDD + 800GB SSD Mirror cache configuration posted 42.062ms write and 11.423ms read. Our HDD configuration showed maximum latency at 979.01ms read and 1,117.4ms write.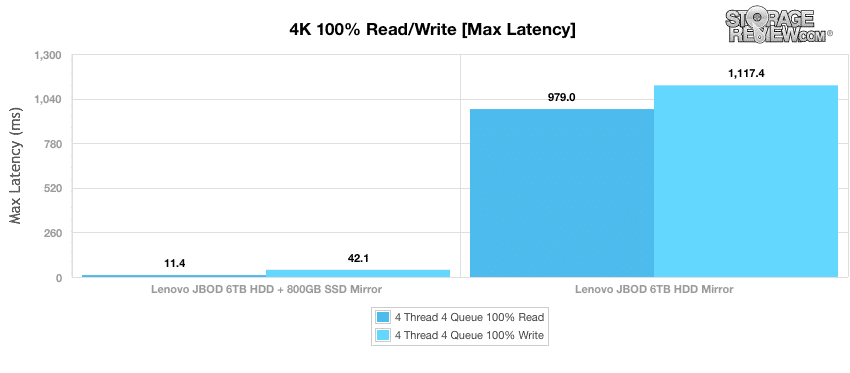 Our standard deviation benchmark unsurprisingly showed similar results. The SA120 configured in HDD/SSDs posted 1.775ms read and 5.349ms write while the all HDD setup recorded 46.591ms read and 184.247ms write.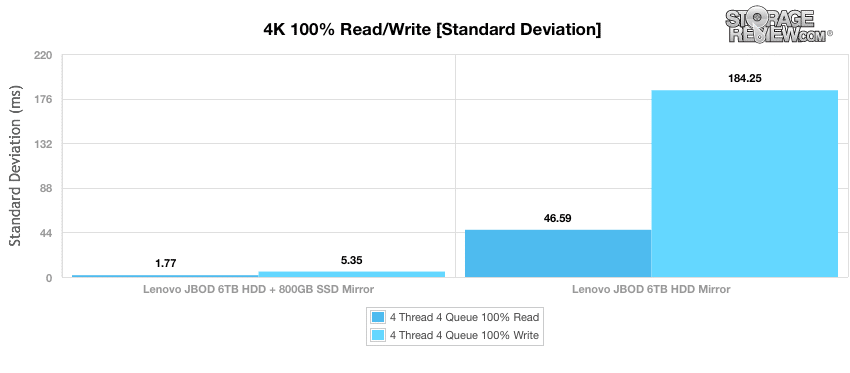 After reconditioning the ThinkServer SA120 for sequential 8k transfers, we measured the throughput with a load of 16 threads and a queue depth of 16 for 100% read and 100% write operations. Here, the SA120 in the HDD/SSD configuration boasted a throughput performance of 65,812 IOPS read and 29,877 IOPS write. The all-HDD configuration actually showed a comparable read throughput with 63,567 IOPS.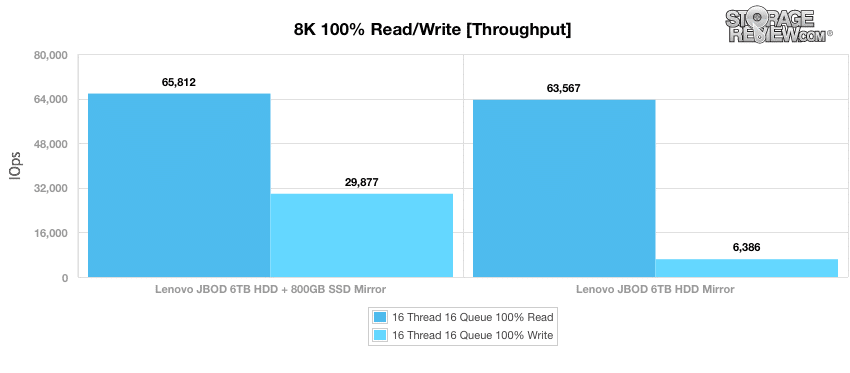 The next results are derived from a protocol composed of random 70% read operations and 30% write operations with an 8k workload across a range of thread and queue counts. The HDD configuration boasted a burst throughput of 20,786 IOPS while reaching 47,576 IOPS by 16 Threads 16 Queue. The all-HDD configuration started at 631 IOPS and ended with 4,789 IOPS.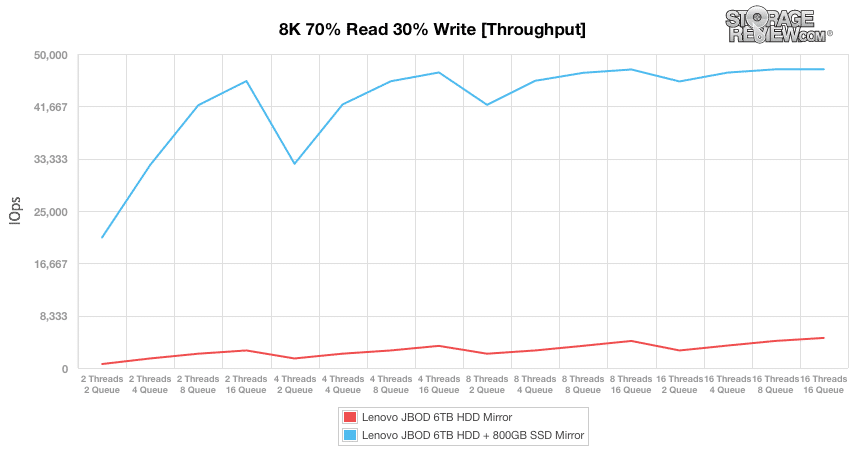 When looking at average latency, the HDD/SSD configuration posted just 5.37ms at 16 Threads 16 Queue (starting at 0.19ms) while the HDD configuration ended with 53.44ms (starting at 6.33ms).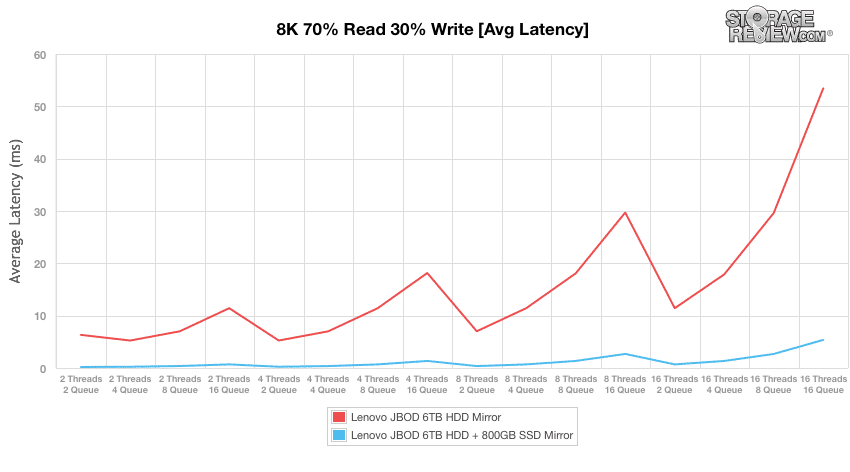 Our max latency results show the HDD/SSD configuration with a peak latency of 4,878.41ms (at 2 Threads 4 Queue), which was significantly more than that of the all-HDD configuration which had 1138.12ms (at 16 Threads 16 Queue). That being said, the HDD/SSD configuration leveled off significantly by 4 Threads 2 Queue.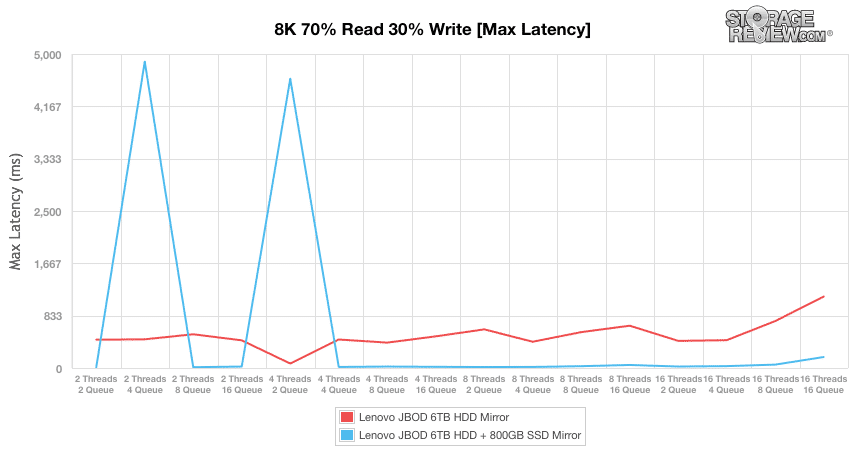 In our standard deviation benchmark, the JBOD HDD/SSD configuration posted a range of only 0.17ms and 1.72ms while the JBOD all-HDD configuration posted 6.14ms at 2T2Q and 50.98ms at 16T16Q.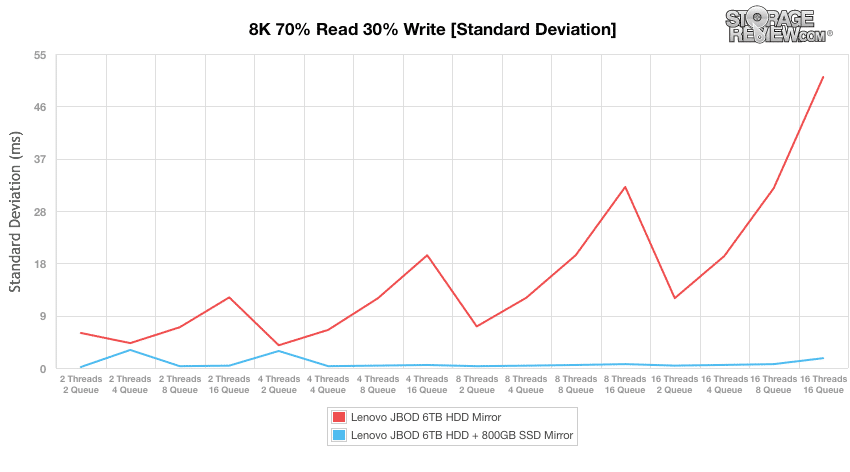 Our final synthetic benchmark is based on sequential 128k transfers with 100% read and 100% write operations. In this profile, the SA120's HDD/SSD configuration boasted 957,564KB/s read and 211,906KB/s write while the all-HDD configuration showed an impressive 1,311,232KB/s read and 245,338KB/s write, significantly outperforming the former. With sequential bandwidth generally not being the strong-suit of a caching environment, this was expected.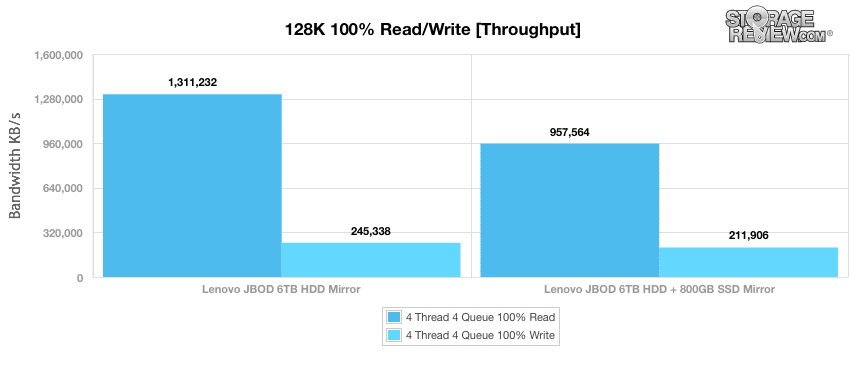 Conclusion
The Lenovo ThinkServer SA120 is a unique JBOD enclosure that is designed for datacenter deployments, distributed enterprises, and small businesses. In addition, the scalable design of Lenovo's new DAS addresses a range of workloads, such as data backup, file/print, collaboration applications, video streaming, and caching. The SA120 consists of 12 primary JBOD bays, with the ability to expand to 16 bays with an optional 2.5" SSD add-on in the back of the unit. The SA120 also offers plenty of redundancy features with its dual storage array I/O controllers, up to two 550W hot-swap 80PLUS Gold power supplies, and its dual hot-swappable fans. This intelligently designed system and its scalable architecture offers businesses a very attractive tiered storage solution that all works rather well.
To test the Lenovo ThinkServer SA120 JBOD, we populated the shelf with 6TB Seagate Enterprise Capacity SAS HDDs as well as 800GB Toshiba HK3R2 SATA SSDS and connected it via a LSI 9300-8e SAS HBA. We tested a HDD-only Mirror configuration through Storage Spaces, as well as a HDD with SSD Tiering Mirror configuration to show the benefits that come with adding flash to the shelf. In our tests we saw a huge performance boost in random workloads, including both 4K and 8K 70/30 tests. The sequential performance was a toss-up between both modes, although that was expected since sequential performance is still a huge strength of HDD configurations, where random access is the domain of flash products. We did we a boost in 8k sequential write performance with caching, but if sequential performance is your main goal HDDs still excel in that area.
Pros
Unique platform offering both capacity and performance
Scalable with additional cascading JBOD shelves
Intelligently designed for maintenance
Cons
No dense 2.5" drive bay configuration
The Bottom Line
The Lenovo ThinkServer SA120 offers a scalable, cost-effective JBOD storage solution with optional SSD backplane that provides those who need it, a huge step up in performance.
Lenovo ThinkServer SA120 Product Page