Netgear's array of products is, in a word, extensive. From home routers to enterprise-grade equipment, it's only fitting that they have a small NAS for power users and small businesses, the ReadyNAS NV+ v2. The NV+ v2 is a 4 bay unit with great performance and built so well you could use one in place of a few bricks in a pinch. Under the hood is a Marvell 1.6GHz single-core processor and 256MB of on-board RAM, which is just about right for individuals and small groups of users.
Netgear's array of products is, in a word, extensive. From home routers to enterprise-grade equipment, it's only fitting that they have a small NAS for power users and small businesses, the ReadyNAS NV+ v2. The NV+ v2 is a 4 bay unit with great performance and built so well you could use one in place of a few bricks in a pinch. Under the hood is a Marvell 1.6GHz single-core processor and 256MB of on-board RAM, which is just about right for individuals and small groups of users.
The ReadyNAS NV+ v2 is designed for power users and small business that don't need a huge amount of space but still require steady performance. It's got all the functionality one would expect for home use – a DNLA certified media server and plays well with Logitech Squeezebox, a variety of DVD players, iTunes Server, and the major game consoles.
On the business-side of things, the ReadyNAS NV+ v2 offers some features like Windows ACL, encrypted logins, SSL protection, all sorts of backup-related functions, and XRAID2/RAID functionality. The front-facing backup button is programmable, so users can do backups on the fly. There is a whole suite of backup software to accompany the NV+, including a manager and continuous data protection. ReadyNAS Vault online storage is also an option, but you have to pay for that one.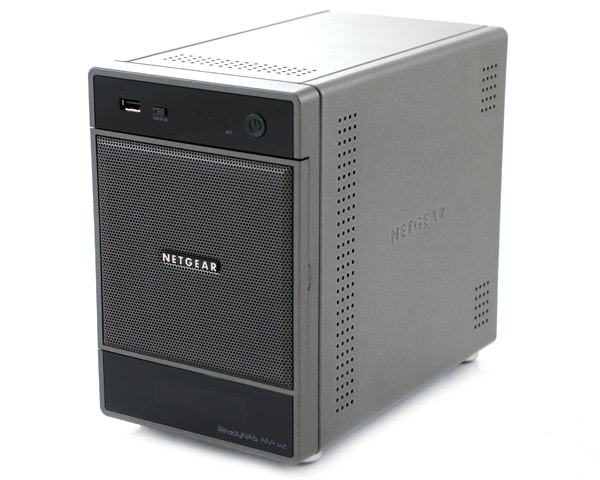 ReadyNAS NV+ v2 Specs
Available in three configurations:

RND4000 (Diskless)
RND4210 (2 x 1TB) – Model Reviewed
RND4410 (4 x 1TB)

Processor – 1.6GHz Marvell single-core
Embedded 64 MB flash memory for OS
Memory – 256 MB PC2700 DDR-SDRAM SO-DIMM
Ports – 1x USB 2.0, 2x USB 3.0
Disk Management – XRAID2/RAID 0, 1, 5
Four hot-swappable 3.5-inch drive bays
Single Gigabit Ethernet Port
Dimensions (W x H x D) – 7.9 x 5.2 x 8.7 in
Weight – 10.35lbs without disks
92mm cooling fan
Power Consumption – 55W typical (with 4 x 250 GB disks)
90W power supply
Warranty – 3 years
Aesthetics
The ReadyNAS NV+ v2 offers the same steel body that characterizes Netgear's previous models. It is well built, weighing in at a bit over 10 pounds without disks. It's obviously not built as an enterprise solution, but this thing feels like it will stand up to anything a home or small business can throw at it. The front boasts a much-appreciated LCD screen that displays network status, IP address, storage use and other good data points, which is nice, considering that some smaller NAS units only have blinking LEDs. The front also has a programmable "Backup" button and a USB 2.0 port.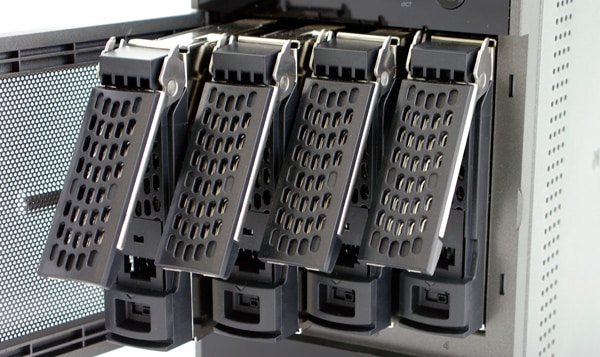 The NAS design is very user-friendly, especially when it comes to hot-swapping drives. Some models might require you to unscrew covers to access the drive bays, while on the ReadyNAS you simply swing the front cover open and unlatch a drive. The metal rails easily line up in the NAS body without requiring much hassle to get the drive inserted properly. Even the latch makes a satisfying "ker-chunk" when releasing or installing a new drive in each individual bay. As someone who is used to seeing thin metal or plastic drive sleds in most home or small business gear, you can definitely see how some of Netgear's enterprise expertise has rubbed off on the ReadyNAS's design.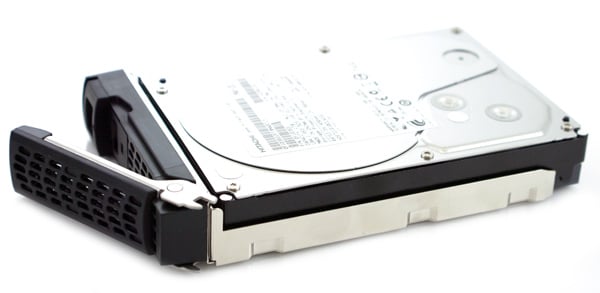 The drive sleds themselves are durable and keep their shape when pulling out or pushing back in. The sleds also have a small slide to lock the release bar to prevent accidental drive removal.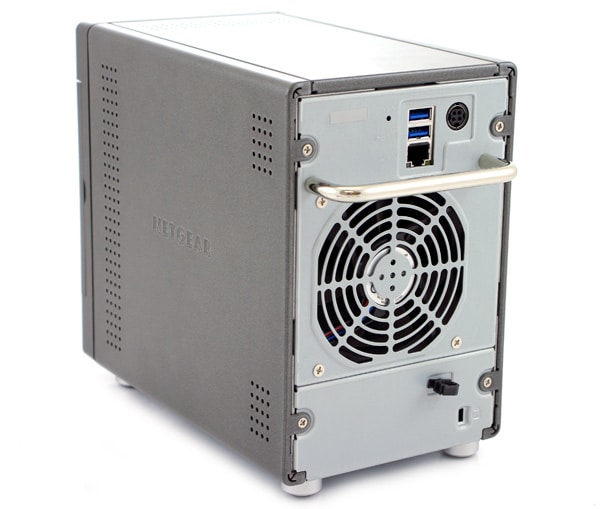 The back has the rest of the ports, including the 2 USB 3.0 ports, which are somewhat rare on NAS units, and the single gigabit Ethernet port. Power is handled by a 90W external brick to keep the enclosure dimensions small. The fan is anything but subtle, at 92mm it's fairly large, so you can be assured that your disks are running cool. Even when spinning at lower speeds the fan still provides plenty of cooling. In our tests noise was minimal once the NAS was up and running. While on the bigger side, it is integrated into the case and blends in very well.
Setup
The ReadyNAS NV+ v2 has a much improved interface compared to the one we found on the ReadyNAS Ultra 6. Even though the Ultra 6's interface handled everything you would want to do with a NAS, it wasn't exactly newbie friendly or modern looking. On the new NV+ v2 though, it has a fresher design, animated components, and is very user intuitive.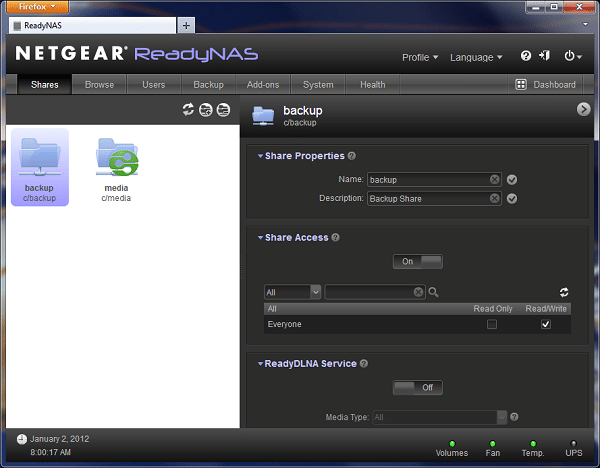 If you buy the ReadyNAS NV+ v2 diskless, you will still need to use the same RAIDar software on your PC to discover the NAS during the initial installation and handle certain setup procedures, although other manufacturers like Synology also use this approach for initial setup. The primary function of this utility is to discover models on your LAN and allow you to setup RAID configurations during a setup window when first powering on a clean ReadyNAS unit.
Once the ReadyNAS is up and running, users can log in through a standard web interface to control the primary functions of the NAS. The main landing page shows the basic health of the system, including IP address, temperature, fan speed, and good/bad indicators on installed hard drives. It also shows which shares are available and a preview of installed add-on software.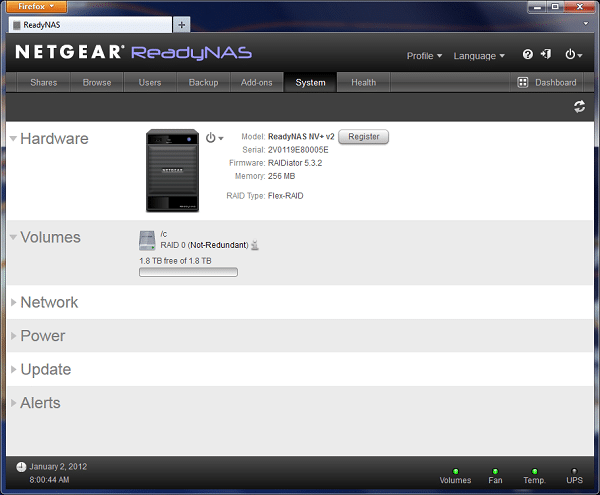 Out of the initial setup, the ReadyNAs is auto-configured with a group of standard shares. These include media and backup, although nothing is stopping you from deleting or adding different shares. Setting up a new one or changing permissions is very simple. With the share selected, you are shown the properties, access controls, and DLNA functions on the left side of the screen. Simply flipping buttons or filling in text boxes is all that is needed to change functions. Hovering over a little "?" icon also gives a description of that service, helping new users through the control panel.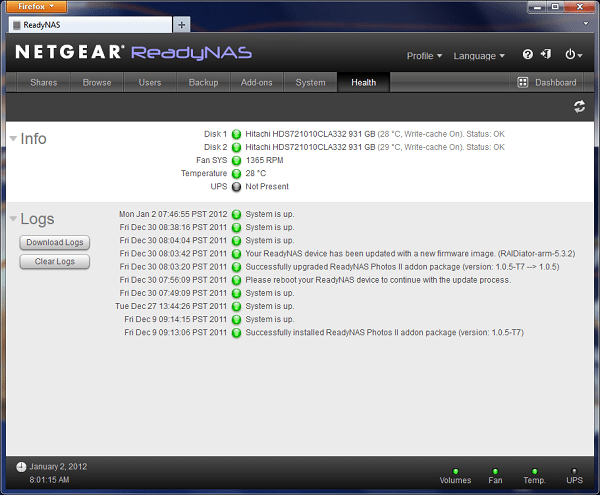 Changing the RAID configuration on the ReadyNAS system is slightly inconvenient compares to other similar models. On the Netgear unit, you need to perform a factory reset and inside a short time window launch the RAIDar software on a networked computer to select the RAID mode you want to use.
Performance
Having 4 bays is a huge benefit for a small home office or small business NAS. Instead of being limited to RAID1 with a two-bay NAS with data redundancy, you can expand your storage array over multiple disks and still retain one or two disk redundancy. It also greatly increases the amount of data you can store, from 3TB or 4TB with RAID1 using the largest drives to 9TB or 12TB with RAID5. For testing purposes Netgear included two 7200RPM Hitachi 1TB drives with our NV+ v2, allowing us to perform RAID1 and RAID0 tests.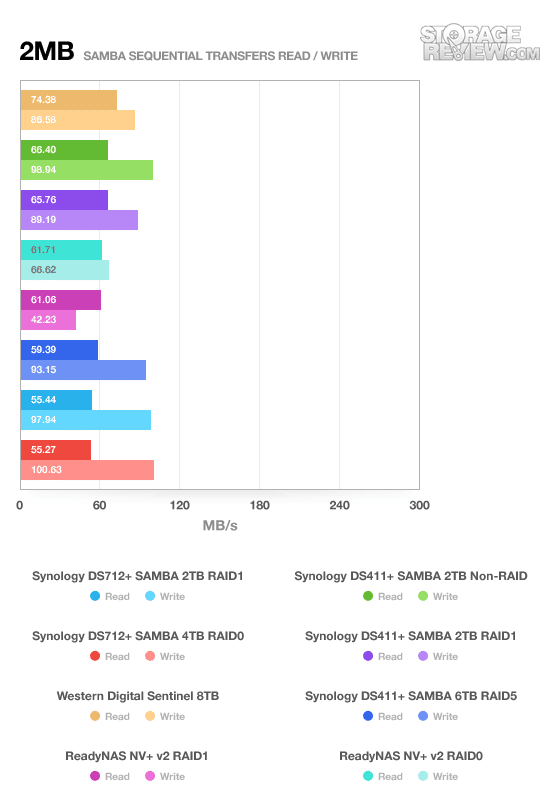 In the 2MB sequential transfer test, the NV+ v2 performed admirably, but still in the middle of the pack at 61MB/s read and 42MB/s write in RAID1. The write speed, as compared to competitors, appears to be a weakness for this model. Switching to RAID0, write speeds picked up a bit to 66MB/s, but still came up under the average for the group.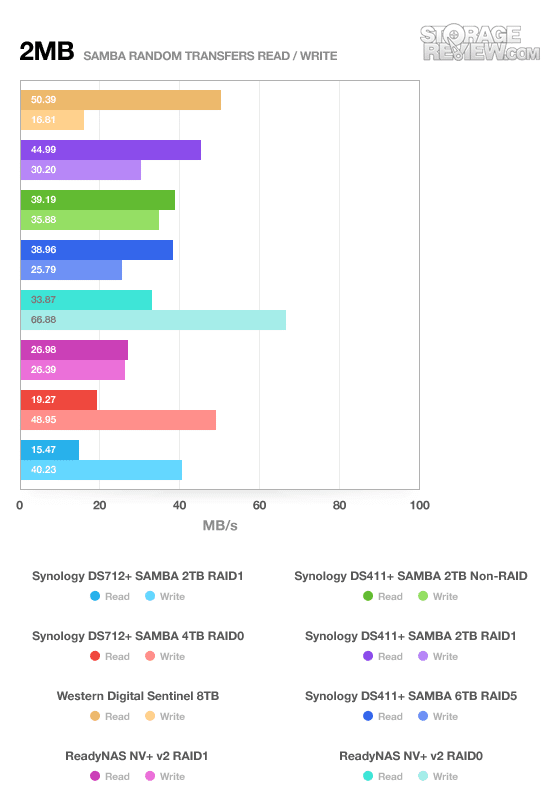 In our 2MB random transfer test, the NV+ v2 performed in the middle of the pack, with a read/write speed of about 26MB/s in RAID1. In RAID0 it actually led the group with a write speed of 66MB/s.
Our next set of charts looks at 4K read and write speeds, which would be similar to many users seeking files on the NAS at the same time.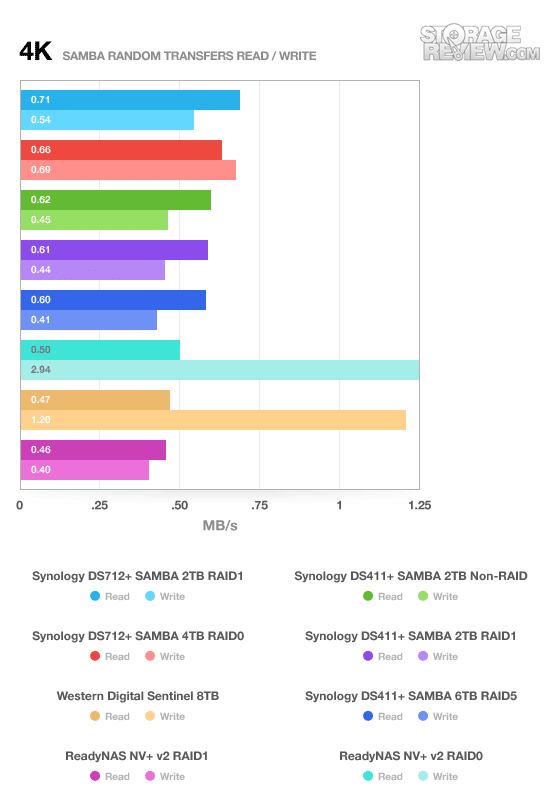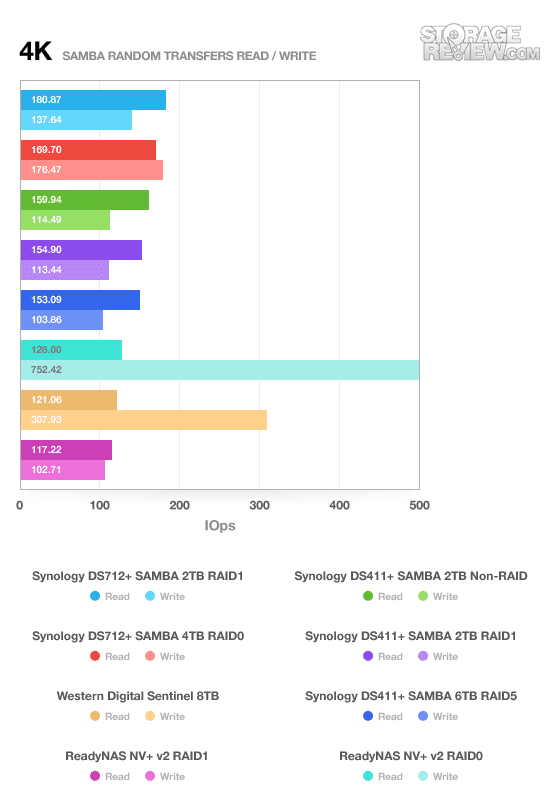 The NV+ v2 both led the pack or trailed behind depending on which RAID configuration it was in. In RAID1 the results were towards the bottom of the charts, but in RAID0 it actually led the group in write speed.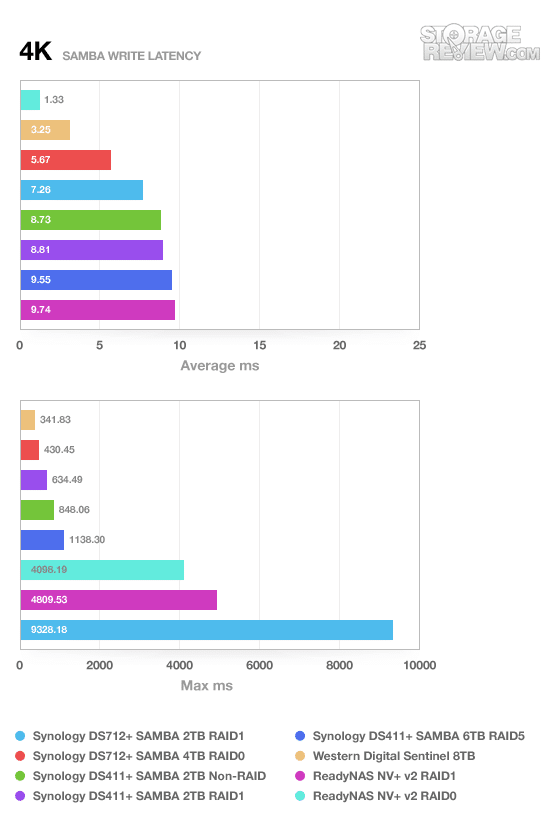 Turning to 4K write latency, the NV+ v2 had the highest average latency in RAID1 but the lowest in RAID0. Maximum latency was towards the bottom, with a maximum response time of about 4 seconds in a RAID0 and 9 seconds in RAID1.
Power Consumption
According to the Netgear specs, the NV+ v2 typically uses 54w with 4 x 500GB disks; through our own testing with two supplied 1TB disks, it used 50w for start up, 20w at idle, and 23w for read/write operations. Not terrible, considering the next step up, the ReadyNAS Ultra 6, has an average active rate of 74w.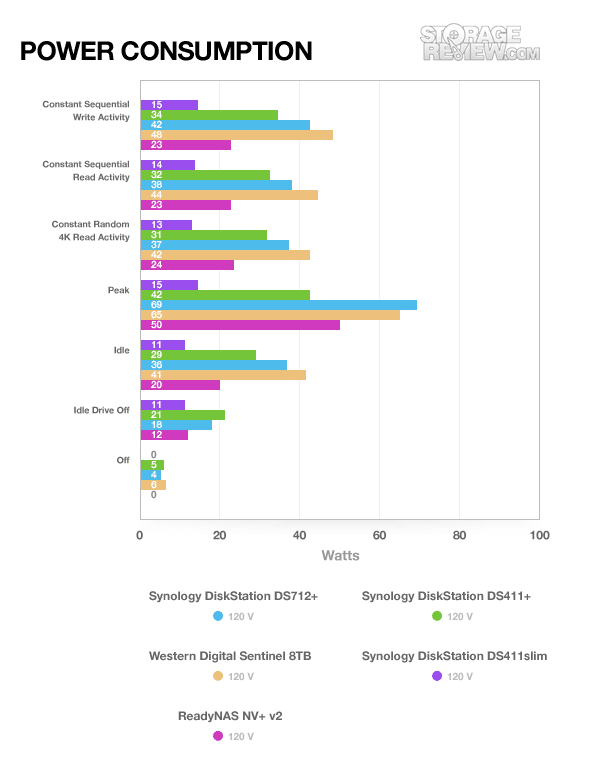 Startup is, naturally, the most power intensive time, but the NV+ v2 peaked at around 50w. Once things settled down to idle speed, draw was more like 20w. Under normal operations, consumption wavered between 23 and 24w, depending on exactly what we were doing.
Warranty
Netgear offers their standard three year warranty on the ReadyNAS NV+ v2. Secondary support is also given through an expansive online community hosted dedicated to the ReadyNAS lineup.
Conclusion
The Netgear ReadyNAS NV+ v2 brings 4 bays of storage and a new easy to use interface to the home and small business segments. The unit itself is built extremely well and includes an LCD display, which every NAS should have, but many don't. The NV+ v2 offers some vast improvements over similar models, like a very intuitive UI and easy drive swapping. The suite of included software is robust as well.
It's not all roses and candy for the NV+, however. As compared to other NAS systems, performance is a tad slow in RAID1 which is what many users would configure their NV+ v2 with. Higher latency times and low read/write times kept the NV+ at the middle of the pack at its best. RAID0 speeds were much improved, although given network storage is used for redundancy and backups, RAID0 isn't optimal.
However, despite the slower speed, the NV+ v2 still performed admirably, especially for its storage capacity and price point. Overall, it's a respectable NAS that's easy to set up and use, and is comfortable in both the small business and home.
Pros
Easy to learn web interface with plenty of eye candy
Good on power consumption
Great functionality and front-mount LCD
Cons
Weaker performance in RAID1 than competing models
Bottom Line
The ReadyNAS NV+ v2 is a small, solid NAS box that is very configurable, easy to use, and performs reliably for individual users and small businesses.
Discuss This Review