SandForce rocked the SSD world with the debut of their SF-1200 processor a few months ago. While the Intel X25-M SSD held its own for a long time against the SSDs from most mainstream competitors, SandForce-enabled drives were able to catch up overnight. In this review we take a look at the 120GB OCZ Vertex 2 powered by the SandForce SF-1200 controller.
Update 2/16/11 – 25nm OCZ Vertex 2 Review
Update 2/24/11 – OCZ Vertex 3 Review
SandForce rocked the SSD world with the debut of their SF-1200 processor a few months ago. While the Intel X25-M SSD held its own for a long time against the SSDs from most mainstream competitors, SandForce-enabled drives were able to catch up overnight. In this review we take a look at the 120GB OCZ Vertex 2 powered by the SandForce SF-1200 controller.
The Vertex 2 line of SSDs from OCZ are designed for the enthusiast market – those who want top-tier performance. The drives come in capacities from 50GB to 480GB and feature consistent read and writes speeds of 285MB/s and 275MB/s for capacities up to 240GB (the 400GB and 480GB are a little slower at 250MB/s read and 240MB/s write).
The 2.5" drives feature a SATA 3Gb/s interface and thoughtfully, OCZ has included 3.5" rails so the drives can easily be mounted in desktops. The NAND is 34nm MLC flash, the current standard for this class of SSD.
OCZ offers a 3-year warranty with their consumer SSDs, but more importantly, they support their drives with firmware updates. OCZ has recently released a new firmware for the Vertex 2 line, v1.10, which we applied for this review.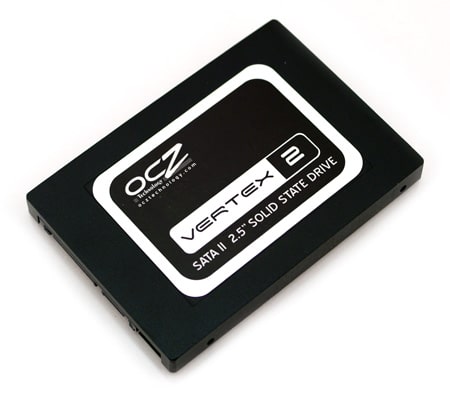 Technical Overview
OCZ Vertex 2 Specifications:
Available in 50GB to 480GB capacities
Capacity Reviewed: 120GB (111.79GB Formatted)
Native TRIM support
Max IOPS Firmware
Seek Time: .1ms
2.5" Design (comes with 3.5" mounting bracket)
Lightweight: 77g
Operating Temp: 0°C ~ 70°C
Storage Temp: -45°C ~ +85°C
Power Consumption: 2W in operation,0.5W in standby
Shock Resistant up to 1500G
RAID Support
MTBF: 2 million hours
3-Year Warranty

Aesthetics
The OCZ Vertex 2 has a black-box look with a simplistic design that is probably one of the more laid back SSDs we have reviewed. Compared to the super thin, unpainted Intel X25-M or the stainless-steel bodied Western Digital SiliconEdge Blue, the Vertex 2 is pretty basic. Nothing about that is inherently bad and some could even go as far as saying the drive has more of a stealth appearance.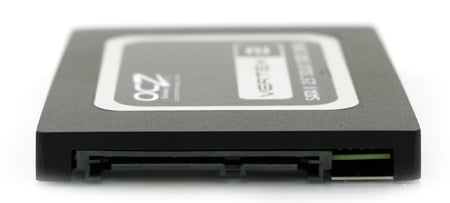 While the overall cosmetic appearance of the drive was pretty good, we did have a few smudges on our SSD straight out of the sealed wrapper. It had the consistency of glue and wiped off without much effort.


The drive has a manufacturer's label on top with the brand and model information and two additional stickers on the bottom. The stickers on the bottom contain more of the drive specifics, including some warnings about not to drop your very expensive SSD (or smashing it between your fingers) with its part number and serial number also included.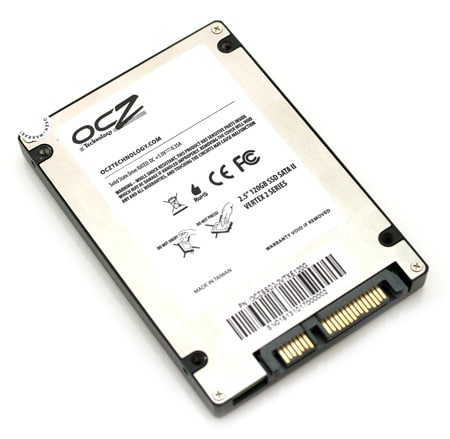 Disassembly
The OCZ Vertex 2 is made up of three primary sections; the black top cover, a silver bottom plate, and the circuit board inside. The top and bottom are held together with simple Phillips head screws, although one of them is covered by a warranty voiding sticker. If you really want to look inside your Vertex 2 you will be forfeiting the three-year warranty.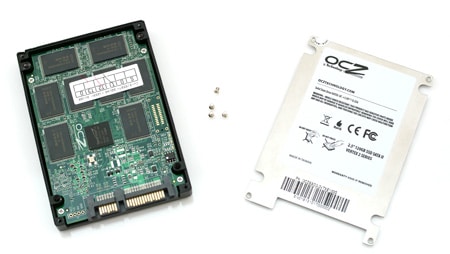 With the four screws off you simply lift the bottom plate away from the top cover and break the little sticker folded over the edge of the bottom plate. With that off you can see the PCB inside which is held in with four additional Phillip's head screws.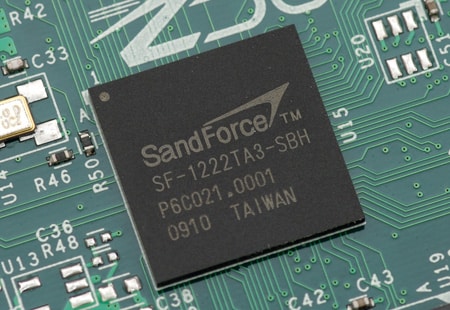 At the heart of the OCZ Vertex 2 SSD is a SandForce SF-1222TA3-SBH controller. SandForce SSDs interact directly with the flash modules, without a buffer, meaning no space taken up by RAM. The MLC flash chips inside the drive are Intel sourced with the markings 29f64g08camdb. Each chip has a capacity of 8GB, with 8 mounted on each side of the circuit board for a total of 16.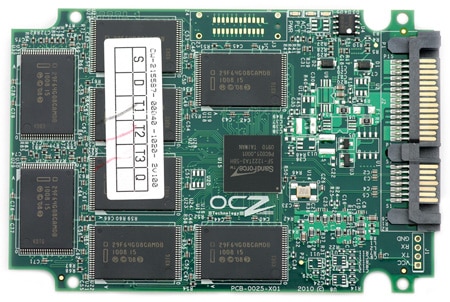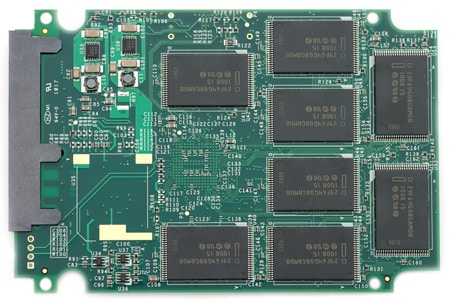 In our testing process we used two firmware revisions, although final benchmark results we only obtained using firmware version 1.10. The shipping firmware on this drive (1.00) had some minor stability issues causing the drive to disconnect during intensive IOMeter tests. From the few tests that completed with the initial firmware we saw slightly better scores than with firmware 1.10. This drop in performance was about 2-3% but the new firmware completely fixed our stability problems.
Synthetic Benchmarks
We chose four drives to compare against each other for this review, including the 160GB Intel X25-M, the 120GB OWC Mercury Extreme Pro, the 120GB Corsair F120 and of course the 120GB OCZ Vertex 2. All drives were connected to our Dell XPS 9000 test bench and benchmarked using the 3.0Gb/s Intel ICH10R SATA interface running in AHCI mode. The software test environment is Microsoft Windows 7 Home Premium 64-bit.
In the first section of this review we will cover benchmark the drives using IOMeter and CrystalDiskMark. This review also marks the start of separate charts for both 512b and 4K aligned tests in each section.
The first test is our IOMeter 2MB sequential file transfer test. OCZ claims a maximum read speed of up to 285MB/s and a maximum write speed of up to 275MB/s. In our first test with 512b alignment we found an average read speed of 263MB/s and an average write speed of 249MB/s.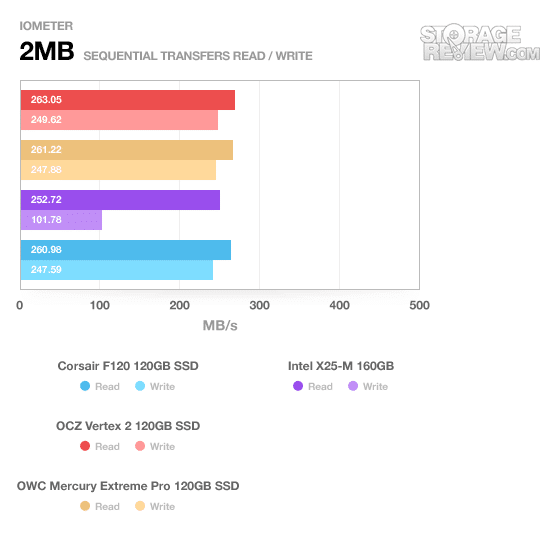 With 4K-alignment, those results changed to 258MB/s read and 249MB/s write.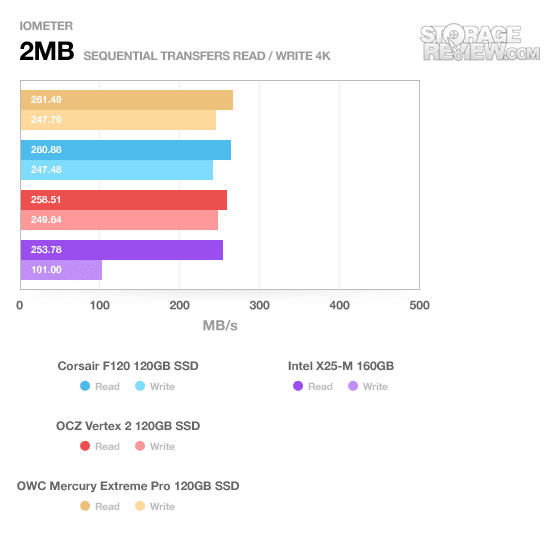 The next test focuses on random 2MB transfers, which don't significantly slow down the drive at all. We measured an average read speed of 255MB/s and a write speed of 189MB/s with 512b-alignment.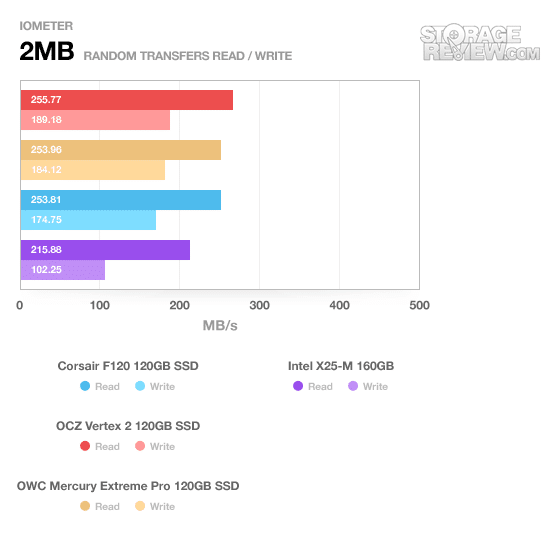 With 4K-alignment the read speeds increase to 261MB/s and the write speeds jump back up to 247MB/s.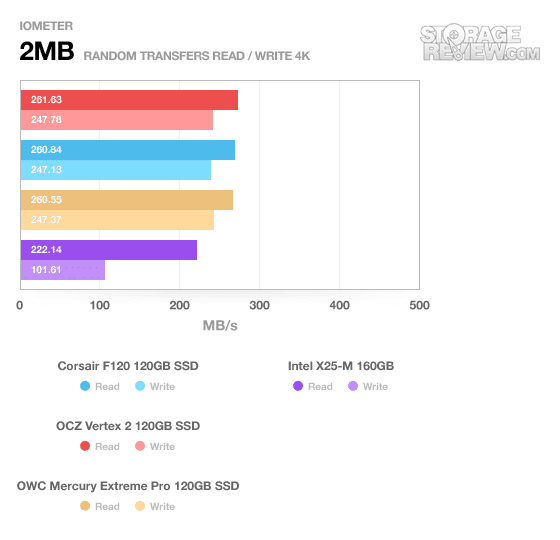 In our 4K-random transfer test with 512b-alignment the Vertex 2 managed a read speed of 16MB/s and a write speed of 15MB/s.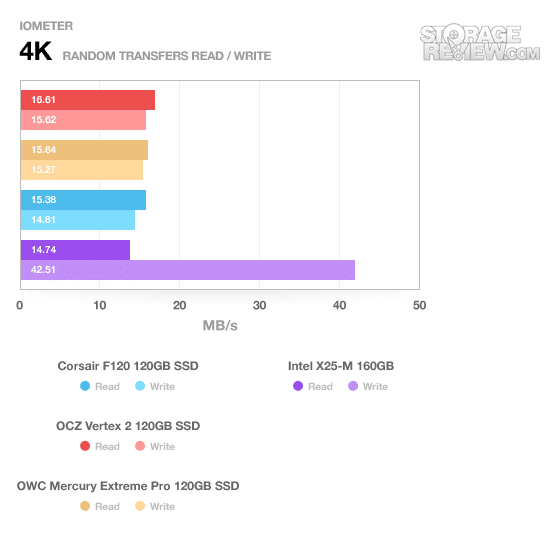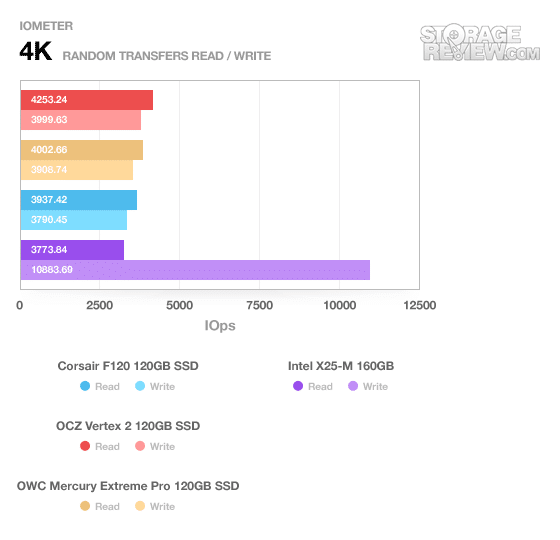 With 4K-alignment the speeds pick up significantly with read speed getting a nudge to 18MB/s and write speeds jumping to a whopping 75MB/s. It's worth noting that the Intel X25-M seems to be most tolerant of unaligned random transfers.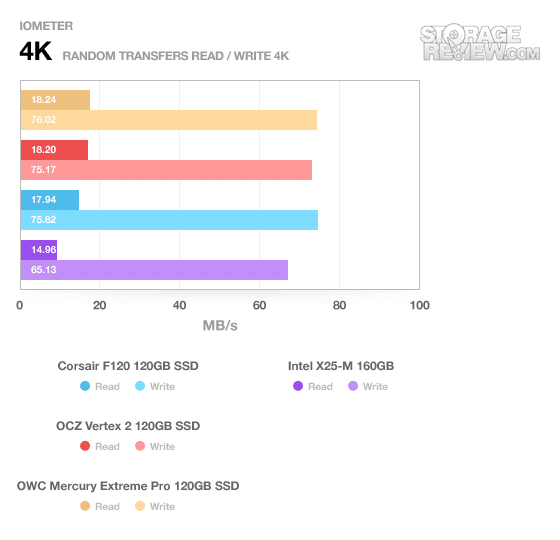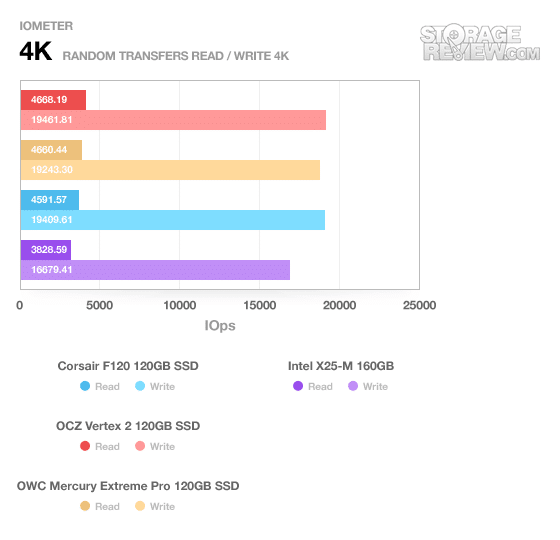 4K write latency was fantastic on the OCZ Vertex 2. We measured an unaligned average response time of 0.26ms and a max response time of 20.89ms.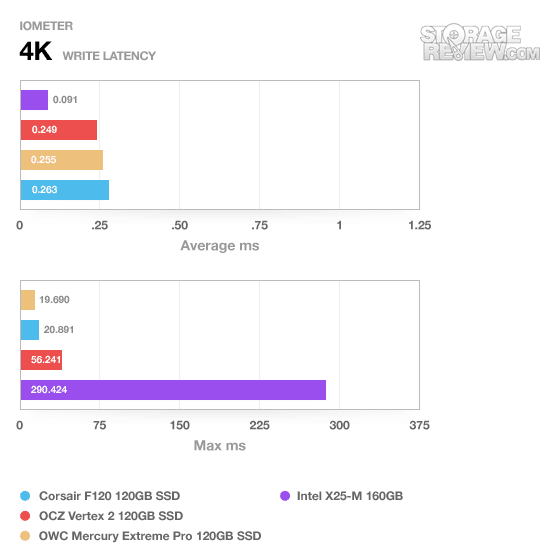 With 4K-alignment average response time dropped to 0.05ms and max response time lowered to 16.3ms.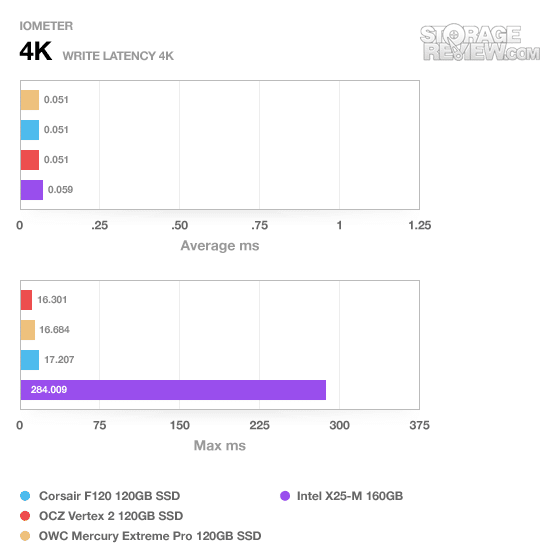 CrystalDiskMark showed slower speeds testing the drive with a file system in place, but 4K read and write speeds were in line with IOMeter results.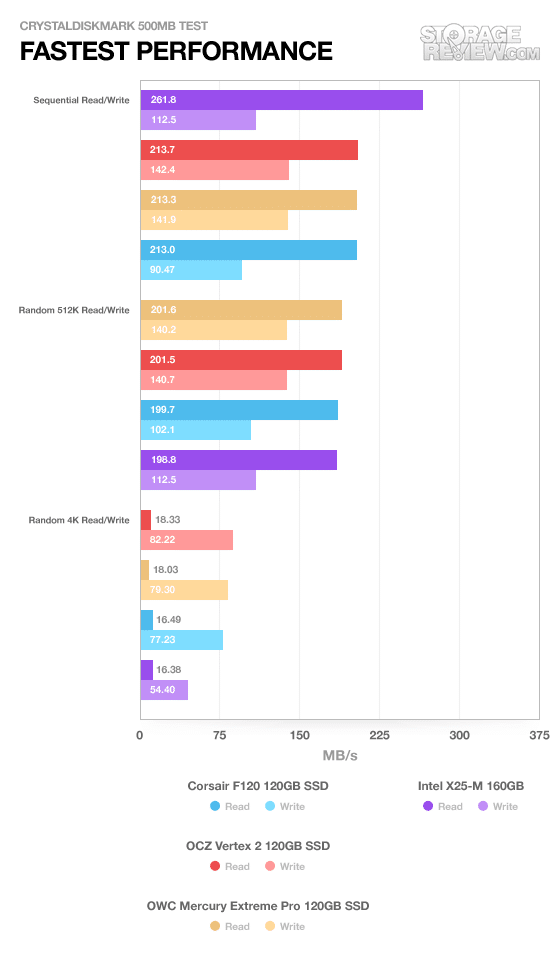 Our next set of tests includes IOMeter server benchmarks which stress the drive with industry standard server profiles. These tests also include multiple queue depths to show how well the drive handles NCQ operations. All profiles have a mixture of read and write tests except the webserver test, which is read-only.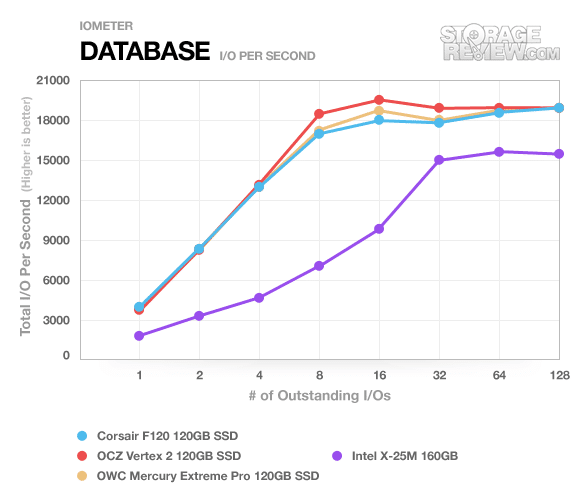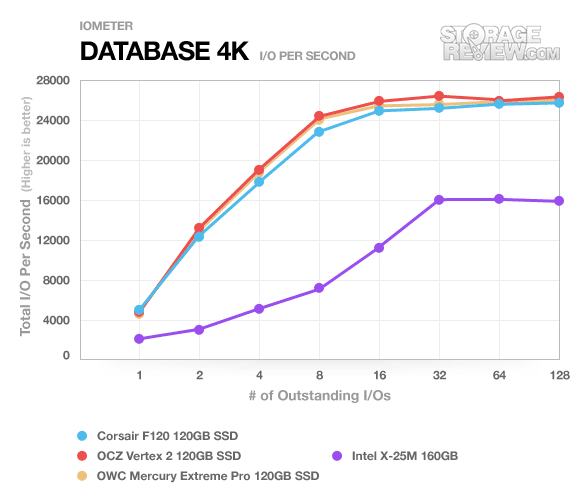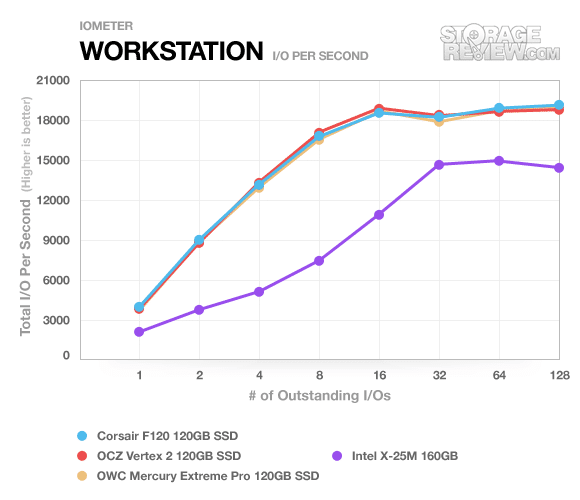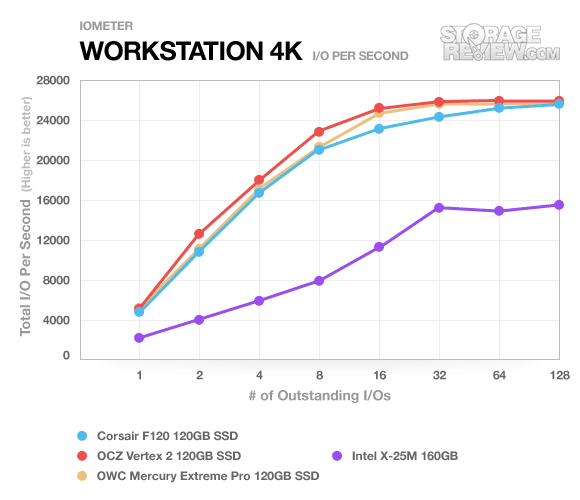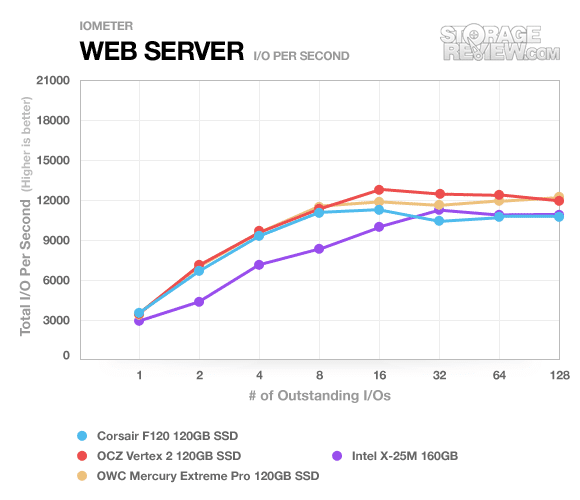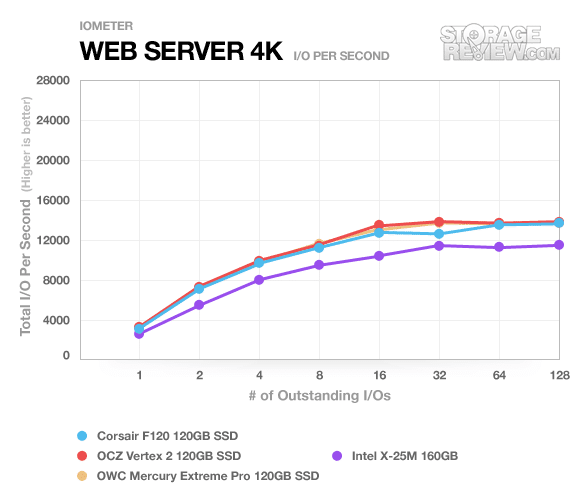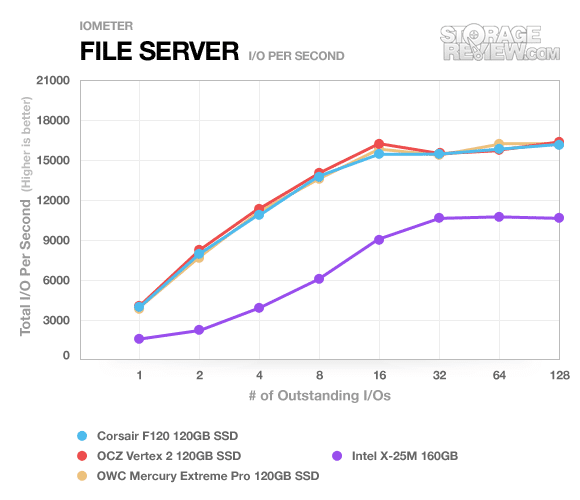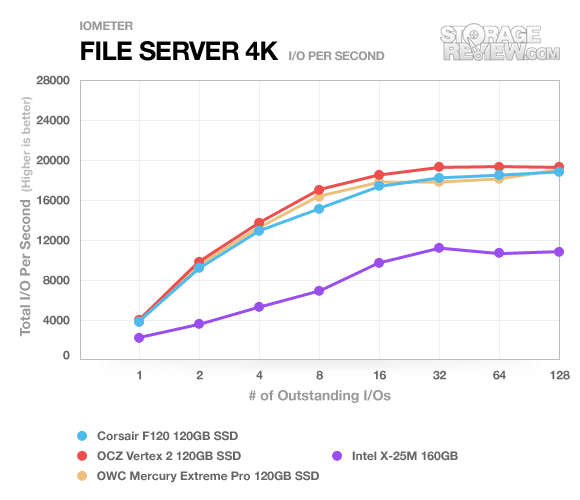 Real-World Benchmarks
Up until now the fastest consumer SSD we have tested in our office has been the trusted 160GB Intel X25-M. It didn't have the fastest sequential write speeds compared to some of its rivals, but it made up for that with exceptional random 4K write speeds. It is also priced competitively and long-term testing has shown that it consistently performs up to its rated speed after everything we have thrown at it. That changes today. The latest batch of 120GB SandForce drives blow the 160GB Intel X25-M out of the water.
For the average reader looking at our reviews it might be hard to translate high transfer speeds or random 4K performance into real-world performance. In some cases we have seen drives perform exceptionally well in transfer speeds but plummet when it came to our real-world test. With our custom StorageMark 2010 traces we hope that no matter what, any reader can see how drives stack up against each other in everyday situations.
The first real-life test is our HTPC scenario. In this test we include: playing one 720P HD movie in Media Player Classic, one 480P SD movie playing in VLC, three movies downloading simultaneously through iTunes, and one 1080i HDTV stream being recorded through Windows Media Center over a 15 minute period. Higher IOps and MB/s rates with lower latency times are preferred.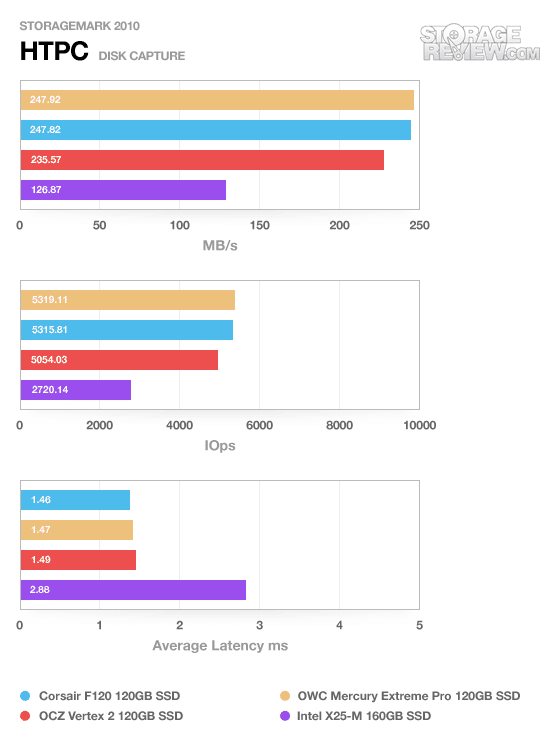 In this trace we recorded 2,986MB being written to the drive and 1,924MB being read. The OCZ Vertex 2 came in at the bottom of the pack compared to the other SandForce drives, but still obliterated the Intel X25-M. One interesting tidbit of information is the Vertex 2 actually performed inside the SandForce pack before the 1.10 firmware upgrade, although only once before the drive became too unstable to stress any further.
Our second real-life test covers disk activity in a productivity scenario. For all intents and purposes this test shows drive performance under normal daily activity for most users. This test includes: a three hour period operating in an office productivity environment with 32-bit Vista running Outlook 2007 connected to an Exchange server, web browsing using Chrome and IE8, editing files within Office 2007, viewing PDFs in Adobe Reader, and an hour of local music playback with two hours of additional online music via Pandora.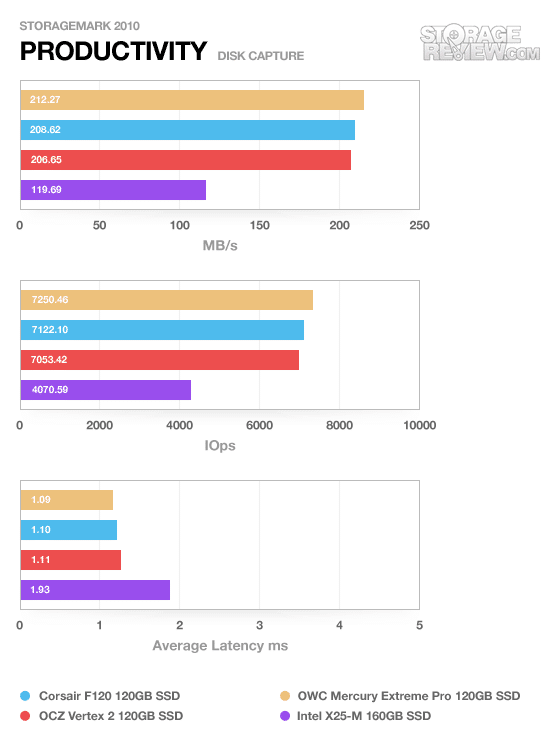 In this trace we recorded 4,830MB being written to the drive and 2,758MB being read. Again the OCZ Vertex 2 came in at the bottom of the SandForce pack, but still having a substantial lead above the Intel X25-M.
Power Consumption
One thing all of the SandForce SSDs have in common is their low power consumption. Compared to other SSDs we have reviewed in the past, the SandForce models blow them out of the water in almost every category. Our guess is the primary factor at play is the lack of DDR cache on the SandForce drives which cuts out a rather inefficient component from the mix. As you can see on the following head-to-head chart the SandForce drives consume much less power than the Intel X25-M in write activity, and all but the Vertex 2 draw roughly half the power in read activity.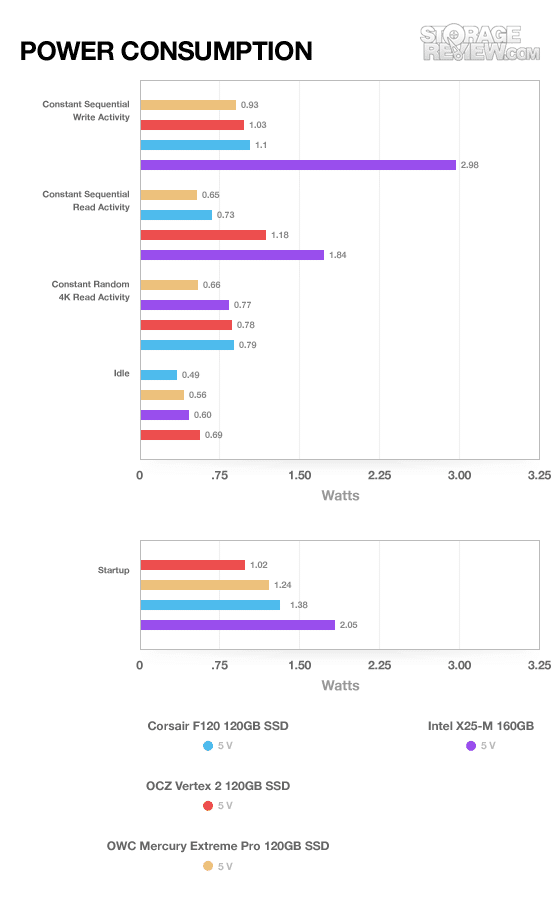 While running, every single SandForce SSD hovered around 1 watt. Idle power consumption varied between 0.49 to 0.7w between the different models. The OCZ Vertex 2 seemed to fall behind, with higher read and idle power consumption compared to the other SandForce models. For the average user, lower power consumption means longer battery life and reduced energy costs over the lifetime of the product. It also translates out to less heat which is a big deal for notebooks that don't have active cooling for the drive bay.

Warranty
OCZ offers an industry standard 3-year warranty on the Vertex 2. This length is matched by nearly every top-ranking SSD manufacturer, including Intel, Western Digital, Kingston, and others. OCZ also has user and employee-driven forum that provides technical assistance to help solve problems with your drive as well as a source for information on the latest firmware updates.
Conclusion
The SandForce-powered OCZ Vertex 2 performed very well in our tests, handily beating our previous "fastest SSD", the 160GB Intel X25-M. Compared to the other SandForce drives the Vertex two came in towards the bottom of the pack after the latest firmware update, which was needed on our review model. Even though it came in at the bottom of the pack, it was still only trailing by roughly two to three percent, so not a huge loss.
Power consumption with the SandForce SF-1200 controller was excellent by keeping the drive near one watt while operating. If you are in the market for a new SSD the OCZ Vertex 2 can be picked up for as low as $179 right now from NewEgg for the 50GB version and $329 for the 120GB model… both less than their Intel counterparts.
Pros
Very, very fast
Much lower Read/Write power consumption compared to the Intel X25-M
Low starting price
Cons
Slightly slower than the Corsair F120 and the OWC Mercury Extreme Pro in real world benchmarks (With latest 1.10 firmware)
Slightly higher idle and read power consumption than other SandForce models (With latest 1.10 firmware)
Bottom Line
While the 120GB OCZ Vertex 2 isn't the fastest SF-1200 SSD to hit our test bench, it is one of the top performing drives we have reviewed so far, completely blowing away the 160GB Intel X25-M while offering a good price. The Vertex 2 is definitely worth consideration for enthusiasts looking to get more from their machines.
Review Response From OCZ
Although the OCZ Vertex 2 appears to be 2-3% slower in some of StorageReview.com's testing, the current Vertex 2 firmware fixes a number of bugs [PDF], while the competing SandForce-based drives are tested with the previous generation of firmware. We believe it's in the consumer's best interest to have the most up-to-date technology in their systems and do as much research as possible before purchasing an SSD.