The Force series SSD line from Corsair represents their fastest and highest performing SSD models. Equipped with the latest controllers from SandForce, these models are the crème de la crème of the consumer flash storage world. In this review we take an in-depth look at the 120GB Corsair F120 and see how it performs against competing models from Intel, OWC, and OCZ.
The Force series SSD line from Corsair represents their fastest and highest performing SSD models. Equipped with the latest controllers from SandForce, these models are the crème de la crème of the consumer flash storage world. In this review we take an in-depth look at the 120GB Corsair F120 and see how it performs against competing models from Intel, OWC, and OCZ.
Corsair recently updated their performance line of SSDs, the Force series. The performance-oriented SSD leverages the SandForce SF-1200 processor, which promises read and write speeds of 285MB/s and 275MB/s respectively. The Force SSDs come in capacities of 60GB, 120GB, and 240GB and all three drives feature the same speed stats.
Our review unit is the 120GB F120. This is a modest upgrade over the comparable prior-generation Force SSD which came in 100GB capacity. Aside from the capacity bump, this second generation of SSDs offers a small performance boost too with an extra 5MB/s read and 15MB/s. The best news perhaps is consumers get these two improvements without an increase in price.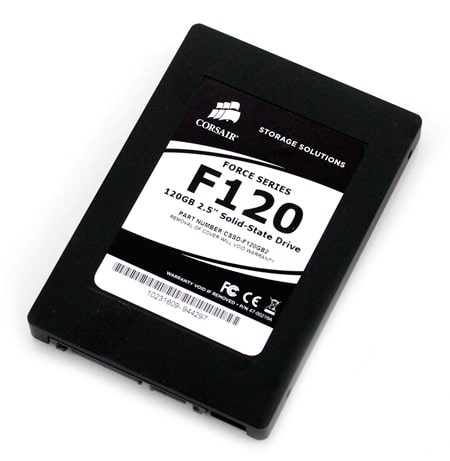 Technical Overview
Corsair Force Series F120 Specifications:
Maximum sequential read speed 285MB/second
Maximum sequential write speed 275 MB/second
Random 4K write performance of 15,000 IOPS (F60, F120, F160)
Latest generation SandForce controller and MLC NAND flash for fast performance
Capacity Reviewed: 120GB (111.79GB Formatted)
Internal SATA II connectivity
TRIM support (O/S support required)
No moving parts for increased durability and reliability and quieter operations over standard hard disk drives
Decreased power usage for increased notebook or netbook battery life
2.5" form factor for your portable computer needs
Included 2.5" to 3.5" bracket for installation on your desktop computer
Three year warranty
Aesthetics
The Corsair F120 is an all-black design and a near carbon copy of the OCZ Vertex 2. Both models share a very similar shape, similar bottom plate designs, and even the same top cover sticker shape. The difference though obviously is the Corsair sticker design and the black bottom plate instead of the silver one seen on the Vertex 2.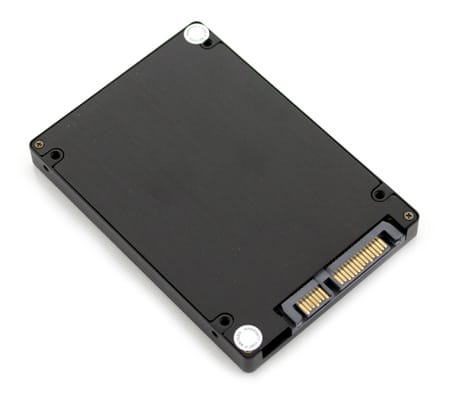 The F120 is also lacking a bottom cover identification sticker, instead opting to include model and serial number information on the top sticker. Both drive designs are basic and don't try to stand out inside a desktop or notebook chassis.

The body of the SSD is fairly sturdy and doesn't flex or give when you try to squeeze the drive. Dropping it on the floor would probably result in minimal damage, unless an object hit the SATA connector which is the most fragile exposed component.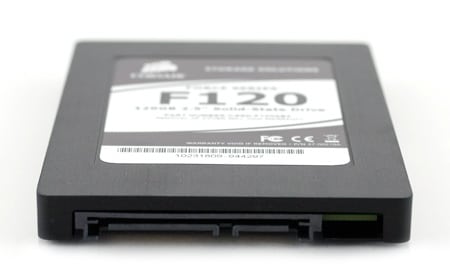 Disassembly
Corsair follows the same trend as OCZ when it comes to opening up your SSD. Both have "warranty void if broken" stickers covering strategic access screws. Unless you want to throw away your warranty, I suggest checking out our internal shots instead of opening your own drive.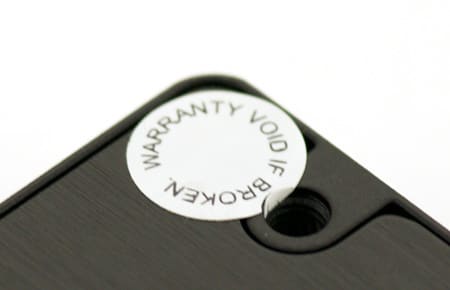 The bottom plate is held on with four Phillips head screws (two of which are covered with stickers to prevent tampering) which when removed expose the circuit board inside. The circuit board is held in place by four additional screws.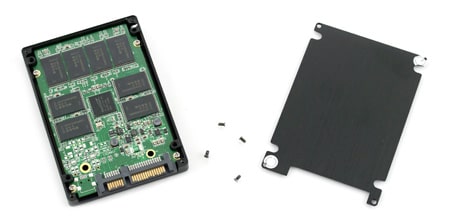 While the outside appearance between the two drives may have been similar, both OCZ and Corsair took different paths when it came to the layout of the circuit board. With that said the Corsair F120 has the same SandForce SF-1222TA3-SBH controller, albeit from a different batch or revision.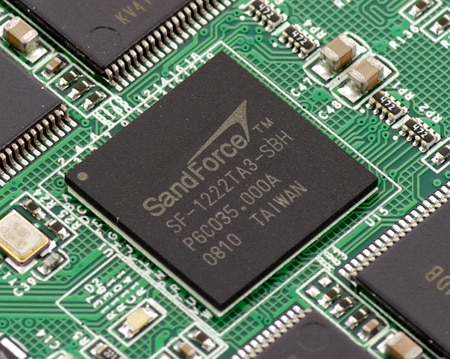 The F120 also sports sixteen 8GB Intel 29f64g08camdb flash modules, with eight located on each side.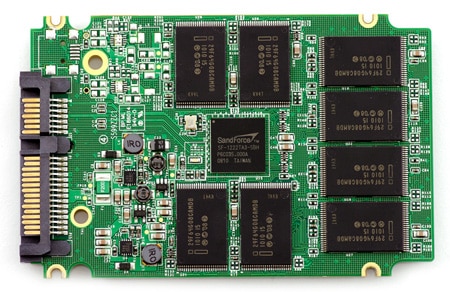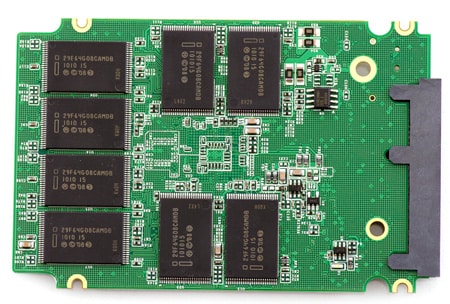 As we noticed with the OCZ Vertex 2 review, firmware is an important aspect of any SSD. The Corsair F120 was reviewed on its shipping firmware– version 1.00– which was rock-solid in our testing.
Synthetic Benchmarks
In this review the 120GB Corsair F120 is pitted against the 120GB OCZ Vertex 2, 120GB OWC Mercury Extreme Pro, and the 160GB Intel X-25M. All drives were connected to our Dell XPS 9000 test bench and benchmarked connected to the 3.0Gb/s Intel ICH10R SATA interface running in AHCI mode. The software test environment is Microsoft Windows 7 Home Premium 64-bit.
In the first section of this review we will cover benchmark the drives using IOMeter and CrystalDiskMark. For all of our IOMeter tests, including server profile tests, we include both 512-byte and 4K aligned charts.
Our first benchmark consists of a 2MB IOMeter Sequential read and write test to find out how well the drive stacks up against its advertised speed. Corsair advertises a maximum read speed of 285MB/s and a maximum write speed of 275MB/s. As you can see below, we measured 260MB/s read and 247MB/s write with 512-byte alignment.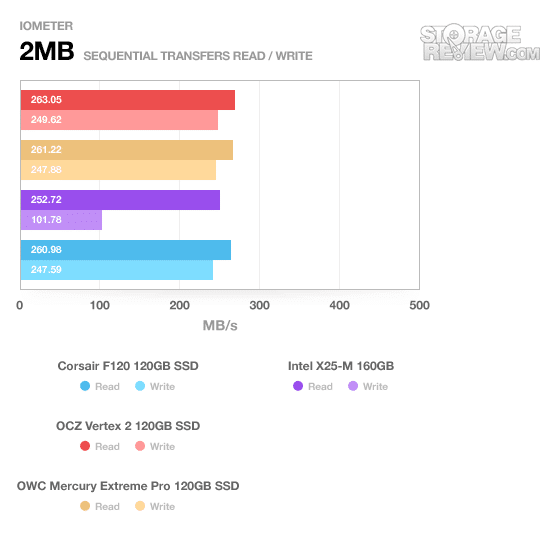 With 4K alignment the speeds stayed at 260MB/s read and 247MB/s write.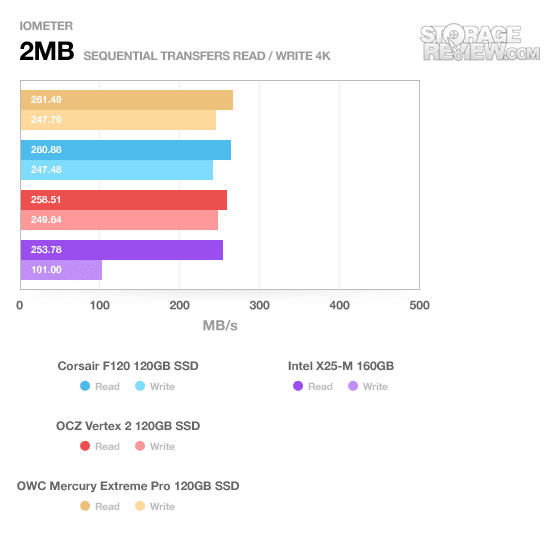 In the next set of benchmarks we look at the random 2MB IOMeter read and write performance. With 512-byte alignment the Corsair F120 measured 253MB/s read and 174MB/s write. Read performance was nearly matched with the OWC Mercury Extreme Pro, but write performance came up short at 174MB/s.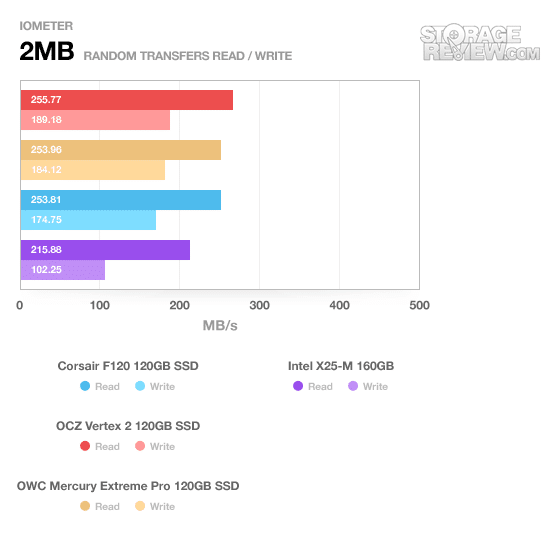 With 4K-alignment the speeds increased to 260MB/s read and 247MB/s write, which brought it up in line with the other SandForce models.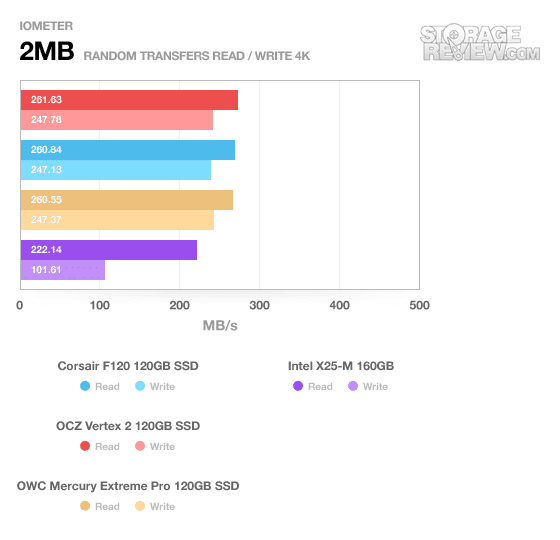 The next test focuses on smaller 4K random transfers in IOMeter. The Corsair F120 measured 15MB/s read and 15MB/s write with 512-byte alignment. This was towards the bottom of the SandForce pack, but still grouped very close together.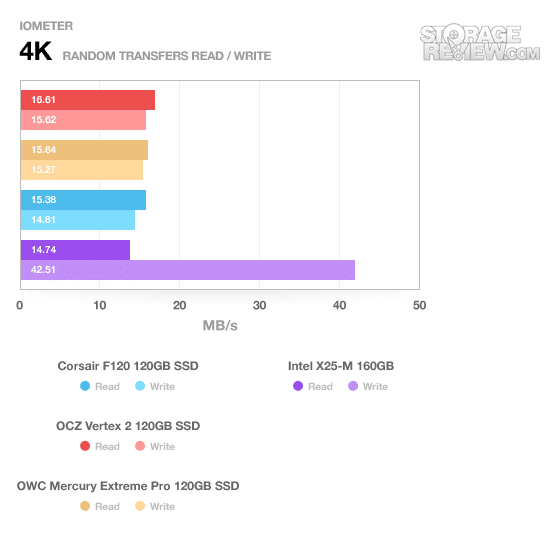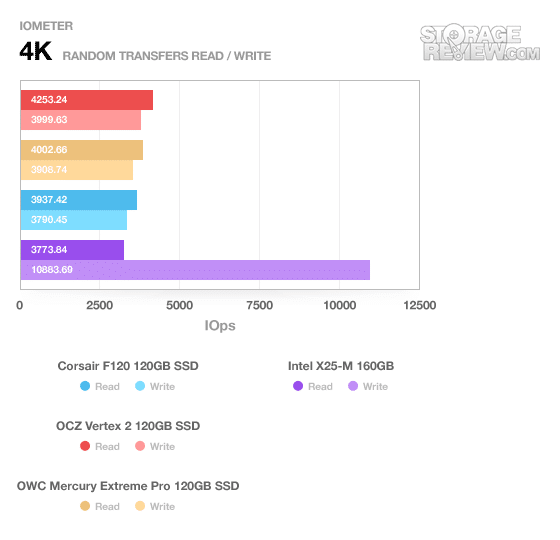 With 4K-alignment the 4K random transfer speed significantly improved, with about 18MB/s read and 76MB/s write. While the grouping still stayed very close, read speed was toward the bottom of the pack with write speed falling in the middle.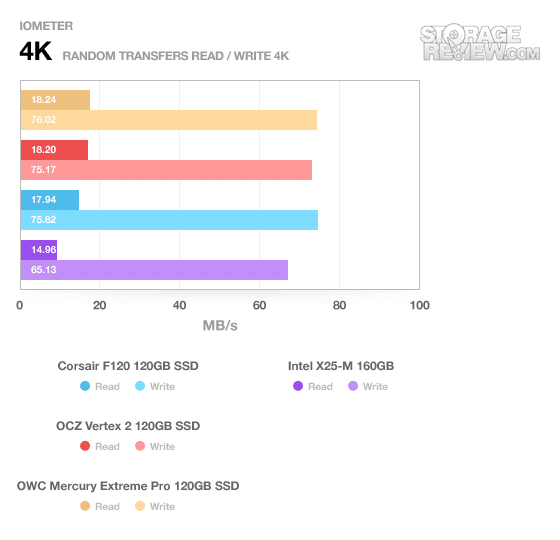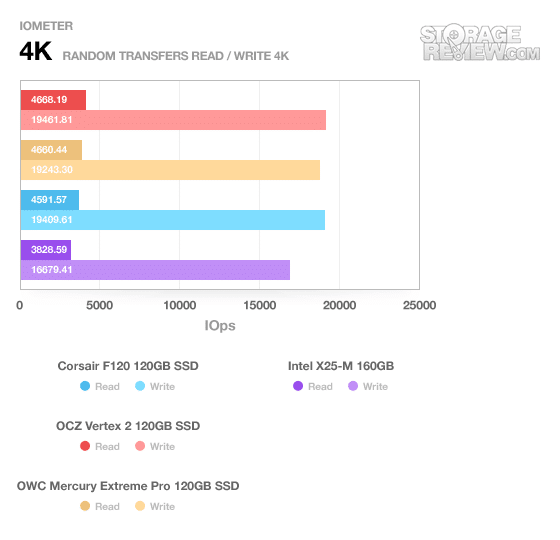 The unaligned 4K write latency on the 120GB Corsair F120 measured 0.263ms, against 0.249ms of the OCZ Vertex 2 and 0.255ms of the OWC Mercury Extreme Pro.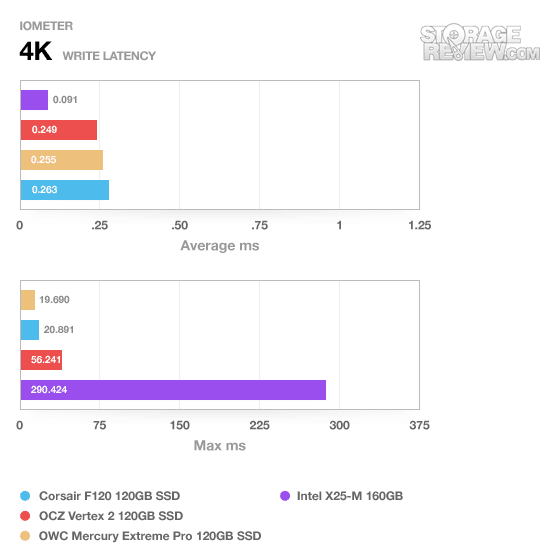 Aligned 4K-write latency was much better, measuring 0.051ms, identical to the two other SandForce SSDs.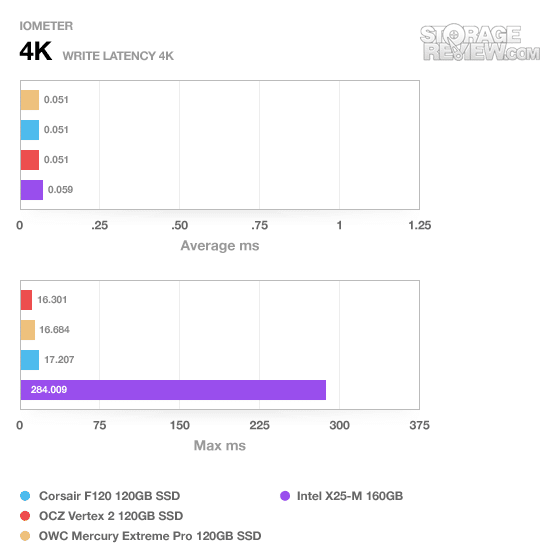 CrystalDiskMark performance showed slower speeds with the NTFS file system in place compared to testing the drive directly.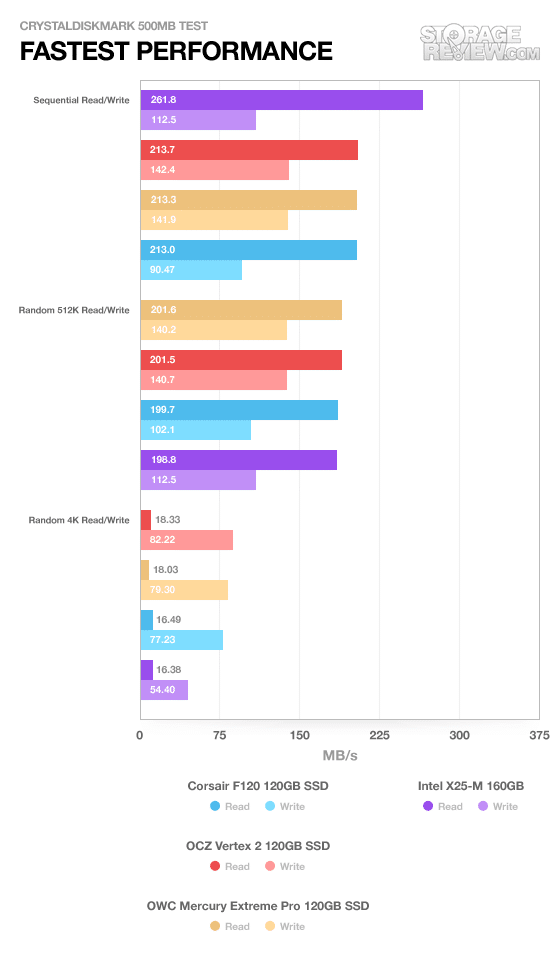 Our next set of tests includes IOMeter server benchmarks which stress the drive with industry standard server profiles. These tests also include multiple queue depths to show how well the drive handles NCQ operations. All profiles have a mixture of read and write tests except the webserver test, which is read-only. The highest IO speed is best.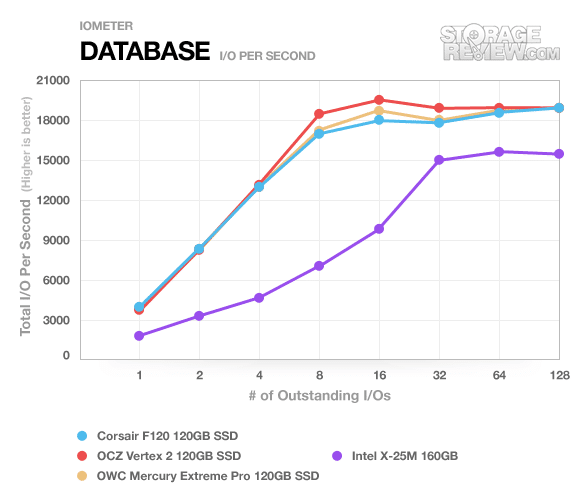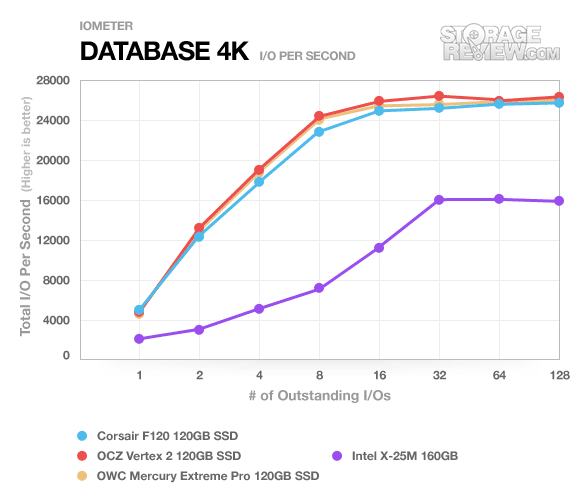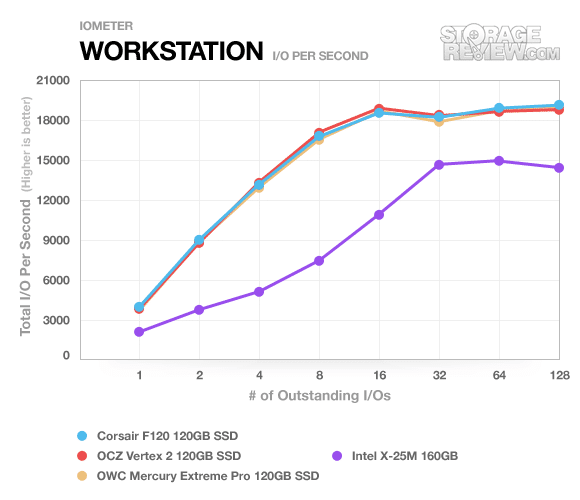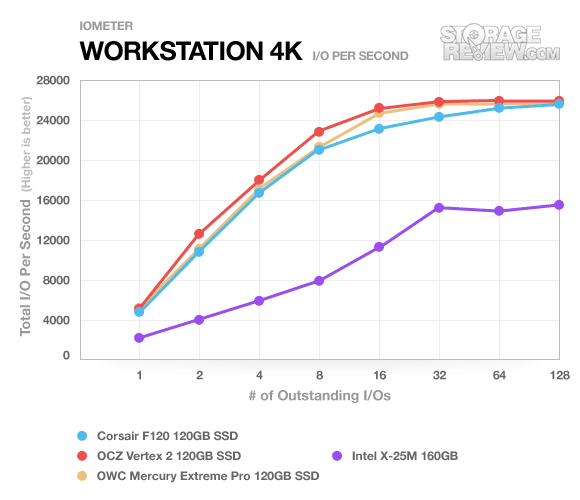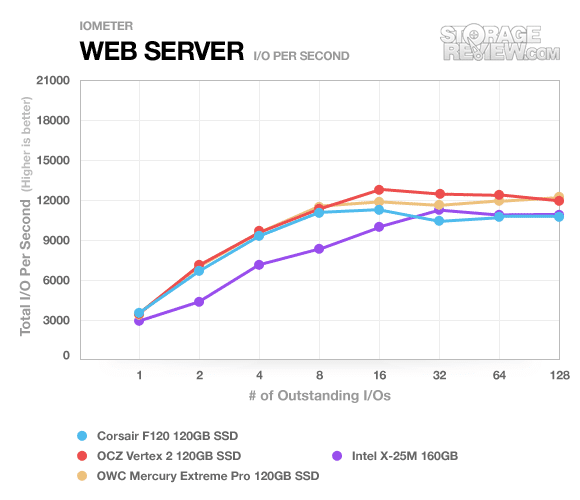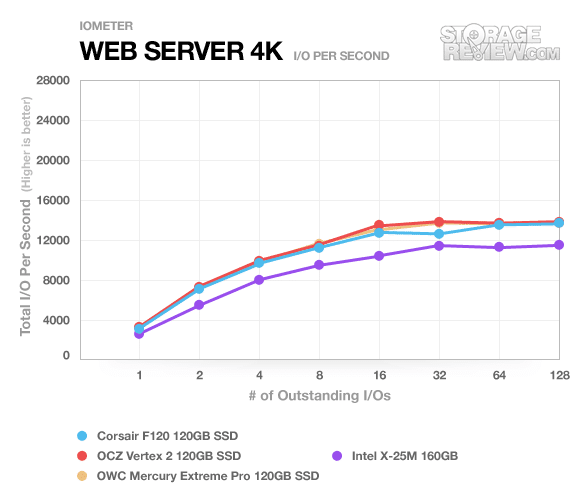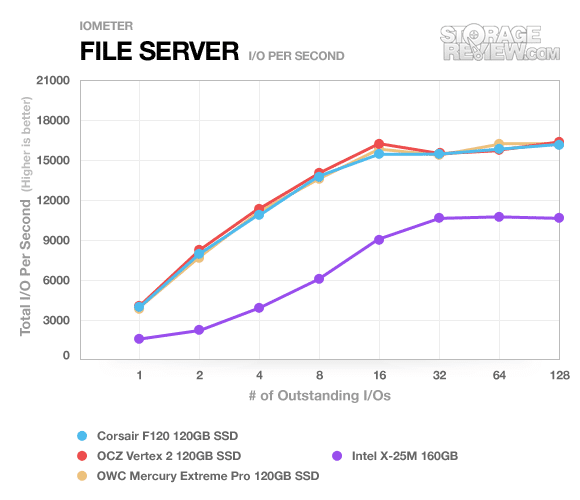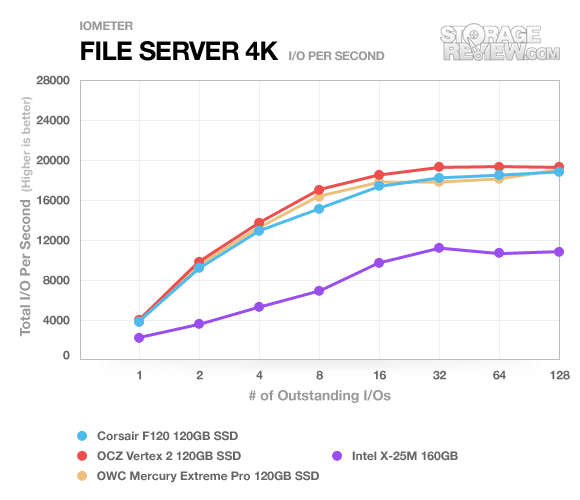 Real-World Benchmarks
For the average reader looking at our reviews it might be hard to translate high transfer speeds or random 4K performance into real-world performance. In some cases we have seen drives perform exceptionally well in transfer speeds but plummet when it came to our real-world test. With our custom StorageMark 2010 traces we hope that no matter what, any reader can see how drives stack up against each other in everyday situations.
The first real-life test is our HTPC scenario. In this test we include: playing one 720P HD movie in Media Player Classic, one 480P SD movie playing in VLC, three movies downloading simultaneously through iTunes, and one 1080i HDTV stream being recorded through Windows Media Center over a 15 minute period. Higher IOps and MB/s rates with lower latency times are preferred.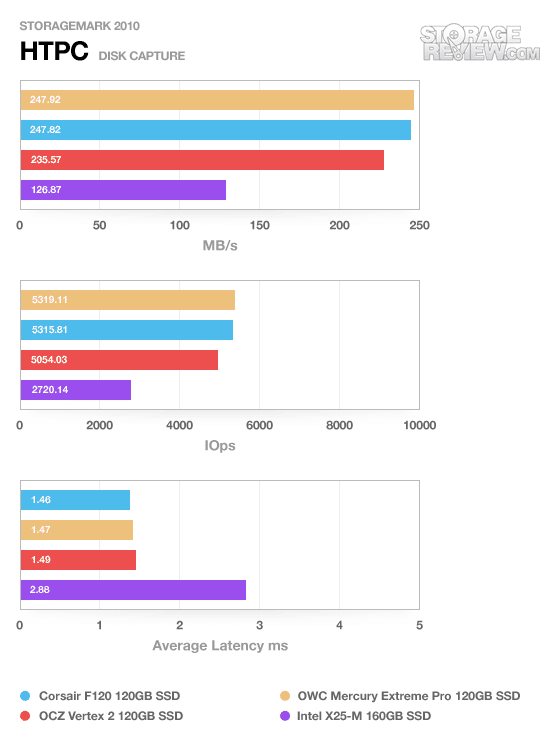 In this trace we recorded 2,986MB being written to the drive and 1,924MB being read. The 120GB Corsair F120 came in right at the top with the OWC Mercury Extreme Pro, down only 0.10MB/s. With an average transfer speed of about 248MB/s, it was roughly twice as fast as the 160GB Intel X-25M.
Our second real-life test covers disk activity in a productivity scenario. For all intents and purposes this test shows drive performance under normal daily activity for most users. This test includes: a three hour period operating in an office productivity environment with 32-bit Vista running Outlook 2007 connected to an Exchange server, web browsing using Chrome and IE8, editing files within Office 2007, viewing PDFs in Adobe Reader, and an hour of local music playback with two hours of additional online music via Pandora.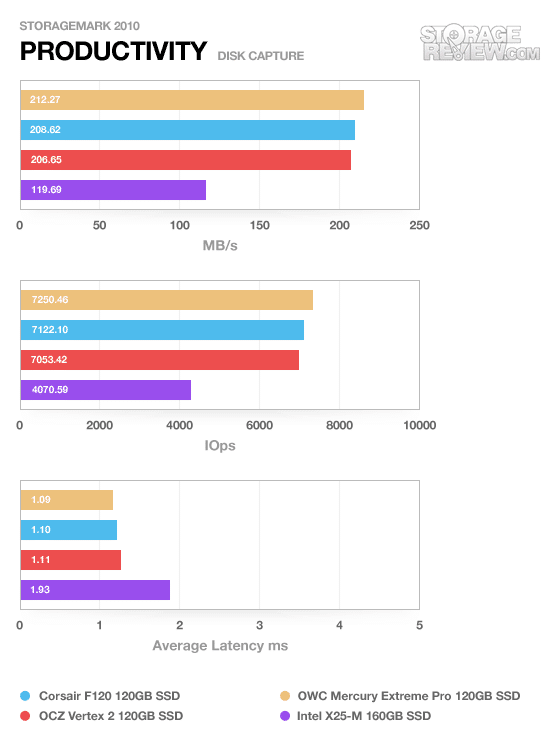 In this trace we recorded 4,830MB being written to the drive and 2,758MB being read. In this test the Corsair F120 slipped slightly from its hold on the OWC Mercury Extreme Pro, but still held the #2 spot against the OCZ Vertex 2. While not as close to double the performance of the HTPC test compared to the Intel X-25M, it still had an incredible lead.
Power Consumption
One thing all of the SandForce SSDs have in common is their low power consumption. Compared to other SSDs we have reviewed in the past, the SandForce models blow them out of the water in almost every category. Our guess is the primary factor at play is the lack of DDR cache on the SandForce drives which cuts out a rather inefficient component from the mix. As you can see on the following head-to-head chart the SandForce drives consume much less power than the Intel X25-M in write activity, and all but the Vertex 2 draw roughly half the power in read activity.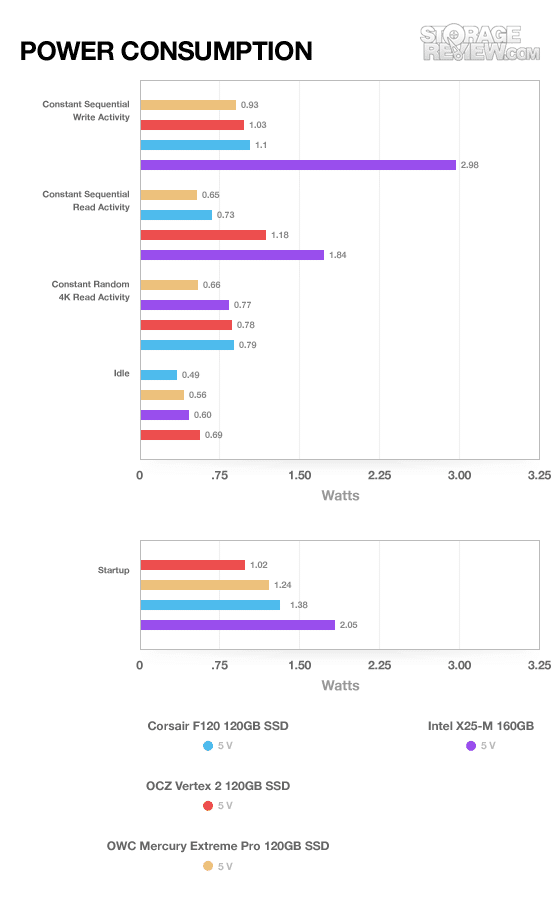 The 120GB Corsair F120 ranked middle of the pack when it came to power consumption. Out of the three SandForce-equipped models, it had the highest write activity measuring 1.1 watt, middle for read activity measuring 0.73w, and highest for random read with 0.79w. Out of all of the drives though, it had by far the lowest idle activity, coming in at 0.49w.
Warranty
Corsair offers an industry-standard three-year warranty on the 120GB F120. This length is also matched by other popular SSD manufacturers including Intel, OCZ, Western Digital, Kingston and others.
Conclusion
The Corsair F120 is the second SandForce-powered SSD we have reviewed on StorageReview and we still can't get over how fast these drives are compared to the competition. As we have found in this review and the review of the OCZ Vertex 2, the SF-1200 equipped drives knock the socks off the Intel X-25M with higher performance and still manage to draw less power. Out of the box we found no problems in regards to the stability of the F120, running flawlessly through our rigorous stress tests with the revision 1.00 firmware.
Buyers interested in the 120GB Corsair F120 can find it starting as low as $309, with the 60GB F60 model priced at $175.
Pros
Stable drive with base firmware
Excellent Real-World Performance
Good performance/cost ratio
Cons
Higher power draw in all but idle consumption and sequential read
Bottom Line
The Corsair F120 is a reliable and solid performer, putting itself in the top tier of the performance SSD class. In this latest generation of SandForce-enabled drives, the Corsair Force Series stands out not only for being stable, but also as a faithful execution of the speed and performance buyers expect when buying a high-end SSD with the SF-1200 processor.