Bigger isn't always better, and in the world of SSDs smaller and specialized form factors are becoming more popular and look to shake up the way we think about storage in portable devices. OWC's Mercury Aura Pro SSD is one of the few 1.8″ performance-based SSDs on the market designed to meet this need. This means that portable devices like netbooks, tablets and ultra-portable notebooks have a new high-performance option when it comes to internal storage.
Bigger isn't always better, and in the world of SSDs smaller and specialized form factors are becoming more popular and look to shake up the way we think about storage in portable devices. OWC's Mercury Aura Pro SSD is one of the few 1.8″ performance-based SSDs on the market designed to meet this need. This means that portable devices like netbooks, tablets and ultra-portable notebooks have a new high-performance option when it comes to internal storage.
OWC certainly had portability in mind when designing the Aura Pro, but they didn't skimp either in terms of stated performance or capacity, the two areas small form factor drives often get shorted. The Aura Pro delivers the familiar SF-1200 performance of sustained reads up to 285MB/s and reads up to 275MB/s. Our review drive is the 120GB capacity, but OWC offers an entire spread including 60GB, 240GB and a 480GB SSD "coming soon."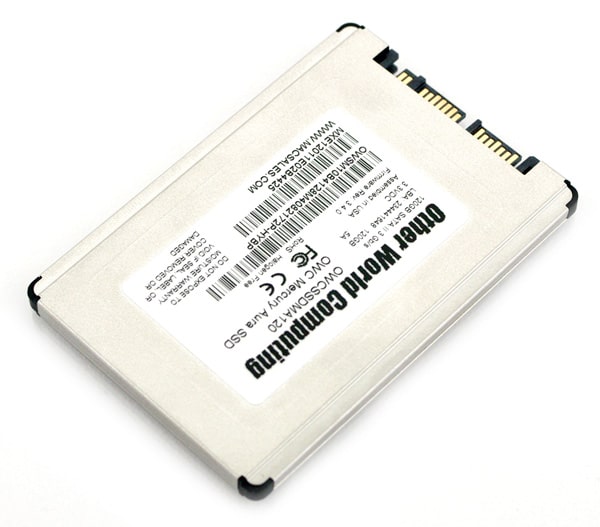 OWC Aura Pro Specs
Controller: SandForce SF-1200 Series 7% Over Provisioning firmware set
Sustained Sequential Read: up to 285MB/s
Sustained Sequential Write: up to 275MB/s
Random 4KB: Up to 50,000 IOPS
NAND: Tier 1/Grade A Multi-Level Cell (MLC) NAND Flash Memory
Reliability: 2,000,000 hour MTBF
Interface: SATA II (3.0Gb/s)
Native Command Queuing up to 32 commands
TRIM Support
Active: 2200mW (2.2W) Typical, up to 2500mW (2.5W), Inactive (DIPM): 90mW (.09W) Typical
ECC Recovery: Up to 24 bytes correctable per 512-byte sector
Unrecoverable Read Errors: Less than 1 sector per 1016 bits read
Chip Based Data Encryption: 128-bit AES-compliant
3 Year OWC Warranty
Aesthetics
While normally OWC SSDs have blue cases, our Aura Pro is oddly silver. While some of you might want to grab the pitchforks and scream false advertising, they actually have a good explanation, ours is silver only because it came from an early run. If you order one right now, the Aura Pro units now come with the regular blue paint. Moving past the exterior color, the drive features stickers on the top and bottom cover. The primary sticker lists all the drive's important information, including revision number of the shipping firmware.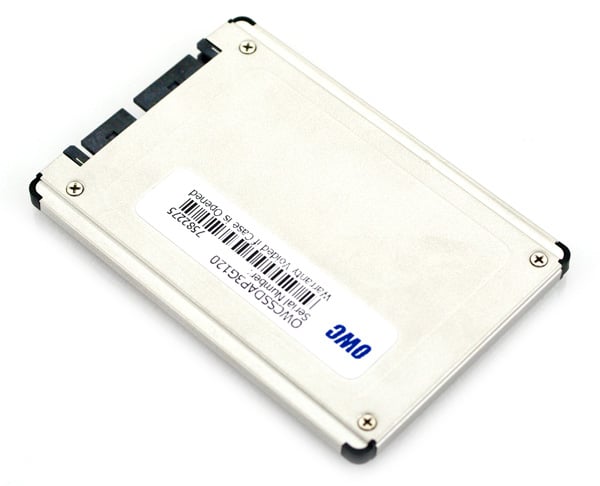 For those of you who might wonder why this drive looks smaller than usual, the Aura Pro is a 1.8-inch SSD with a condensed SATA power and data connector. These drives are primarily aimed at netbooks, ultra-portable notebooks and tablets. For example, the slimmer cousin of the Lenovo ThinkPad T410 which we recently reviewed, is called the ThinkPad T410s. The slim model uses the 1.8″ standard so the drive requires less height and width in the palmrest. The list of these ultra-mobile devices is getting longer; we fully expect to see more 1.8″ drives in response to the demand.

Disassembly
The OWC Mercury Aura Pro is pretty simple to take apart, although we don't recommend it since it does void your warranty. The case comes apart after removing four Phillips head screws around the four edges of the top cover and wedging a fingernail in to slightly pop the metal clips around the perimeter.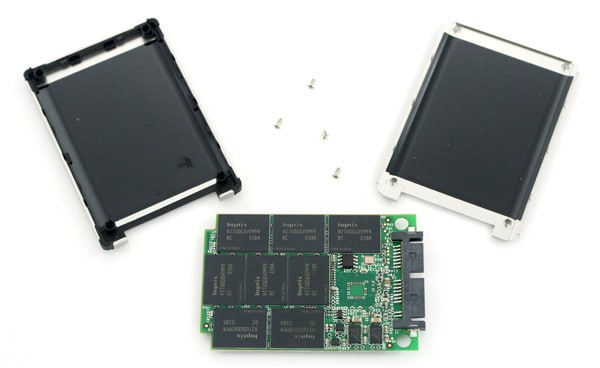 Once inside, the circuit board is held to the bottom cover with small plastic clips. If you carefully bend back the edge of the case, you can remove the circuit board to inspect both sides of the PCB. As you can see below, nothing except the SandForce controller itself was on the bottom of this circuit board.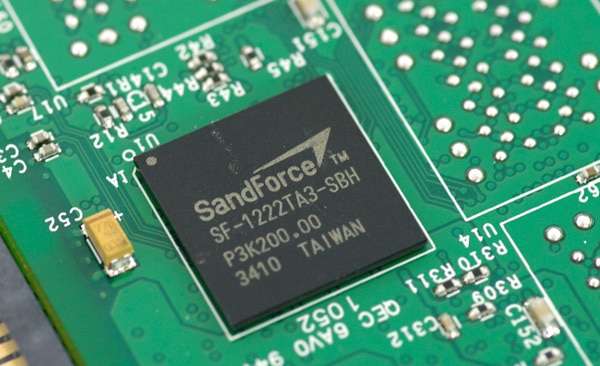 The OWC Mercury Aura Pro is powered by the SandForce SF-1222TA3-SBH controller with eight 16GB Hynix H27UDG8VEMYR NAND modules for storage. As with other SandForce-equipped SSDs, no external RAM is found on these boards, as they only need a very small amount internal to the controller.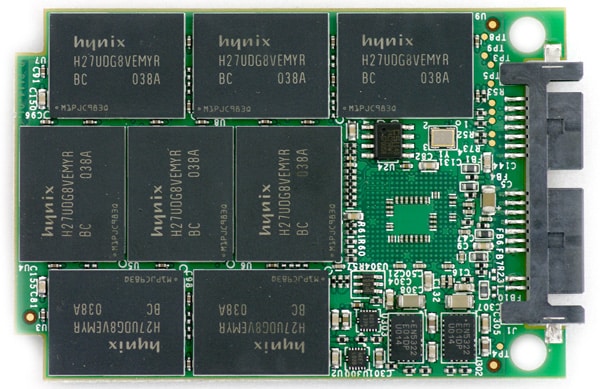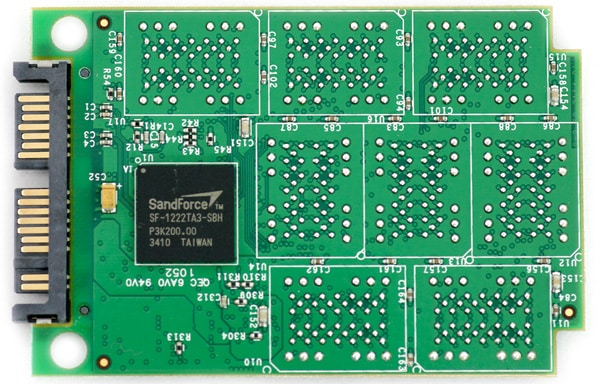 Synthetic Benchmarks
We're comparing the Aura Pro SSD to several other familiar names, including OWC's 2.5″ Mercury Extreme Pro, which features the same capacity and SSD processor as the Aura Pro. The other comparables include the Intel X-25M 160GB, Corsair F120 and the Patriot Inferno 120GB. We also used a special adapter for this review; we needed something to convert the MicroSATA port to the SATA connections on our testbed. Our friends at Aleratec sent along just such an adapter which performed the task perfectly. This adapter is pin-for-pin compatible, meaning it has no effect on the SATA data connection outside of extending the wires another inch. On the power side, it does add in a 5v to 3.3v conversion, which will partially skew the results since nothing will be 100% efficient.
OWC rates the Mercury Aura Pro as having a sequential read speed of 285MB/s and a write speed of 275MB/s. To test these claims we used IOMeter to send a 4K-aligned 2MB transfer request. We measured speeds of 261MB/s read and 241MB/s write… which were not as fast as claimed, but came up just under the OWC Mercury Extreme Pro.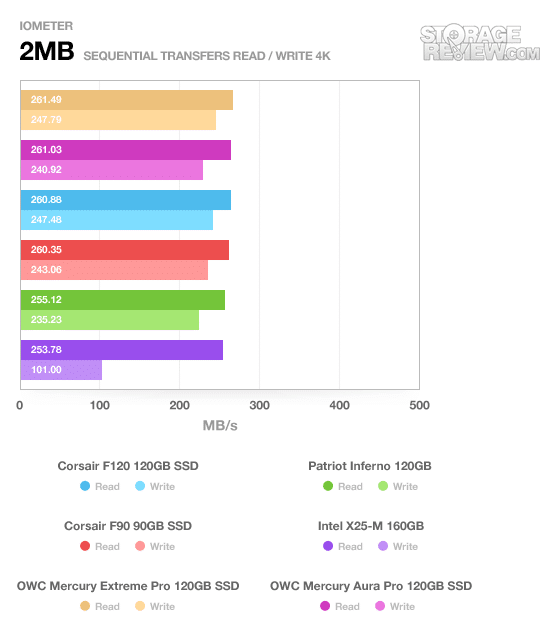 In our random 2MB transfer test, we found little impact on overall read and write speeds. We measured 260MB/s read and 240MB/s write, which is just a hair under its sequential transfer speeds.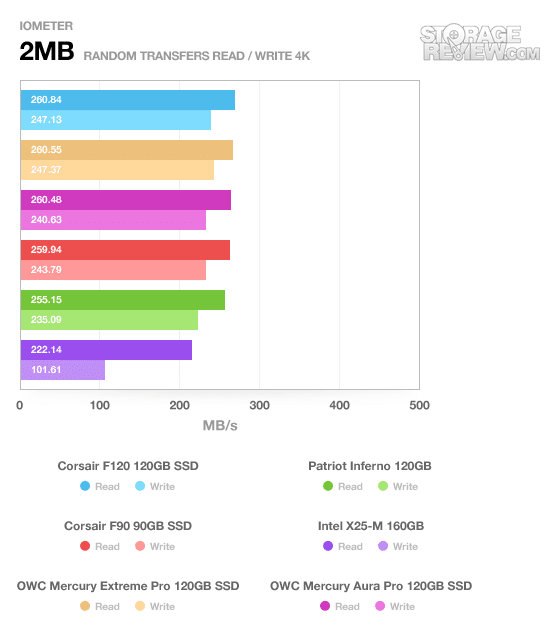 In our IOMeter 4K random transfer test we found the OWC Mercury Aura Pro to be just slightly slower than its 2.5-inch Mercury Extreme Pro counterpart. Whereas the Extreme Pro measured 18MB/s read and 76MB/s write, the Aura Pro measured 16MB/s read and 73MB/s write.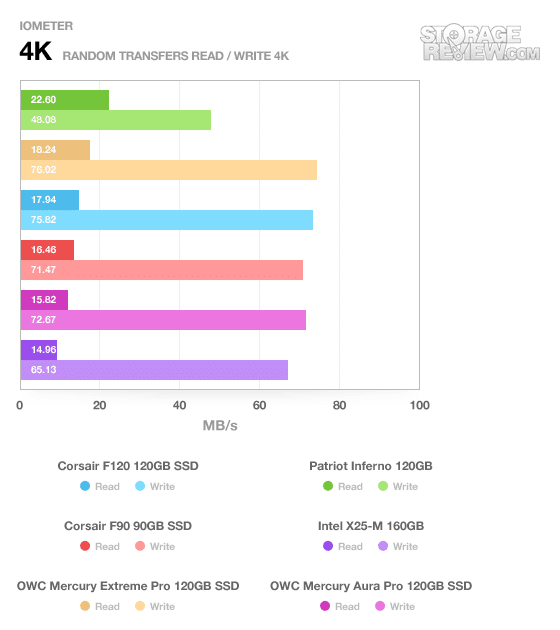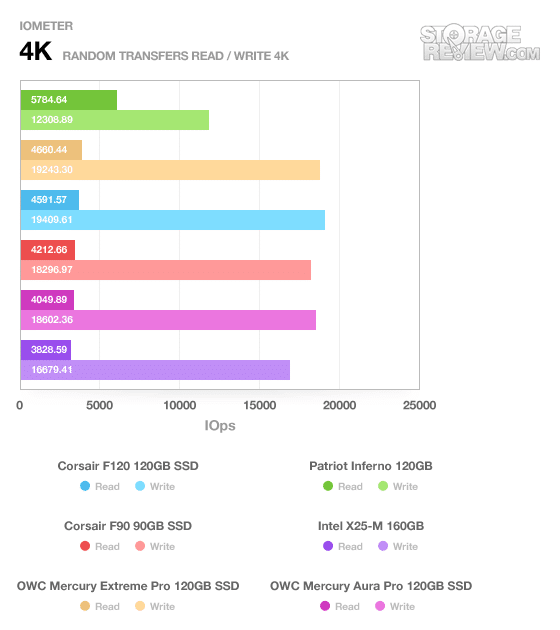 Looking at the Aura Pro's 4K-write latency, it came up third among the drives we compared it to in this review. Even though it didn't match the speeds for the #1 and #2 tie, it was just 0.002ms slower.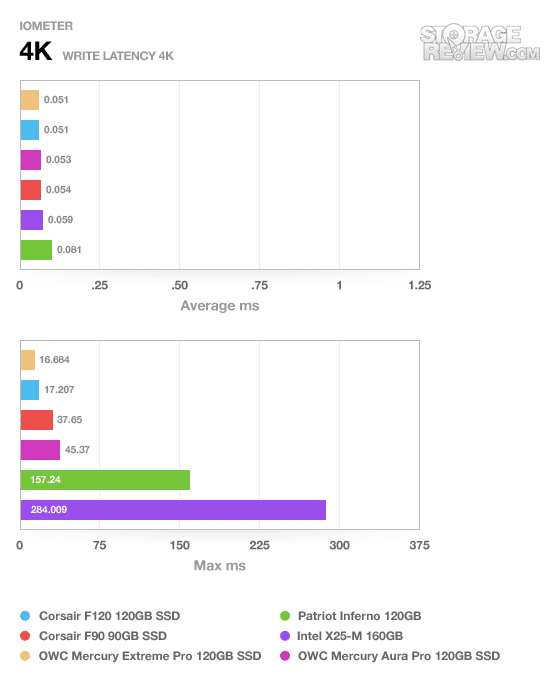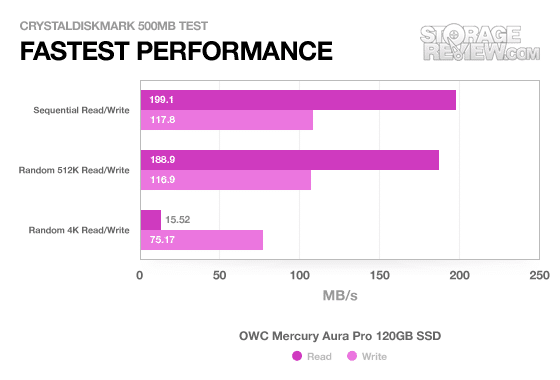 Our next group of tests cover how drives perform in a server environment. These tests are helpful in understanding how the drives perform with multiple requests coming in at the same time, with the better drives scaling performance with demand. As you can see below, the OWC Mercury Aura Pro mirrored the other SandForce models we tested perfectly.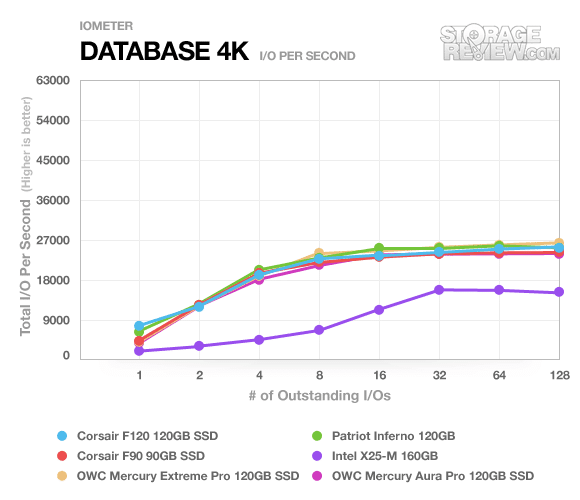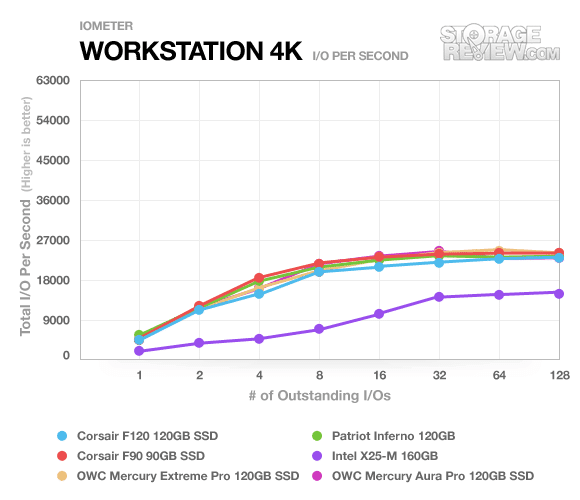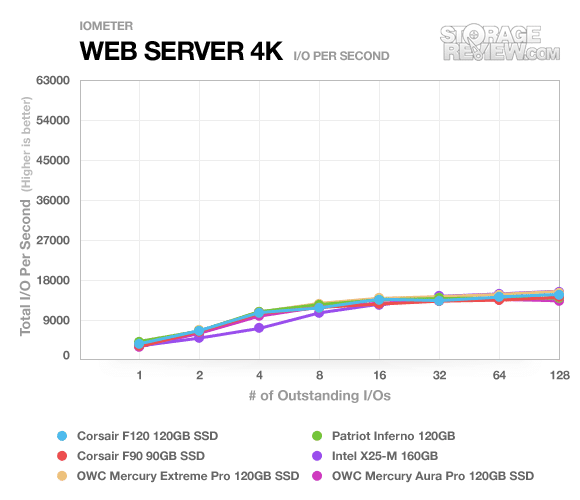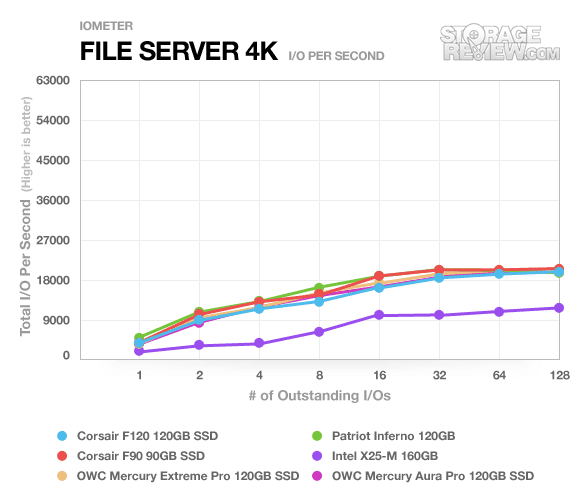 Real World Benchmarks
In our synthetic benchmarks, the performance differences between the full-size Mercury Extreme Pro and the 1.8-inch Aura Pro were noticeable, but it was hard to gauge just where they factored in. As we turn to our real-world tests, we can get a better idea of how some of those changes might effect its performance.
Our custom StorageMark 2010 traces break down drive performance by scenario, which aim to mimic common everyday situations.
The first real-life test is our HTPC scenario. In this test we include: playing one 720P HD movie in Media Player Classic, one 480P SD movie playing in VLC, three movies downloading simultaneously through iTunes, and one 1080i HDTV stream being recorded through Windows Media Center over a 15 minute period. Higher IOps and MB/s rates with lower latency times are preferred. In this trace we recorded 2,986MB being written to the drive and 1,924MB being read.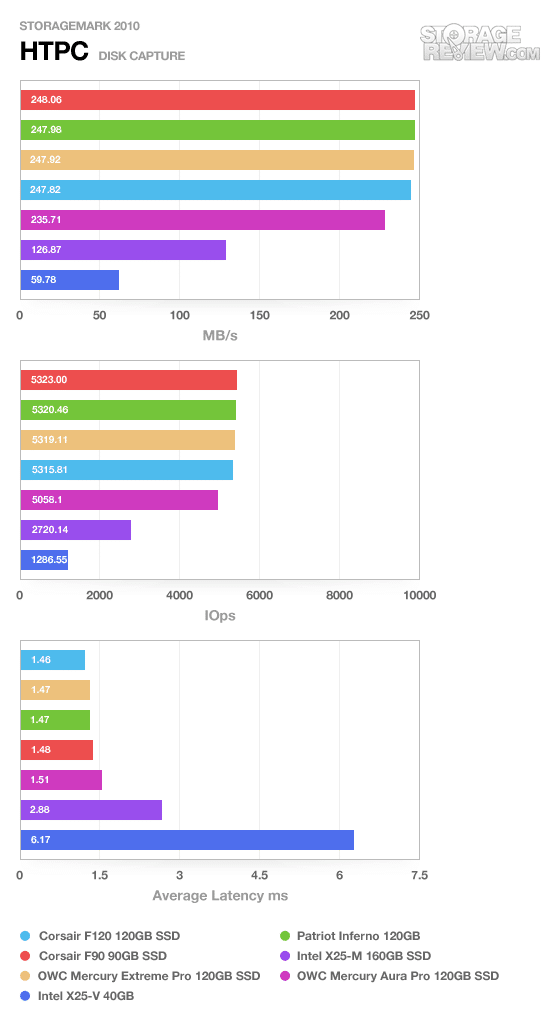 It was interesting to see that the Aura Pro came up 12MB/s slower than the rest of the SandForce-based pack. Since the capacity between all of these drives is roughly the same (besides the 90GB F90) the only difference we can spot was the change in flash memory from Intel to Hynix. Another possibility is a newer firmware revision that trades some outright speed for greater stability.
Our second real-life test covers disk activity in a productivity scenario. For all intents and purposes this test shows drive performance under normal daily activity for most users. This test includes: a three hour period operating in an office productivity environment with 32-bit Vista running Outlook 2007 connected to an Exchange server, web browsing using Chrome and IE8, editing files within Office 2007, viewing PDFs in Adobe Reader, and an hour of local music playback with two hours of additional online music via Pandora. In this trace we recorded 4,830MB being written to the drive and 2,758MB being read.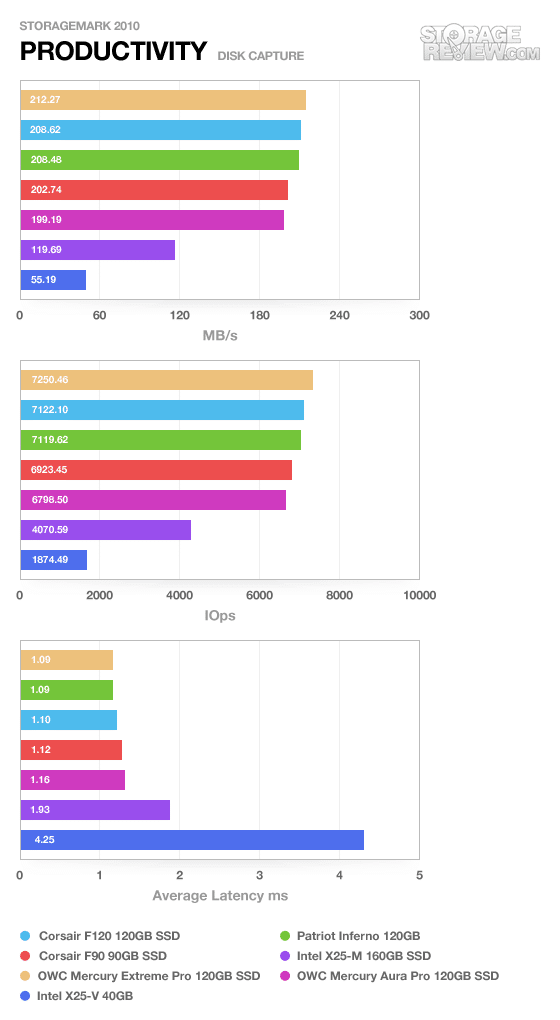 The Aura Pro saw a slight dip in speed with the Productivity trace, but not as large compared to the entire group. Compared to drives of the same capacity, it came up about 9MB/s slower. Note that it still handily beat the 160GB Intel X25-M.
Our third real-life test covers disk activity in a gaming environment. Unlike the HTPC or Productivity trace, this one relies heavily on the read performance of a drive. To give a simple breakdown of read/write percentages, the HTPC test is 64% write, 36% read, the Productivity test is 59% write and 41% read, while the gaming trace is 6% write and 94% read. The test consists of a Windows 7 Ultimate 64-bit system pre-configured with Steam, with Grand Theft Auto 4, Left 4 Dead 2, and Mass Effect 2 already downloaded and installed. The trace captures the heavy read activity of each game loading from the start, as well as textures as the game progresses. In this trace we recorded 426MB being written to the drive and 7,235MB being read.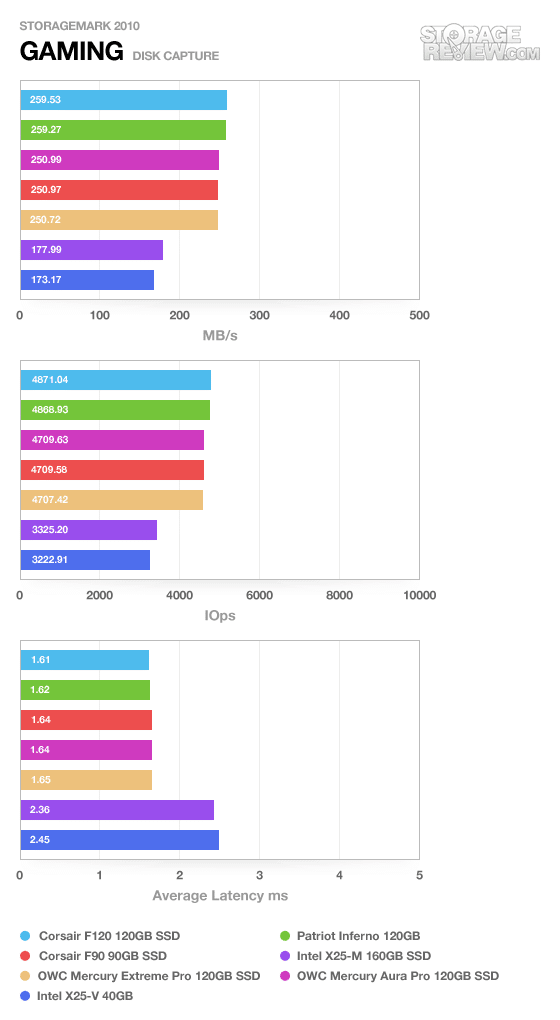 In the gaming trace we actually saw the OWC Mercury Extreme Pro and Aura Pro switch places, with the Aura measuring 0.27MB/s faster.
Power Consumption
As we mentioned in our performance section, to test this SSD with our desktop-based testbed, we had to use an adapter that converted microSATA to SATA. While it didn't affect the data component, it did add in another step for the flow of power. This will increase our findings in all areas. We included this chart for those who might use this drive with an adapter, but included the Mercury Extreme Pro power chart to show what this drive should be like under optimal conditions.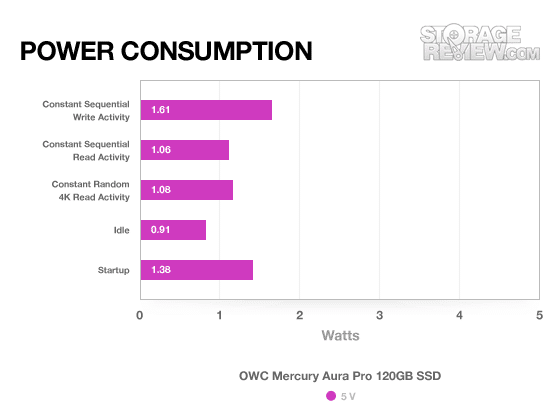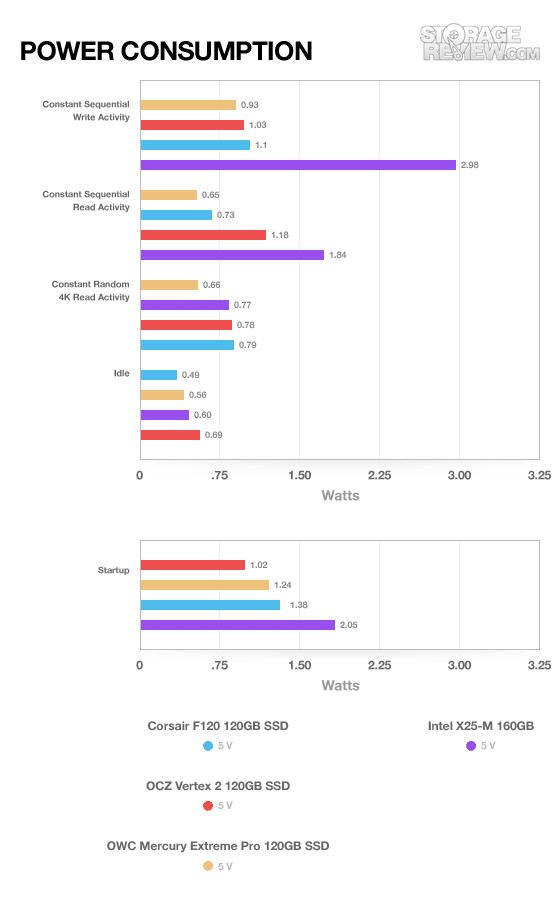 Conclusion
The 1.8-inch OWC Mercury Aura Pro has a lot of things going for it; it is super small, it is powered by SandForce, and it is fast. Compared to its full-size brothers, the Aura Pro offers nearly the same speeds in most areas and just a hair slower speeds in others. Compared to other SandForce models we have reviewed, this drive was the first to feature Hynix memory instead of Intel which may lead to some of those differences.
Overall users who purchase notebooks or tablets with smaller 1.8-inch drives don't have a lot of upgrade options to chose from. The Mercury Aura Pro helps to bring a reliable high-speed SSD to that space, while sticking with a mainstream interface. Buyers aren't going to get taken to the cleaners for the small form factor either, the premium for the 120GB capacity is only $30.
Pros
Super small compared to a standard 2.5-inch SSD
Same great Sandforce speeds
Cool blue case (as long as you don't get our early production sample)
Cons
Small performance drop verses full size models
Bottom Line
When evaluating storage upgrade options with the 1.8″ mSATA interface, buyers don't have a lot of options. Thankfully they do have the OWC Aura Pro though, a high-speed SSD that makes few compromises when compared to it's larger 2.5″ SSD cousins.