Seagate's FreeAgent GoFlex Home is a 1TB (or 2TB) external hard drive that connects to your home network. The product is designed to allow you to share files over your network and from outside your network with yourself and others.
Seagate's FreeAgent GoFlex Home is a 1TB (or 2TB) external hard drive that connects to your home network. The product is designed to allow you to share files over your network and from outside your network with yourself and others.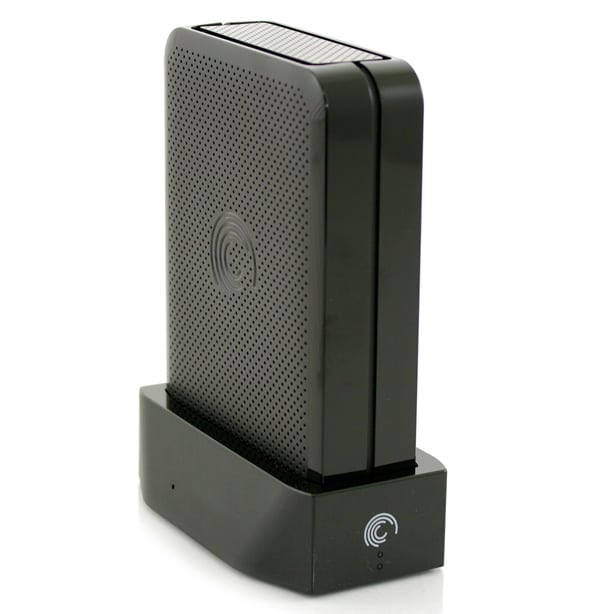 Product Overview
The Seagate FreeAgent GoFlex Home Storage System is a network-connected external hard drive. It is available in 1TB (MSRP $159.99) and 2TB (MSRP $209.99) and 3TB ($269.99) capacities. It looks like a standard 3.5-inch external hard drive but with a dock that has an Ethernet port.
Inside the box:
GoFlex Home Network Storage System (includes network base and hard drive)
Ethernet cable
Power supply
Quick start guide
GoFlex Home install CD
2-year limited warranty
System Requirements:
Router with an available Ethernet port
WiFi router required for wireless file access and backup
Internet connection for activation and Internet file sharing
Internet Explorer 7, Firefox 3.x, Chrome 4.x, Safari 3 or later web browser
Windows 7, Windows Vista, Windows XP, or Mac OS X 10.4.9 or later operating system
Build Quality and Operation
The FreeAgent drive fits snugly in the included dock. It feels as sturdy as it can, given the enclosure is made of plastic; but since it should not be treated roughly anyway, this is of little concern. The drive has a refreshingly nondescript look and does not call attention to itself sitting on a desk, bookshelf or wherever else it may reside within the home or small office.
The drive is quiet and makes minimal noise when reading and writing. It will shut off after a few minutes of inactivity to save power and takes about five seconds to wake up from sleep.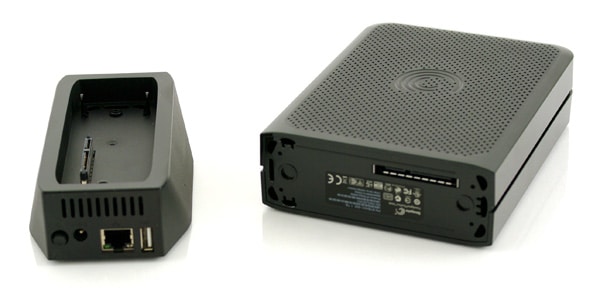 Initial Setup
The setup component of the GoFlex Home Network Storage System consists of two parts: physically connecting the drive and setting it up on the network.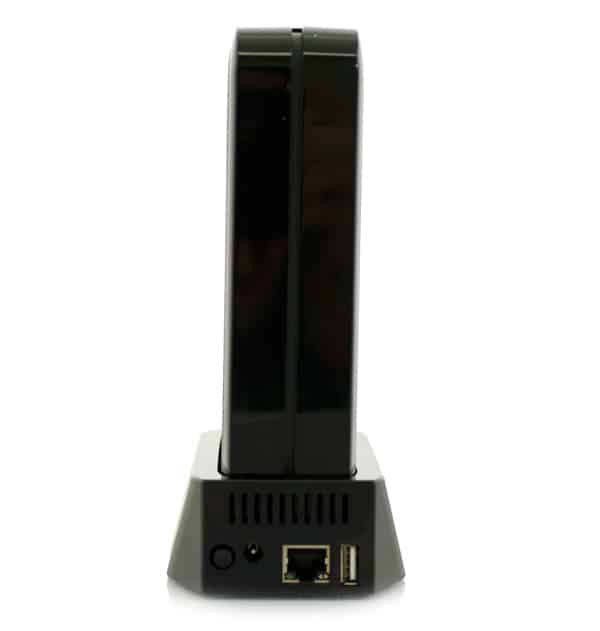 The included quick start guide provides very basic instructions for physically connecting the drive. The process consists of connecting the hard drive to the dock, then the power and the Ethernet cables to it. The Ethernet cable to the drive gets directly connected to the router like a normal computer.
The software install from the CD is straightforward and takes about three minutes to work through.
Setup
Once the software is installed, it launches the GoFlex Home Setup Wizard. Initially the software could not connect with my GoFlex network drive and I received the following message: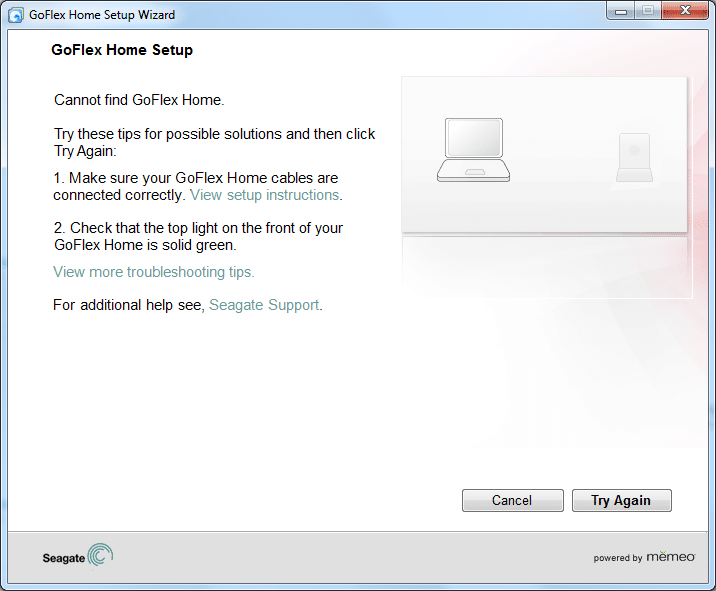 However, after disabling my antivirus software's firewall, the problem went away.
Once the drive connected, I was prompted to create a username and password to log into the drive: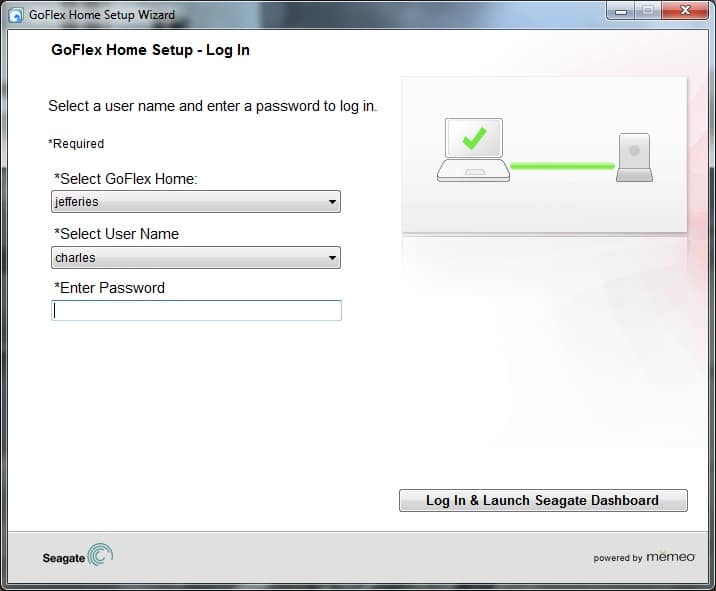 This is a nice feature; multiple people can have an account on the drive and store their information separate of other users. Once logged in, the software goes to the Seagate Dashboard: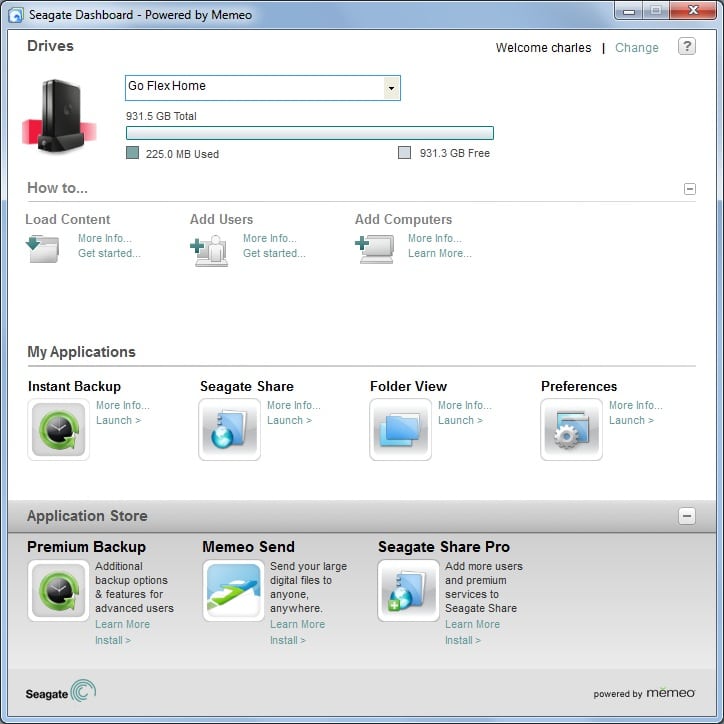 The interface is generally intuitive. It is not necessary to open the software to upload or sync files; during the install, the software integrates the Seagate drive over the network into Windows Explorer, making the Seagate network drive show up as any other system drive. Three drives are created:
GoFlex Home Public (X:): Place files in this folder for sharing with others on your network
GoFlex Home Personal (Y:): Files you place here are viewable by you only
GoFlex Home Backup (Z:): Files that are included in your backup are stored here
Just drag and drop files into the drives to copy them. Transfer speed over my router was 100Mbit/s or about 10.5MB/s, so copying large files will take some time. A traditional external hard drive will be faster; even the USB 2.0 standard is 30MB/s, or 3x faster, but the direct connect method has its own set of limitations. Having the network shares on the Seagate makes it easy for the entire family or even a small office to access and share files and no one is beholden to the person who grabbed the USB drive last and forgot to return it.
Conclusion
The Seagate FreeAgent GoFlex Home network storage system is a sensible choice for households or small offices with multiple users who want a centralized storage system that's easy to use. The software allows users to create accounts to access the drive and intuitively integrates with Windows Explorer, so transferring files is as simple as dragging and dropping. The drive is also Mac compatible and works with Time Machine. The drive can be slow though, transferring large files takes patience and setup can be problematic in some cases. Even so, when up and running, the drive provides a simple file sharing solution that's ideal for multiple users.
Pros:
Integrates with Windows Explorer
Creates user accounts to access the drive
Intuitive use
Supports Apple Time Machine
DNLA support
Cons:
Some setup challenges (documentation could be better)
Transfer speeds over network can be sluggish