The Torqx 2 is a new line of SSDs from Patriot Memory, which was announced and started shipping at the beginning of the month. Available in 32GB to 256GB capacities, the SATA 3Gb/s drive uses a rarely seen Phison controller to deliver read speeds of 270MB/s and writes of 230MB/s. We put this 2.5-inch drive through its paces and stack it up against its competitors.
The Torqx 2 is a new line of SSDs from Patriot Memory, which was announced and started shipping at the beginning of the month. Available in 32GB to 256GB capacities, the SATA 3Gb/s drive uses a rarely seen Phison controller to deliver read speeds of 270MB/s and writes of 230MB/s. We put this 2.5-inch drive through its paces and stack it up against its competitors.
The original Patriot Torqx drive was released in mid-2009 and was available with up to 64GB-256GB of capacity. It used an Indilinx controller as opposed to the Phison controller in the new Torqx 2. Indilinx was bought out in March of this year by OCZ Technology, which may have helped precipitate the change in controllers for Patriot's mainstream line of SSDs. To balance out their SSD refresh, Patriot is scheduled to release the Wildfire SSD by the end of the month, which features a high-performance SandForce SF-2281 controller and SATA 6Gb/s interface.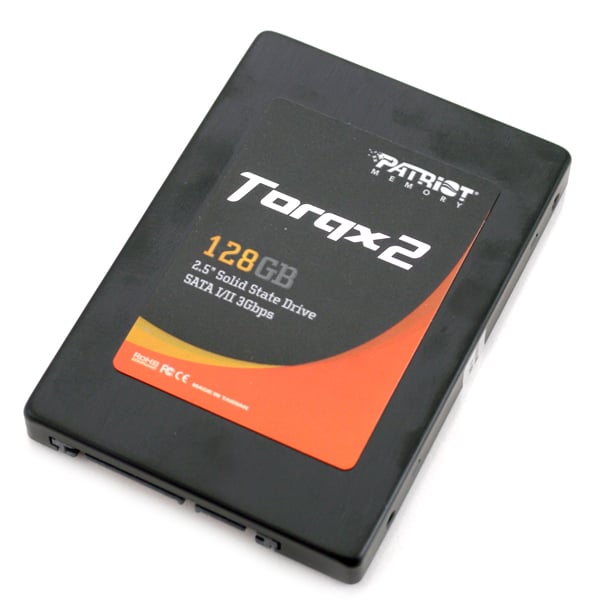 Patriot Torqx 2 Specifications:
Sequential Read: up to 270MB/s
Sequential Write: up to 230MB/s
Interface: SATA II
TRIM Support (OS dependent)
RAID Support: Yes
128MB DRAM Cache
Power Consumption – Standby 0.5W, Operating 5.3W
MTBF: > 1,500,000 Hours
Data Retention: >5 years at 25 º C
Data Reliability: Built in BCH 9, 24-bit ECC
Operating Temperature: 0ºC~70ºC
Storage Temperature: 40ºC~85ºC
Operating Shock: 1,500G (@ 0.5msec half sine wave)
Vibration Resistance: 20G/80~2000Hz w 3 axis
Humidity: 0ºC to 55ºC / 95% RH, 10 cycles
O/S Support: Win XP / Vista / 7
Aesthetics
The Patriot Torqx 2 follows the traditional black-on-black color scheme with its durable metal chassis. The two case halves pop together with retension clips, using no screws. For the end user this is perfectly acceptable, although it does make it a tad more difficult to open. The benefit to this design though is very simple assembly and a very strong finished product.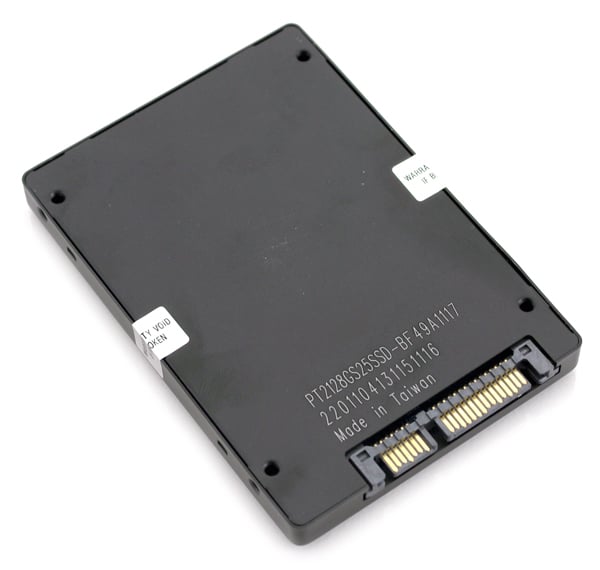 The case follows the 9.5mm 2.5-inch design specification, fitting perfectly in even the tightest hard drive caddies found in notebooks. We had no trouble fitting it in our ThinkPads on hand.

The front of the Torqx 2 has a standard SATA power and data connection with no service pins or spot for pins visible.

Disassembly
Taking the Patriot Torqx 2 apart requires a little finesse to unlatch the clips on the side of the case. Before you even think about doing this, be aware that opening the case requires breaking the warranty voiding stickers.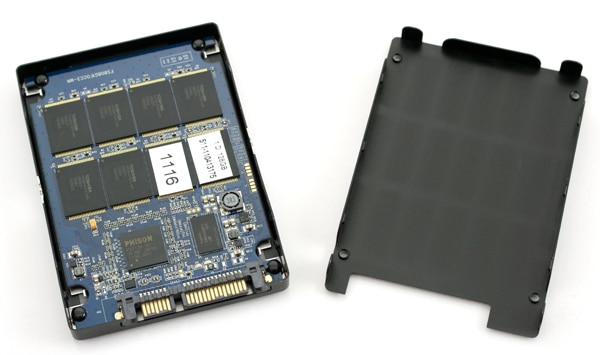 With a small flathead screwdriver used to wedge between the two case segments, we were able to carefully pry open the SSD. With the bottom cover removed, we find the top of the circuit board visible. The PCB is then held in with four additional two-piece plastic clips, which when those are removed the circuit board can finally be lifted out.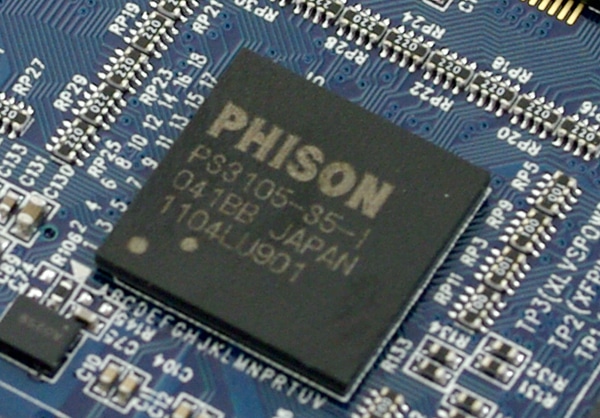 The heart of the Torqx 2 is the Phison PS3105-S5-1 controller paired up with 128MB of cache provided by a Hynix DDR2 memory chip. This is the first Phison-powered SSD we have reviewed at StorageReview.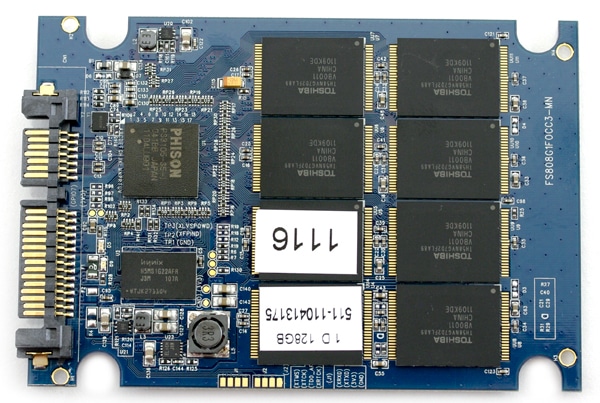 The 128GB Torqx 2 gets its storage capacity from eight 16GB 32nm Toshiba TH58NVG7D2FLA89 NAND pieces, located all on the top side of the circuit board. The bottom is for the most part bare, although it does have places for eight additional memory pieces for larger capacity drives.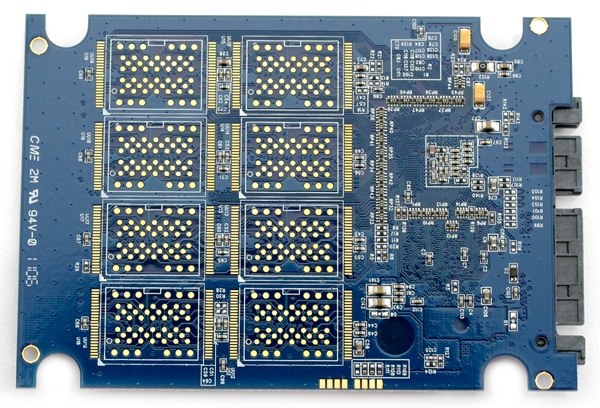 Synthetic Benchmarks
Since the Torqx 2 is a value-based SSD, we've tried to compare it against other drives it will compete with in retail, at least on a performance basis.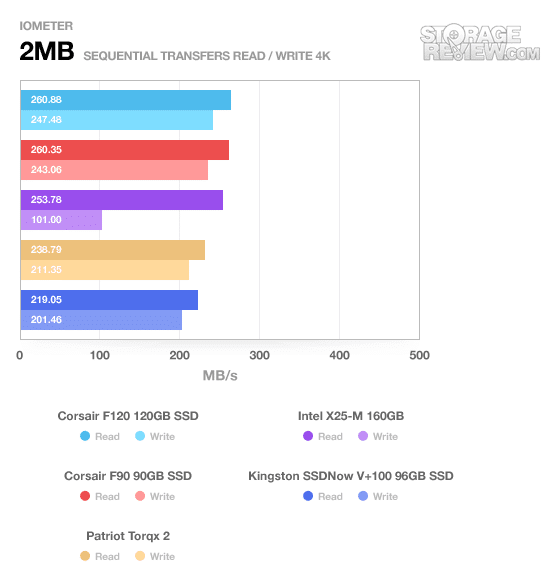 The Torqx 2 pushes 239MB/s read and 212MB/s write numbers, which is rather far off the quoted 270MB/s and 230MB/s numbers, respectively. It is able to beat the Kingston SSDNow V+ 100 and its Toshiba T6UG1XBG controller handily; it also trumps the venerable Intel X-25M 160GB in write speeds but is significantly behind the Corsair SandForce SF-1200 equipped F90 and F120 models by about 10%.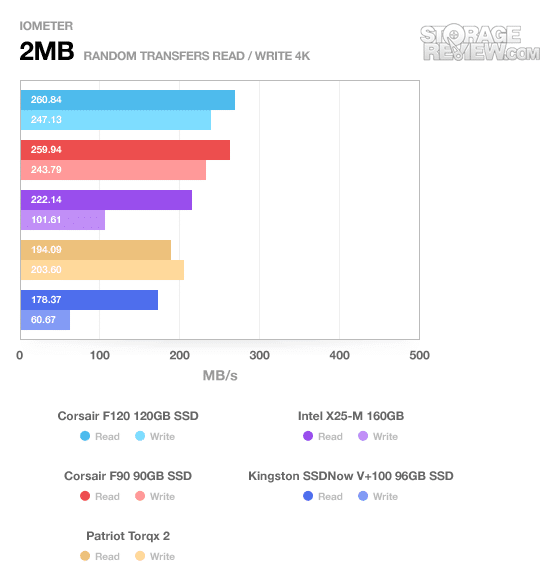 The 2MB random transfer test spells problems for the Torqx and its Phison controller; it falls even further behind the leaders, pulling in just 194MB/s read and 203MB/s write, or about 18-26% slower than the fastest drive here.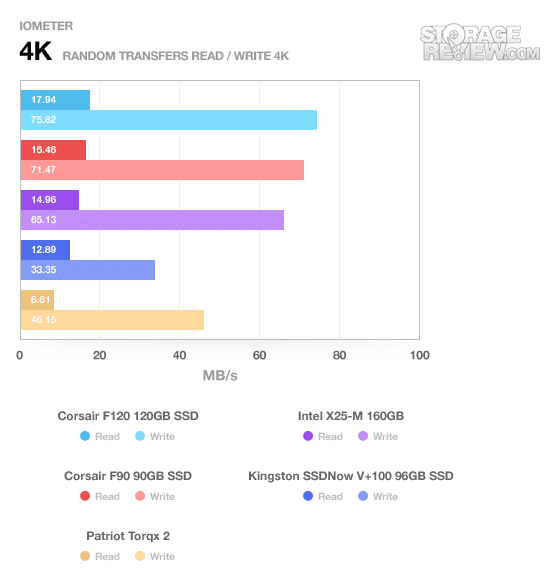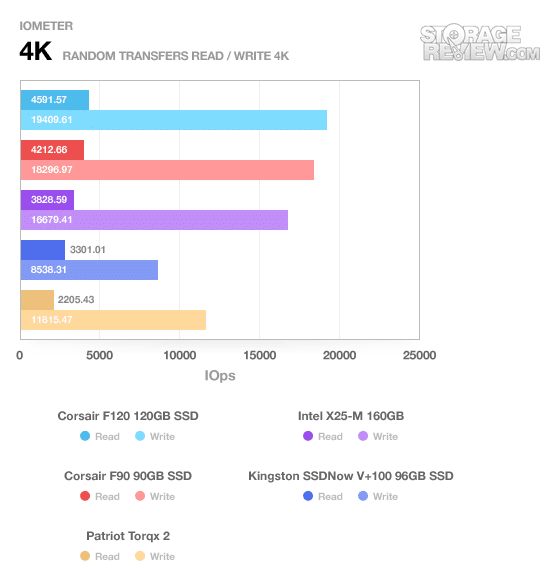 The Torqx 2's performance completely disintegrates in the 4K random transfer benchmark. The numbers generated for this benchmark are generally more important since the majority of reads and writes in everyday usage deal with small files. The Torqx 2 is anywhere from 39% to 52% slower than the Corsair drives and even falls behind the pokey Kingston drive in read speeds by about 36%.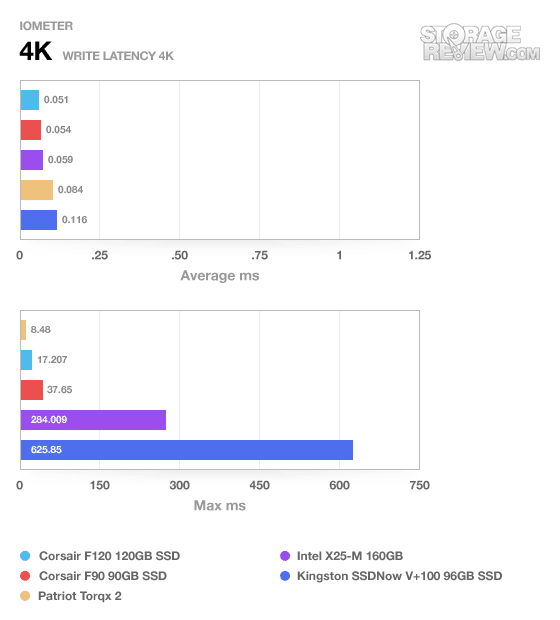 The average write latency numbers are also troubling; the Torqx 2 is over 60% slower on average. A low write latency contributes to system responsiveness, so obviously these are not desirable results.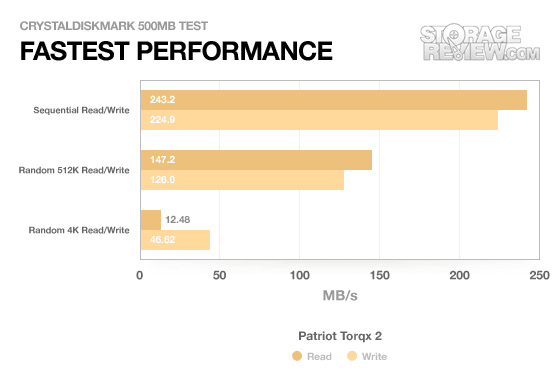 These numbers are not remarkable and are definitely on the slow side compared to prior generation performance-oriented SSDs such as the Corsair Force series.
These next set of benchmarks will take the Torqx 2 through a series of IOMeter test profiles, which simulate a variety of different environments including a web server, file server, database server, and workstation.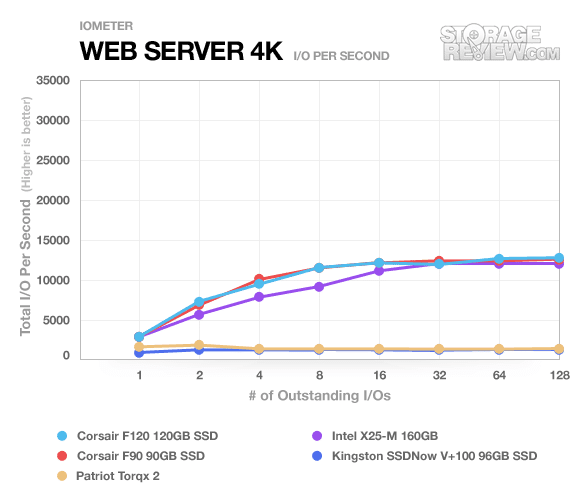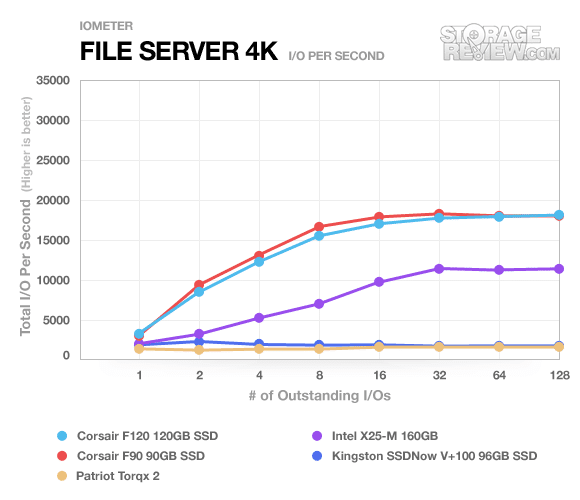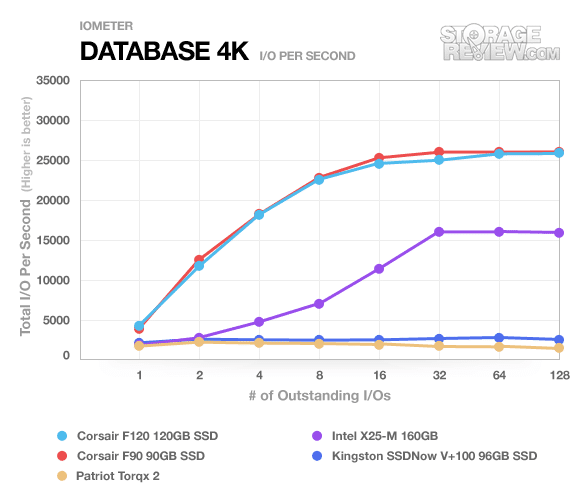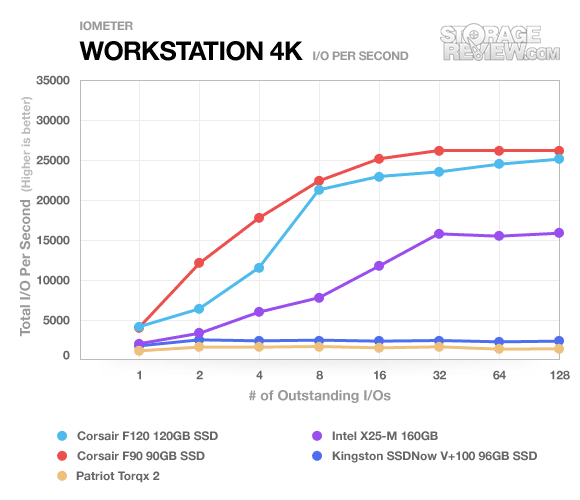 The numbers speak for themselves. They are best described as not good. Notice how the Torqx 2's numbers do not even scale as the number of requests increases from left to right; this indicates the drive's Native Command Queuing (NCQ) feature, which should improve performance given the number of I/O requests, is not well optimized. The graph should have more of a ramp-up from left to right.
Real-World Benchmarks
Our real-world benchmarks are designed to simulate exactly that – real world activity down to a T. These custom trace benchmarks run actual programs such as Microsoft Office and collect performance data.
The first real-life test is our HTPC scenario. In this test we include: playing one 720P HD movie in Media Player Classic, one 480P SD movie playing in VLC, three movies downloading simultaneously through iTunes, and one 1080i HDTV stream being recorded through Windows Media Center over a 15 minute period. Higher IOps and MB/s rates with lower latency times are preferred. In this trace we recorded 2,986MB being written to the drive and 1,924MB being read.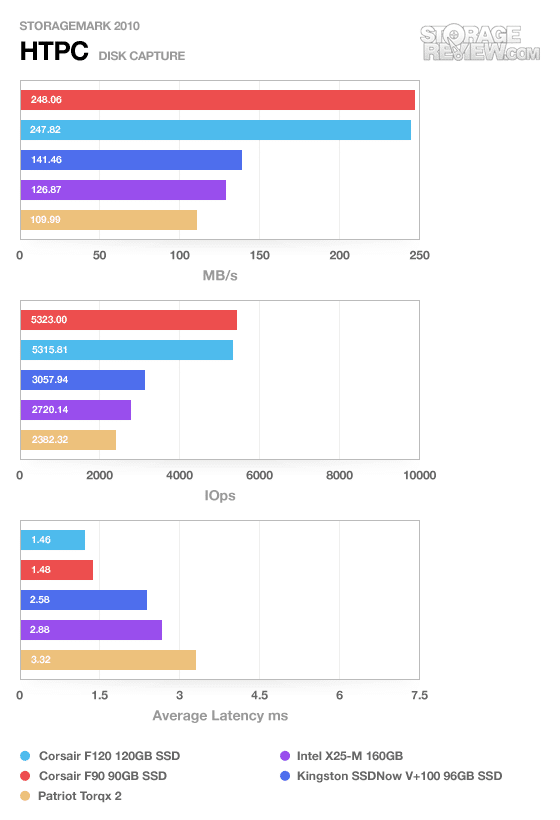 The Torqx 2 is only able to muster 44% of the performance of the leading Corsair F90 and can't even catch the old Intel X-25M 160GB. Given this benchmark's reliance on IOPS, MB/s transfer rates, and write latency, it should come as no surprise to see these numbers.
Our second real-life test covers disk activity in a productivity scenario. For all intents and purposes this test shows drive performance under normal daily activity for most users. This test includes: a three hour period operating in an office productivity environment with 32-bit Vista running Outlook 2007 connected to an Exchange server, web browsing using Chrome and IE8, editing files within Office 2007, viewing PDFs in Adobe Reader, and an hour of local music playback with two hours of additional online music via Pandora. In this trace we recorded 4,830MB being written to the drive and 2,758MB being read.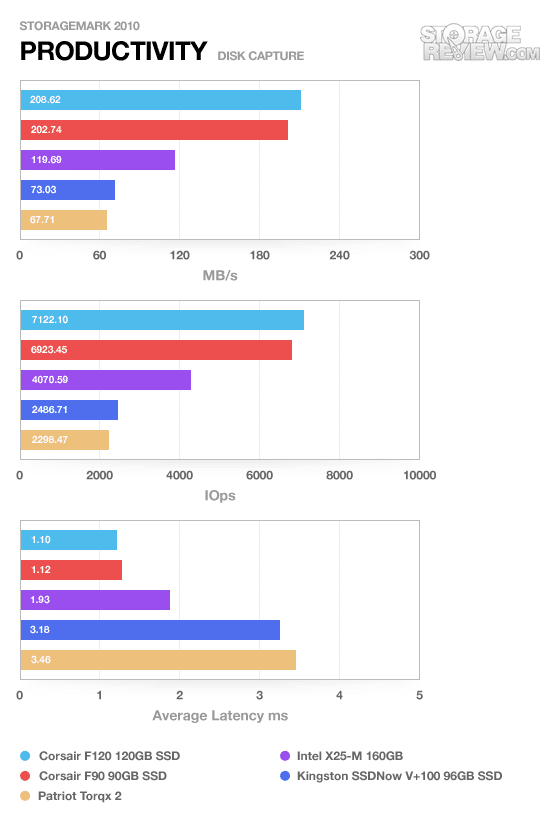 The Torqx 2 does worse here, falling to just 32% of the Corsair F120's IOPS performance. The Torqx 2's average latency is a whopping 3.15x higher, which will unquestionable hurt real-world performance. Write performance and latency are the Torqx 2's biggest weaknesses.
Our third real-life test covers disk activity in a gaming environment. Unlike the HTPC or Productivity trace, this one relies heavily on the read performance of a drive. To give a simple breakdown of read/write percentages, the HTPC test is 64% write, 36% read, the Productivity test is 59% write and 41% read, while the gaming trace is 6% write and 94% read. The test consists of a Windows 7 Ultimate 64-bit system pre-configured with Steam, with Grand Theft Auto 4, Left 4 Dead 2, and Mass Effect 2 already downloaded and installed. The trace captures the heavy read activity of each game loading from the start, as well as textures as the game progresses. In this trace we recorded 426MB being written to the drive and 7,235MB being read.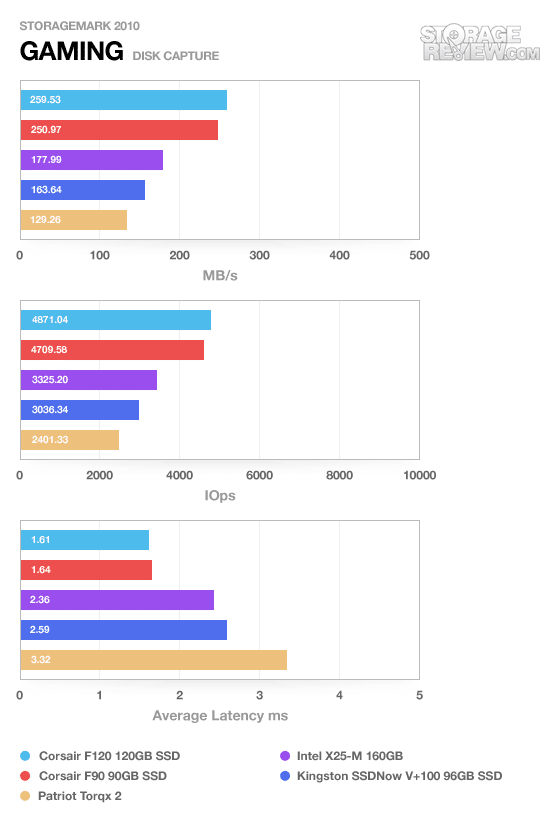 Our gaming benchmark tells a similar story, with the Torqx 2 putting up a shade less than half the performance of the leading Corsair F120. All this time, the outdated Kingston and Intel SSDs have had no trouble maintaining their comfortable leads. The performance gap is still shocking but not as bad as the Productivity or HTPC benchmarks; the Torqx 2's read performance is better than its write performance, comparatively.
Power Consumption
The read and write power consumption numbers are much, much higher than they need to be. The Kingston SSDNow V+ 100 by comparison consumes half the power writing and only 65% of the power the Torqx 2 uses reading. The random read and startup numbers are about the same.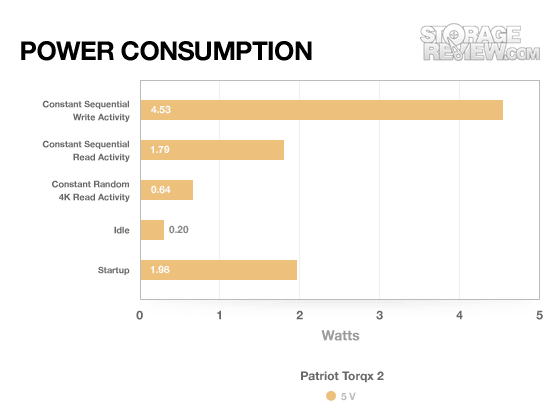 Warranty
Patriot covers the Torqx 2 with a three-year limited warranty; on par with most other SSD manufacturers offer.
Conclusion
The Patriot Torqx 2 is a disappointment compared to common SSDs more or less from the last generation of drives. Given the release date, it might have been more appropriate to include something like the Intel SSD 320, but then unfortunately it gets even worse for the Torqx 2. The Phison controller is simply not up to par with the Intel, Toshiba, and SandForce SF-1200 equipped drives. In our real-life benchmarks, the Torqx 2 barely managed to push half the performance of the comparable drives; in the IOMeter synthetic benchmarks, it was sometimes less than 10%. On top of all this, the power consumption is unusually high, almost twice that of the modest Kingston SSDNow V+ 100 in reads and writes.
To pour salt in the wound, the Torqx 2 pricing is, shall we say, not aggressive. The 128GB model for instance carries a street price of $225. Compare that to $220 for the 120GB Intel SSD 320, $215 for the Corsair F120 and $225 for the SATA 6Gb/s enabled OCZ Solid 3. It's not as if the Torqx 2 is a complete loss, it's just not priced at a point where we can recommend the drive at this time. Once it gets closer to $1/GB, the value proposition however, it's a contended for value-minded shoppers.
Pros:
Could be a good value SSD nearer to $1/GB price point
Cons:
Bottom-of-class performance
High power consumption
Bottom Line
The Phison controller clearly needs some work – the Patriot Torqx 2 SSD is completely outclassed in all areas by previous generation SSDs. With future discounts or pricing that gets it closer to the $1/GB mark however, the Torqx 2 will find a market.