Like their recent M2P SSD, the Plextor PX-M3S uses a Marvell 9174 processor, however where the M2P used Toshiba's 32nm Toggle NAND, the M3S is using 24nm Toshiba Toggle NAND. This translates into a modest boost in the spec sheet speeds over the M2P – the M3S can drive read speeds of up to 525MB/s and writes of 445MB/s, along with 70,000 IOPS. Plextor is shipping the M3S with their True Speed technology, which provides for better drive performance over time, along with custom firmware. To polish off the offering, Plextor is including a five year warranty, the longest available in the SSD space.
Like their recent M2P SSD, the Plextor PX-M3S uses a Marvell 9174 processor, however where the M2P used Toshiba's 32nm Toggle NAND, the M3S is using 24nm Toshiba Toggle NAND. This translates into a modest boost in the spec sheet speeds over the M2P – the M3S can drive read speeds of up to 525MB/s and writes of 445MB/s, along with 70,000 IOPS. Plextor is shipping the M3S with their True Speed technology, which provides for better drive performance over time, along with custom firmware. To polish off the offering, Plextor is including a five year warranty, the longest available in the SSD space.
Perhaps the biggest benefit of the smaller NAND die is cost. The PX-M3S is available in 128GB and 256GB capacities, a 512GB capacity will be available early next year. They carry a suggested retail of $200, $350, and $700 respectively; but the street prices are actually a bit lower, $185 and $340 for the 128GB and 256GB M3S. Not only are they some of the cheapest SSDs on the market, Plextor is offering the industry's longest warranty of five years, coupling quite the trifecta of peace of mind, cost and performance.
The cost/performance/longevity equation has always been at the forefront when it comes to making a  buying decision for a mainstream SSD. By offering a SSD that performs well with great value with lengthy warranty, Plextor is doing their best to assuage buyer concerns, especially those that haven't made the leap to solid state drives yet. From a performance perspective, the M3S, on paper at least, is very similar to the M2P before it. The question then is how well does the M3S deliver with the new 24nm Toggle NAND, compared to it's slightly bigger 32nm Toggle NAND brother.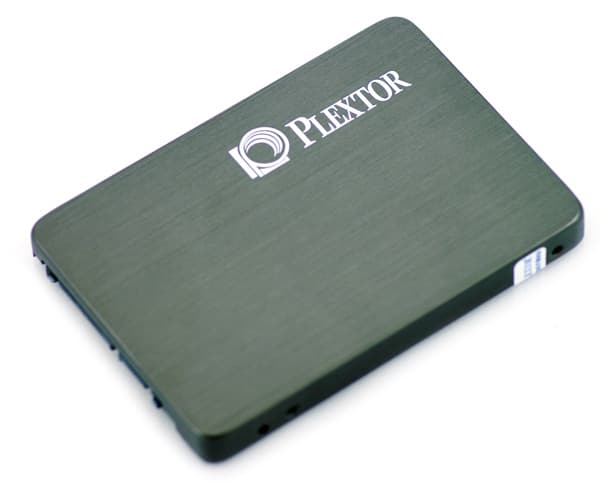 Plextor PX-M3S Specs
Capacities

128GB – PX-128M3S
256GB – PX-256M3S
512GB – PX-512M3S

Performance

128GB – 510MB/s read, 210MB/s write
256GB – 510MB/s read, 360MB/s write
512GB – 525MB/s read, 445MB/s write

SATA 6Gb/s interface
Marvell 9174 processor
Toshiba 24nm Toggle NAND
Buffer – 512MB (128GB capacity – 256MB)
Power Consumption (Typical) – 0.1W (Idle); 5W (Active)
Temperature (Operating) 32 ºF to 158 ºF (0 ºC to 70 ºC)
Temperature (Non-operating) -40ºF to 185 ºF (-40 ºC to 85 ºC)
Shock 1,500G/0.5 ms
Vibration (Operating) 7~800Hz, 2.17G (RMS)
MTBF 1.5 million hour
Warranty – 5 years
2.5″ form factor – includes 3.5″ bracket and cloning software
Design and Build
Plextor uses an all-metal body with the PX-M3S, giving it a durable feel and a stylized look. The metal alloy used is presented with a brushed metal finish, adding a bit of texture and a very solid feel with the drive in your hand. Both top and bottom match in color and finish, which adds to the appearance and really rounds off this SSD.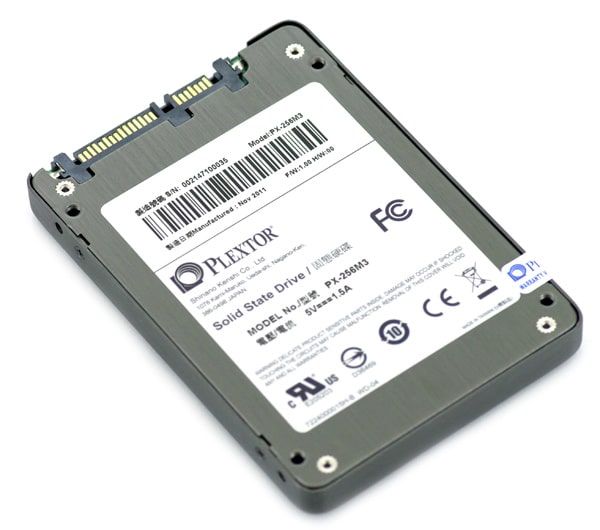 The side of the drive shows off the screws that hold the two case halves together, as well as standard horizontal mounting points. The bottom also includes mounting points as well for attaching this drive to sleds and hot-swap bays.

The front of the drive includes the standard SATA power and data interface, with no service pins visible or other attributes.

Disassembly
Taking the Plextor PX-M3S apart is very simple, but voids your warranty in the process. To split the SSD apart, you simply remove the four Phillips head screws from the perimeter of the drive (one breaking the warranty voiding sticker) and then use a fingernail to split the case open.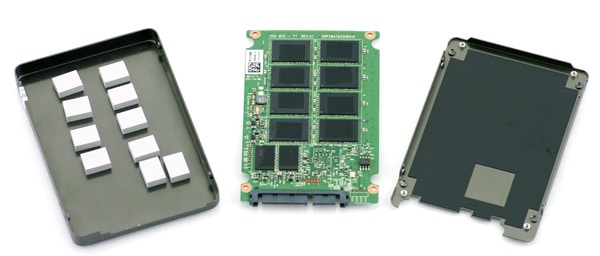 Inside the PX-M3S we find the same 8-piece NAND configuration also seen inside the older PX-M2P. This setup utilizes one side of the circuit board for the flash and RAM, leaving the bottom open for just the controller. The controller is the tried and true Marvell 88SS9174-BKK2 SATA 6Gb/s processor also found in other models such as the Intel SSD 510 and the Plextor PX-M2P.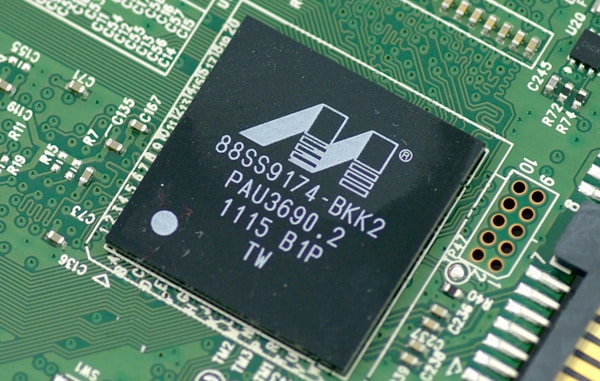 As we mentioned in the introduction, Plextor went with 24nm Toshiba Toggle NAND for the PX-M3S in an 8 x 32GB configuration. The RAM buffer is made up of two 256MB RAM pieces totaling 512MB on the 256GB model… the 128GB capacity only has a 256MB buffer.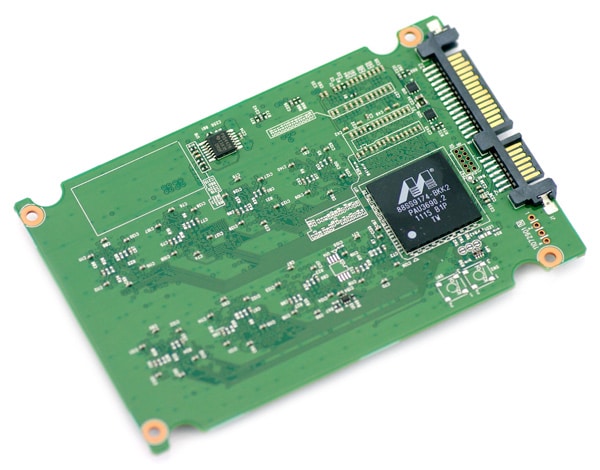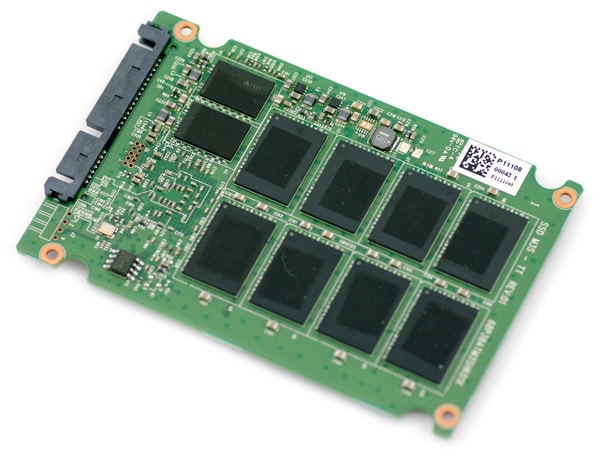 Synthetic Benchmarks
For the first half of our review, we provide synthetic benchmark results generated through IOMeter. While not perfect, these scores show how well the drive performs under specific tests, including sequential 2MB, random 2MB, and random 4K. All of our tests are performed in a static testing environment with our Intel Sandy Bridge test rig.
Plextor lists the sequential read and write speed of the PX-M3S as 510MB/s read and 360MB/s write. To see how well those values stack up, we use IOMeter and our 2MB sequential transfer test.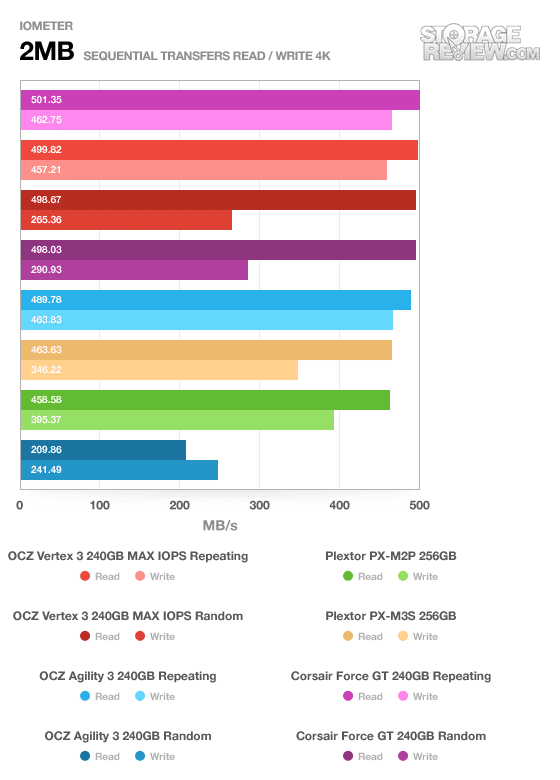 The Plextor PX-M3S scored a read speed of 463MB/s and a write speed of 346MB/s. The read speed was slightly above the PX-M2P, but the write speed fell short by nearly 50MB/s.
In the next test we stick with the same 2MB transfer size, but switch from a sequential to random transfer.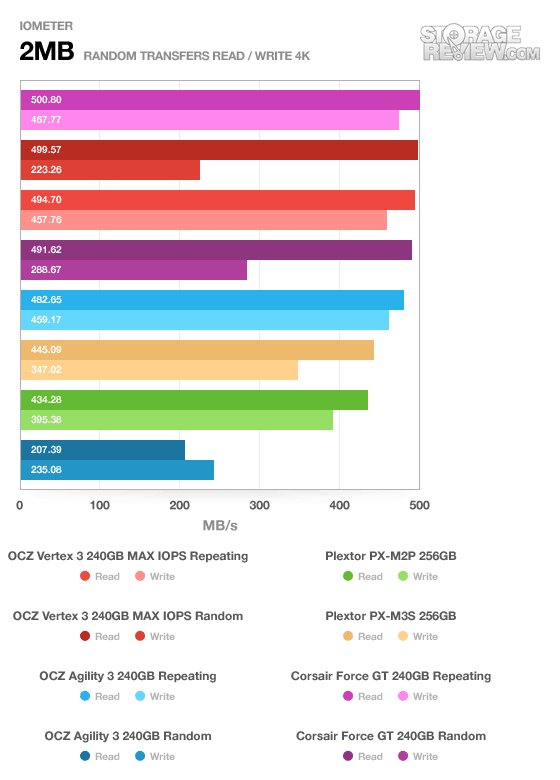 The PX-M3S maintained its lead over the PX-M2P in read speed, but still came up slightly slower in write speeds. One advantage both of these drives have though is their write speeds stay consistent regardless if the data coming in is repeating or fully random… where the SandForce models slow down.
Moving through our synthetic benchmarks, our next test looks at the drives random 4K read and write speeds. The first part of this test looks at read and write speed at a queue depth of one.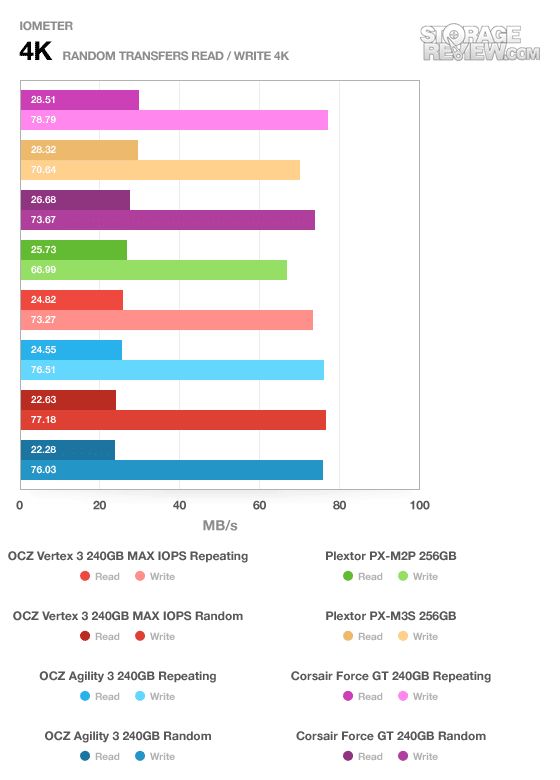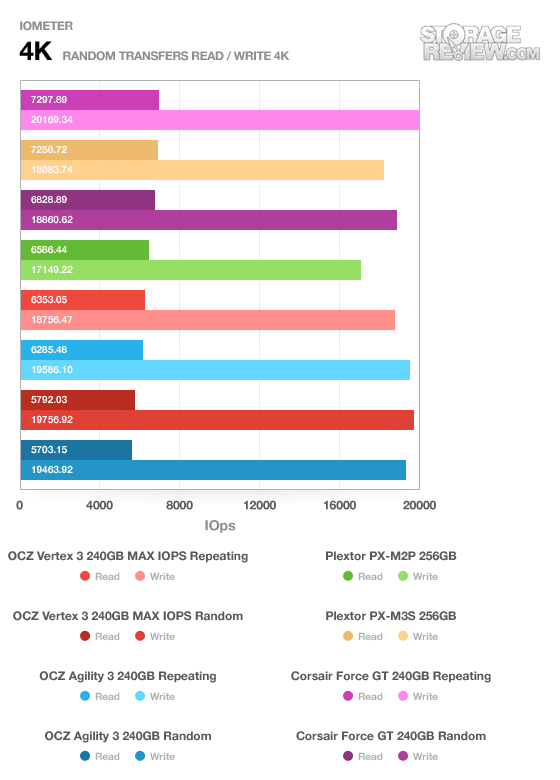 The Plextor PX-M3S scored surprisingly strong in 4K random read speed, placing second on our list and beating out the PX-M2P. Write speeds were also higher than the PX-M2P, but ranked towards the bottom of the group.
Expanding the 4K read and write test to higher queue depths, we look at the same IOMeter test, but this time scaled between 1 and 64 simultaneous threads.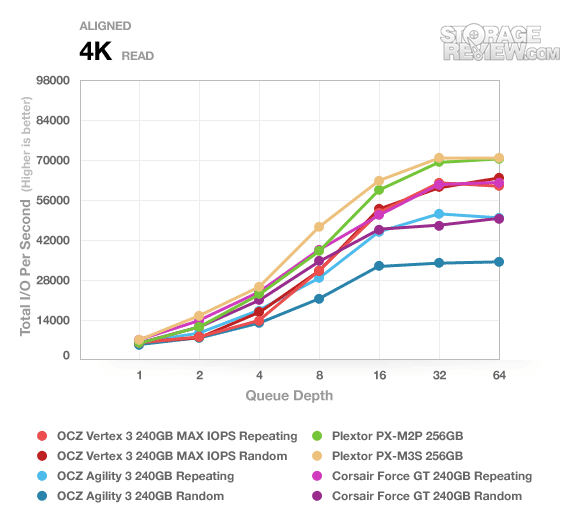 The new Plextor PX-M3S flexed its muscles at the higher 4K read queue depths, firmly planting itself at the top of our list with a top speed of 70,878 IOPS.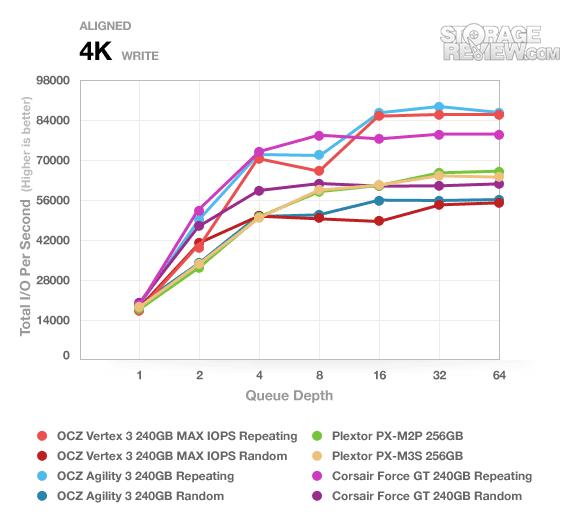 The write speeds on the PX-M3S ranked above the SandForce-powered models working with random data, topping at 65,997 IOPS.
Our next test looks at the latency or response time of each drive under our 4K random write test at a queue depth of 1. Drives with the fastest 4K write speeds will have the lowest average latency, and those with the fewest write hiccups will have the lowest peak latency.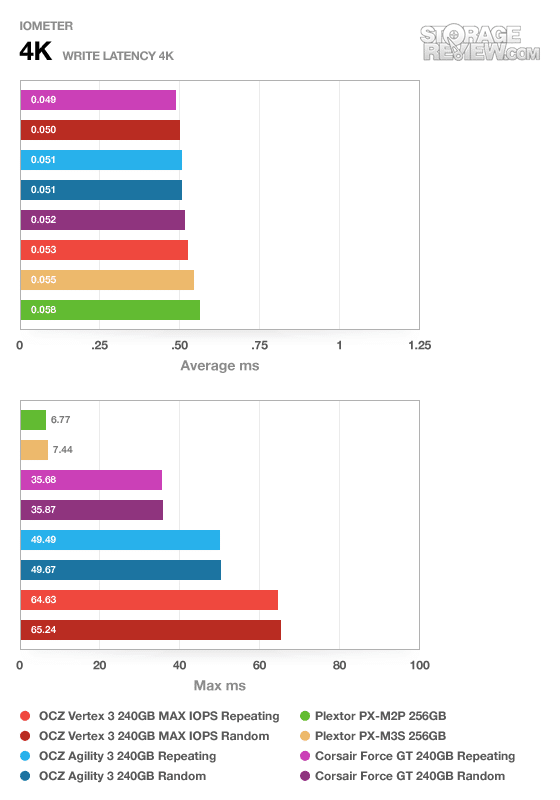 The Plextor PX-M3S didn't exactly blow us away with its 4K random write speeds, but it did impress us with it's ultra-low peak latency time measuring just 7.44ms.
We included CrystalDiskMark results working with random data to further show how the Plextor PX-M3S doesn't miss a beat working with incompressible data. The drive still transferred data at a speed of 456MB/s read and 360MB/s write.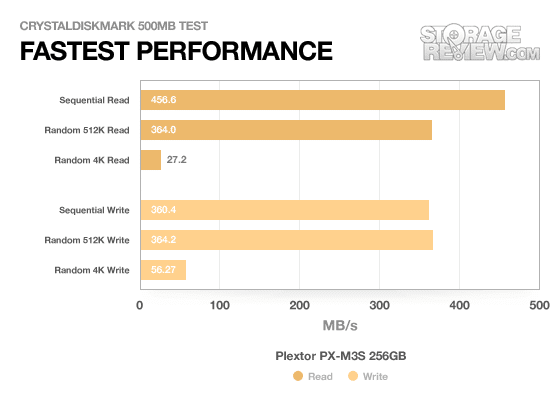 Our final group of synthetic benchmarks looks at mixed workload tests covering a variety of enterprise environments. These include write and write based Database, Workstation, and File Server and read-only Webserver. The Plextor PX-M3S performed consistently well throughout our server profile tests, ranking in the middle of the pack, and did exceptionally well in the read-intensive Webserver test.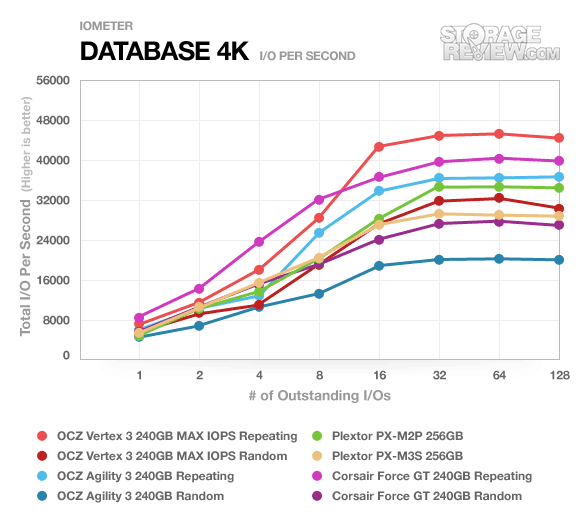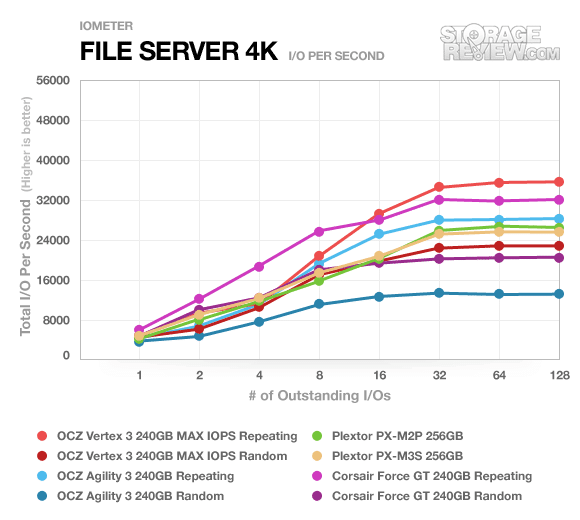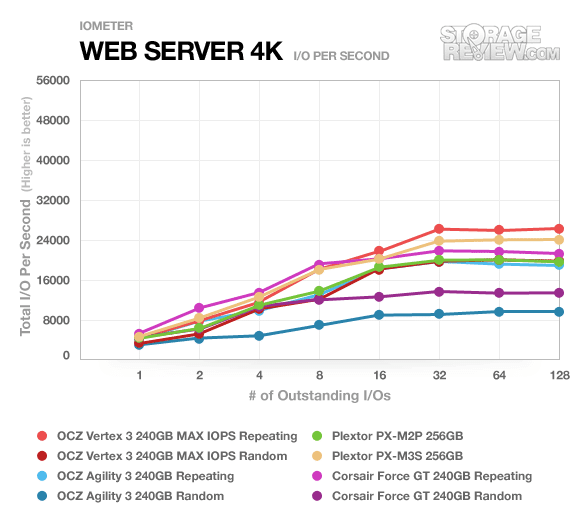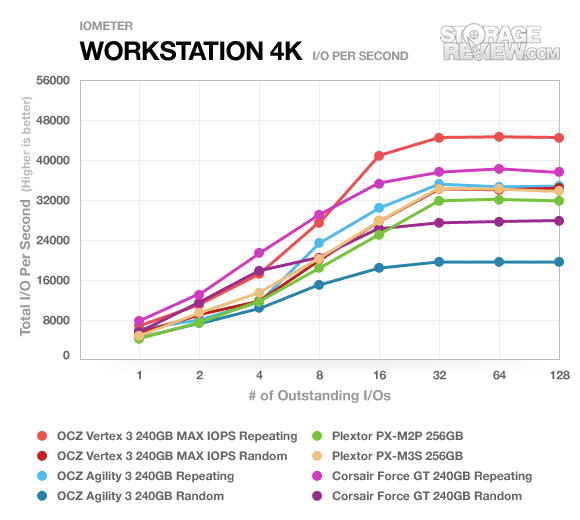 Enterprise Benchmarks
While we normally don't include steady-state benchmarks in our consumer reviews, we felt it could offer some value to our readers to see how this drive might perform in an 24/7 continuous-write setting. Generally speaking only heavily-over provisioned drives can compete in this space, as well as models with heavy garbage collection algorithms that run at all times in the background to move around data as the drive fills up. Given this is our first look at this new platform and controller, we wanted to see how it stacked up in this space. The assortment of drives also compared includes the Micron C300 and P300 as well as the Plextor PX-M2P. The Micron P300 is the heavy-weight SLC-based enterprise drive in this test.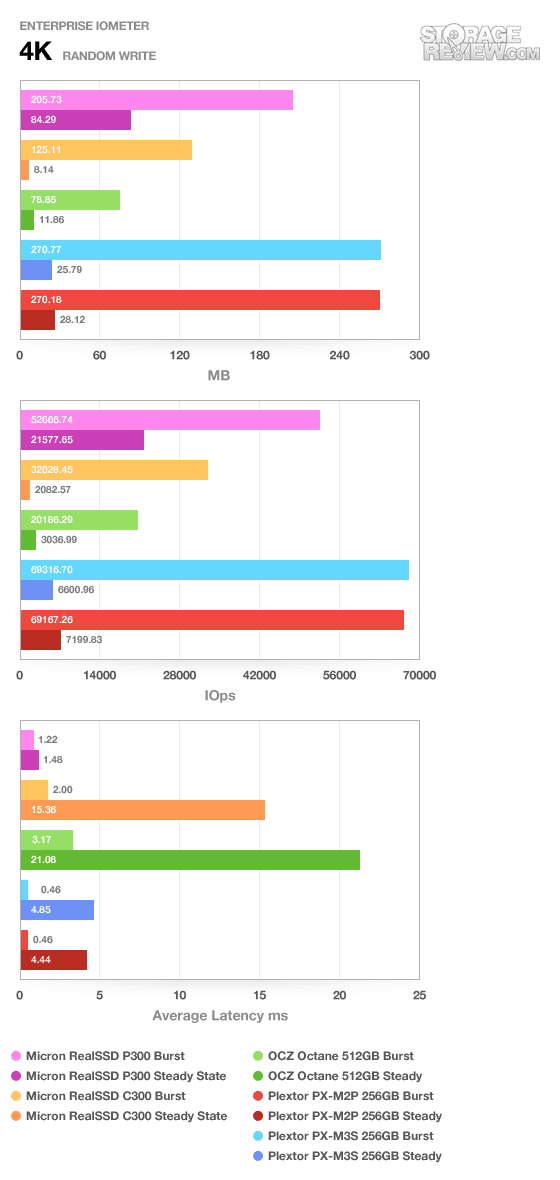 It's a given that any drive put through the steady-state benchmark will have a significant performance drop between before and after. Comparing the consumer-targeted C300 to the enterprise-targeted P300, we notice a 60% drop on the P300 and 94.5% drop on the C300. Clearly the P300 held up better in a 24/7 write environment. The Plextor PX-M2P saw a performance drop of 89.6%, which fared better than the C300… not to mention had a faster peak speed to drop from. The 256GB Plextor PX-M3S saw a drop of 90.4% which is close to the one we observed on the M2P, although it maintained a lower IOPS value in steady of 6,600.
Real-World Benchmarks
If you are new to StorageReview, one thing we try to focus on is how any given drive might perform under real-world conditions. For the average user, trying to translate random 4K write speeds into an everyday situation is pretty difficult. It helps when comparing drives in every setting possible, but it doesn't exactly work out into faster everyday usage or better game loading times. For this reason we turned to our StorageMark 2010 traces, which include HTPC, Productivity, and Gaming traces to help readers find out how a drive might rank under their conditions.
The first real-life test is our HTPC scenario. In this test we include: playing one 720P HD movie in Media Player Classic, one 480P SD movie playing in VLC, three movies downloading simultaneously through iTunes, and one 1080i HDTV stream being recorded through Windows Media Center over a 15 minute period. Higher IOps and MB/s rates with lower latency times are preferred. In this trace we recorded 2,986MB being written to the drive and 1,924MB being read.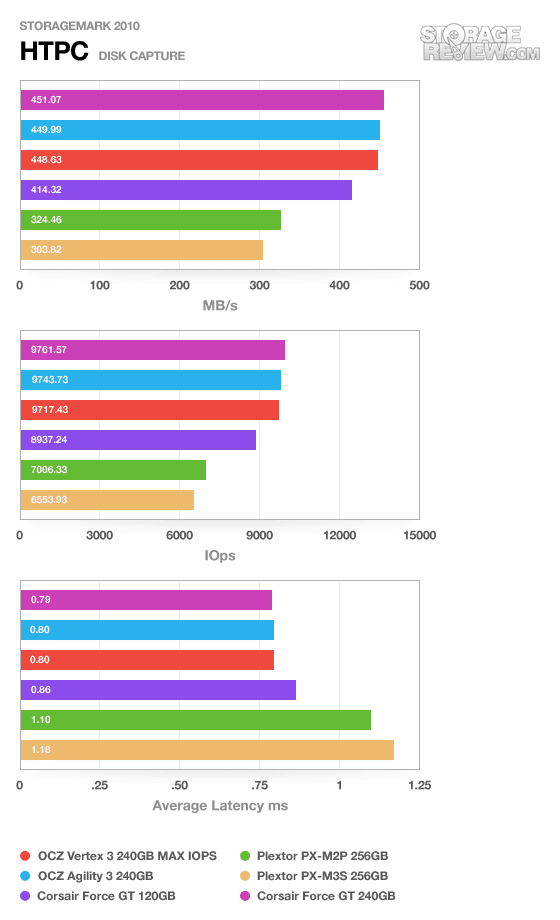 The Plextor PX-M3S slipped behind the pack, scoring just 303MB/s average in our HTPC trace. Most surprisingly is it slipped behind the 32nm-equipped PX-M2P as well, although not by much.
Our second real-life test covers disk activity in a productivity scenario. For all intents and purposes this test shows drive performance under normal daily activity for most users. This test includes: a three hour period operating in an office productivity environment with 32-bit Vista running Outlook 2007 connected to an Exchange server, web browsing using Chrome and IE8, editing files within Office 2007, viewing PDFs in Adobe Reader, and an hour of local music playback with two hours of additional online music via Pandora. In this trace we recorded 4,830MB being written to the drive and 2,758MB being read.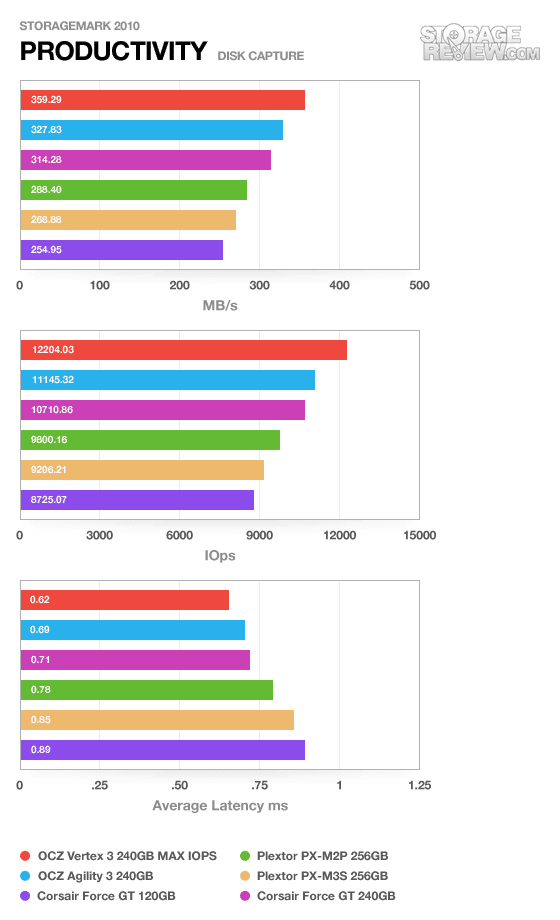 In the productivity trace the Plextor PX-M3S moved off the bottom, but still hovered towards the bottom of our list. It averaged 268MB/s compared to 288MB/s of the PX-M2P.
Our third real-life test covers disk activity in a gaming environment. Unlike the HTPC or Productivity trace, this one relies heavily on the read performance of a drive. To give a simple breakdown of read/write percentages, the HTPC test is 64% write, 36% read, the Productivity test is 59% write and 41% read, while the gaming trace is 6% write and 94% read. The test consists of a Windows 7 Ultimate 64-bit system pre-configured with Steam, with Grand Theft Auto 4, Left 4 Dead 2, and Mass Effect 2 already downloaded and installed. The trace captures the heavy read activity of each game loading from the start, as well as textures as the game progresses. In this trace we recorded 426MB being written to the drive and 7,235MB being read.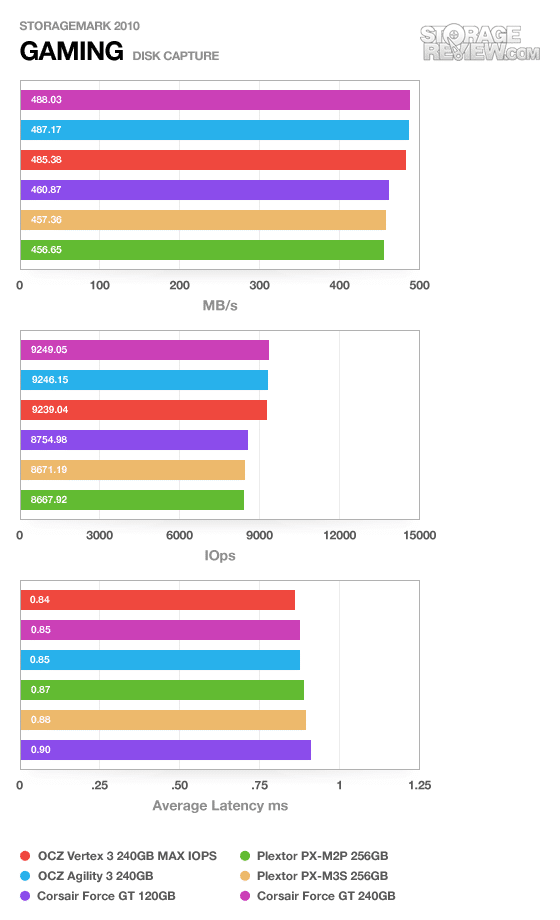 In our read-heavy gaming trace, the PX-M3S finally outpaced the PX-M2P, but by under 1MB/s with an average speed of 457MB/s.
Power Consumption
When looking at any modern SSD, power consumption is a huge deciding factor for many mobile shoppers, since the drive itself can make up a large portion of the total power used in a given notebook. In our power consumption tests we look at how much a given drive draws during read and write activities, as well as startup requirements and idle.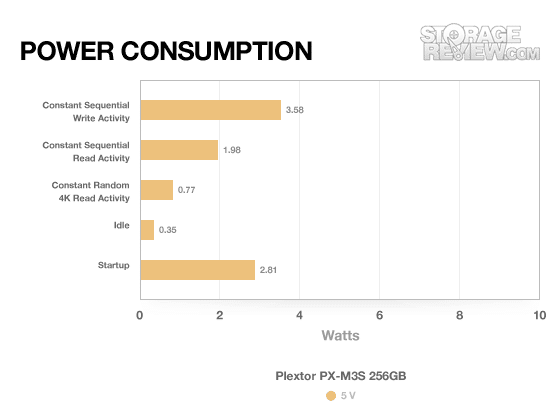 Compared to the Plextor PX-M2P, the new PX-M3S uses much less power across the board. Power needed to write data to the drive dropped from 5.85 watts down to just 3.85. Another huge change was the startup requirements, dropping from 6.06 watts down to just 2.81. Overall power requirements were improved across the board, with others like idle staying roughly the same. For mobile users the Plextor PX-M3S looks like a winner.
Warranty
Plextor adds another big bonus in with the PX-M3S in the shape of a five-year warranty. Currently the longest offered in the SSD space, with most still only offering three years. This puts the Plextor PX-M3S in a very good position relative to warranty.
Conclusion
Plextor's taking a very iterative approach to the SSD business – offering moderate enhancements as they go, not trying to do too much to revolutionize the SSD space on the way. Such an approach shouldn't be construed as a bad thing however. In fact, when it comes to the Plextor M3S, this tact has netted an SSD that's managed to give users a great combination of performance, price and warranty backing.
When we look purely at performance, the M3S generally hangs well with the enthusiast-grade SSD crowd, showing its best during 4K random read tests. In our real-world traces the M3S slips behind, but still provides very strong results for a mainstream SSD model. In situations such as gaming, the drive stayed neck and neck with the fastest drives on the market, only falling behind a bit when heavy write patterns were introduced. In the worst case setting of pure-random data, the M3S would likely outshine the SandForce-equipped models, but with a dose of repeating data most would either fall in line or above the M3S in practice.
One other key area to highlight is power consumption. Where the M2P showed relatively high power consumption, Plextor cranked the power use way down with the M3S showing reductions by more than 50% in some cases. This translates out to improved battery life in mobile systems and more times spent on the go instead of plugged into a wall.
Lastly, even though SSD prices fluxuate a good deal, it's impossible not to emphasize again how well priced these drives are. At both the 128GB and 256GB capacities, the M3S blows away the pricing of other Marell-based drives, and maintains a solid advantage over most current generation SandForce drives as well. For anyone not needing the fastest enthusiast-grade SSD on the market, the M3S's performance per dollar value is tremendous when compared to its peers.
Pros
Much improved power consumption
Very strong read performance
Excellent pricing
Five-year warranty
Cons
 Still falls slightly behind SandForce models in some situations
Bottom Line
Plextor has a good thing going with the PX-M3S SSD; offering a great mix of performance and value. Priced well under most other mainstream SSDs, the M3S still offers very good performance and an industry leading five-year warranty. Buyers who don't need the super-fast enthusiast-grade SSDs should definitely be considering Plextor's latest offering.

Advertisement