The QNAP TS-879 Pro is QNAP's latest entry in the SMB NAS space. The TS-879 Pro is an eight-bay unit that is designed to be used for backups, file sharing, mass storage and the like. While certainly tageted at the SMB, QNAP has loaded the TS-879 Pro with features that may broaden its appeal for VMware, Citrix and HyperV environments; a dual core Intel Core i3 3.3 GHz processor and support for optional 10 GbE for speeds up to 1,000MB/s and 100,000 IOPS.
The QNAP TS-879 Pro is QNAP's latest entry in the SMB NAS space. The TS-879 Pro is an eight-bay unit that is designed to be used for backups, file sharing, mass storage and the like. While certainly tageted at the SMB, QNAP has loaded the TS-879 Pro with features that may broaden its appeal for VMware, Citrix and HyperV environments; a dual core Intel Core i3 3.3 GHz processor and support for optional 10 GbE for speeds up to 1,000MB/s and 100,000 IOPS.
QNAP doesn't stop there though, they also support both 3.5″ and 2.5″ drive form factors along with SATA 6Gb/s in the eight drive bays, something that certainly comes into play when SSDs and 10 GbE are used. They've even included dual USB 3.0 and eSATA ports, something not all NAS solutions offer. Other highlights include a wide range of RAId options including RAID0, RAID1, RAID5, RAID6, and RAID10, an LCD display, and a solid build that comes in at 18.5 pounds without drives.
New to the high-end consumer and small-business networking space is the optional 10GbE interface supported by the QNAP TS-879 Pro. Supporting transfer speeds of 1,000MB/s (10x standard gigabit Ethernet), 10GbE combined with faster storage lets users host VM's off the NAS with speeds close to locally-stored data. For the high-end consumer 10GbE allows users to transfer high-definition media around in a fraction of the time and extend high-performance storage through the network interface if the space is limited for additional storage in the local system.
Our review system came diskless and has a street price of $2,199. Adding an Emulex 10GbE network interface card adds another $450 to the price for each card needed (NAS and client systems).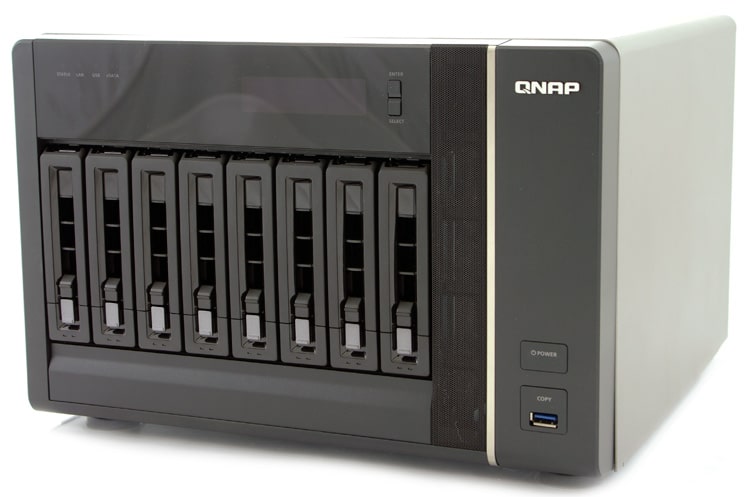 QNAP TS-859 Pro Specs
Dual Core Intel Core i3-2120 Processor 3.3 GHz
2 GB DDR3 RAM
512MB Flash Memory
Drive bays – 8 x 3.5″ or 2.5″ SATA 6Gb/s
Hard Drive Trays – 8 x hot-swappable and lockable tray
LAN Port – 2 Gigabit RJ-45 Ethernet port (Optional dual-port 10 Gb and 1 Gb network card are supported)
2x USB 3.0 port (front: 1; rear: 1)
4x USB 2.0 port (rear)
eSATA 2 (rear)
Mono-LCD display with backlight
Dimensions – 8.56″ x 12.8″ x 12.65″
Net weight – 18.48lbs
Sound Level (dB) Stand by – 25.87 dB, In operation – 27.4 dB (with 8 x 1TB HDD installed)
Power Consumption (W) Sleep mode – 39W, In Operation – 101W (with 8 x 1TB HDD installed)
Temperature – 0~40˚C
Relative Humidity – 0~90%
Power Supply Input – 100-240V AC, 50/60Hz, Output: 350W
K-lock security slot for theft prevention
Expansion Slot 1 for network or storage expansion
VGA for system maintenance
Fan 2 x quiet cooling fan (12 cm, 12V DC)
Design
The QNAP TS-879 Pro stylish but boxy vibe compared to some of the other business-targeted NAS units we have seen. The front has eight hot-swappable hard drives bays all with lock latches to prevent someone from accidentally popping out a drive during use. It also has three function keys and a USB 3.0 port, as well as a multifunction display up front, giving you the ability to quickly copy files off a drive or access information without loading up the web interface.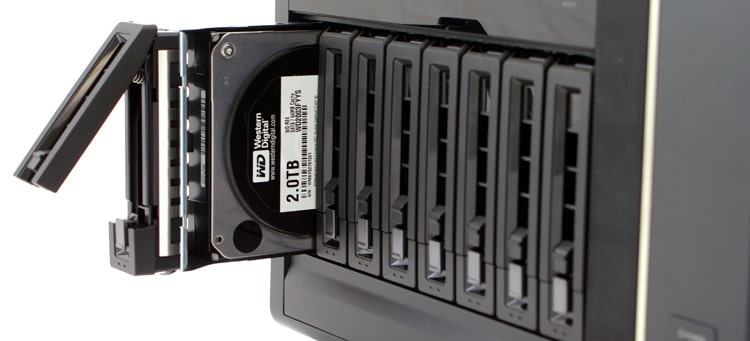 Each hot-swap tray slides in or out easily, with the hard drive or SSD screwed into place. The trays support both 3.5-inch hard drives as well as 2.5-inch hard drives and SSDs with vertical and horizontal screw holes.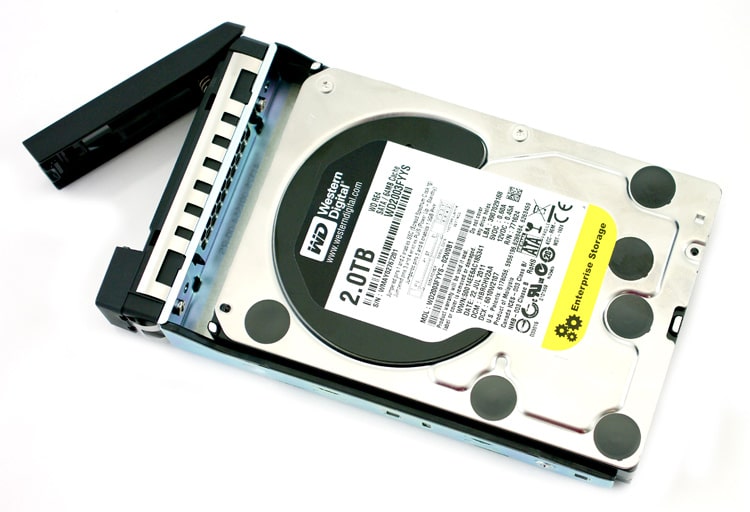 The back of the QNAP TS-879 Pro is where the majority of the interface connections are located. Starting from the left side, the back features an HDMI and VGA-out port for diagnostic video access, two eSATA ports, four USB 2.0 ports, one USB 3.0 port, two 1GbE connections, and a standard AC-input for a power cable. The top left of the TS-879 Pro is where the Emulex 10GbE add-on card is located, with one SFP+ connection for each interface. This location is unused unless you have an add-on card installed.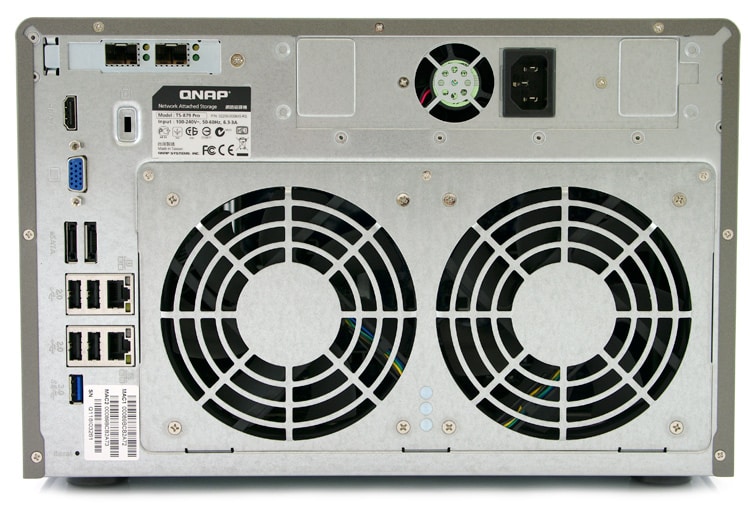 Setup
The QNAP TS-879 Pro is very easy to setup out of the box and can be done even without external computer access. When you insert an array of unconfigred drives and turn on the system, the front menu prompts you to select a RAID mode, enable or disable encryption, and starts the setup process automatically. For an IT admin that knows what they want and doesn't want to break out a laptop to get the RAID building process started, this can be a huge timesaver on deployment.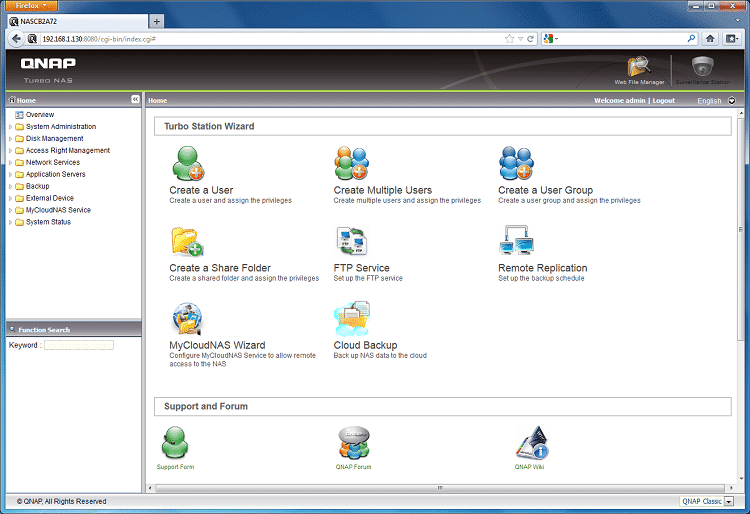 Once the system is up and running, all access is handled through the QNAP web interface. We found it quick and easy to drill down through the sections to get to the settings we needed the adjust, like configuring the 10GbE network interface to a static IP to interface with our computer.

The interface is very intuitive for an enthusiast or someone that has worked with networking products in the past. Compared to other offerings from companies such as Synology, it might not be as easy for beginners to use, although at the $2,000 starting price most companies that are buying this product will probably have the needed experience to setup the NAS.
Synthetic Benchmarks
The QNAP TS-879 Pro is an 8-bay NAS designed for the SMB and high-performance enthusiast markets. The comparables used in this review include the following storage systems: Iomega StorCenter PX4-300d (4-Bay, 1GbE, dual-core Intel Atom CPU) and Drobo B800i (8-Bay, 1GbE iSCSI, Marvell single-core CPU). All of these NAS models are tested through the StorageReview client testing platform.
QNAP supplied us with two Emulex OneConnect OCe11102-N interface cards for the 10GbE benchmarking of the TX-879 Pro. With cards installed in both our desktop and QNAP itself, we performed all tested over 10GbE and compared performance to other top-performing 1Gb Samba and iSCSI NAS solutions. To connect our Intel test rig to the QNAP TS-879 Pro we used a supplied Panduit SPF+ 10GbE cable.

For testing, we equipped and configured the QNAP TS-879 Pro with a wide range of RAID and HDD/SSD configurations. This includes hard drive RAID0, RAID6, and RAID10 configurations using 7200RPM 3.5-inch enterprise-grade drives. We also include an SSD configuration comprised of eight 50GB OCZ Deneva SSDs in RAID0. This was chosen to get near 10GbE-saturating speeds in our large-block transfer tests. In iSCSI mode we also use these SSDs in RAID0 to show how much of an impact volume encryption has on performance when enabled using a best-case drive scenario.
In the first test, we will look at the peak Samba and iSCSI performance using a "best case scenario" 2MB sequential file transfer with IOMeter.

Through a shared Samba folder, we measured peak read speeds of roughly 400MB/s from our fastest hard drive and SSD arrays. Write speeds topped at 625MB/s with the hard drive RAID0 configuration and 649MB/s with the SSD RAID0 setup. Compared to standard 1GbE shown by the Iomega StorCenter PX4-300d, you can quickly see where the advantage is switching to 10GbE.

Over an iSCSI connection, we saw faster read and write speeds across all of our drive configurations. In this case the SSD RAID0 array measured 817MB/s read and 649MB/s write, compared to 736MB/s read and 639MB/s write from the hard drives in RAID0. Our fastest 1GbE comparison only measured 105MB/s read and 106MB/s write, showing the huge performance advantage of 10GbE.
Another item we wanted to show off was the performance hit seen by using volume encryption in a best case scenario. Our SSD RAID0 setup measured 817MB/s read and 649MB/s write with encryption turned off and 146MB/s read and 120MB/s write with encryption turned on.
In the next test we looked at random 2MB/s transfers using IOMeter.

Moving away from large-block sequential transfers and into random transfers, we start to see the performance taper off from our hard drive configurations. The 8-drive SSD RAID0 measured 340MB/s read and 214MB/s write over Samba, compared to 88MB/s read and 42MB/s write from the hard drive array in RAID0.

Over iSCSI, the SSD array measured 560MB/s read and 331MB/s write versus the hard drive RAID0 array that measured 91MB/s read and 101MB/s write. Looking at the SSD array with encryption, its speeds dropped to 109MB/s read and 65MB/s write.
Out next group of tests look at 4K random read and write performance.


At a queue depth of 1, the QNAP TS-879 equipped with an SSD RAID0 array meausured 3,600 IOPS read and 2,618 IOPS write, with our hard drive array measuring 212 IOPS read and 232 IOPS write.


For the first time we saw slightly lower transfer speeds over iSCSI than Samba with the 4K random transfer test. The SSD array measured 2,920 IOPS read and 3,072 IOPS write, slowing to 404 IOPS read and 256 IOPS write with encryption enabled. The eight-drive hard drive RAID0 measured 211 IOPS read and 216 IOPS write.
Lantecy to the QNAP TS-879 Pro over a Samba connection using 10GbE at lower queue depths wasn't too different than 1GbE. We saw more difference in the RAID configurations themselves and the amount of drives in the array, with the RAID0 configurations having the fastest response times.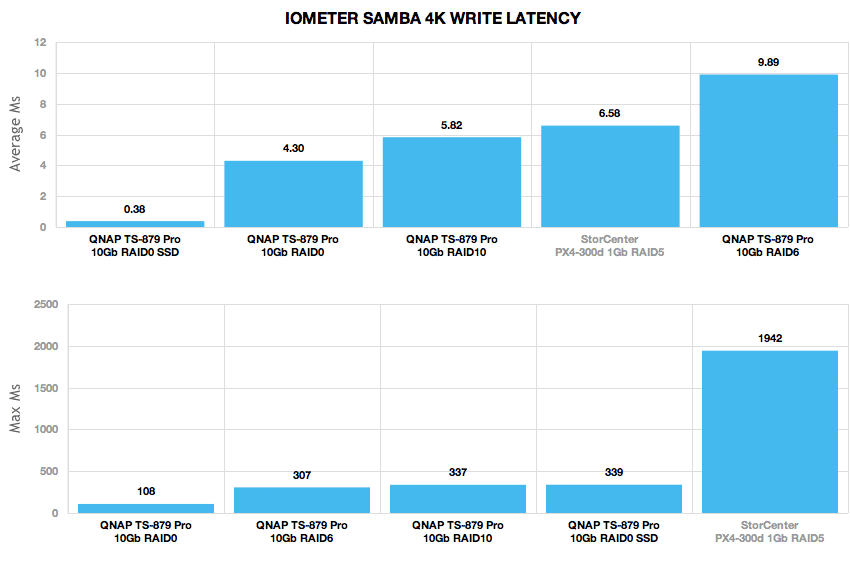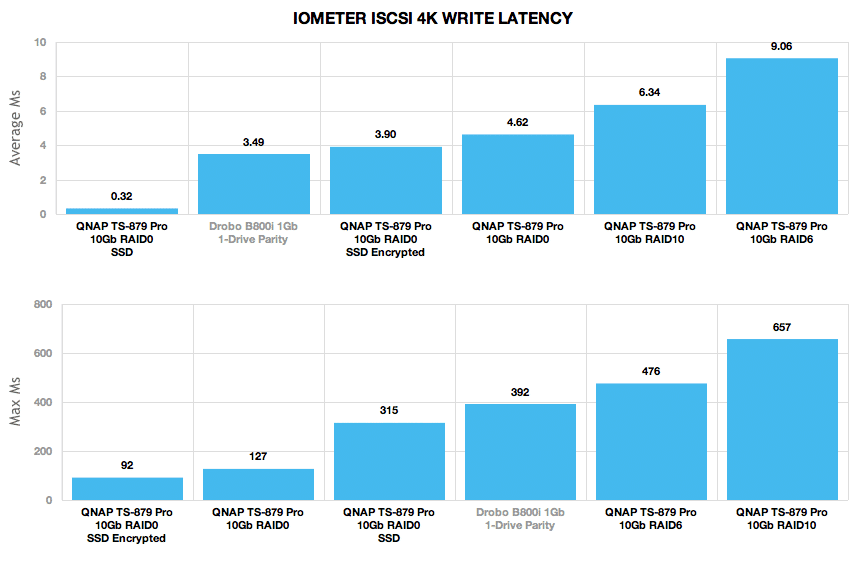 Power Consumption
One of the best reasons to consider a NAS for home or small business network-storage is the low power consumption. Though a desktop could serve a similar purpose, it would never be as efficient or have the very handy accompanying software. QNAP rates the TS-879 Pro with an average active power rate of 101W and a hibernation (drives spun down) rate of 39W. In our tests we found access requirements to be a little higher than specified, although some of that could vary depending on what drives were used (we used 8 3.5-inch 7200RPM drives in RAID10 for our tests).

Starting with peak power requirements, the QNAP TS-879 Pro definitely needed the most at startup, using almost 100 watts more than the Drobo B800i spinning up eight of the same drives. The difference in this case is probably the staggering of drives at startup to limit the inrush current on the Drobo B800i. Once the QNAP was operating, it needed 145 to 151 watts for large-block sequential transfers, lowering to 125 watts for small-block random reads. At idle the system was also more power hungry than the B800i, with the 10GbE and Core i3 processor likely to be more power hungry, needing 117 watts with the drives spinning and 72 watts with the drives spun down.
Conclusion
When it comes to driving maximum throughput out of an external NAS, QNAP has checked off all the boxes including powerful CPU, sufficient RAM and the optional Emulex 10GbE interface. For any SMB or enterprise user looking at the TS-879 Pro from a performance perspective, this QNAP solution is quite promising. We were able to drive speeds of 817MB/s read and 649MB/s write through an SSD RAID0 configuration and 736MB/s read and 639MB/s through a hard drive RAID0 setup, far surpassing what would be capable by over 1GbE.
The top-tier performance comes with a penatly though, and in this case it's power consumption. The TS-879 Pro draws a lot of power, 250 watts at peak and 117 watts at idle when fully loaded with drives. Compared to other 8-bay models, albeit not 10GbE, we have recorded lower startup power values through staging disk spinup times so all drives don't start simultaneously. The idle power value though was an indicator of the power footprint of this model, which has higher demands given the faster components compared to other systems. For most businesses looking for that speed though, 50 watts give or take doesn't really impact the cost of running the device that much over its lifetime.
At the end of the day, many users want the throughput the TS-879 Pro can offer, with a relatively small footprint. Being easy to setup using just the controls on the front of the NAS is a huge plus and offering a wide range of configuration options is something any administrator can love when tweaking the system to best fit its use case. Overall we were very pleased with the performance and capabilities of the QNAP TS-879 Pro and easy reccomend it for any business looking to take their storage up to the next level.
Pros
Extremely fast transfer speeds topping 817MB/s in our tests
Easy to setup using display and controls on front out of the box
10GbE fully extends the TS-879 into the enterprise market
Cons
Modest power consumption gains over other 1GbE 8-bay models
User interface not as user-friendly as others
Expensive with diskless price of $2,199
Bottom Line
736 MB/s read speeds from an external hard drive RAID0 array is quite impressive – the QNAP TS-879 Pro is all about performance in this 8-bay NAS. Good then that they've offered the Emulex 10GbE option to support these speeds. For the user who needs huge performance out of an easy to manage NAS, the TS-879 Pro should definitely be on the short list.
QNAP TS-879-PRO on Amazon.com
Discuss This Revuiew