The recent refresh of notebooks by Lenovo and others has given users new storage options by way of an mSATA port. Previously the ThinkPads, for instance, had such a port but it was used for things like wireless cards, never being properly enabled for use with SSDs. Now, along with Lenovo, vendors like Asus and Dell are making their mSATA ports SSD friendly. Good timing then for the Renice X3 mSATA SSD which comes in 25GB, 60GB and 120GB capacities and features a SandForce SF-1222 processor that drives 260MB/s reads and 200MB/s writes.
The recent refresh of notebooks by Lenovo and others has given users new storage options by way of an mSATA port. Previously the ThinkPads, for instance, had such a port but it was used for things like wireless cards, never being properly enabled for use with SSDs. Now, along with Lenovo, vendors like Asus and Dell are making their mSATA ports SSD friendly. Good timing then for the Renice X3 mSATA SSD which comes in 25GB, 60GB and 120GB capacities and features a SandForce SF-1222 processor that drives 260MB/s reads and 200MB/s writes.
While the Intel SSD 310 really woke up the notebooks and tablet markets to the potential of mSATA, the 310 is limited both in capacity, topping out at 80GB, and speed. The Renice X3 uses a SandForce SF-1222 controller, which even if it is last generation, is still darn fast. The X3 also comes in capacities that have the potential to do much more than boot drive duties. No matter the capacity, simply adding an mSATA SSD to a notebook frees up the main drive bay for something high capacity; up to 1TB of space for media files, programs and the like. For mobile users not wanting to lug around an external drive, this might be the perfect blend of capacity and performance.
Renice does have a bit of an uphill battle though. The brand isn't well known in the US and availability of their products aren't exactly found at your local electronics retailer. At the end of the day though, it's about performance – and based on some of the feedback we receive, there's a segment of users out there who have a new ThinkPad and want an mSATA SSD that offers the most speed possible. For them, the X3 could be the answer.
Editor's Note: The Renice X3 SSD was provided to us by Asia Tech Trade, an authorized Renice reseller who ships worldwide.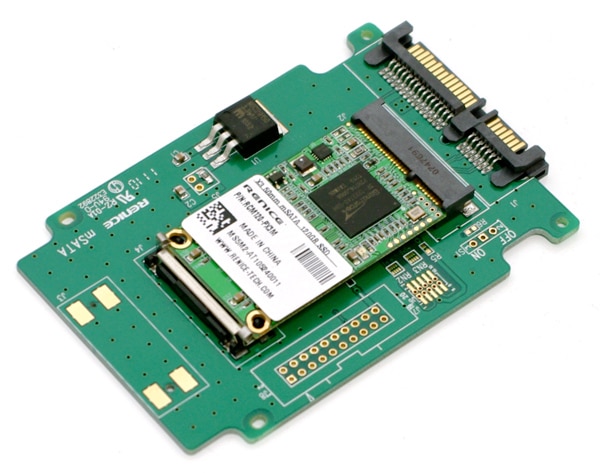 Renice X3 SSD Specs
50mm mSATA in MINI PCI-E form factor
Capacities: 25GB, 60GB, 120GB
SandForce SF-1222 processor
Max Read Rate: 260MB/sec
Max Write Rate: 200MB/sec
4kb Random Read IOPS: 30,000
Size: 50.35 x 30x 3.46mm
Net Weight: <6g
Power – Idle: <0.5W, Active: <0.9W
MTBF: >2,000,000 hours
Aesthetics
The Renice X3 is an SSD on a mini circuit board without a plastic case hiding any of the internal hardware. The mSATA standard takes out all of the bulk of drives designed for the 2.5-inch (or even 1.8″) form-factor and condenses it to fit in devices otherwise too small to handle a normal size drive. As you can see below on the 2.5-inch interposer card, the mSATA X3 takes up a little less than a third of the size, packing both the controller and NAND on something roughly the size of two SD flash cards placed next to each other.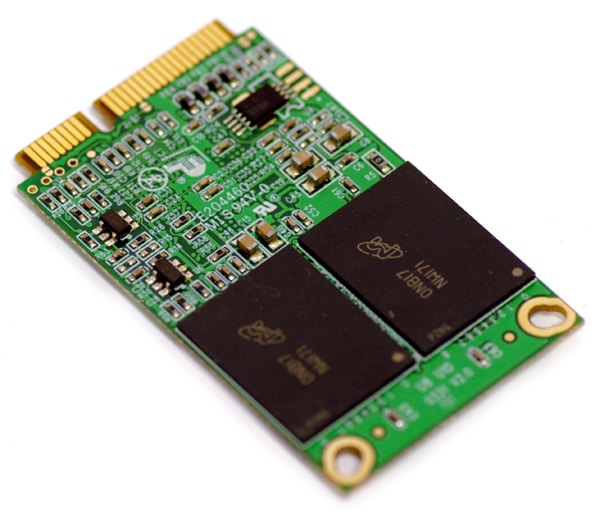 The one and only design element of the Renice X3 is a lone sticker placed on top of the NAND flash on the top surface of the drive. This label includes the manufacturer name, part number, barcodes, and website address.
Disassembly
Not much is required to disassemble the Renice X3. Unless you include removing the sticker as part of the tear-down process – the drive is essentially one component, not including the interposer card.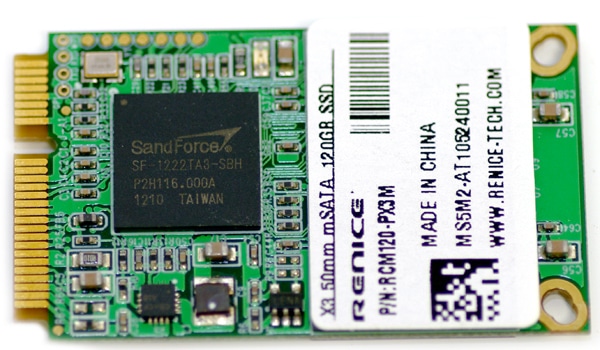 The 120GB Renice X3 is controlled by the SandForce SF-1222 processor paired up with four pieces of NAND flash. One trade-off of the small mSATA form-factor is the lack of available space to fully saturate the channels on the SSD controller. For the most part this doesn't put a huge dent in read performance, but it does limit the write speeds of random data. This trait is not unique to this drive or controller though, meaning other mSATA models will have the same problem.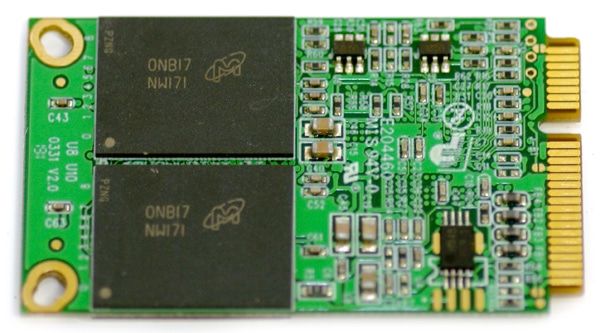 The 32GB 34nm NAND used on the Renice X3 is Micron sourced and is partially responsible for the high price of the drive. Normally, manufacturers would be able to get away with using 8GB chips when given much more space to solder onto. With the mSATA card standard, you are limited to roughly four NAND pieces unless someone finds a way to drastically reduce the size of the memory to fit more in the same space.
Synthetic Benchmarks
To properly benchmark the Renice X3, we used the included interposer card for all tests to interface the mSATA drive with our test rig's SATA ports. Since this interface only adjusts incoming power from 5v to 3.3v, it should have no bearing on the performance stats of the SSD.
Renice lists the X3 as having 260MB/s sequential read speeds and 200MB/s write speeds. To test these claims we used our IOMeter 2MB transfer test to see how it stacked up against other similar capacity drives we have reviewed.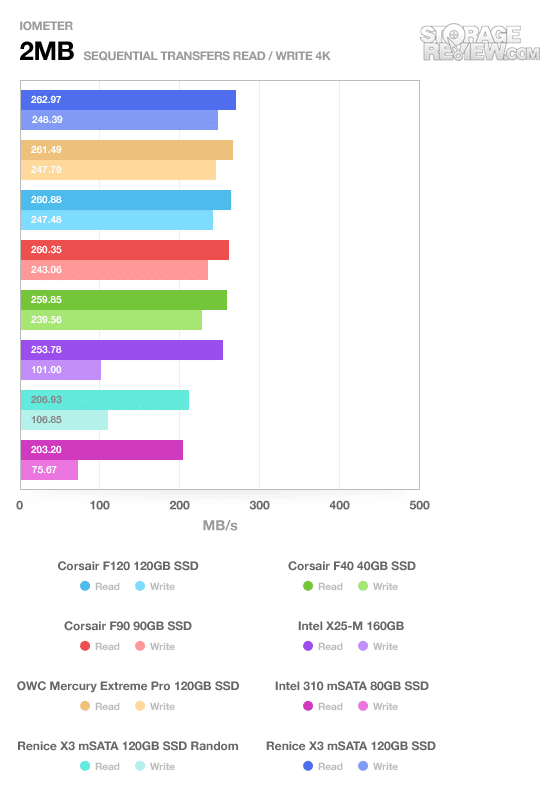 In the sequential transfer test we measured 262MB/s read and 248MB/s write with repeating data, putting it ahead of even the full-size 120GB SandForce models we reviewed on our older test bench. Switching to random data, read speeds dropped to 206MB/s read and 106MB/s write… which was still well above the Intel 310 mSATA.
In our text test we look at the random 2MB transfer test using IOMeter, still looking at the performance using repeating and fully random data to see both best and worst case performance levels.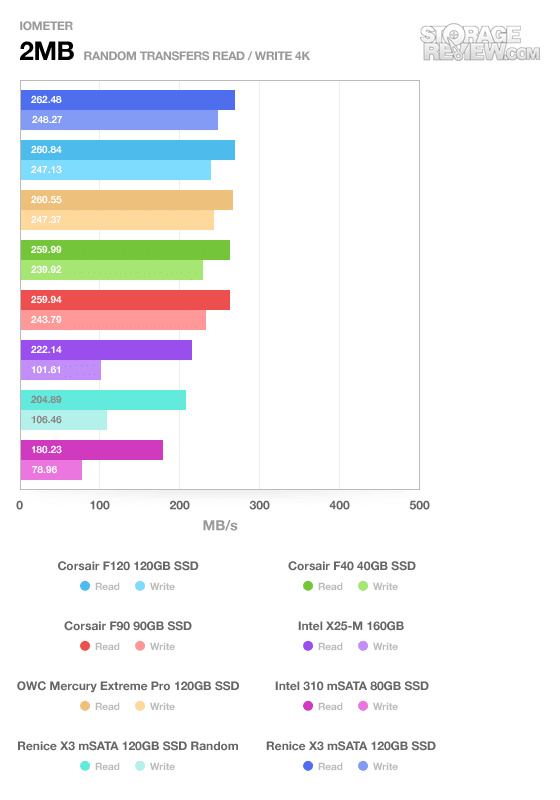 Just as with the sequential test, the Renice X3 still stays at the top of the chart, with a read speed of 262MB/s and a write speed of 248MB/s using repeating data. Transitioning to fully random data the speeds drop to 204MB/s read and 106MB/s write, still well above the Intel mSATA model.
Given the massive difference in available memory channels between the Renice X3 with four NAND chips versus sixteen with the other 2.5-inch 120GB SF-1200 models, we start to see some differences as we look at 4K random read and write performance.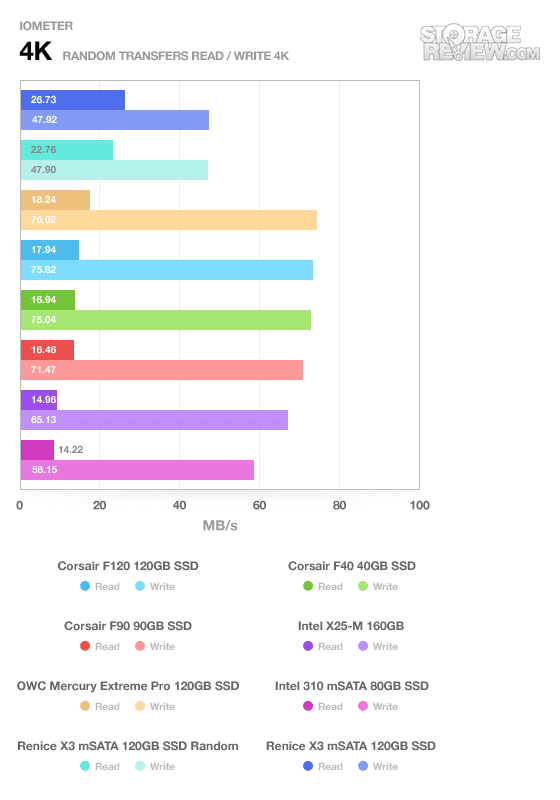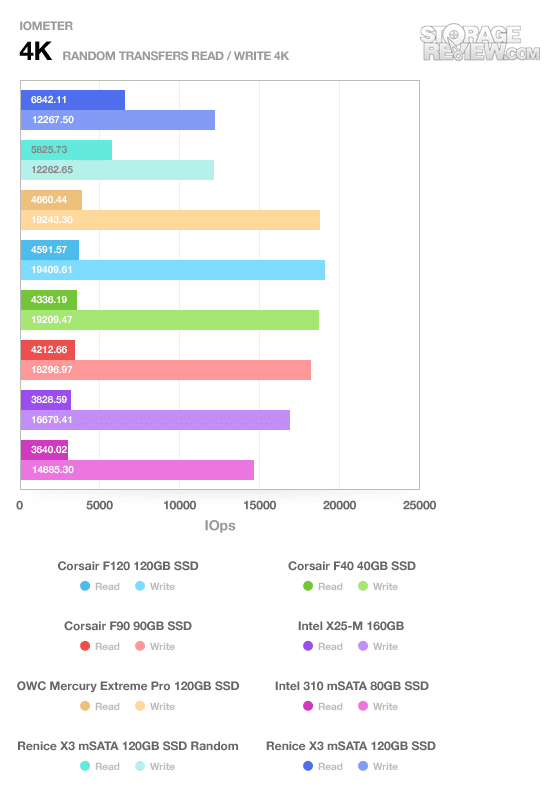 The Renice X3 starts off with very strong read performance, but comes up short compared to all drives in write-performance. It was most surprising to see that the Intel 310 SSD didn't suffer as badly from the same slowdown, although the on-board cache may have helped to soften the blow.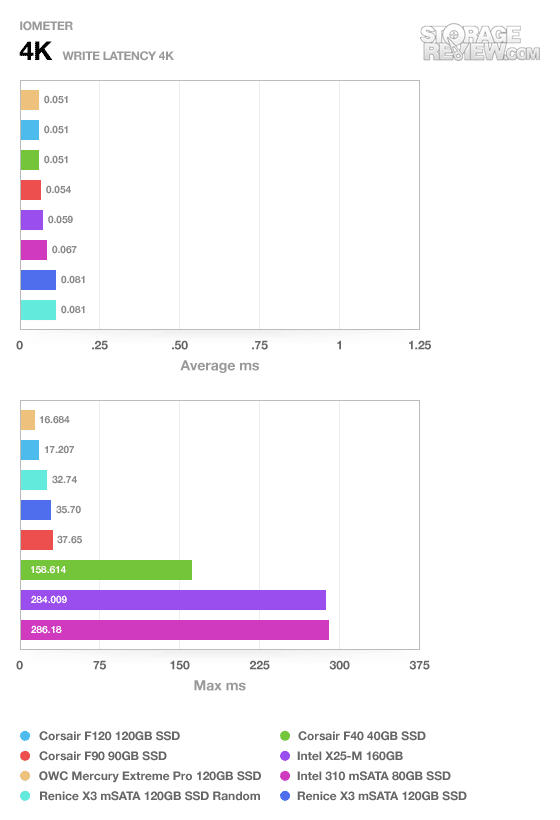 Given the lower random 4K write speeds, the Renice X3 came in at the bottom of our 4K write latency chart, with an average response time of 0.081ms. Peak latency turned out to be better than average though, coming in between 32 and 35ms, with the Intel mSATA measuring 286ms at its max.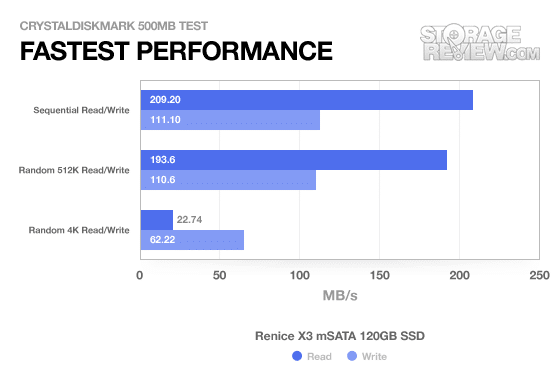 CrystalDiskMark shows very similar performance to what we measured using IOMeter with fully random data. The one difference though is CDM put the random 4K write speed slightly higher at 62MB/s compared to 47MB/s with IOMeter.
Our last section of synthetic benchmarks looks at IOMeter with standardized server usage profiles, which compares drives as they handle multi-threaded read and write requests up to a queue depth of 128. This area is excellent at seeing how well NCQ is implemented on a drive. The main thing we noticed is how well the Renice X3 stayed with the larger capacity full-channel SSDs.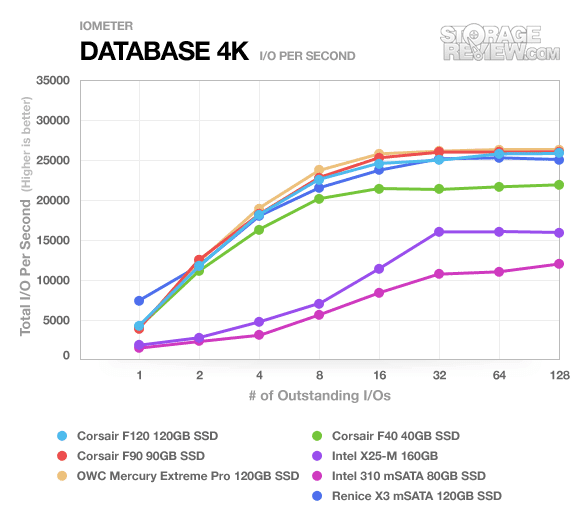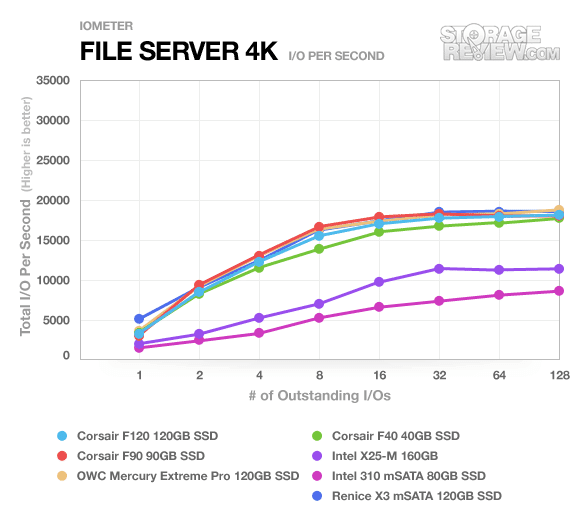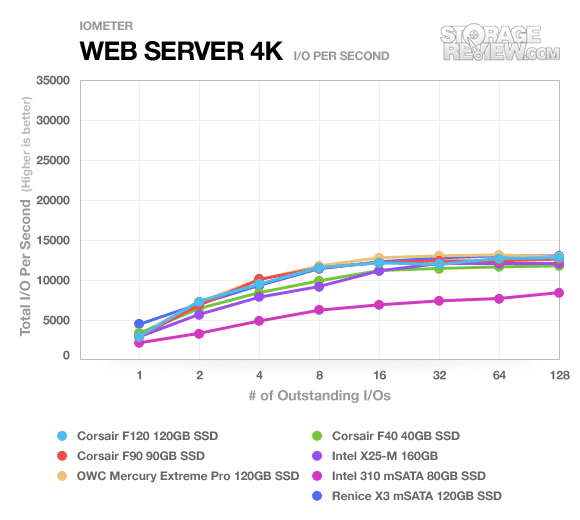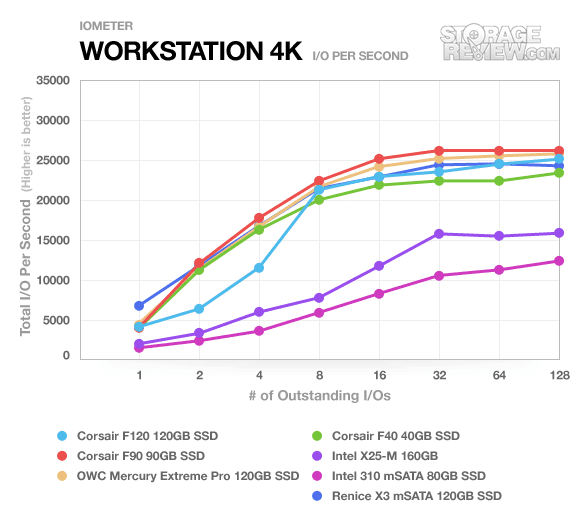 Real-World Benchmarks
If you are new to StorageReview, one thing we try to focus on is how any given drive might perform under real-world conditions. For the average user, trying to translate random 4K write speeds into an everyday situation is pretty difficult. It helps when comparing drives in every setting possible, but it doesn't exactly work out into faster everyday usage or better game loading times. For this reason we turned to our StorageMark 2010 traces, which include HTPC, Productivity, and Gaming traces to help readers find out how a drive might rank under their conditions.
In this section we put the Renice X3 head-to-head with the Corsair F40, F90, and F120, OWC Mercury Extreme Pro 120GB, and the Intel X25-M, X25-V, and SSD 310. In the list of drives we are putting the X3 up against, the obvious competitor is the Intel SSD 310.
The first real-life test is our HTPC scenario. In this test we include: playing one 720P HD movie in Media Player Classic, one 480P SD movie playing in VLC, three movies downloading simultaneously through iTunes, and one 1080i HDTV stream being recorded through Windows Media Center over a 15 minute period. Higher IOps and MB/s rates with lower latency times are preferred. In this trace we recorded 2,986MB being written to the drive and 1,924MB being read.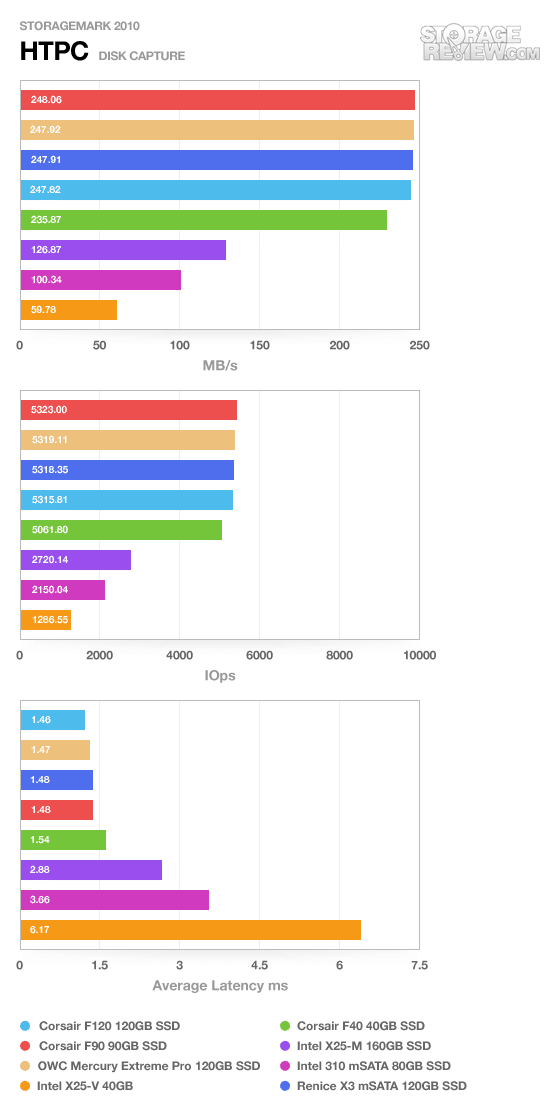 The Renice X3 scored very well in this trace, measuring an average speed of 247MB/s. That put it right into the middle of the pack with the other 120GB SandForce-equipped models and well above the Intel 310.
Our second real-life test covers disk activity in a productivity scenario. For all intents and purposes this test shows drive performance under normal daily activity for most users. This test includes: a three hour period operating in an office productivity environment with 32-bit Vista running Outlook 2007 connected to an Exchange server, web browsing using Chrome and IE8, editing files within Office 2007, viewing PDFs in Adobe Reader, and an hour of local music playback with two hours of additional online music via Pandora. In this trace we recorded 4,830MB being written to the drive and 2,758MB being read.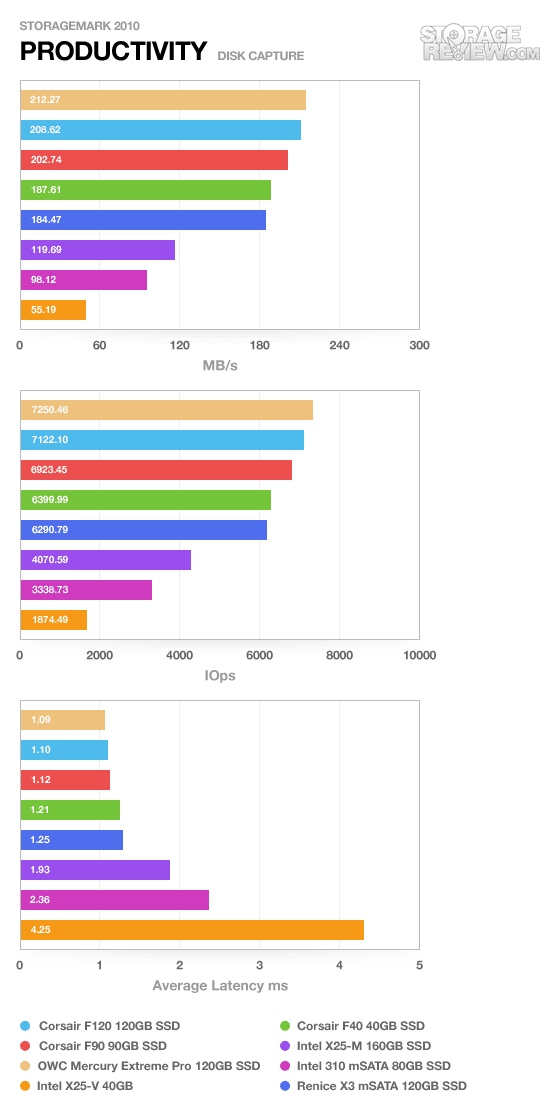 With fewer NAND flash channels the Renice X3 slipped behind, coming in toward the bottom of the pack, but still ahead of the Intel drives. With an average speed of 184MB/s, it came in almost twice as fast as the Intel mSATA comparable.
Our third real-life test covers disk activity in a gaming environment. Unlike the HTPC or Productivity trace, this one relies heavily on the read performance of a drive. To give a simple breakdown of read/write percentages, the HTPC test is 64% write, 36% read, the Productivity test is 59% write and 41% read, while the gaming trace is 6% write and 94% read. The test consists of a Windows 7 Ultimate 64-bit system pre-configured with Steam, with Grand Theft Auto 4, Left 4 Dead 2, and Mass Effect 2 already downloaded and installed. The trace captures the heavy read activity of each game loading from the start, as well as textures as the game progresses. In this trace we recorded 426MB being written to the drive and 7,235MB being read.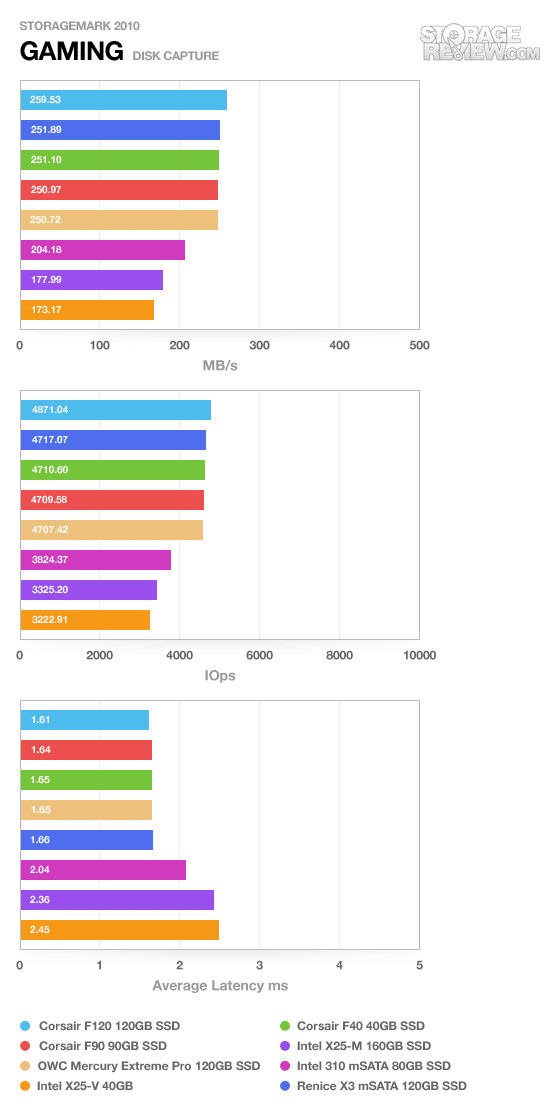 In the third trace the Renice X3 came in second place, beaten only by the Corsair F120. With an average transfer speed of 251MB/s, it came in very strong compared to 204MB/s of the Intel SSD 310.
Power Consumption
To properly measure the power consumption of the Renice X3, we were presented with a challenge in that we have to operate the mSATA SSD through a translation device. SATA data connections are passed through without modification, but with the power, the card drops the voltage down from 5V to 3.3V. This process can increase the measured power consumption on our test bench, although inside your notebook these values should be slightly lower.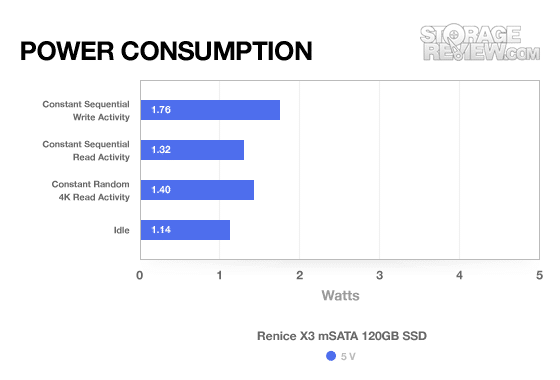 Compared to the Intel SSD 310, the Renice X3 had lower read and write power values, but slightly higher random read and idle. From how close both of these drives perform in terms of power consumption though, you would be hard pressed on finding drastic differences in battery life of a notebook comparing each model.
Warranty
Renice includes a three-year international warranty on the 120GB X3. This length is matched by almost all SSD manufacturers right now except Intel and OWC which extend certain 25nm drives to a total of five years.
Conclusion
No matter what market you look at, it's always a good thing to see competition when it comes to pushing the boundaries of both performance and cost. The Renice X3 does just that with the mSATA SSD market, giving buyers more options for on-board SSDs. Offered in 25, 60, and 120GB capacities, the X3 handily beats the Intel SSD 310 in capacity, which tops out at 80GB. We also found in our testing the X3 offers a substantial boost in performance, even in a worst-case 100% random data scenario.
Overall we couldn't have been more pleased with the Renice X3, adding another option for users seeking to take advantage of the mSATA slot in their computer. One downside at least for now, is the Renice X3 is not being sold by any big-name US retailer, making it difficult for shoppers to find unless they are specifically looking for it. It is however available globally, thanks to resellers like Asia Tech Trade, who sent us the review unit.
Pros
Very strong performance
120GB X3 offers 40GB more space than the largest Intel SSD 310
Includes mSATA to SATA adapter card
Cons
Hard to find from US online-retailers
Bottom Line
If you have a notebook or tablet that supports storage in the mSATA port, there's nothing readily available that's as fast or high capacity as the Renice X3 mSATA SSD.