Today, Samsung took the wraps off its latest model in the 850 EVO line of SSDs. Designed for masses, the 850 EVO might not be as flashy as Samsung's 850 EVO PRO, but it still boasts top-of-the-line features like Samsung's 3D V-NAND, 4GB of LPDDR2DRAM cache memory, and a 5-year warranty. The Samsung 850 EVO SSD 4TB uses Samsung's 48-layer 3D V-NAND 3bit MLC.
Today, Samsung took the wraps off its latest model in the 850 EVO line of SSDs. Designed for masses, the 850 EVO might not be as flashy as Samsung's 850 EVO PRO, but it still boasts top-of-the-line features like Samsung's 3D V-NAND, 4GB of LPDDR2DRAM cache memory, and a 5-year warranty. The Samsung 850 EVO SSD 4TB uses Samsung's 48-layer 3D V-NAND 3bit MLC.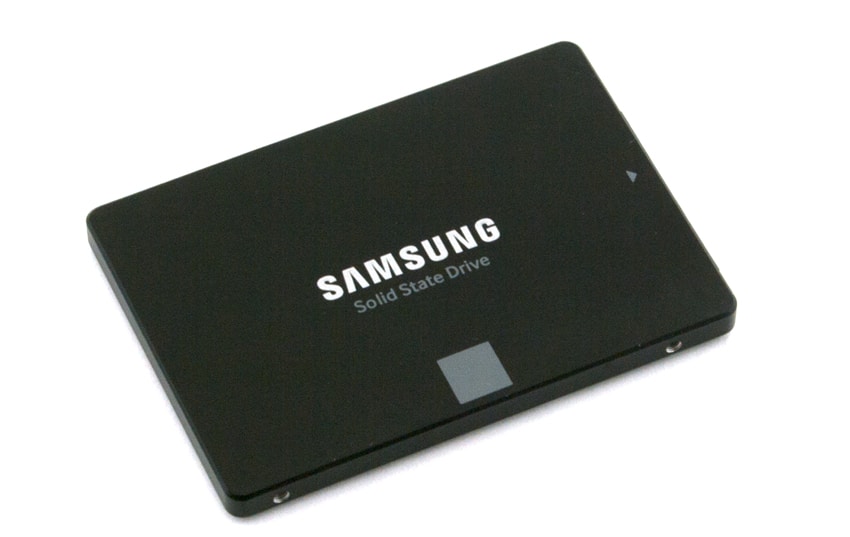 This addition to Samsung's line of high-capacity SSDs comes as more and more consumers are looking to snag the capacity of a HDD, with the performance of the latest solid-state drives. Up until this point, the highest capacity SSD accessible to consumers was Samsung's admiddetly huge 2TB 850 EVO SSD, but this new drive doubles that capacity within a standard 2.5″ 7mm form factor.
The Samsung 860 EVO 4TB SSD costs $1,499.99 at launch—$100 less than two 850 EVO 2TB SSDs.
Samsung 850 EVO Specifications (4TB)
Capacities: 120GB, 250GB, 500GB, 1TB, 2TB, 4TB
Dimensions (LxWxH): 100 x 69.85 x 6.8 (mm)
Interface: SATA 6Gb/s (compatible with SATA 3Gb/s and SATA 1.5Gb/s)
Form Factor: 2.5 inch
Controller: Samsung MHX controller
NAND Flash Memory: Samsung 3D V-NAND 3bit MLC
DRAM Cache Memory: 4GB
Performance

Sequential Read: Max. 540 MB/s
Sequential Write:  Max. 520 MB/s
4KB Random Read (QD1):  Max. 40,000 IOPS
4KB Random Write(QD1): Max. 98,000 IOPS
4KB Random Read(QD32):  Max. 90,000 IOPS 2TB
4KB Random Write(QD32): Max. 90,000 IOPS(120GB/250GB)

Data Security: AES 256-bit Full Disk Encryption (FDE) TCG/Opal V2.0, Encrypted Drive(IEEE1667)
Weight: Max. 66g
Reliability: MTBF: 1.5 million hours
TBW:  150 TBW
Power Consumption:

Active Read/Write (Average): Max. 3.7W(2TB) / Max. 4.7W(2TB)
Idle: Max. 60mW
Device Sleep:  5mW(4TB)

Supporting features: TRIM(Required  OS support), Garbage Collection, S.M.A.R.T
Temperature

Operating: 0°C to 70°C
Non-Operating: -40°C to 85°C
Humidity: 5% to 95%, non-condensing

Vibration:

Non-Operating:  20~2000Hz, 20G

Shock:

Non-Operating: 1500G, duration  0.5m sec, 3 axis

Warranty: 5 years limited
Design and build
As it is an internal drive, you could be forgiven for mistaking the Samsung 850 EVO 4TB model for the company's other offerings in the 850 EVO SSD line. Really, the biggest outward indication that this drive is different is the label, and little else. The drive itself is a matte black, with very basic branding on the obverse. Because of its 7mm z-axis measurement, it can easily be used in just about any computing setup a typical builder would use: laptop or desktop.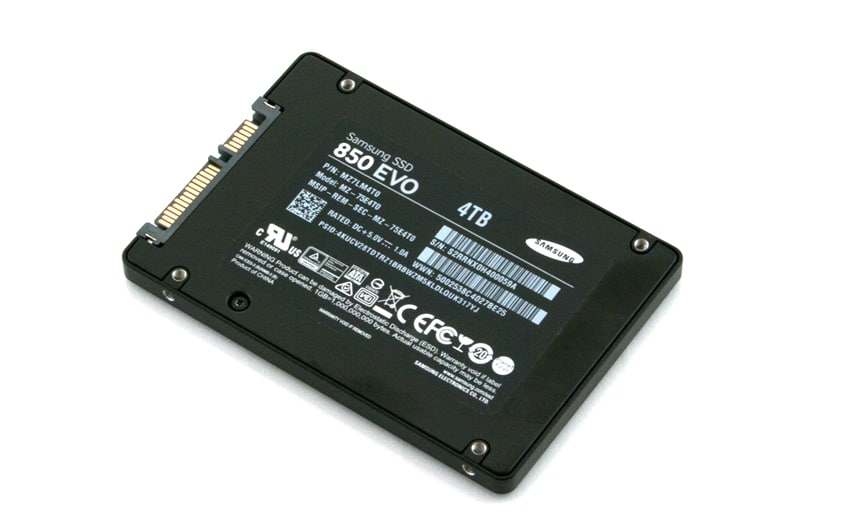 When you flip the drive over, you'll see a sticker that is home to information such as the model, power rating, and a slew of certifications. Like the other drives in Samsung's SSD lineup, the 850 EVO 4TB has four mounting sockets on the bottom of the drive, as well as four more on the sides of the unit.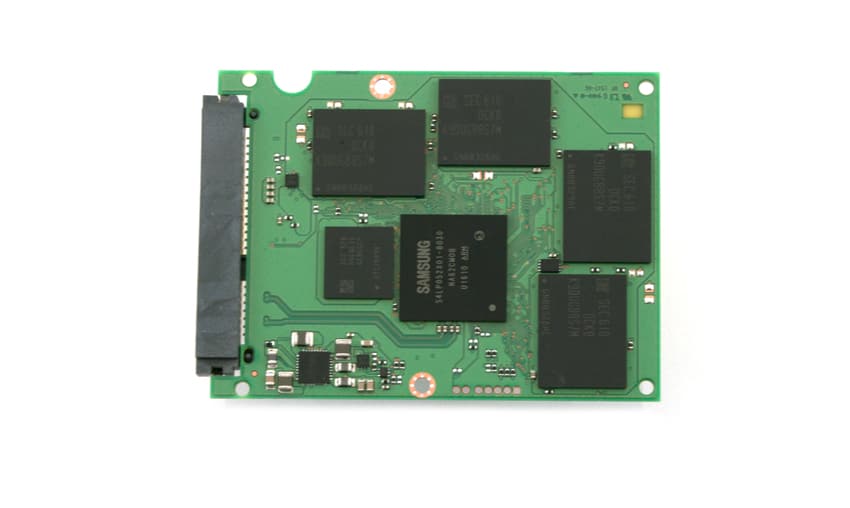 Taking a peek inside, you'll spy several highly vertically integrated components like you would in previous 850 EVO offerings. The 4TB model uses the Samsung MHX controller, and supports the ubiquitous SATA 6Gb/s interface. Like its stablemates, it can support SATA 3Gb/s and SATA 1.5Gb/s. The Samsung 850 EVO SSD uses 48-layer NAND packages (8 in total) and 4GB of LPDDR3 memory.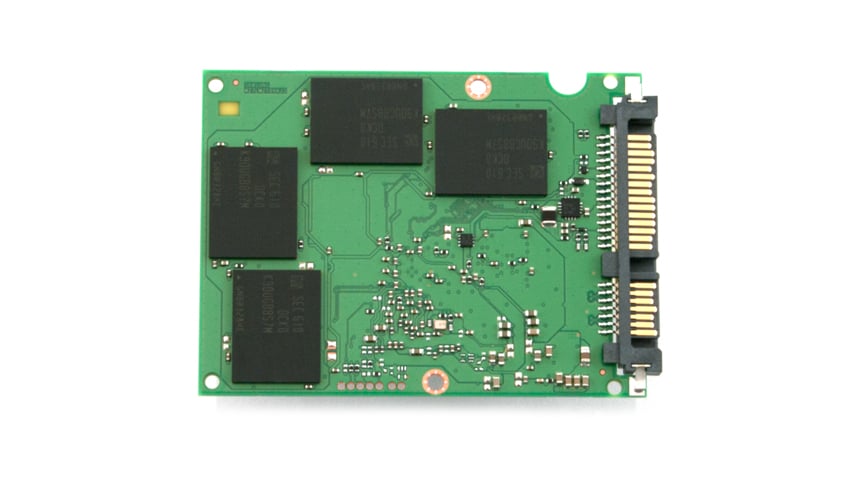 Consumer Synthetic Benchmarks
Using the StorageReview client testing platform, we put the 850 EVO 4TB through its paces. The drives used for comparison in this review include:
All IOMeter figures are represented as binary figures for MB/s speeds.
First up is the 2MB sequential read/write performance test. In this metric, the Samsung 850 EVO 4TB posted a very impressive numbers—498.76MB/s read and 473.66MB/s write—edging out the smaller capacity drives in its own line, and falling short only to the OCZ Trion 150 960GB in read and write speeds.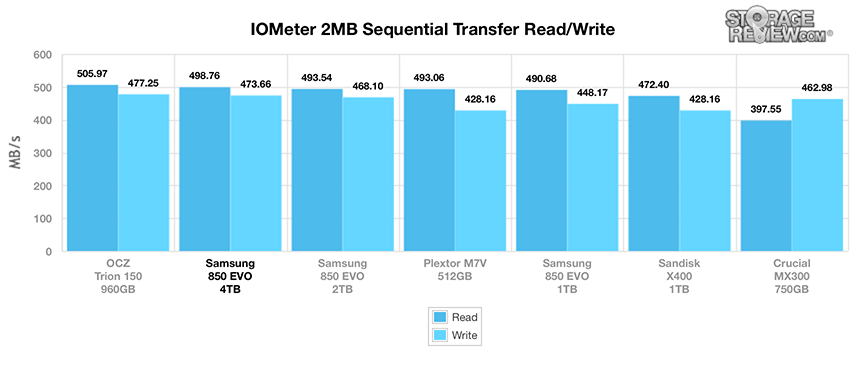 In our 2MB random transfer performance tests, the Samsung 850 EVO 4TB had no equal among the comparison models. Topping the list with 492.11MB/s read and 473.54MB/s write, the latest addition to the 850 EVO line leapfrogs the other impressive members of its stable in this metric.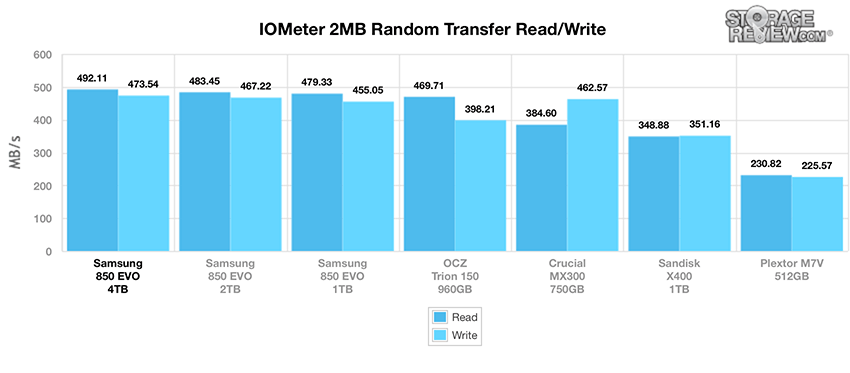 Next is IOMeter's 4K random transfer read/write test. While the 850 EVO 4TB didn't exactly blow the doors off the joint, it handily bested the rest of the comparison group by a considerable margin. Posting speeds of 45.60MB/s read and 117.89MB/s, the drives in our comparison group that comes closest to the 850 EVO 4TB are the 1 and 2TB options in the same product line.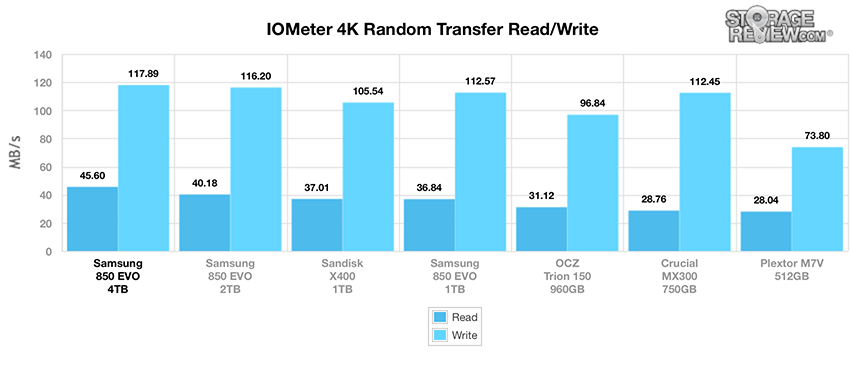 IOMeter's 4K test is remarkably brutal when gauging throughput. However, the 850 EVO 4TB impresses here, too. The drive was able to reach 11,673.42 Input/Output Operations Per Second (IOPS) read, and 30,179.84 IOPS write—again, narrowly besting the 2TB iteration of the same series SSD, and crushing the rest of the pack.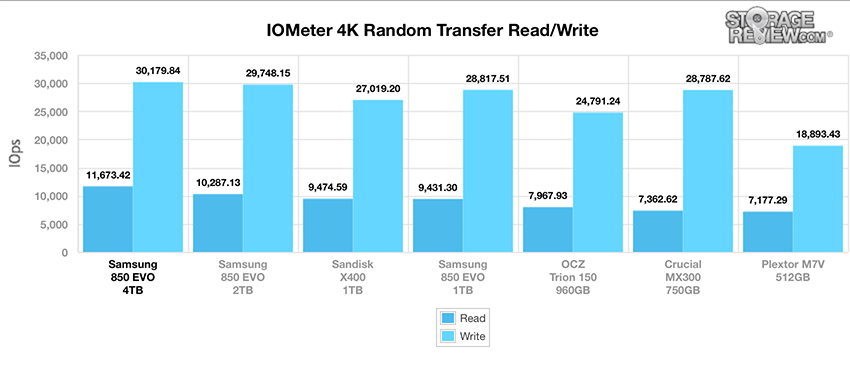 When it comes to write latency, the 850 EVO 4TB again edges out the smaller 850 EVO drives with an average latency of 0.03285ms, but falls short a bit when it comes to max latency (2.6799ms). In this comparison group, the Samsung 850 EVO 1TB has the shortest time here at 1.91ms. While this result isn't bad, it's probably the only less-than-stellar benchmark. That's hardly something to complain about.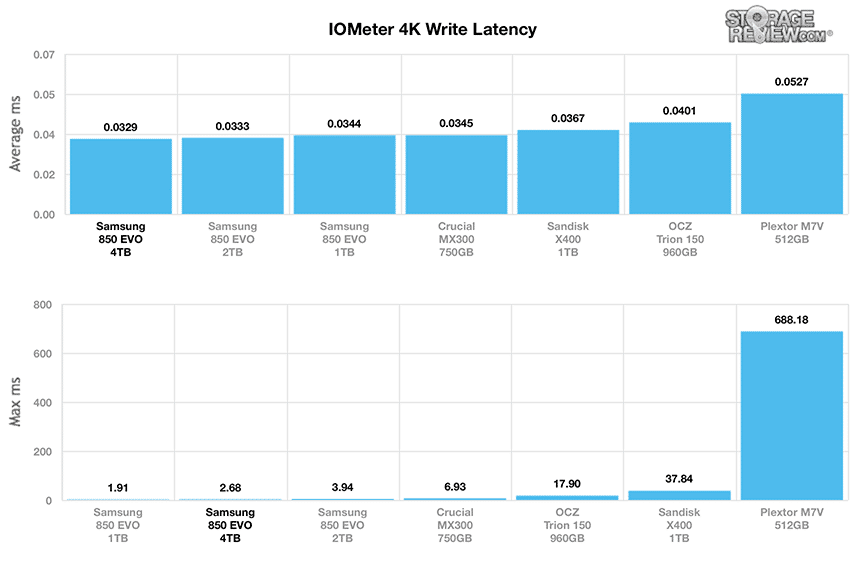 Ramping up the workload to 100% write activity, we put the 850 EVO 4TB through IOMeter's 4K aligned write test, which scales from 1QD to 64QD. With the aligned write setting, the 850 EVO 4TB SSD posted an outstanding 30,149.568 IOPS in burst and 83,976 IOPS in the terminal. In the selected comparison group, the 850 EVO 4TB dominated—though it should be pointed out that the 850 EVO 4TB's stablemates would come in close seconds here, separated by well under 1,000 IOPS.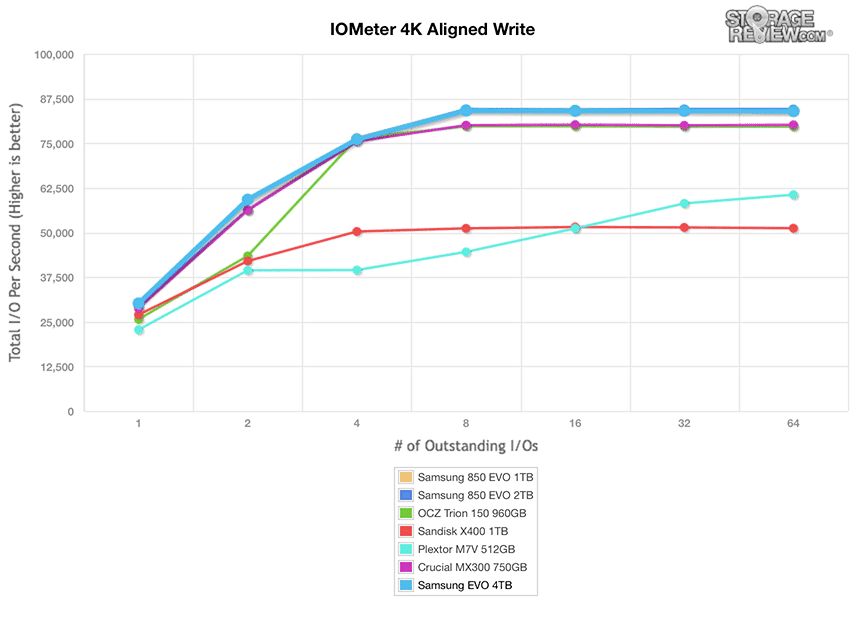 Taking a peek at the aligned read benchmark, we see here that the Samsung 850 EVO 4TB again mops the floor with the competition, scoring 92,811.11 IOPS. However, I will point out that the 4TB Samsung drive was bested by its smaller 2TB brother, which posted a result ot 97,534.21 IOPS in the same test.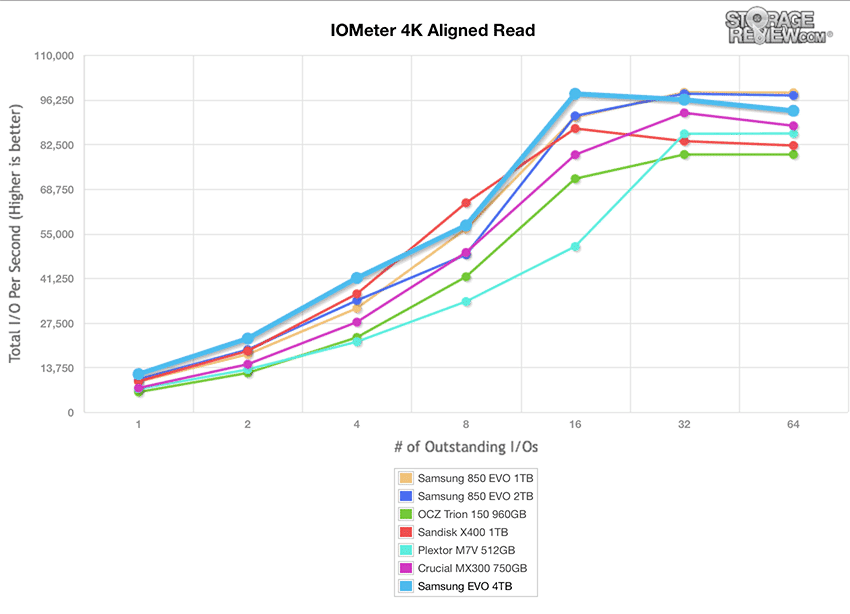 Rounding out our battery of consumer synthetic benchmarks compare each drive in a collection of mixed server workloads with a queue depth of 1 through 128. Our tests have a heavy bias towards read activity regardless of profile, whether it's from the database profile (67% read) or the web server profile (100% read).
Focusing on transfers about 8K in size with a 67% read and 33% write workload, IOMeter's database I/O per second test revealed the 850 EVO 4TB's strong increase in performance over its smaller-capacity stablemates. Besting previous top-tier results with 12,358.62 IOPS to 54,371.25 IOPS in the terminal, Samsung's newest drive is a force to be reckoned with—and a huge improvement over competing drives.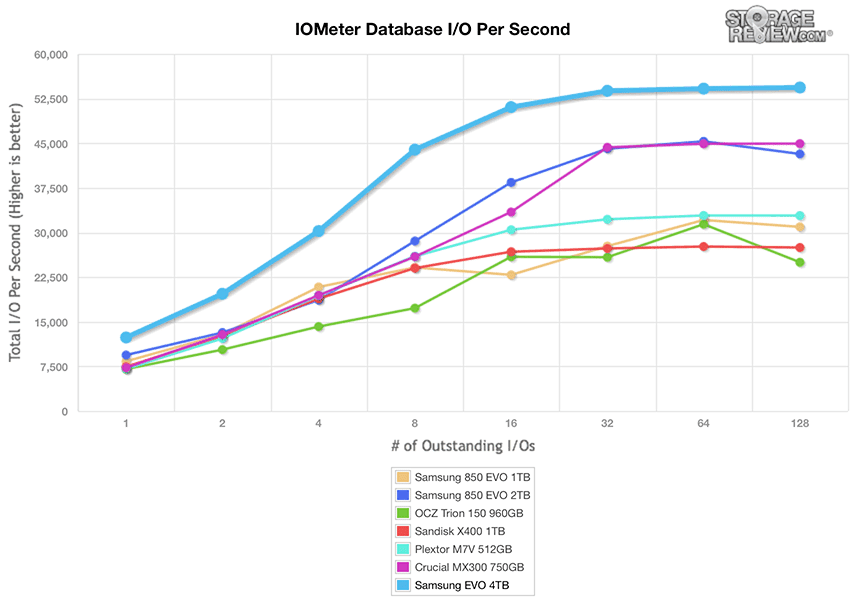 Next up is the web server profile. Examining read-only performance with transfer sizes from 512B to 512KB, the Samsung 850 EVO 4TB hangs tough with the top consumer SSDs on the market, posting 30,764.75 IOPS at terminal. Only the Samsung 850 EVO 1TB outpaced the bigger drive with 31,259.11 IOPS.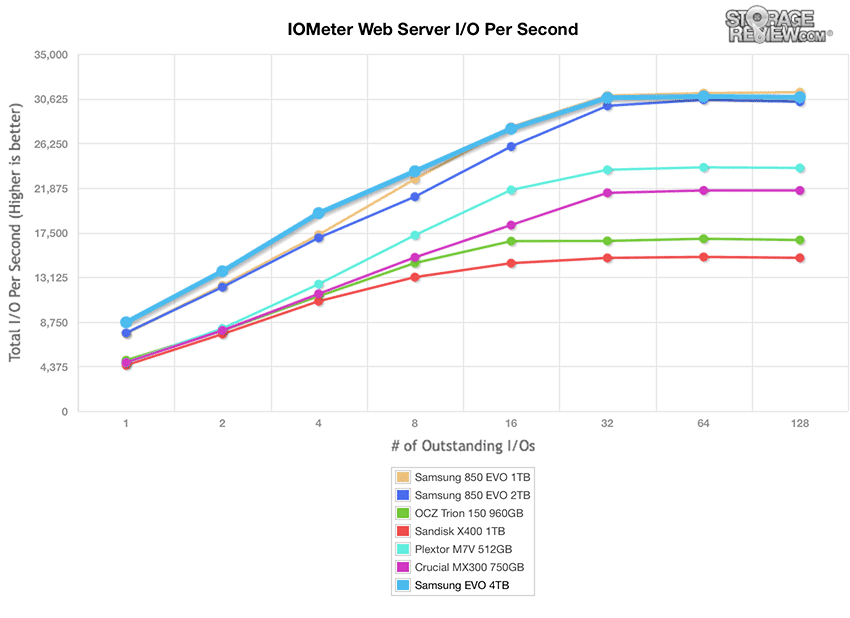 Moving on to the file server profile, we examined how well the Samsung 850 EVO 4TB handles an 80% read and 20% write workloads over transfer sizes from 512-bytes to 64KB. Samsung's latest 850 EVO SSD topped its competition handily, without any of the quirks of its stablemates. By posting an impressive 41,166.266 IOPS at QD64 (8,409.5 IOPS at burst), the 850 EVO 4TB tops our comparison list handily. It lags a little bit at burst, but nowhere else.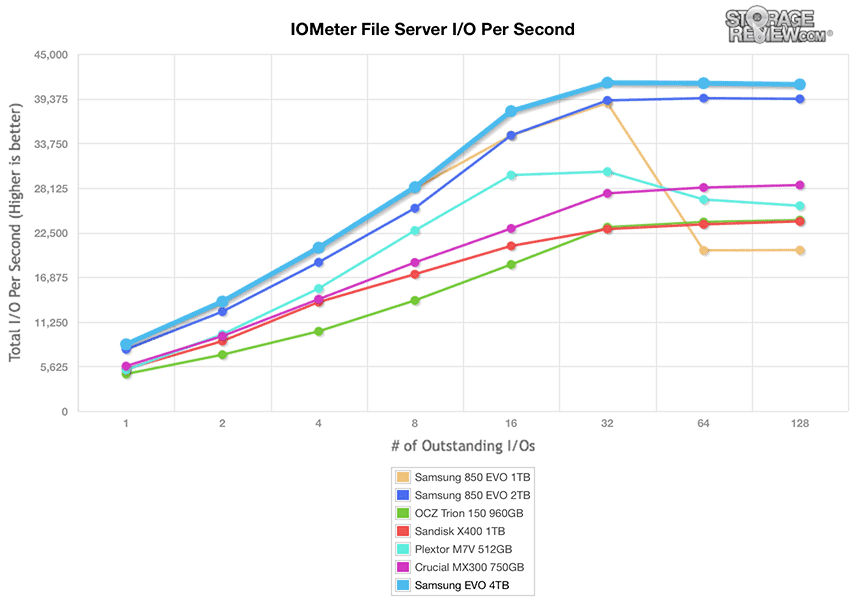 Finally, let's take a look at workstation activity, with the same 80% read and 20% write breakdown using 8K transfers. Here, the Samsung 850 EVO 4TB absolutely shines—handily besting the rest of the consumer SSD pack with 11,529.55 IOPS. However, Samsung's newest SSD doesn't share the shortcomings of its stablemates, as it continuously improves through its workload, ending up head-and-shoulders above the 1TB and 2TB 850 EVO SSDs with 55,268.06 IOPS at terminal.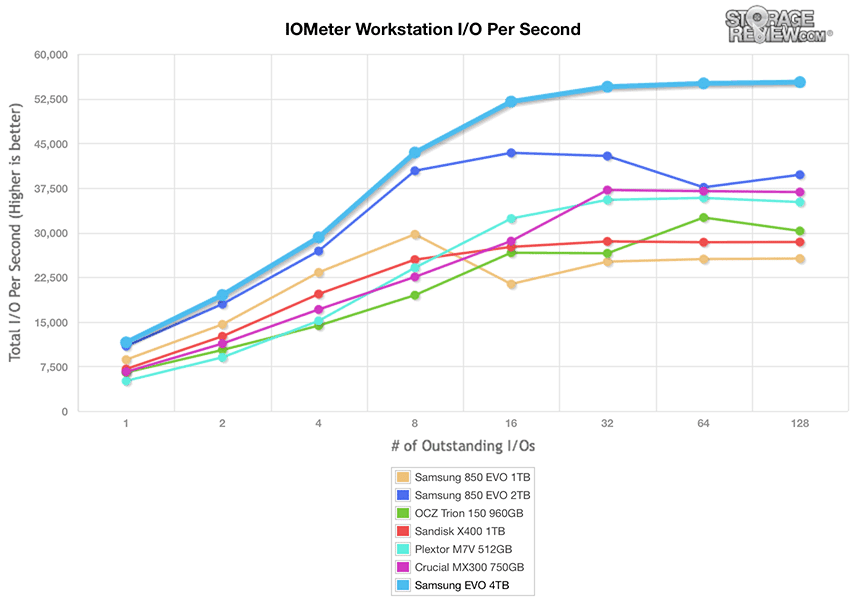 Consumer real-world Benchmarks
How something performs in the lab and how it fares in the real world are sometimes quite different, so we here at StorageReview subject each drive to a battery of more practical, real-world tests. To uncover any shortcomings that might arise once the Samsung 850 EVO 4TB is out of the box and running, we charted StorageMark 2010 HTPC, Productivity, and Gaming traces alongside the results of competing drives. For reference, higher IOPS and MB/s rates with low latency times are ideal.
The first test is centered around a drive's potential use as a Home Theater PC (HTPC). In order to flex a drive's muscles, the test plays one 720p clip in Windows Media Player Classic, one 480p clip in VLC Player, three movies simultaneously downloading in iTunes, and one 1080i HD stream recorded through Windows Media Center over 15 minutes.
The first profile revealed results very well in-line with the rest of the 850 EVO lineup, though the new 4TB model fell a little short at 8,888.5 IOPS versus the 1TB model's 8,923.36 IOPS. However, that's still well above the rest of the pack, and tough to denigrate in the face of its class-leading 0.84ms average latency.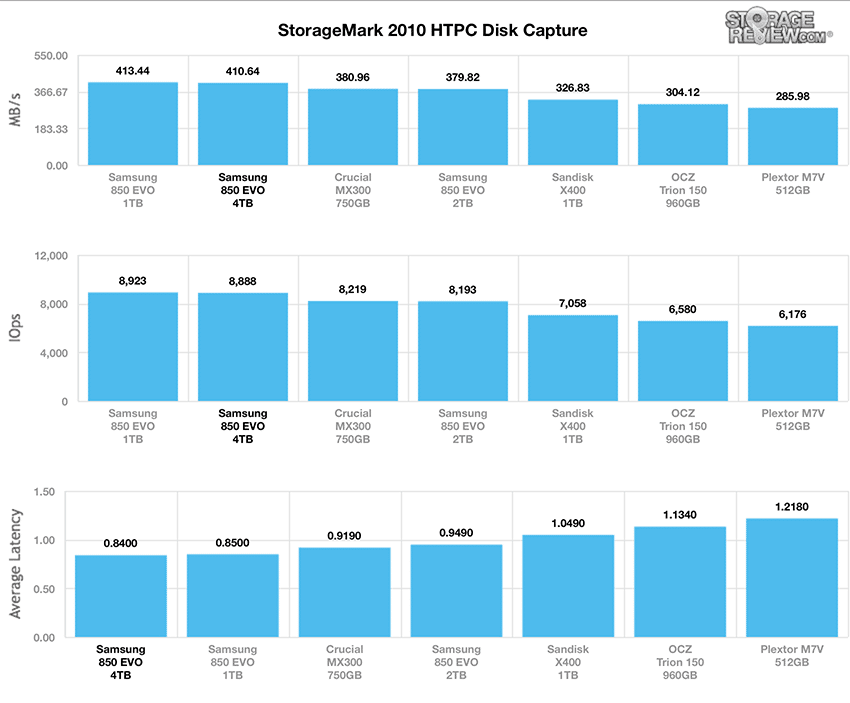 Next up we'll look at simulated disk activity in an office workstation scenario. This test sims three hours of operation with a 32-bit version of Windows Vista running outlook 2007 over an exchange server, surfing the web with Chrome and Internet Explorer 8, editing files in MS Office 2007, displaying PDF files with Adobe Reader, and streaming music for two hours over the Pandora service.
In this test, we found that while the drive may have had substantial advantages over others in the lab, when it comes to a more practical assessment the drive falls relatively in line with its competition. Its scores of 13,575.8 IOPS, 399.51MB/s, and an average latency of 0.552ms are remarkably close to the results of its 1TB brother. To wit, the Samsung 850 EVO 4TB only lagged behind by nine IOPS (13,575.8 IOPS vs. 13,584.9 IOPS), 0.2MB/s, and actually beat the 1TB Samsung drive by 0.02ms in average latency. That's about as close as it gets.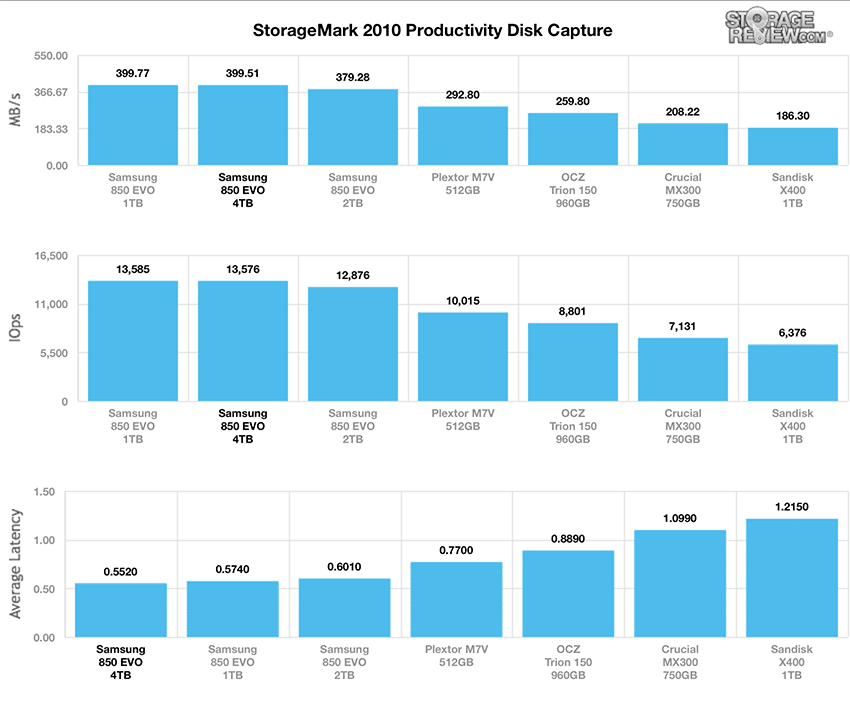 Wrapping up the real-world tests, we'll take a look at how the drive performs simulating disk activity while running popular games. With a Windows 7 64-bit system running Valve's Steam client, we installed Grand Theft Auto 4, Left for Dead 2, and Mass Effect 2 and took a look at the intense read/write activity of each title at different points in each game.
Much like it was in the productivity tests, the gaming battery revealed that the 4TB version of the Samsung 850 EVO SSD is remarkably similar in performance to the rest of its lineup. The newest of the 850 EVO series posted very strong results of 9234 IOPS, 484.31MB/s, and a very solid latency of 0.839ms. Though the drive doesn't top our lists at any point here, it's worthy of note that in every category it's among the best performers—and outside of the other Samsung 850 EVO drives, only the OCZ Trion 100 960GB can claim to do the same.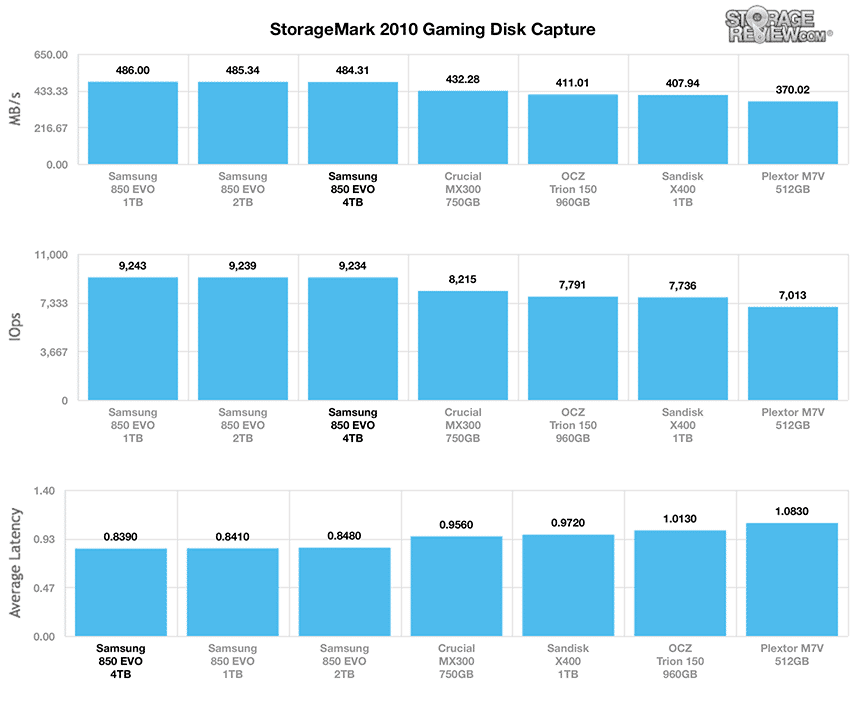 Conclusion
The latest addition to Samsung's 850 EVO SSD lineup doubles the previous limit of already-impressive SSD capacity available to consumers. On top of that, this drive is an excellent performer, with extremely few (if any) shortcomings to consider when weighing which drive to buy. With Samsung's proprietary TurboWrite technology, its ability to sip power, and the standard encryption options available, this is an impressive SSD. Though its initial pricetag is hefty at $1,499.99, an included five-year warranty helps take some of the stress out of shelling out that much money and as all SSDs do, the price will decline significantly over time.
Performance-wise, the Samsung 850 EVO 4TB SSD continues the tradition of Samsung's 850 EVO series by posting top-of-the-line performance in the lab, leapfrogging the previous leader—the Samsung 850 EVO 2TB—with better read/write speeds, and more consistent performance in our practical tests. It's hard to overlook a drive that can manage 498.95MB/s read and 473.66MB/s write in 2MB sequential transfer speeds. It's not best-in-class in every metric, but it's extremely close. Our real-world tests tell a slightly different story, but that's nothing to worry about. The Samsung 850 EVO 4TB hangs tough with the 1TB and 2TB capacity drives, but doesn't outperform them to a significant degree. In fact, the 1TB model is better in some aspects like our workstation tests—though the 4TB model didn't fall far behind at all. You certainly won't notice the difference, at least not any shortcomings of the drive.
Though it may feel like we're repeating ourselves with this review, it's because this SSD—like it's stablemates—are great consumer-oriented SSDs. Samsung moved the chains on capacity once again, without sacrificing class-leading performance or compromising worthy features to get there.
Pros
Doubles capacity of previous model
Improves upon already top-of-the-line performance of predecessors
5-year Warranty
Cons
Early adopters will pay a premium
The Bottom Line
The Samsung 850 EVO 4TB is a rockstar mainstream consumer SSD with a huge capacity and stellar performance. While there's an early adopter price premium, no one else can match the performance/capacity profile Samsung has crafted with this SSD.
Special Offers from Samsung.com
Sign up for the StorageReview newsletter