The Samsung Portable SSD T5 is the company's latest high-performing mobile storage solution powered by advanced V-NAND technology. The T5 is the long-awaited successor to the popular T3 (released way back in early 2016) and is designed for media professionals and enthusiasts who transfer massive amounts of data.
Leveraging the USB 3.1 Gen 2 (10Gbps) interface, the T5 is quoted with maximum transfer speeds up to 540MB/s for all capacities—which is almost 100MB/s faster than the T3—and can be connected directly to an Android device. Samsung has also updated the drive's embedded software, allowing you to reset your password, check capacity and manage firmware updates.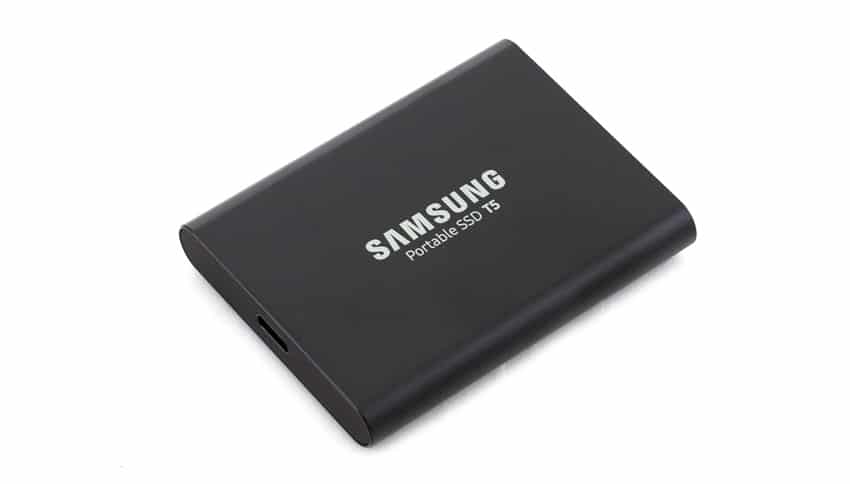 The T5 features AES 256-bit hardware encryption to ensure the protection sensitive user data. Moreover, it is equipped with Dynamic Thermal Guard Protection technology, which automatically monitors and manages optimal operating temperatures to help reduce overheating. Samsung has also built the T5 with a full metal, shock-resistant internal frame that it can endure drops of up to 2 meters on a hard surface.
Backed by a three-year limited warranty, the T5 goes for $129.99 (250GB), $199.99 (500GB), $399.99 (1TB), and $799.99 (2TB).
Samsung Portable SSD T5 Specifications
Interface: USB 3.1 (Gen 2, 10Gbps) backwards compatibility
Capacities: 2TB/1TB/500GB/250GB
Dimensions: 74 x 57.3 x 10.5 mm (3.0 x 2.3 x 0.4 in)
Weight: 51 grams (1.8 oz) 8)
Performance: Transfer Speed Up to 540MB/sec
UASP Mode Support
Security

Encryption AES 256-bit hardware encryption
Security Password protection (Optional)
Password protection software requires: Windows 7 or higher; Mac OS X Mavericks, Yosemite, El Capitan, Sierra (10.9 or higher); Android KitKat (version 4.4) or higher

Reliability

Temperature

Operating 0°C to 60°C
Non-Operating -40°C to 85°C

Humidity
Shock

Non-Operating 1,500G, duration: 0.5ms, 3 axis
Vibration Non-Operating 10~2,000Hz, 20G

Certifications CE, BSMI, KC, VCCI, C-tick, FCC, IC, UL, TUV, CB
RoHS Compliance RoHS 2
Warranty: Three (3) Year Limited Warranty
Design and Build
Sporting a rugged, rounded-metal unibody design, the T5 is an extremely compact device that weighs in at just 51 grams and measures 10.5 mm thick, allowing it easily fit in a pocket or the palm of a hand. It also features a brand-new design with two different anodized aluminum finishes: solid blue (250GB and 500GB models) and deep black (1TB and 2TB models), both of which are branded with the company and product names on both sides.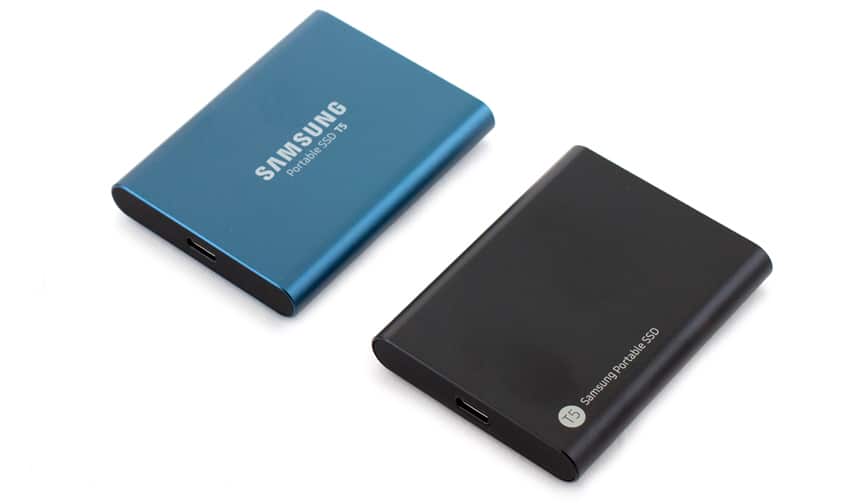 The T5 also comes bundled with a Type-C to C and Type-C to A cables for immediate easy access once you open the box. There is a blue indicator light when the drive is plugged in and working by the USB-C port.
Performance
To test the Samsung Portable SSD T5, we used the HP Z2 Mini Workstation and the built-in USB-C port and compared with these other leading portable SSDs:
We will also be looking at two capacities: the 500GB and 2TB models.
When looking at its 2MB sequential speeds (without a filesystem leveraging IOMeter), the 2TB Samsung T5 measured 426.62MB/s read and 406.39MB/s write, which is a vast improvement over the T3's read and write speeds of 322.52MB/s and 159.13MB/s, respectively. The 2TB Samsung T5 outperformed the other comparables, as the My Passport SSD showed 337MB/s write and 376MB/s read while the SanDisk Extreme 510 hit 322MB/s read and 159MB/s write. Though the T5's 500GB model had a slight increase in reads with 427.97MB/s, it took a dip in write performance (241.76MB/s).
Moving on to 2MB random performance, the 2TB Samsung T5 hit 404.32MB/s read and 400.26MB/s write, which was another significant step up from the T3's already impressive 318.95MB/s read and 158.28MB/s write. The SanDisk Extreme 510 was able to reach speeds of 270MB/s read and 159MB/s write, while the WD Passport SSD recorded 255MB/s read and 359MB/s write. The T5 500GB model again posted a dip in writes with 103.79MB/s; however, it had slightly better reads at 418.46MB/s.
Conclusion
The Samsung T5 is a welcomed addition to company's mobile storage portfolio, as it enters the always-growing and highly sought-after portable SSD market. Compact and lightweight, the T5 improved on its predecessor in every way with the exception of a higher capacity point; it will certainly suit the needs of any on-the-go professionals or media enthusiasts that work with large volumes of data. Although Samsung indicated similar performance for all models in the T5 family, consistency between the lower and higher capacities points was a bit uneven. For example, the 2TB model had an impressive performance across the board, while the 500GB model ran about slower in writes. Lower capacities failed to achieve Samsung's quoted performance numbers as well. That being said, they are still two of the fastest and most portable SSDs out there.
The improved modern design of the T5 is also very appealing. Having such a compact, high-performing, and high-capacity storage solution that easily fits into a small pocket is extremely useful. Coupling all of this with the optional AES 256-bit hardware encryption, simple password protection functionality, and its ability to seamlessly work with Android devices (which is a vital feature for many professionals on the go) makes this a fantastic release by Samsung.
Pros
Great overall performance
Durable, modern and slim design
Easy-to-use software
Cons
No increase in maximum capacity
Bottom Line
The Samsung T5 vastly improves on its predecessor as this ultra-portable SSD boasts best-of-class performance and design.
Samsung portable SSDs on Amazon
Sign up for the StorageReview newsletter