The Samsung SSD SM825 is an enterprise-grade SSD that's designed specifically for write-intensive data center workloads. Like all Samsung SSDs, the SM825 leverages all of Samsung's in-house expertise including their own eMLC NAND, 3-core controller and specialized firmware that helps to deliver 7,000 TBW, 100 times what's often seen in standard MLC NAND, while being more cost effective and delivering near-parity performance with SLC NAND. The net result is 4K random write steady state speeds we measured in excess of 9,800 IOPS and sequential 2MB write speeds topping 200MB/s.
The Samsung SSD SM825 is an enterprise-grade SSD that's designed specifically for write-intensive data center workloads. Like all Samsung SSDs, the SM825 leverages all of Samsung's in-house expertise including their own eMLC NAND, 3-core controller and specialized firmware that helps to deliver 7,000 TBW, 100 times what's often seen in standard MLC NAND, while being more cost effective and delivering near-parity performance with SLC NAND. The net result is 4K random write steady state speeds we measured in excess of 9,800 IOPS and sequential 2MB write speeds topping 200MB/s.
In the enterprise market Samsung leverages two completely in-house flash solutions aimed at datacenters needing products for different workloads. For the read-intensive segment Samsung offers the PM830, closely resembling the client-branded SSD 830, but with customized firmware intended for heavier continuous workloads. Packaged with MLC NAND, the PM830 is capable of up to 60TBW with speeds topping 500MB/s utilizing a SATA 6.0Gb/s interface.
For business segments that need an SSD with greater endurance for more write-intensive loads Samsung has the SM825, which offers up to 7,000 TBW. In this setting buyers are most interested in sustained performance over weeks, months, or years, where steady-state performance reigns supreme. While lower than the burst figures on the PM830, the Samsung SM825 is capable of pushing 200MB/s write and 10,000 random write IOPS until taken out of service. At first glance you might ask why it only has a SATA 3.0Gb/s interface, but looking at the steady-state performance numbers, it doesn't need that extra bandwidth to get the job done.
Going beyond read and write performance, the SM825 represents a higher level of reliability as well, with a MTBF of 2 million hours versus 1.5 on the PM830. Another big difference is the listed Uncorrectable Bit Error Rate or UBER, measuring 1 in 1017 on the SM825 to 1 in 1015 on the PM830. The SM825 also takes advantage of internal cache power protection through the use of capacitors to flush out information in DRAM to NAND in the event of a power failure. When passing a significantly higher amount of data through the life of the SSD, having fewer errors and lower failure rates means saved time and money in the datacenter.
The SM825 uses a SATA 3.0Gb/s interface, along with and industry standard 2.5″ form factor and 15mm drive-height. It is available in three capacities, 100GB, 200GB and 400GB; with our review model being the 200GB capacity. Other highlights include AES 256-bit encryption, 30nm E-MLC Toggle NAND, 256MB SDRAM cache, cache power protection and a brushed metal design.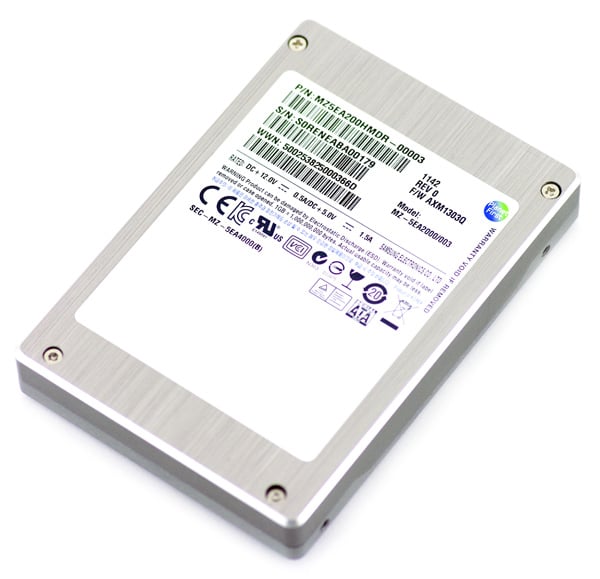 Samsung SSD SM825 Technical Specifications:

Capacities Offered

100GB – MZ5EA100HMDR-00003 (128Gb NAND Density)
200GB – MZ5EA200HMDR-00003 (128Gb NAND Density)
400GB – MZ5EA400HMFP-00003 (256Gb NAND Density)

Form Factor – 2.5 inches
SATA 3.0Gb/s (Native Command Queuing 32 Depth Supported)
Samsung S3C29MAX01-Y330 3-core ARM controller
Samsung K9HDGD8U5M-HCE0 E-MLC 30nm-class Toggle DDR NAND Flash memory
Samsung K4T2G314QF-MCF7 256MB DDR2-800 SDRAM cache memory
AES-256 Encryption
MTBF – 2 million hours
Uncorrectable Bit Error Rate (UBER) – 1 in 1017
Sustained Performance – 400GB

Sustained Data Read : 250MB/s
Sustained Data Write : 220MB/s (110MB/s for 100GB)
Random Read IOPS : 43K IOPS
Random Write IOPS : 11K IOPS (5.5K IOPS for 100GB)

Power Consumption (measured with 100% random 4K read/write workload)

Read : 1.8 Watts
Write : 3.4 Watts
Idle : 1.3 Watts

Write Endurance

100GB : 1,700TBW
200GB : 3,500TBW
400GB : 7,000TBW

Cache Power Protection
Unpowered Data Retention – 3 months
Dimensions – 100 x 69.85 x 15mm
Weight – 140-146g
Design and Disassembly
Samsung has a way of giving every one of their products a compelling and stylish design, even if it is going to be hidden away for 99.9% of its usable life. We saw this trend on the last two consumer SSDs from Samsung including the SSD 470 and SSD 830; both with colorful designs that set themselves apart from other SSDs on the market.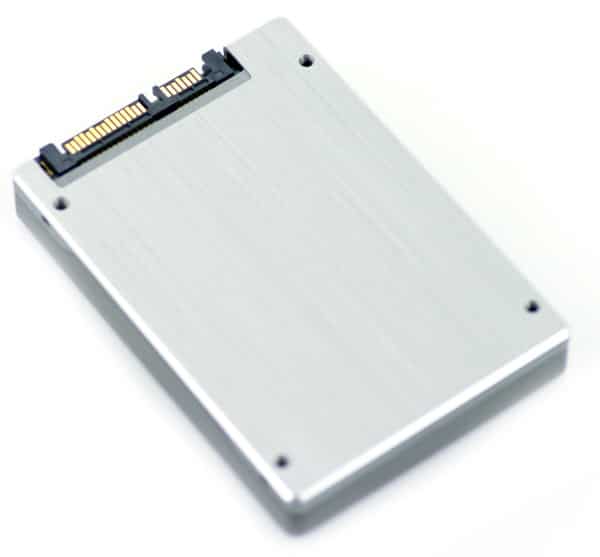 While we wouldn't say that good design is a reason to buy a specific SSD, it may make you take pause thinking that if they give that level of attention to the outside of the case, what surprises are in store for parts you can't see?

The Samsung SSD SM825 Enterprise SSD features a brushed metal design which is pointed out even inside the technical manual. The body is metal alloy, with sturdy cast design and walls measuring 1.75mm thick, enough to withstand walking on it without even flexing the case. At first glance you might wonder why a case was design like this considering it could be made out of plastic and still be as sturdy; it's because the body is also the heatsink for the components inside the SSD.

The top and bottom cover have large thermal pads in place to draw heat from the NAND, controller, SDRAM, and capacitors and shed it into the case which then radiates its thermal energy into the chassis of the server it's installed in. With power usage topping 5 watts under maximum activity, being able to shed heat off of internal electronics is an important consideration when the product installation might be above 5 years of continuous service. Thermal efficiency is also a big selling point as buyers consider SSDs vs. high speed hard drives that have considerably higher cooling expense associated with them.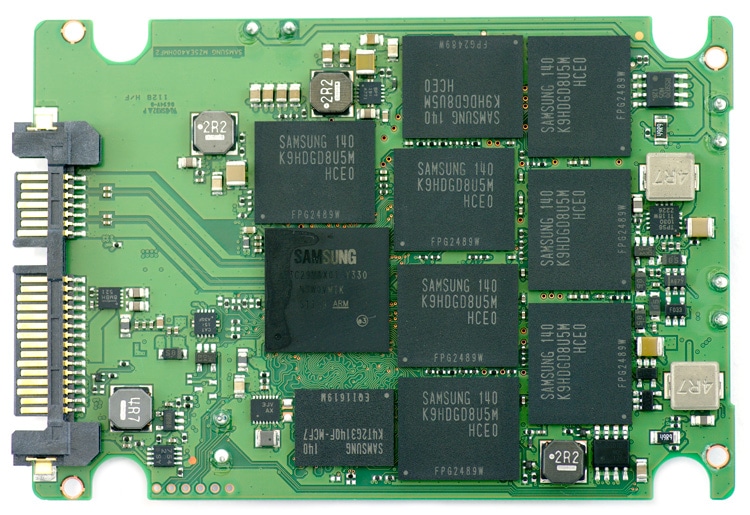 Knowing what parts are inside an SSD is almost as important as the performance it gives when in service. The difference between MLC and Enterprise MLC (eMLC) NAND is about 6,940 TBW usable life. With the write-heavy environment the Samsung SSD SM825 is tuned for, Samsung equips the drive properly including Samsung's own eMLC 30nm-class Toggle DDR NAND buffered with 256MB of Samsung  DDR2-800 SDRAM, and managed by Samsung's three-core S3C29MAX01-Y330 ARM controller. By manufacturing all components Samsung in-house, they can pick the highest grade components and have complete hardware and software integration that might otherwise be missed if relying on outside companies for core components.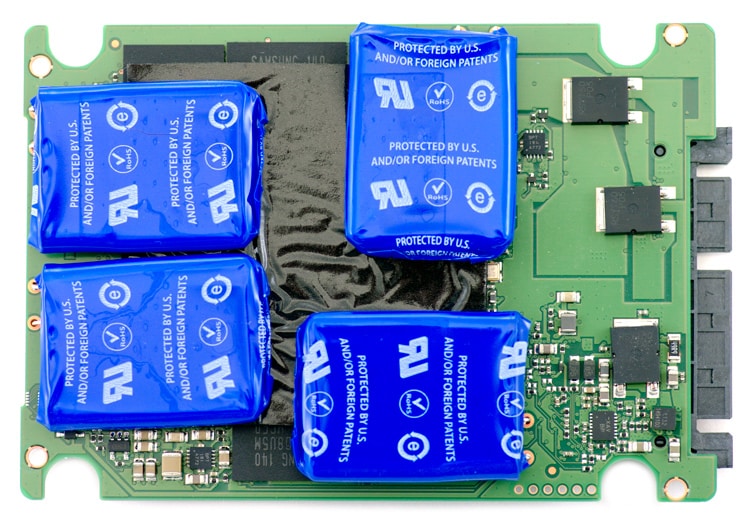 Data protection in the event of a power failure is handled by four large ultra-capacitors that allow data to be flushed out of the SDRAM when incoming power is lost. When installed in a system, these capacitors require a maximum of 55 seconds to charge, which during that time the cache buffer is disabled (write-through mode). Once the capacitors are up and running, the SSD enters its normal operating mode where cache is fully functioning and able to have enough time to flush to NAND in the event of a power failure. To explain this behavior Samsung provides a diagram in their technical manual outlining this process.

Enterprise Benchmarks
Flash media needs to be tested in a different manner than standard platter drives and even client-based SSDs. Flash performance changes the longer you write to a drive and speeds taper down until the drive hits its steady state speed. In an enterprise setting, initial burst is hardly relevant if after one hour of use the drive is no longer getting that speed. This is where steady state benchmarking comes in, showing how the drive performs when under a 24/7 load. For this reason, all of the following benchmarks were pre-conditioned and recorded in a steady-state mode.
We benchmarked the 200GB Samsung SSD SM825 (SATA, eMLC NAND) against the 100GB Micron P300 (SATA, SLC NAND) and 400GB Toshiba MKx001GRZB  (SAS, SLC NAND) to give a balanced comparison of SSDs buyers would see in the same write-intensive enterprise category. We also used our new testing platform and methodology to benchmark the SM825 to accurately represent its capabilities. The enterprise testing platform used in this review is a Lenovo ThinkServer RD240, equipped with dual Intel Xeon X5650 processors, running Windows Server 2008 R2. For single-drive benchmarks we connect each SSD through an LSI SAS 9211-8i HBA to measure performance without any influence of caching. All IOMeter figures are represented as binary figures for MB/s speeds.
Our first test looks at the speed in a sequential write environment with large block transfers. This particular test uses a 2MB transfer size with IOMeter, with 4k sector alignment and measures performance with a queue depth of 4. In this scenario Samsung claims a read speed of 250MB/s and a steady-state write speed of 200MB/s for their 400GB SM825. We expect the lower capacity 200GB review model to come in below those quoted figures.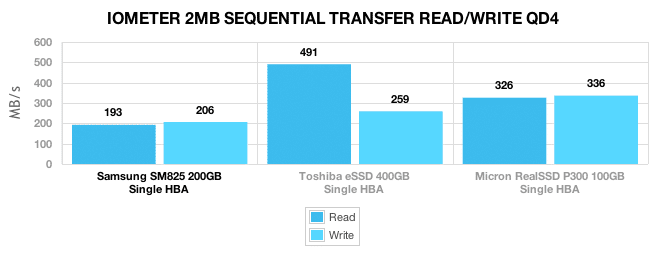 We measured a steady-state read speed of 193MB/s and a write speed of 206MB/s. These were lower than the SATA/SAS 6.0Gb/s Micron and Toshiba SLC counterparts, but that was expected.
Moving to a random access profile, but still maintaining a large block transfer size of 2MB, we start to see how performance varies in a multi-user environment. This test keeps the same queue depth level of 4 that we used in the prior sequential transfer benchmark.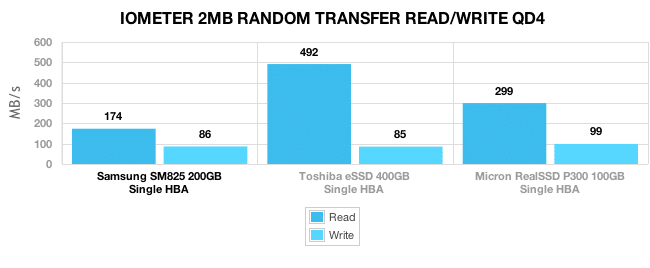 In the 2MB random transfer test the steady-state speeds measured 174MB/s read and 86MB/s write. The read speeds tapered off slightly from the pure sequential test, but what was surprising was the 86MB/s write speed that came in above the Toshiba SSD and under the Micron P300. Samsung wasn't kidding when they said this drive could compete at a similar level to SLC-based SSDs.
Moving to an even smaller random access transfer size of 4K, we get closer to the packet size that might be found in a heavy random access environment such as a server setting with multiple VMs accessing the same array. In the first test we look at expanded 4K read performance and how it scales from a queue depth of 1 to a maximum of 64.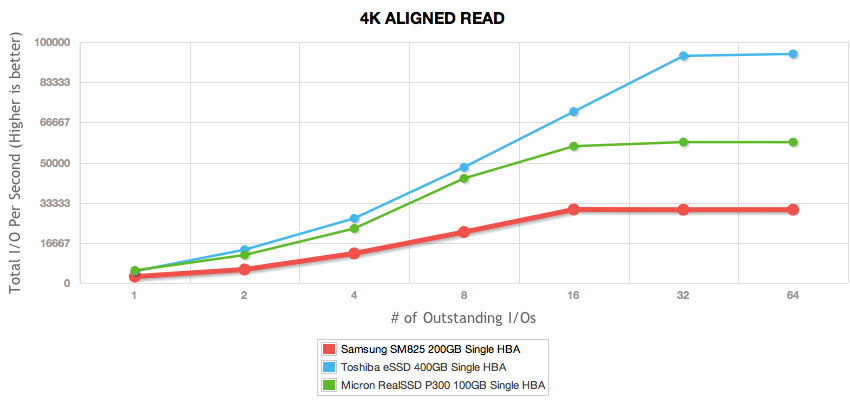 Samsung listed a peak sustained random 4K read speed of 35,000 IOPS with the 400GB model, with speeds expected to lower on the smaller capacities. At its peak, our 200GB SM825 measured 30,510 at a queue depth of 16, and held at that level through a queue depth of 64.
Our next test looks at 4K random write performance at a static queue depth of 32 and results are recorded and averaged once the drives have reached steady-state. While IOPS performance is a good metric to measure steady-state performance, another key area of interest is around average and peak latency. Higher peak latency figures can mean certain requests can backed up under heavy continuous access.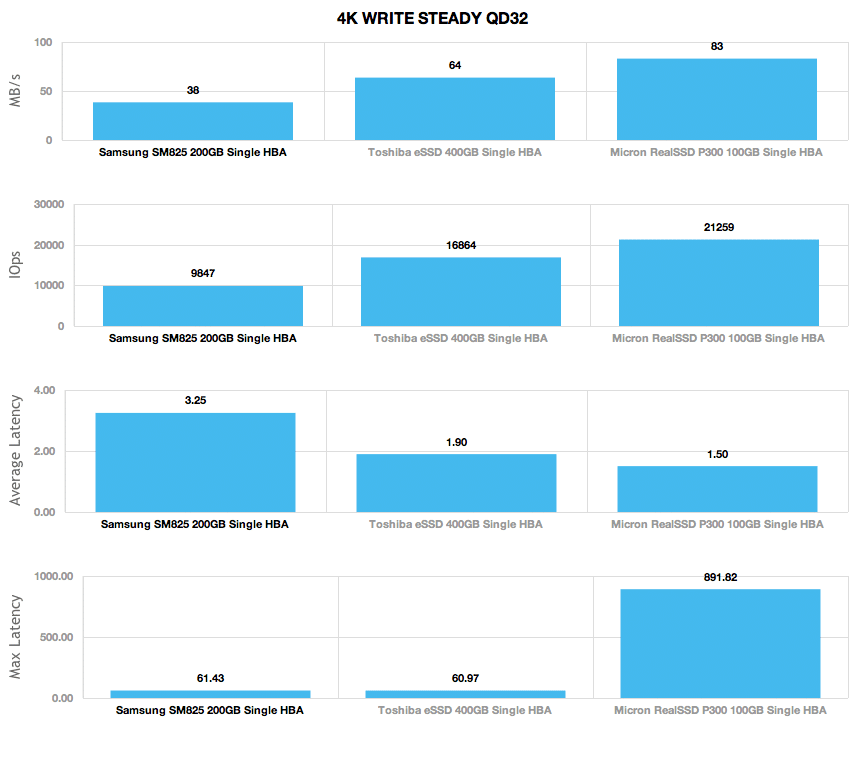 We measured a steady-state 4K random write speed of 9,847 IOPS on our 200GB SM825, which came in very close to the 10,000 IOPS sustained figure Samsung lists on the 400GB model. At this speed it passed an average of 38MB/s of data with an average latency of 3.25ms. During this test it had a peak response time of 61.43ms.
Our last series of synthetic benchmarks compare both enterprise drives in a series of server mixed-workloads with a static queue depth of 32. Like the synthetic benchmarks at the start of this review, these tests are also measured in steady state. Each of our server profile tests has a strong preference towards read activity, ranging from 67% read with our database profile to 100% read in our web server profile.
The first is our database profile, with a 67% read and 33% write workload mix primarily centered on 8K transfer sizes.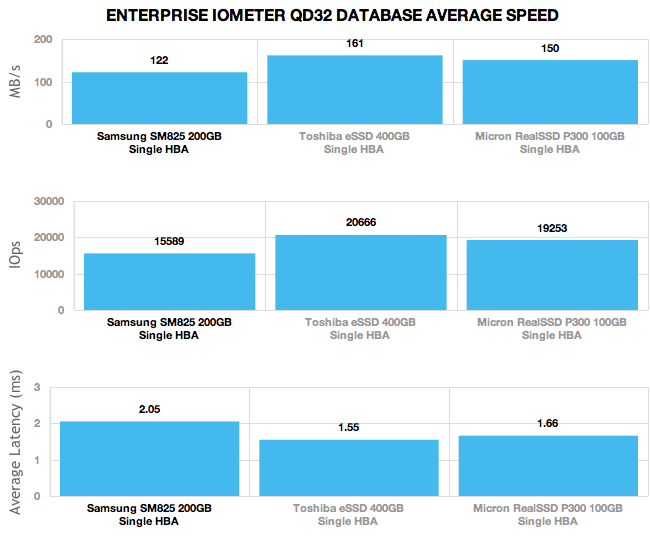 The Samsung SSD SM825 measured an average speed of 15,589 IOPS, which wasn't too far behind the SLC-based counterparts. It trailed the Toshiba SSD in this scenario by a gap of about 25%.
The next profile looks at a file server, with 80% read and 20% write workload spread out over multiple transfer sizes ranging from 512-byte to 64KB.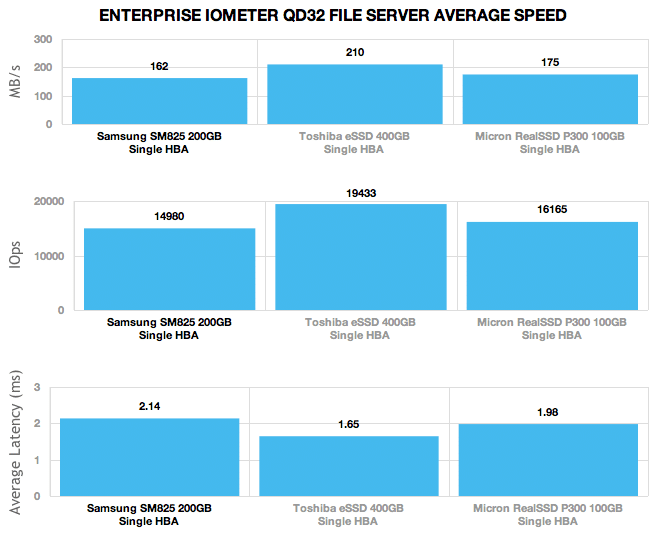 The eMLC-based Samsung SM825 still trailed the SLC-based Toshiba by 22.9% in the file server profile, but was only 7.3% slower than the Micron P300.
Our web server profile is read-only with a spread of transfer sizes from 512-byte to 512KB.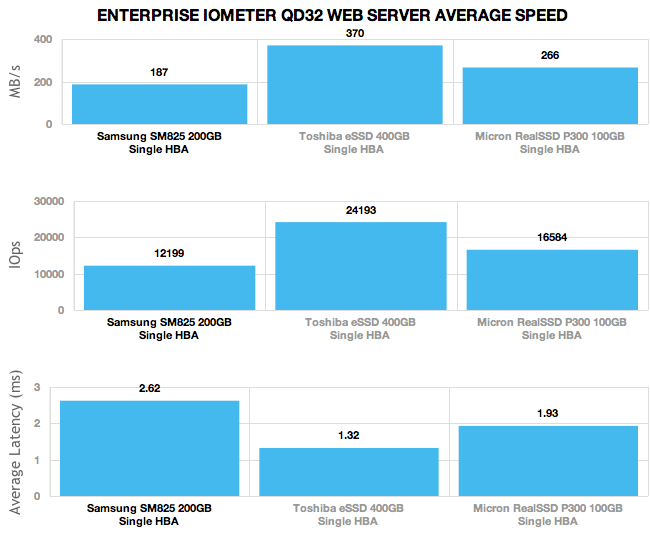 With the much stronger read speeds of the SATA/SAS 6.0Gb/s Toshiba MKx001GRZB and Micron P300 the Samsung SM825 fell behind in the read-only Webserver profile. It had an average speed of 12,199 IOPS compared to 16,584 IOPS from the P300 and 24,193 from the Toshiba.
The last profile looks at a workstation, with a 20% write and 80% read mixture using 8K transfers.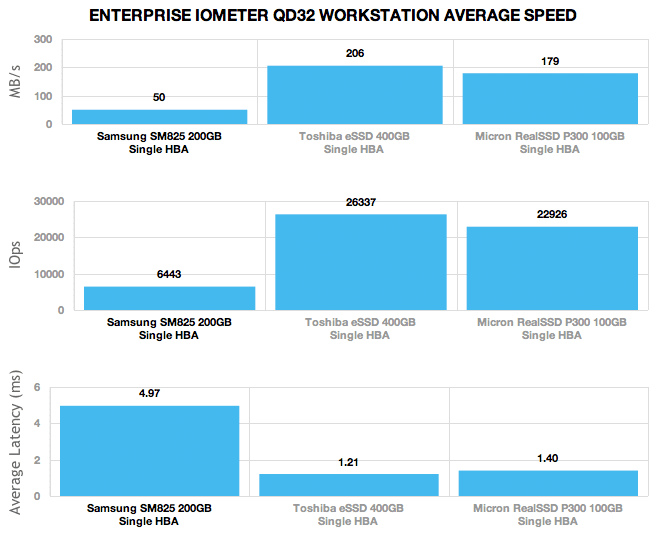 The workstation profile was easily the hardest one on the eMLC-based SM825, with the SLC SSDs showing much greater strength in this situation. The SM825 pulled through with a speed of 6,443 IOPS compared to 22,926 IOPS from the P300 and 26,337 IOPS with the Toshiba.
Enterprise Power Consumption
When it comes to choosing drives for the datacenter or other densely-packed storage environment, performance isn't the only metric companies are interested in when looking at SSDs or hard drives. Power consumption can be a huge deal in certain cases, so it makes sense that you would want to know how a drive would perform under a constant workload. One of the key messages Samsung is pushing behind the SM825 is low power consumption. Compared to traditional 15K SAS hard drives, the SM825 idles at 1.8 watts compared to 8.5 watts of a 15K RPM hard drive, a massive reduction in power. In active usage with a 4K random 70% read / 30% write mixture the power use jumps to 12.6 watts with the hard drive and 3.2 watts with the SM825. These numbers are huge when computing TCO; 22 IOPS/watt when active for the hard drive, while the SM825 hums away with 7,200 IOPS/watt.
In the Enterprise Power section of this review, we look at each drive under the same conditions we used to test the read and write speeds in earlier. This includes sequential and random 2MB transfers with a queue depth of 4 and small random 4K read and write transfers at a queue depth of 32. As with our previous tests we are measuring all figures in a steady-state to put the drive into its most power-hungry conditions.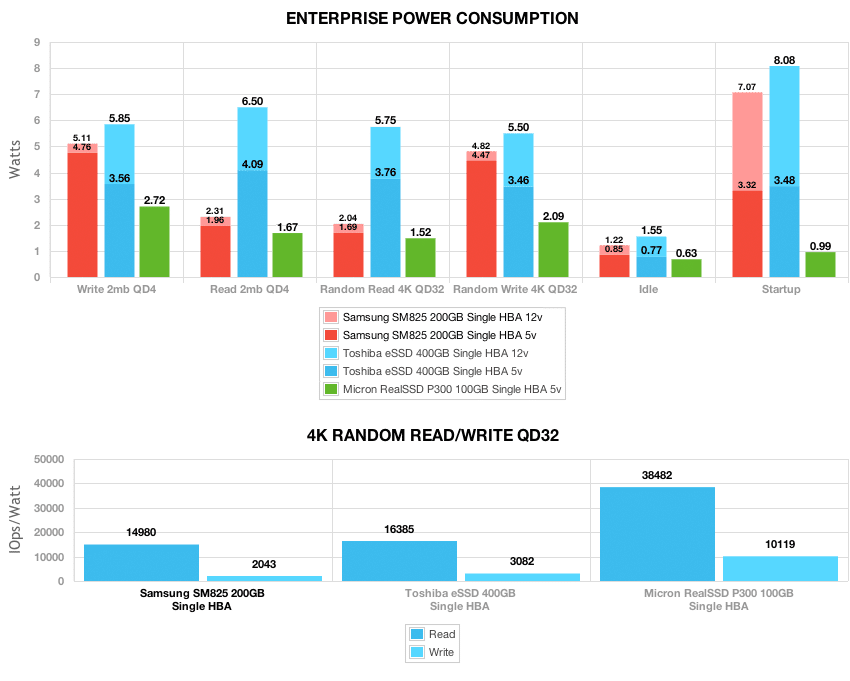 Under all conditions except start-up, the Samsung SSD SM825 used 5.11 watts or less. The most power hungry activity for the SM825 was sequential QD4 2MB write, using 5.11 watts averaged over the duration of the test. Second was random 4K QD32 write, third was sequential QD4 read and 4K QD32 steady read coming in fourth. During heavy-write activity the Samsung SSD SM825 used just under the amount of power the SAS 6.0Gb/s Toshiba MKx001GRZB required, although power quickly tapered off to much lower levels, near parity with the Micron P300, under read-heavy loads.
A large push for an eMLC SSD in a datacenter environment is around cost per GB and IOPS/Watt. We calculated a figure of 14,980 IOPS/watt in pure random 4K read at a queue depth of 32, dropping to 2,042 IOPS/watt if you instead look at steady 4K random write. This compared to 38,481 IOPS/watt read or 10,119 IOPS/watt write on the Micron P300 or 16,385 IOPS/watt read or 3,082 IOPS/watt write on the Toshiba. It really comes down to the needs of the business, finding the best blend of power to performance (or just straight performance) that factors in when buying the SSD or hard drive.
Conclusion
As we know, in enterprise environments, SSDs are more about sustained performance over the life of the drive than raw burst speeds. We're also seeing a shift from more expensive SLC SSDs to cost effective eMLC SSDs as enterprise users look for the ideal spot on their performance/TCO curve. The industry has made it clear that eMLC NAND has the staying power to live in data centers and Samsung further backs this message with their SM825 boasting 7,000 TBW in the 400GB capacity.
With the move to eMLC comes an expected drop in performance when compared to SSDs using SLC NAND. To Samsung's credit, they mitigate this to the extent that they can by selecting the best NAND from their fabs. They also use their own processor and have engineers to build custom firmware, so the package as a whole works in concert, which means better performance, reliability and compatibility. In our testing we found the SM825 to offer most of the performance of an SLC SSD in several situations. In Database and File Server profiles the SM825 trailed the SLC Toshiba MKx001GRZB by 25% and 22.9% respectively. In the read-intensive Webserver profile and workstation scenario, the SM825 trailed by greater amounts working out to 49.6% and 75.5%, but to be fair, this SSD isn't engineered for that particular workload.
At the start of this review we mentioned the primary target market for this drive is enterprise. As more hours and TBs get logged on SSDs, buyers are able to figure out what drive best fits their usage scenarios; be it MLC, eMLC, or SLC. With huge price gaps separating each, it makes a great deal of sense to get the one that best fits your TCO model. The Samsung SSD SM825 equipped with eMLC NAND is able to fit the bill of a write-intensive enterprise-grade SSD but still comes in at a much lower price-point compared to its SLC competition. For businesses that fit the model of speed/usage, buying this drives makes sense, in other situations it does not.
Pros
Complete in-house solution
Strong 10K IOPS steady-state random 4K
7,000TBW from 400GB model
Cons
Slower SATA 3.0Gb/s read speeds give up speed in read-heavy scenarios compared to SAS and SATA 6.0Gb/s SLC SSDs
Bottom Line
Given the data center usage scenario for which the Samsung SM825 SSD was created, the drive held up well, delivering nearly 10,000 IOPS in steady state random 4K testing. The lower cost eMLC and SATA interface highlight the value proposition, while Samsung's own NAND, controller, cache DRAM and custom firmware drive solid performance, reliability and compatibility – all things that matter a great deal given the long duty life expected for this SSD. The SM825 ends up providing a great mix of features and will surely make many a shortlist as enterprise buyers look to save more money by fitting more targeted SSDs in specific use scenarios.