Samsung has launched a new USB 3.0 external hard drive, the STORY Station 3.0. The STORY Station features a 3.5" hard drive inside and a USB 3.0 interface, which is capable of speeds up to 5Gb/s… ten times faster than USB 2.0.
Samsung has launched a new USB 3.0 external hard drive, the STORY Station 3.0. The STORY Station features a 3.5" hard drive inside and a USB 3.0 interface, which is capable of speeds up to 5Gb/s… ten times faster than USB 2.0.
We don't expect to see a 10x speed burst over USB 2.0 though, since that would put this drive into the realm of top-tier SSDs. That's not to say the speed boost isn't noticeable or even worth the cost, for many USB 3.0 is a welcome option.
The STORY Station 3.0 builds on a multi-generation platform for Samsung. Our review unit is a 2TB model, the drive also comes in 1TB and 1.5 TB capacities.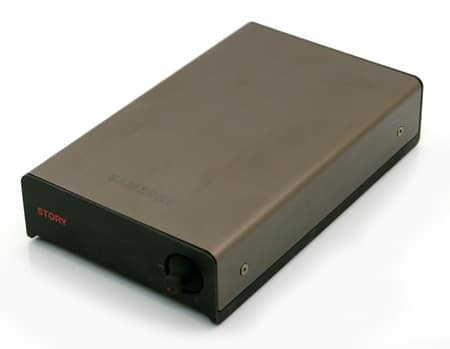 Aesthetics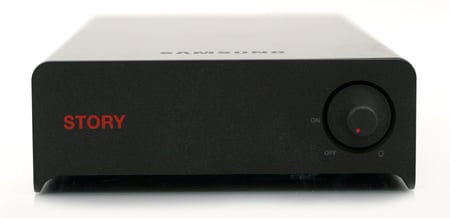 Samsung has gone with a most minimalist approach to the design of the STORY Station 3.0. The body is made of grey brushed aluminum, with the front of the unit featuring just the power knob and red stenciled STORY. A power knob is somewhat interesting, rather than a switch. But the knob has some limited use, turning it manages the brightness of the access LED on the front, within a limited range. The LED is also interesting in that it's blue when in USB 3.0 mode and green when only operating under USB 2.0.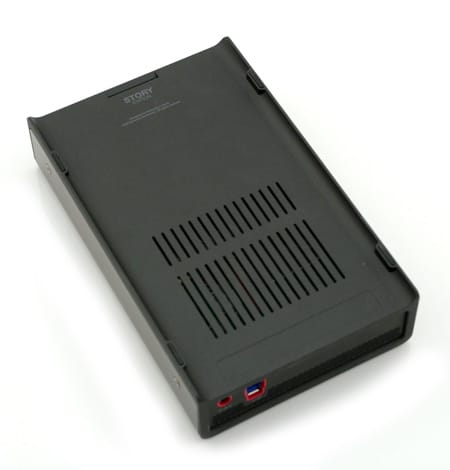 The unit is well ventilated on the bottom and rear. There's not an internal fan, which is good for desktop use, as that means the drive is quiet. When hammering the drive with random access tasks, it's hardly noticeable.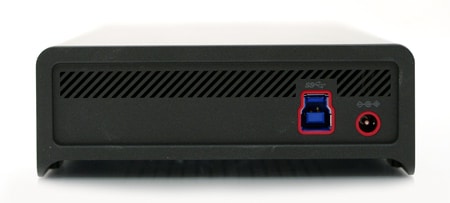 Samsung uses a full-size USB 3.0 connector in the back, whereas Western Digital uses the micro-USB 3.0 connector in their USB 3.0 MyBook. This doesn't make a difference really, but the larger adapter might be more durable and solid over the long term. The back also houses the power adapter, which is of course required with 3.5" drives and included.

Overall the drive looks great, the metal body will blend in with just about any environment, even MAC users will probably be pleased with its styling. It's rock solid too, not that you'd want to, but the case could probably handle more than a little roughing up and be no worse for the wear. That's an upgrade over all-plastic housings, especially if the drive gets moved around with regularity.
Disassembly
Getting at the internal drive is relatively easy. The top cover comes off with 4 Torx screws. Once the cover is off you have access to split the two frame case halves apart. To get any further, you have to break the warranty stickers.
Benchmarks
As we noted in the beginning, USB 3.0 is definitely faster than USB 2.0. In this case we ran the drive in both modes and we also benchmarked against the Western Digital MyBook 3.0. In most cases, we've charted all three values against each other so you can see both the comparative performance of the interface and that of the leading competing drive.
The Samsung STORY Station 3.0 2TB had a peak read speed of 109MB/s and a peak write speed of 101MB/s when connected over SuperSpeed USB 3.0. Under the same interface the Western Digital MyBook 3.0 1TB had a peak read speed of 124MB/s and 90MB/s write. When we connected the drive over a legacy USB 2.0 connection the speeds on the Station 3.0 dropped to 33MB/s read and 29MB/s write.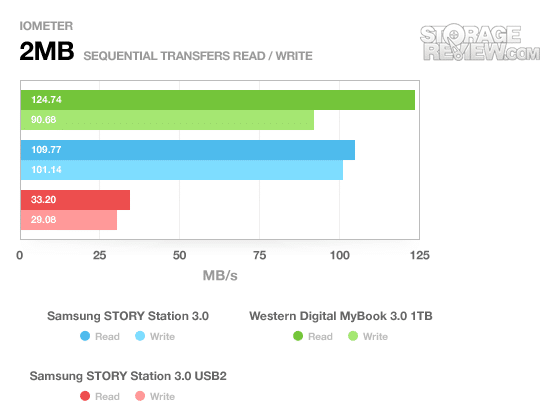 CrystalDiskMark showed results in line with our IOMeter tests and expanded upon them with both fastest (outer edge of platter) and slowest (inner edge of platter) speeds.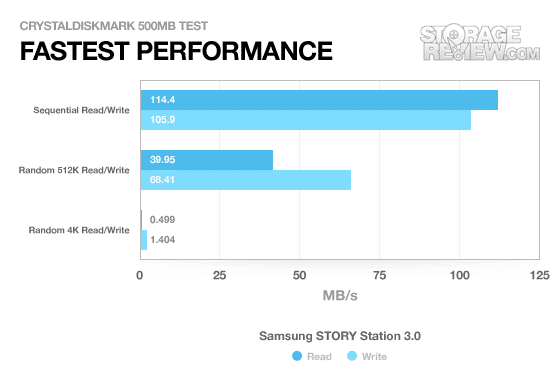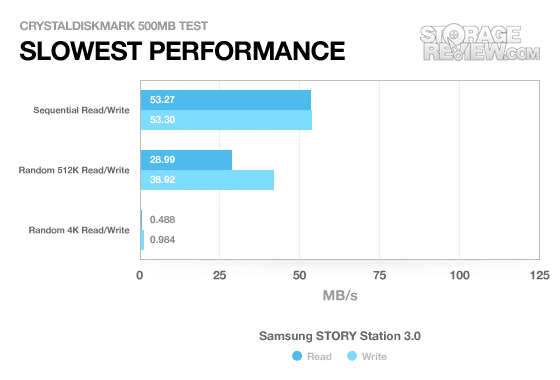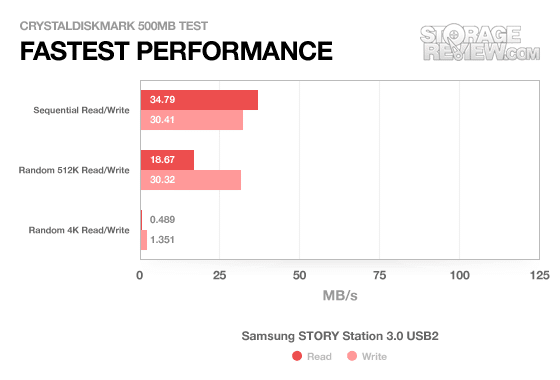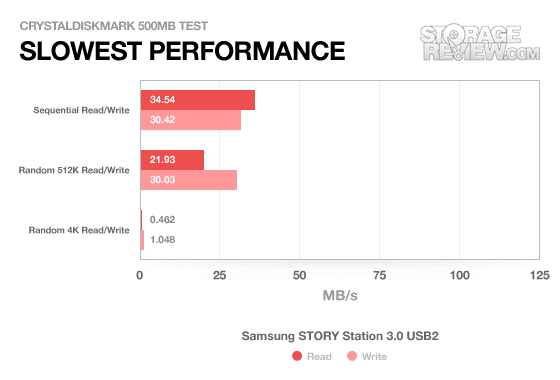 2MB random transfers saw a large drop on both drives, but not a huge drop in USB 2.0 mode since the internal speed was still greater than the interface speed. The Western Digital MyBook still had the lead in read speed in this test with an average of 56MB/s, or 10MB/s faster than the Samsung STORY Station 3.0.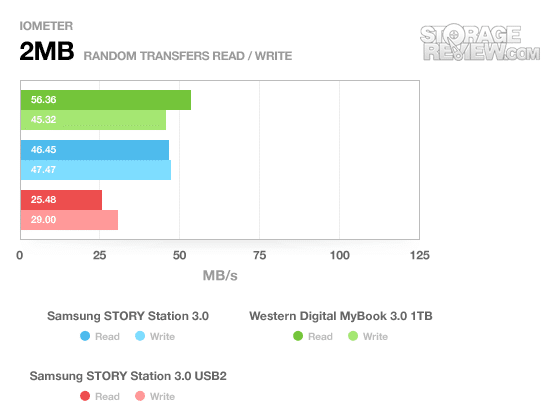 In our random 4K test using IOMeter the MyBook still had a slight lead over the Station. We don't see much of a difference between USB3 and USB2 speeds in this test since the transfer speed is so little that the interface is nowhere near being stressed. In write latency the MyBook had nearly a 1.5ms lead over the Station and a significantly better max latency time.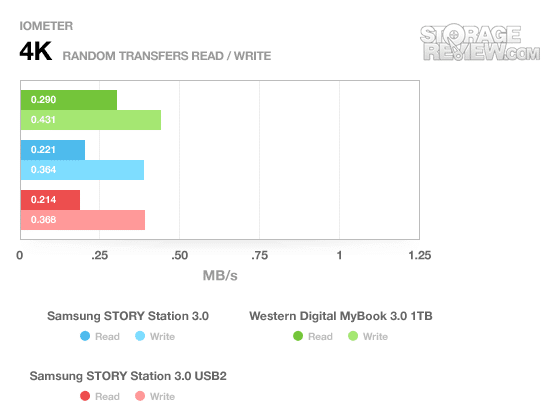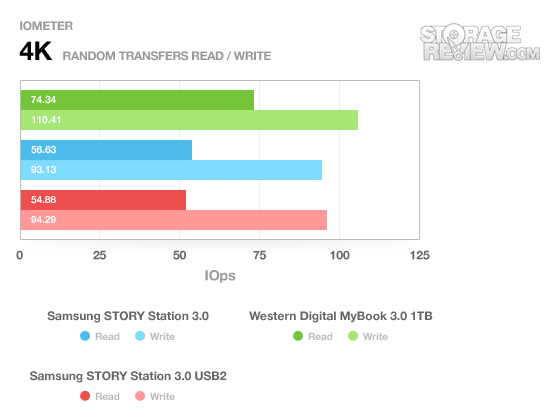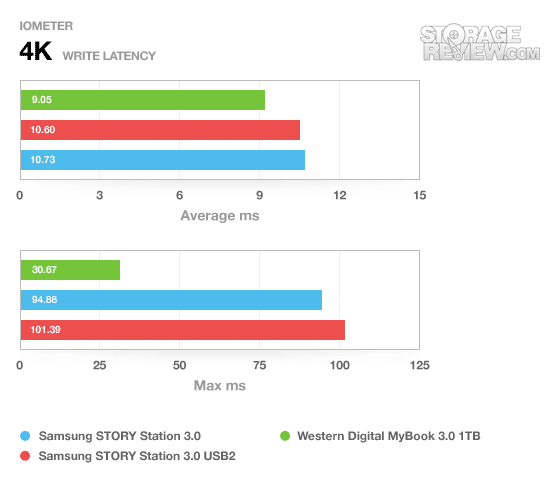 Since these drives were fast enough to provide meaningful results in our real-world custom traces we ran both our HTPC and Productivity tests when connected over SuperSpeed USB 3.0.
The first real-life test is our HTPC scenario. In this test we include: playing one 720P HD movie in Media Player Classic, one 480P SD movie playing in VLC, three movies downloading simultaneously through iTunes, and one 1080i HDTV stream being recorded through Windows Media Center over a 15 minute period. Higher IOps and MB/s rates with lower latency times are preferred.
The Samsung STORY Station 3.0 took the lead from the Western Digital MyBook 3.0 which wasn't a huge surprise since it had the lead on write speeds in both our sequential and random 2MB transfer tests.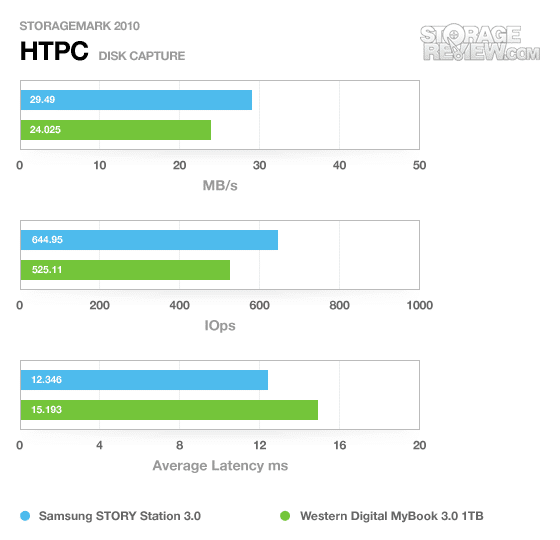 Our second real-world test is a productivity scenario. For all intents and purposes this test shows drive performance under normal daily activity for most users. This test includes: a three hour period operating in an office productivity environment with 32-bit Vista running Outlook 2007 connected to an Exchange server, web browsing using Chrome and IE8, editing files within Office 2007, viewing PDFs in Adobe Reader, and an hour of local music playback with two hours of additional online music via Pandora.
While the HTPC trace had a high percentage of large transfers, the Productivity trace has a high percentage of small transfers with increased random activity.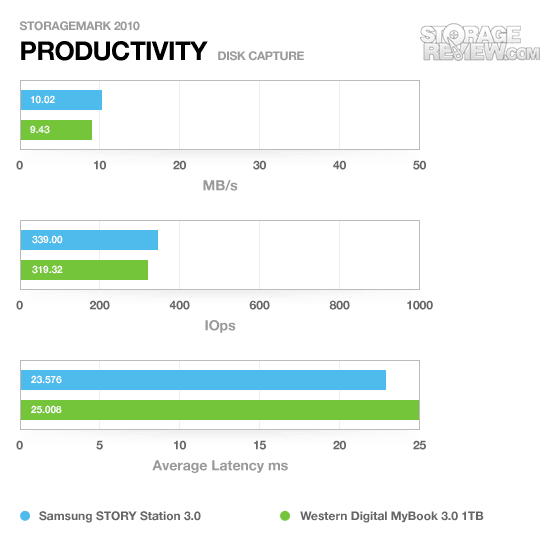 In this test with its higher percentage of random activity—which the MyBook 3.0 had the upper hand—the Samsung Story still had a small 6% lead over the MyBook 3.0.
Software
Samsung has included a suite of pre-loaded software including Samsung Auto Backup, SecretZone, and SafetyKey for data encryption and password protection.
Warranty
The Samsung STORY Station 3.0 drive comes with a three-year warranty. Three years is standard for external hard drives in this class.
Conclusion
The Samsung STORY Station 3.0 comes in 1TB, 1.5TB and 2TB capacities, with suggested retail pricing of $154.99, $194.99 and $269.99 respectively. The pricing is competitive with other USB 3.0 external hard drives and Samsung is the only drive manufacturer other than Western Digital (1TB and 2TB) offering USB 3.0 in high capacities.
The drive performs right alongside the Western Digital MyBook 3.0 in the synthetic tests, but takes a noticeable lead in our real-world scenarios. On top of that, the Samsung is well-built with aluminum body, compared to plastic in the Western Digital, it wins on aesthetics too.
The only downside then is the cost issue, USB 3.0 is still a new technology with user adoption creeping along. But that's a platform problem, not specific to Samsung. That said, if you want or need the speed of USB 3.0 in an external drive, the price is probably less of an issue.
Pros
Looks great and is rock solid
Best performer in its class for real-world scenarios
Quiet operation
Cons
USB 3.0 commands a $100 premium at the 2TB capacity over USB 2.0
Bottom Line
The Samsung STORY Station 3.0 is a solid performer that gets bonus points for a solid build and clean, minimalistic looks. For anyone looking for an external USB 3.0 hard drive there's nothing better right now than the STORY Station 3.0.