Seagate's latest single-platter laptop hard drive that was announced today has slimmed down to just 5mm thick while maintaining standard SATA connectivity and interoperability with 7 and 9.5mm drive bays. The 5mm HDD market is centered around laptops, tablets, ultrabooks, and other mobile storage; product lines which are also transitioning from larger form factors to 5mm. If its performance is competitive with other third-generation slim drives, the Laptop Ultrathin's flexible form factor may give Seagate an edge in the mobile storage market.
Seagate's latest single-platter laptop hard drive that was announced today has slimmed down to just 5mm thick while maintaining standard SATA connectivity and interoperability with 7 and 9.5mm drive bays. The 5mm HDD market is centered around laptops, tablets, ultrabooks, and other mobile storage; product lines which are also transitioning from larger form factors to 5mm. If its performance is competitive with other third-generation slim drives, the Laptop Ultrathin's flexible form factor may give Seagate an edge in the mobile storage market.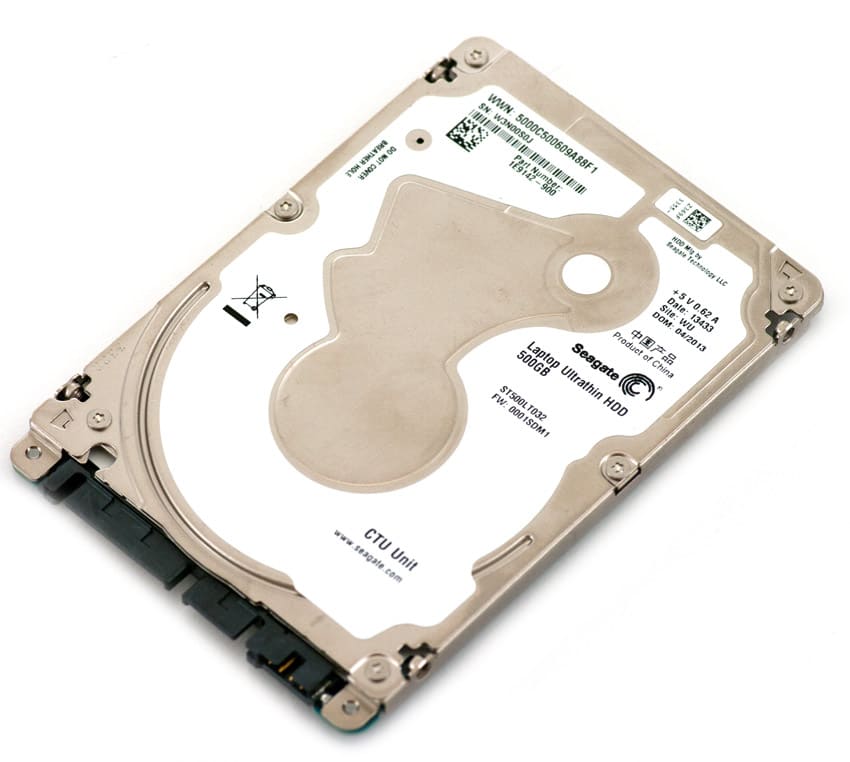 It's not just in-compute devices that Seagate sees a great deal of potential for 5mm hard drives. Accessory vendors ranging from portable hard drive enclosures to those trying to provide unique storage access for tablets and other small portables see value in a high-capacity, low-cost storage option this size. There is a battle being waged though in the 5mm storage space and it's centered on interface. Whereas WD's new 5mm Blue UltraSlim HDD we reviewed in April is strongly oriented towards newly-developing niches for 5mm single-platter drives that can take advantage of the new edge connector, Seagate has emphasized interoperability with existing mobile devices to increase the appeal of the Laptop Ultrathin to manufacturers. In other words, manufacturers buying drives to support existing 7mm and 9.5mm enclosures will find the new Laptop Ultrathin provides continuity with standard HDD offerings while allowing the company to focus product development on newer devices designed from the ground up for 5mm. WD on the other hand requires a different cabling harness for their drive, making it difficult for OEMs to multi-source hard drives in this class. There will likely only be one interface that wins out, Seagate is betting it's standard SATA.
The Laptop Ultrathin HDD line is offered in 500GB and 320GB capacities, with a separate Seagate Secure self-encrypting edition that meets TCG Opal protocol at the 500GB capacity. Being limited to a single platter means that larger 750GB and 1TB capacity drives from the previous generation have not made the transition, which is the tradeoff for the reduced height. Our review model is the 500GB Laptop Ultrathin (ST500LT032), without self-encryption.
Seagate Ultrathin HDD 500 Specifications
Capacities

320GB ST320LT030
500GB ST500LT032
500GB ST500LT033 (Self-Encrypting)

Interface: SATA 6Gb/s
Cache (MB): 16
Seek Average, Read (ms): <13
Seek Average, Write (ms): <15
Max. Sustained Data Transfer Rate OD (MB/s): 100
Max. Data Transfer Rate (MB/s): 600
Bytes per Sector (logical/physical): 512/4096
Load/Unload Cycles: 600,000
Nonrecoverable Read Errors per Bits Read, Max: 1 per 10E14
Startup Power, Typical (A): 1.0
Seek, Typical (W): 1.4
Idle, Typical (W): 0.48
Operating Temperatures (C): 0 to 60
Nonoperating Temperatures (C): −40 to 70
Shock (Gs)

Operating 2ms: 400
Nonoperating 1ms: 1000

Idle, Typical (Bels): 2.0
Seek, Typical (Bels): 2.2
Dimensions LxWxH (mm/in): 100.35/3.95 x 69.85/2.75 x 5.0/0.197
Weight (g/lb) 93/0.205
Build and Design
Ensuring clearance for a standard SATA connector and screw point points compatible with larger drives means that Seagate has to maximize the available dimensions, but apart from its remarkable size for a hard drive, the Laptop Ultrathin offers little out of the ordinary with the design of the chassis.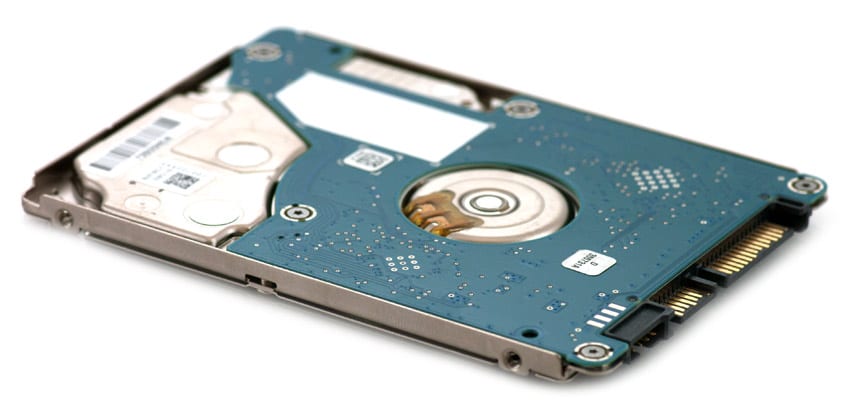 Seagate describes the assembly process for the Laptop Ultrathin HDD as redesigned from the previous generation to improve reliability while remaining compatibility with 7 and 9.5mm drive enclosures.

At 93 grams, Seagate's 5mm HDD is more than 20g heavier than WD's Blue UltraSlim 500GB, which may hurt Seagate with manufacturers that want to compete on weight, but the flip side is that the Laptop Ultrathin's steel base plate and steel cover design feels durable and brings quite a bit more flexibility in terms of applications and devices.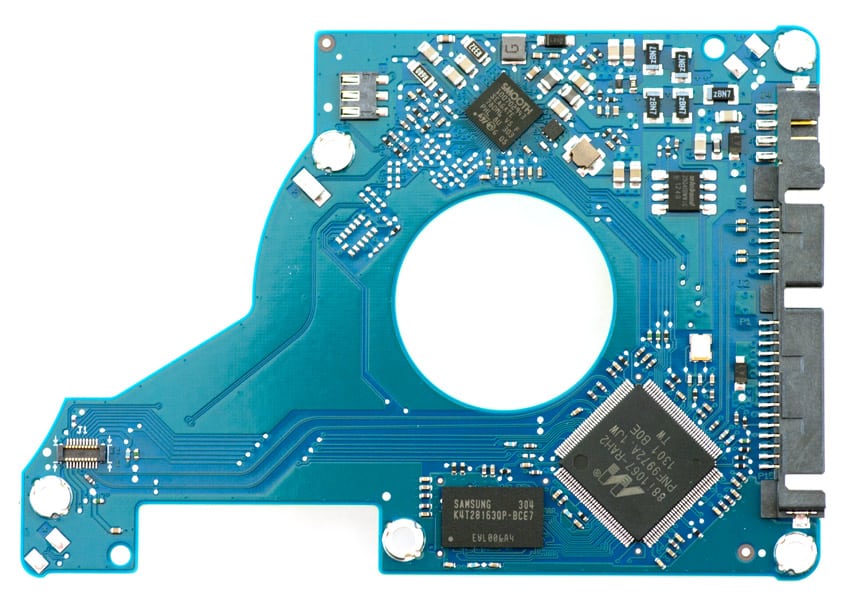 The Seagate Laptop Ultrathin uses a Marvell 88i1067 controller, Smoth motor driver and includes 16MB of DRAM for cache. Compared to the WD UltraSlim, the Seagate 5mm HDD has a near-identical circuit board as its larger 9.5 and 12mm siblings.
Performance and Synthetic Benchmarks
When it comes to measuring performance of the Seagate 5mm Laptop Ultrathin HDD the two categories of benchmarks that we commonly test all consumer HDDs and SSDs on show strengths in different areas. Our synthetic benchmarks are geared at showing the performance of the drive in an uncached "worst case" scenario, while our real-world traces allow the drive to cache data and better show how the drive would perform during repetitive day-to-day activities.
Benchmarking Comparables:
In our first test measuring sequential transfer speeds, the Seagate 5mm Ultrathin came in trailing the 5mm WD UltraSlim by about 10MB/s in both read and write activity.

Switching from sequential to random large-block transfers, we measured 43MB/s read and 36MB/s write from the 5mm Seagate Ultrathin, giving it an edge in read speed compared to the WD HDD, but came in below its higher write speeds.

Transitioning to an even smaller random transfer, our next test measures 4K random transfers. In a fully-random small-block transfer scenario, the Seagate Ultrathin came in at the bottom of the pack, trailing slightly in read speed but slumping further behind with write performance compared to the UltraSlim.


Comparing average write latency in our 4k write test, the Seagate Ultrathin came in towards the bottom of the pack with an average latency of 9.58ms and a max latency of 111.76ms.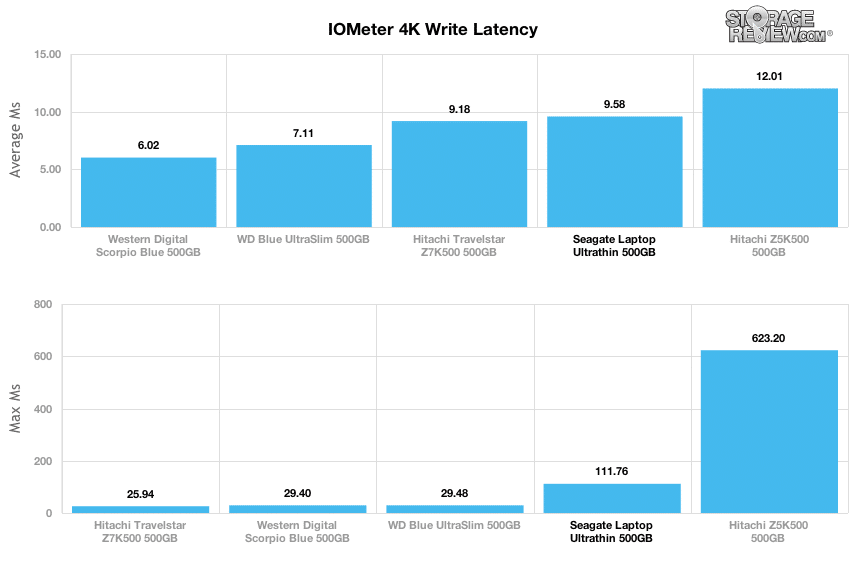 Our last series of synthetic benchmarks compare the hard drives in a series of server mixed-workloads with a queue depth of ranging from 1 to 128. Each of our server profile tests has a strong preference towards read activity, ranging from 67% read with our database profile to 100% read in our web server profile. In all of our mixed workloads, it ranked middle of the pack overall, and competed well against the 5mm WD UltraThin. In our Database and Workstation profile the Ultrathin was able to match or outpace the UltraSlim, while in File Server and Web Server profiles it trailed it.
The first test is our database profile, with a 67% read and 33% write workload mix primarily centered on 8k transfer sizes.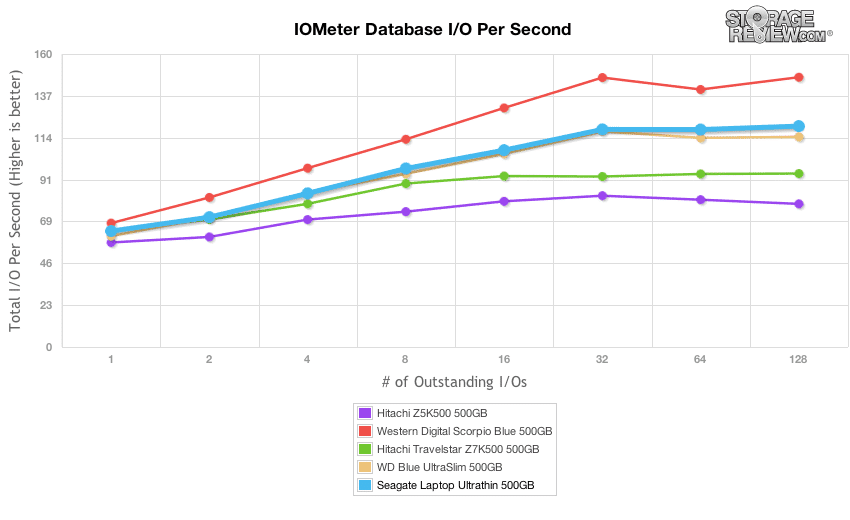 The next profile looks at a file server, with 80% read and 20% write workload spread out over multiple transfer sizes ranging from 512-byte to 64KB.
Our web server profile is read-only with a spread of transfer sizes from 512-byte to 512KB.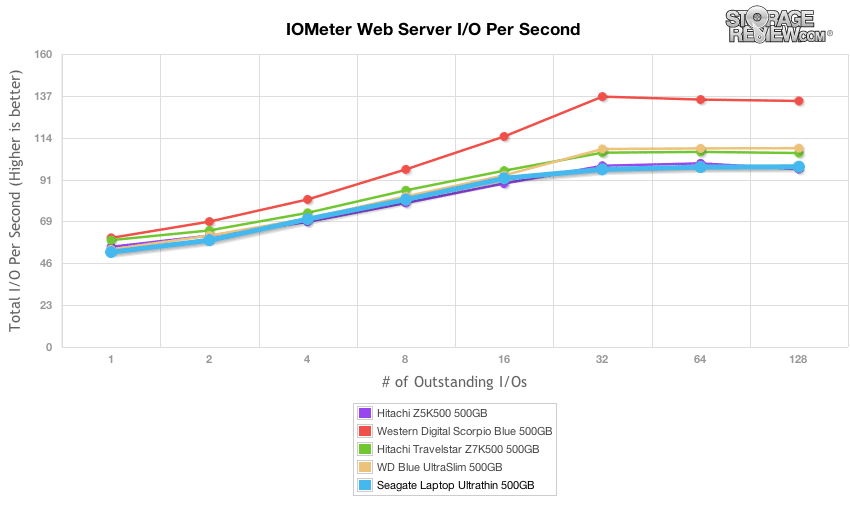 The last profile looks at a workstation, with a 20% write and 80% read mixture using 8k transfers.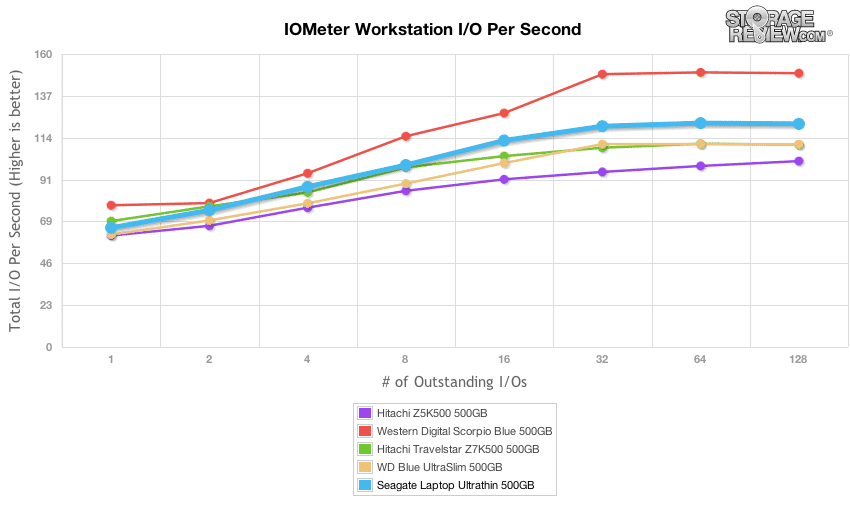 Consumer Real-World Benchmarks
For the average consumer, trying to translate random 4k write speeds into an everyday situation is pretty difficult. It helps when comparing drives in every setting possible, but it doesn't exactly work out into faster everyday usage or better game loading times. For this reason we turned to our StorageMark 2010 traces, to help readers find out how a drive might rank under their conditions.
This real-life test covers disk activity in a gaming environment. This trace relies heavily on the read performance of a drive. To give a simple breakdown of read/write percentages, the HTPC test is 64% write, 36% read, the Productivity test is 59% write and 41% read, while the gaming trace is 6% write and 94% read. The test consists of a Windows 7 Ultimate 64-bit system pre-configured with Steam, with Grand Theft Auto 4, Left 4 Dead 2, and Mass Effect 2 already downloaded and installed. The trace captures the heavy read activity of each game loading from the start, as well as textures as the game progresses. In this trace we recorded 426MB being written to the drive and 7,235MB being read.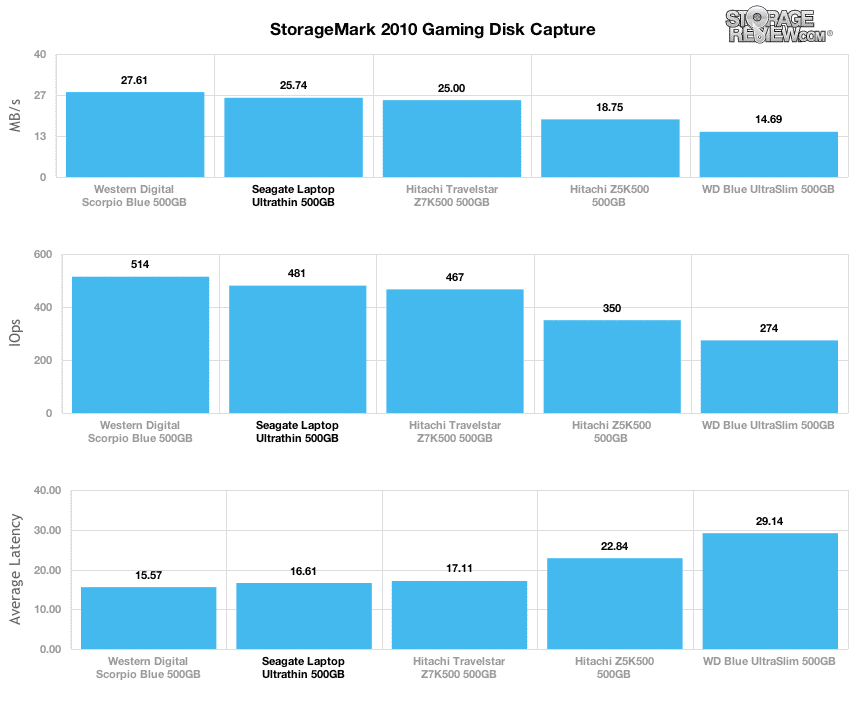 In our Gaming trace the Seagate Ultrathin measured 25.74MB/s average, putting it towards the top of the pack and showing a clear lead above the WD Blue UltraSlim.
Power Consumption
With any laptop drive, power consumption is an important factor for users. The key sources of power draw get narrowed down to either the bright screen or the storage device used. In the next test, we record the average power consumed over a small range of synthetic benchmarks. For reference, WD lists an average idle power rate of 0.48 watts and an active seek rate of 1.4 watts.

Seagate's power usage claims came in lower than we had measured, with our idle measurement being 0.67 watts versus 0.48 watts on the spec sheet. Seagate active seek rate of 1.4 watts was also lower than the random read measurement we saw of 2.08 watts in testing. Overall compared to the WD Blue UltraSlim, the Seagate Ultrathin showed lower power usage in sequential write, read, and idle usage, and only used slightly more in random read and startup.
Conclusion
With the addition of the new 320GB and 500GB Laptop Ultrathin HDDs to Seagate's lineup, we are seeing manufacturers begin to capitalize on the 5mm form factor and to distinguish themselves from one another. The Laptop Ultrathin has great potential as a transitional device — leveraging Seagate's customer base for larger laptop drives while orienting new product development towards 5mm solutions. With the option of a self-encrypting model at 500GB, Seagate's new line covers a lot of ground for a very small device. Of course the engineering is key – Seagate used a high strength steel base plate and standard SATA connector, which should help give them an edge in 5mm adoption.
When we consider performance, in this class of hard drive the conversation gets a bit muddled. The 5mm drives often trade places back and forth and none really stand out as category leaders. The Seagate is better in some spots, the WD in others. And to be fair, the likelihood of an end user really "feeling" a big difference is minimal. What we really have here is a divergence in opinion as to how the 5mm hard drive war will be won. Seagate thinks that the full sized SATA port is the key, WD has gone with the path less traveled. At the end of the day, the winner of the 5mm battle may take years to decide as adoption of ultra-thin compute platforms increase market share to a point that the shipping drive volume is more than a nominal hit to any of the three major vendors (four brands) left in the hard drive space. All that said, Seagate is betting on the full-size SATA connection to stick around for a while, pushing both the Ultrathin HDD and a version of their new 600 SSD in 5mm form-factors.
Pros

Thinnest hard drive form factor available with standard SATA connectivity
Interoperable with 7mm and 9.5mm enclosures
500GB single-platter
Cons
 Doesn't really differentiate in performance or power consumption
Bottom Line
The Seagate 5mm 500GB Laptop Ultrathin hard drive offers quite an impressive set of engineering wins to do battle in the OEM market that's demanding ultra thin storage options.
Discuss This Review