This past spring Seagate started shipping the 3TB Barracuda XT (review) which was a pretty solid offering. Seagate quickly followed up that release with an announcement that a new 3TB Barracuda would feature three 1TB platters instead of the five 600GB platters seen in the first version. Seagate's about a quarter late in delivering the new 1TB platter technology, but sometimes new technology is better late than never…especially when top line sequential read and write speeds top 190 MB/s, an improvement thanks to the new platters of 30%.
This past spring Seagate started shipping the 3TB Barracuda XT (review) which was a pretty solid offering. Seagate quickly followed up that release with an announcement that a new 3TB Barracuda would feature three 1TB platters instead of the five 600GB platters seen in the first version. Seagate's about a quarter late in delivering the new 1TB platter technology, but sometimes new technology is better late than never…especially when top line sequential read and write speeds top 190 MB/s, an improvement thanks to the new platters of 30%.
Seagate is the first to commercialize 1TB hard drive platters. While consumers may pine for 5TB drives based on the innovative platter, macro and practical issues have Seagate trying it out in the 3-platter Barracuda first. Conceptually though, it's not that far-fetched to start to think about the applications we'll likely see over the next several quarters. Seagate offers a 4TB hard drive through their branded products division, the 4TB GoFlex Desk has a five 800GB platter Barracuda hard drive inside. Swapping those out for 1TB platters is the next logical step in jumbo hard drive capacity…and a welcome option for NAS users and others who are limited by the number of terabytes they can get per drive bay.
Dealing with the drive in hand though, the 3TB Barracuda has a good deal going for it. Aside from the new platters, users are getting 7,200 RPM spindle speed, 64MB cache and several Seagate technologies like OptiCache, which makes the cache process more efficient, SmartAlign which helps legacy computers play nice with 4K sectors and DiscWizard which allows operating systems like Windows XP to take advantage of the full 3TB capacity.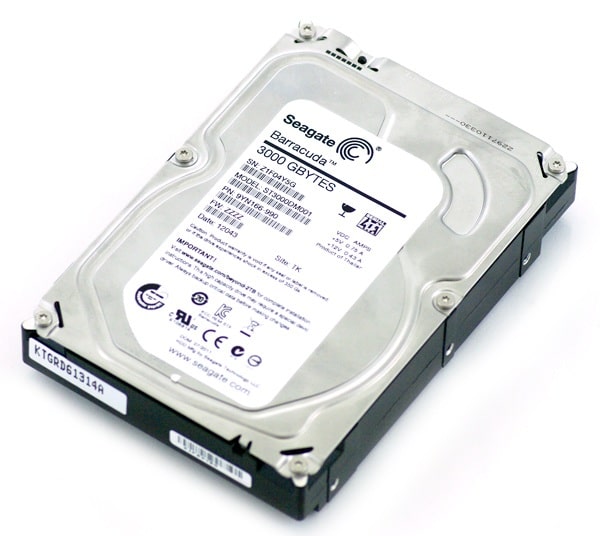 Seagate Barracuda Specs 3TB
Capacities from 250GB – 3TB

250GB – 16MB cache (ST250DM000)
320GB – 16MB cache (ST320DM000)
500GB – 16MB cache (ST500DM002)
750GB – 64MB cache (ST750DM003)
1TB – 64MB cache (ST1000DM003)
1.5TB – 64MB cache (ST1500DM001)
2TB – 64MB cache (ST2000DM001)
3TB – 64MB cache (ST3000DM001)

SATA 6Gb/s
Spindle Speed – 7,200 RPM
Average read – 156 MB/s
Max read – 210 MB/s
4096 bytes per sector
Six heads, three disks
Power – Operating 8.0W, Idle 5.4W, Standby .75W
OptiCache, AcuTrak and SmartAlign Technologies
Design and Build
Seagate stays pretty consistent with their labeling and hard drive design scheme. The top cover includes the basic black on white sticker stuck on top of the vibration dampening plate on the top cover. The design hasn't changed much from the previous 3TB Barracuda XT, and it doesn't look much different from their enterprise-class Constellation ES series.

The bottom of the drive shows the "electronic facing inwards" circuit board layout that we have come to see from Western Digital and Seagate. This method puts the components right in contact with the metal body, helping to shed heat off sensitive parts.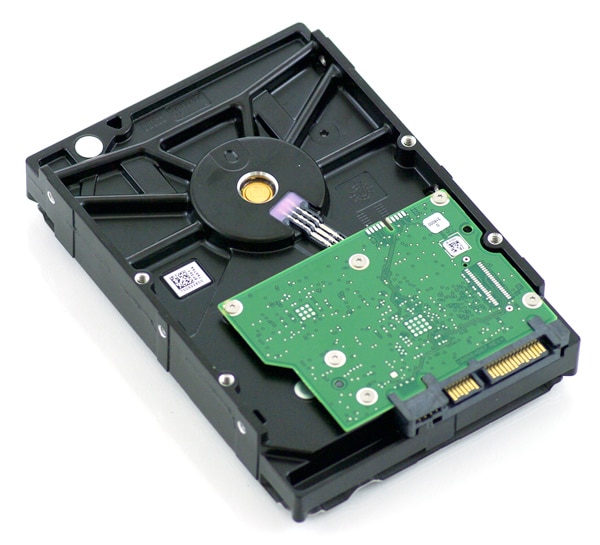 The front of the keeps the same SATA power/data interface as the previous models, as well as the 4 pin jumper area.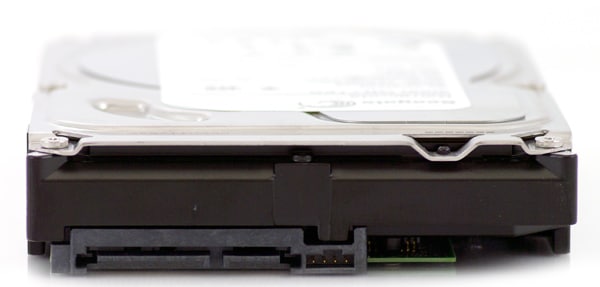 The new 3TB Barracuda reports itself as a 512-logical, 4096-byte physical drive to the operating system. This is optimal for operating systems that can correctly work with newer 4K-drives, instead of forcing a legacy 512-byte physical size through emulation.
Disassembly
The circuit board on the 3TB Barracuda is held on with six small T6 Torx bits. Compared to the previous generation, the board itself is more compact. This saves a bit of space although the board is still too large to be shared with anything smaller than a 3.5-inch hard drive.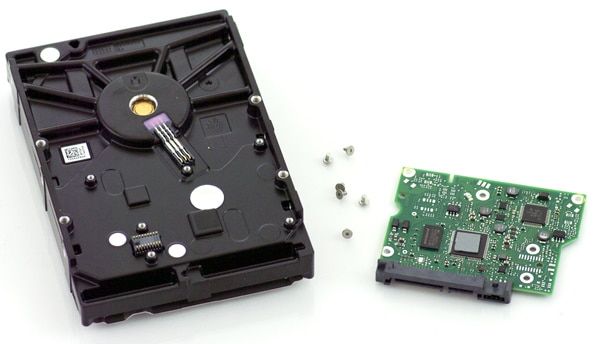 With the circuit board removed we find no vibration dampening layer of foam that was present in earlier models, although we do find a thermal pad attached to the drive controller. This helps draw heat away from the chip and into the body of the hard drive, acting as one large heatsink.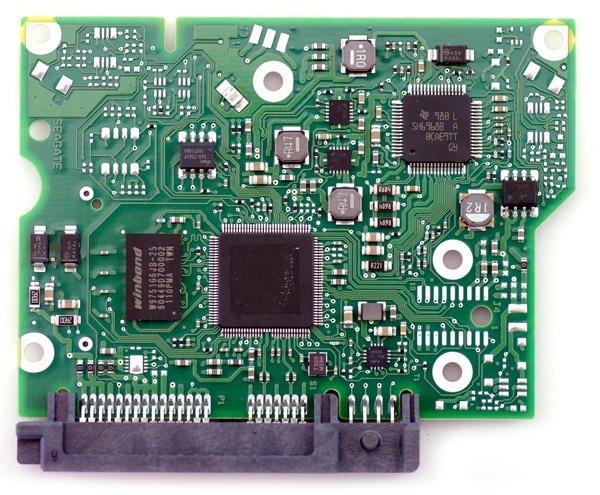 The board contains a 64MB Winbond W9751G6JB-25, an LSI/Seagate controller and a Texas Instruments SH6968B motor driver.
Synthetic Benchmarks
Looking at just the numbers listed on the spec sheet, you can tell this drive offers a little extra kick over its predecessor. The max sustained read speed on the 1TB platter model is 210MB/s compared to just 149MB/s in the five-platter design. That works out to a 41% boost in transfer speed… at least on paper. To test the transfer speeds on the new 3TB Barracuda we turned to IOMeter for a 2MB sequential transfer test.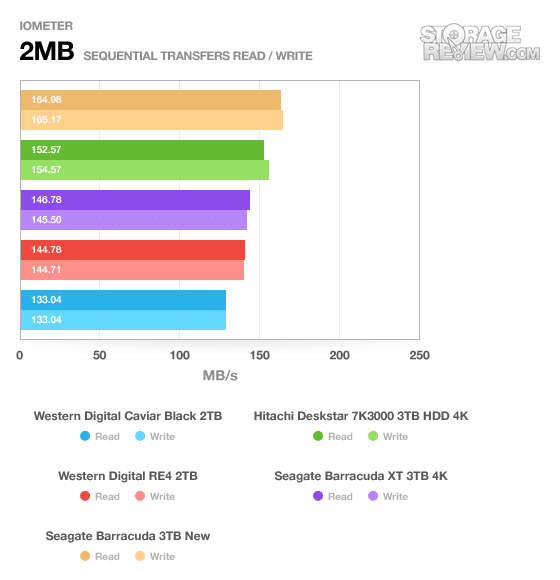 Over the bulk of the drive surface we measured an average transfer speed of 165MB/s read and write compared to about 146MB/s of the older model. Quite a bit faster, although not as peaky as what you might think from looking at the performance specifications alone.
Our next test switched from a sequential to a random transfer test, still keeping the 2MB packet size.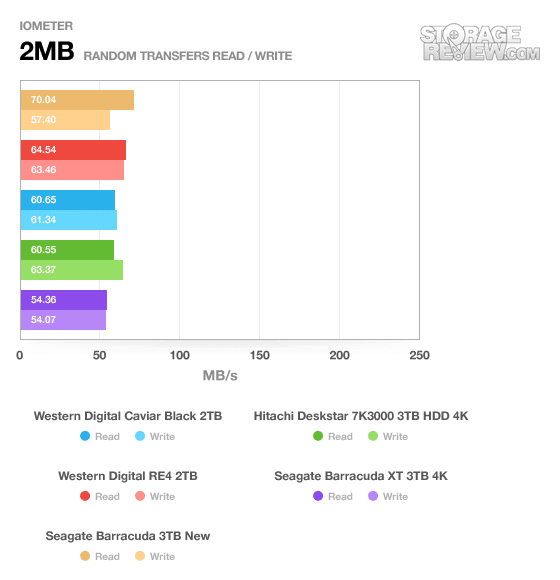 The new 3TB kept a strong lead against the pack, especially against the previous generation Barracuda. Read speeds averaged 70MB/s compared to just 54MB/s of the older model.
Changing to even smaller transfer sizes with our 4K random read and write test, we found some of the lead the new 3TB slipping to the older 2TB Western Digital drives, although still an improvement over the older generation Barracuda.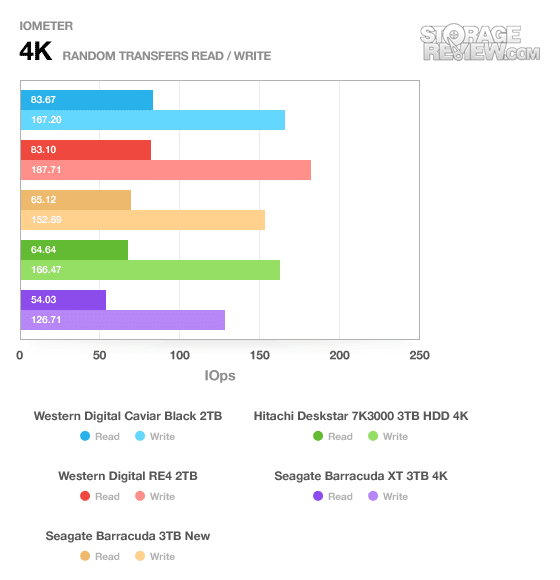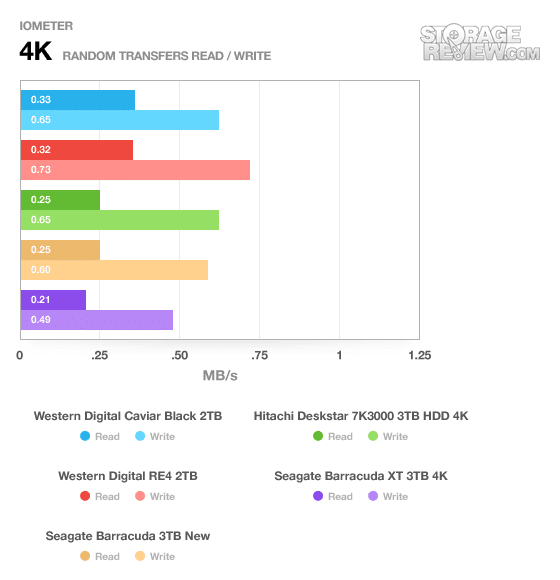 Read speeds increased by 0.04MB/s or 10 IOPS, with write speeds improving from 0.11MB/s or 26 IOPS from the previous 3TB XT.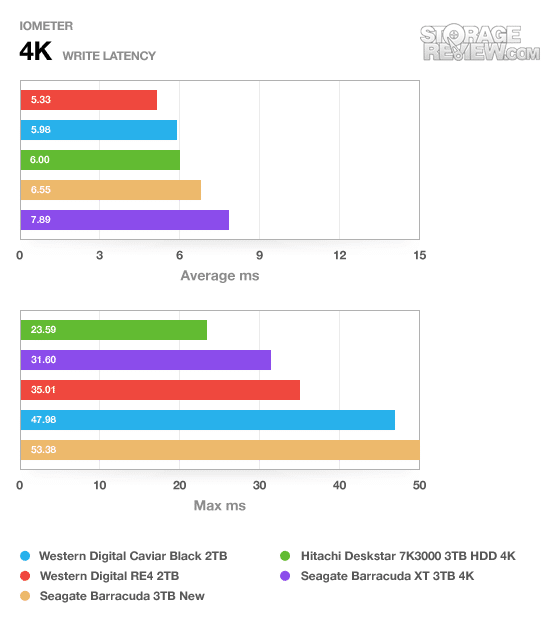 One of the more telling aspects of any newer hard drive is looking at its performance at the inner and outer edges of the platters. As drive density increases or rotational speeds get faster, users can generally expect data transfer speeds to increase as well. In the case of the new 3TB Barracuda , we found peak transfer speeds measuring just under 200MB/s compared to under 150MB/s of the previous generation model.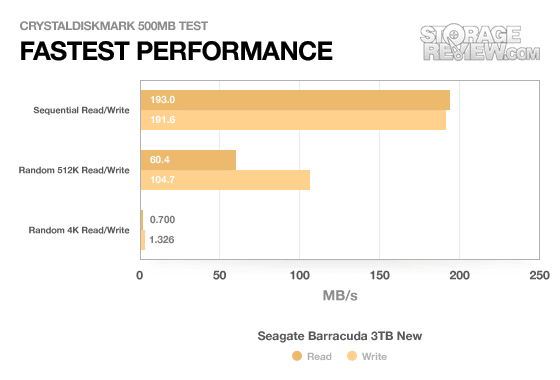 Even the inner platter speeds were impressive, staying just under 100MB/s. For bulk file transfers this newer drive will work wonders in single or dual-bay NASs to saturate gigabit LAN.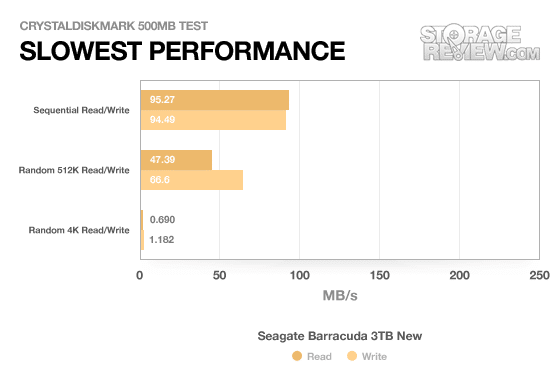 The last section of our synthetic benchmarks looks at the hard drive in a server or workstation setting in profiles covering Database, File Server, Web Server, and Workstations. Overall the new 3TB Barracuda showed good improvements over the previous generation model, although couldn't top the Western Digital 2TB models.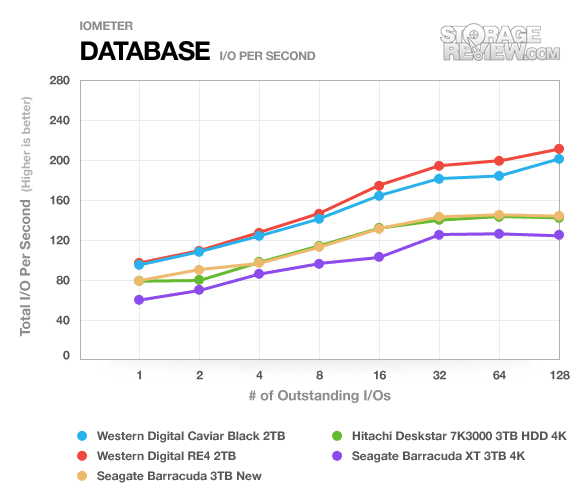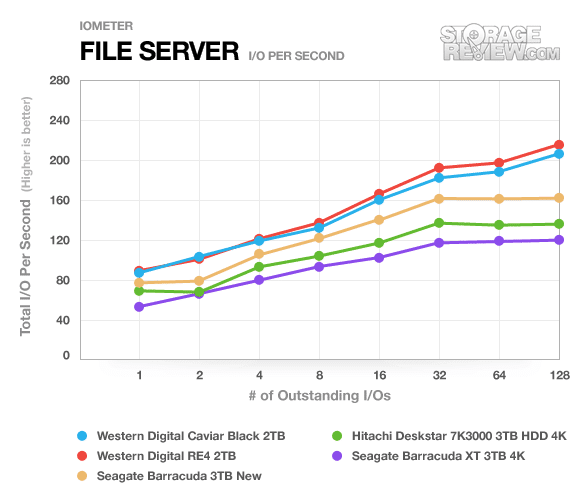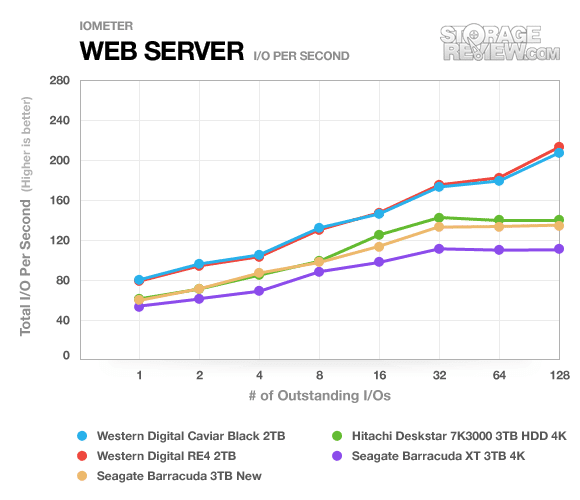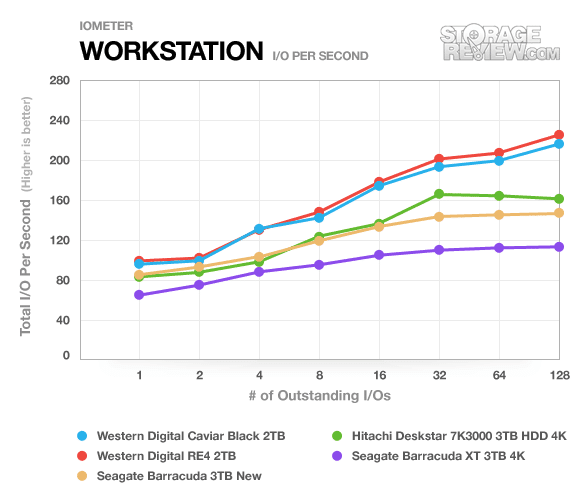 Real-World Benchmarks
At StorageReview, we like to look at both synthetic and real-world tests when benchmarking drives. Synthetic benchmarks are great to see how drive might react to just a single type of data transfer, but in the real-world it is never that perfect. Our StorageMark 2010 traces capture the activity from three specific user-scenarios and play them back as fast as possible to see how drives stack up. Its not uncommon for some drives to be weak in some areas, but come out shining in our real-world benchmarks when caching algorithms are put to the test.
The first real-life test is our HTPC 4K scenario. In this test we include: playing one 720P HD movie in Media Player Classic, one 480P SD movie playing in VLC, three movies downloading simultaneously through iTunes, and one 1080i HDTV stream being recorded through Windows Media Center over a 15 minute period. Higher IOps and MB/s rates with lower latency times are preferred. In this trace we recorded 2,986MB being written to the drive and 1,924MB being read.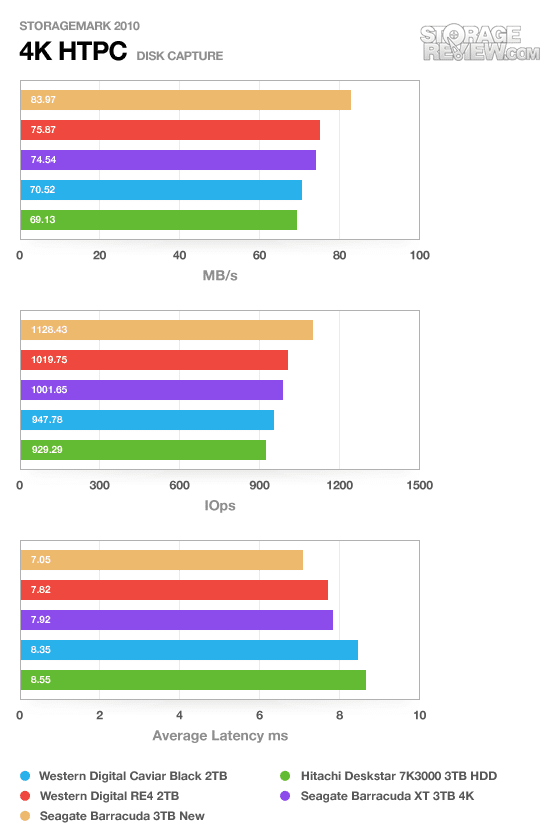 In our 4K HTPC trace the 3TB Seagate Barracuda performed extremely well, averaging 83MB/s over the course of the test compared to just 74MB/s from the previous generation model.
Our next real-life test covers disk activity in a gaming environment. Unlike the HTPC test, this one relies heavily on the read performance of a drive. To give a simple breakdown of read/write percentages, the HTPC test is 64% write, 36% read, while the gaming trace is 6% write and 94% read. The test consists of a Windows 7 Ultimate 64-bit system pre-configured with Steam, with Grand Theft Auto 4, Left 4 Dead 2, and Mass Effect 2 already downloaded and installed. The trace captures the heavy read activity of each game loading from the start, as well as textures as the game progresses. In this trace we recorded 426MB being written to the drive and 7,235MB being read.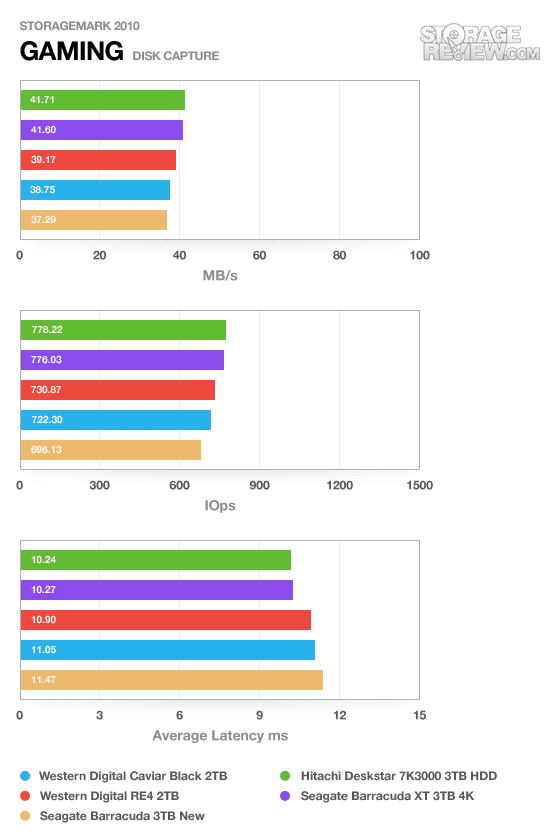 Surprisingly the newer 3TB model didn't fare well in our Gaming trace, falling slightly behind the group with an averaging speed of 37.29MB/s compared to 41.60MB/s of the previous model.
Power Consumption
Buyers looking for lower power consumption will really enjoy the lower platter count of the latest 3TB Barracuda. By offering a 1TB x 3 platter configuration instead of 600GB x 5 of the model it replaces, there is less mass to spin around which translates into lower operating needs. Seagate lists an 8 watt operating and 5.4 watt idle requirement that is lower than the original and very close to what we measured in our lab.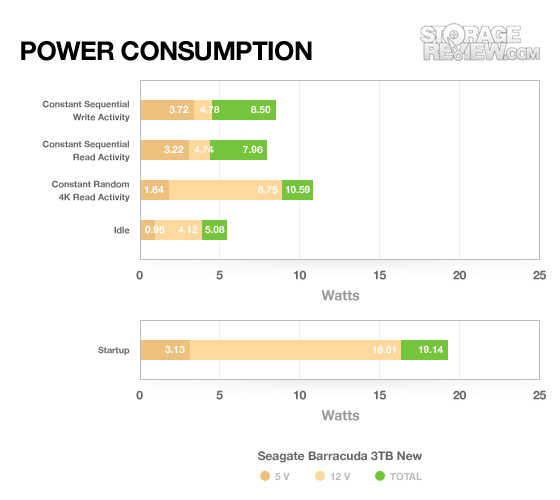 We measured an average power draw of 8.5 and 7.96 watts during a sequential write and read pattern respectively. This was more than 1 watt less than the previous version. Random 4K read power measured 10.59 watts… higher than the older version with the biggest difference being in the 12V power requirements. At idle the new 3TB Barracuda only needed 5.08 watts, compared to 7.56 watts of the five-platter model. Startup power was also much lower measuring just 19.14 watts versus 23.46 of the older model.
Warranty
The Barracuda line carries a warranty of five years, the longest available in this segment of hard drives.
Conclusion
Seagate has largely done well with the 1TB platter iteration of the 3TB Barracuda. While not an immediate jump forward in overall hard drive capacity, this is still a significant proof point in the marketplace and Seagate should be commended for getting the technology to market. Even though the drive capacity holds firm at 3TB, performance-wise there are some big changes.
Outer platter top-line sequential read and write speeds are both up roughly 30% over the previous generation 5-platter drive and even the worst-case scenario inner portion of the platters saw an improvement of about 20 MB/s for both read and write activity. It's not all perfect though, the new drive saw issues with our read-intense gaming trace, falling behind the older model.
Most users buying this particular drive will be looking primarily for bulk storage with performance being a huge benefit when compared to high capacity green drives. The 3TB Barracuda delivers in a practical sense, easily saturating USB 3.0 or gigabit ethernet. Lastly, a big plus comes in the power consumption department; thanks to the lower platter count comes less power draw across all of our benchmarks.
Pros
Almost 200MB/s sequential transfer speeds
Very good performance in our HTPC benchmark
Improved power efficiency
Cons
Struggled with the read-intensive Gaming benchmark
Bottom Line
Overall, the new 3TB Barracuda moves in the right direction and certainly whets our appetite for upcoming higher capacity hard drives based on 1TB platters. It offers faster speeds than the prior version through most of our benchmarks and is many ways is the fastest 7200RPM 3TB 3.5″ hard drive on the market. Couple that with the improved power profile and Seagate has a great option for those craving capacity and performance from a hard drive.