The 2TB Seagate Barracuda LP brings us to the end of our review series covering the latest high-capacity/low-power drives–a series that has also featured looks at the latest Western Digital Caviar Green and Samsung Spinpoint offerings competing in this space.
The 2TB Seagate Barracuda LP (ST32000542AS) brings us to the end of our review series covering the latest high-capacity/low-power drives–a series that has also featured looks at the latest Western Digital Caviar Green and Samsung Spinpoint offerings competing in this space.
On paper, at least, it doesn't take much digging through our review data to see that the Barracuda LP is a fast drive. By most measures, Seagate's highest-capacity LP (for "low power") desktop drive is the fastest among this bunch. Does speed alone make Seagate's apparent dominance in this segment an open and shut case? Or do other concerns–including power consumption that's hard to consistently characterize as "low"–work against an outright sweep for the Barracuda LP?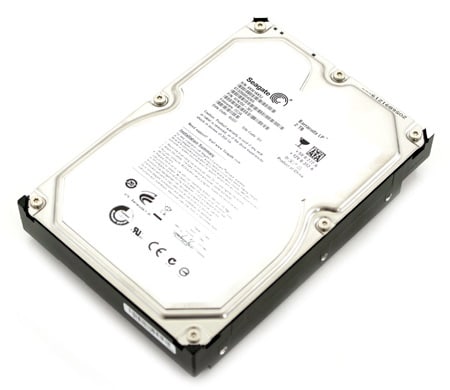 Aesthetics
The Seagate Barracuda LP 2TB (ST32000542AS) is a 3.5-inch format desktop drive. "Cool" and "quiet" are Seagate's buzzwords for the Barracuda LP, with Seagate promising less noise and heat than competitive devices–owing to its low-power operation–without performance sacrifices.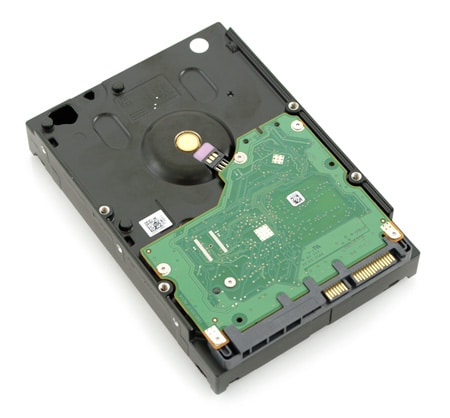 On the outside, the drive has all of the visual markers of enterprise storage, with an unadorned case and straightforward label information.

Power and 3.0 Gb/s SATA connections account for the total of the drive's I/O options. In short, nothing out of the ordinary–and very little that's truly even comment-worthy–here.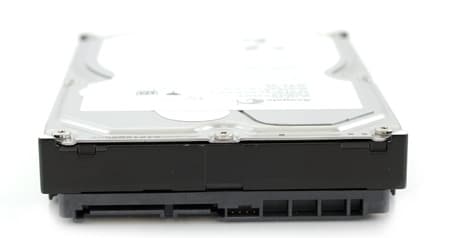 Dissassembly
On the underside, six screws retain the Barracuda's wedge-shaped PCB against the sealed drive unit. Components are mounted to the protected side of the PCB in this case, minimizing the possibility of damage, and a foam pad serves as a heat and vibration barrier between the device's two halves.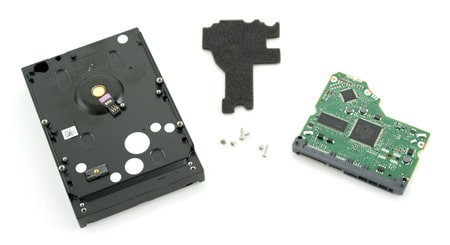 On the Barracuda's board, you'll find an LSI B5502C30 controller running the show. The drive's 32MB cache comes courtesy of a Hynix HY5DU561622ETP-D43 DDR memory module.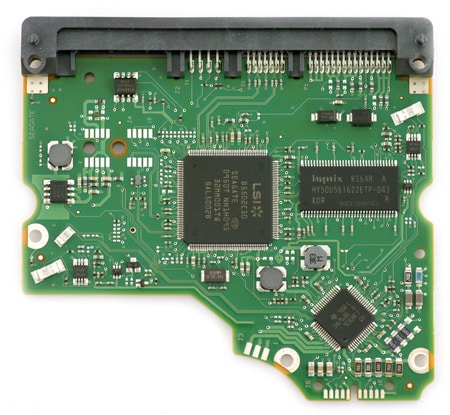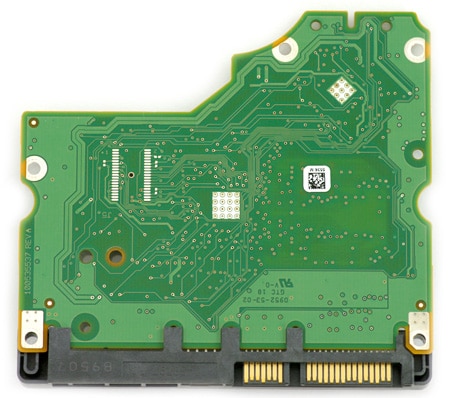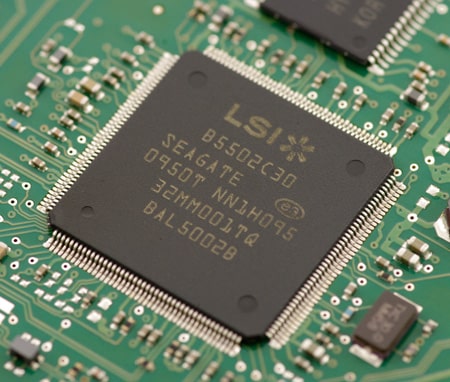 All in all, the Barracuda LP is solidly built, and shares basic construction/design features with the other devices tested in this class.
Benchmarks
We've arguably saved the best for last in our green drive review series, as the Barracuda lives up to its sharp-toothed name where performance is concerned. In part, Seagate credits the drive's 5900 RPM spindle speed–giving the LP's platter mover a slight spec-sheet advantage over other devices we've tested in this class.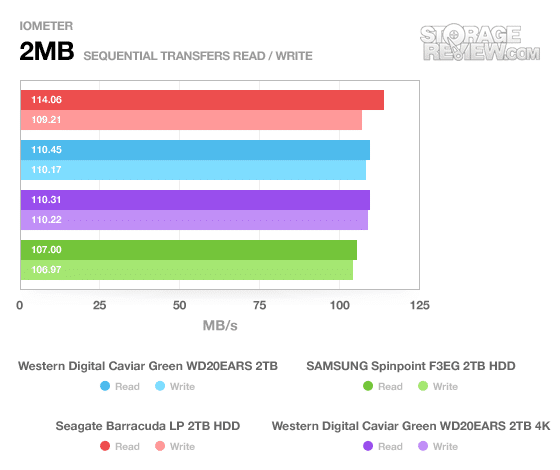 Right off the bat this speed advantage shows in our benchmarking, with the Barracuda taking a small but noticeable lead over its Western Digital rival in our IOMeter sequential transfer test (at least in terms of read speed), and leaving the Samsung Spinpoint F3EG well behind in both read and write performance measures.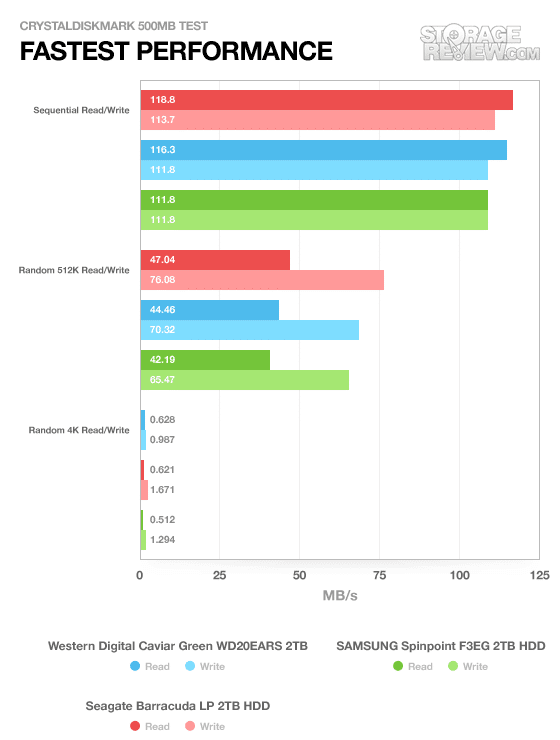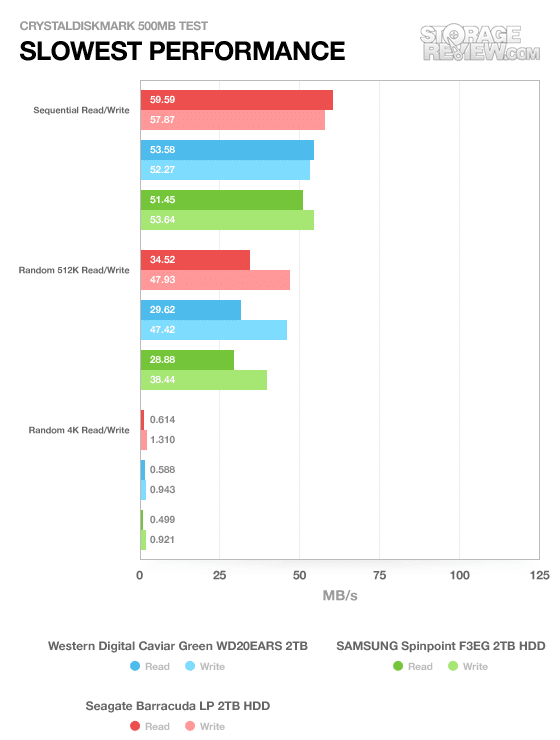 As is typically the case, the LP turns in even faster numbers in our CrystalDiskMark "fastest performance" test, and commands a solid lead in the "slowest performance" (i.e. inside of the platter) tests as well. In all, these numbers more than back up Seagate's performance claims for the 2TB LP.
If there's one area where the Barracuda gives up some ground to its closest-performing rival–the WD Caviar Green–real-world write performance seems to be it.
In our 2MB random transfer test conducted using IOMeter (as in the sequential transfer test above), the Barracuda dominates in the read category, but gets edged out by the WD drive in write performance in both cases. The story is much the same for our low-volume transfer tests, with the WD device attaining slightly faster write speeds and more operations.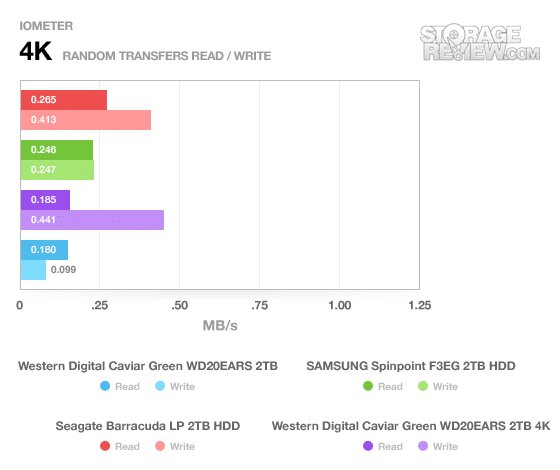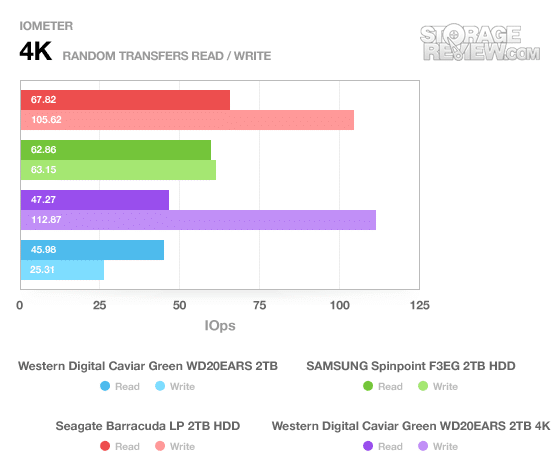 Likewise, while it's neck-and-neck between the Seagate and WD drives in write latency testing, the Caviar Green gets the nod for better average speed.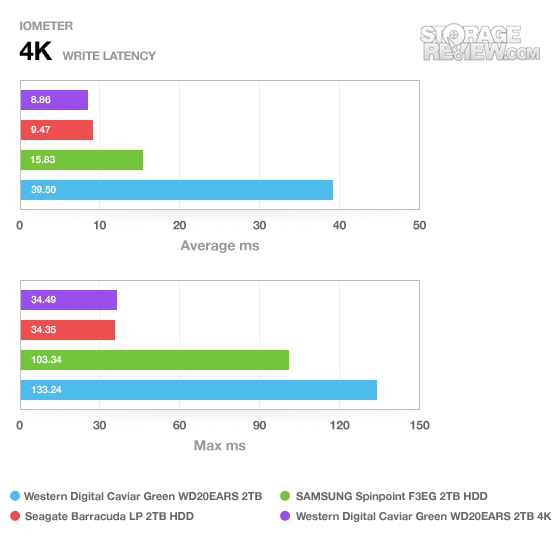 It's also worth noting, though hardly surprising, that the Barracuda's average performance in this test is about twice the manufacturer's claimed "best case scenario" time of 5.1 ms.
Although we liked the Samsung Spinpoint's performance as a server storage option, its outright speed never really factored in to the tight race between Seagate and WD for class dominance in our synthetic benchmarks.
Some slight trade-offs in write speed aside, there's little question that the Barracuda LP dominates our slate of benchmarks to this point. When it comes to actual performance in use situations, however, our IOMeter test profiles (which use data-transfer simulations for Database, Workstation, Web Server, and File Server environments) offer a different take on the Barracuda's performance.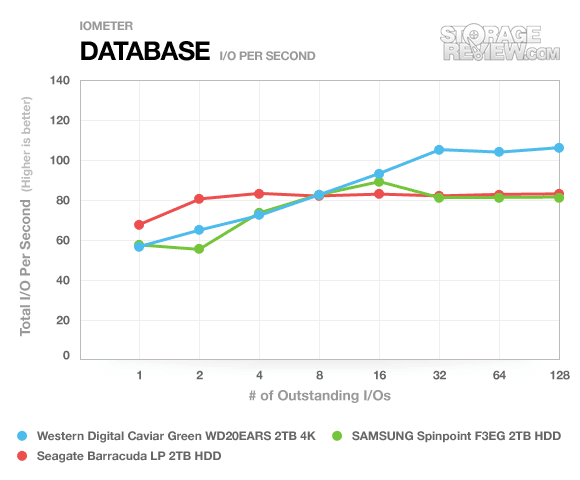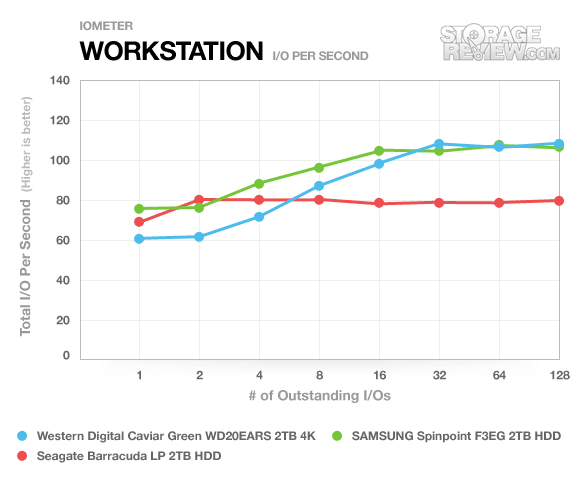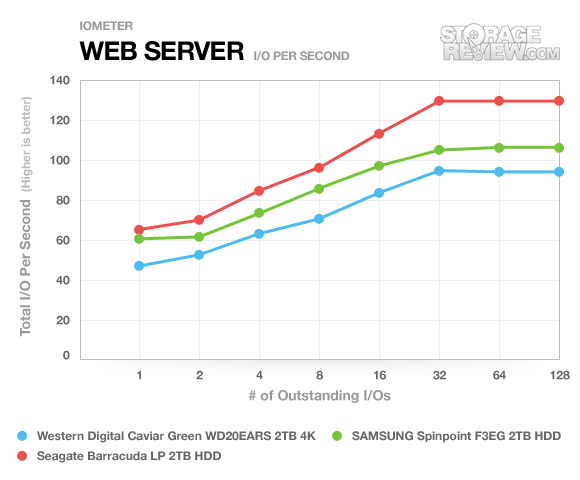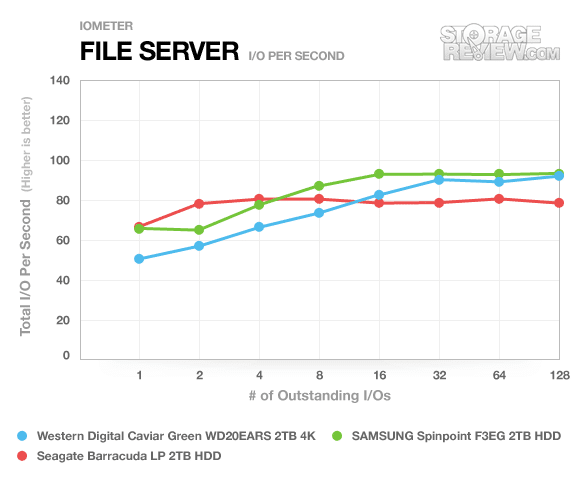 Although we know that the Barracuda LP is a fast drive under optimal conditions, it's worth noting that with the exception of the Web Server test situation (which tends to show better performance scaling than the other profiles in most tests), the LP doesn't really succeed in ramping up performance in any meaningful way as demands on its resources increase. In this sense, in fact, even the Samsung Spinpoint often shows better response.
In fairness, the Barracuda's level of baseline performance in these tests tends to be higher than those of its competitors, but essentially flat performance in three out of four profile tests suggests that queuing performance is not as good here as on some competitive devices–including the two compared in these tests. Depending on your intended use (particularly if you're considering a multi-user storage application) this shortfall may be worth noting.
Power Consumption
In terms of power draw, the Barracuda is an interesting mix of power-sipping and power-gulping performance.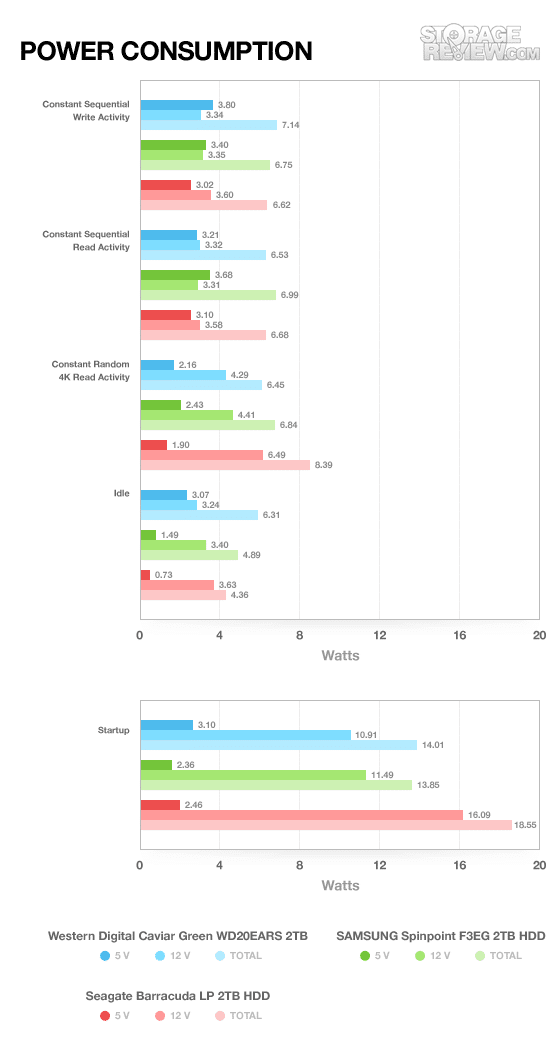 The drive turned in the lowest power draw readings in sequential write activity, and was by far the most efficient drive tested in this group at idle–a big plus for always on applications. Power consumption on start-up, however, was nearly off the charts compared to others in this group.
Warranty
Like the other drives reviewed in this series, the Barracuda LP gets manufacturer's support under a three-year warranty.
Also, it's potentially worth noting that while we found that Barracuda LP to be nothing but reliable in our limited time with it, an unusually large percentage of users seem to have reported concerns with this particular drive. Whether this issue is traceable to a bad batch of drives, an anomaly in the number of reported problems, or some other issue is difficult to guess. We can only say with certainty that our review unit was quiet and consistent during lab testing.
Conclusion
If drive decisions could be made solely on a handful of synthetic benchmarks, the Seagate Barracuda LP would be the undisputed champion in the high-capacity/low-power desktop drive group. A more nuanced view might take into account the fact that the LP's queuing isn't, from all indications, superb. But even with this one potential concern, as well as some minor inconsistencies in write speed, the Barracuda deserves praise for serving up excellent performance in an eco-friendly device.
Pros
Rapid performance in synthetic benchmarks
Lowest power consumption at idle among test group
Fastest spindle speed among low-power drives
Cons
Scales poorly in multi-request situations
Inconsistent user reports
Bottom Line
Concerns about performance scaling and potential reliability aside, the Barracuda LP is a quiet, wallet-friendly route to 2TB storage for home or general use with the lowest idle power consumption of all the green drives.
Seagate Barracuda LP Reliability Database