The Spinpoint F4 features a single 320GB capacity model, but that's 320GB on a single drive platter. That platter spins at 7200 RPM and feeds 16MB of drive cache. By using a single platter and a single drive head, the SpinPoint F4 benefits from both a greater platter density and a reduced number of moving parts. That means a reduced risk of drive failure. While it's hard to define a category that the F4 fits neatly into, there is something to be said for a blend of low-cost and performance.
The Spinpoint F4 features a single 320GB capacity model, but that's 320GB on a single drive platter. That platter spins at 7200 RPM and feeds 16MB of drive cache. By using a single platter and a single drive head, the SpinPoint F4 benefits from both a greater platter density and a reduced number of moving parts. While it's hard to define a category that the F4 fits neatly into, there is something to be said for a blend of low-cost and performance.
Samsung is proving with their new Spinpoint F4 drive, there's still room for hard drive technology to grow and improve, even in low-capacity drives. Higher platter density can mean an improved transfer rate among other things, and the best part is that advances in mechanical hard disk technology typically enter the market at competitive prices. Not everyone is willing, or needs to shell out $100+ for a low-capacity SSD just to use as a system drive, or nearly double that for a high performance 2TB monster. Samsung seems to think a lot of people would be willing to drop $40 on a fast mechanical drive and call it a day.
They're probably right. OEMs certainly use drives like the F4 to keep system build prices down and truth be told, most computer users aren't filling up their drives with terabytes of digital media. So today, we're going to see what the F4 brings to the table. If nothing else, performance be damned, price-to-capacity should be an undeniable value. But let's see just how good of a deal Samsung is planning on cutting us.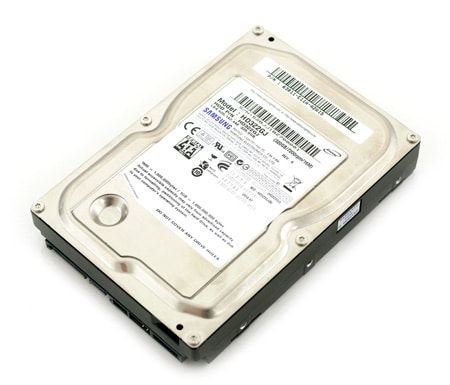 Samsung Spinpoint F4 Specs
Unformatted Capacity 320GB
Interface Serial ATA 3.0Gbps
Buffer DRAM Size 16 MB
Byte per Sector 512 bytes
Rotational Speed 7,200 RPM
Average Seek time(typical) 8.9 ms
Data Transfer Rate / Media to/from Buffer(Max.) 285 MB/sec
Data Transfer Rate / Buffer to/from Host(Max.) 300 MB/sec
Average Latency 4.17 ms
Drive Ready Time(typical) 8 sec
Non-recoverable Read Error 1 sector in 1015bits
Idle 2.6 Bel
Performance Seek 2.8 Bel
Temperature / Operating 0 ~ 60 °C
Temperature / Non-operating -40 ~ 70 °C
Spin-up Current (Max.) 2.0A
Seek (typical) 5.1W
Read/Write (typical) 5.0W
Idle (typical) 4.2W
Standby (typical) 0.8W
Sleep (typical) 0.8W
Height (Max.) 26.1 mm
Width 101.5 mm
Length 147.0 mm
Weight (avg.) 430g
Aesthetics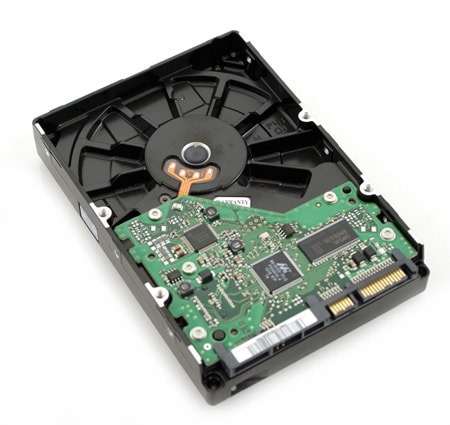 No one's going to accuse the Spinpoint F4 of bringing too much style to the inside of your case, but the girth of the drive is confusing. It's the same size as any other 3.5" drive, but with just a single platter inside you have to wonder why they didn't elect to produce something trimmer. Seagate, for example, tends to use smaller enclosures for their drives. Something as fast as the F4 could potentially be might benefit from being used in a multi-drive RAID array in a home machine, where increased space between the drives due to smaller enclosures might help improve airflow. It's a minor quibble if anything at all. It is light though, not that it matters much in a desktop build, but the drive weighs roughly half of a normal 2TB drive.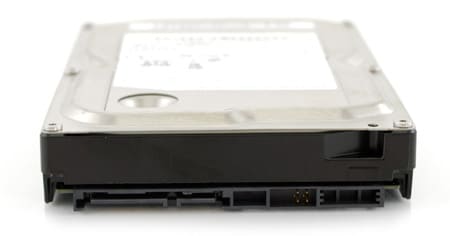 Disassembly
The Spinpoint F4 is held together with a handful of torx bits securing the circuit board to the bottom of the hard drive. The design is such that the components are face-up, instead of face-down and letting their heat soak into the body of the drive. A thermal or vibration isolation pad is located between the circuit board and drive body.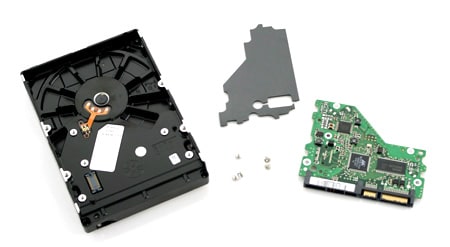 At the heart of the Spinpoint F4 is a Marvell 88i9122-TFJ2 controller, with 16MB of DDR400 cache added with Samsung K4H281638L-LCCC memory module.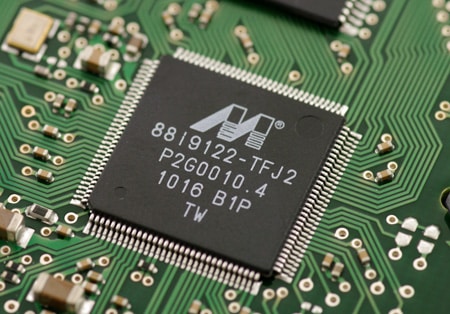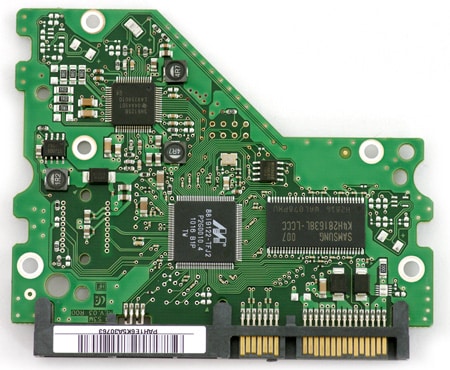 Synthetic Benchmarks
For our synthetic tests, we use IOMeter and CrystalDiskMark to gauge how the Samsung Spinpoint F4 falls in line. Western Digital is a market leader these days for mechanical hard drives, so we have three of their drives on tap for comparison. The Caviar Black is their desktop performance line, with the 500GB model sporting 32MB of disk cache and the 2TB model sporting a healthy 64MB. The Scorpio Black is a 2.5" notebook drive with 16MB of drive cache. All of these drives run at 7200 RPM.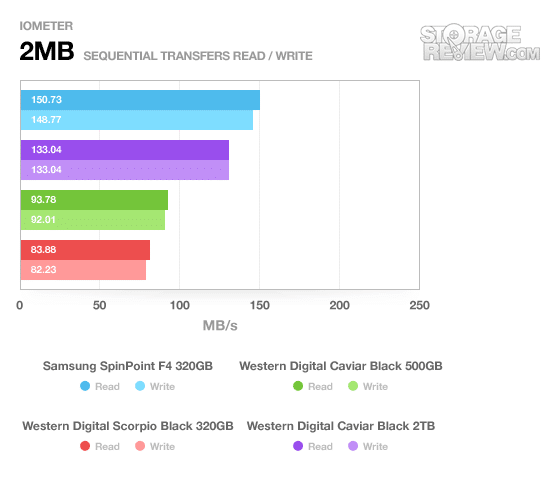 Right out of the gate, the Spinpoint F4 produces a healthy lead over even the fast 2TB Caviar Black. The 2GB sequential test is in many ways a best case scenario able to suss out peak transfer speeds.
Next we'll take a look at how the F4 handles random transfers.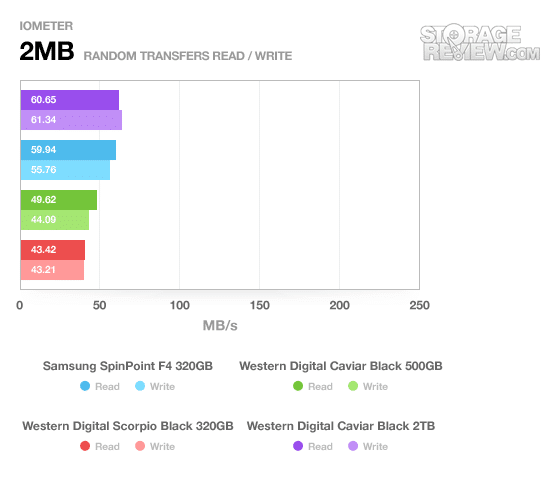 Again the Spinpoint beats the 500GB desktop drive and 320GB notebook drive handily, losing to the substantially pricier 2TB drive by a fairly slim margin.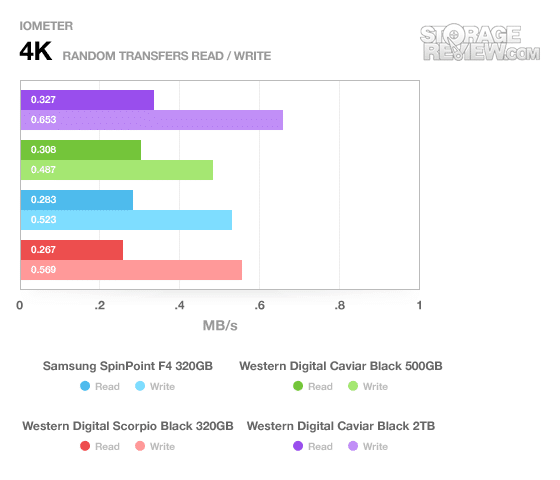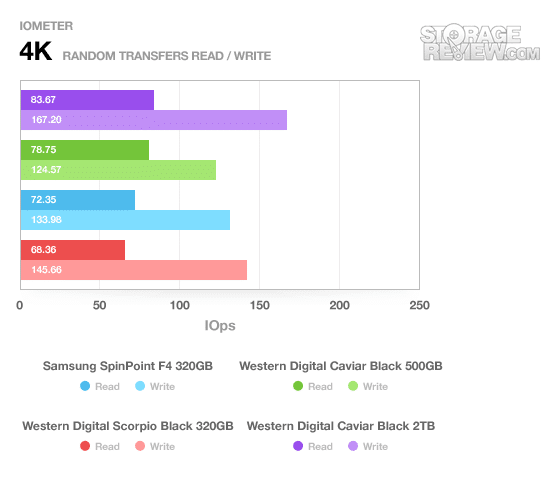 Unfortunately, once we get into random transfers the F4 loses steam, coming in third.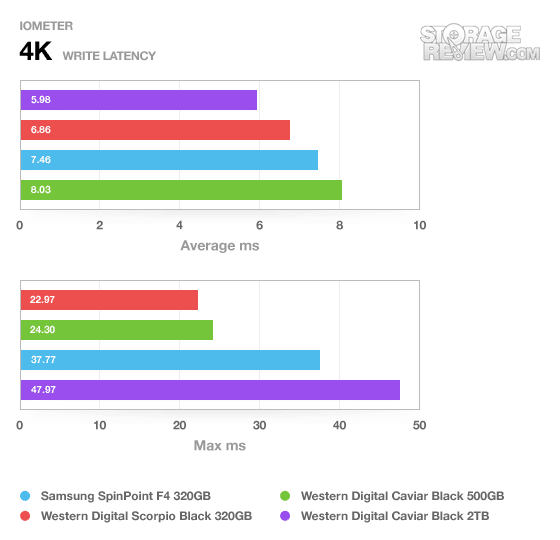 Here again with write latency we see the F4 placing third. While the average is only a 1.5ms from the leader, the maximum latency is a fairly brutal 15ms slower than the notebook drive.
Next we'll check in with CrystalDiskMark and see how the F4 fares there.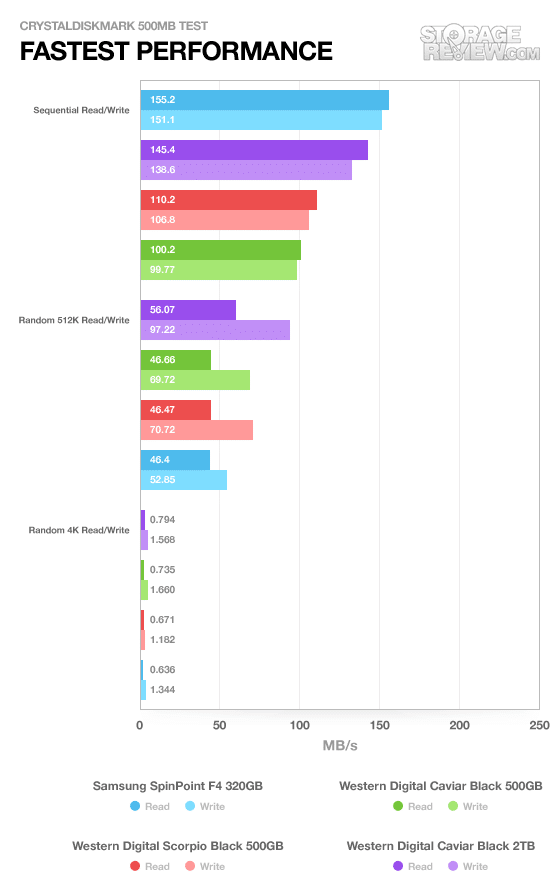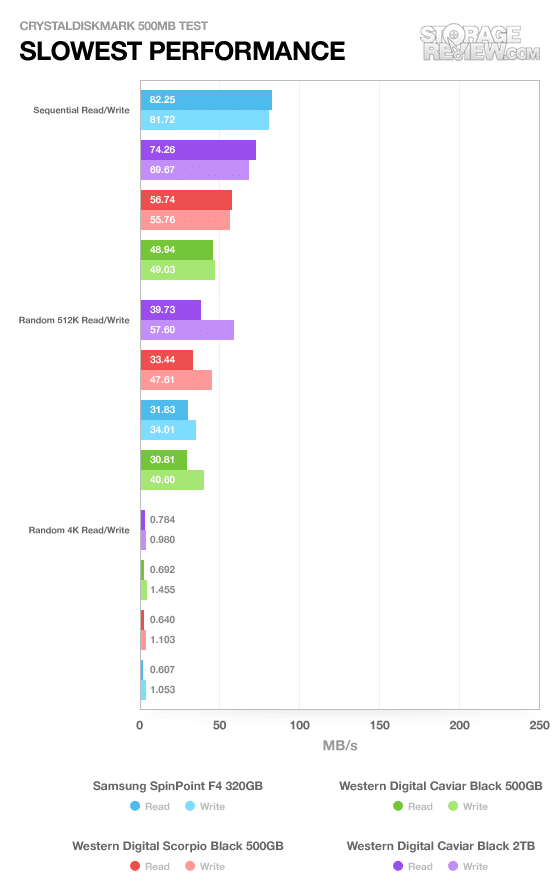 The results here bear out what we saw with IOMeter. The F4 screams when faced with a large sequential transfer, but chokes badly when we get to random transfers.
Let's see what happens when we move back to IOMeter and use their test profiles (Database, Workstation, Web Server, and File Server.)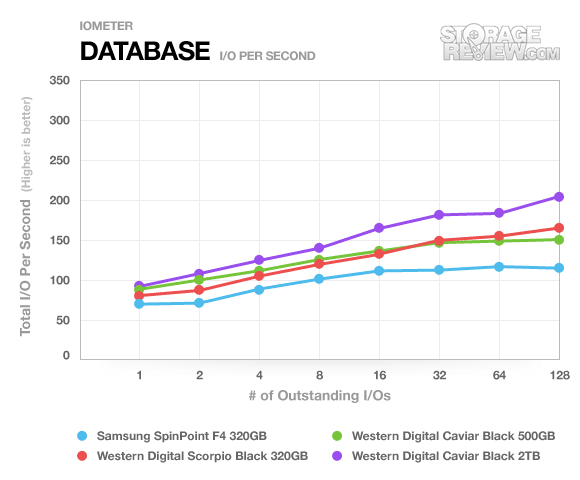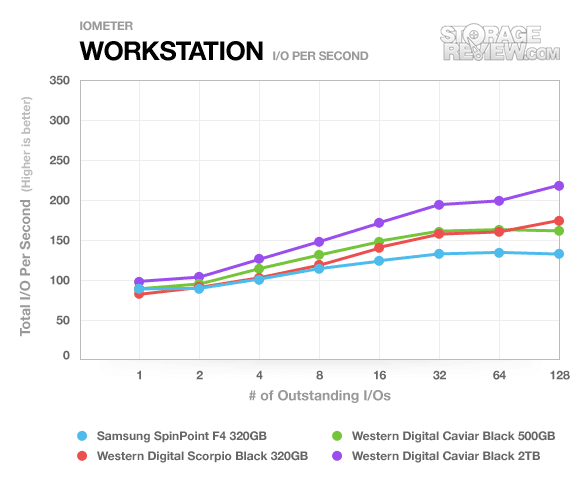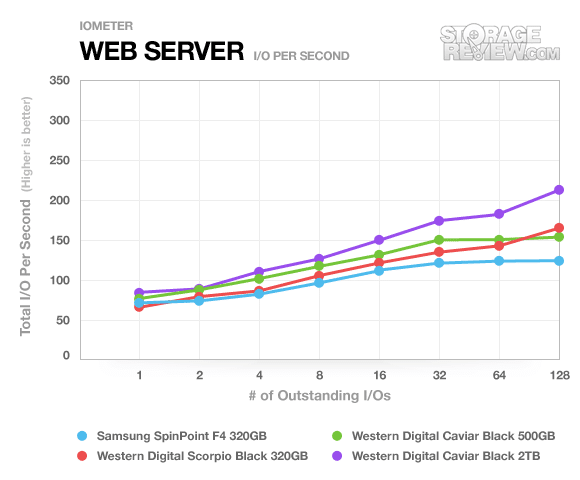 Unfortunately, in every discipline the Spinpoint F4 is at the back of the class. Single platter be damned, the implementation of Native Command Queueing starts slower than the rest and ends slower than the rest.
Real-World Benchmarks
While IOMeter and CrystalDiskMark are very useful as synthetics in sussing out the strengths and weaknesses of a given drive, good old fashioned real world benchmarks can give us a better idea of how a drive will perform faced with everyday tasks.
We start by using our custom StorageMark 2010 HTPC test. This test plays one 720p HD movie in Media Player Classic, plays one movie 480p SD movie in VLC, downloads three movies simultaneously in iTunes, and records a 1080i HDTV stream in Windows Media Center over a 15 minute period.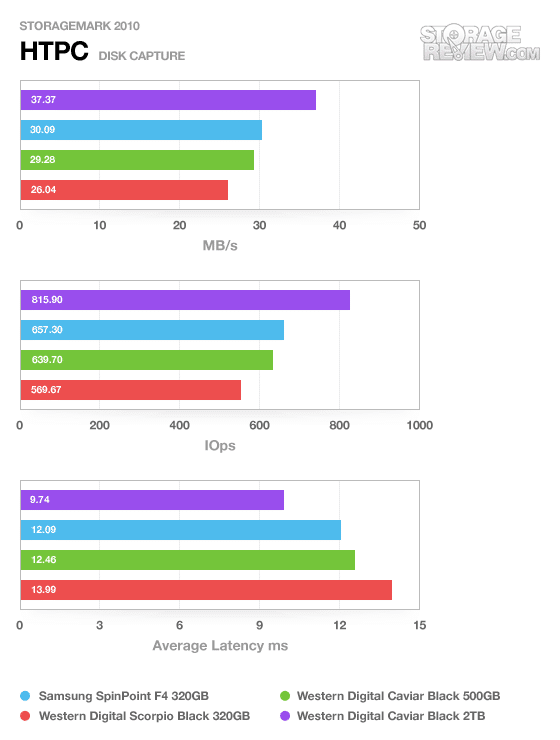 When faced with real world tasks, the F4 maintains a slight lead over the 500GB Caviar Black, being consistently bested only by the 2TB drive with its four 500GB platters.
Moving on to our second test, we simulate a productivity scenario to gauge how well the F4 can perform in more menial day-to-day tasks. For this test, we simulate a three hour period running Outlook 2007 connected to an Exchange server in Vista x86, browse the web using Google Chrome and Internet Explorer 8, edit files within Office 2007, view PDFs in Adobe Reader, and test an hour of local music playback along with two hours of additional music playback in Pandora.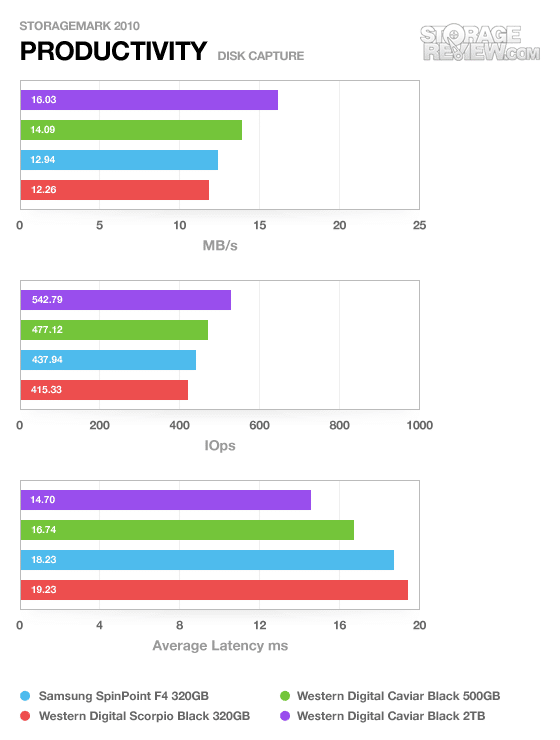 Unfortunately, it's in these more random tasks that we again see the F4 start to falter. The HTPC test involved a lot of large sequential reads and writes, but here the reads and writes are much smaller, and the F4 has a harder time coping with them. Performance is still solid, but the 500GB Caviar Black delivers a consistently better experience.
Power Consumption
So we know the Samsung Spinpoint F4's strengths and weaknesses in terms of raw performance, but how does that work out when we bring power consumption into the equation? Pretty well, actually. Power consumption on the F4 is among the lowest we've measured, topping out below six watts while under heavy load. By comparison, the 2TB Caviar Black consumes nearly four more watts under load.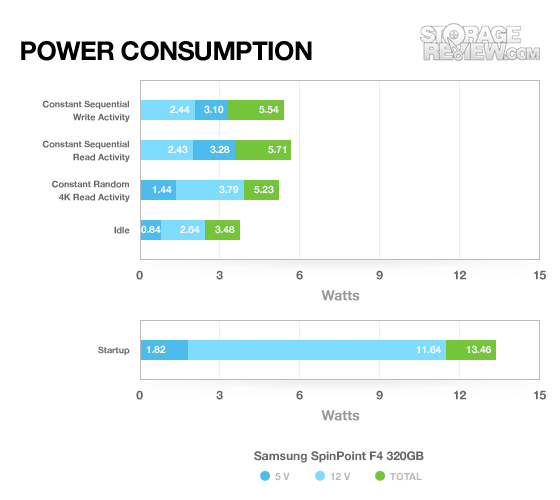 Warranty
Samsung may like to tout increased reliability with the Spinpoint F4, but they sure don't back it up. The three year warranty may be an industry standard, but it's below the five years Western Digital offers with their Caviar Black drives.
Conclusion
Taken in strict performance comparison, the Samsung Spinpoint F4 has a hard time keeping up with the Western Digital Caviar Black drives under a typical productivity workload. The F4 is by no means bad – the numbers it posts are actually fairly solid – but it's not the homerun we were hoping for, and it clearly has issues with random accesses. When faced with a more sequential workload like in our HTPC suite, it acquits itself much better and loses out only to a drive that features four platters and two actuators.
But performance shouldn't be the only thing we're looking at here. What we also need to keep in mind is the price. While 320GB might not be that large as far as a mechanical hard drive is concerned, the sub-$45 pricetag makes the F4 an excellent option for bargain hunters looking for a reasonably fast drive: none of the competing drives in this review come close. In fact, the F4's closest competitor – the 500GB Caviar Black – really comes out of this with egg on its face. You may get an extra 180GB, but the drive costs nearly $20 more. It typically performs on par with the F4 in the disciplines where the F4 is weakest, and outright loses and loses badly once sequential transfers are added to the mix.
Pros
Shines when placed under heavy sequential workloads
Low power consumption
Enticingly low price
Cons
Poor random access performance
Bottom Line
The Samsung Spinpoint F4 is a reliable performer and for a user on a budget who just needs an inexpensive hard drive that works, the F4 is a fantastic bargain.