Seagate's line of FreeAgent external hard drives represent one of the more established external storage solutions out there. Seagate's been about the business of building file transport systems – including the ultraportable FreeAgent Go series – for a while now, and we recently got our hands on the latest iteration of this road warrior's standby.
Seagate's line of FreeAgent external hard drives represent one of the more established external storage solutions out there. Seagate's been about the business of building file transport systems – including the ultraportable FreeAgent Go series – for a while now, and we recently got our hands on the latest iteration of this road warrior's standby.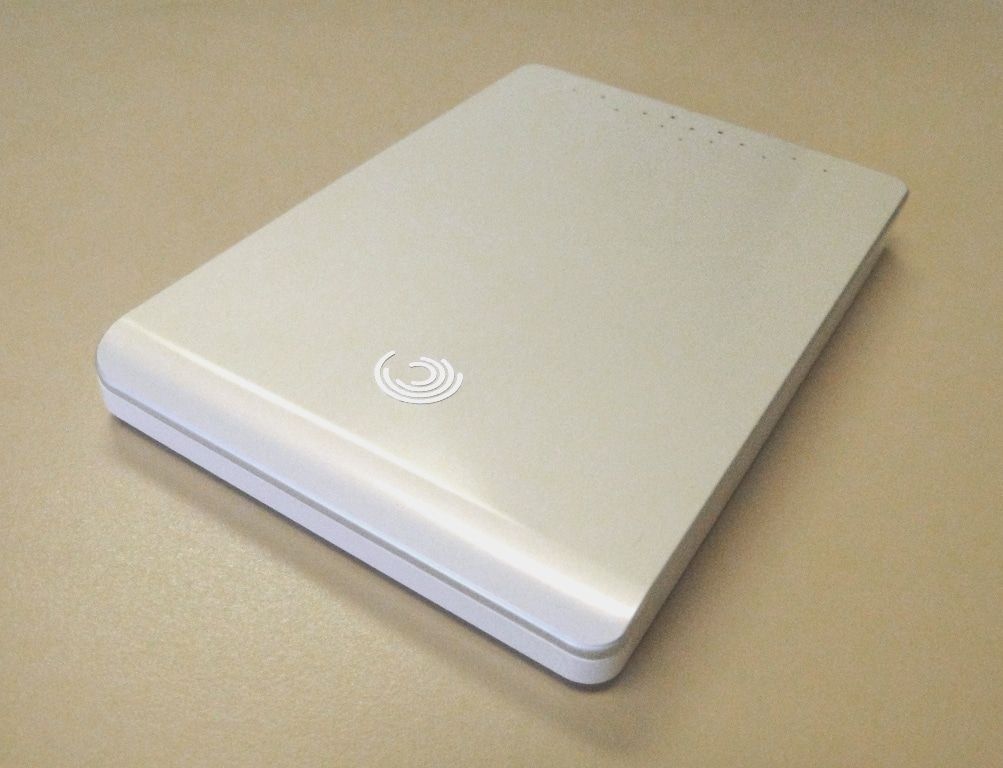 Thinner than most cell phones and not much heavier, the Go packs a 2.5 inch drive (eventually in capacities up to 1TB) into a sleek, USB-powered enclosure that comes as close to being called "pocket size" as any drive in its class. In order to determine if the latest FreeAgent Go further improves on Seagate's venerable, road-proven storage solution, we took a 500GB, NTFS-formatted version out for a spin.
Aesthetics
As expected with a 2.5 inch portable drive, the latest FreeAgent Go is, in the purest sense, little more than a surround for the actual drive inside.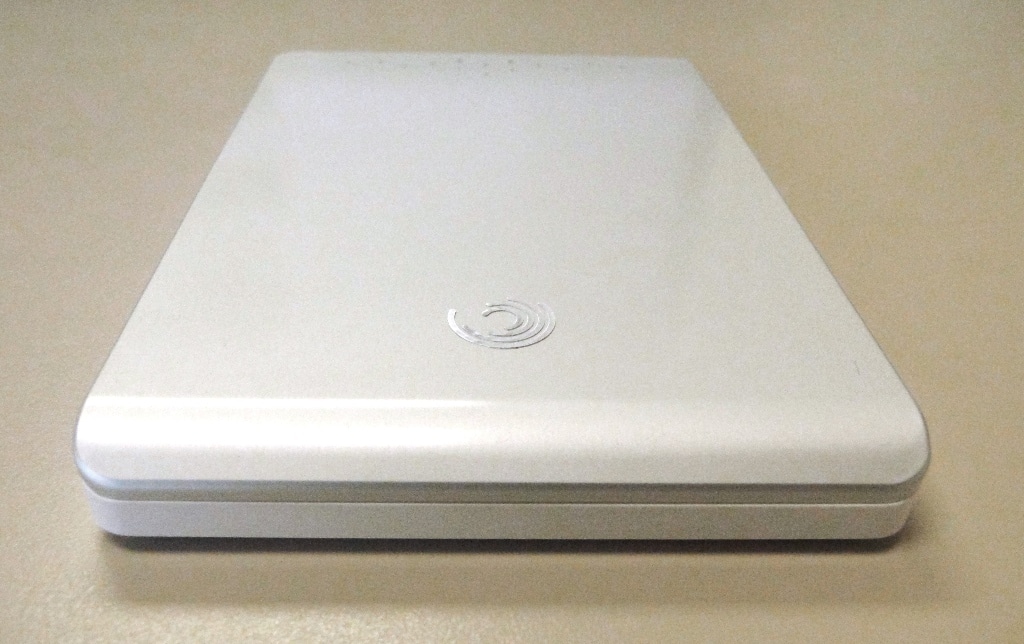 If that sounds like a criticism, it certainly shouldn't be taken as such. To the contrary, the FreeAgent Go's clean lines and stylish (and, it should be noted, impressively slim) composite construction looks great, feels solidly put together, and avoids the temptation to load up a storage solution with goofy gimmicks. In short, if your primary concern for your porta-drive is file storage – and not whether the device packs automatic backup buttons, capacity gauges, or even status LEDs – the bus-powered FreeAgent Go, with its single mini-USB port, fits the bill.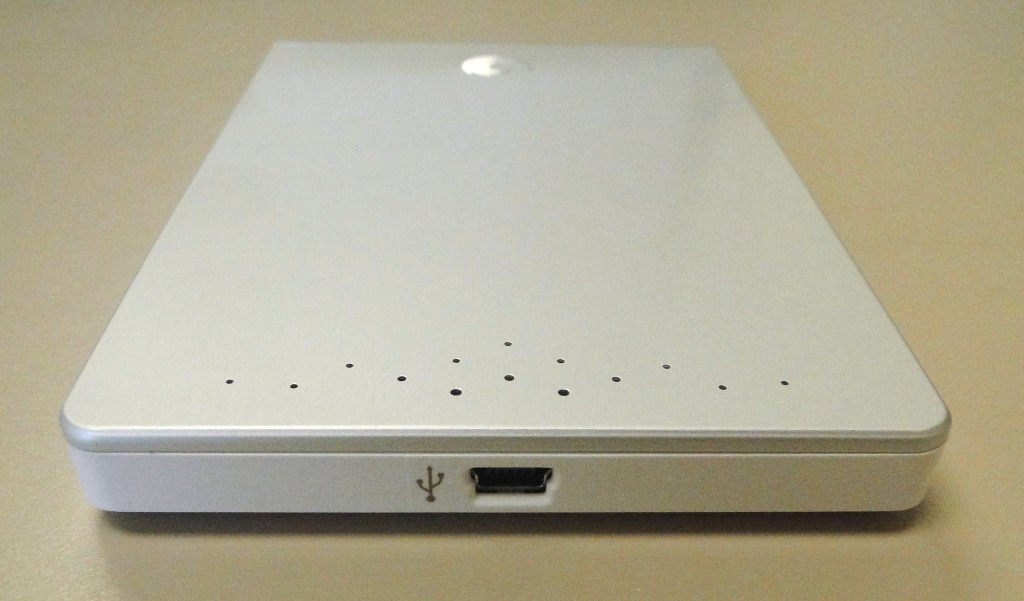 As with most devices in this class, ventilation and insulation are traded for a tiny footprint. When hammering the drive, our test unit certainly got hot, though the thin top plate also seemed to help the device dissipate heat quickly. Likewise, a slender enclosure means there's likely very little inside the FreeAgent Go's housing to protect the drive from hard impacts. While we didn't have any reliability problems during testing, common-sense careful handling applies at least as much here as with larger, more robust enclosures.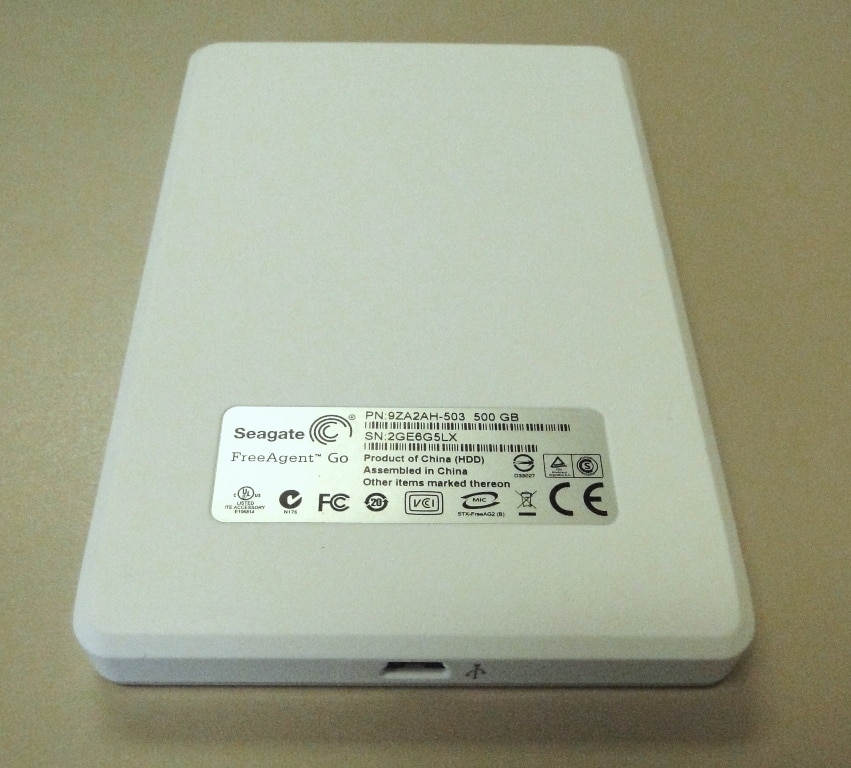 For comparison purposes, Seagate was kind enough to send us a Macintosh formatted 500GB Go with our PC-formatted test unit. It's worth noting that the current Mac version of the drive uses a last-gen version of the Go enclosure. The functional and aesthetic differences between Seagate's latest effort and their most recent one, however, are minor at best: last year's enclosure is a little larger (and maybe an ounce or two heavier), but the basic look, feel, and overall design is nearly identical.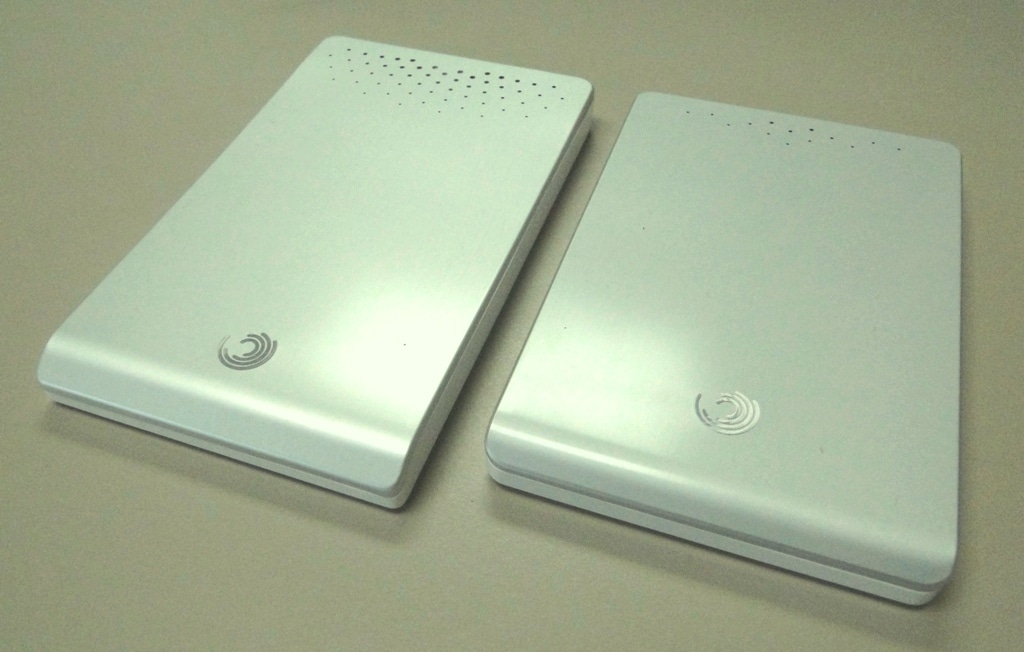 FreeAgent Go drives in Macintosh (left) and PC formats
I do prefer the rubberized texture on the bottom of the Apple-specific drive – which prevents the FreeAgent from sliding around – to the flat plastic base of its PC peer. But these minor differences aside, performance from Seagate's Mac-format Go was dead on with what I experienced with the same-sized PC version – owing no doubt to the fact that the devices share the same 5400 RPM drive and USB 2.0 interface (note that Mac users looking for more front-end speed from a FreeAgent can find it in the FreeAgent Go Pro, which offers Firewire 800 connectivity in place of USB).
Of course, if you're concerned about cross-platforming, either the Macintosh or the PC version of the FreeAgent Go can be, with just a little tech savvy, partitioned appropriately or rebuilt in FAT32. And since the PC version of the FreeAgent is currently running about $30 cheaper in 500GB flavor, it seems that the USB-equipped Macintosh version doesn't offer enough advantages to justify the price difference – unless you're intimidated by handling your own formatting, or you really like the Apple-specific version rubberized enclosure.
Disassembly
Like most of its competitors in the small-format class, this FreeAgent is a bit of a black box when it comes to disassembly. The top cover is press-fit to the plastic main housing, with no obvious external fasteners. Feeling intrepid, we went ahead and popped the faux aluminum cover off anyway. Skilled fingers should have little trouble separating the case halves without fuss or drama, although some case adhesive was rendered useless in the process.
Within, you'll find the FreeAgent's 5400RPM 2.5 inch drive – and, not surprisingly, not a lot else – beneath a thin layer of protective metal. Even with its combination of snap-close and adhesive-sealed seams, our FreeAgent went back together almost as well, though you shouldn't expect factory-tight seams (or, we would assume, warranty coverage) the second time around.
Benchmarks
The drive inside our PC-formatted FreeAgent Go test sample is a 5400 RPM Seagate-branded 2.5 inch notebook unit with 8MB cache. Given the saturation limitations of our FreeAgent Go's USB 2.0 connection, it's hardly surprising that sequential read/write performance hovered around the 30MB/s mark in both IOMeter and CrystalDiskMark tests – in hunt with other similarly specced devices we've reviewed lately.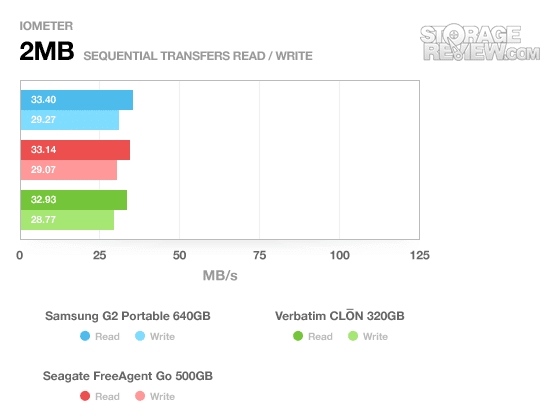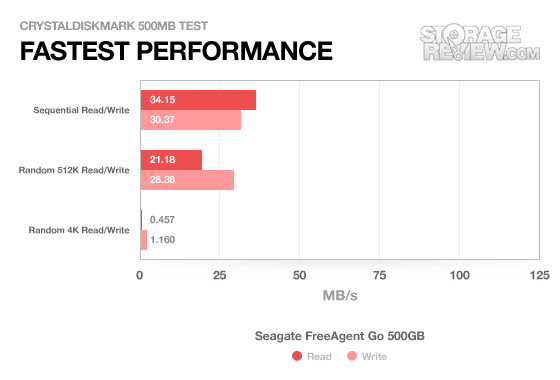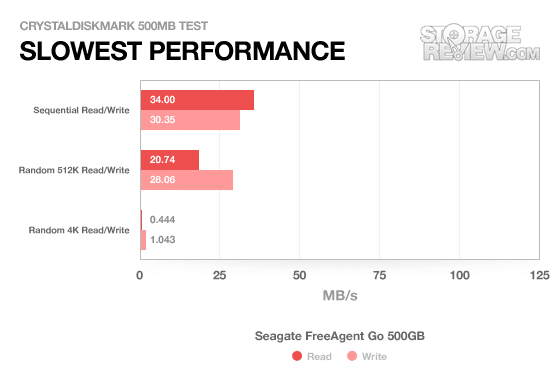 Our random transfers tests were a different story, however, with the FreeAgent lagging behind both the recently reviewed Samsung G2 and the quick Verbatim CLON. The difference is subtle in the 2MB random transfer test but is more apparent in the 4K random transfer test where the CLON just takes off.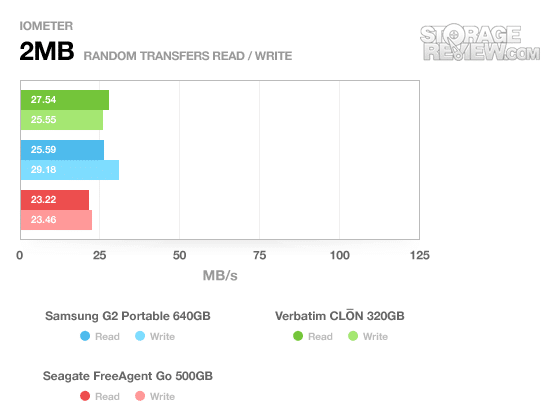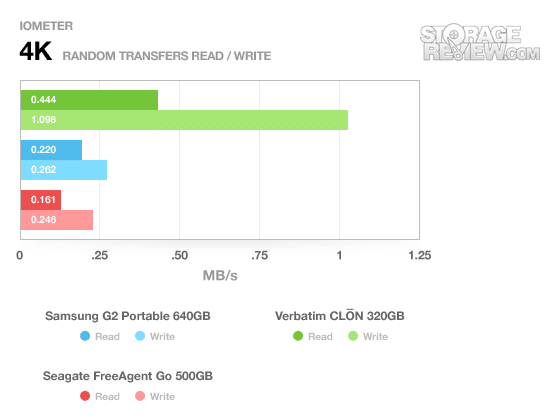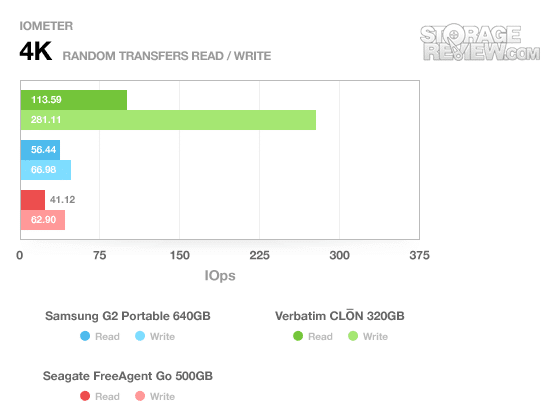 In terms of both MB/s and volume of operations, the Seagate simply couldn't touch the Verbatim's snappy read/write performance, though just how much this lag will be felt outside the world of synthetic benchmarks depends largely on what you intend to do with your external drive.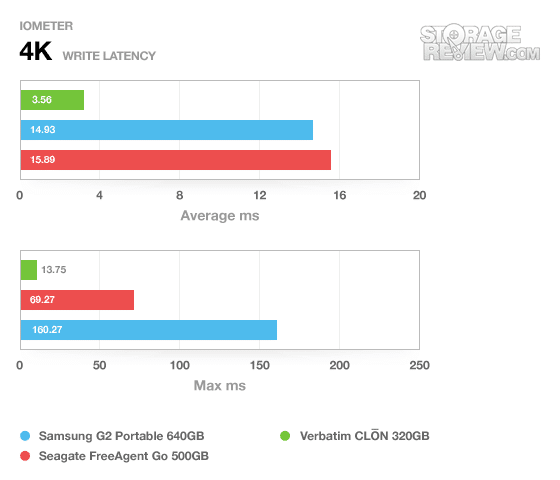 Finally, our IOMeter latency test suggest that the FreeAgent's response times are roughly par for the course in its class – though as before, the CLON enclosure's impressive performance in this area skews the field somewhat.
Software
If you're the kind of shopper who chooses devices based on the free stuff that comes bundled within, the latest FreeAgent Go presents an alluring proposition: free movies. That's right: this drive comes pre-loaded with a slew (or twenty-ish) movies from Paramount Pictures – including (relatively) new releases like G.I. Joe, Shooter, and The Italian Job. The catch? You have to go online and pay a nominal fee to unlock viewing rights for each movie you want to watch. The complication? You also have to watch them in Seagate's supplied media viewer – a move that will no doubt miff technically savvy users who want to watch their media on their terms.
Seagate does its best to win geeks over to this concept by offering one film – Star Trek, no less! – for free…if you're willing to jump through some online registration hoops to get the necessary launch code. All in all, free movies are certainly an enticing bonus; conversely, with literally thousands of media outlets vying for the privilege of serving up content on your computer, its hard to see how paying to unlock playback-restricted downloads that come preloaded on a portable hard drive would ever become anyone's preferred digital content delivery mechanism. Plus, if you're like us and manage to obliterate the drive's preloaded content (in our case, a casualty of the benchmarking process), there doesn't seem to be any way to restore this particular software set to your device.
The FreeAgent Go does come with some other preloaded software that you can successfully restore should you happen to erase or otherwise lose track of it, including a synchronization/backup package for PC users, software-level data encryption, and some minor utilities for controlling drive functionality and powering down the device when not in use. All in all, the software package installed without trouble on both Windows 7 and Vista test machines, and the backup utility performed without a hitch.
Optional Accessories
Seagate sells a pair of docking cradles for its FreeAgent Go drives – the Go Dock, as well as the slightly more feature rich Go Dock+. The basic Go Dock provides a Y-cable that connects to two full-size USB ports on the host machine (one for data, and a second port to draw additional power). This connection method can prove particularly useful in getting around the power-strapped USB connections on many ultraportable laptops.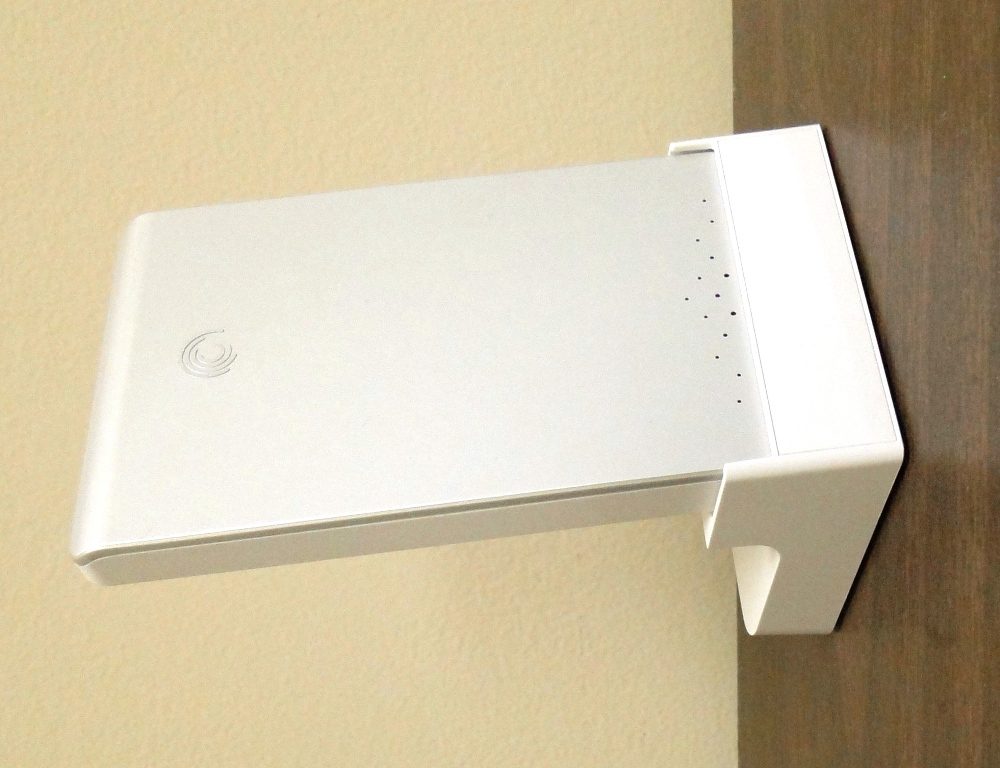 The Go Dock+ adds an external power connection, in the form of a slightly obnoxious wall wart. In exchange for this inconvenience, however, the "plus" version also doubles as a three-port USB hub.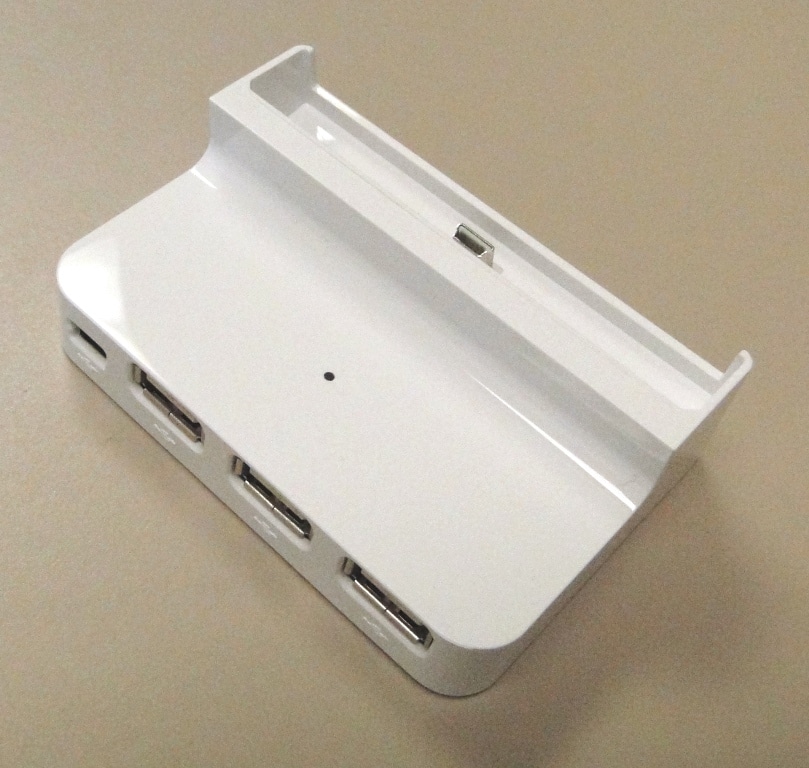 We were given a Go Dock+ to test out with our pair of FreeAgents, and – not surprisingly, given its relative simplicity – the cradle worked flawlessly as both a drive connector and a port expander. Given the Go Dock+'s $25 price tag (the basic Go Dock prices out closer to $20), there are certainly more cost-effective ways to provide desktop tethering for your FreeAgent if you're insufferably cheap. If you feel the need to accessorize your portable drive, however, the Go Dock+ in particular is unquestionable a stylish and useful – and not terribly expensive – add-on.
Warranty
Lastly, kudos to Seagate for offering up the FreeAgent Go with a relatively restriction-free five-year warranty. With two- and three-year warranty periods becoming the norm for many devices of this kind, its a small but thoughtful advantage.
Conclusion
The drive's performance was, in most respects, in line with current expectations for this class of USB 2.0 drives. If you value speed above all else, there are ways to get more of it (and with more consistency) in this form factor, though at a higher price.
If aesthetic or functional considerations play any part in your decision-making process, however – as they do for most of us shopping for small portable drives – the latest FreeAgent Go devices make a much more compelling argument. For starters, Seagate has further reduced the FreeAgent Go's footprint, making this a truly pocket-able storage solution. Construction is high quality, styling cues are understated and well thought-out, and while the movie tie-in is a bit silly, the rest of Seagate's included software is good if unremarkable. Factor in a mid-pack price-to-capacity ratio and it seems likely that Seagate will have no trouble finding interested buyers for its latest portable storage solution. The drives can also be found in nearly a dozen different colors if you need one to match your office just right.
Pros
Stylish and simple
Generous warranty support
Thin and ultra-light
Cons
No default dual-platform support
Speed isn't class-leading
Bottom Line
The latest Seagate FreeAgent Go drives provide plenty of storage, class-standard speed, and a premium design without charging a premium for it.
Discuss This Review