With all the talk about SSDs around here it can be easy to forget that notebook users have another, oftentimes preferable option: good old-fashioned mechanical hard disk storage. Solid state technology has been improving at a rapid clip, but mechanical drives aren't stagnating either. Platter density continues to improve, and with it comes faster sequential speeds and higher overall drive capacities. Enter the 9.5mm 750GB Seagate Momentus, a 7200RPM Advanced Format drive with onboard alignment.
With all the talk about SSDs around here it can be easy to forget that notebook users have another, oftentimes preferable option: good old-fashioned mechanical hard disk storage. Solid state technology has been improving at a rapid clip, but mechanical drives aren't stagnating either. Platter density continues to improve, and with it comes faster sequential speeds and higher overall drive capacities. Enter the 9.5mm 750GB Seagate Momentus, a 7200RPM Advanced Format drive with onboard alignment.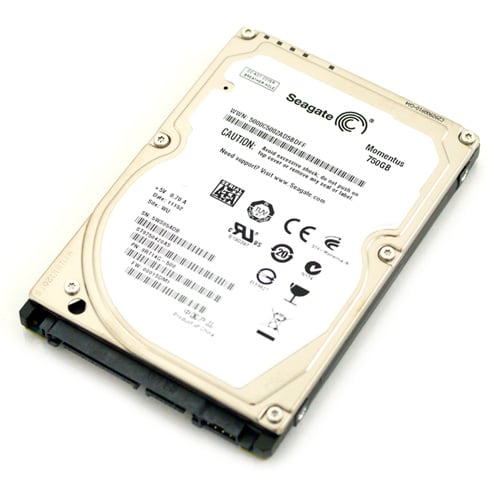 Users discontent with the comparatively miniscule capacities and oftentimes prohibitively high costs of solid state drives may yet find something that can produce satisfactory performance with a mechanical drive while being able to store a staggering amount of data for such a tiny notebook drive. Try to remember that while desktop drives are breaking the 3TB mark, they're also doing it with as many as five platters , and those platters are substantially larger than what you'll find in a notebook drive. Here, you're stuck with two platters, period. That leaves advances in technology to pick up the slack.
And indeed they do. The Seagate Momentus 750GB sports 7200RPM spindle speed, but is also an "Advanced Format" drive, meaning drive sectors are 4K in size instead of 512 bytes. Making the jump to Advanced Format allows for improved usage of platter capacity, but it runs into snags with operating systems that weren't designed to operate with hard drives running sectors greater than 512 bytes. We've seen the use of Advanced Format incur a minor but nonetheless measurable performance decrease while also potentially introducing driver-based headaches in the host operating system.
So what's a manufacturer to do? Well, if you're Seagate, you cook up SmartAlign. SmartAlign is firmware that works completely internally on the drive and is transparent to the operating system, dynamically managing read/write/modify commands within the drive without having to worry about anything on the OS level. The onboard nature of SmartAlign is unique, the other 4K drives we've tested to date all require installed software for realignment. Seagate claims this negates the potential performance decrease that can occur with an Advanced Format drive, and today we'll put it to the test.
ST9750420AS Specs:
Interface – SATA 3Gb/s
Spin Speed – 7200RPM
Cache – 16MB
Capacity – 750GB unformatted / 715GB Formatted
Areal density 541Gb/in
Height 9.5mm (0.370 in)
Weight (typical) 115g (0.254 lb)
Average latency 4.2ms
Random read seek time 11.0ms
Random write seek time 13.0ms
I/O data transfer rate 300MB/s
Unrecoverable read errors 1 in 1014
5V start max current 1.0A
Average idle power 0.95W
Average seek power 2.5W
Operating 0°–60°C
Non-operating -40°–70°C
Acoustics (Idle Volume) 2.3 bels
Acoustics (Seek Volume) 2.5 bels
Aesthetics
Seagate takes the standard white label and silver body approach with the 750GB Momentus. They aren't reinventing the wheel here, so its pretty run of the mill compared to other notebook drives on the market. The nice thing is that they're able to cram 750GB worth of capacity into a drive without negatively affecting the size; terabyte notebook drives are often slightly taller (12.5mm vs 9.5mm) and thus less apt to fit in most notebooks.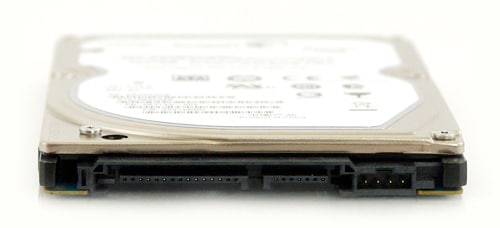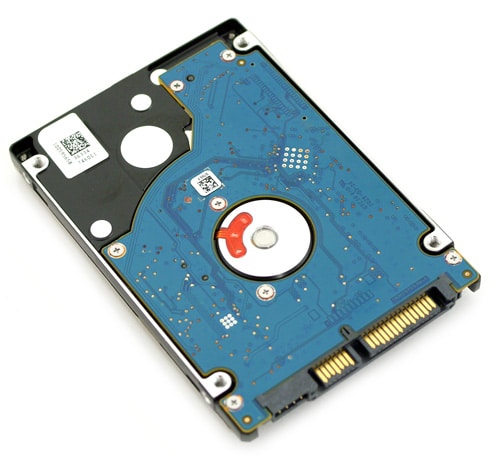 Disassembly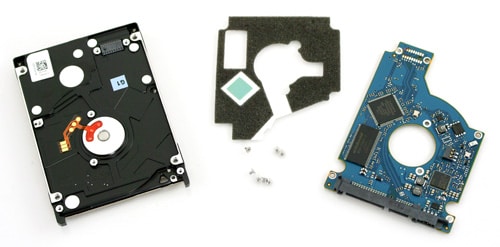 The circuit board on the Seagate Momentus 750GB hard drive is held on with seven fine-pitch Phillips head screws. Removing the board reveals a vibration isolation and thermal dissipation pad, design to draw heat away from the LSI controller.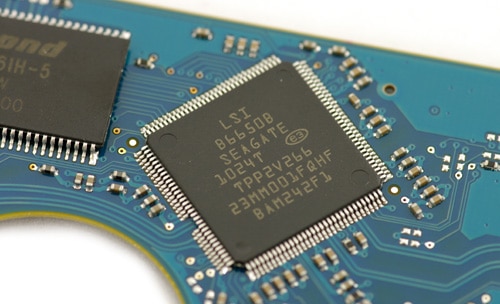 Disassembling the Momentus 750GB (within reason, we don't have a clean room handy) reveals its 16MB drive cache from a Winbond W9412G61H-5 and an LSI B6650B controller chip that we can assume houses the SmartAlign firmware.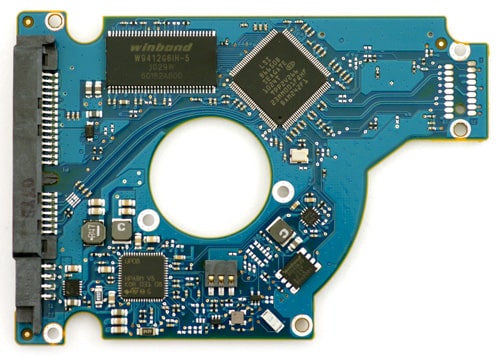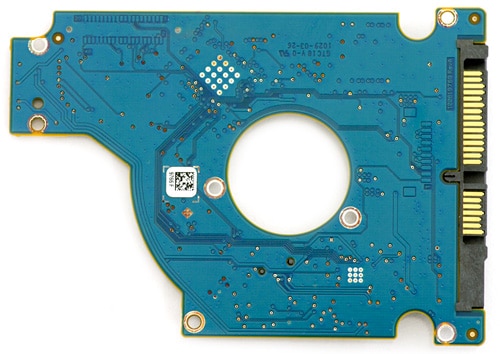 Synthetic Benchmarks
We run our synthetic tests using a combination of CrystalDiskMark and IOMeter, primarily the latter though the former is used to help tease out a complete picture of the drive's potential performance. Comparing results between the two gives us a better understanding of how the drive might perform when we take it for a spin in our real-life benchmarks.
Since the 750GB Momentus is a 4k drive at its core, we've also included 4k-specific tests here in our comparison to get a feel for how it should perform in a system once properly aligned. Everyone else competing here is the cream of the crop for mechanical drives, and of special note is the Momentus XT hybrid drive.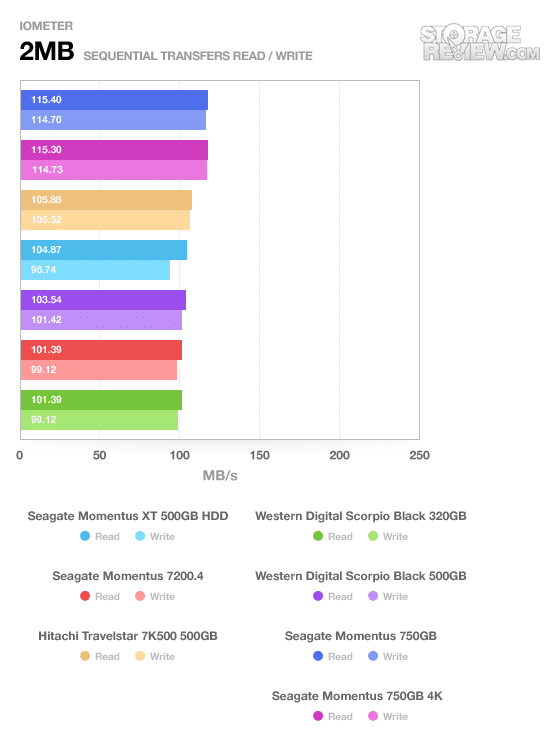 Even without sending 4k-aligned packets, the Momentus performed very well with its 2MB sequential read and write speeds. With 4k-alignment there was very little change.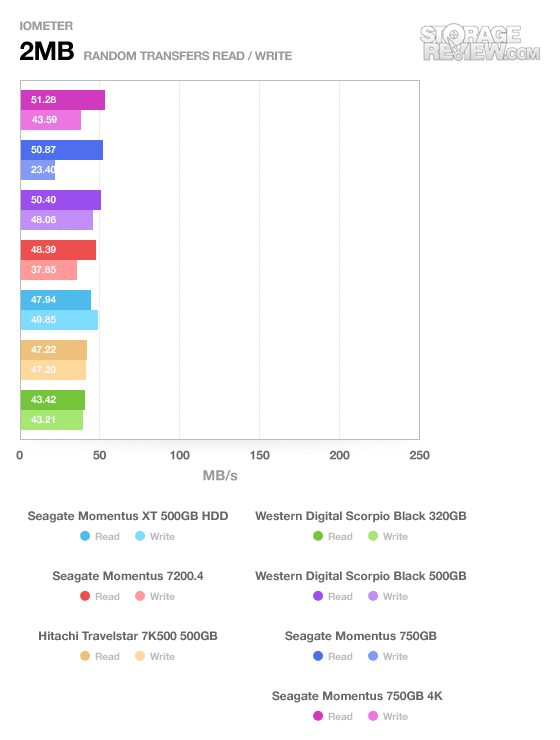 Once random transfers are introduced, the 512-byte alignment transfers show the weakness of the 4k drive. Generally speaking, users won't see this type of performance on a system unless it hasn't been properly aligned from the start. Thankfully, this will take place automatically with the 750GB Momentus, without even bringing in outside software to check alignment.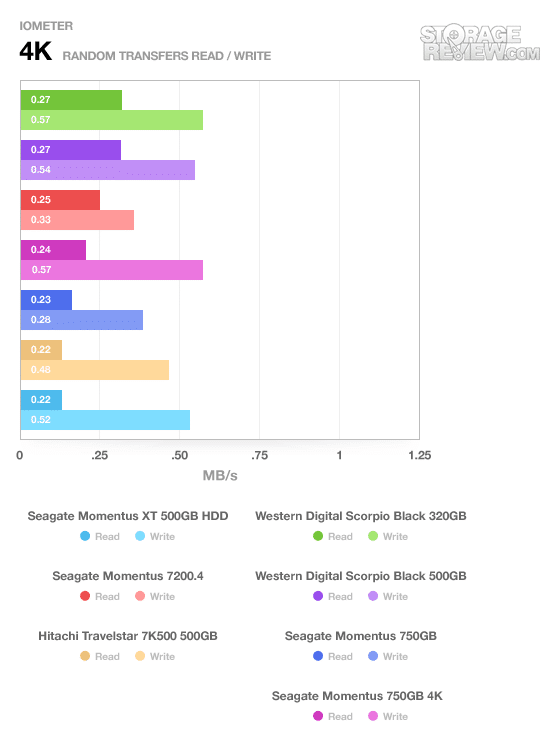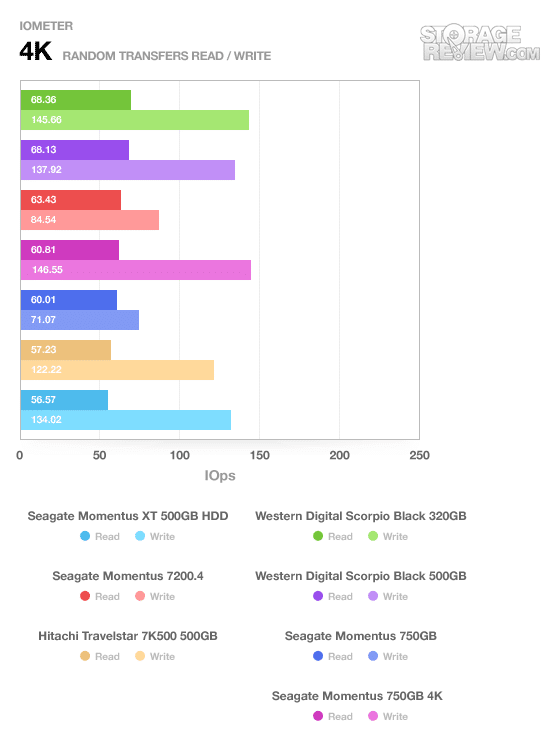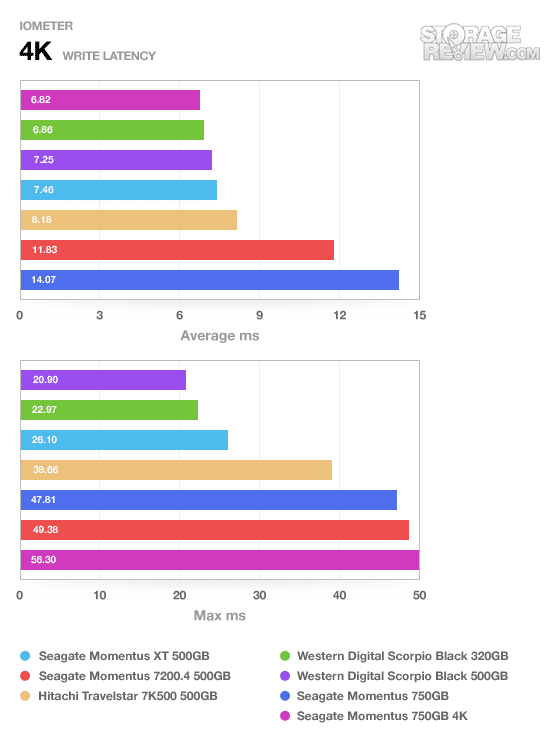 In the random 4k-transfer test the Seagate Momentus 750GB ranges from being extremely slow, to leading the pack depending on if its working with 512-byte or 4k-aligned packets. In its proper habitat, it has no trouble showing the other drives who's boss.
Now that we have some understanding of the best (and potentially worst) case scenarios for the Momentus 750GB, we'll stop in with CrystalDiskMark.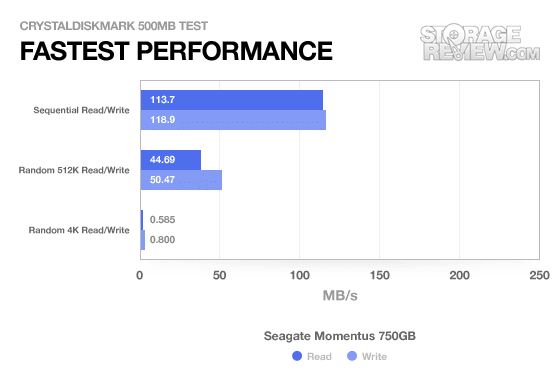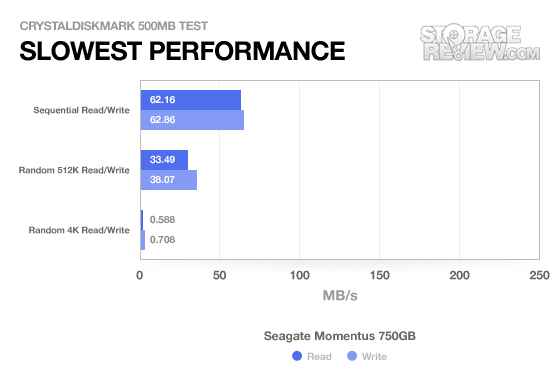 CrystalDiskMark's performance numbers peg the Momentus 750GB close to where it was in IOMeter, if even a little better.
We'll pop back in with IOMeter now and test simulated server and workstation workloads and try to tease out weaknesses and strengths in the Momentus 750GB's performance profile.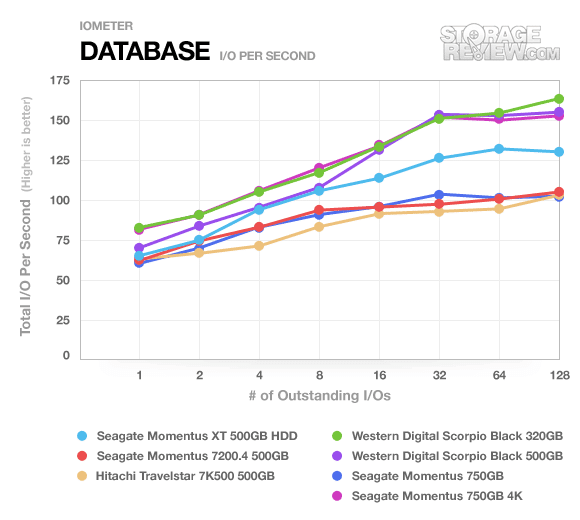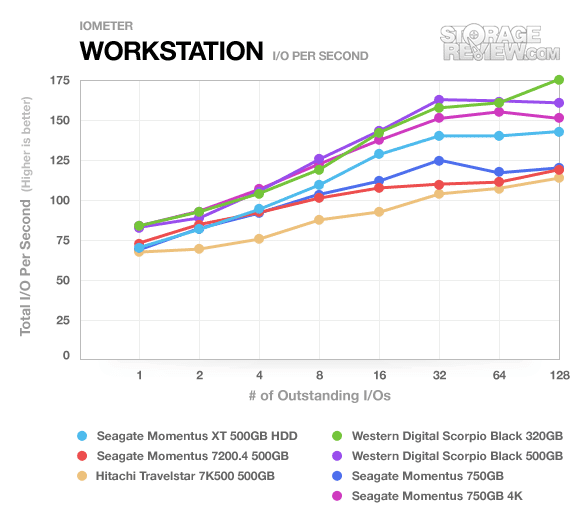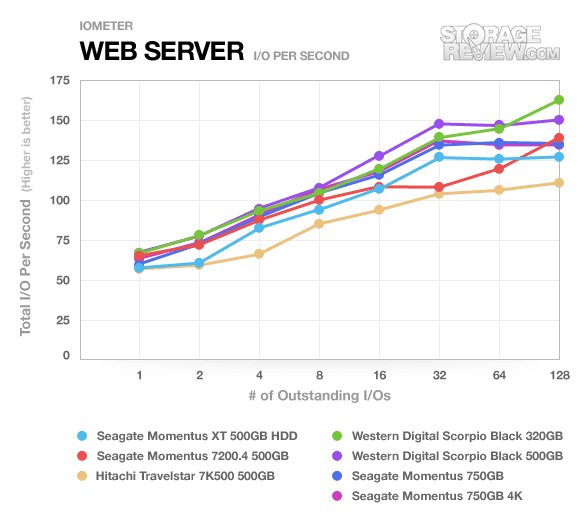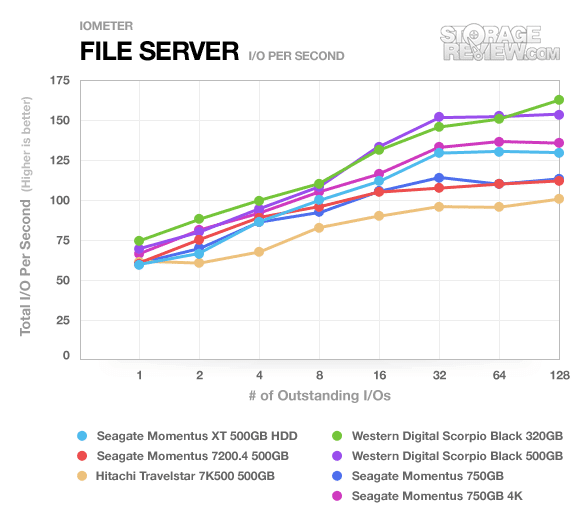 The Western Digital Scorpio Black 320GB and 500GB drives lead the pack in our server profile tests. The 750GB Momentus is trailing with a small gab with 4k-alignment, but is left in the dust when unaligned.
Real-World Benchmarks
From synthetic benchmarks we're seeing what we've sort of come to expect: Western Digital's Scorpio Black drives seem to provide the best random performance, though the Momentus 750GB can pick up at least some of the Momentus 7200.4's slack. Anecdotally this rings true; I've found in notebook reviews I've done that the Scorpio Black feels just a bit snappier than the Momentus 7200.4 (though to be fair neither of these really compare to how responsive an SSD-equipped notebook can feel.)
For real-world testing we use custom traces in StorageMark 2010 to measure drive performance, starting with our HTPC test. Users should note that starting with this review, we have transitioned to a second generation HTPC test; this time being 4K-compatible. This test plays one 720p HD movie in Media Player Classic, one 480p SD movie in VLC Player, downloads three movies simultaneously in iTunes, and records a 1080i HDTV stream in Windows Media Center over a 15 minute period.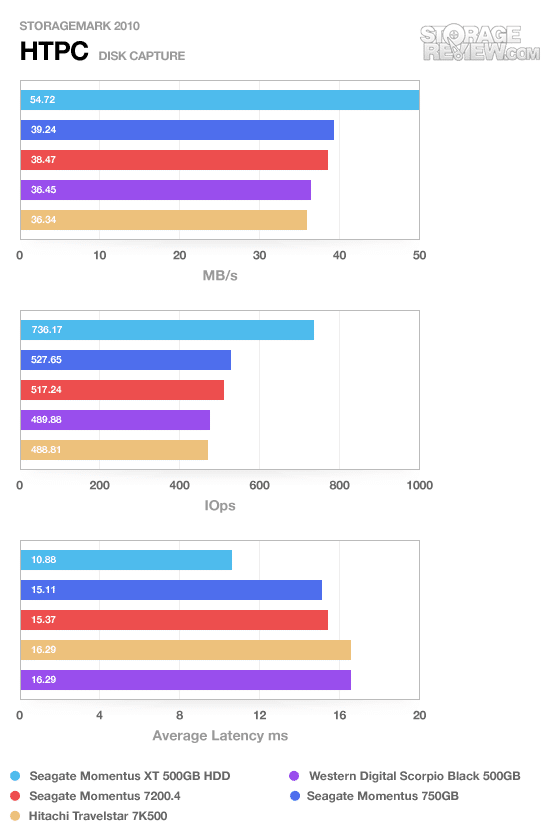 When we get to the HTPC test, the hybrid-SSD Momentus XT tears past the competition, but the new Momentus 750GB drive and even the old 7200.4 put in healthy showings. If the Scorpio Black has a firm handle on the synthetic benches, it's not revealing itself here.
Our other trace is the gaming test. This trace is heavily weighted towards strong read performance, and consists of a Windows 7 Ultimate 64-bit system configured to run Steam. Grand Theft Auto 4, Left 4 Dead 2, and Mass Effect 2 are already downloaded and installed, and each game is loaded from the start and run for a little while.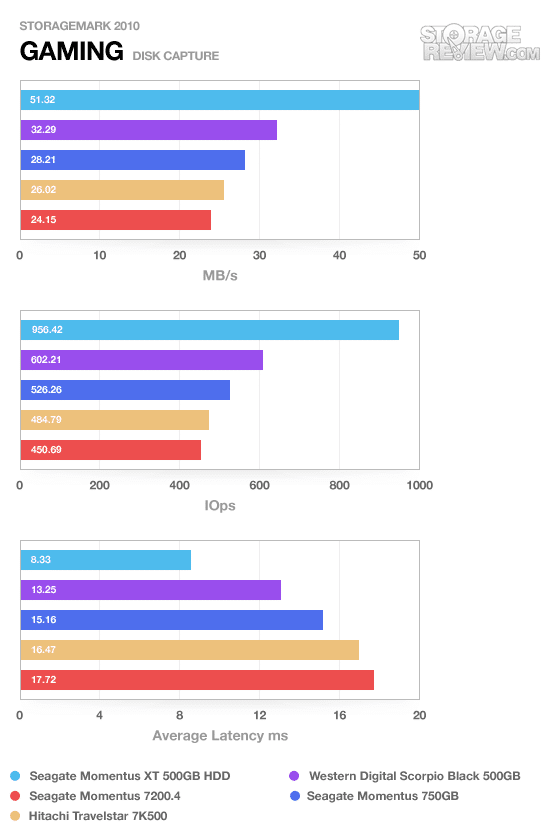 Once again, the hybrid Momentus XT produces a comfortable lead, but this time the Scorpio Black is able to jump in front of the newer Momentus 750GB. Performance is still solid and a definite improvement over the tired old 7200.4 (the less said of the Hitachi's continued sub-middle-of-the-road performance the better.)
Power Consumption
The Momentus 750GB notebook drive uses two platters, which in most cases directly relates into slightly higher power consumption values. Seagate is pretty honest about the power used in the 750GB drive though, unlike some manufacturers which give figures that are a fraction of what the drive actually uses. They claim 5W peak startup, 2.5W seek, and 0.95W idle, which is pretty much spot on or slightly above what we measured in our lab.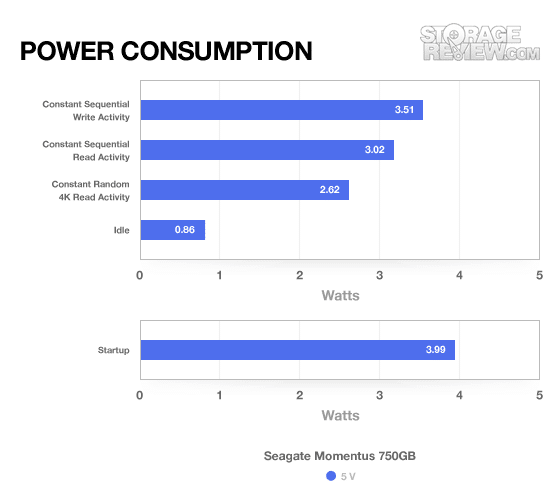 Idle wattage is good but not great, but otherwise the Momentus 750GB is pulling power numbers not too far off the resident power hog Momentus XT.
Warranty
Seagate brings their usual industry-standard three year warranty to the Momentus 750GB. This is comparable to the warranties Western Digital, Hitachi, and Samsung offer with their notebook drives.
Conclusion
Seagate has certainly leveraged an awful lot to produce the highest capacity 7200RPM mechanical hard disk the notebook market has seen in the Momentus 750GB. Advanced Format and the accompanying SmartAlign have resulted in a drive with remarkable storage space while maintaining compatibility and healthy performance. If there's any spectre hanging over Seagate with this offering, it's really the more well-rounded performance characteristics of Western Digital's Scorpio Black drives. If capacity is king, though, the Momentus 750GB is the one to beat and you don't really have to sacrifice much to the performance gods to get it.
Pros
High capacity with a 7200-RPM spindle speed
Reasonable price tag
SmartAlign removes the need for alignment software
Cons
Has trouble hanging with the Scorpio Black
Bottom Line
The Seagate Momentus 750GB merges best-in-class capacity with reasonable performance and onboard alignment to offer a unique hard drive to the notebook space. For anyone needing a laptop drive with mega capacity without giving up performance, the Momentus 750GB is a clear winner.