This past summer, we spent some time with Synology's DiskStation DS410j, a 4-bay NAS generally geared toward small business and home users. Today we're reviewing the DS411+, also a 4-bay unit, but this time with a Dual Core processor, four times the RAM and a black case that shows it's ready for the duties required in an active business environment or use as a high-end media streaming hub. With full support for 3TB drives, the DiskStation DS411+ can support up to 12TB of internal disk space and under RAID 5 can generate 112.99 MB/sec reads and 103.07 MB/sec writes.
This past summer, we spent some time with Synology's DiskStation DS410j, a 4-bay NAS generally geared toward small business and home users. Today we're reviewing the DS411+, also a 4-bay unit, but this time with a Dual Core processor, four times the RAM and a black case that shows it's ready for the duties required in an active business environment or use as a high-end media streaming hub. With full support for 3TB drives, the DiskStation DS411+ can support up to 12TB of internal disk space and under RAID 5 can generate 112.99 MB/sec reads and 103.07 MB/sec writes.
But with NAS units, it's not all about CPUs, RAM and the other specs. It's about ease of use, configuration and setup. While we actually liked all of those things with the firmware we reviewed on the DS410j, Synology has since released an updated firmware, DiskStation Manager v3.0, that makes life even easier with this unit. A new GUI and a set of setup wizards make it easy for just about anyone to get up and running with the NAS, while more detailled options abound for the more seasoned system admins.
Other than the design overhaul of DiskStation Manager, v3.0 includes several new features including multi-tasking, dynamic-updating UI, new Android apps DS cam, DS photo+ and DS audio, updated iPhone app DS photo+ now with video streaming support and improved interface, EXT4 File system support, Windows ACL Support, compatibility with VMware, Microsoft Hyper-V, and Citrix Xen (on supported DiskStations), WebDAV support, IPv6 Integration, enhanced iSCSI features and a slew of other updates and improvements.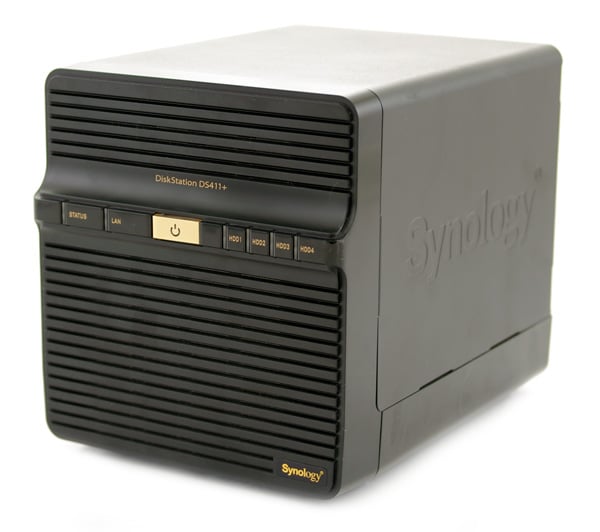 Synology DS411+ Specs
CPU: 1.67GHz, Dual Core
Memory: 1GB
Max Internal Capacity: 12TB (4 x 3TB hard drives)
External HDD Interface: USB 2.0 port x2, eSATA port x1
Size (HxWxD): 168mm X 184mm X 230mm
Weight: 2.23kg
LAN: Gigabit x1
Fan: 2 (80mm X 80mm)
Noise Level: 22.5dB
AC Input Power Voltage: 100V to 240V
Power Consumption: 60W(Access); 20W(HDD Hibernation)
Operating Temperature: 5°C to 35°C (40°F to 95°F)
Aesthetics
The Synology DiskStation DS411+ is designed with business in mind, and unlike the consumer-targeted DS410j, it is completely black except for the bronze power button and lettering that provides a mild bit of flair. The front changes from glossy and smooth to a grated appearance with matte-black paint. Besides the different outer shell, the two NAS units are based off the same chassis, so many pieces look and feel identical. One area that's changed though is the addition of eSATA to the back of the unit, whereas the previous model only included two USB ports.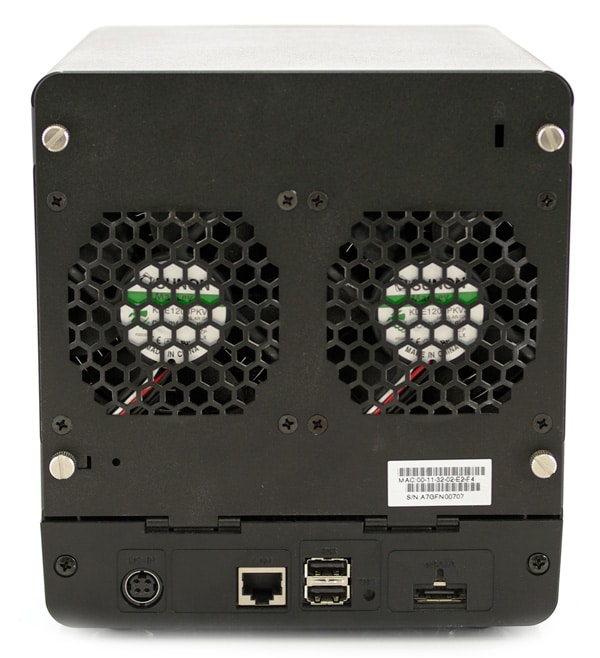 The front panel feels pretty well built, but I kind of wish they stuck with the consumer design, albeit with black paint. The main body panel that covers the drive assembly is a heavy-gauge steel panel that is held in place with four thumbscrews from the back side. The rear panel is also metal, with a built-in hinge that folds down to access the internal drives. As far as build quality goes you might even be able to go as far as standing on it without the thing being much worse for wear.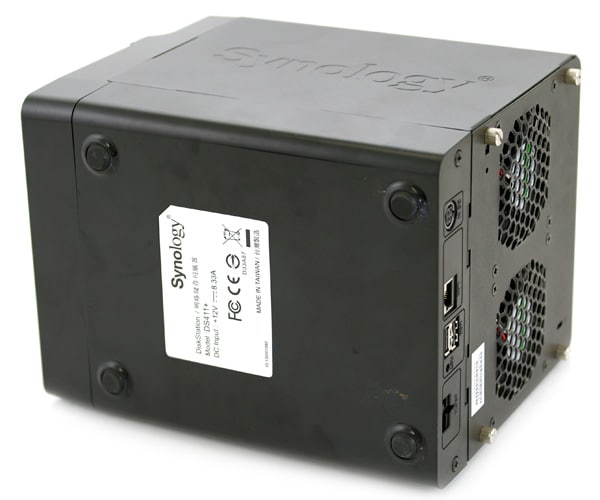 Noise is not a problem for the DS411+ when it comes to vibration or fan noise. Synology included four soft rubber feet on the bottom of the unit to help isolate hard drive noise from surrounding objects. The two 80mm fans to an excellent job of keeping the hard drives cool (most drives stayed between 30-35C as indicated by internal sensors) and doing it without being noticed. The 80mm fans operated at a very slow and quiet speed, keeping a steady breeze flowing through the unit without being heard standing three feet away in a quiet room. The fans can also have their speed adjusted to work with 2.5" or 3.5" hard drives, so you only need as much cooling as is necessary.
Disassembly
The Synology DiskStation DS411+ is very easy to take apart for servicing and initial setup. To access the internals you simply remove the four thumbscrews on the rear of the chassis which hold on the cover. With the screws removed you can pop down the rear panel which is on a hinge to access the drive bays. Synology includes a full supply of hardware with each DiskStation model allowing the end-user to install any configuration of drives that the unit supports. In our case the box included four drive-trays (which support 2.5-inch and 3.5-inch drives) with plenty of coarse and fine-pitch screws for different drive types.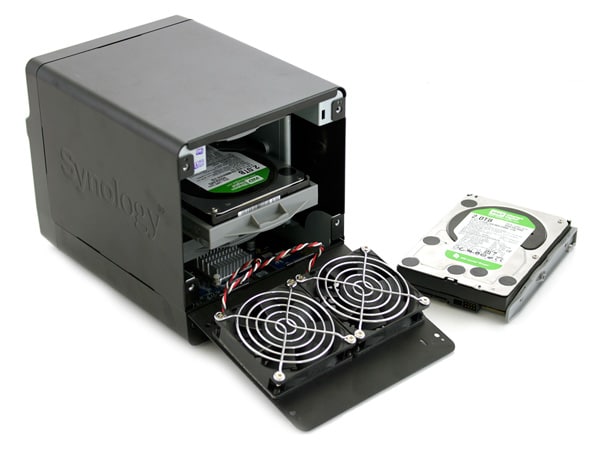 The included trays are dual-purpose with screw holes for 2.5-inch and 3.5-inch hard drives and SSDs. The backplane visible inside the DiskStation appears to have the extra notch for SAS drives, but Synology doesn't include SAS-interface support on any model at this time.
While Synology doesn't explicitly mention this capability, the DS411+ appears to support hot-swapping drives. We simulated a drive failure by unplugging one of the drives in a RAID5 configuration and loaded in a replacement drive while the unit was still turned on. The DS411+ put up quite fuss with its beeping to let us know the RAID was in degraded mode, but it quickly started to rebuild once we initiated the repair.
Setup
Synology makes their DiskStation NAS units as easy as possible for the end-user to setup. Unlike more complex home or small-business servers, the DiskStation DS411+ doesn't come preloaded with any software unless you order one of the units with drives pre-installed. For the average Joe this means you never have to worry about having the latest software, since you will be installing the newest firmware as part of the initial setup. The Synology system is also unique in the way that it stores the operating system spanned across all the drives, instead of just a single one. This protects your data and keeps the NAS up and running, regardless of which drive might fail.
Software installation has to be done through the Synology Assistant application, which finds compatible NAS units located on your network. After selecting the server showing up, follow the installation process and load the latest firmware off the Synology site listed for your model. This setup stage will also prompt your for a default password needed to enable security on the NAS unit.
After the setup is complete, all further work is handled through the Synology's own built-in webserver. Since our last review the DSM software has been updated from 2.3 to 3.0, offering a vastly improved user experience. Instead of interacting with a webpage, it now feels more like working with applications and icons located on your own desktop.
Software
The huge selling point of the Synology NAS units is the extremely well-designed DiskStation Manager software. In our previous review we got to play around with the older DSM 2.3 software, but since then they have updated to DSM 3.0. The look and feel has dramatically changed with the interface loaded with drag and drop windows. It no longer feels like you are working with a website-based admin, but an extension of your own desktop. You can drag windows around the "desktop" area, stack windows on top of each other, and even set which icons you want to quickly access certain features. Synology has a video walkthrough of the new software as well as a demo account to access for those who want to dive deeper into Disk Station Manager 3.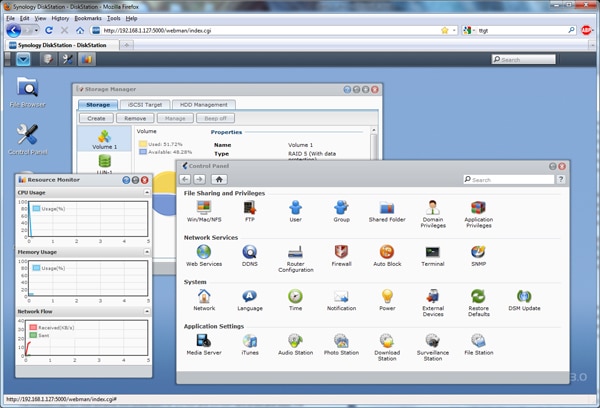 Outside of being just simple to use, Synology also offers a ton of cool features that make having a NAS something more than just storing files. They integrate a DLNA-server to sharing media, an iTunes server to share your music across the network, a Download Station to handle torrents, and even a Audio Station that works with a free iPhone/iPod/iPad app to remotely serve music off the NAS to play on your mobile device.
Benchmarks
To test and compare the performance of the Synology DiskStation DS411+ we put it head-to-head with the QNAP TS-459 Pro+ Turbo NAS. We measured the speed of these NAS units with IOMeter, using shares setup over iSCSI and Samba. We used four Hitachi Ultrastar A7K2000 2TB hard drives in both reviews, in part to make results consistent, but also to make sure the drives were never a limiting factor in our benchmarks.
Compared to the DS410j, the DiskStation DS411+ has few things going for it that improve performance… well actually two things; CPU speed and RAM. The DS410j comes with an 800MHz processor and 128MB of RAM whereas the DS411+ has a new dual-core 1.67GHz CPU and a heaping 1GB of DDR2 memory. In our last review we found that most transfer speeds were limited by the processor, which hopefully won't be a problem this time around.
In the first test we look at the peak Samba and iSCSI performance using a "best case scenario" 2MB sequential file transfer with IOMeter. In all of the configuration Samba interface configuration schemes the Synology fell slightly behind the QNAP, with RAID5 giving the lowest 59MB/s read speeds. Both RAID1 and non-RAID tests were higher, giving 65 and 66MB/s read speeds respectively.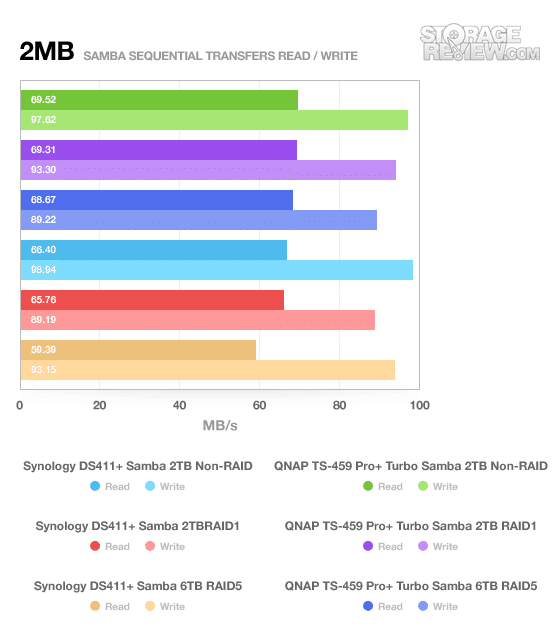 The iSCSI performance fairly slightly better, giving an average read speed of 77 to 79MB/s in all the tests, with write speeds ranging from 69 to 82MB/s.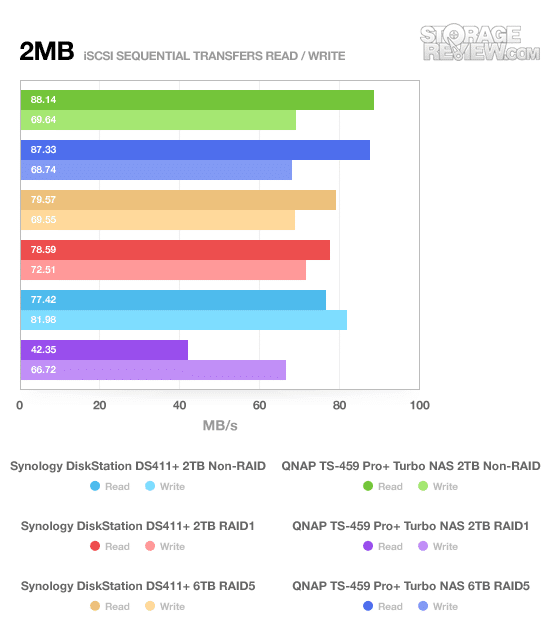 In the next test we looked at random 2MB/s transfers using IOMeter. In this section the Synology DS411+ also lagged slightly behind the QNAP NAS. Read speeds ranged between 32 to 44MB/s, with the peak speed on the RAID1 test. Write speeds ranged from 25 to 36MB/s, with the highest on the non-RAID test.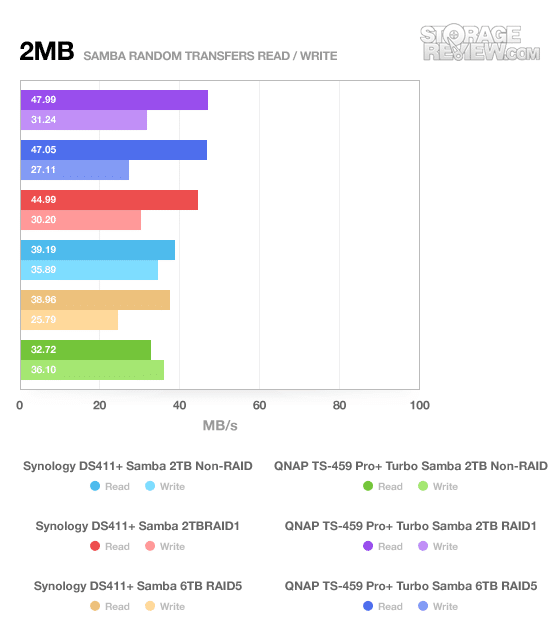 Looking at the iSCSI results in the same 2MB random transfer tests, the tables have turned with the Synology leading the pack in all tests. This time around the read speeds varied between 52 and 55MB/s (highest on non-RAID) and write speeds from 49 to 69MB/s (highest on non-RAID).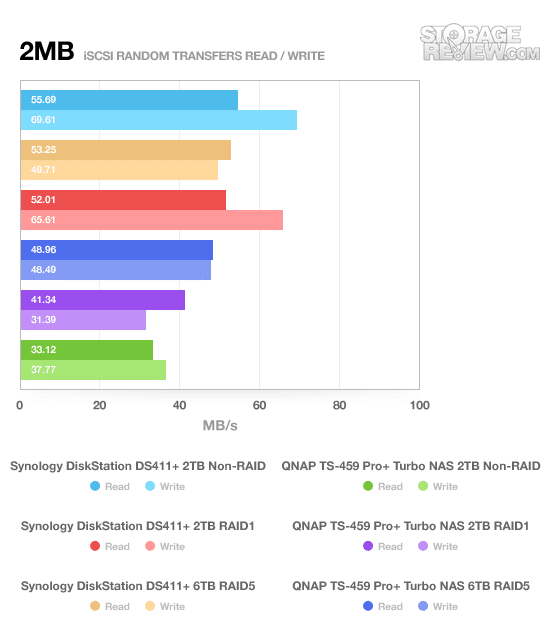 Moving to even smaller transfer sizes with the random 4K transfers, the Synology has lost its lead, but just barely. Read speeds varied between 0.60 to 0.62MB/s and write speeds from 0.41 to 0.45MB/s. In both of these cases, non-RAID had the lead.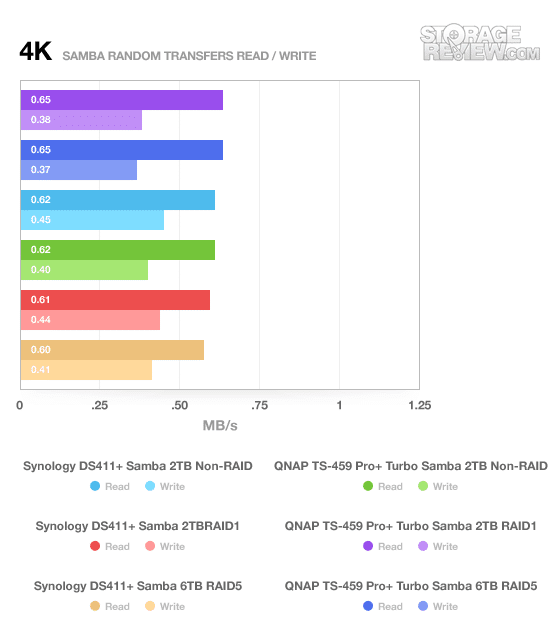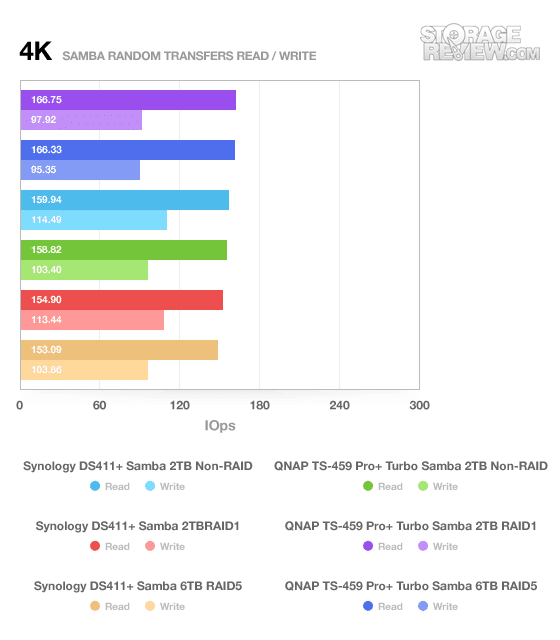 On the iSCSI results, the QNAP has the lead on read speeds, but the Synology beats it on write speeds by far. In this case read speeds were between 0.40 and 0.51MB/s and 0.90 to 1.04MB/s on write speeds. In this particular case the RAID5 results were the quickest in both areas.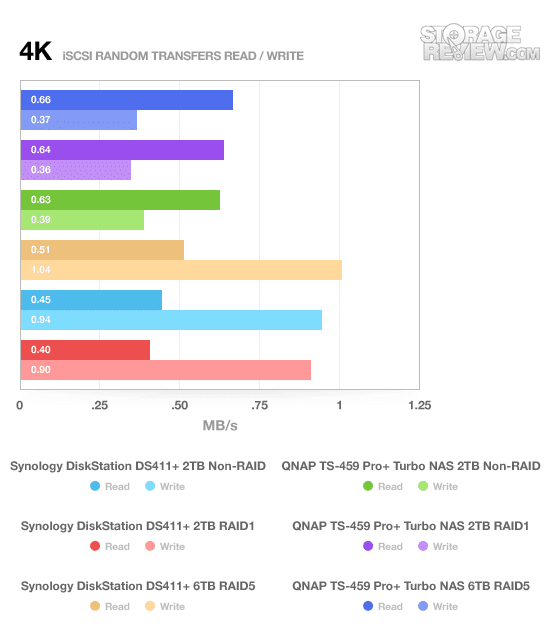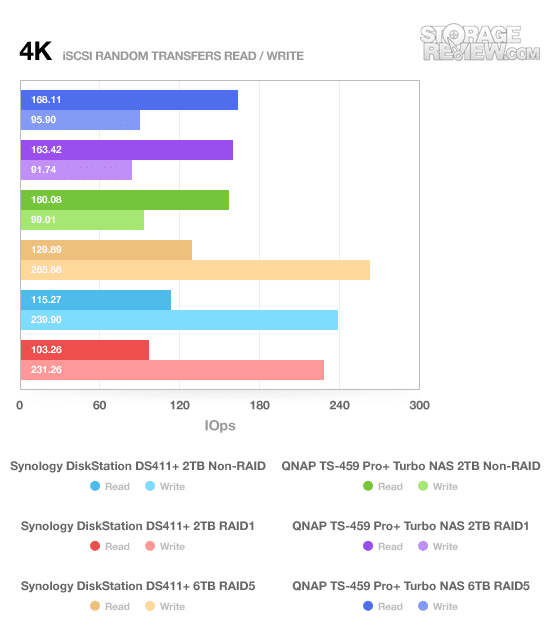 With the Synology DiskStation DS411+ having such a lead on the QNAP NAS in random 4K write speeds, it was no surprise to see it leading the charts in the 4K write latency test. Using Samba, the latency varied between 8.73 to 9.55ms. The max latency though on the Synology did suffer higher peaks, with the max actually reaching over one second in the RAID5 array.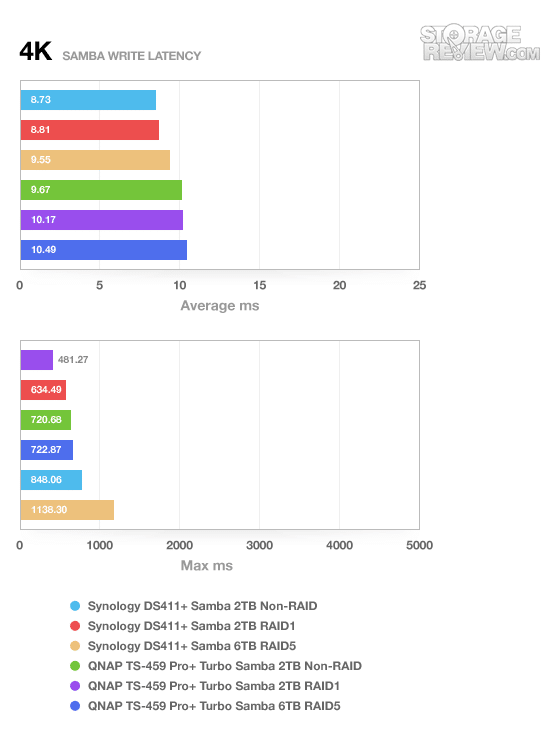 Using iSCSI, the DS411+ average 4K latency numbers were just about cut in half compared to its Samba results. We measured times as low as 3.76ms on the RAID5 array to 4.32ms on the RAID1 array. Overall we were very impressed by the random transfer performance of the Synology DS411+.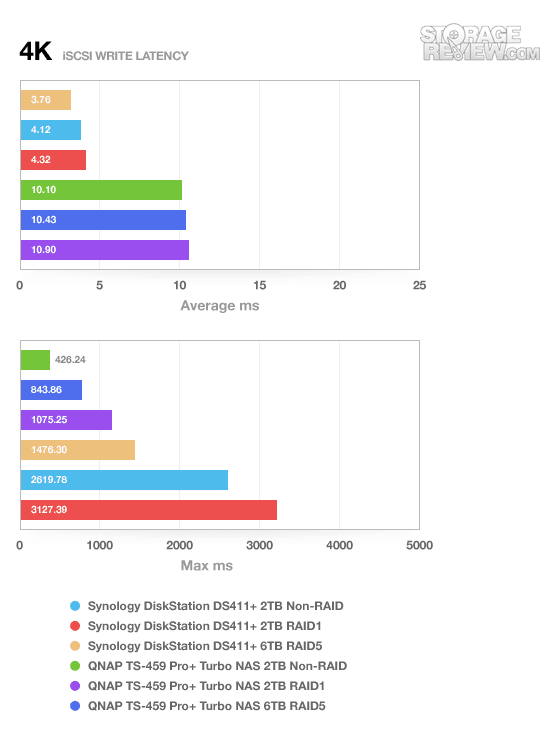 Power Consumption
One of the best reasons to consider a small embedded platform NAS for home or small business network-storage is the low power consumption. While a recommissioned desktop could serve the same purpose, it would never be as efficient… or have the cool software. Synology rates the DiskStation DS411+ with a peak access rate of 60W and a hibernation (drives spun down) rate of 20W. The idle figure in our tests was pretty much spot on, but thankfully we never saw peak access rates as high as they claimed with the drives we were using.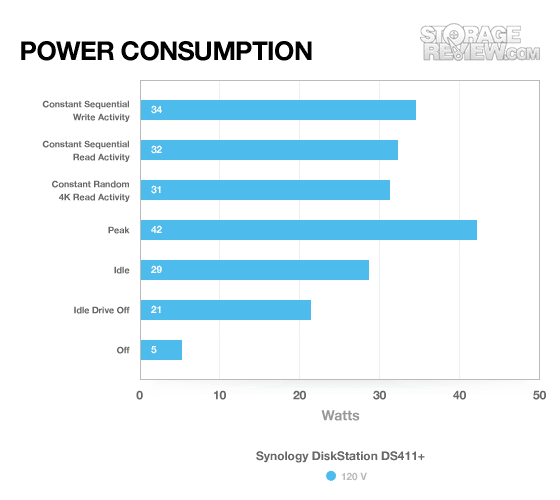 To test the power consumption we used a Kill-a-Watt power meter and IOMeter to simulate disk loads during normal activity. The highest measured power consumption from the DS411+ was during startup, reaching 42 watts for a few seconds. After the system was up and running though, rates varied between 29W at idle to 34W under constant sequential write access. The only surprise was the 5W of power consumption when the NAS was completely powered down.
Conclusion
The DiskStation DS411+ is a big performance step up from the last Synology NAS we reviewed earlier this year. This time around processor and RAM limitations were not a problem, as the DS411+ offers a 1.67GHz dual-core processor and 1GB of memory. The price is also a big step up from the DS410j, which only costs $350. The small-business class DS411+ starts at $650 without disks; meaning that if you can give up some speed, you could stock a DS410j with 8TB of budget hard drives for about the same price as the diskless DS411+.
The DS411+ is about performance though, and if you want faster speeds, more grunt to handle the background applications, and a more fluid experience, the DiskStation DS411+ does provide many enhancements over the consumer targeted models. The DSM 3.0 software is also a great perk this time around and while it can be installed on any DiskStation from Synology, DSM 3 is far beyond any other NAS interface we've used.
Pros
Super simple (and fast) to setup
Easy to use software
Compatible with 3TB drives
Cons
A step slower than comparable QNAP unit
Case design could use a little modernization
Bottom Line
With its 1.6GHz dual-core processor, 1GB of DDR2 memory, great interface and support for 3TB hard drives, the Synology DiskStation DS411+ is ready to tackle just about anything you throw at it.