The Smart Storage Systems XceedStor 500S SSD leverages standard MLC NAND and a mainstream SATA 6Gb/s interface to deliver cost effective high performance throughput in entry enterprise duty. Don't let the NAND and focus on price fool you though, the enterprise has shown increasing acceptance for MLC NAND, especially as those like Smart Storage Systems have been able to prove out its endurance and reliability. That makes the XceedStor 500S an ideal candidate then for read heavy environments often seen in scenarios like boot, web/file serving and read-caching.
The Smart Storage Systems XceedStor 500S SSD leverages standard MLC NAND and a mainstream SATA 6Gb/s interface to deliver cost effective high performance throughput in entry enterprise duty. Don't let the NAND and focus on price fool you though, the enterprise has shown increasing acceptance for MLC NAND, especially as those like Smart Storage Systems have been able to prove out its endurance and reliability. That makes the XceedStor 500S an ideal candidate then for read heavy environments often seen in scenarios like boot, web/file serving and read-caching.
Smart Storage Systems goes beyond just loading on enterprise-grade firmware with the XceedStor 500S though, they include other enterprise-friendly features like power fail protection via capacitors, performance throttling when the drive gets too hot, full data path protection and comprehensive diagnostics via SMART reporting. These features help the 500S reach a MTBF of 2 million hours and uncorrectable bit error rate (UBER) of less than 1 in 1018 bits read.
The XceedStor 500S has plenty to offer on the performance front too, leveraging a SandForce SF-2581 controller, 24nm MLC NAND and SATA 6Gb/s interface to churn out up to 500 MB/s read and write throughput, 60,000 random read IOPS and 20,000 random write IOPS. The drives are also backed by a five year warranty, the longest available in this market segment.
Smart Storage Systems offers the XceedStor 500S in both 7mm and 9.5mm 2.5" form factors in capacities of 60GB, 120GB, 240GB and 480GB. Endurance ranges from 90 TBW for the 60GB capacity, up to 720TBW in the 480GB drive. The XceedStor 500S is Smart Storage System's entry level enterprise SSD offering, sitting a touch under the XceedIOPS2, which uses eMLC NAND and a SandForce SF-2582 controller. The enterprise line is capped off by the recently announced Optimus Ultra, which uses a SAS interface and a proprietary controller.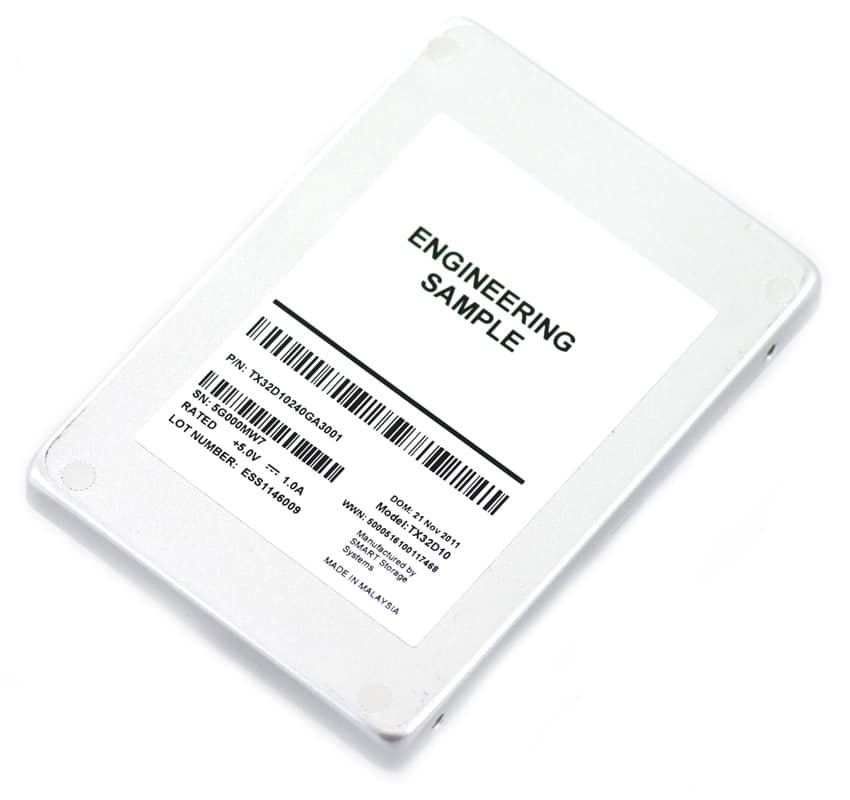 Smart Storage Systems XceedStor 500S Specs
Capacities:

60GB, 120GB, 240GB and 480GB

Standard 24nm Toshiba MLC NAND
SandForce SF-2581 Processor
Interface SATA 6Gb/s
Performance:

Sustained Read/Write Up to 500MB/s
Random IOPS Read/Write Up to 60K/20K
Access Time < 1.0ms

Data reliability < 1 in 1018 bits read
Endurance

5 Year Lifetime
60GB – 90TBW
480GB – 720TBW

Error Correction/Error Detection(BCH) 24-bits for every 512-byte sector
Data Fail Recovery Recover up to 1 NAND flash erase block of data
Power Fail Recovery High-reliability backup-power circuitry
Temperature Monitoring Performance throttling upon warning/critical temperature
Power

Vcc 5V ± 5%
Active (Typ) 1.2 A (Typical)
Idle 0.5 A (Typical)

Environmental

Shock (operating) 200g half-sine, 10msec, 1 shock along each axis, X, Y, Z, in each direction
Vibration (operating) 0.67 g rms 5 – 500 Hz, 3 axes
Operating Temperature 0°C to 70°C (Internal)
Storage Temperature -40°C to 70°C
Humidity 5% to 95%, non-condensing, relative humidity
Altitude 24,384m (80,000 ft)

Mechanical

Length 100.2 mm
Width 69.85 mm
Height 7 mm, 9.5 mm
Design and Disassembly
The Smart Storage Systems XceedStor 500S offers a basic appearance, with a bare-metal stamped-aluminum case. From a mechanical standpoint the case is very lightweight, with our review sample offering a 9.5mm z-height. Our drive has a single product label on the top cover of the case, including the part number, serial number, lot number, as well as basic drive details. The bottom side of the case is entirely blank, showing only screws that let you access the circuit board inside.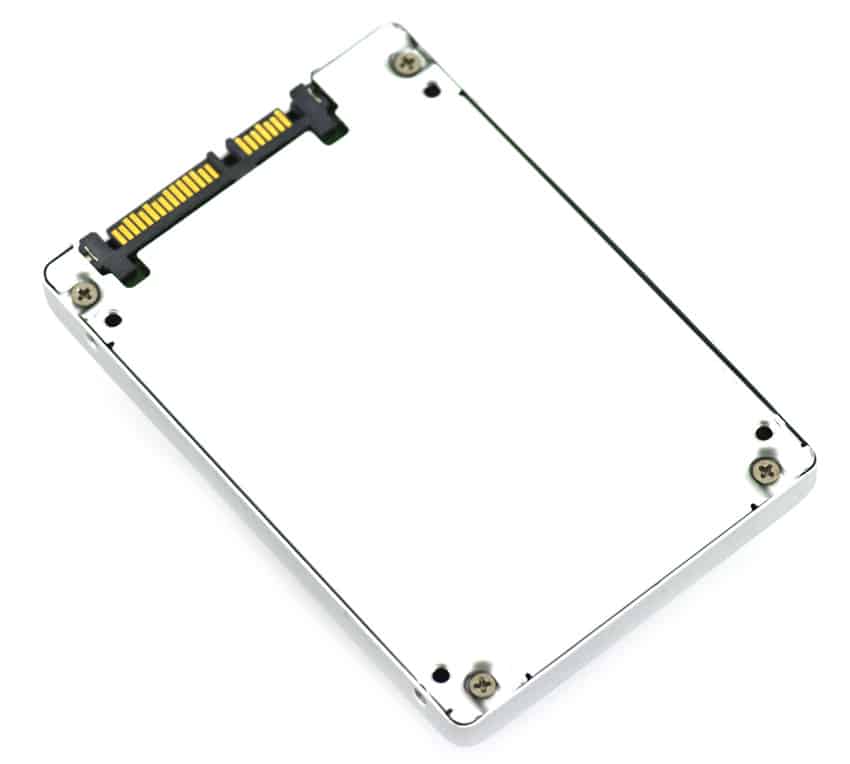 The XceedStor 500S is offered in two drive heights; 9.5mm for standard-mount or 7mm for space-constrained applications. While many of the enterprise-targeted SSDs we have reviewed come in a 15mm z-height which matches the thickness of 2.5-inch enterprise-grade hard drives, those targeted for light-enterprise usage generally come in smaller packages. The advantage of using a slimmer design means that devices such as blade servers, telco equipment and other deployments where drive volume matters, can benefit from the reduced size of a 9.5 or 7mm SSD.

The front of the XceedStor 500S shows off a standard SATA connection, which on this particular SSD is capable of pushing sequential transfer speeds in excess of 500MB/s. The interface is compatible with a wide range of platforms spanning consumer and enterprise systems.

The case itself is rather easy to take apart by removing four Phillips head screws located on the bottom half of the case. With those screws out, the drive separates into three components; the top case, bottom cover, and SSD circuit board. One of the first items we noticed is this drive, designed for light-enterprise usage, doesn't offer thermal pads which we have been accustomed to finding in other enterprise or light-enterprise SSDs. Even without those components though, we found no problem continuously stressing this drive in our enterprise testing environment. Smart Storage Systems also includes electronic thermal protection on this drive, capable of throttling performance if the device itself gets too hot.

Smart Storage Systems uses Toshiba 24nm standard MLC NAND inside the XceedStor 500S. The 240GB capacity uses eight NAND pieces in total, with an individual capacity of 32GB. This gives the 240GB model a raw capacity of 256GB and configured with a usable space of 224GB, the SSD has an over-provisioned level of 12.5%.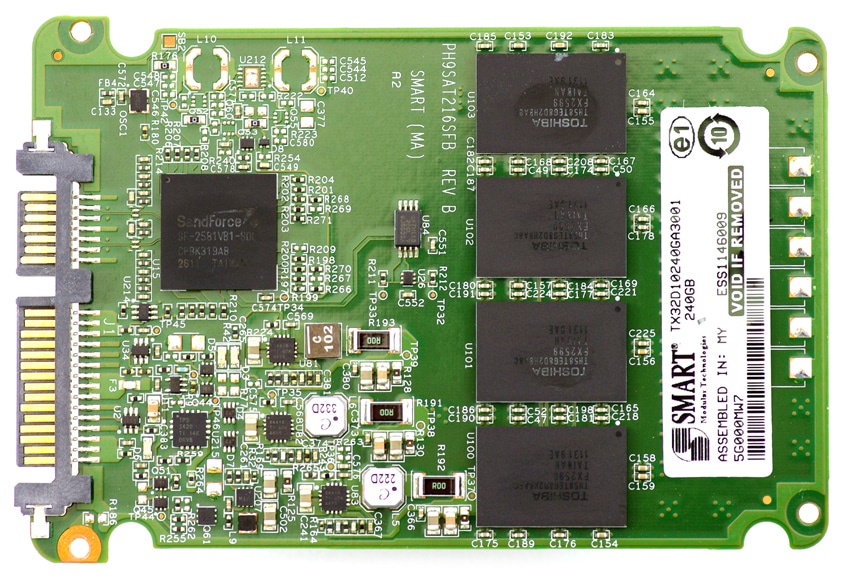 The controller used inside the XceedStor 500S is a SandForce SF-2581, which doesn't require a additional SDRAM buffer, and has an operating temperature of up to 70C in a commercial environment. The controller also supports AES-256 and TCG Encryption.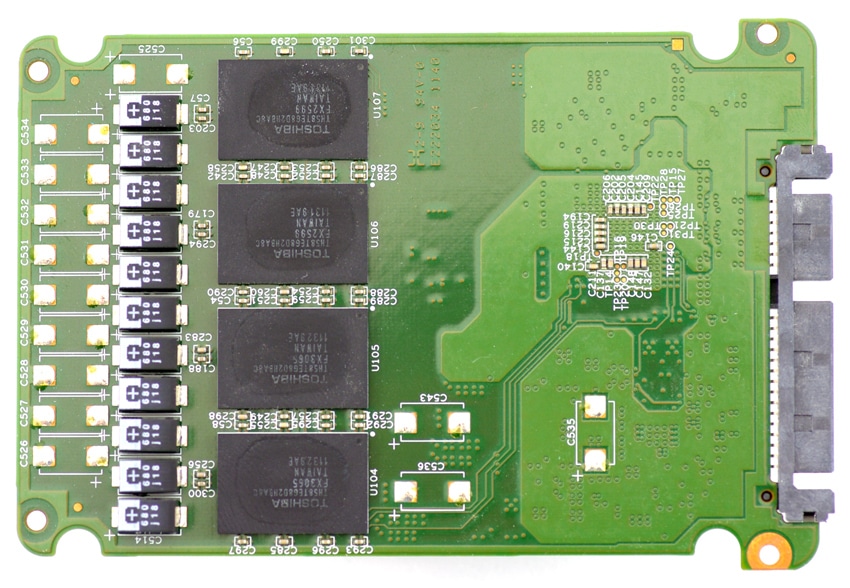 Smart Storage System's Power Failure Recovery setup uses eleven discrete capacitors instead of an ultra-capacitor found on some enterprise SSDs. These are used for power filtration as well as hold-up power in the event incoming power is lost or interrupted, so in-transit data can be flushed to NAND.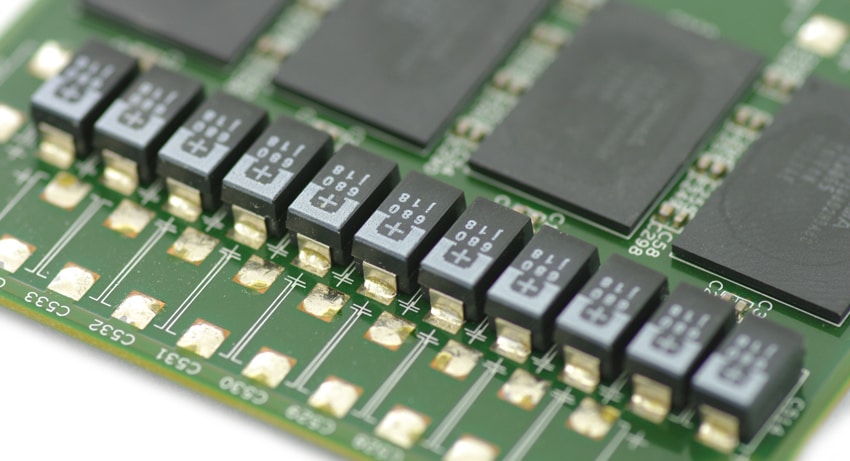 Smart uses an approach that monitors incoming voltage, and if a voltage drop is detected compared to post-filtration output, the drive safely flushes in-transit data to NAND. Another key benefit of using this type of capacitor is the thermal envelope of the SSD is raised to 70C during operation, allowing for lower cooling requirements. This is an important feature as many data centers are looking at ways to lower overall cooling costs, as they make up a large portion of the total electric usage.
Enterprise Benchmarks
The Smart Storage Systems XceedStor 500S uses standard Toshiba 24nm MLC NAND, a SandForce SF-2581 controller and a 6.0Gb/s SATA interface; our review unit is 240GB. The comparables used for this review include the following recently tested SATA-based enterprise SSDs: Samsung SM825 (200GB, Samsung S3C29MAX01-Y330, Samsung 30nm eMLC NAND, SATA), the Smart Storage Systems XceedIOPS2 (200GB, Sandforce SF-2582 controller, Toshiba 32nm eMLC NAND, SATA), the Intel SSD 710 (200GB, Intel PC29AS21BA0 controller, Intel 25nm eMLC NAND, SATA), and the Micron RealSSD P400e (200GB, Marvell 9174 controller, Micron 25nm standard MLC NAND, SATA). All enterprise SSDs are benchmarked on our enterprise testing platform based on a Lenovo ThinkServer RD240. All IOMeter figures are represented as binary figures for MB/s speeds.
Our first test looks at the speed in a sequential write environment with large block transfers. This particular test uses a 2MB transfer size with IOMeter, with 4k sector alignment and measures performance with a queue depth of 4. Smart Storage Systems claims a maximum sustained read speed of 500MB/s and a write speed of 500MB/s for their 240GB XceedStor. Since this test measures steady-state performance, instead of burst figures for equal comparison across all enterprise drives in a constant workload environment, our measurements will be under the advertised amount since they represent a different longer activity instead of a momentary or burst recording.

In our large-block sequential transfer test we measured a read speed of 501MB/s and a steady-state write speed of 230MB/s. The read speeds came in above Smart's claim of 500MB/s, but the steady-state write speeds as we had mentioned beforehand came up under the 500MB/s burst rating.
Moving to a random access profile, but still maintaining a large block transfer size of 2MB, we start to see how performance varies in a multi-user environment. This test keeps the same queue depth level of 4 that we used in the prior sequential transfer benchmark.

In our large-block random transfer test the XceedStor maintained a strong read speed of 498MB/s with steady-state write speeds measuring 28.67MB/s. While the read speeds lead the class of enterprise SSDs, the write speeds came up at the bottom of the pack.
Switching to even smaller random access transfer size of 4K, we get closer to the packet size that might be found in a heavy random access environment such as a server setting with multiple VMs accessing the same array. In the first test we look at expanded 4K read performance and how it scales from a queue depth of 1 to a maximum of 64.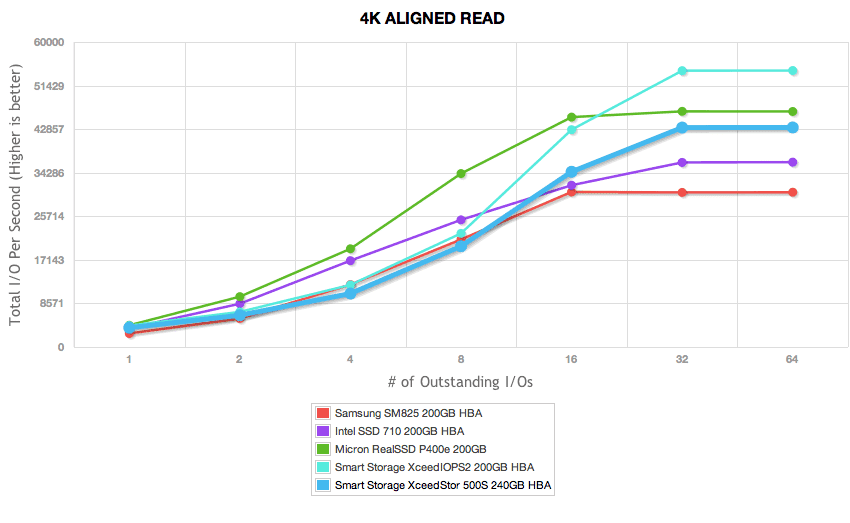 The Smart Storage Systems XceedStor 500S offered strong 4K read speeds, coming in below the Micron RealSSD P400e and Smart XceedIOPS2. Peak I/O speed leveled off at 43,167 at a queue depth of 32.
Our next test looks at 4K random write performance at a static queue depth of 32 and results are recorded and averaged once the drives have reached steady-state. While IOPS performance is a good metric to measure steady-state performance, another key area of interest is around average and peak latency. Higher peak latency figures can mean certain requests can backed up under heavy continuous access.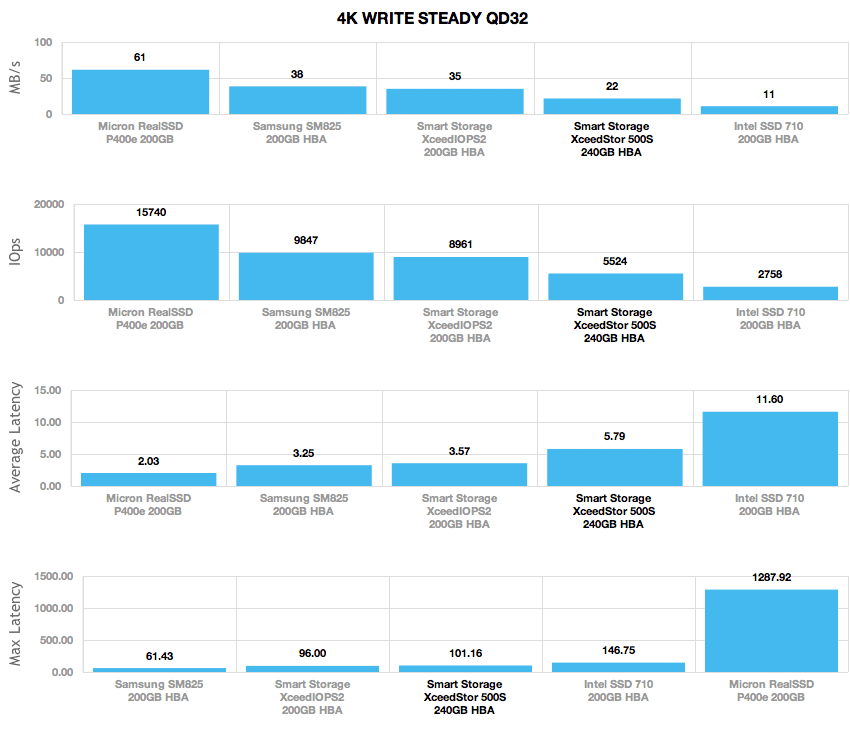 Under a continuous workload, the XceedIOPS2 maintained a steady-state 4K random speed of 5,524 IOPS with an average speed of 22MB/s. Average latency during this test measured 5.79ms with peak latency during our test topping at 101ms.
Our last series of synthetic benchmarks compare both enterprise drives in a series of server mixed-workloads with a static queue depth of 32. Like the synthetic benchmarks at the start of this review, these tests are also measured in steady state. Each of our server profile tests has a strong preference towards read activity, ranging from 67% read with our database profile to 100% read in our web server profile.
The first is our database profile, with a 67% read and 33% write workload mix primarily centered on 8K transfer sizes.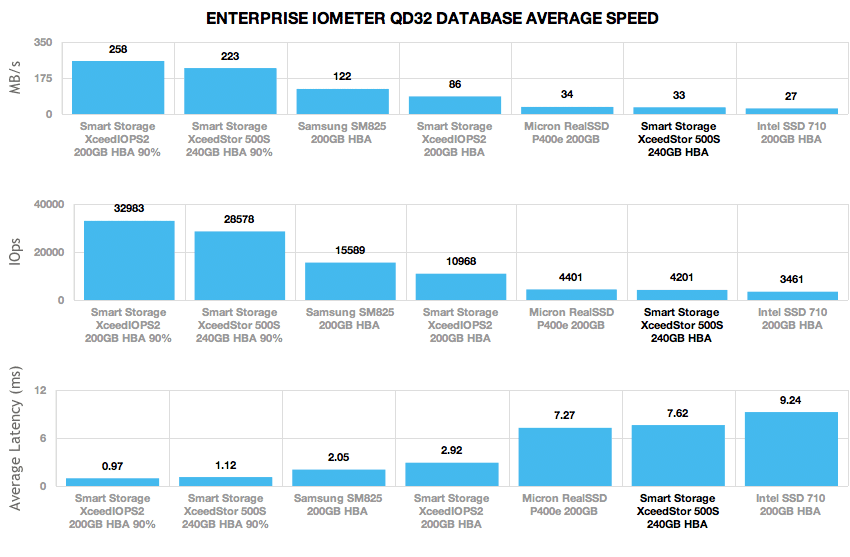 The Smart Storage Systems XceedStor 500S maintained a steady-state speed of 4,201 IOPS or 33MB/s in our Database profile test. This ranked towards the bottom of the compared to high-performance eMLC models, but above the eMLC-equipped Intel SSD 710.
The next profile looks at a file server, with 80% read and 20% write workload spread out over multiple transfer sizes ranging from 512-byte to 64KB.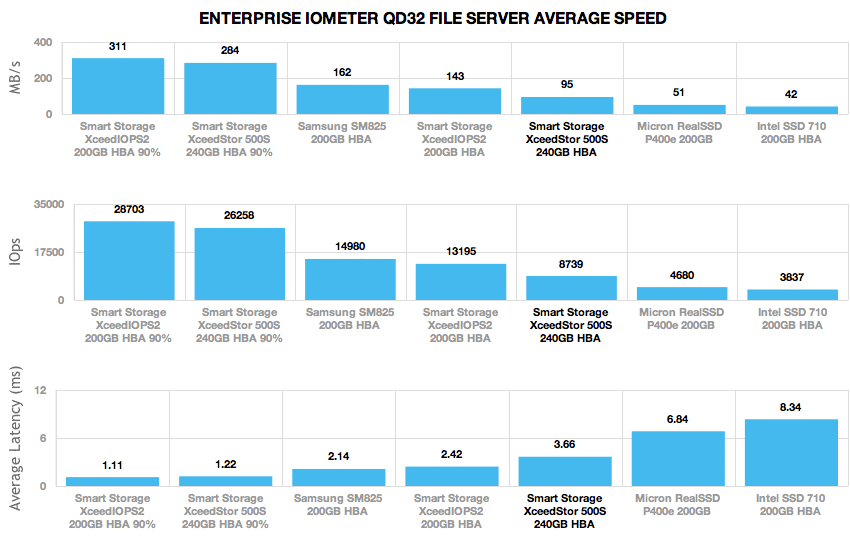 The XceedStor 500S measured a steady-state speed of 8,739 IOPS a File Server scenario, trailing the eMLC-equipped Samsung SM825 and Smart XceedIOPS2, but above the Intel SSD 710 and Micron RealSSD P400e.
Our web server profile is read-only with a spread of transfer sizes from 512-byte to 512KB.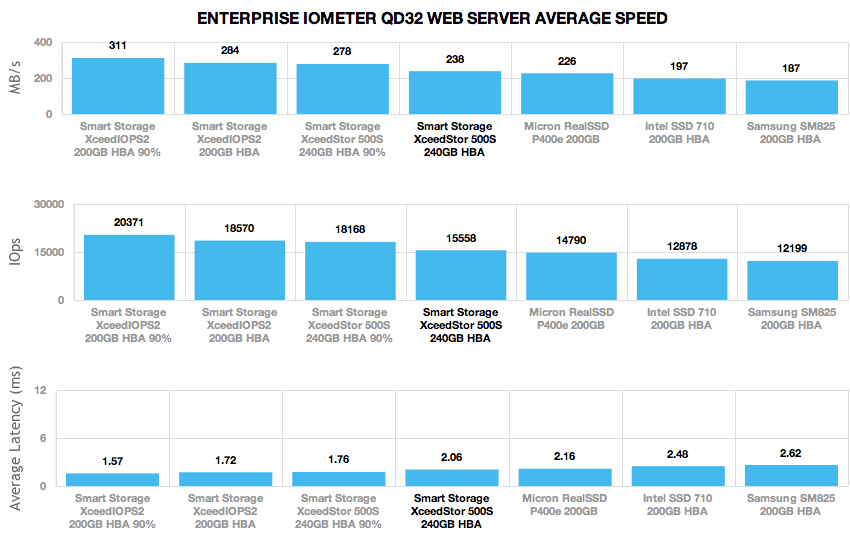 In a read-only environment, the Smart XceedStor 500S was able to stretch its legs a bit and move up towards the top of the light-enterprise SSD pack. In this workload the XceedStor 500S maintained a speed of 15,558 IOPS or 238MB/s.
The last profile looks at a workstation, with a 20% write and 80% read mixture using 8K transfers.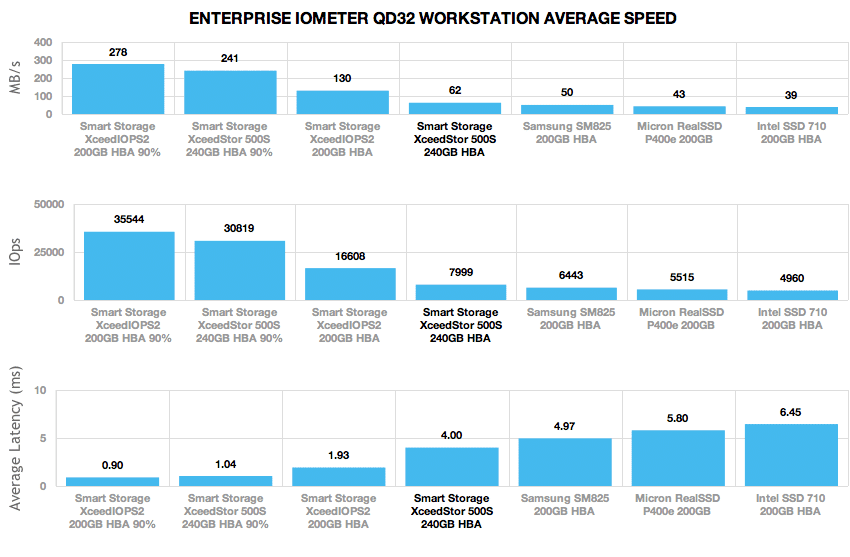 In a workstation environment the XceedStor 500S ranked in the middle among the eMLC and light-enterprise SSDs we have reviewed, coming in below the XceedIOPS2 with speed of 7,999 IOPS or 62MB/s.
Enterprise Power Consumption
When it comes to choosing drives for the datacenter or other densely-packed storage environment, performance isn't the only metric companies are interested in when looking at SSDs or hard drives. Power consumption can be a huge deal in certain cases, so it makes sense that you would want to know how a drive would perform under a constant workload.
In the Enterprise Power section of this review, we look at each drive under the same conditions we used to test the read and write speeds in earlier. This includes sequential and random 2MB transfers with a queue depth of 4 and small random 4K read and write transfers at a queue depth of 32. As with our previous tests we are measuring all figures in a steady-state to put the drive into its most power-hungry conditions.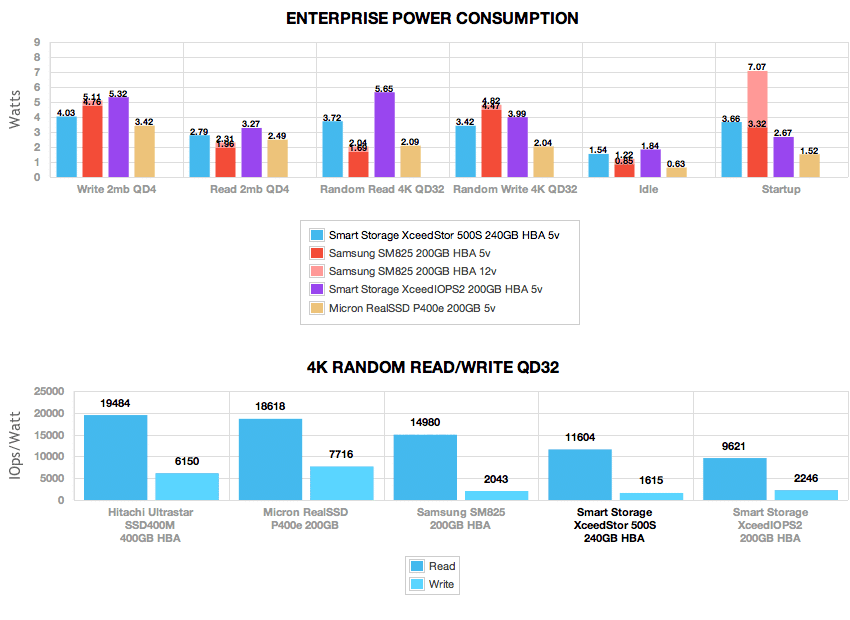 Under all conditions except start-up, the Smart Storage Systems XceedStor 500S used 4.03 watts or less. The most power hungry activity for the XceedStor 500S was sequential QD4 2MB write, using 4.03 watts averaged over the duration of the test. Second was sequential 4K QD32 read, third was random QD32 4K write followed by 2MB QD4 read coming in fourth.
A large push for light-enterprise SSDs in a datacenter environment is around cost per GB and IOPS/Watt. We calculated a figure of 11,604 IOPS/watt in pure random 4K read at a queue depth of 32, dropping to 1,615 IOPS/watt if you instead look at steady 4K random write. This compared to 18,618 IOPS/watt read or 7,716 IOPS/watt write on the MLC Micron P400e, 14,980 IOPS/watt read, 2,043 IOPS/watt write on the eMLC Samsung SM825, or 9,621 IOPS/watt read, 2,245 IOPS/watt write on the eMLC Smart XceedIOPS2. It really comes down to the needs of the business, finding the best blend of power to performance (or just straight performance) that factors in when buying the SSD or hard drive.
Conclusion
Smart Storage Systems is unique in that they offer SSDs designed for the enterprise, industrial and military industries in a wide array of configurations and form factors. This broad experience and deep engineering knowledge have helped them possibly get more out of generally available components than most others in the SSD space. Leveraging the LSI SandForce SF-2581 processor and customized firmware in a light-enterprise solution, Smart offers huge performance in read-heavy applications. This was outlined in the drive's strong steady-state performance in our Webserver profile, only being outperformed by the XceedIOPS2 SSD, which also uses a SandForce processor.
In areas where read/write mixtures come into play, the MLC NAND with limited over-provisioning does show weakness compared to the eMLC offerings designed for heavy-write applications. This isn't a surprise though, since the applications this drive is designed for are light-duty where reliability and read speeds are key. Another contributing factor is the 12.5% over-provisioning, compared to 28% generally found on enterprise models geared towards write-heavy workloads. In read-focused applications though, this gives buyers more applications space. With the same raw NAND space as the XceedIOPS2, the XceedStor offers 224GB of usable memory versus 186GB.
Along with strong light-enterprise performance, buyers of the XceedStor 500S get a slew of enterprise-grade features ranging from power fail protection to performance-throttling thermal protection. Considering the reduced materials cost due to standard MLC NAND, the total package is quite compelling for the entry enterprise space which has workloads that are read heavy, with a minimum 80/20 read/write mix.
Pros
Very strong performance in our Webserver profile
Onboard power-fail protection
Gains write performance speeds in areas with some compressibility
Cons
Minimal over-provisioning limits steady state write performance
Bottom Line
The Smart Storage Systems XceedStor 500S performs where it needs to, driving tremendous value for the entry enterprise space which is largely comprised of heavy read activity with less write impact. For the enterprise buyer who wants to reduce cost without giving up on enterprise features like power and thermal protection, the XceedStor 500S is an excellent choice.