On the heels of the launch of the Synology DS223j, a 2-bay NAS solution designed for home or small workgroups, the company wasted no time launching the Synology DS224+, a higher-performance NAS solution with advanced functionality and a user-friendly design. This new 2-bay solution is designed to meet the demands for efficient and secure data storage for home and small businesses.

On the heels of the launch of the Synology DS223j, a 2-bay NAS solution designed for home or small workgroups, the company wasted no time launching the Synology DS224+, a higher-performance NAS solution with advanced functionality and a user-friendly design. This new 2-bay solution is designed to meet the demands for efficient and secure data storage for home and small businesses.
With the sleek form factor and impressive capabilities, the DS224+ delivers enhanced data organization, accessibility, and protection. This review highlights the key features that aim to set the Synology DS224+ apart from other NAS systems. Synology is recognized for its innovative storage solutions and continues to change the data storage and management landscape.
The Synology DS224+ is a compact 2-bay NAS solution designed to bring data management to small teams. The NAS is powered by an Intel Celeron J4125 4-core processor and supports up to 6GB of memory.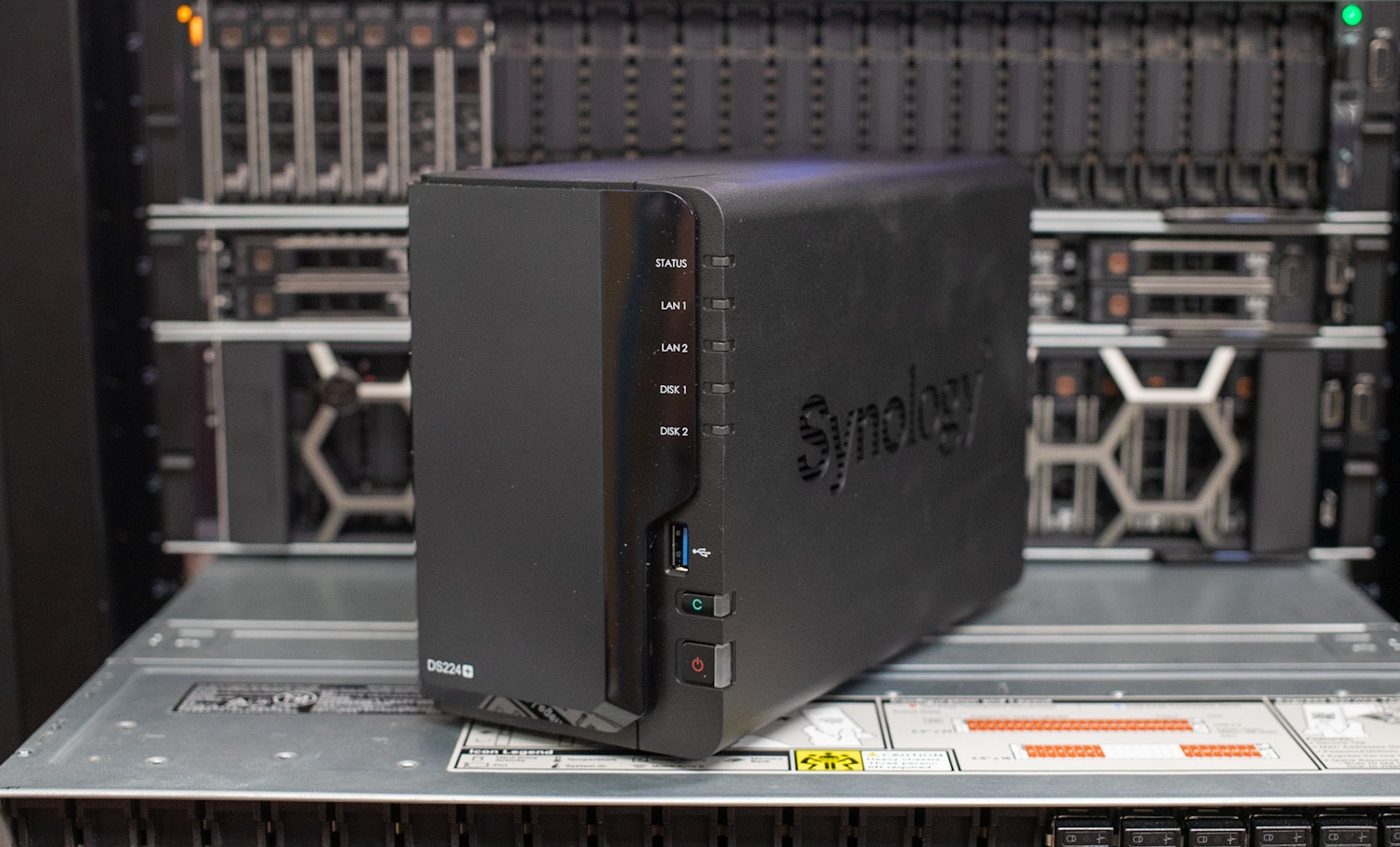 Synology DS224+ vs DS223j
The DS224+ is the performance version of the DS223j, reviewed earlier this year. Both systems come with similar software features. The DS224+ and DS223j support the creation of a private cloud, sharing, and syncing, and have built-in management tools. Stored files and media can be accessed from any browser or through file managers.
The differences between the DS224+ and DS223j become more apparent when looking at the hardware, specifically the CPU and memory. The DS224+ upgrades from the DS223J's Realtek 1.7 GHz CPU and 1GB DDR4 memory to the Intel Celeron 4-core 2.0 GHz (burst up to 2.7 GHz) and 2GB DDR4 (expandable up to 6 GB).
The DS224+ has an additional 1GbE RJ-45 LAN port, doubling the number of LAN interfaces compared to the DS223j and allowing the DS224+ to support 2GB. The port layout has also been slightly changed, with both LAN ports on the back and one of the two USB 3.2 Gen 1 ports on the front, most likely as a convenience.
Synology DS224+ Features
The DS224+ platform features include building a secure private cloud to share and sync data with intuitive data protection tools. Files and media can be accessed from anywhere and shared with anyone, making it great for small teams and families that are beyond the capacity of cloud accounts or in-device storage. With this little guy around, storage won't be a problem for most small businesses, depending on the capacity of the hard drives in the system, of course.
With Synology Drive, it's easy to keep data on your Synology systems in sync. You can synchronize data with popular cloud storage platforms with Synology Cloud Sync.
This NAS is great at storing large media groups like family photos or movies. It may be an upgrade from the DS223j, but it's designed for compact storage rather than sheer power, and compared to other, more powerful NAS systems, the DS224+ comes in at a much lower price point. And having an easy-to-access tangible backup is always a good thing.
Synology provides a lot of data flexibility beyond the NAS itself. The DS224+ can sync to public or private cloud storage platforms such as Google Drive, Dropbox, and Microsoft OneDrive. It can also be integrated into an existing network infrastructure for edge storage with Windows AD, LDAP, and SSO integration. Data can also be synced between other Synology systems deployed in different locations.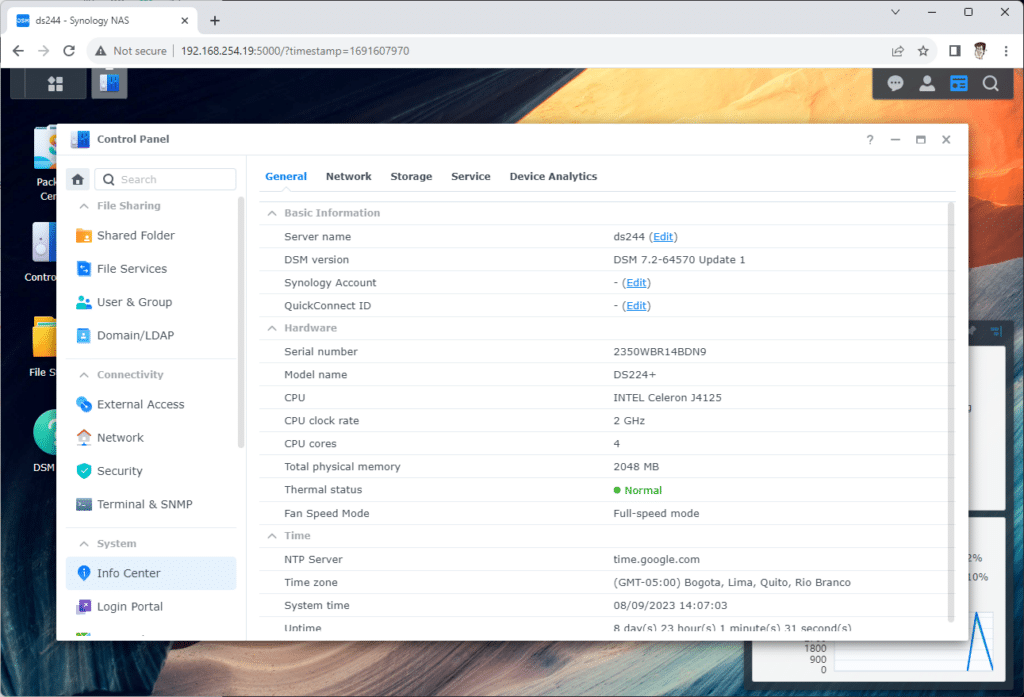 The DS224+ is compatible with the Synology Surveillance Station or other video surveillance systems. The NAS has a very relevant use case in this area by providing backup for video footage. Incidentally, Synology has a line of affordable security cameras like the  Synology BC500 IP camera, which we reviewed recently.
The Synology DS224+ has just been listed on Amazon and is currently going for $299.99 and comes with a two-year warranty. This is slightly more than the  Synology DS223j's price point of $189.99.
Synology DS224+ Specifications
Specification
Details
CPU
Intel® Celeron® J4125 4-core (4-thread) 2.0 GHz, burst up to 2.7 GHz
Memory
2 GB DDR4 (expandable up to 6 GB)
Compatible drive types
2 x 3.5″ or 2.5″ SATA SSD/HDD (drives not included)
Hot-swappable drives
Yes
External ports
2 x USB 3.2 Gen 1 ports
Size (HxWxD)
165 x 108 x 232.2 mm
Weight
1.3 kg
LAN ports
2 x 1GbE RJ-45
Wake on LAN/WAN
Yes
Scheduled power on/off
Yes
System fans
1 x (92 x 92 x 25 mm)
AC input power voltage
100 V to 240 V AC
Power frequency
50/60 Hz, single phase
Operating environment

Temperature: 0°C to 40°C (32°F to 104°F)
Relative humidity: 8% to 80% RH

Storage environment

Temperature: -20°C to 60°C (-5°F to 140°F)
Relative humidity: 5% to 95% RH

Maximum operating altitude
5,000 m (16,400 ft)
Networking protocols
SMB, AFP, NFS, FTP, WebDAV, CalDAV, iSCSI, Telnet, SSH, SNMP, and VPN (PPTP, OpenVPN™, L2TP)
File systems

Internal: Btrfs, ext4
External: Btrfs, ext4, ext3, FAT32, NTFS, HFS+, exFAT

Supported RAID types
Synology Hybrid RAID (SHR), Basic, JBOD, RAID 0, RAID 1
Storage management

Max. single volume size: 108 TB
Max. number of system snapshots: 65,536
Max. number of internal volumes: 64

File sharing capabilities

Max. number of local user accounts: 2,048
Max. number of local groups: 256
Max. number of shared folders: 256
Max. number of concurrent SMB/NFS/AFP/FTP connections: 500
Synology DS224+ Build and Design
The DS224+ has a simple hardware layout. Looking at the front, with the drive faceplate removed, five green indicator lights measure the status, LAN, and the two disks. Beneath the indicator lights is a USB port (mentioned earlier), a copy button, and the red power button with a blue indicator light.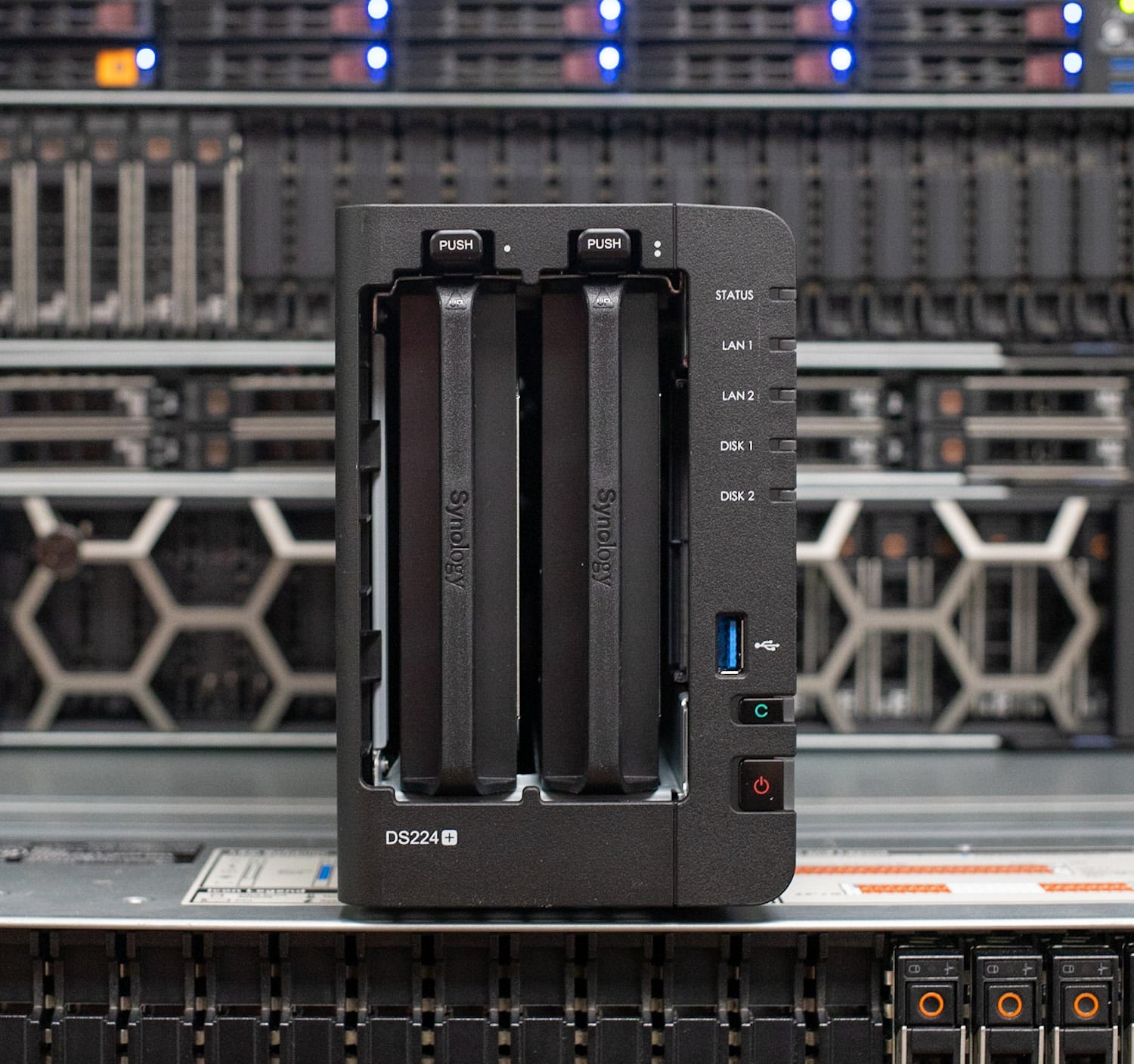 Both LAN ports can be found on the back of the unit, along with the second USB port, power port, Kensington security slot, and fan.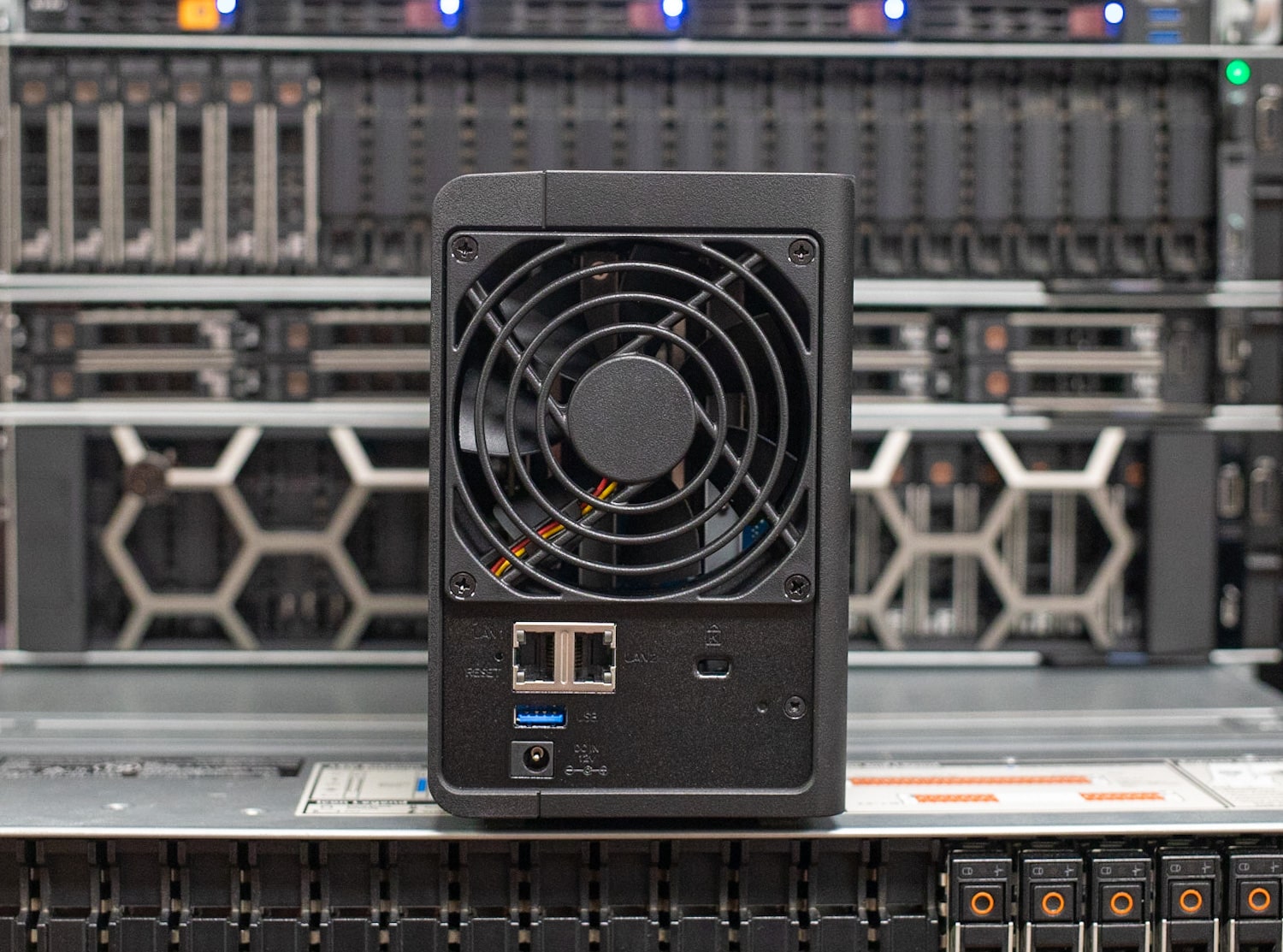 Like other NAS systems, the hard drives do not come with the system; users will need to buy drives to get started. The DS224+ supports two 3.5″ drives or two 2.5″ drives.
Accessing the drive bays is a breeze with the DS224+. Users can slide the black cover off the front of the device to access the drives. The DS224+ uses hot-swappable drive caddies with no screws for 3.5″ HDDs, making drive access more convenient.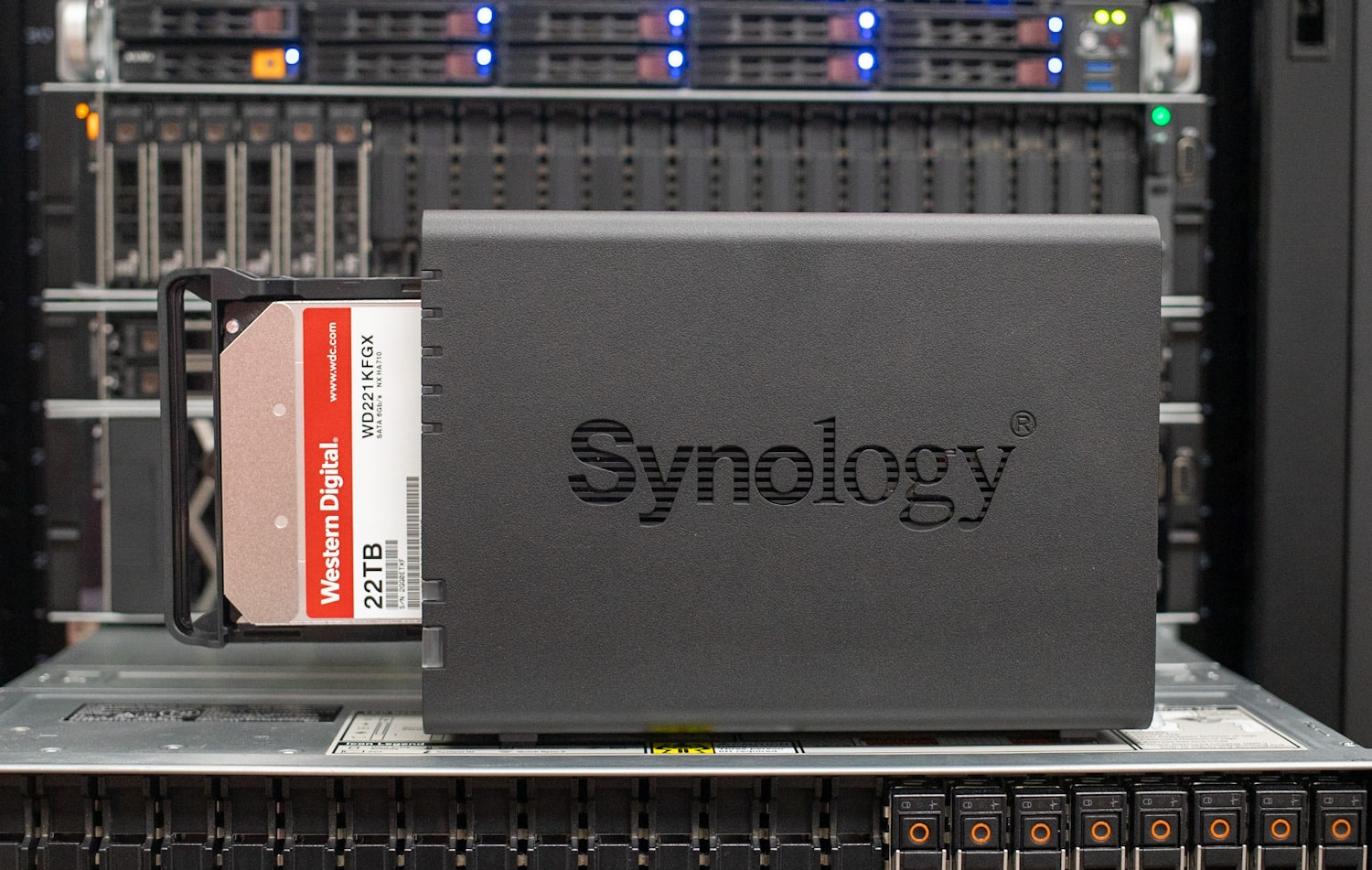 Synology DS224+ Performance
Like our DS223j review, we use 2x  22TB WD Red Pro in a RAID1 configuration. This time we will be using the two embedded 1GbE NICs. We will compare the DS224+ data to our DS223j data to show the difference between the two systems.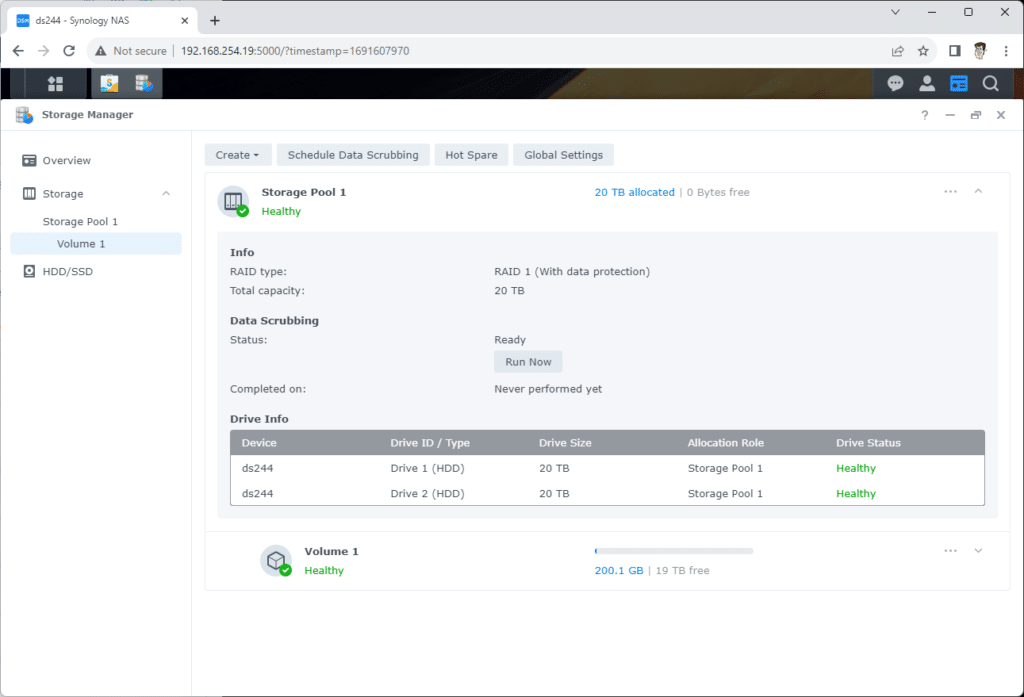 Our enterprise NAS testing process preconditions each drive-set into steady-state with the same workload the device will be tested with under a heavy load of 16 threads, with an outstanding queue of 16 per thread. The device is then tested in set intervals, in multiple thread/queue depth profiles, to show performance under light and heavy usage. Since hard drives reach their rated performance level very quickly, we only graph out the main sections of each test.
Preconditioning and Primary Steady-State Tests:
Throughput (Read+Write IOPS Aggregate)
Average Latency (Read+Write Latency averaged together)
Max Latency (Peak Read or Write Latency)
Latency Standard Deviation (Read+Write Standard Deviation averaged together)
Our Enterprise Synthetic Workload Analysis includes three profiles based on common workload sizes. These profiles have been developed to make it easier to compare to our past benchmarks, as well as widely-published values such as max 4K read and write speed and 8K 70/30, commonly used for storage devices. When testing NAS platforms, we provision four shared folders for 25GB files and four 25GB iSCSI LUNs for each storage pool benchmarked.
4K
100% Read or 100% Write
100% 4K
8K 70/30
70% Read, 30% Write
100% 8K
128K (Sequential)
100% Read or 100% Write
100% 128K
Our first throughput test measures the 4K random performance of the DS224+. Write performance is near the same for SMB and ISCSI, but iSCSI for reads is substantially higher than that of SMB, topping out at 1,877 IOPS read. This is significantly higher than the DS223j's 495 IOPS.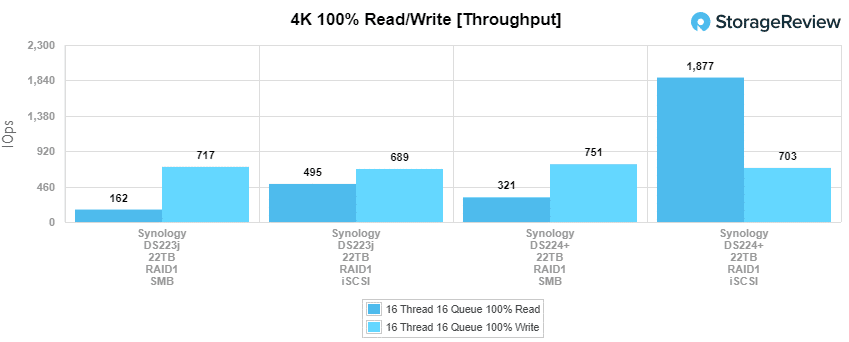 Moving to average latency, the DS224+ posted read and writes of 794.52ms and 340.65ms for SMB, then 136.33ms and 363.89ms for iSCSI. The DS224+ has a lower average latency in all categories than the DS223j, but this is especially apparent in the read-intensive workloads.

Next on the list is max latency. The DS224+ showed slightly better performance with the SMB protocol, posting 2,459ms read and 1,829.7ms write, while iSCSI showed 2,470.9ms read and 4,767.2ms write (HDD). There is little difference between the DS224+ and DS223j in performance regarding SMB. The DS223j wins slightly in writes and the same with the DS224+ in reads.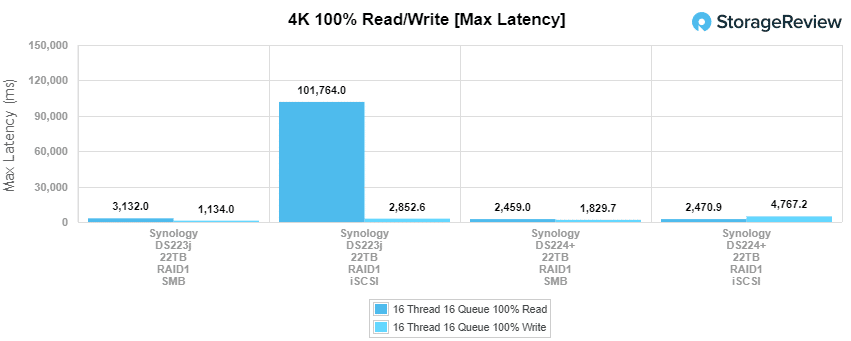 For standard deviation, the DS224+ recorded 241.59ms read and 203.21ms write in SMB and 267.98ms read and 283.58ms write in iSCSI. The DS223j wins the SMB category, but, like max latency, the DS223j gets crushed by the DS224+ in iSCSI reads.

Our next benchmark subjects the drives to 100 percent read and write activity at 8k sequential throughput. Geared with 22TB WD Red Pro HDDs, the DS224+ showed 28,408 IOPS read and 26,285 IOPS write in SMB while reaching 28,616 IOPS read and 25,922 IOPS write in iSCSI. The DS224+ vastly improves upon the power of the DS223j in both SMB and iSCSI.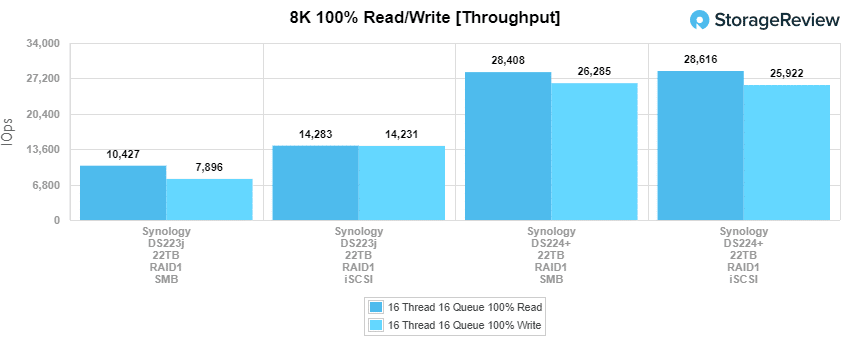 Our next test shifts from a pure 8k sequential 100 percent read/write scenario to a mixed 8k 70/30 workload to demonstrate how performance scales in a setting from 2T/2Q up to 16T/16Q. In throughput, The DS224+ finished with a range of 350 IOPS to 409 IOPS in SMB and 631 IOPS to 1329 IOPS in iSCSI. The DS223j posted a lower range of 215 IOPS to 216 IOPS in SMB and 602 IOPS to 791 IOPS in iSCSI.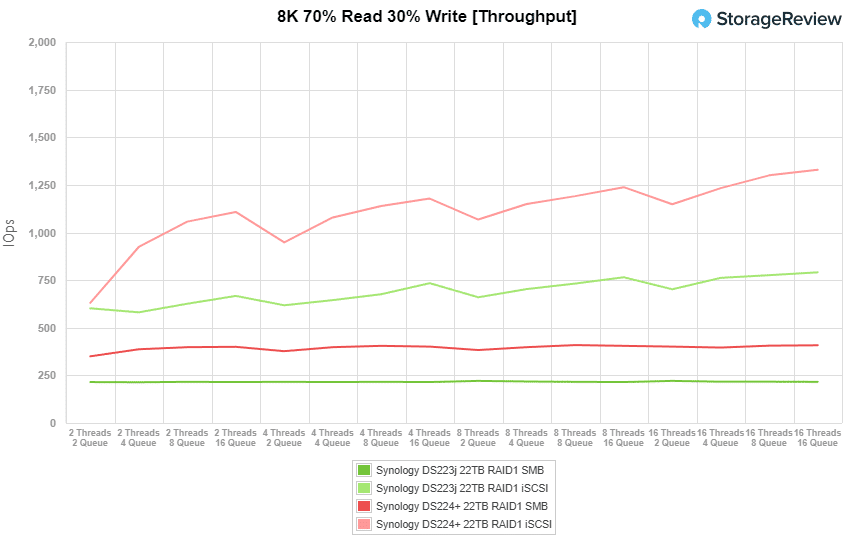 Looking at average latency at 8K 70/30, the DS224+ ranged from 11.41ms to 625.05ms in SMB and 6.32ms to 192.2ms in iSCSI. The DS223j posted a range of 18.52ms to 1,180ms and 6.62ms to 323ms for SMB and iSCSI, respectively. This puts the DS224+ ahead in both categories.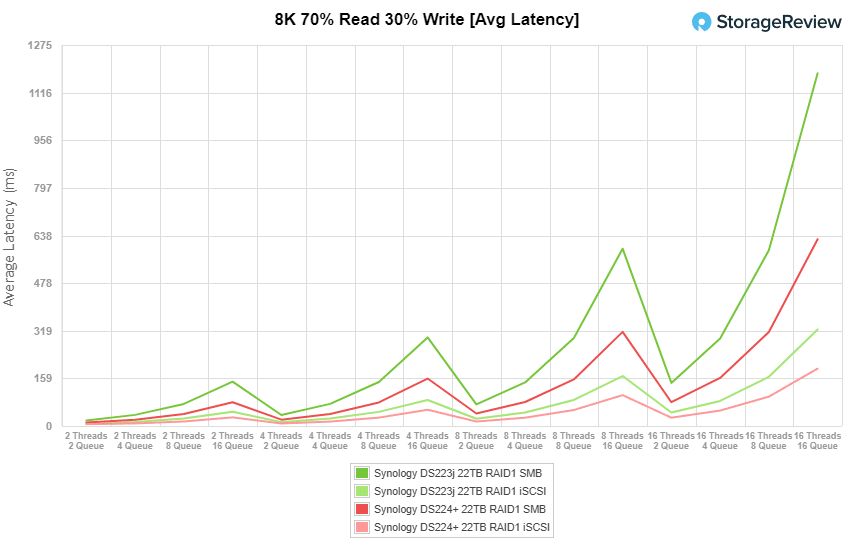 Moving to max latency, both systems showed their best performance with SMB. The DS224+ SMB ranged from 264.48ms to 2493.93ms, while iSCSI showed 1010.83ms to 8094.56ms. the DS223j showed a SMB range of 115ms to 2,384ms, while iSCSI posted peaks from 2,437ms to 9,943ms. The DS223j had slightly better SMB performance this time around, but the results were very close in this category.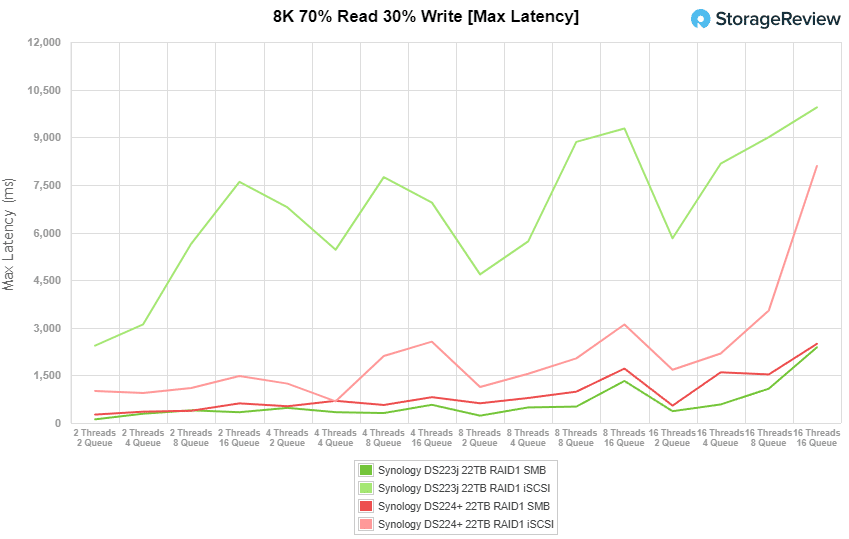 SMB was once again the better-performing protocol for standard deviation latency. The DS224+ had a range of 8.24ms to 341.54ms in SMB and 15.58ms to 511.31ms in iSCSI. The DS223j posted 7.36ms to 95ms in SMB while hitting 24.5ms to 578ms for iSCSI. The DS223j emerges on top in terms of SMB performance.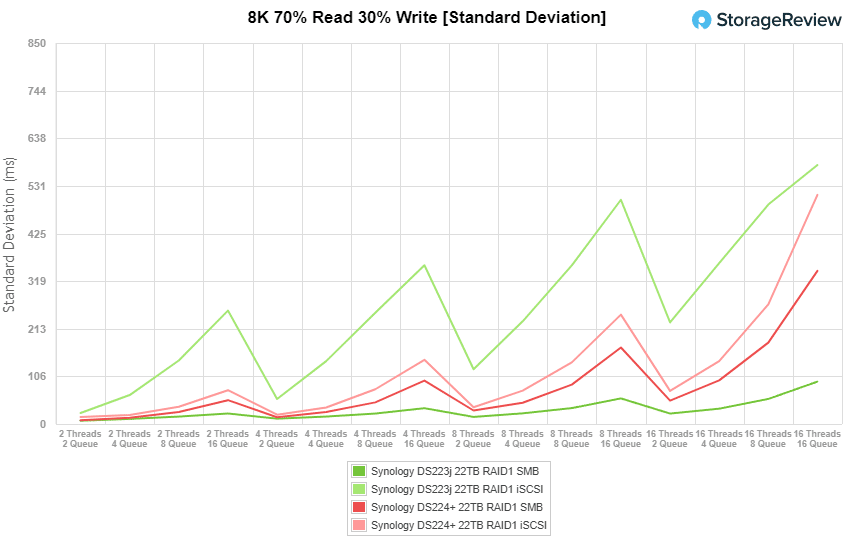 Our final test is the 128k benchmark, a large-block sequential test showing the highest sequential transfer speed. The DS224+ posted high scores for SMB and iSCSI. SMB saw 231MB/s read and 222MB/s write, while iSCSI was 232MB/s read and 219MB/s write. The DS223j posted around 115MB/s in every single category. The DS224+ is the clear winner in this category.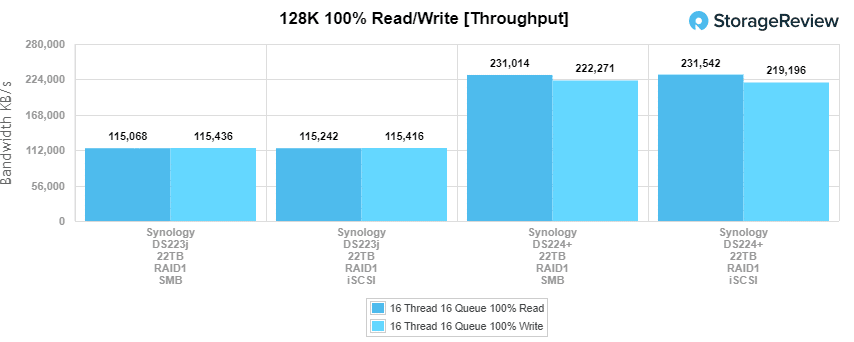 Conclusion
The Synology DS224+ is a cool little NAS that does everything expected of it. The new release is $110 more than the Synology DS223j, but considering its raw performance is a lot better, the increase in cost is justified.
The improved performance results from the DS224+ upgraded hardware compared to the DS223j, allowing the 22TB WD Red Pros to reach closer to their potential. The DS223j was great, but it created a bottleneck for our drives in terms of performance. That being said, this DS224+ is not designed to be a powerhouse by any means, but it does provide excellent performance for its size and price.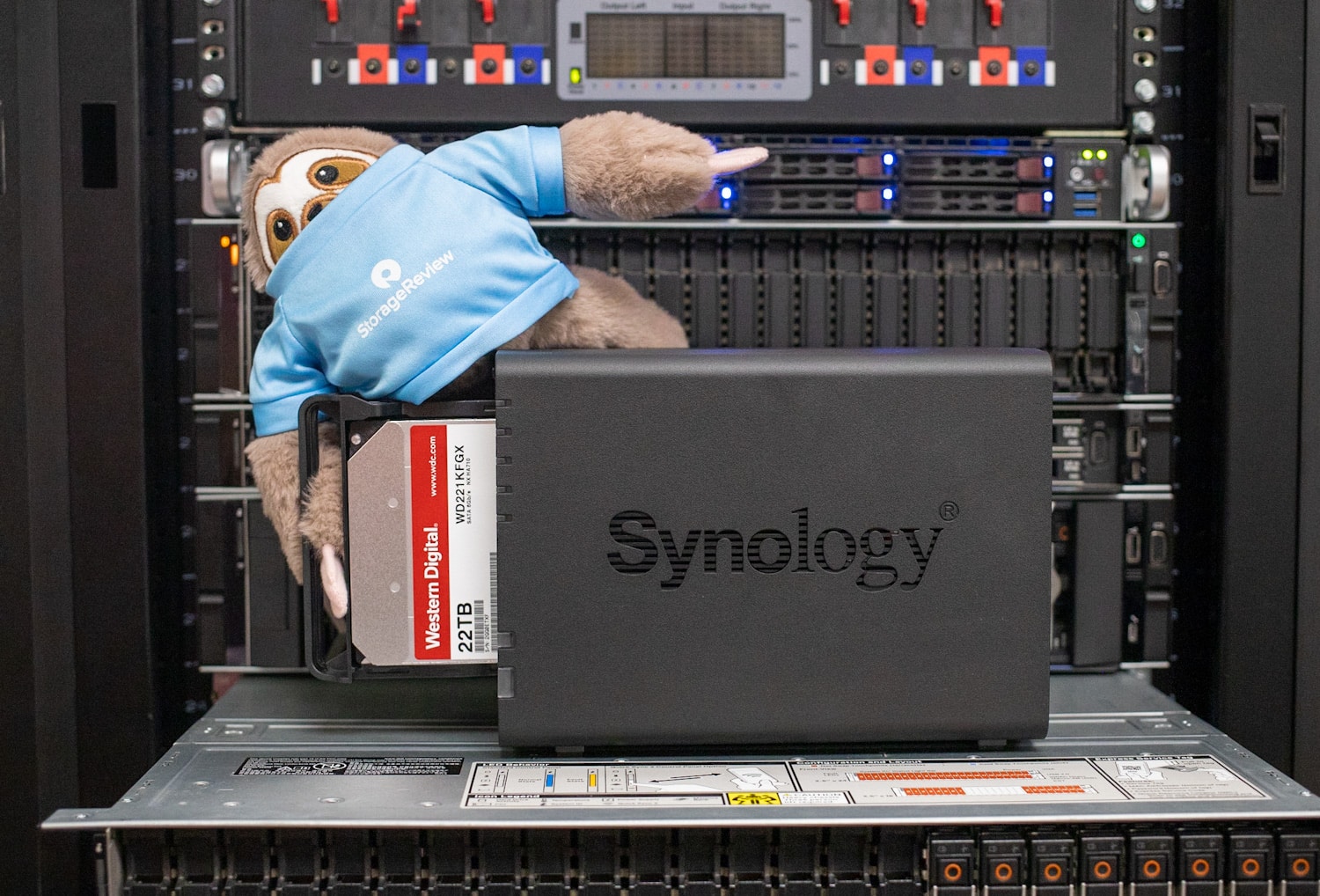 The primary use case for the DS224+ will likely be storing photos, files, and surveillance recordings. It's perfect for small businesses that need a safe and secure backup for their data. Synology does a great job with its easy-to-use Synology DiskStation Manager (DSM) software and deep list of supported apps; even those with limited experience operating a NAS shouldn't run into too many issues. The DS224+ is a viable option for users looking for some extra power in their next small NAS.
Engage with StorageReview 
Newsletter | YouTube | Podcast iTunes/Spotify | Instagram | Twitter | TikTok | RSS Feed