The Synology DS223j is an affordable 2-bay NAS solution designed for home use or small workgroups, offering reasonable levels of performance and reliability. The NAS features the Realtek RTD1619B 4-core processor (1.7GHz), 1GB maximum memory, one 1GbE RJ-45 LAN port, and two USB 3.2 Gen 1 ports.
The Synology DS223j is an affordable 2-bay NAS solution designed for home use or small workgroups, offering reasonable levels of performance and reliability. The NAS features the Realtek RTD1619B 4-core processor (1.7GHz), 1GB maximum memory, one 1GbE RJ-45 LAN port, and two USB 3.2 Gen 1 ports.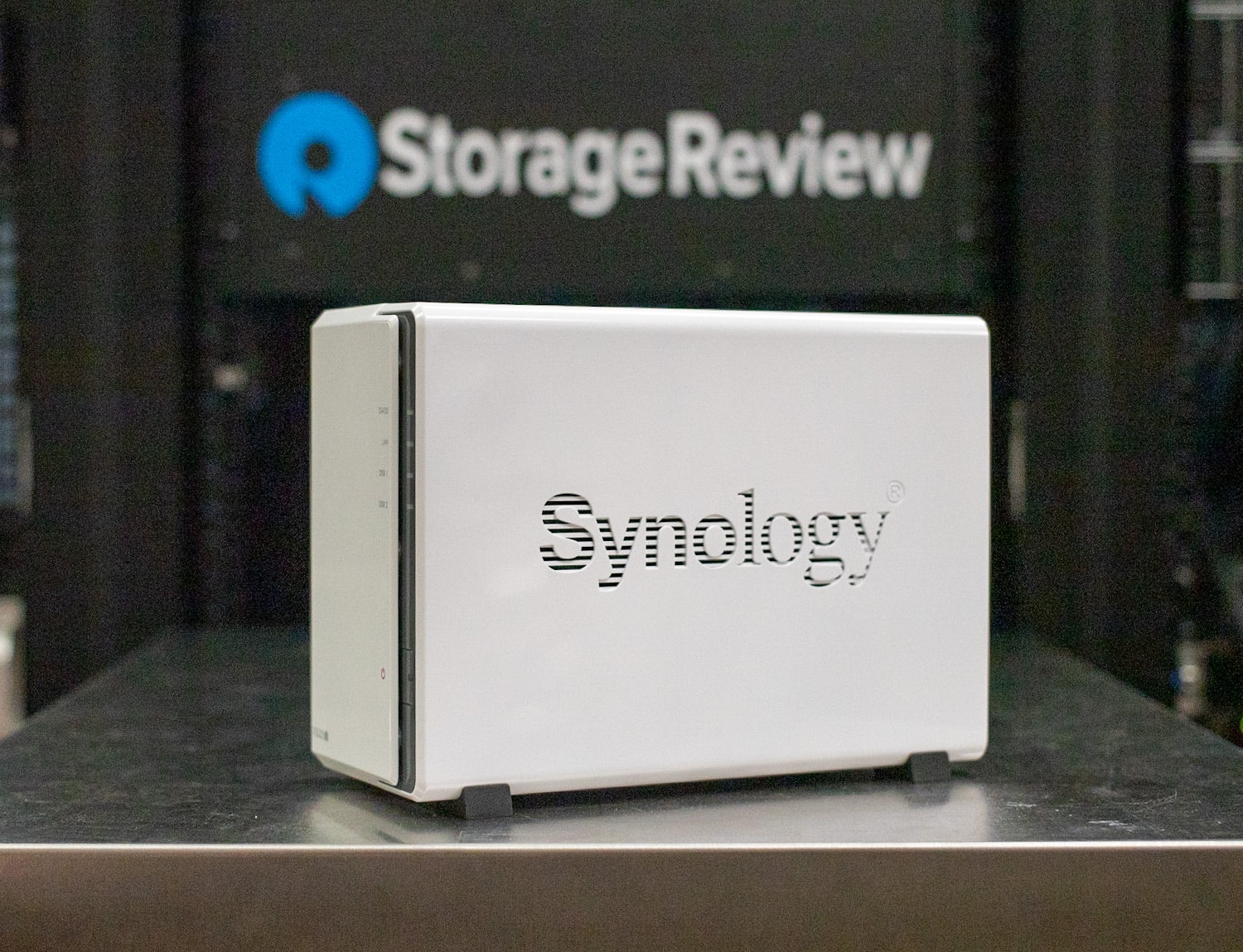 The DS223j is an all-in-one platform to organize your data. It has a secure private cloud, easy sharing and syncing, and comprehensive data protection. Stored files and media can be accessed from anywhere and shared with anyone, making it perfect for a small team or family that's outgrowing cloud accounts or in-device storage. This makes it great for storing family photos, movies, and other large groups of media. Along with this, having a tangible backup and secure location is important for many users.
Additionally, Synology provides a lot of data flexibility beyond the NAS itself. Data can be synced between different sites among multiple Synology systems. It can also sync to public or private cloud storage platforms such as Google Drive, Dropbox, and Microsoft OneDrive. The NAS also leverages file self-healing, data snapshots, and data cloning.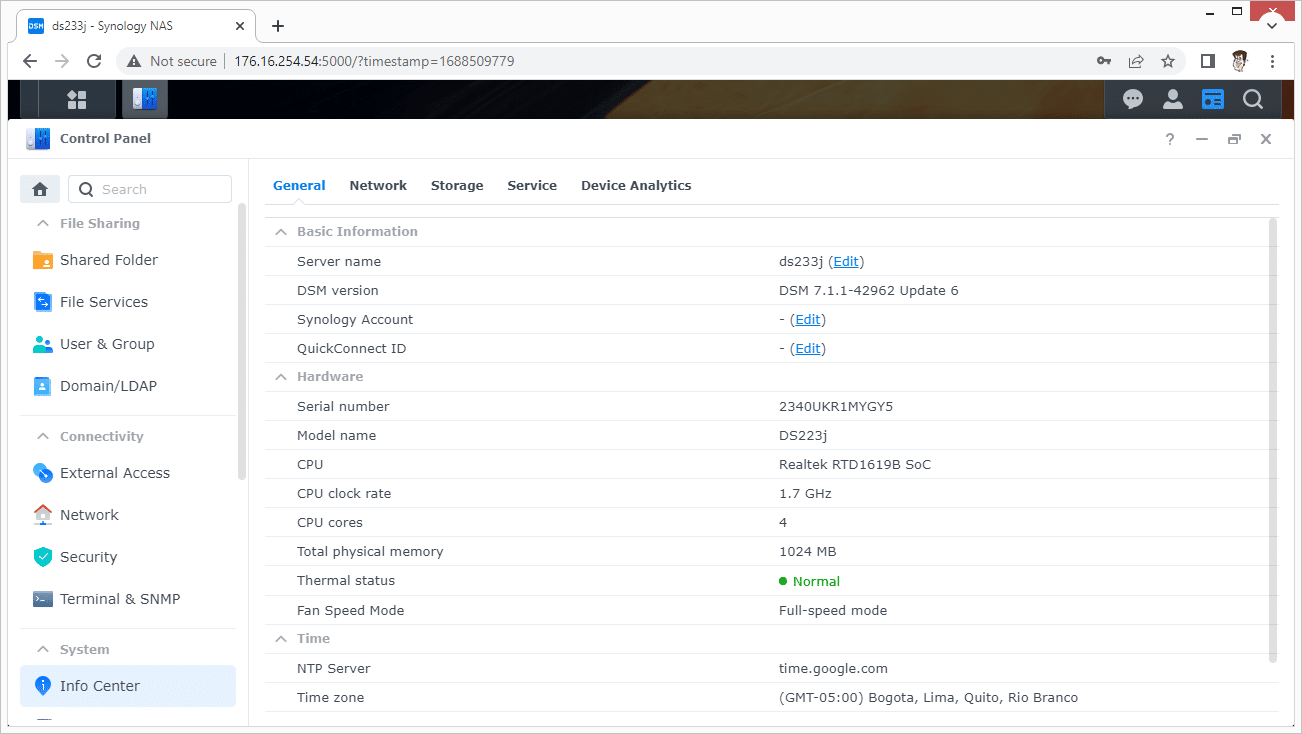 The DS223j is also compatible with the Synology Surveillance Station or other video surveillance systems and provides a reliable backup for video footage. Incidentally, Synology has a line of affordable security cameras as well, we recently reviewed the Synology BC500 IP camera.
The Synology DS223j is relatively inexpensive, going for $190 on Amazon without drives.
Synology DS223j Specifications
CPU
Realtek RTD1619B, 64-bit, 4-core 1.7 GHz
System Memory
1GB DDR4
Compatible drive types

2 x 3.5″ or 2.5″ SATA HDD/SSD (with optional 2.5″ Disk Holder)

Hot-swappable drives
No
External ports
2 x USB 3.2 Gen 1 ports
LAN ports
1 x 1GbE RJ-45
Size (HxWxD)
165 x 100 x 225.5 mm
Weight
0.88 kg
Wake on LAN/WAN
Yes
Scheduled power on/off
Yes
System fans
1 x (92 x 92 x 25 mm)
AC input power voltage
100 V to 240 V AC
Power frequency
50/60 Hz, single phase
Operating environment

Temperature: 0°C to 40°C (32°F to 104°F)
Relative humidity: 8% to 80% RH

Storage environment

Temperature: -20°C to 60°C (-5°F to 140°F)
Relative humidity: 5% to 95% RH

Maximum operating altitude
5,000 m (16,400 ft)
Networking protocols

SMB
AFP
NFS
FTP
WebDAV
CalDAV
iSCSI
Telnet
SSH
SNMP
VPN (PPTP, OpenVPN™, L2TP)

File systems

Internal: Btrfs, ext4
External: Btrfs, ext4, ext3, FAT32, NTFS, HFS+, exFAT

Supported RAID types
Synology Hybrid RAID (SHR), Basic, JBOD, RAID 0, RAID 1
Storage management

Max. single volume size: 108 TB
Max. number of system snapshots: 4,096
Max. number of internal volumes: 64

File sharing capabilities

Max. number of local user accounts: 1,024
Max. number of local groups: 256
Max. number of shared folders: 256
Max. number of concurrent SMB/NFS/AFP/FTP connections: 100
Build and Design
The DS223j is pretty simple in terms of the hardware layout. Taking a look at the front, the device has four green indicator lights which measure the status, LAN, and disks 1 and 2. Under the indicator lights, we can see the red power button with a blue indicator light.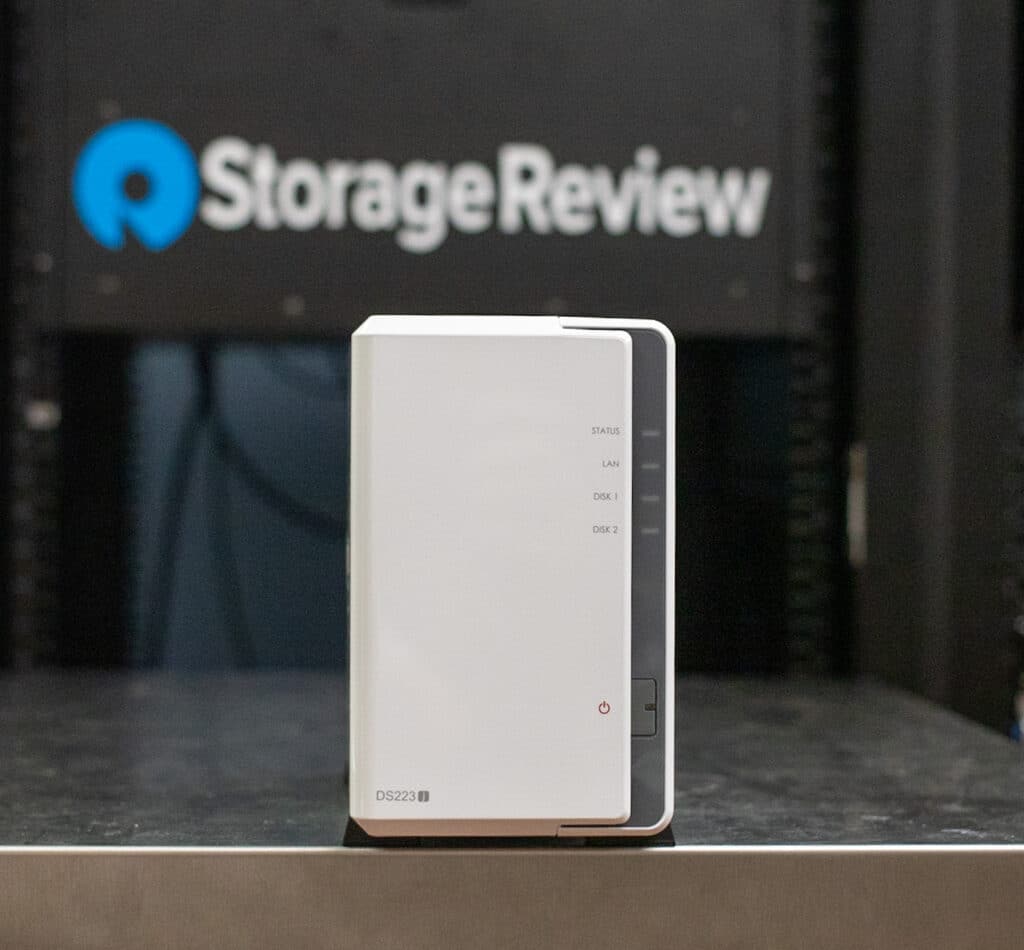 All of the ports on the system can be found on the backside along with the fan. A DC in 12V port is positioned below the LAN and USB ports.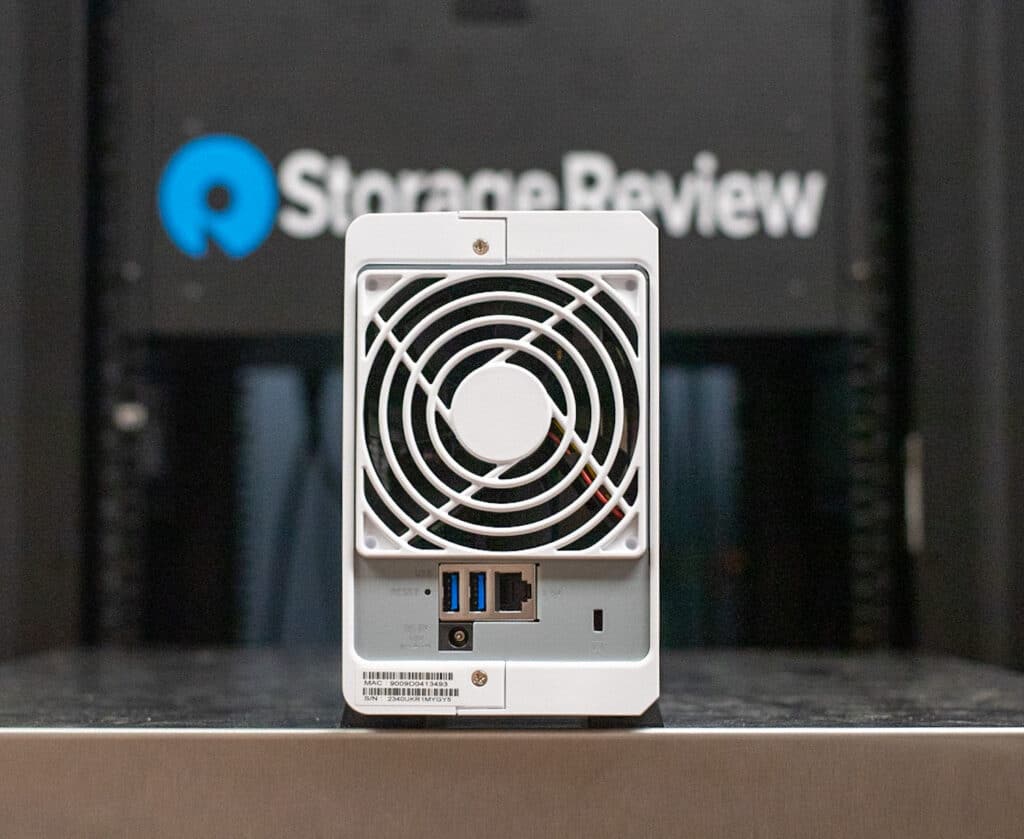 Like other NAS systems, the drives do not come with the system, meaning that you will need to buy your own in order to get started. The DS223j is meant to hold two 3.5″ drives, but it can also hold two 2.5″ drives. To access the drive bays, the white cover needs to be removed and the drives screwed into place. The DS233j doesn't use hot-swap drive caddies like more expensive units from Synology.
Synology DS223j Performance
For this review, we are using 2x  22TB WD Red Pro in a RAID1 configuration with the embedded 1GbE NIC.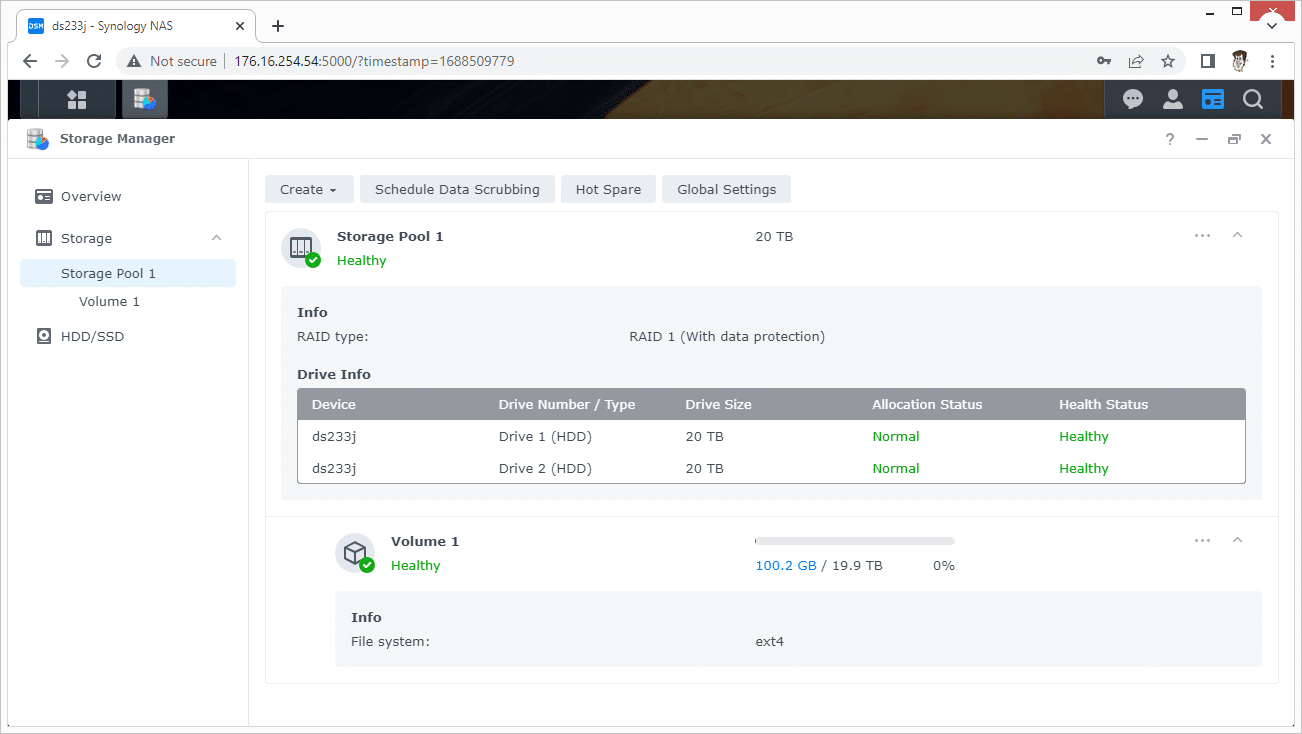 Our enterprise NAS testing process preconditions each drive-set into steady-state with the same workload the device will be tested with under a heavy load of 16 threads, with an outstanding queue of 16 per thread. The device is then tested in set intervals in multiple thread/queue depth profiles to show performance under light and heavy usage. Since hard drives reach their rated performance level very quickly, we only graph out the main sections of each test.
Preconditioning and Primary Steady-State Tests:
Throughput (Read+Write IOPS Aggregate)
Average Latency (Read+Write Latency Averaged Together)
Max Latency (Peak Read or Write Latency)
Latency Standard Deviation (Read+Write Standard Deviation Averaged Together)
Our Enterprise Synthetic Workload Analysis includes three profiles based on common workload sizes. These profiles have been developed to make it easier to compare to our past benchmarks, as well as widely-published values such as max 4K read and write speed and 8K 70/30, which is commonly used for storage devices. When testing NAS platforms, for each storage pool we benchmark, we provision four shared folders for 25GB files and four 25GB iSCSI luns.
4K
100% Read or 100% Write
100% 4K
8K 70/30
70% Read, 30% Write
100% 8K
128K (Sequential)
100% Read or 100% Write
100% 128K
Our first throughput test measures 4K random performance of the DS223j. The write performance was about the same for SMB and iSCSI, but iSCSI has a substantial edge in reads, topping out near 500 IOPS.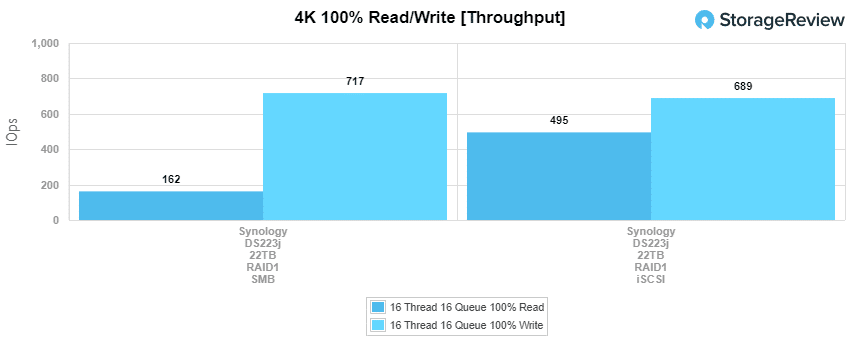 In average latency, the DS223j posted read and writes of 1,570.90ms and 356.49ms (SMB), and 533.58ms and 371.15ms (iSCSI)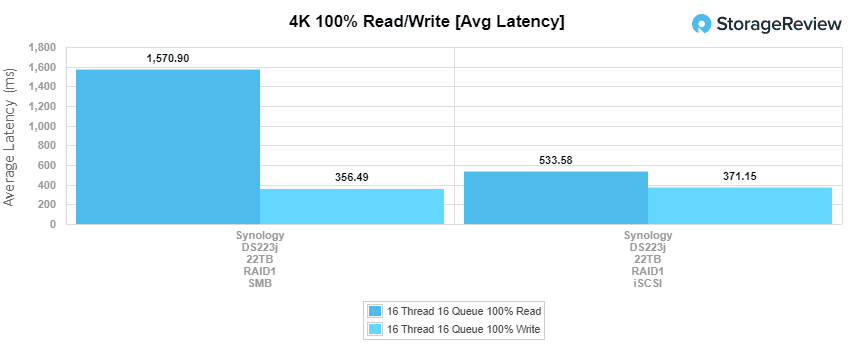 Moving on to max latency, the DS223j showed better performance with the SMB protocol, posting 3,132ms read and 1,134ms write while iSCSI showed 101,764ms read and 2,852.6 write (HDD).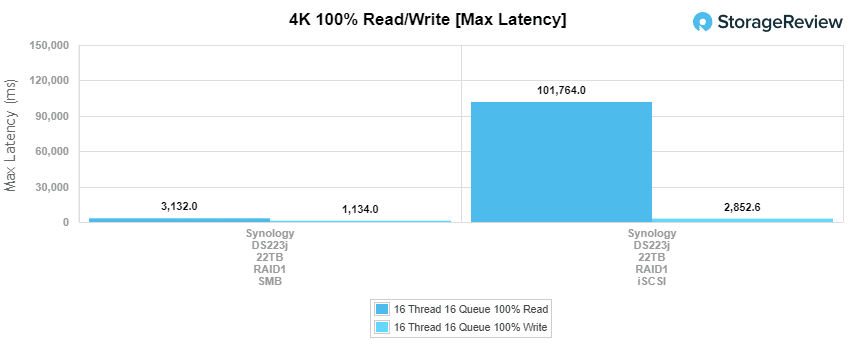 For standard deviation, the DS223j recorded 79.58ms read and 121.42ms write in SMB, and 2,119.52ms read and 282.06ms write in iSCSI with our RAID6 config.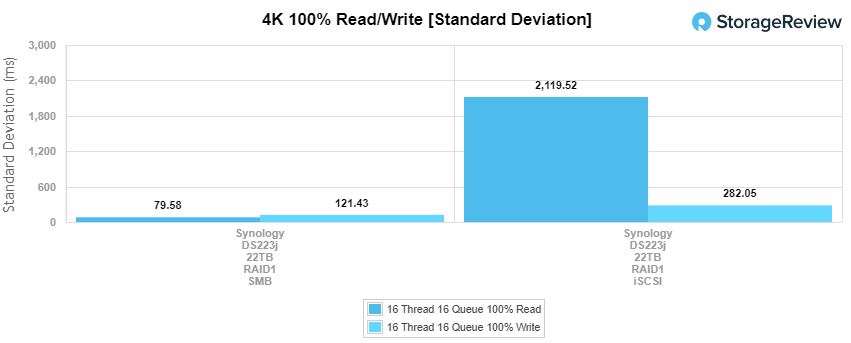 Our next benchmark subjects the drives to 100% read and write activity at 8k sequential throughput. Populated with 22TB WD Red Pro HDDs, the DS223j showed 10,427 IOPS read and 7,896 IOPS write in SMB, while reaching 14,283 IOPS read and 14,231 IOPS write in iSCSI.

Our next test shifts from a pure 8k sequential 100% read/write scenario to a mixed 8k 70/30 workload to demonstrate how performance scales in a setting from 2T/2Q up to 16T/16Q. In throughput, the DS223j posted a range of 215 IOPS to 216 IOPS in SMB and 602 IOPS to 791 IOPS in iSCSI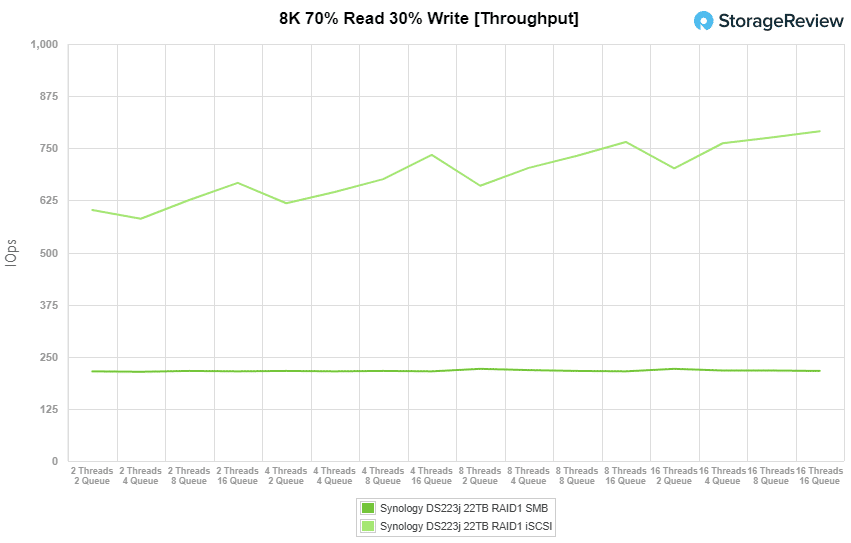 Looking at average latency at 8K 70/30, the QNAP TVS-h874 posted a range of 18.52ms to 1,180ms, and 6.62ms to 323ms for SMB and iSCSI respectively.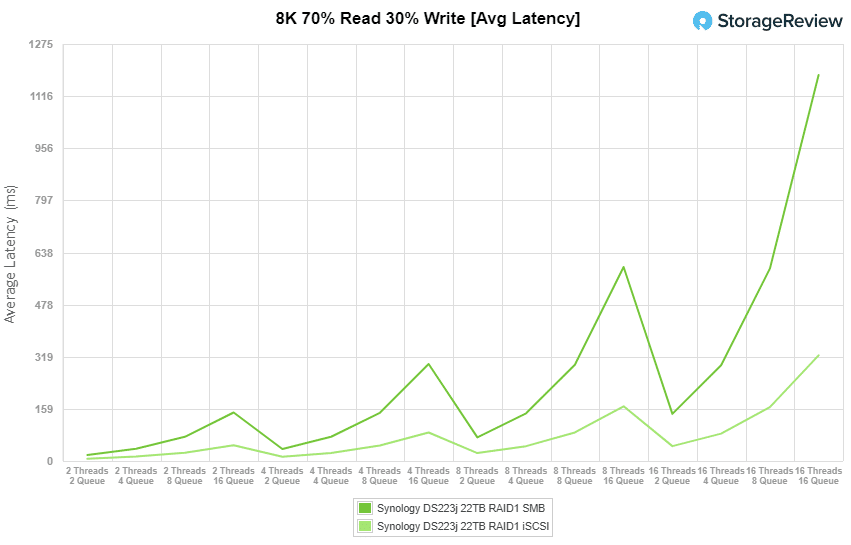 In max latency, the DS223j showed its best performance with SMB, where it showed a range of 115ms to 2,384ms, while iSCSI posted peaks from 2,437ms to 9,943ms.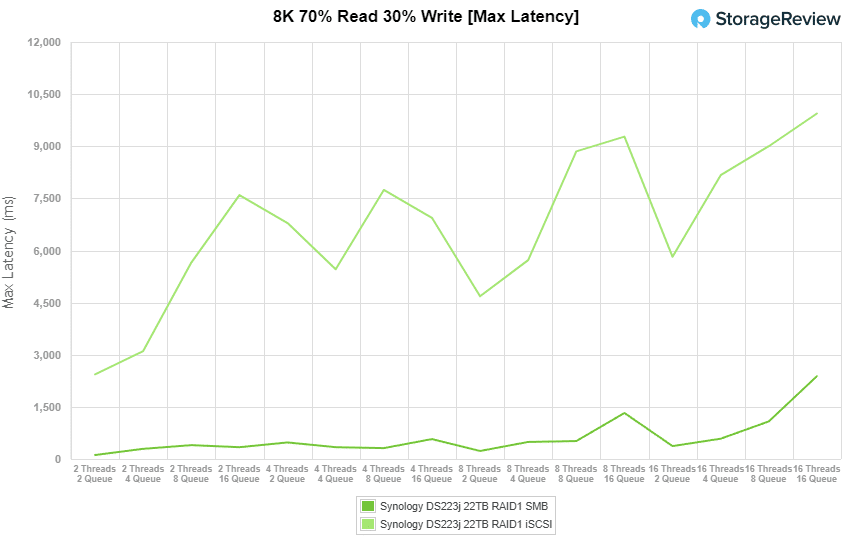 For standard deviation latency, SMB was the better-performing protocol again with the DS223j, posting a range of 7.36ms to 95ms while hitting 24.5ms to 578ms for iSCSI.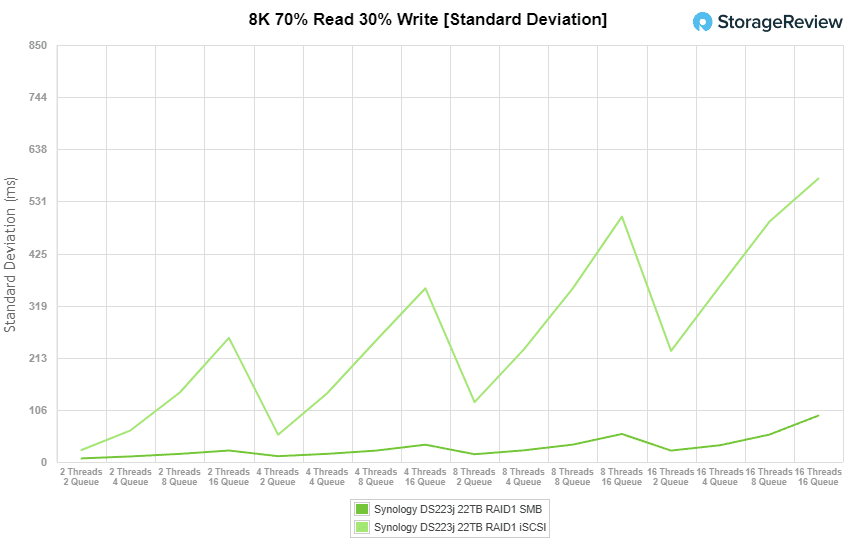 Our last test is the 128k benchmark, a large-block sequential test showing the highest sequential transfer speed. For SMB, the DS223j posted 115MB/s read and 115MB/s write, while iSCSI also recorded 115MB/s read and 115MB/s write, fully saturating the single 1GbE link.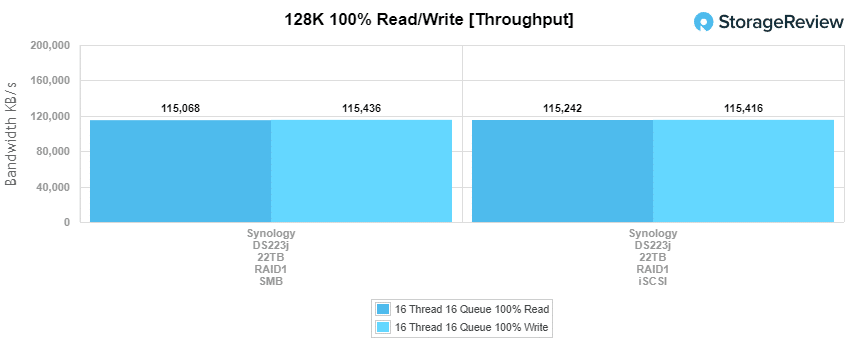 Conclusion
The DS223j NAS is a great option for small businesses and families. It may not be powerful, but it does an excellent job with long-term storage needs, especially for the price. This makes it a great choice for those looking for a simple NAS which can provide backups, surveillance, and much more. Synology does a great job with its easy-to-use DSM software and its deep list of supported apps. More feature-rich systems are available from Synology but are more expensive as a result. If you don't have a need for high-speed or robust business features, the DS223j is definitely a great option.
Engage with StorageReview
Newsletter | YouTube | Podcast iTunes/Spotify | Instagram | Twitter | TikTok | RSS Feed