The DS415+ is the updated mainline SOHO 4-bay from Synology that is designed for small and medium-sized businesses. It provides accelerated hardware encryption, plenty of storage capacity, and great performance. The DS415+ is equipped with enough juice to make it ideal for intensive tasks, which in turn allows the NAS to protect data without sacrificing too much performance.
The DS415+ is the updated mainline SOHO 4-bay from Synology that is designed for small and medium-sized businesses. It provides accelerated hardware encryption, plenty of storage capacity, and great performance. The DS415+ is equipped with enough juice to make it ideal for intensive tasks, which in turn allows the NAS to protect data without sacrificing too much performance.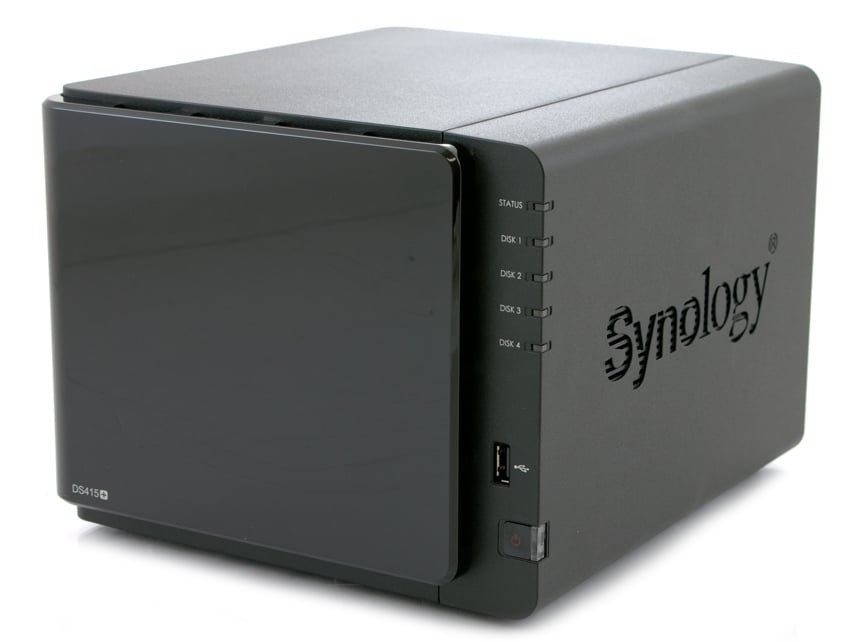 The DS415+ is the direct successor to the DS412+, and though they look identical from a design perspective, Synology has updated the DS415+ with a few pretty significant hardware changes including doubling the RAM of its predecessor to 2GB DDR3. Most important is the upgrade to a Quad Core 2.4GHz processor, which is a pretty big step up from the DS412+'s Dual Core CPU, and it allows Synology to quote the DS415+ at average reading and writing speeds of 228MB/s and 233MB/s, respectively. This clearly improves upon the DS412+'s average of 158.33MB/s for write speeds and 230.8MB/s for read (under a RAID5 configuration in a Windows environment). In addition, encrypted file transfers have the ability to retain an impressive level of performance with 232MB/s for reads and 206MB/s for writes.
Also equipped are two Ethernet ports that feature failover and Link Aggregation functionality. This allows the NAS to have continual network uptime in the event of a LAN connection malfunction. This is definitely a welcomed feature for businesses, as it reduces the chance of costly service disruption. In addition, Link Aggregation improves connection speeds past the limits of a single network cable or port.
Synology's DS415+ is a pretty secure NAS device as well. It comes with share-level AES 256-bit encryption to prevent unauthorized access attempts as well as the ability to create and encrypt shared folders. Those without the encryption key will not be able to access the encrypted data even if they removed the hard drives and mount them on their own device. The 2-Step verification process, which sends a one-time 6-digit code to a user's mobile device in order to login, adds further protection to the DS415+. In addition, features such as IP block & allow list, antivirus packages, firewall, and DoS attack prevention help to ensure a secure DSM environment.
The DS415+ comes with a 2-year warranty and ships as a diskless model for approximately $630.00. We have populated our review device with both WD Red 6TB and Seagate NAS 4TB HDDs, tested in RAID1 in both CIFS and iSCSI configurations.
Synology DS415+ Specifications
CPU Model: Intel Atom
CPU Frequency: Quad Core 2.4GHz
Floating Point
Hardware Encryption Engine
System Memory: 2GB DDR3
Drive Bays: 4
Compatible Drive Type:

3.5″ SATA(III)/SATA(II) HDD
2.5″ SATA(III)/SATA(II) HDD
2.5″ SATA(III)/SATA(II) SSD

Max. Internal Capacity: 24TB (6TB HDD x4) (Capacity may vary by RAID types) (See All Supported HDD)
Hot Swappable Drive
External Ports:

USB 2.0 Port: 1
USB 3.0 Port: 2
eSATA Port: 1

File System

Internal Drives: EXT4
External Drives

Size (Height x Width x Depth): 165mm x 203mm x 233.2mm
Weight: 2.05kg
LAN Number (RJ45): Gigabit x2
Link Aggregation
Wake on LAN/WAN
System Fan: 92mm x 92mm (x2)
Wireless Support (dongle)
Noise Level: 20.2dB(A)
Power Recovery
Scheduled Power On/Off
Power Supply Unit / Adapter: 100W
AC Input Power Voltage: 100V to 240V AC
Power Frequency: 50/60Hz, Single Phase
Power Consumption:
46.2W (Access)
17.3W (HDD Hibernation)
Temperature

Operating Temperature: 5°C to 35°C (40°F to 95°F)
Storage Temperature: -20°C to 60°C (-5°F to 140°F)
Relative Humidity: 5% to 95% RH

Certification

FCC Class B
CE Class B
BSMI Class B

Warranty: 2 Years
Design and build
As with all Synology devices of this class, the DS415+ has a very nice looking design. It is comprised of a black all-plastic enclosure and feels very sturdy when placed on the ground or a desk. This device won't be moving around whatsoever due to its 4 rubber feet on the bottom.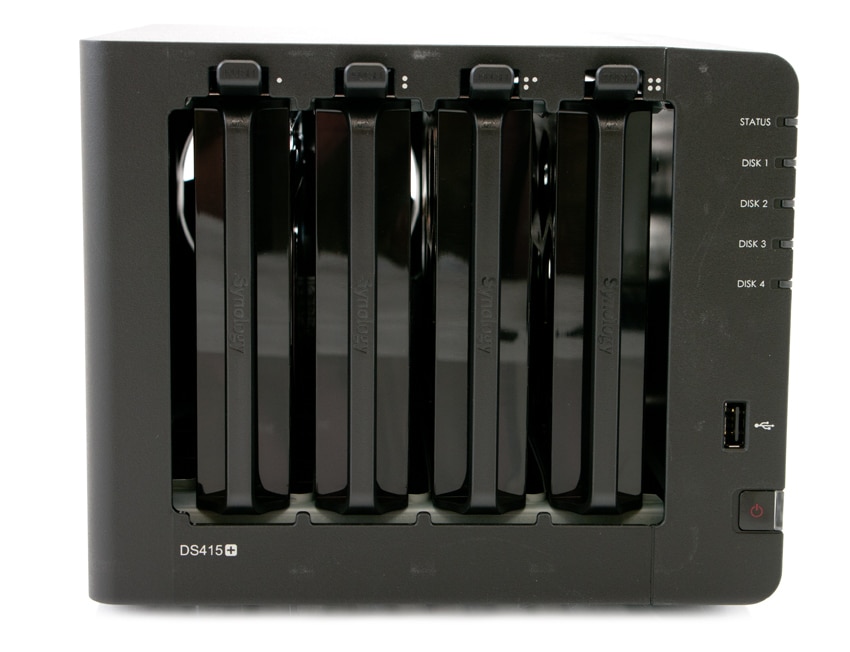 The four hot-swappable bay drives can be accessed beneath the cover of the DS415+. The front panel has various LED lights located on the right side, which include a Status Indicator (which displays the status of the system) and the four Disk Indicators (which display the status of the installed hard drives). The front USB 2.0 port allows users to connect external hard drives, USB printers, or other USB devices to the DS415+. The power button is located just below the USB port.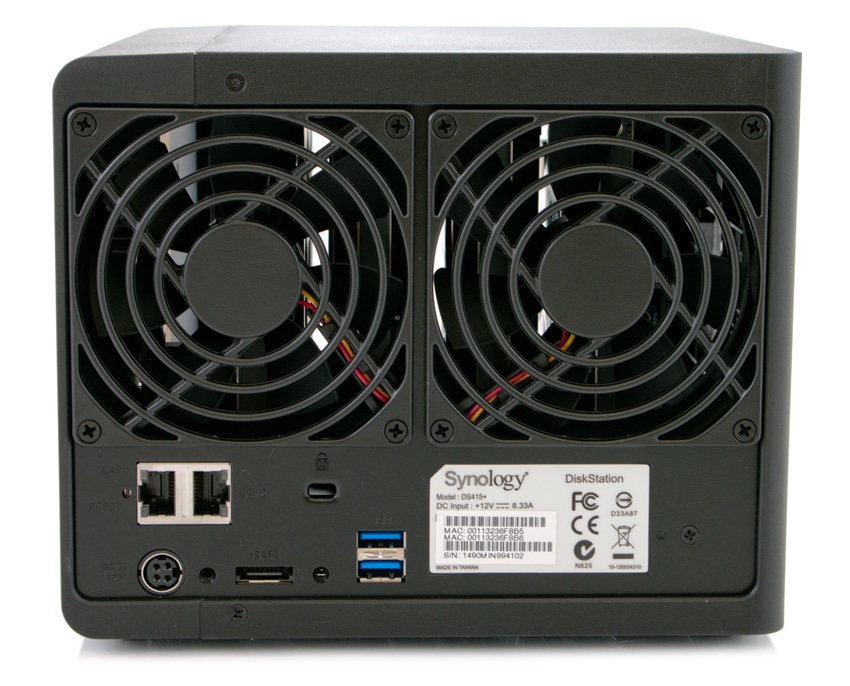 Front and center of the back panel are the two fans (one redundant), both which dispose of excess heat and cool the system (a beep will sound if one of the fans malfunctions). Also located on the back are a LAN port, reset button, Kensington lock, USB 3.0 port, power adaptor, and eSATA ports (which can connect an external SATA drive or Synology Expansion Unit).
Testing Background and Comparables
We tested both CIFS and iSCSI performance using two popular 3.5″ 5,400RPM hard drives: the 6TB WD Red and 4TB Seagate NAS models. Both of the drives are suited to operate in NAS environments.
Drives tested for this review:
The StorageReview Enterprise Test Lab allows us to provide relevant and unbiased benchmarks of enterprise storage devices by establishing a testing environment comparable to what IT administrators encounter in real datacenter and field deployments. The Enterprise Test Lab incorporates a variety of servers, networking, power conditioning, and other infrastructure to design real-world configurations that accurately reflect the performance of storage devices during reviews.
We incorporate details about our lab environment and testing protocols into the review so that administrators and those responsible for equipment acquisition can fairly gauge the conditions under which we have achieved these published results. None of our reviews are paid for or controlled by the manufacturer of equipment we are testing. Additional details about the StorageReview Enterprise Test Lab and an overview of its networking capabilities are available on those respective pages.
In order to fairly evaluate the performance of the Synology DiskStation DS415+ we need an environment that ensures that it is the I/O bottleneck rather than the network. Therefore this review employs a Lenovo ThinkServer RD240 running multiple Windows Server 2012 VMs in an ESXi 5.1 environment connected via a quad-port Intel i350-T4 NIC through a Netgear ProSafe GS752TXS switch.
2x Intel Xeon X5650 (2.66GHz, 12MB Cache)
Windows Server 2008 Standard Edition R2 SP1 64-Bit running on VMware ESXi 5.1
Intel 5500+ ICH10R Chipset
Memory – 32GB (4x 8GB) 1333MHz DDR3 Registered RDIMMs
Netgear ProSafe GS752TXS Smart 52-port Switch
48x 1GbE Ports, 4x 10GbE SFP+ Uplink Ports
176GB/s Aggregate Bandwidth
Enterprise Synthetic Workload Analysis
Our enterprise hard drive benchmark process preconditions each device into steady-state with the same workload the device will be tested with under a heavy load of 16 threads with an outstanding queue of 16 per thread, and then tested in set intervals in multiple thread/queue depth profiles to show performance under light and heavy usage. Since hard drives reach their rated performance level very quickly, we only graph out the main sections of each test.
Preconditioning and Primary Steady-State Tests:
Throughput (Read+Write IOPS Aggregate)
Average Latency (Read+Write Latency Averaged Together)
Max Latency (Peak Read or Write Latency)
Latency Standard Deviation (Read+Write Standard Deviation Averaged Together)
Our Enterprise Synthetic Workload Analysis includes four profiles based on real-world tasks. These profiles have been developed to make it easier to compare to our past benchmarks as well as widely-published values such as max 4k read and write speed and 8k 70/30, which is commonly used for enterprise drives.
4k

100% Read or 100% Write
100% 4k

8k 70/30

70% Read, 30% Write
100% 8k

8k (Sequential)

100% Read or 100% Write
100% 8k

128k (Sequential)

100% Read or 100% Write
100% 128k
In the workloads, we measured a long sample of random 4k performance with 100% write and 100% read activity to get our main results. The top read performer here was the WD Red in iSCSI, which boasted performance of 908IOPS. This was close trailed by the Seagate NAS in iSCSI as well, with reads of 873IOPS. As for the top write performer, the WD Red using a CIFS connection (1,192IOPS). Both configurations of QNAP posted competitive write numbers (855IOPS and 886IOPS in iSCSI and SMB, respectively).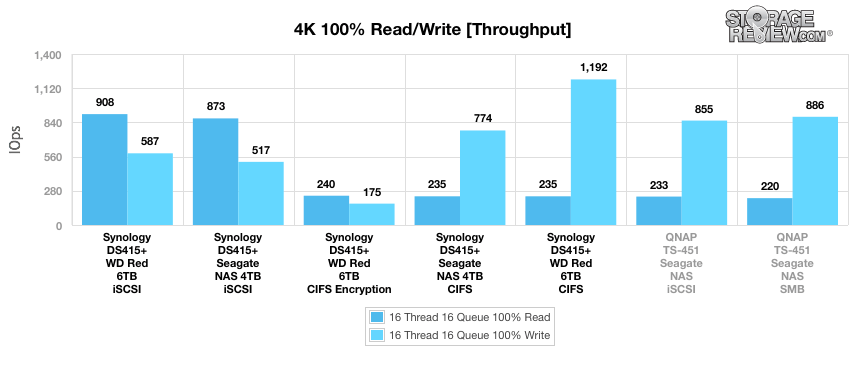 Looking at average latency, which uses a heavy 16T/16Q load, the results showed much the same. The WD Red iSCSI had the lowest read latency of 281.63ms. Again, the WD Red CIFS was the top performer in write latency with 214.99ms, though it had one of the highest average read latencies. QNAP posted good write latencies by comparison, though it did not displace the standings compared to the throughput benchmark.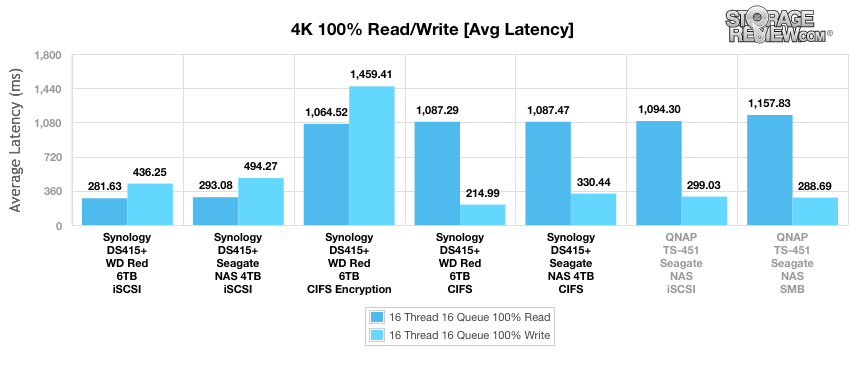 When comparing max latency between drive configurations, the WD Red iSCSI had the lowest read latency of 1020.0ms while the top performer in the write column was the QNAP using an SMB connection (1259.8ms), closely followed by the WD Red configured in CIFS (1939.3ms).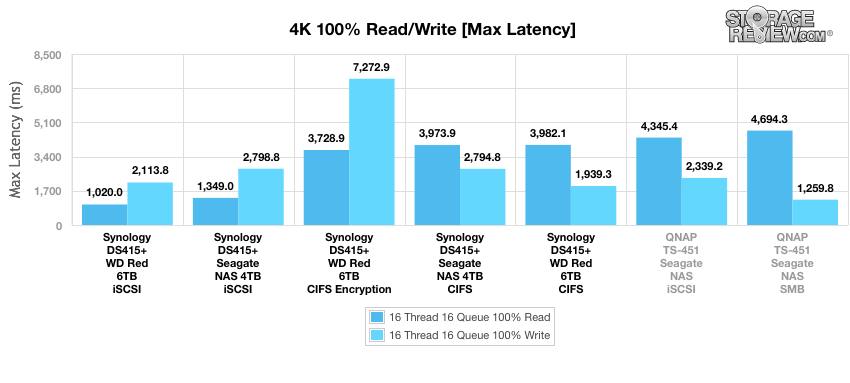 Plotting out our standard deviation in 4k consistency shows that the WD Red iSCSI once again had the lowest read latency (147.17ms). The WD Red 6TB CIFS had the lowest write latency with 225.24ms, though the QNAP configured in SMB was comparable (288.6ms).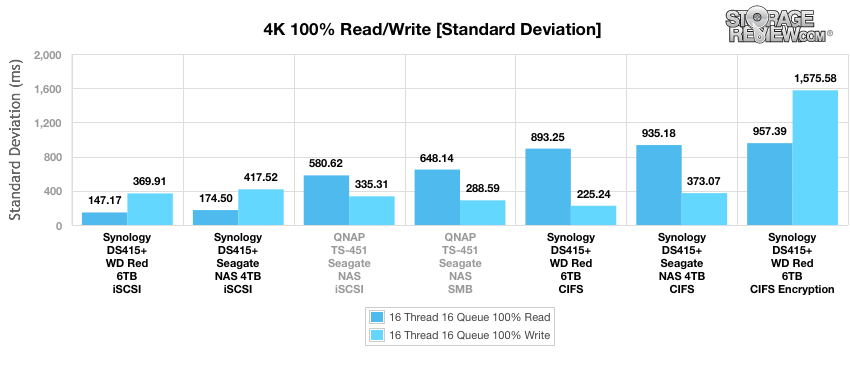 Compared to the fixed 16 thread, 16 queue max workload we performed in the 100% 4k write test, our mixed workload profiles scale the performance across a wide range of thread/queue combinations. In these tests, we span workload intensity from 2 threads and 2 queue up to 16 threads and 16 queue. In our expanded 8k 70/30 test, the drives using iSCSI outperformed the pack quite handedly (with the exception of QNAP, which was in line with the non-iSCSI configurations). Here, the top performer was the WD Red iSCSI, which peaked at 700IOPS.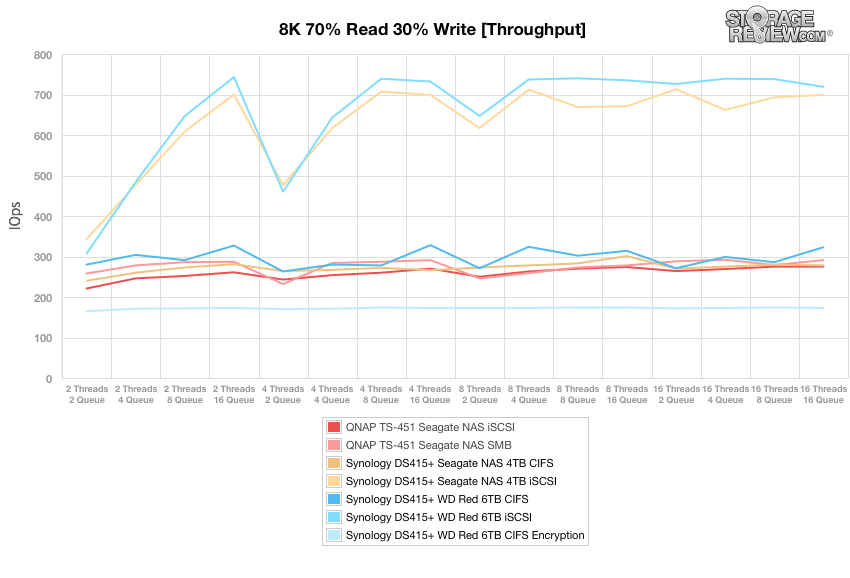 In our 8k 70/30 average response times, the overall best performer was the WD Red 6TB iSCSI with 355.36ms by 16 Threads/16 Queue.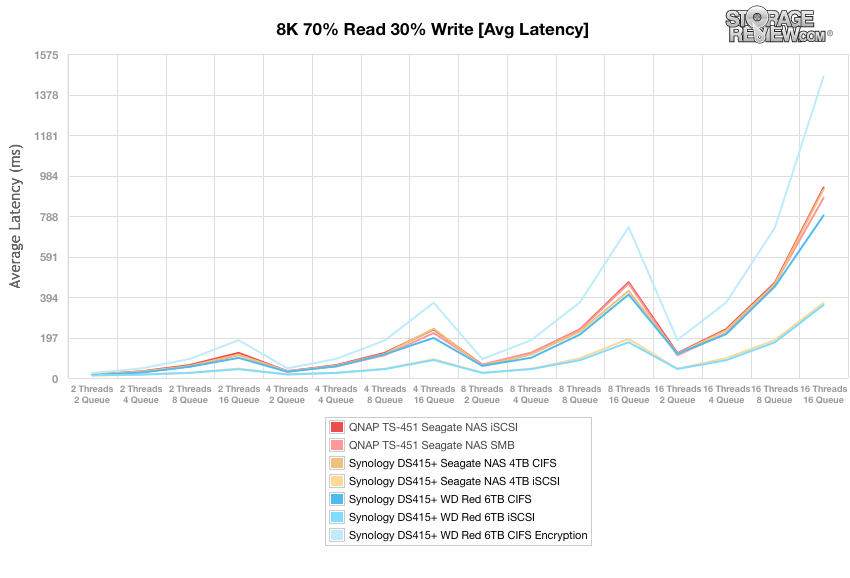 Our peak latency tests show that the WD Red 6TB iSCSI was the winner once again, though both configurations of QNAP and the iSCSI configuration of Seagate NAS kept pace.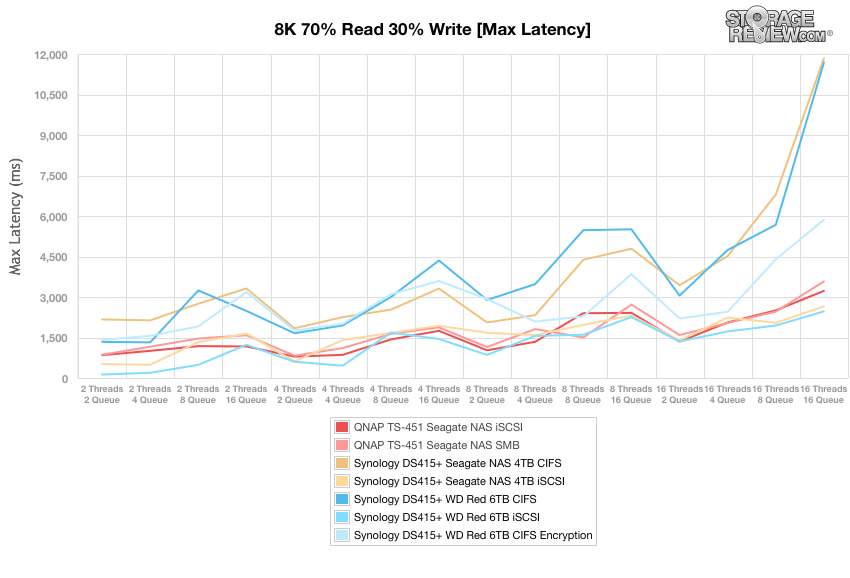 For the entirety of the thread/queue spectrum, the WD Red iSCSI was the top performer.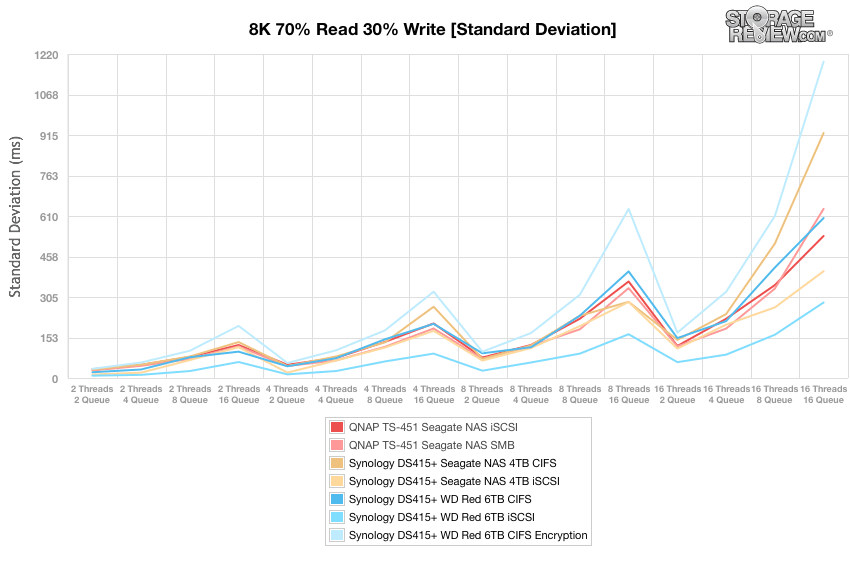 Our next benchmark measures 100% 8k sequential throughput with a 16T/16Q load in 100% read and 100% write operations. In this scenario, we see that the drives using CIFS/SMB connectivity tend to outperform the rest of the leader board with the top read performer being QNAP configured in SMB with 28,443IOPS (though it barely beat the Synology WD Red CIFS). The top write performer was the WD Red CIFS, which boasted writes of 27,138IOPS. It should be noted that the WD Red CIFS using Encryption posted some pretty good numbers, which is in line with Syngology's claim that it doesn't sacrifice too much performance when using file protection.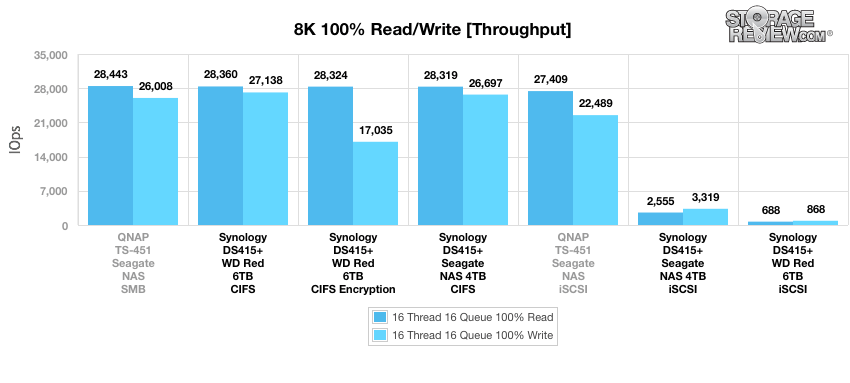 Our last test in our small NAS Synthetic Workload testing is the 128k test, which is a large block sequential test that shows the highest sequential transfer speed. When looking at the 128k performance of 100% write and 100% read activity, all drives using a CIFS/SMB configuration showed almost identical results. The WD Red CIFS using Encryption just barely edged out the rest in read performance with 231,423KB/s. It was also a tight race between most of the drives in the write column, though our top performer here was the QNAP configured in iSCSI with speeds of 230,095KB/s, followed closely by WD Red iSCSI with 229,233KB/s.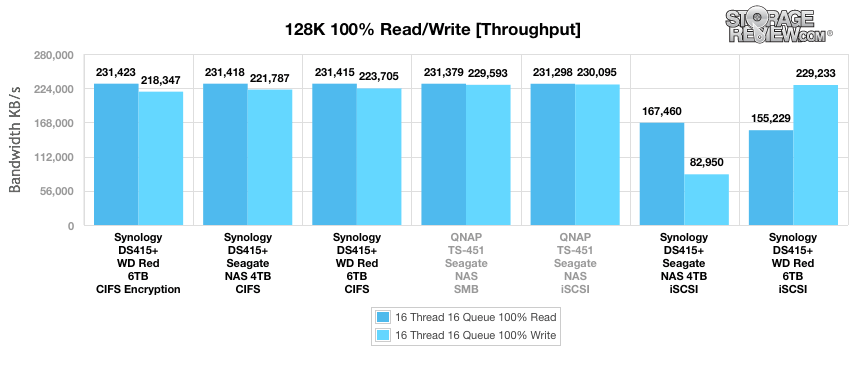 Conclusion
Synology has upgraded their mainline 4-bay SOHO NAS with the DS415+, directly improving upon the visually identical DS412+ model with double the RAM (2GB DDR3), an upgraded processor (Quad Core 2.4GHz), and enhanced performance overall. Through the use of its failover and link aggregation functionality, users enjoy minimal network downtime and faster connection speeds. AES 256-bit encryption protects drive data from remote connections as well as physical connections, precluding access without a password. However, encrypted transfers show very little reduction in performance in most cases, and even surpass the read performance of all other drives in the large block (128k) benchmark. It also features an IP block/allow list, antivirus packages,  a standard firewall and countless other features and addon packages.
The DS415+ performed well overall, with the highest performance configuration being WD Red over iSCSI for the most part; it was the top configuration in all 4k read, 8k mixed read, and 8k mixed write benchmarks. It also performed well in large block write transfers. The CIFS configuration of the WD Red also did well, claiming most of the top spots in the 4k write benchmarks. It was the fastest configuration in 8k sequential write transfers, and did well in 8k sequential read transfers. One of the most impressive performance attributes by far though was how well the DS415+ behaved with encryption enabled, showing very minimal impacts for sequential data transfers.
Pros
Great overall performance
Minimal effect of encryption on performance
Upgraded RAM and CPU
Cons
Weaker 8k sequential iSCSI performance than QNAP TS-451
The Bottom Line
With upgraded RAM and processor (as well as a slew of other new features), the DS415+ proves to be a good step up from Synology's previous model mainline 4-bay SOHO NAS.
Synology DS415+ at Amazon