The Synology RC18015xs+ is a purpose built RackStation that focuses on a high-availability dual-controller design and next-generation snapshot technology with an impressive scalability up to 180 drives and a maximum raw storage of roughly 1.4PB when using expansion units. With security, reliability, and superior performance in mind, this is a storage solution meant for enterprises that require business continuity and point-in-time data recovery (a set of data or a particular setting from a time in the past). With that in mind, this is Synology's largest device to date and is certainly meant as major step toward in hanging with the big names in the enterprise server market.
The Synology RC18015xs+ is a purpose built RackStation that focuses on a high-availability dual-controller design and next-generation snapshot technology with an impressive scalability up to 180 drives and a maximum raw storage of roughly 1.4PB when using expansion units. With security, reliability, and superior performance in mind, this is a storage solution meant for enterprises that require business continuity and point-in-time data recovery (a set of data or a particular setting from a time in the past). With that in mind, this is Synology's largest device to date and is certainly meant as major step toward in hanging with the big names in the enterprise server market.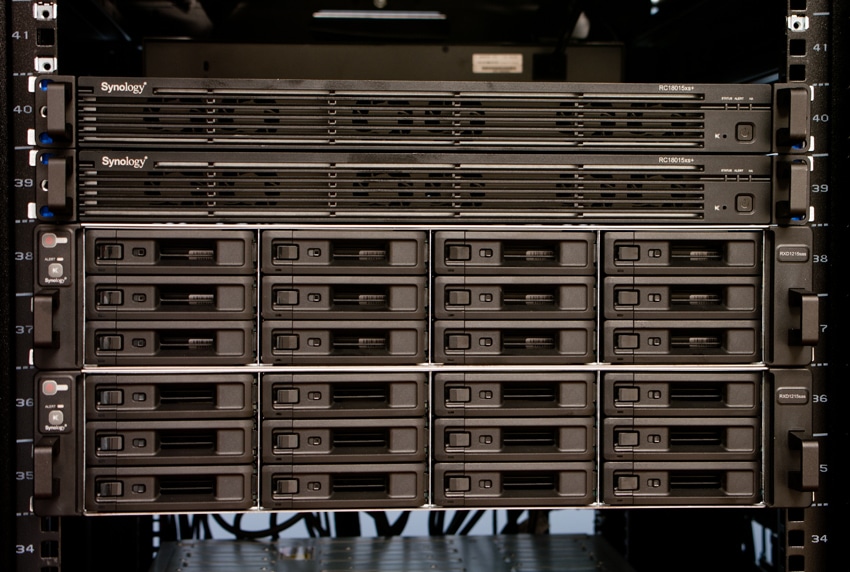 The RC18015xs+ is specifically designed to work with RXD1215sas expansion unit to form a high-availability cluster solution that boasts significant reliability and data availability (this requires two RC18015xs+ RackServers and at least one RXD1215sas expansion unit). This collaboration promotes optimum uptime by creating an active/passive structure where services are automatically switched over to the other server if one suddenly fails or goes offline.
Synology's RC18015xs+ also integrates file-level (NAS) and block-level (SAN) storage into one unified storage system, which allows businesses to manage multi-protocol data in a cost-effective manner. As such, files can be easily shared through all major operating systems Windows, Mac, and Linux) seamlessly coupled with extensive network protocol support, such as CIFS/SMB, AFP, and NFS. In addition, the RC18015xs+ works well as an iSCSI solution with its ability to give large scale businesses a way to consolidate storage into data center storage arrays.
Performance-wise, the RC18015xs+ is quoted to deliver over 2,270MB/s in throughput, as well as 355,400 IOPS, when leveraging dual 10GbE connections bonded with link aggregation. Under the hood lies 8GB ECC RAM (which can be expanded up to 32GB), along with redundant hardware components, including power supply units, internal system fans, and LAN ports. If one of these components fails, the RC18015xs+ system continues to operate as normal while IT works to obtain and replace the new parts.
Synology RC18015xs+ Specifications
CPU Model: Intel Xeon E3-1230 v2
CPU Architecture: 64-bit
CPU Frequency: Quad Core 3.3 GHz
Floating Point
Hardware Encryption Engine (AES-NI)
System Memory: 8GB DDR3 ECC
Memory Module Pre-installed: 4GB x 2
Total Memory Slots: 4
Memory Expandable up to 32 GB (8 GB X 4)
Storage

Maximum Drive Bays with Expansion Unit: 180
Maximum Raw Capacity with Expansion Units: 1440 TB (8 TB HDD x 180) (Capacity may vary by RAID types)
Maximum Single Volume Size:

200 TB (32GB RAM required, for RAID 5 or RAID 6 groups only)
108 TB

External Ports

USB 3.0 Port: 2
Expansion Port: 1

File System

Internal Drives
External Drives

Btrfs
EXT4
EXT3
FAT
NTFS
HFS+

Size (Height x Width x Depth): 44 mm x 430 mm x 480 mm
Weight: 7.3 kg
RJ-45 1GbE LAN Port: 4 (with Link Aggregation / Failover support) + 1 for Heartbeat
PCIe x8 Slot for 10GbE / 1GbE Network Card (See more): 1 (at x8 mode)
Wake on LAN/WAN
System Fan: 40 mm x 40 mm x 6 pcs
Fan Speed Mode
Easy Replacement System Fan
Power Recovery
Noise Level: 48 dB(A)
Scheduled Power On/Off
Power Supply Unit / Adapter: 2 X 150W
AC Input Power Voltage: 100V to 240V AC
Power Frequency: 50/60 Hz, Single Phase
Power Consumption: 60.16 W (Access)
British Thermal Unit: 205.27 BTU/hr (Access)
Redundant Power Supply (for xs+ and RP model)
Environment Temperature

Operating Temperature: 5°C to 35°C (40°F to 95°F)
Storage Temperature: -20°C to 60°C (-5°F to 140°F)
Relative Humidity: 5% to 95% RH

Warranty: 5 Years
Design and Usability
The Synology RC18015xs+ is of a thin form factor, which allows it to fit in places where space is an issue (even when stacked with other units and expanders). It has a very rugged design, allowing it to withstand moves within the office as well as general wear and tear. As we stated earlier, Two RC18015xs+ units and at least one RXD1215sas expansion unit is required to configure and get the whole system up and running for complete normal operation.

The front of the unit is mainly comprised of a ventilation grill to promote air flow throughout the RC18015xs+. On the far right are the system indicators including the Status LED, which the status of the system; the Alert LED, which displays any warnings regarding the fan or temperature status; and the HA LED, which displays the status of high-availability. Also located on the right is the Beep Off button, which deactivates the beeping sound that is emitted when a malfunction occurs when pressed and as well as the Power Button and Power Indicator.

The back panel is host to the various connection ports, such as power, USB 3.0, Heartbeat, LAN, and console ports. Additionally, the PSU Indicator displays the status of the power supplies while the SAS-OUT Port is used to connect to the SAS-IN port of an expansion unit via a mini-SAS cable. The PCIe expansion slot supports an x8 add-on network interface card.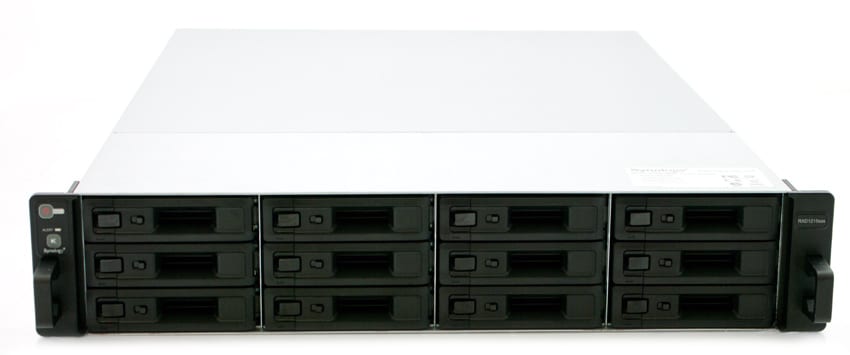 To remove the cover, simply loosen the two screws on the back of the unit and then pulling the cover towards the back panel. Inside lays the components such as the Intel Xeon E3-1230 v2 (Quad Core 3.3 GHz), 8GB of DDR3 ECC RAM, the system fan and dual power-supply units.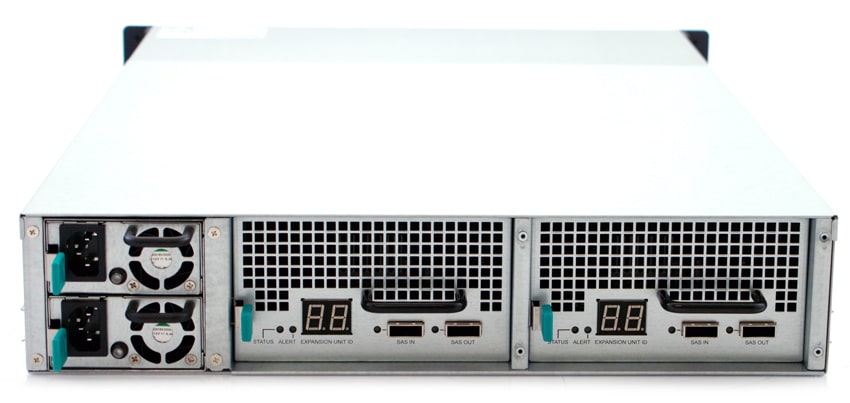 From a software standpoint, the Synology RC18015xs+ offers the same easy to use and powerful DSM WebGUI experience countless users have come to know and love. For enterprise users this type of management platform isn't always standard, in a world where clunky serial-level connections and telnet/SSH are still used in modern array deployments. Users are steered to this from day-one, making deployment simple even for novice users.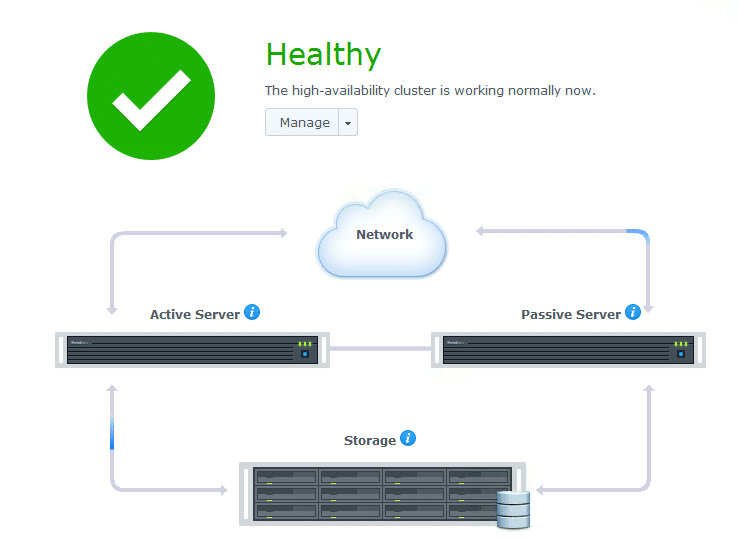 Since the RC18015xs+ uses the same interface, we will stick to the differences that are unique to this model. For one users will leverage the High Availability Manager, which manages the two controllers and shared data services from the HA platform. With the RC18015xs+ operating in an active/passive capacity with its dual controllers, Synology is able to offer a high-availability experience that works quite well in the environments we tested. With our application workloads leveraging an ESXi 6.0 environment with iSCSI storage served from the RC18015xs+, we tested failing a controller during an intense Sysbench workload. For a quick background, failover performance generally means a pause in data services (even in the best of products) where things are brought online on the other controller. VMware's default timeout to allow this to take place is 120 seconds. In our tests the RC18015xs+ was able to fail one controller, move data services over to the other controller and come back online to full speed in under 80 seconds. At the VM's guest OS level we saw a pause in activity during this time, which then ramped back up to full speed once the connection was restored. No errors, just flawless operation in an un-opportune time.
Testing Background and Comparables
We publish an inventory of our lab environment, an overview of the lab's networking capabilities, and other details about our testing protocols so that administrators and those responsible for equipment acquisition can fairly gauge the conditions under which we have achieved the published results. None of our reviews are paid for or overseen by the manufacturer of equipment we are testing.
That being said, we tested Synology RC18015xs+ using two RXD1215sas expansion units configured in the iSCSI storage networking standard as well as the CIFS standard protocol (BTRFS, EXT4). We used the following drives in RAID10 configurations:
12 x HGST SSD800MM 400GB SAS SSDs
12 x Seagate Enterprise Capacity 6TB SAS HDDs
Application Performance Analysis
Our first benchmark of the RC18015xs+ is our Microsoft SQL Server OLTP Benchmark that simulates application workloads similar to those the RC18015xs+ and its comparables are designed to serve. For our SQL application testing we are only looking at workloads running on our all-flash configuration.
StorageReview's Microsoft SQL Server OLTP testing protocol employs the current draft of the Transaction Processing Performance Council's Benchmark C (TPC-C), an online transaction processing benchmark that simulates the activities found in complex application environments. The TPC-C benchmark comes closer than synthetic performance benchmarks to gauging the performance strengths and bottlenecks of storage infrastructure in database environments. Our SQL Server protocol uses a 685GB (3,000 scale) SQL Server database and measures the transactional performance and latency under a load of 15,000 virtual users.
Looking at the TPS performance for each VM (as well as its aggregate), all were configured identically and performed extremely well with little to no disparity between them. The RC18015xs+ SSD aggregate performance was calculated at 3,087.5TPS, while individual VMs ran from 3,076.6TPS to 3,107.6TPS.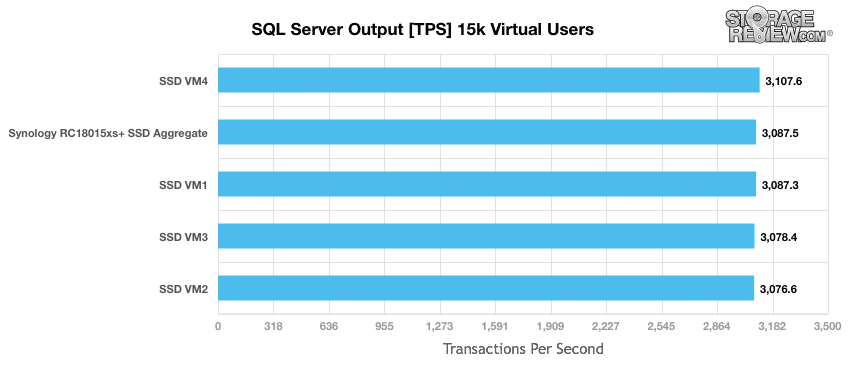 When looking at average latency of the same test, we recorded a bit more disparity between the VM configurations. The average (aggregate) was set at 116.0ms, while the individual VMs recorded a latencies between 85.0ms and 133ms.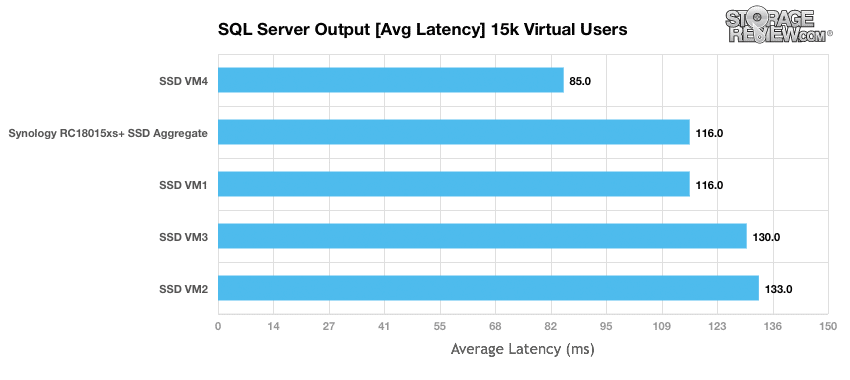 Our next set of benchmarks is the Sysbench test, which measures average TPS (Transactions Per Second), average latency, as well as average 99th percentile latency at a peak load of 32 threads. In this test we leveraged the same all-flash configuration as we did in the SQL Server tests, but also included caching results. For our caching configuration, we had a single RAID10 storage pool from our 7K HDDs presenting 4 LUNs, and each LUN was assigned two SSDs in RAID1 for dedicated read/write caching.
In the average transactions per second benchmark, the RC18015xs+ gave overall better performance when enabling cache, which had an aggregate TPS of 4,362. Without cache, instead running just in an all-flash configuration, the Synology unit measured an aggregate of 3,687 TPS.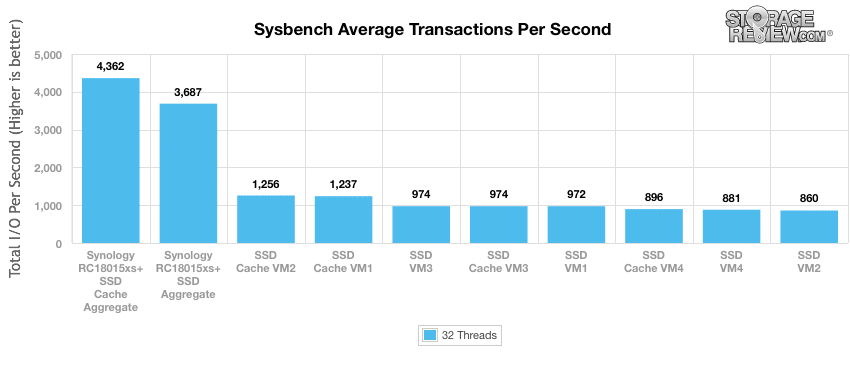 In average latency, results told a similar story. When using hard drives with dedicated SSD cache, the aggregate performance recorded was 29.98ms while recording 34.82ms with an all-flash RAID10 SSD pool.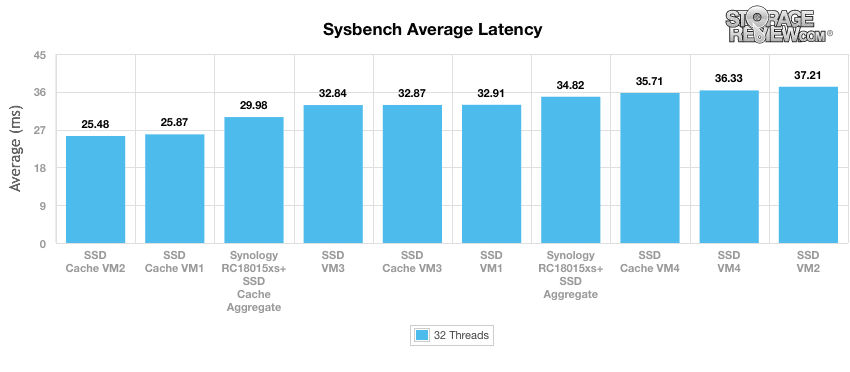 There were also no surprises in terms of our worst-case MySQL latency scenario (99th percentile latency). Here, the cached aggregate measured 73.41ms, while the all-flash configuration had an aggregate of 83.50ms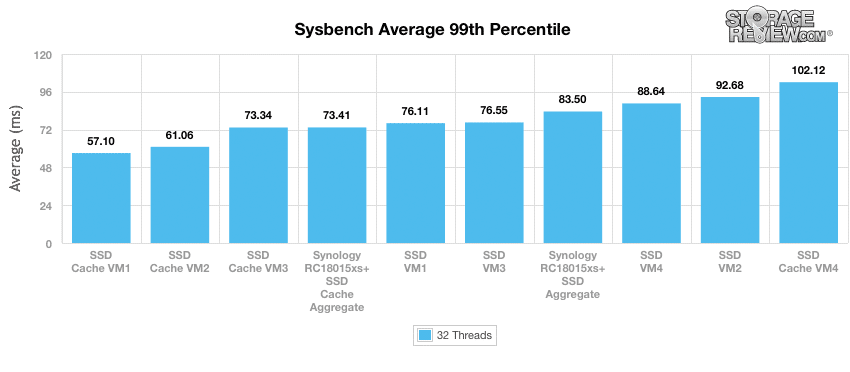 Enterprise Synthetic Workload Analysis
Our Enterprise Synthetic Workload Analysis includes four profiles based on real-world tasks. These profiles have been developed to make it easier to compare to our past benchmarks as well as widely-published values such as max 4k read and write speed and 8k 70/30, which is commonly used for enterprise systems.
Synology added support for BTRFS with the RC18015xs+, in addition to EXT4 support when creating CIFS shares. To show how each stacked up against one another, we measured performance using iSCSI (traditional), CIFS (with EXT4 backing) and CIFS (with BTRFS backing).
4k

100% Read or 100% Write
100% 4k

8K (Sequential)
8k 70/30

70% Read, 30% Write
100% 8k

128k (Sequential)
In the first of our enterprise workloads, we measured a long sample of random 4k performance with 100% write and 100% read activity to attain results from for this benchmark. In this scenario, the RC18015xs+ configurations populated with HGST SAS3 SSDs were by in far the top performers here, with the iSCSI protocol taking top spot with 105,269 IOPS read and 116,448 IOPS write. With the Seagate 7k drives (CIFS EXT4), the RC18015xs+ reached 301 IOPS read and 6,192 IOPS write.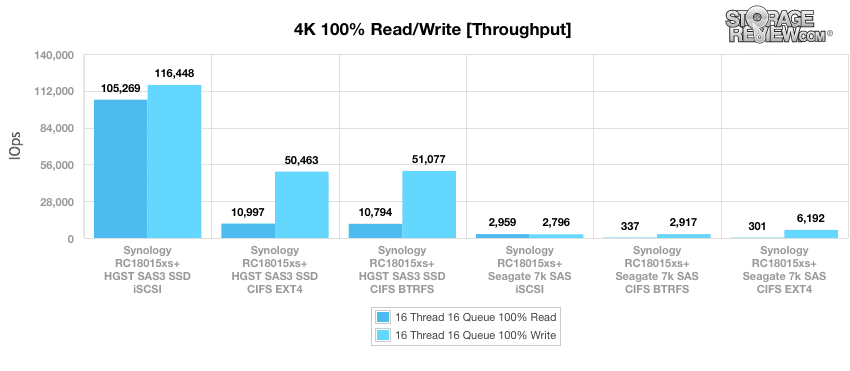 Unsurprisingly, results were mirrored when looking at its average latency. Here, the RC18015xs+ configured with HGST SAS3 SSDs (iSCSI) took showed the best results again, with an average latency of just 2.43ms read and 2.19ms write. On the other side of the spectrum, the RC18015xs+ configured with the Seagate drives in CIFS EXT4 showed 848.78ms read and 42.33ms write.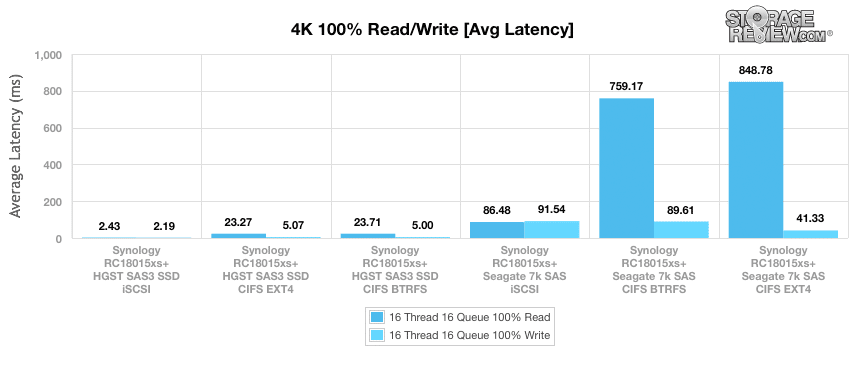 Results of the max latency benchmark were much of the same again. The RC18015xs+ configured with HGST SAS3 SSDs (iSCSI) showed the best read and write performance with 24.6ms and 17.8ms respectively. This time, however, the RC18015xs+ populated with Seagate 7k SAS HDDs (CIFS via BTRFS file-system) showed the slowest results with 3,906.7ms read and 11,111.0ms write.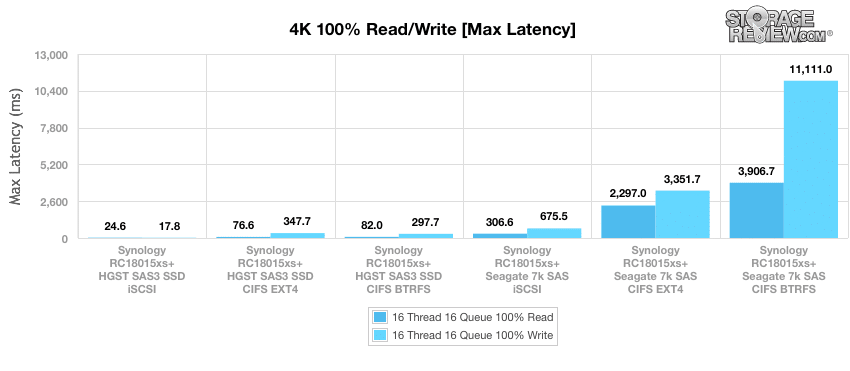 When looking at consistency (standard deviation), the RC18015xs+ populated with HGST SAS3 SSDs (iSCSI) was by in far the best performing configuration with just 1.78ms read and 1.31ms write. The RC18015xs+ populated with the Seagate 7k HDDs (CIFS BRTFS) recorded 462.04ms read and 937.67ms write.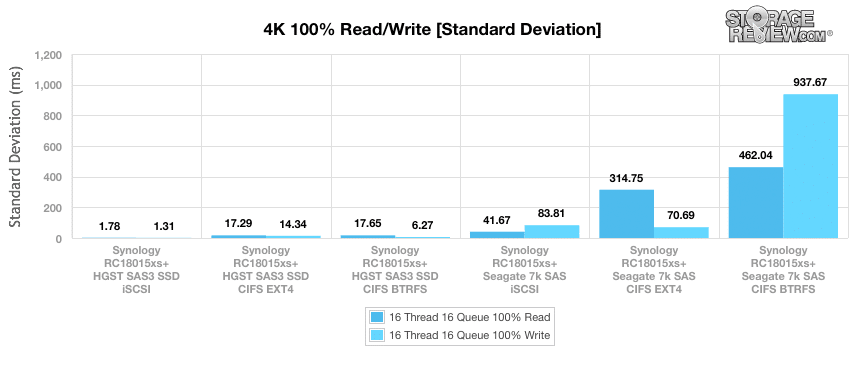 Our next benchmark measures 100% 8K sequential throughput with a 16T/16Q load in 100% read and 100% write operations. In this scenario, results were more at parity. The best configuration for the RC18015xs+ in this workload occurred with the HGST SSDs (CIFS via the EXT4 file system), which boasted an impressive 95,461 IOPS read and 75,689 IOPS write. The Seagate 7k drives (iSCSI) measured  27,385 IOPS read and 33,761 IOPS write.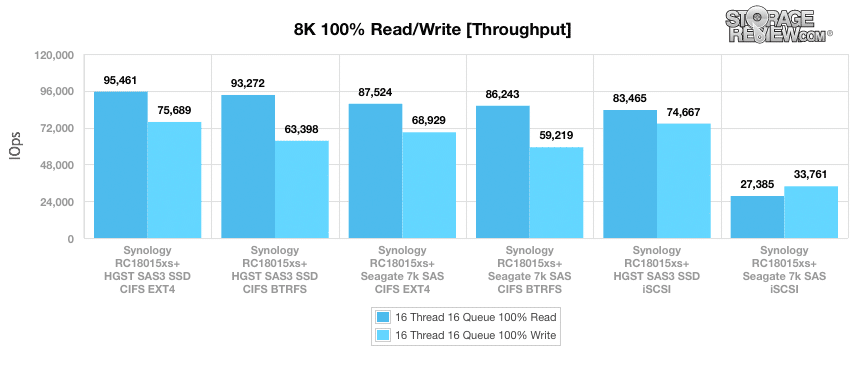 Compared to the fixed 16 thread, 16 queue max workload we performed in the 100% 4k write test, our mixed workload profiles scale the performance across a wide range of thread/queue combinations. In these tests, we span workload intensity from 2 threads and 2 queue up to 16 threads and 16 queue. In throughput, the RC18015xs+ populated with HGST SAS3 SSDs (iSCSI) boasted the best result by far, ending up with just under 87,500 IOPS in the terminal. Though it did show a few major spikes in performance, it was the only configuration that improved as the queue depths increased; all other configurations remained static throughout the benchmark.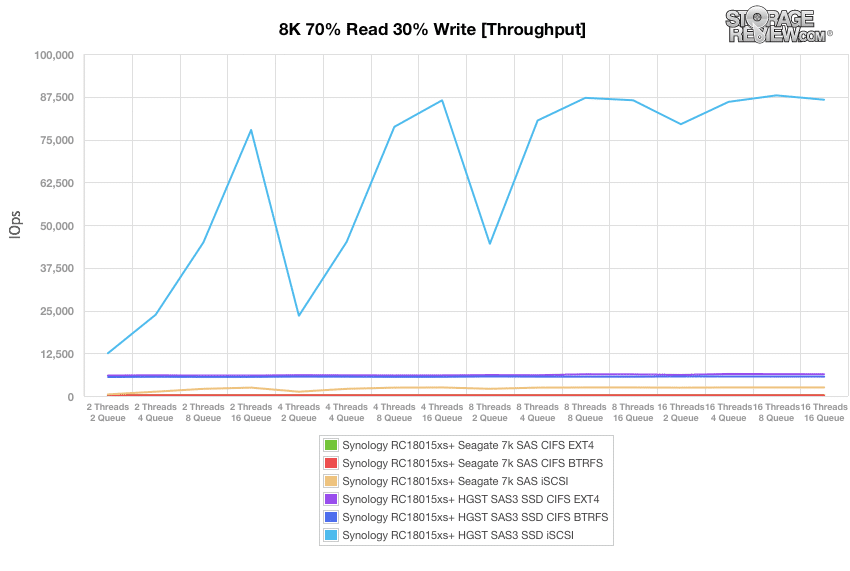 When looking at average latency, the RC18015xs+ populated with HGST SAS3 SSDs (iSCSI) was the most consistent configuration, as it barely reached 1.0ms throughout. Both CIFS configurations with the Seagate drives showed the biggest spikes in latency, reaching over 1,100ms in the terminal.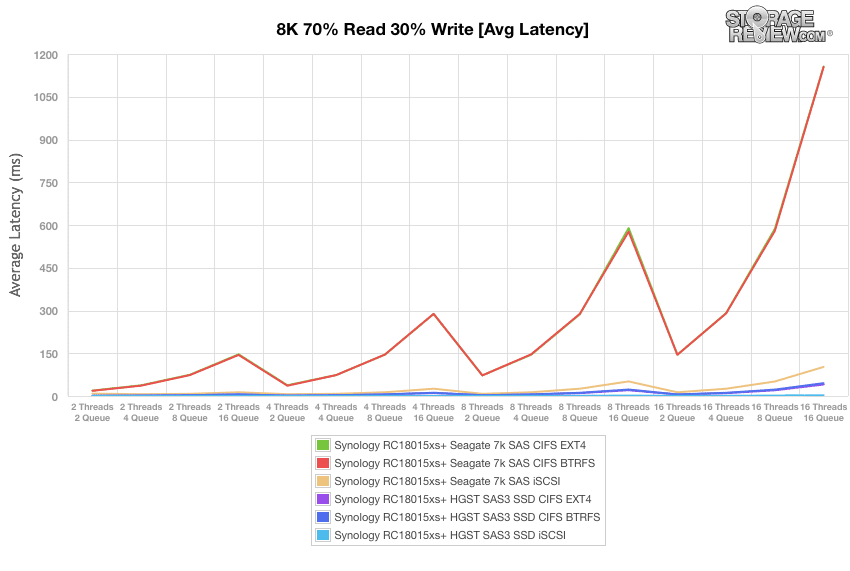 In our max latency readings, performance was a bit more unstable from all of the RC18015xs+ configurations tested. Overall, our block-level iSCSI test showed the most consistent results for both the HGST SSDs and Seagate HDDs, while the CIFS showed the most erratic max latency results.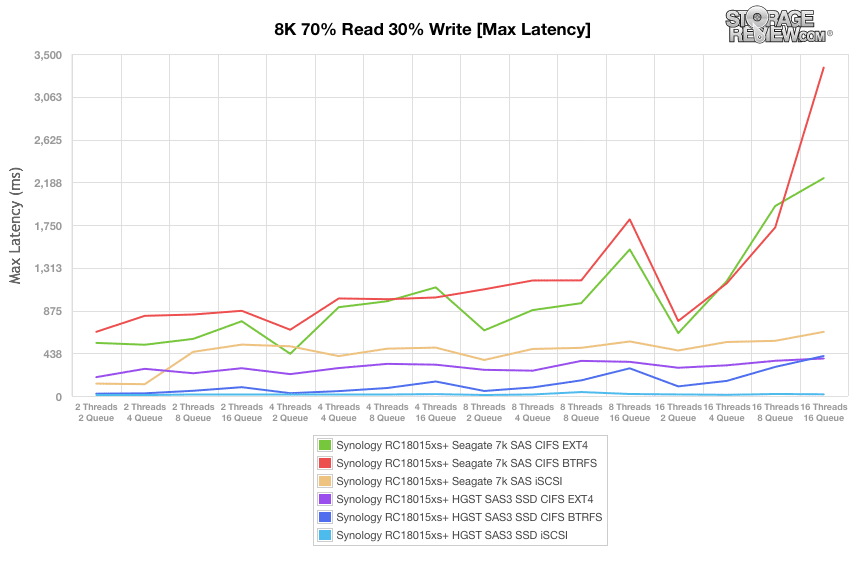 The standard deviation results were very similar to our average latency benchmark, with iSCSI outperforming CIFS for both HDD and SSDs, though all HGST SSD configurations showed the best performance by a significant margin.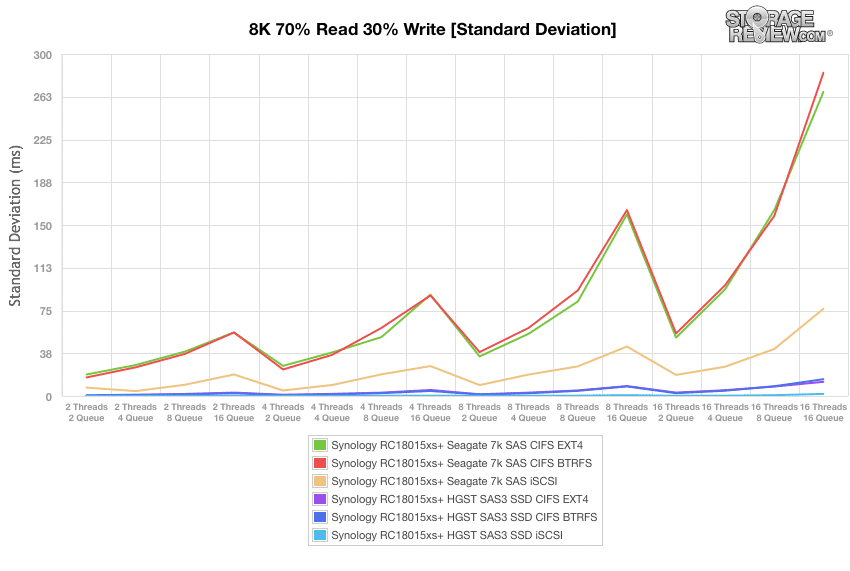 Our last test in the Enterprise Synthetic Workload benchmarks looks at 128k large block sequential performance (100% write and 100% read activity), which shows the highest sequential transfer speed the RC18015xs+ drive configurations are capable of recording. Here, the best performance was found during our file-level CIFS test, where the RC18015xs+ populated with the Seagate 7k SAS drives boasted some serious performance 2.3GB/s read and 1.6GB/s write. The RC18015xs+ populated with Seagate 7k drives in iSCSI showed the weakest performance with roughly 5MB/s read and 5.9MB/s write.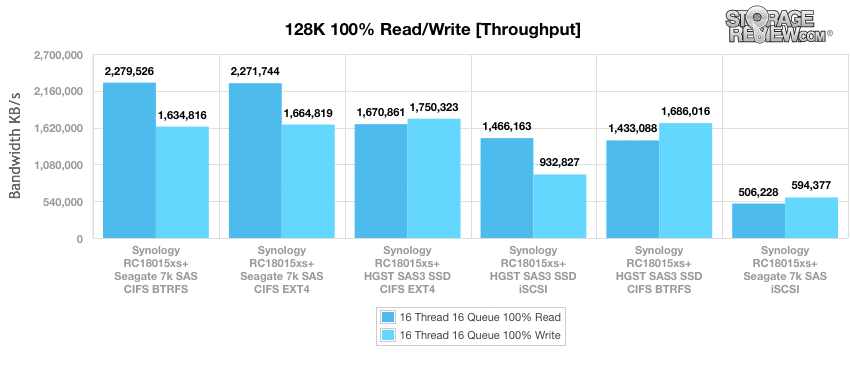 Conclusion
The RC18015xs+ is Synology's most comprehensive RackStation offering to date. Specifically designed to work in conjunction with the RXD1215sas expansion unit, it is built for the ultimate high-availability thanks to active/passive controllers and can scale up to 180 drives and a maximum raw storage of 1.4PB. This allows businesses of all sizes to expand their storage requirements when needed giving it a "future-proof" design. The RC18015xs+ comes equipped with 8GB ECC RAM per controller (expandable to 32GB) as well as redundant hardware components, such as power supply units, internal system fans, and LAN ports. Like all Synology offerings, the RC18015xs+ runs the latest version of DiskStation Manager to both simplify management and offer users with a powerful, feature-rich interface.
When diving into its performance, the Synology RC18015xs+ showed very strong performance. To test it, we used both all-HDD and all-SSD configurations, leveraging the Seagate Enterprise NAS 7,200RPM HDD and the HGST Ultrastar SSD800MM SAS3 Enterprise SSD. We also tested caching performance, putting SSDs in front of our RAID10 HDD pool. In our SQL Server test, we measured the transactional performance and latency under a load of 15,000 virtual users from 4 VMs running simultaneously. Here, the RC18015xs+ SSD configuration had an aggregate performance of 3,087.5TPS. When looking at average latency, the overall average showed 116.0ms. Looking at performance of our Sysbench test, the RC18015xs+ showed a maximum of 4,362TPS aggregate when using the SSD cache feature, while showing 3,687TPS with an all-flash RAID10 configuration.
In our enterprise synthetic workloads, we used both iSCSI and CIFS protocols, the latter which was tested with EXT4 and BTRFS filesystems. Looking at our multi-threaded 128K large-block sequential transfer test, we measured read speeds ranging from 2.28GB/s through 506MB/s read, while write speeds ranged from 1.63GB/s to 594MB/s. Here, our CIFS file-level tests showed the top read and write results by a noticeable margin. Looking at our small-block sequential load benchmark, performance peaked at 105,269 IOPS read when populated with the HGST SSDs in iSCSI with writes reaching 116,448 IOPS in the same configuration. Its performance during our 8K 70/30 mixed workload performance was also impressive, posting its best throughput when the SSDs were configured in iSCSI with roughly 87,500 IOPS in the terminal, in the terminal.
Synology has previously offered a more complicated redundancy option with some of their units, but the RC18015xs+ makes a great step forward with this two-node configuration. During our testing with MySQL, the initiated failover acted exactly as expected, restoring services on the backup controller within the ESXi timeout window. This point is critical because not all testing will properly highlight this. Workload generators for instance with no tolerance for timeouts will fail, leading testers to the improper conclusion that the storage services failed. This isn't the case at all as we saw in our application testing.
If Synology faces any headwinds with the RC18015xs+ they're largely about price. Sure, you could argue that the controllers and shelves could be more tightly integrated for a smaller rack footprint. That's a valid point but most SMBs aren't really struggling for rack space. It's really the all-in price that gets into the mid ten-thousands, or higher depending on drives. At this level we're seeing increased offerings from enterprise offerings from EMC's VNXe series, Dot Hill partners (Lenovo, HP) and of course the bevvy of lesser-featured NAS vendors. Synology does have some inherent benefits though, like caching at no extra cost, flexibility to use almost any drives and the deep feature set and third party app support available in DSM. For SMBs that want more than just storage, the Synology RC18015xs+ makes a pretty compelling argument for the growing business who wants HA and more opportunity to scale.
Pros
Scalable up to 1.4PB

Strong performance from block and file services

HA failover capability
Cons
Pricing puts it in highly competitive territory
Bottom Line
The Synology RackStation RC18015xs+ offers active/passive high-availability controllers and the ability to scale-up capacity in an easy to use NAS that brings a ton of functionality to the table. For growing SMBs or even some ROBO use cases, the RC18015xs+ is a worthy solution when application availability and deep feature-set are required.
Synology RackStation RC18015xs+ at Amazon