Synology has launched its latest router, the WRX560. Designed to provide fast, secure, and safe internet connectivity to busy households and small businesses, the Synology WRX560 is a powerful Wi-Fi 6 router that is equipped to handle many networking challenges.
Synology has launched its latest router, the WRX560. Designed to provide fast, secure, and safe internet connectivity to busy households and small businesses, the Synology WRX560 is a powerful Wi-Fi 6 router that is equipped to handle many networking challenges.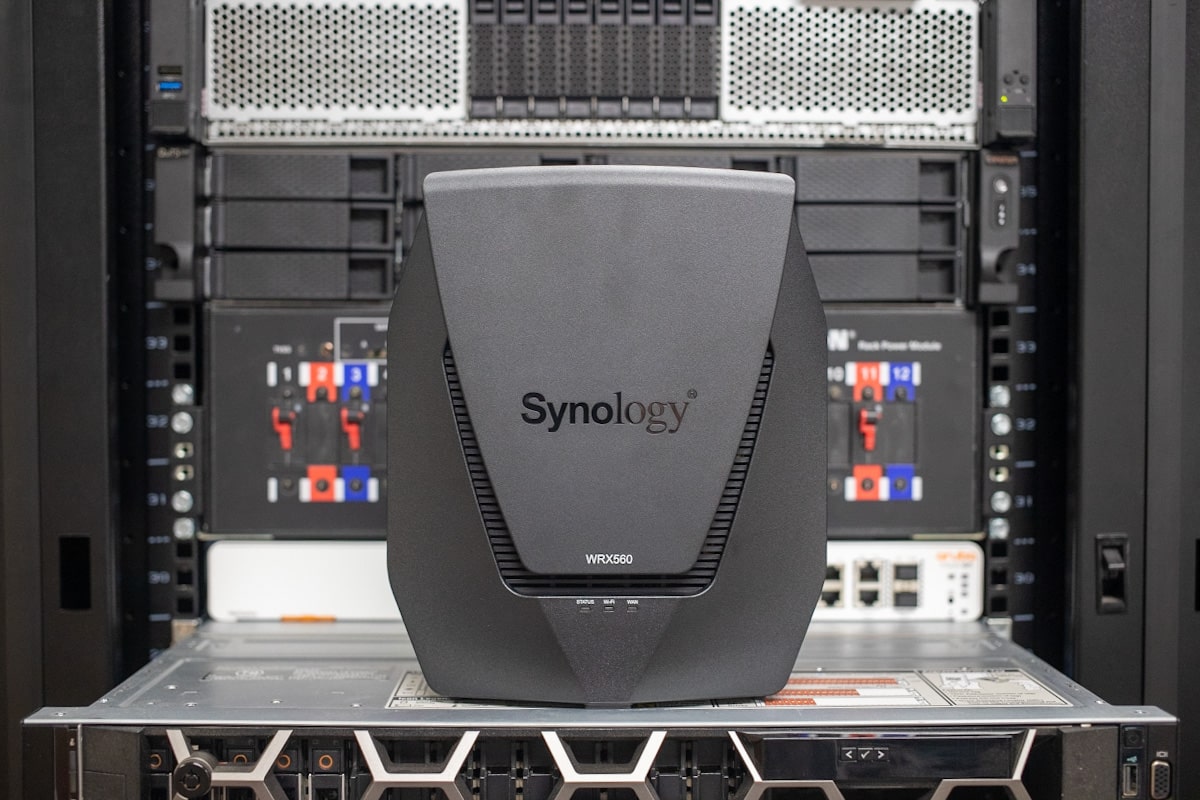 Synology WRX560 Highlights
The WRX560 is powered by Wi-Fi 6, which provides faster Wi-Fi speeds and improved network efficiency. With a combined throughput of up to 3,000 Mbps, the WRX560 is capable of providing buffer-free streaming and fast downloads. Its quad-core 1.4 GHz processor and 512 MB of RAM allow it to handle up to 150 connected devices without slowing.
Additionally, compatibility with the newly licensed 5.9 GHz spectrum provides access to an interference-free band for higher potential connection speeds or dedicated wireless backhaul. The router can also be incorporated into a mesh configuration with other Synology routers for better coverage under a single Wi-Fi name.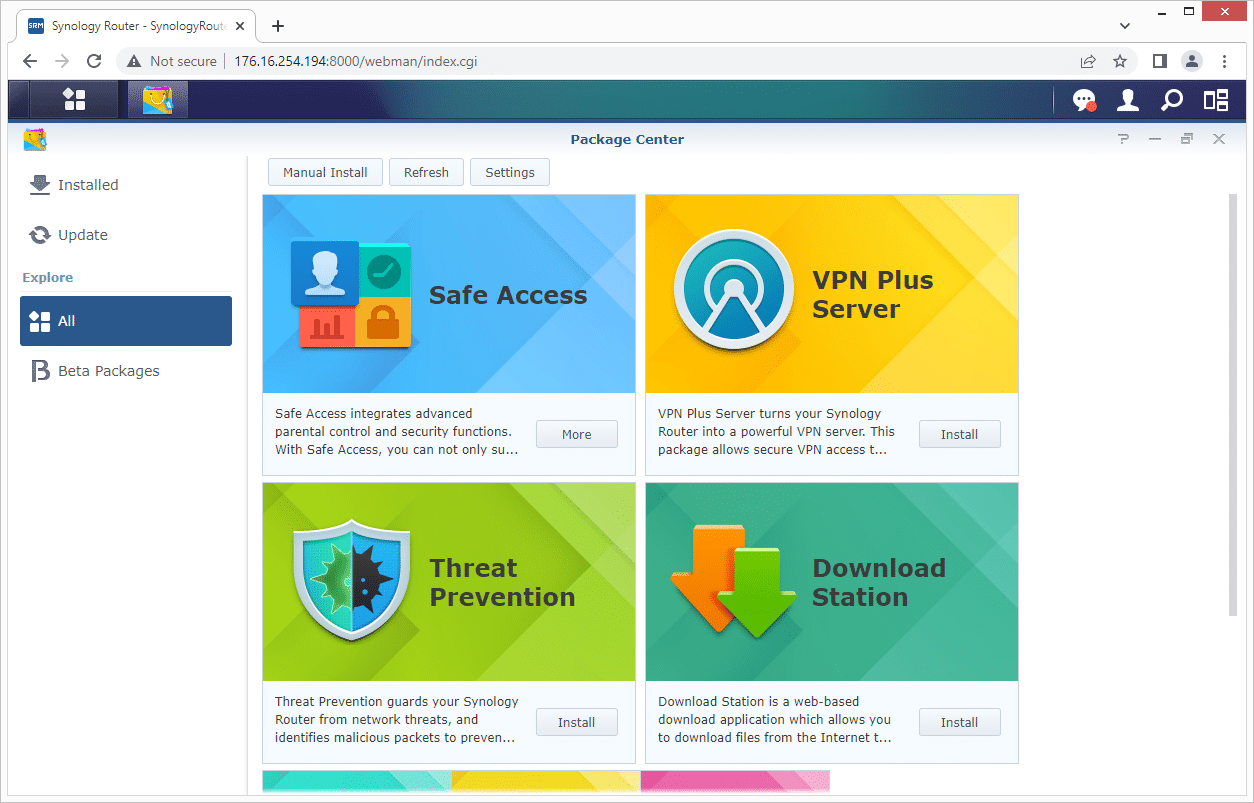 The WRX560 runs on Synology's intuitive and feature-rich Router Manager (SRM) operating system. SRM includes a host of advanced networking capabilities, such as VPN server hosting, fine-grained control of bandwidth usage, and VLAN network segmentation. We'll dive into it more below, but the OS has historically been something we've really enjoyed in the Synology router line.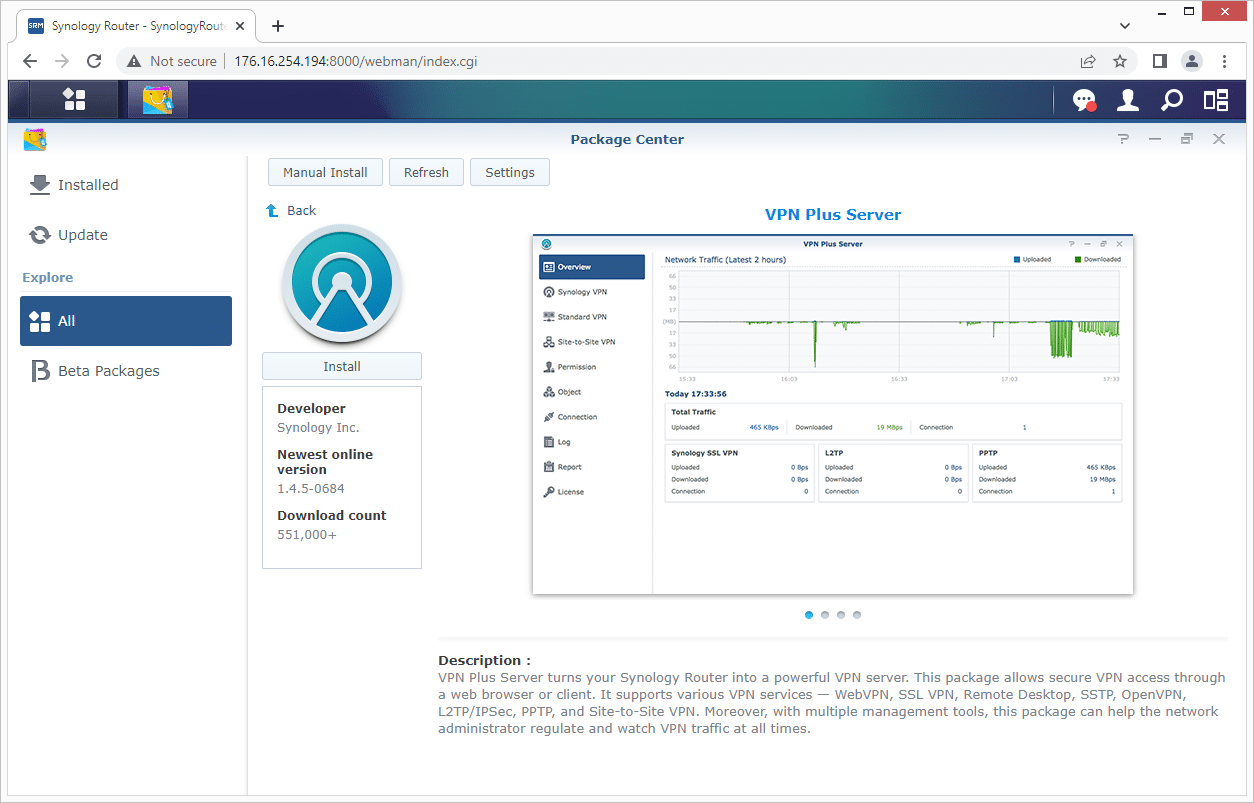 The WRX560 offers a single 2.5 GbE WAN/LAN port, which allows users to connect high-performance devices, like a NAS, for excellent network performance. Or that port can be used to connect to your high-speed internet. It cannot however do both, which is a sad compromise given the actual hardware cost of 1GbE and 2.5GbE ports. We'd definitely like to see 2.5GbE across the board in a device of this nature.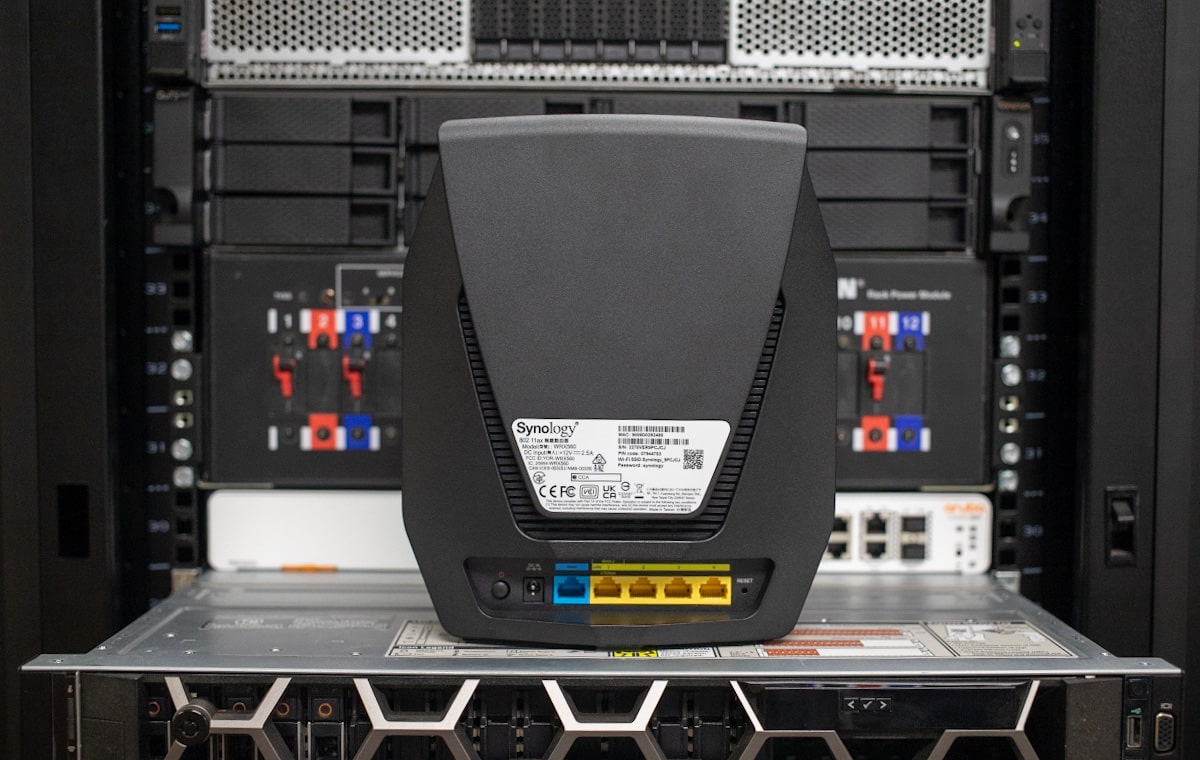 The Synology WRX560 also provides a good deal of intelligence. It includes comprehensive parental controls and internet filtering capabilities through the Safe Access package. This allows parents to set internet use quotas or restrict internet access to certain hours for each device owned by children. Safe Access also includes web filtering to prevent children from accessing inappropriate websites and track usage to provide insight into their online activities. We suppose there may be business applications where the same restrictions may be needed.
The WRX560 is available now with a street price of $220 on Amazon.
Synology WRX560 Specifications
CPU
Quad-core 1.4 GHz
Hardware Acceleration Engine
Layer 4 / Layer 7
Memory
512 MB DDR4
Antenna Type
4×4 MIMO high-performance internal antenna (5 GHz)
2×2 MIMO high-performance internal antenna (2.4 GHz)
LAN Port
2.5GbE (RJ-45) x 1
Gigabit (RJ-45) x 3
WAN Port
Gigabit (RJ-45) x 1
2.5 GbE (RJ-45) x 1 (Dual WAN)
External Ports
USB 3.2 Gen 1 x 1 (5V, 0.9A power output)
IEEE 802.11ax
IEEE 802.11a/b/g/n/ac/ax
2.4GHz: 600Mbps
5GHz: 2400Mbps
Simultaneous dual-band Wi-Fi
Wi-Fi Encryption
WPA/WPA2-Personal, WPA/WPA2-Enterprise, WPA2/WPA3-Personal, WPA3-Personal/Enterprise, Wi-Fi Enhanced Open (OWE)
Button and Switch
WPS, Power, Reset, Wi-Fi On/Off
Size (Height x Width x Depth)
233 mm x 194 mm x 66 mm
Weight
1.35 kg
Temperature
Operating Temperature: 5°C to 40°C (40°F to 104°F)
Storage Temperature: -20°C to 60°C (-5°F to 140°F)
Relative Humidity: 5% to 95% RH
Warranty
2 Years
Notes The warranty period starts from the purchase date as stated on your purchase receipt. Synology will provide software updates until Dec 2027, and extended support may be provided.
WRX560 vs RT6600ac
With the two new models added to the Synology portfolio, it is important to know the differences between the WRX560 and the RT6600ax. Pricing wise the RT6600ac sits at $299 street compared to the $219 street of the WRX560. The added cost gains a few items with the RT6600ac, which may or may not be a huge selling point depending on the intended use case.
Both the WRX560 and RT6600ac include a quad-core CPU, although the WRX560 is clocked at 1.4GHz and the RT6600ax at a higher 1.8GHz. The RT6600ac also gets double the RAM with 1GB compared to just 512MB in the WRX560. The greater RAM and CPU help the RT6600ac handle higher device and user loads.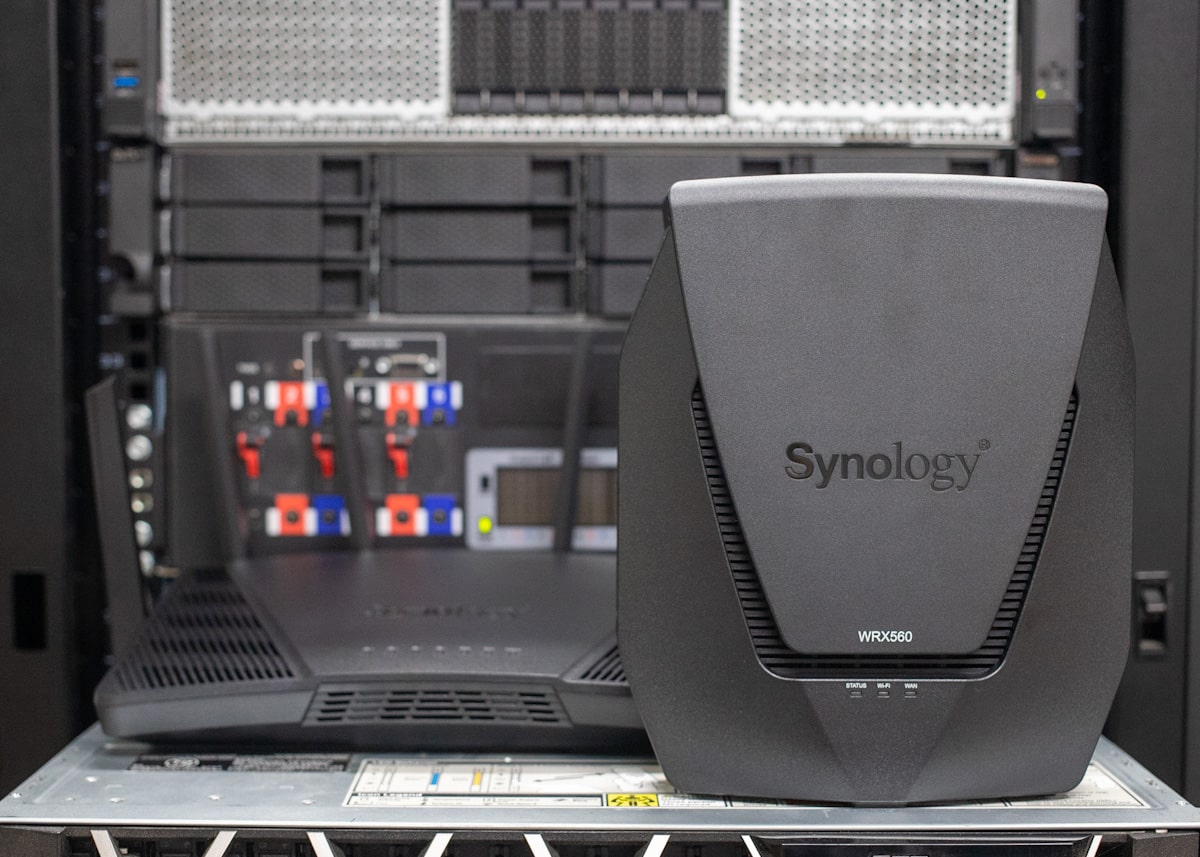 You can run up to 15 Wi-Fi SSIDs and support a maximum of 200 connected devices on the RT6600ac versus 10 SSIDs or 150 devices on the WRX560. There is also a big difference with the antenna design (WRX560 being internal, RT6600ac being external).
There are also differences in port forwarding or triggering rules, with the RT6600ac handling nearly double, from 64 to 96 port forward rules or 32 to 64 port triggering rules. If you need to leverage the VPN server, the RT6600ac supports 40 licenses versus 20 on the WRX560 or 20 versus 10 site-to-site VPN tunnels.
For smaller deployments or users that don't plan on pushing the routers to the breaking point, the WRX560 offers an easier entry point into the Synology Wi-Fi 6 family. You get the 2.5Gb Ethernet port for multi-gig internet access or local NAS on either model.
Usability
The is managed by Synology Router Manager (SRM), a powerful web-based operating system that allows you to easily manage and protect your networks. You can do things like set up smart Wi-Fi and mesh networks, monitor network traffic, configure VLAN, and set up multiple SSIDs. This is a fairly comprehensive OS that is very easy to navigate and find what you need.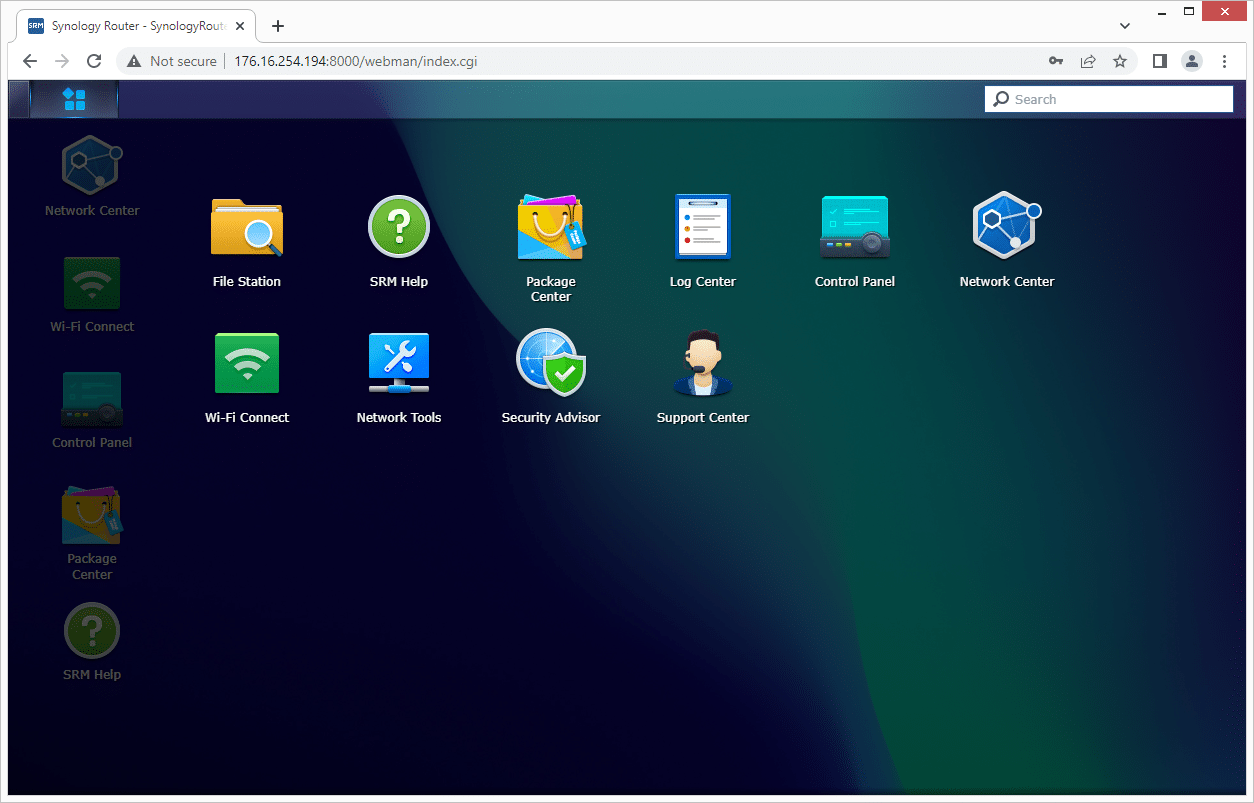 To get SRM up and running,  simply go to either http://router.synology.com or http://192.168.1.1:8000 via a web browser, and follow the installation wizard.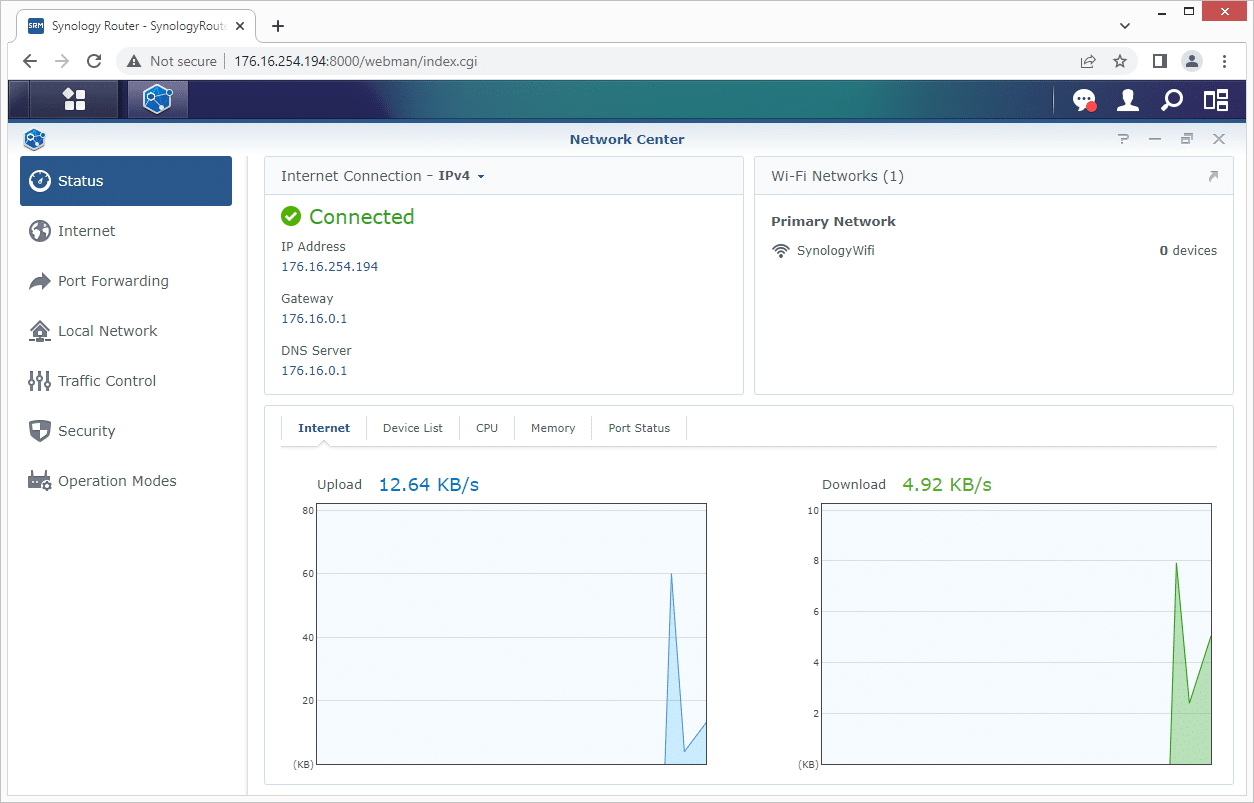 Once you load SRM, you can manage the Synology router via the Network Center.  After loading this, you'll be taken to the main "Status" dashboard, which gives you some useful at-a-glance information. The internet connection pane displays the IP address, gateway, DNS server, and whether or not you have a working connection. To the right, it lists the Wi-Fi networks and how many devices are connected to each one while showing the current internet traffic, device list, CPU/Memory usage, and port status of the router.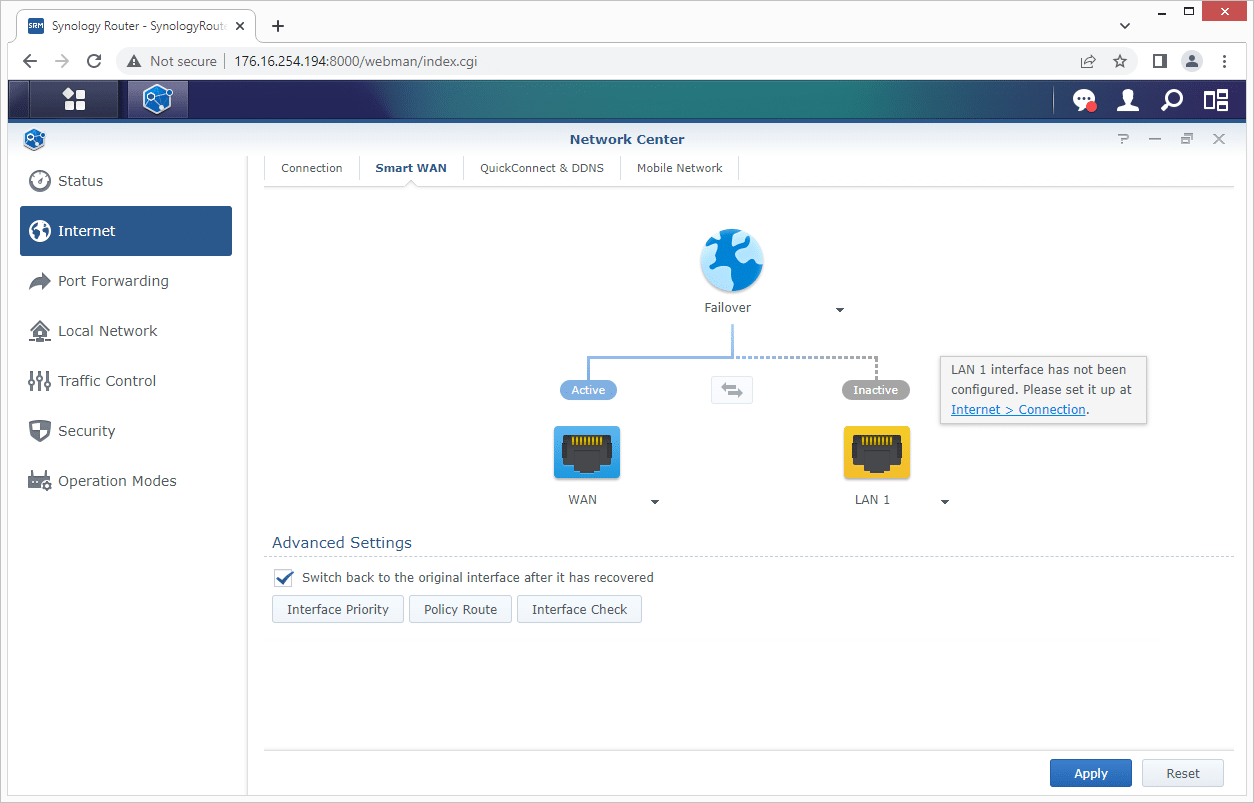 The Internet section is home to the Connection, QuickConnect & DDNS, and Mobile Networks settings. You can also configure network access plans for two defined outward-facing internet interfaces such as PPPoE, WAN, VPN, and mobile networks. You can choose one of the following modes to determine their roles in network connectivity:
Failover: If one of your interfaces goes down, the other will be responsible for all the network connectivity so that the connection will remain online.
Both Load Balancing and Failover: if both interfaces are online and functioning, this will allow you to distribute network traffic to the interfaces to ensure optimal network traffic flow. In addition, if one of the interfaces fails, the failover condition noted above will activate.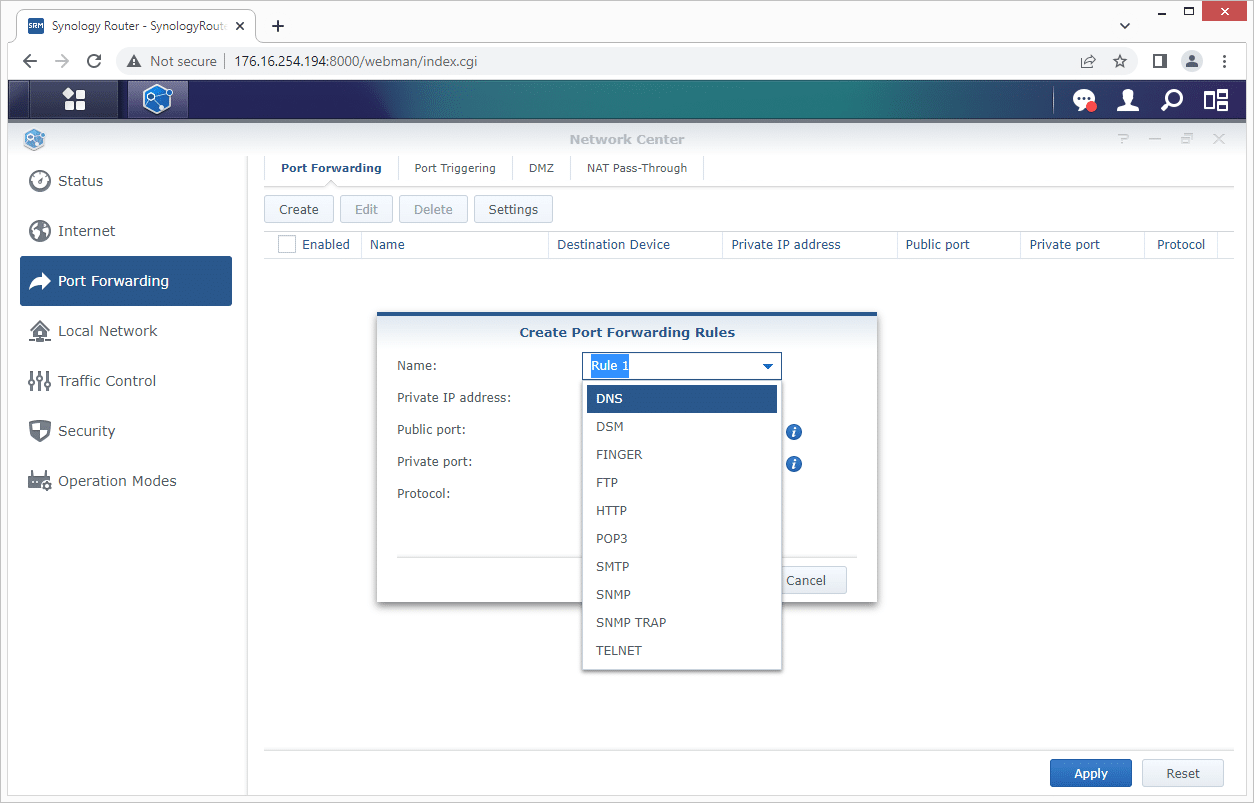 You can set up port forwarding rules in addition to modifying/adding/managing port triggering, DMZ, and NAT pass-through settings.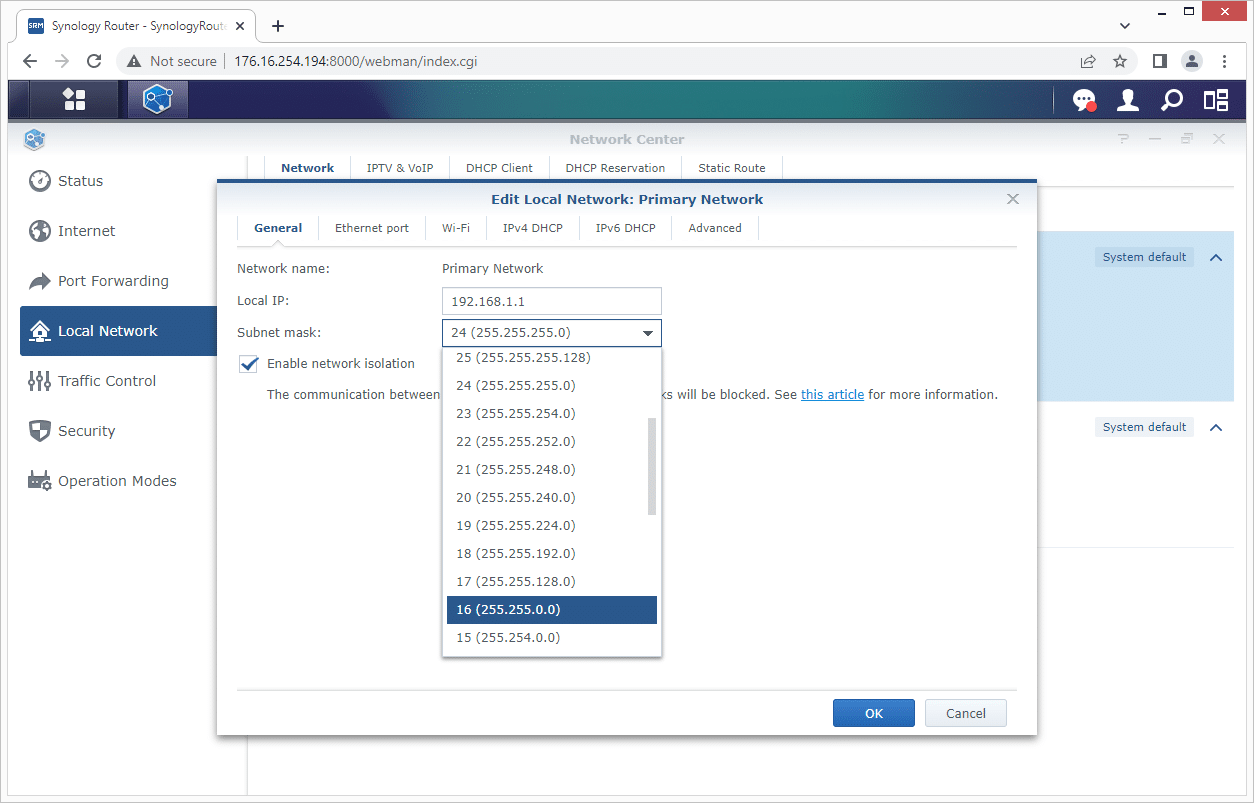 Local Network section allows you to manage your local networks, which can be configured with independent Wi-Fi and a range of LAN settings.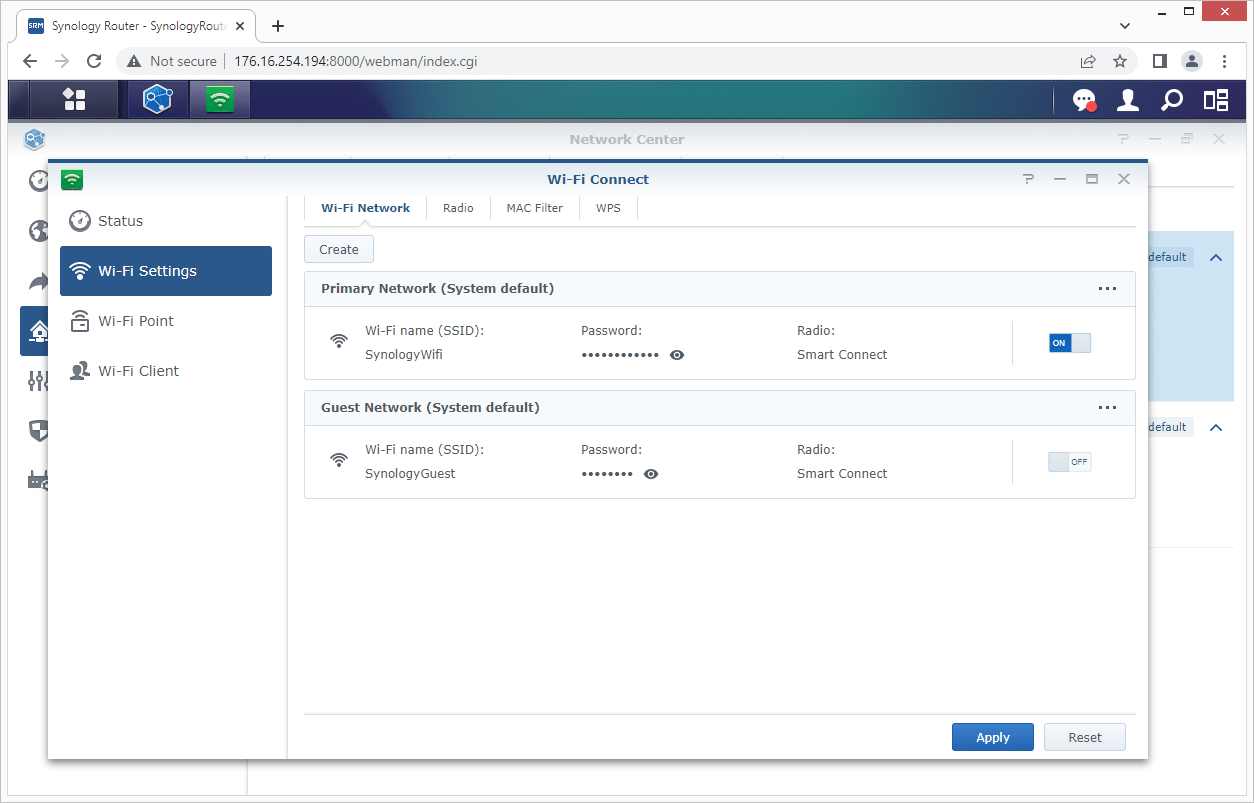 Under the Wi-Fi Connect section, you can create three types of local networks: Primary network, which is the main local network and is the only one whose Ethernet ports can be configured as trunk ports; Guest network, which is wireless-only and allows you to give Internet access to visitors (i.e., restrict them from accessing private networks); and Custom network, which can be assigned both Ethernet ports or Wi-Fi names (SSIDs).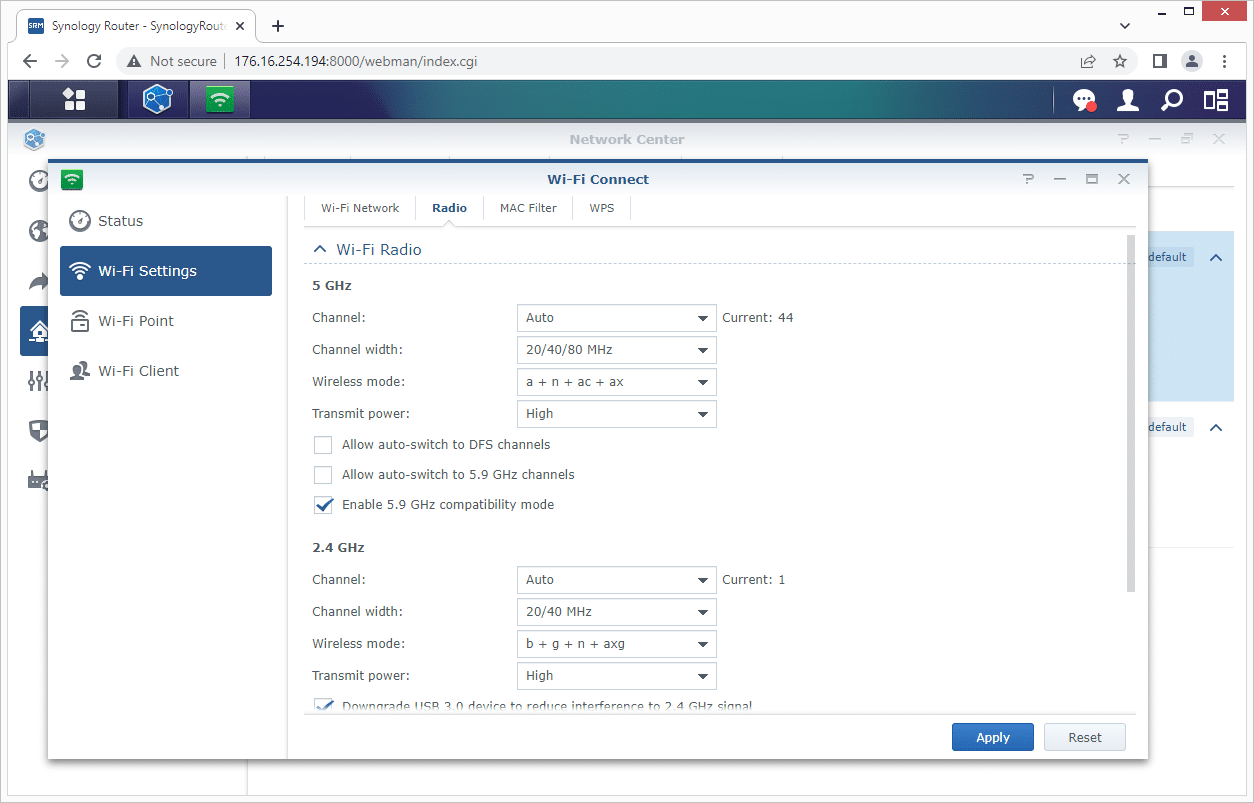 The Wi-Fi Radio section allows you to easily configure the 5Ghz and 2.4GHz wireless settings.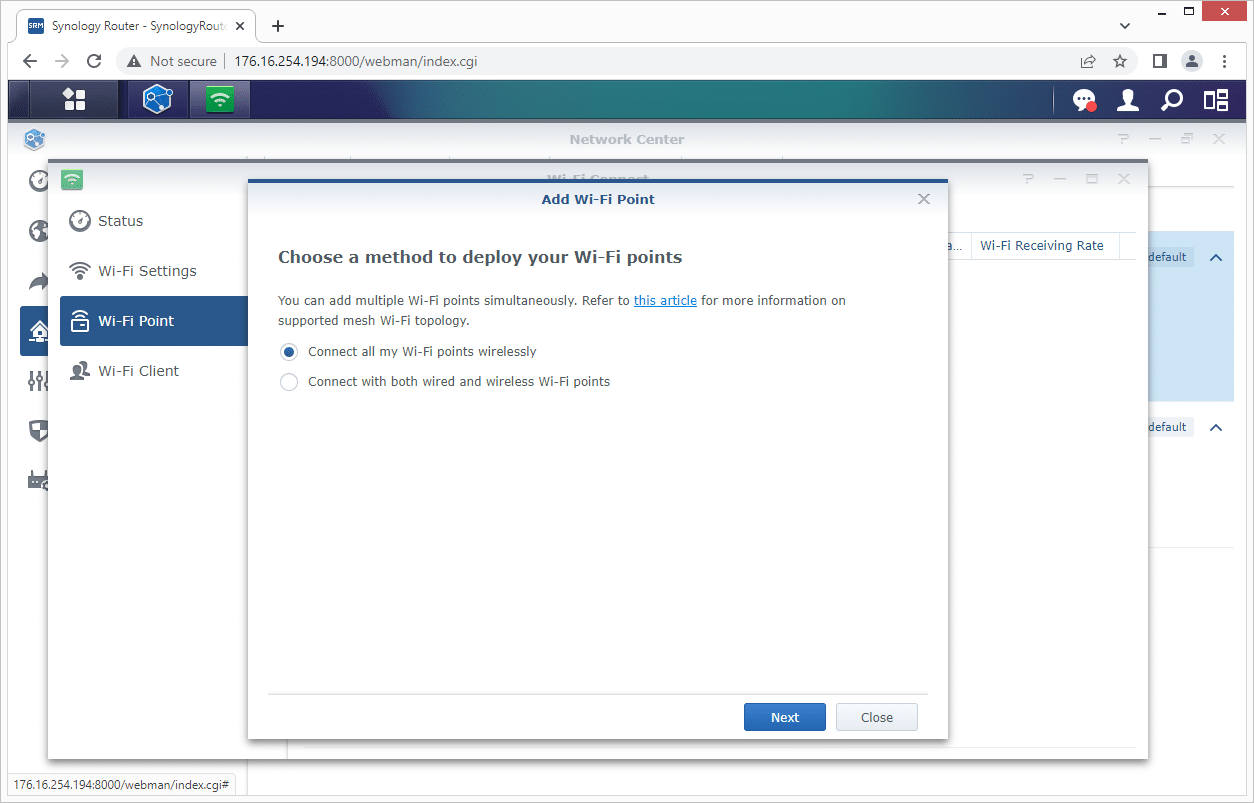 In the Wi-Fi Point section, you can deploy a mesh Wi-Fi system, manage existing Wi-Fi points, and view the current status of your Wi-Fi system.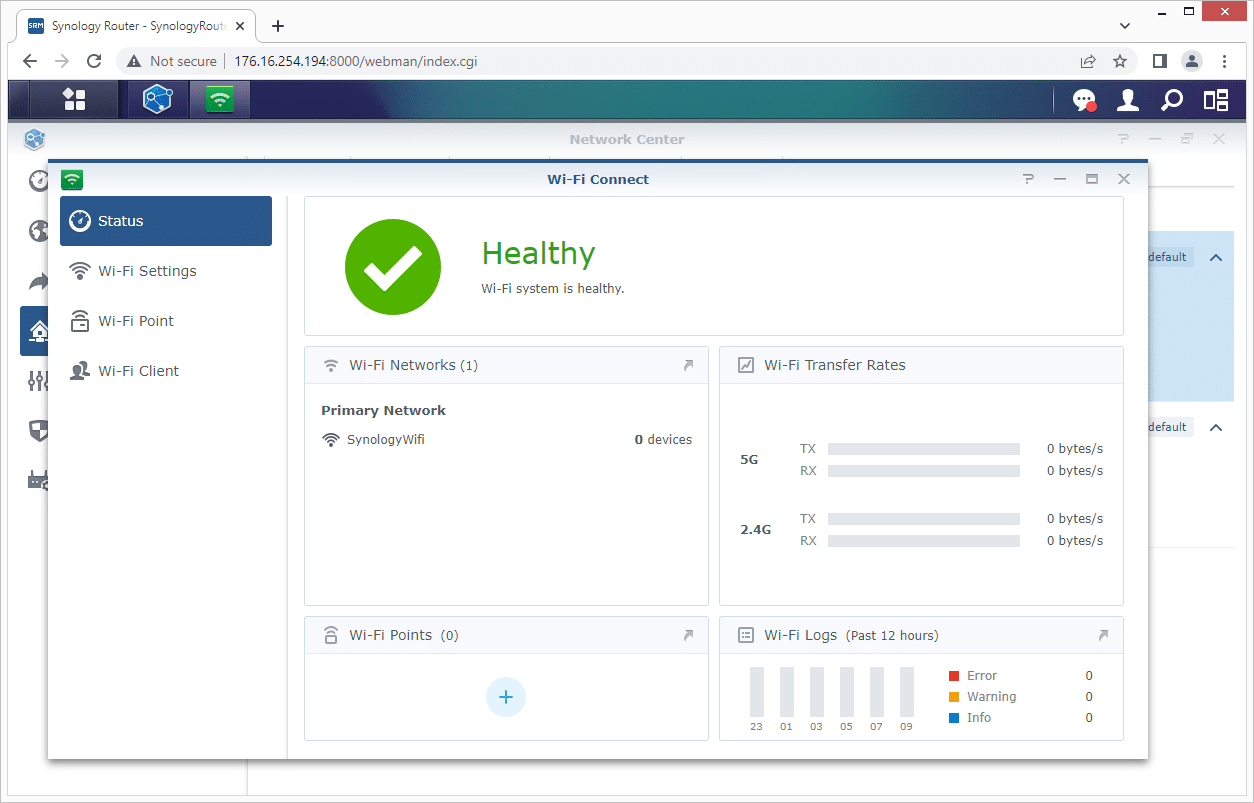 The Status section displays some useful at-a-glance Wi-Fi information, such as a list of networks,  transfer rates, existing Wi-Fi points, and logs, as well as the general health of your Wi-Fi network.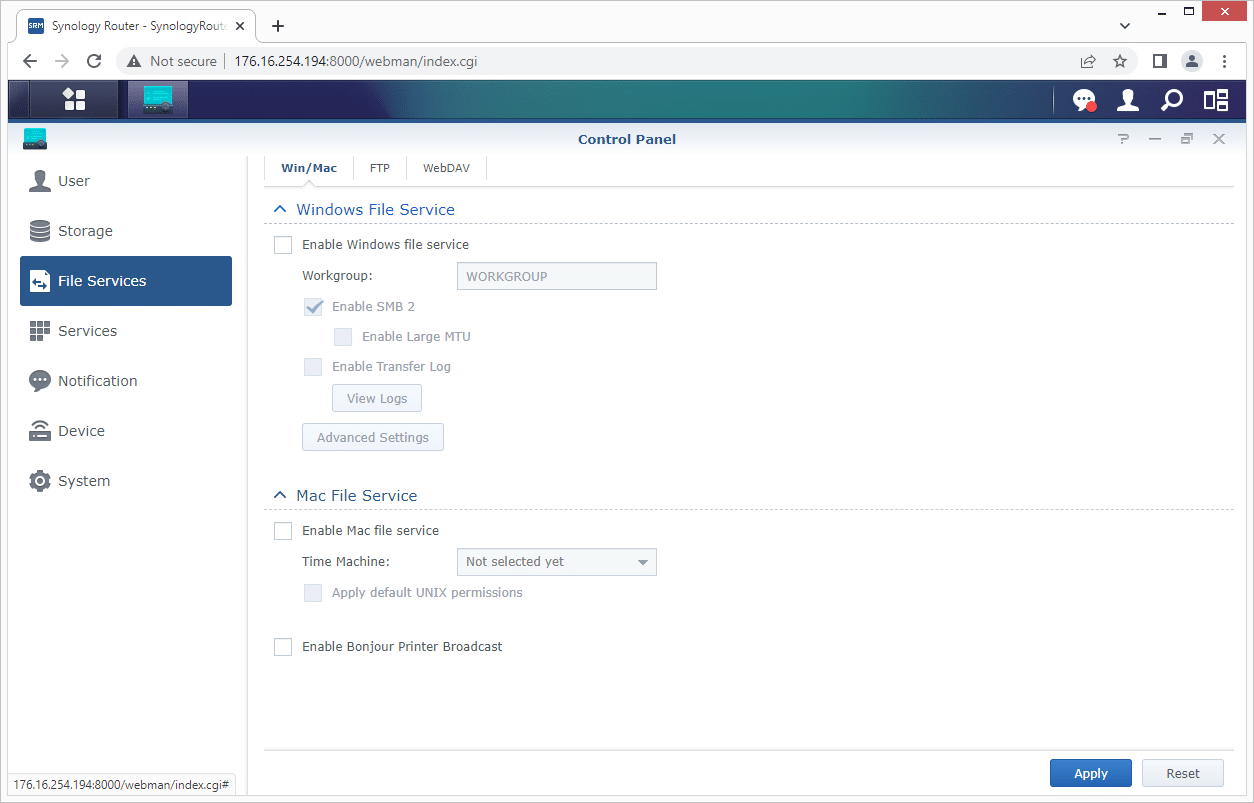 You can modify and enables the Windows and Mac, FTP, and WebDAV file services as well.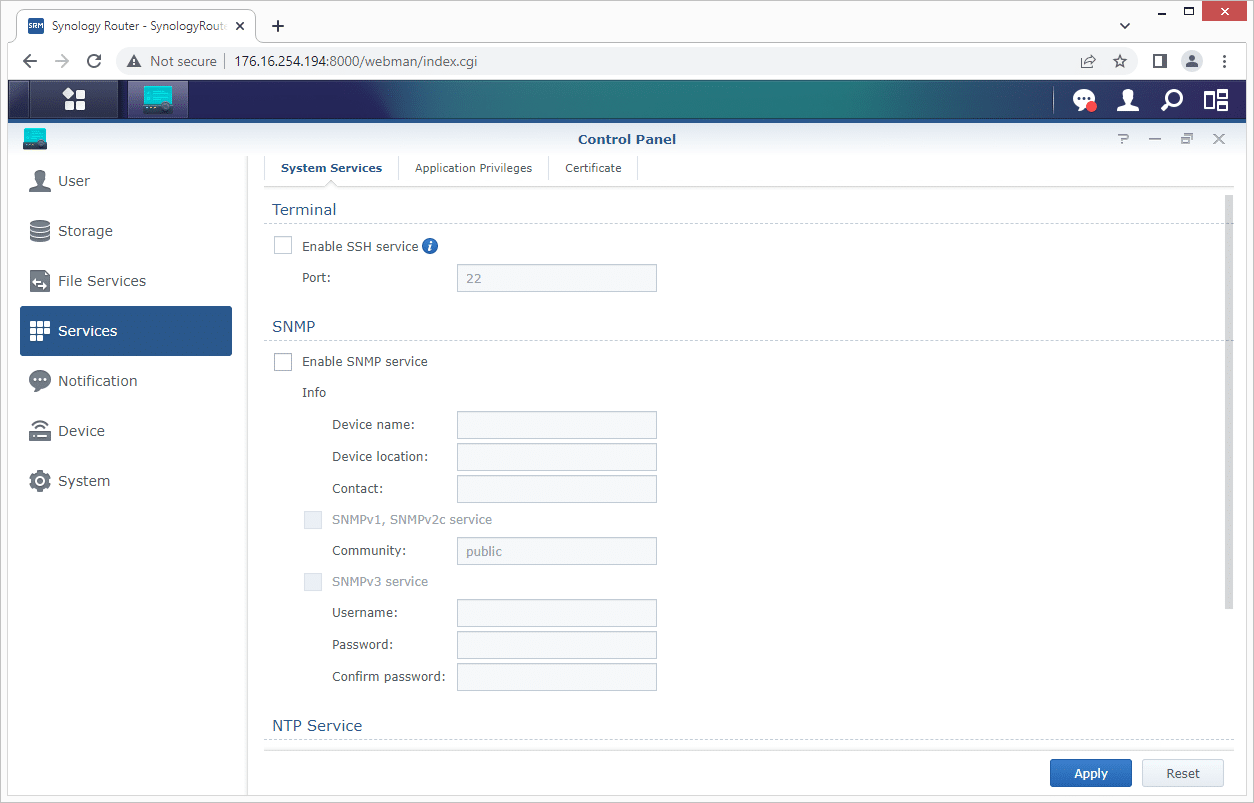 In the Service section, you can enable SSH (Secure Shell), SNMP (Simple Network Management Protocol), and NTP (Network Time Protocol) system services and modify application privileges and certificates.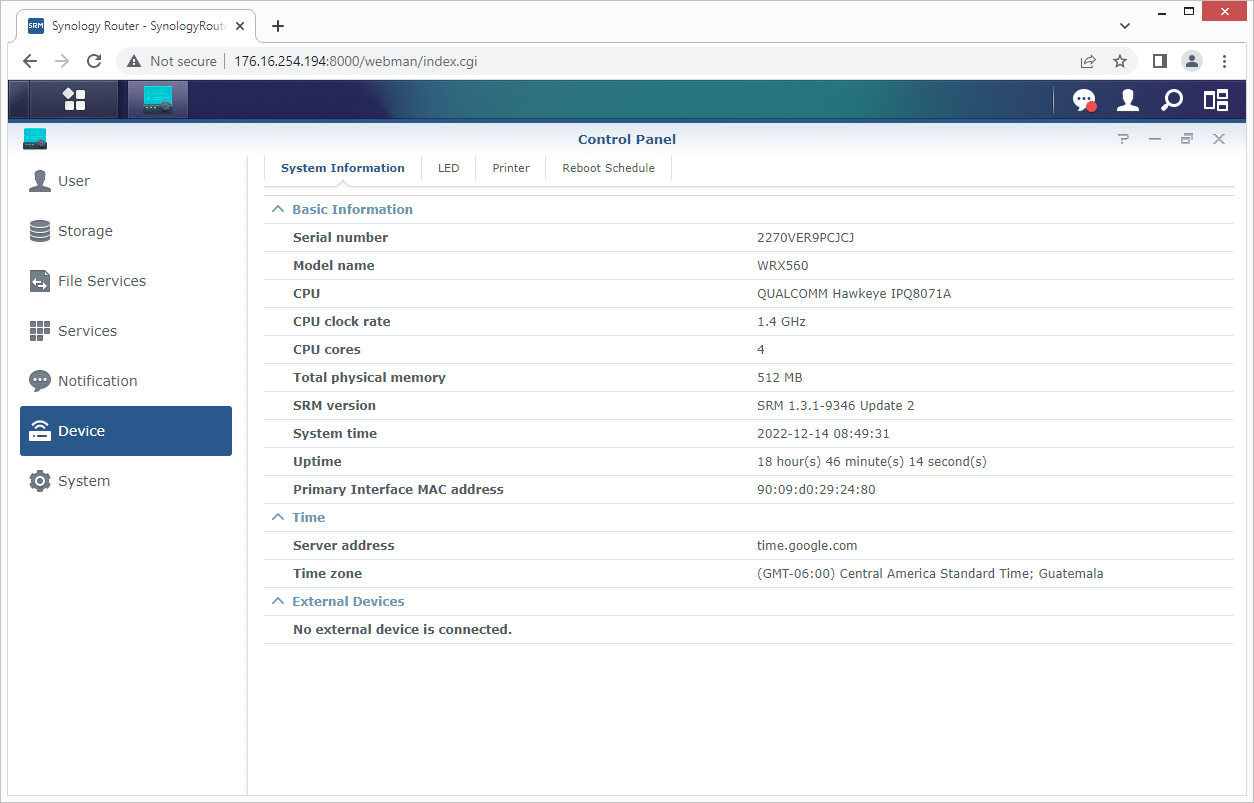 The Device section displays basic specifications of the Synology router (such as the serial number and model name, CPU information, memory,  and total uptime of the device), time information, and if any external devices are connected. You can also change the LED behavior, set up your Synology Router as a print server, and configure a one-time event (or recurring schedule) to reboot the router device.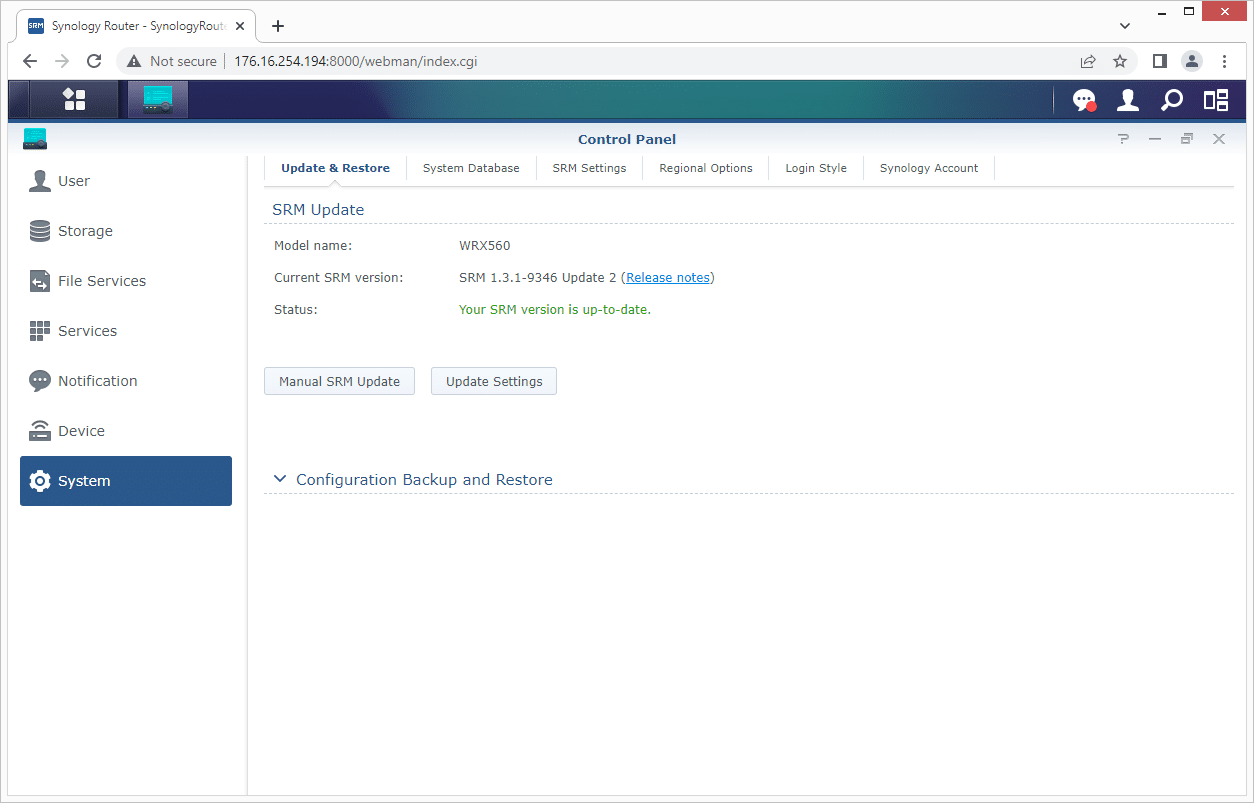 The update and restore, system database, SRM settings, regional options, login style, and Synology account areas are all located in the System section. From a top to bottom look at the Synology SRM ecosystem, the WRX560 maintains the easy look and feel of other prior Synology routers.
Final Thoughts
Overall, the Synology WRX560 is a powerful and feature-rich router that is designed to provide fast and reliable internet connectivity for busy households and small businesses. With its networking capabilities and comprehensive parental controls, the WRX560 is well-equipped to handle almost any home networking challenge.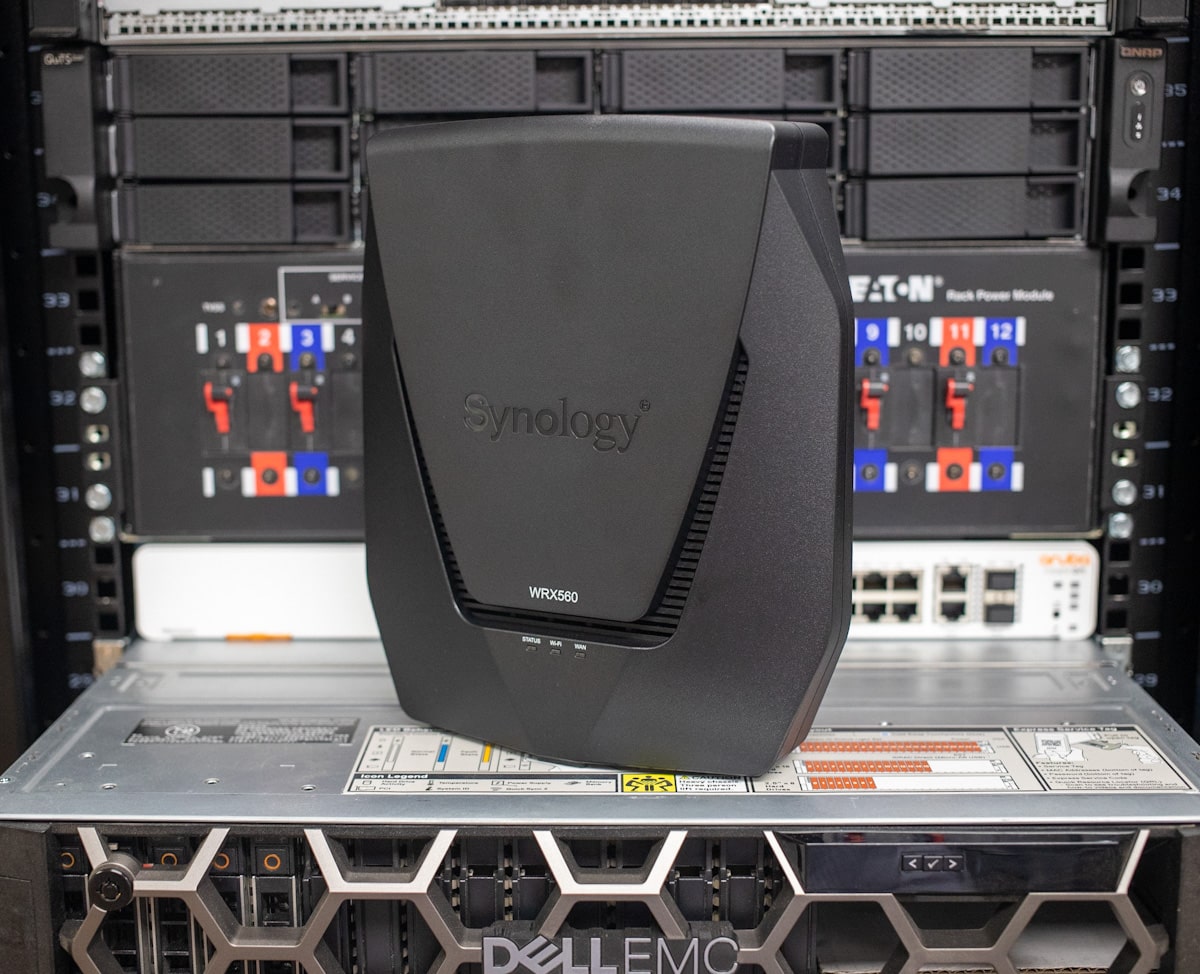 Looking at the hardware, the unit's build is pretty strong, and having the antennas internal makes it a little more hardened potentially. But the decision to include only one 2.5GbE port at this point in time is a significant miss. If you have a high-speed internet connection, you'll want that port for inbound internet. It's also reasonable to assume that if you're paying that much for premium internet that you may have other devices like a NAS that can make use of another 2.5 GbE port.
On the software front, Synology continues to impress with its SRM OS across its networking line. It offers a simple, yet feature-rich experience, that is powerful enough to tackle the needs of power users. The WRX560 aims to fit in just below the bigger RT6600ac brother, with a smaller hit on the wallet with an MSRP of $219 compared to the $299 of its bigger sibling.
Engage with StorageReview
Newsletter | YouTube | Podcast iTunes/Spotify | Instagram | Twitter | TikTok | RSS Feed