86% Faster To Deploy VMware Cloud Foundation Than Do-It-Yourself Model
VMware Cloud Foundation on Dell EMC VxRail (Dell Technologies APEX Hybrid Cloud) provides a simplified and streamlined path to hybrid cloud deployment. Not only can the solution be operational on-site within 14 days[1], but the path to getting VMware Cloud Foundation operational on VxRail is also much faster than attempting to build from bare metal. In fact, during our evaluation, we found VCF on VxRail to be 86% faster to deploy than the do-it-yourself model.
The benefits of VCF on VxRail are ongoing, however, when looking at lifecycle updates (hardware and software). VCF continues to show tremendous value, being 15% faster, with fewer steps. Ultimately the VCF on VxRail solution is easier than DIY to deploy and manage with hundreds of tasks being automated. In this paper, we detail the setup and configuration of VCF in these two modalities and highlight the engineering benefits of the Dell Technologies APEX Hybrid Cloud.
Introduction
Within the Dell Technologies enterprise portfolio resides the company's leading solution for the modern software-defined data center (SDDC). Dell EMC VxRail is an integrated hyperconverged infrastructure (HCI) appliance jointly engineered by Dell Technologies and VMware. While VMware offers HCI software via partners that sell vSAN ReadyNodes™ (which Dell EMC also offers), VxRail takes HCI further. With VxRail, customers receive a fully integrated, pre-configured, and pre-tested system that delivers virtualization, compute, and storage all in one appliance. The fact that all elements (including VMware software and Dell EMC PowerEdge hardware and networking) come in a single unit gives customers a smoother path to the deployment of VMware HCI.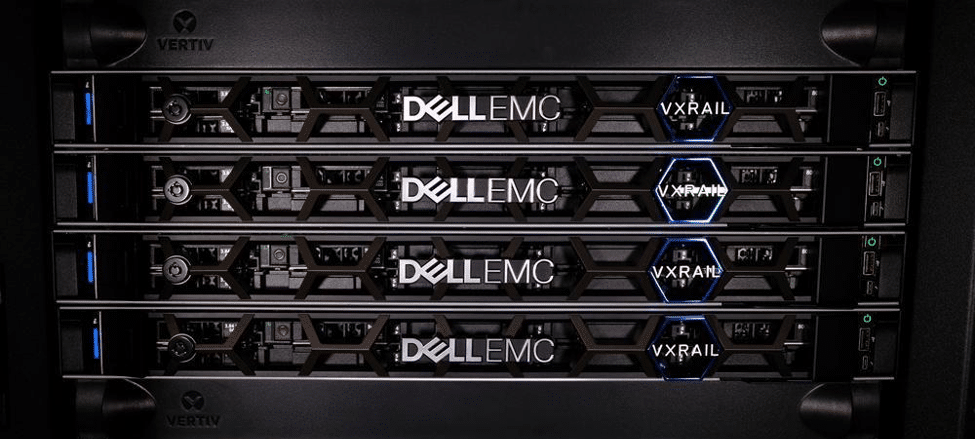 However, Dell Technologies doesn't stop there with VxRail. For customers that want to embrace a hybrid-cloud vision, leverage containers for modern applications, or deploy a true software-defined data center (SDDC), they can deploy VMware Cloud Foundation (VCF) on Dell EMC VxRail. VxRail is the first hyperconverged infrastructure system fully integrated with VMware Cloud Foundation (VCF) SDDC Manager[2], offering a set of fully integrated software components from VMware, including vSphere, vRealize, NSX, vSAN, and SDDC Manager.
Integrating VCF with VxRail gives customers a unified platform that is one complete, automated experience across the entire hardware and software stack. Through this tight integration, customers will see a smooth, rapid deployment, and a simplified management experience while benefiting from infrastructure agility that can accelerate their organization's ability to deliver applications. Furthermore, because of the deep integration between hardware and software, VxRail also offers crucial operational benefits when it comes to lifecycle management.
While getting a VxRail cluster online quickly has an immediate benefit in terms of business impact, the ongoing operational benefits offer the most impressive results. These range from the obvious, like no more searching for the latest supported drivers for elements like network cards, SSDs, and other installed components, to searching for software patches/updates from VMware. But there is also the fact that Dell Technologies includes new VMware features within 30 days to VxRail and Dell Technologies serves as a single point of contact for all support issues.
Bringing new features to customers quickly is also a tremendous benefit. For example, in mid-2020, VMware released several updates around their Tanzu software which enables customers to run Kubernetes from a single control plane. For VxRail customers embracing modern application delivery, VCF on VxRail offers a turnkey process to bring Tanzu online. Operationally, this provides customers with a consistent way to deploy and manage traditional VMs alongside containers.
Given the breadth of VMware SDDC technologies and adoption across the enterprise, customers have two distinct options when it comes to deployment. As such, we sought out to compare the benefits of VCF on VxRail compared to the alternative of "Do-It-Yourself." We started by deploying VCF on VxRail, working through the process of deploying hosts, cloud builder, and ultimately the lifecycle updates for hardware and software.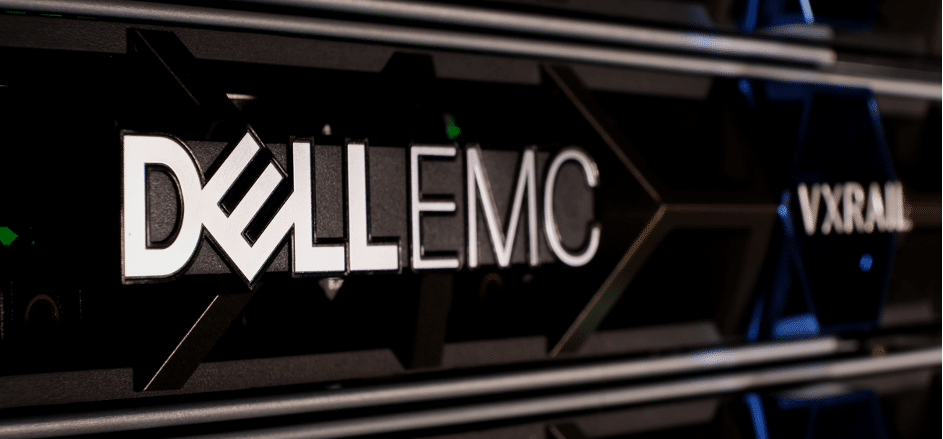 Upon completion, we re-purposed the same exact hardware back to vanilla PowerEdge servers, installing the individual components as an organization would if they were deploying vSphere, vSAN, NSX, and vRealize components. For the lifecycle management phase, we manually performed the upgrade from VVD 5.1.1 to 5.1.2.
The table below highlights these three definable segments, though it should be noted that the lifecycle actions will be a perpetual task that organizations will engage with on a regular basis.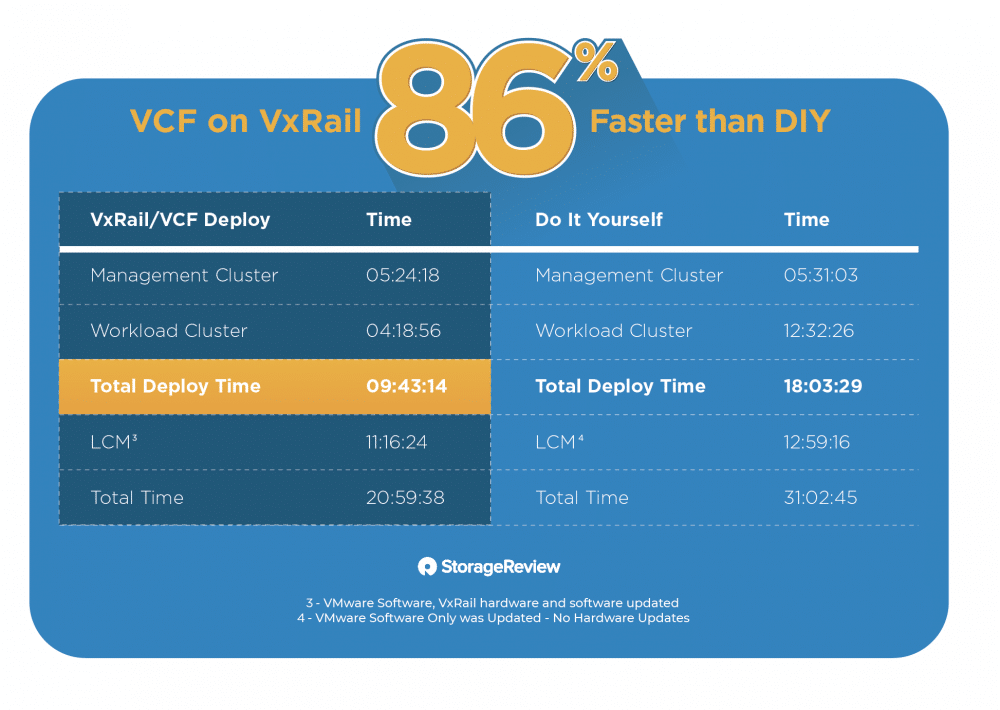 While we see immediate deployment benefits (meaning customers will be online and delivering more quickly with VxRail), the ongoing lifecycle management benefits will save time and allow the business to focus efforts elsewhere during the entire lifecycle of the cluster.
While these are the high-level comparison numbers, the following report discusses these results in great detail with the technical processes and time to complete each step. While the cumulative time-lapse results tell the story, the detail of the process and the accompanying task list provide clarity into the differences between procuring an engineered appliance in VxRail from Dell EMC versus standard x86 bare-metal servers.
Lastly, accounting for the VxRail benefits neglects to take into account the time from order to delivery. Dell Technologies offers several fixed configurations from the factory that can be on-site and fully deployed within two weeks.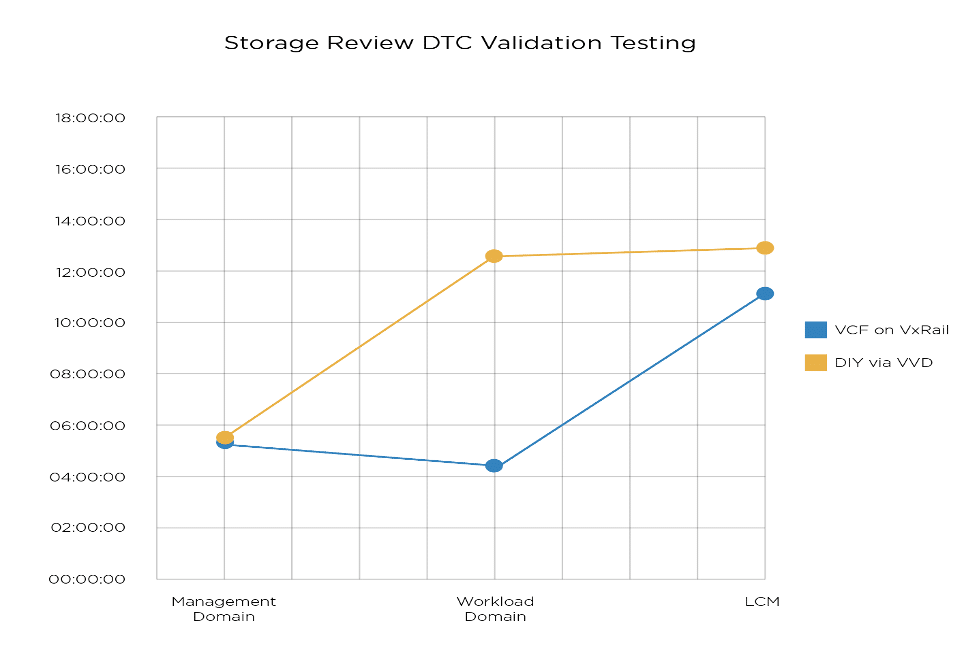 Technical Overview
The primary focus was to quantify the value delivered by the jointly engineered turnkey solution with VCF on VxRail compared to building out piece by piece in the DIY approach using the Vmware Validated Design.  The testing was split into three parts: buildout of the Management domain, Workload domain, and LCM. By doing this, we were able to gather like-for-like time to complete findings on both solution methods.
For testing purposes, we utilized an eight-node cluster; four nodes were configured for the management domain, and four nodes for the workload domain.
Servers – 8 Dell EMC PowerEdge R640
Memory – 576GB Ram
Networking – 2 x Mellanox25GbE 2P ConnectX4LX
Storage – 4 x 3.84TB SSDs Total capacity 15.4TB
Storage Controller – Dell EMC HBA330 Mini
All tests were conducted by starting with all hosts in a powered-down state. Both Dell Technologies and VMware installation and configuration documentation were followed.
VMware Software Versions
VMware Cloud Foundation – Initial build 3.9.0 -Upgrade 3.10
VMware Validated Design Initial build 5.1.1 – Upgrade 5.1.2
Dell Technologies APEX Hybrid Cloud Deployment Findings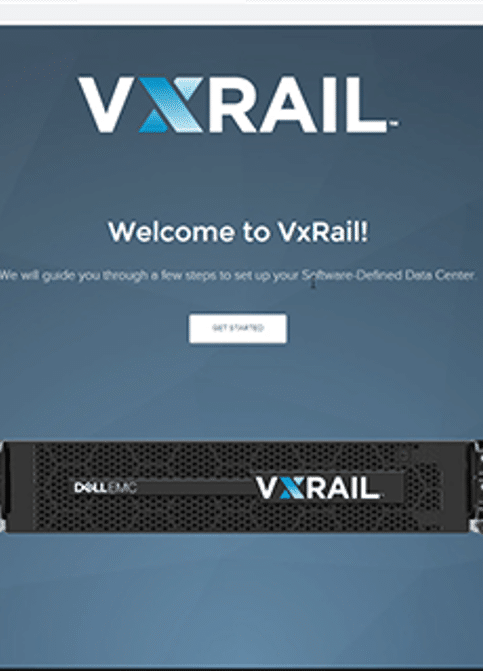 Dell Technologies has streamlined the initial buildout process with pre-installed software from the factory. In under two hours (01:54:44), we had our four management nodes powered on, ESXi installed and configured with Jumbo Frames, clustered and the Cloud Builder Appliance deployed, and were ready to initialize VMware Cloud Foundation deployment.
During the installation and configuration of VCF on VxRail, the process is guided mostly by wizards, entering in the crucial information that gets pulled into a JSON file for the appliance to use for configuring specifics from networking to hostnames and IPs on the various virtual machines. This approach is like the DIY using the VMware Validated Design method described later in the report. You fill out an environment workbook that gets ingested in the wizard. You will still have to verify the information pulled in and enter passwords. We found this experience easy to use and allowed for quick verification of information prior to the buildout.
Unlike the DIY build, with VCF on VxRail, you configure only the hosts you need for the management cluster first. When you deploy your workload domain, you then configure the workload domain hosts in the same manner as the management domain. We also want to note that during the deployment of the workload domain, NSX-T is automated using VCF on VxRail, whereas it is a manual install in the DIY deployment. VMware Cloud Foundation runs through a series of scripts that install and configure the networking environment. These include NSX-T manager, two additional manger nodes, importing CA-signed certificates, connecting to vCenter, creating transport zones, uplink profiles, network I/O control profiles, NSX segments for system, uplink, overlay traffic, Transport node profile, ESXi host transport node, removing ESXi hosts from vSphere distributed Switch, and configuring dynamic routing.
From a powered-off state to both the management and one-workload domain configured and running, the elapsed time was 09:43:29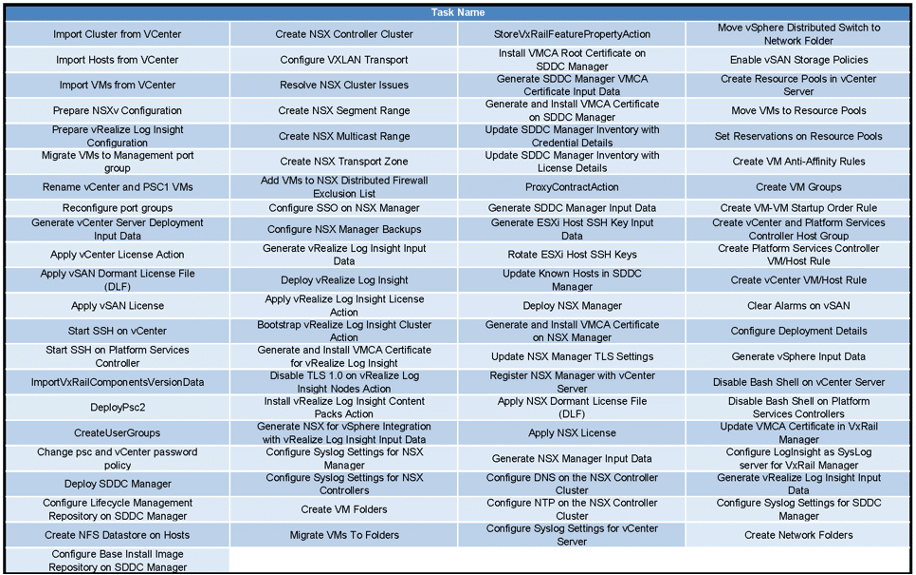 As you can see in the graphic above, there are 85 tasks that are automated during the buildout of the Management Domain using VCF on VxRail. Some examples of the automated tasks are importing the hosts into vCenter and installing and configuring NSX-V and vRealize Log Insight.
There were a total of 328 automated tasks in total during the VCF on VxRail deployment of both the management and workload domains.  Compared to the DIY approach you would have to perform 338 tasks manually. We would also like to mention that these initial tasks on the VxRail systems are not performed by end-users, Dell Technologies Professional Services executes the deployment.
DIY using VMware Validated Design Deployment Findings
For the purpose of testing the two environments, we followed the VMware Validated Design 5.1.1 Blueprint and deployed our SDDC environment using the Cloud Builder Appliance. This allowed us to provide the best comparison between the two environments' build-out options of either rolling your own DIY or VxRail system.
When you are taking the DIY approach, there are considerably more steps that need to be taken, starting with checking that the hardware components are compatible with the VMware version you are deploying. You must install ESXi on each host and configure networking, NTP, and SSH manually versus the Dell EMC VxRail systems that are delivered with ESXI and HCI System Software preinstalled.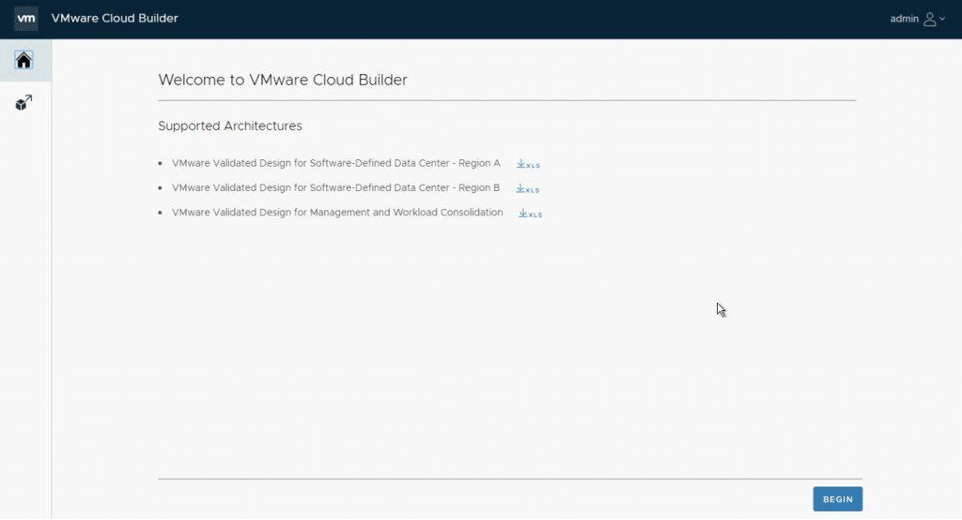 We found that the DIY approach was 86% slower when deploying both the management and workload clusters.  Please note that this time would increase if you were not utilizing the Cloud Builder Appliance and had to manually install and configure VMware ESXi, vRealize Operations Management, vRealize Life Cycle Manager, NSX-V, and NSX-T. The elapsed time for deployment on the DIY environment was 18:03:28.
Using the Cloud Builder Appliance allowed for the automation of 218 tasks to configure the management cluster and another 74 tasks to configure the compute cluster. One major difference when going the DIY route is by using NSX-T, you have to configure that manually, whereas with VCF on VxRail, NSX-T is configured for you. The graphic below shows a list of tasks completed by Cloud Builder. These steps would normally be configured manually when utilizing the DIY method.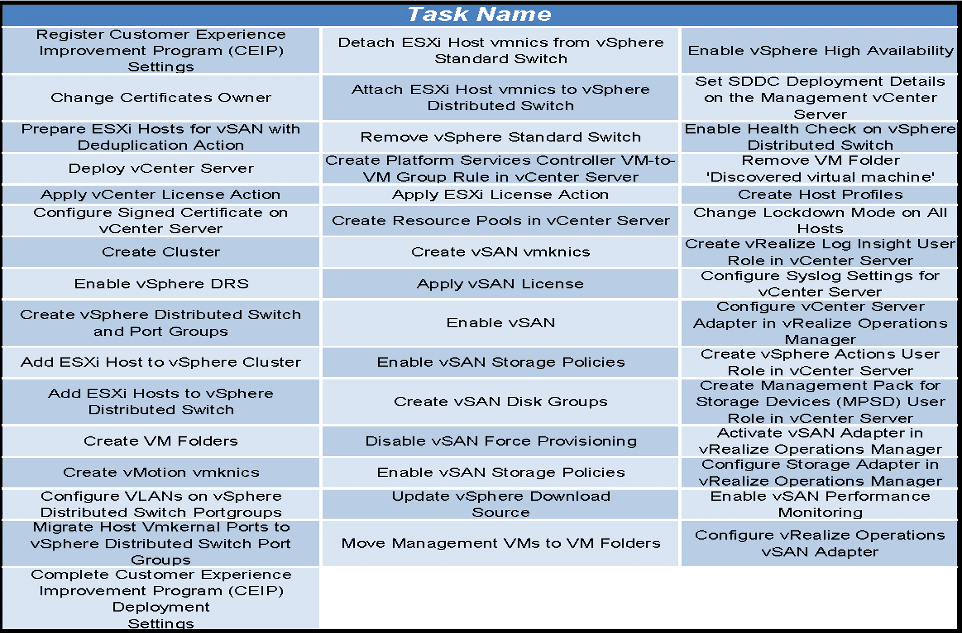 LifeCycle Management Summary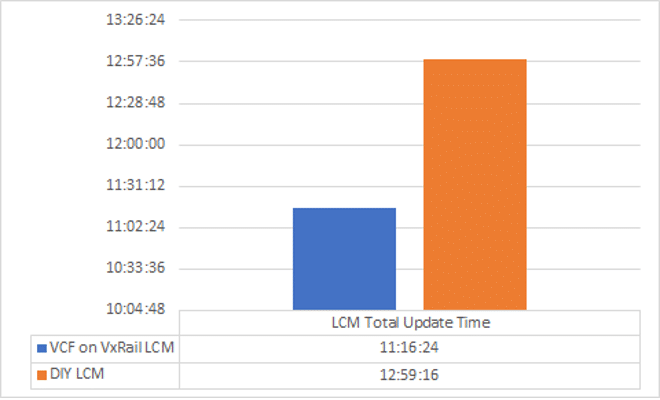 We found that by using VCF on VxRail you are able to perform updates 15% Faster than the DIY build and have to perform the upgrades on each component individually. Also, note that this percentage would actually be higher had the DIY hardware needed to be updated. VCF on VxRail performed updates that were optimized not only for VMware but the underlying Dell Technologies hardware as well. The joint engineering was definitely showcased during this testing and we could see how this collaboration helps end-users with Day 2 operations.
For the purpose of this testing cycle, we wanted to simulate a working environment. In order to do this, we deployed HCI Bench with 16 virtual machines running. These virtual machines were powered on and running load tests throughout the entire upgrade process. This included both the management and workload domains.
One of the primary benefits of using VMware Cloud Foundation is the joint engineered LCM approach that takes the tedious guesswork and legwork out of performing upgrades. The ease of use of the patch repository lets admins find the update they are looking for and apply it with minimal hassle. A one-click approach might be overlooked in today's IT world, but the alternative is manually researching your own hardware against hardware compatibility lists (HCL), comparing needed drivers against a range of compatible firmware, and then staging each system on your own. If you have unmatched servers across multiple clusters, the time required can snowball extensively.
VxRail does this check for you in a matter of seconds and rolls out the upgrades (if you so choose) automatically. This is the hours of time saved at each update or upgrade that VxRail can be unattended. Dell Technologies engineering integrates VxRail upgrades directly into this repository, which has an added benefit we dive into below. This integrated upgrade approach helps IT administrators save a significant amount of time compared to the do-it-yourself approach.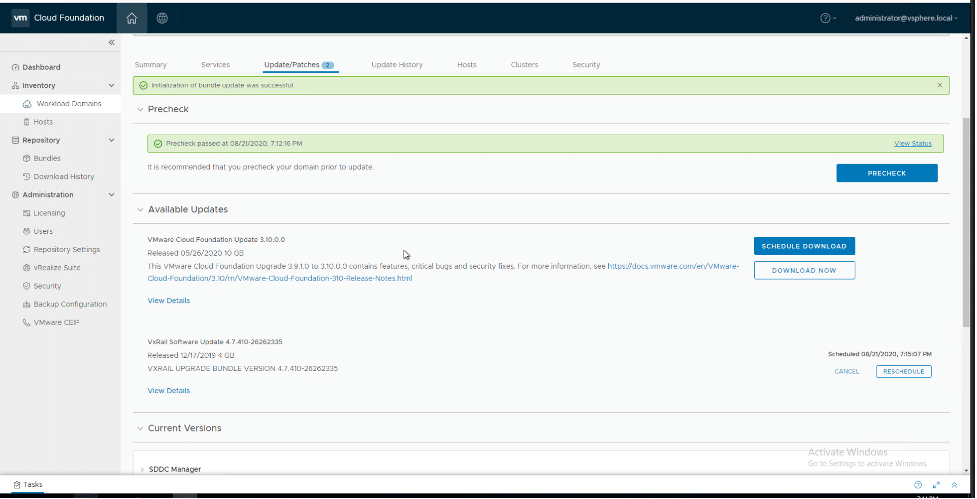 With VxRail, it's hard to really describe just how much time and work you save during each update and upgrade cycle compared to having to do the legwork on your own. What takes hours of cross-checking your own hardware against HCLs, confirming your device firmware is compatible with required drivers, and then carefully staging the rollout, VxRail handles completely on its own. There is a massive benefit to Dell Technologies being able to leverage its extensive engineering resources when it comes to firmware upgrade paths. The age-old mentality when you approach upgrades on your own is if something works, don't fix it.
The same can be said about firmware, where if upgraded drivers work with a compatibility range supporting the firmware currently on the device, don't upgrade unless you need to. So in many instances, IT administrators will go through an upgrade process, see firmware is compatible with the new drivers, and not upgrade. The VxRail solution, backed by Dell Technologies engineering resources, will further check against known issues or improvements that the end-user may not be aware of, and upgrade firmware to an even later release, providing a more fine-tuned solution that a DIY approach may miss out on. During our testing, we did not need to upgrade the firmware on the hardware with the DIY LCM process, this was different from the VxRail system LCM process.
While it wouldn't be impossible to try to match what VxRail is doing, it would require an even further research phase during each update cycle, checking not only driver and firmware compatibility, but also testing possible firmware upgrade paths for stability before going in that direction. For many IT administrators and businesses, though, many don't have the time or money to commit to that process when HCLs show existing firmware revisions as compatible. VxRail, on the other hand, has already done the legwork for the customer and rolled it into the one-click approach.
Another added benefit built into VMware Cloud Foundation is that upgrades are only displayed as available to install if the environment has met the compatible revisions check against the current version installed. Meaning if you wanted to go to VMware Cloud Foundation 3.10.1 but are on version 3.9.0, you will only see the updates ready to install that will lead you to 3.10.1. This also applies to the Dell Technologies integration with VxRail; you will not see VxRail updates ready to install until VMware Cloud Foundation has been updated to the version that the VxRail upgrade bundle supports.
VCF on VxRail also includes a valuable precheck function before updating. This checks your environment prior to upgrading to ensure that the systems are ready for an upgrade.
VMware Cloud Foundation on VxRail Lifecycle Management Findings
When performing upgrades with VCF on VxRail, VMware SDDC Manager is your central source to upgrade the full-stack. Dell Technologies has jointly engineered with VMware, upgrading the VxRail hardware from within SDDC manager. Dell Technologies uses a synchronous release schedule aligned with VMware updates. This means you only have to visit one place to find and install the available updates. Another great feature is installing in order. Often you have to be on a certain revision before being able to update. Upgrading through SDDC manager only shows you the current version that you can install based on software versions; once that is met you can proceed to upgrade.
Compatibility and environment readiness for the upgrade is also done. The ability to run a pre-check on the environment beforehand makes worrying about upgrading a thing of the past. This also saves a ton of time from having to manually check compatibility on the full-stack. The amount of engineering time spent and the optimized integrations between the Dell EMC VxRail systems and VMware are great benefits for organizations. That time savings for organizations could not be quantified during this testing cycle.
As seen in the graphic in the intro above, We saw a 15% time savings using Dell EMC VxRail over our DIY approach using the VMware Validated Design (VVD). We also need to state that this percentage represents that the VVD LCM did not need any hardware updates. The VxRail deployment not only beat the VVD LCM Update, it did so by upgrading the hardware firmware that has been engineered for optimal performance and stability. On the other hand, the VVD LCM only checks for compatible firmware and has not been optimized for best performance or stability.
The VCF on VxRail upgrade process of both the VMware SDDC stack and the VxRail hardware firmware took an elapsed time of 11:16:24 to complete for both the management and workload domain that was deployed for testing.
DIY using VMware Validated Design Life Cycle Management Findings
The procedure to update the VMware Validated Design deployed solution is not as easy as checking for updates and patches like the VCF on VxRail Solution. Here you have to manually check software revisions of each VMware SDDC component installed, then check the hardware of each host to ensure it is compatible with the versions you are upgrading to. For this testing, we did not have to upgrade any hardware firmware as it was all compatible with the versions of VMware software we were upgrading to.
A crucial step when upgrading software is to make sure the underlying hardware is compatible with the newer version of VMware SDDC components. Once we verified and downloaded the upgrade bits, we then checked each host for compatibility. This was a manual process consisting of logging into the iDRAC of all 8 hosts and checking the firmware revisions on each of the installed drives, storage controllers, and network interface card adapters. Once we had our list, we then had to proceed to the VMware Hardware Compatibility List site and manually search and verify each of the components.
To perform the actual upgrade of the VMware SDDC Components to go from VVD 5.1.1 to 5.1.2, the following software components are upgraded:
Platform Service Controller appliances
vCenter Server appliances
vSphere Update Manager Download Service
ESXi hosts
The updating of both the management and workload clusters took an elapsed time of 12:59:16 to complete. Only VMware Software components were updated during the DIY LCM testing.
This report is sponsored by Dell Technologies. All views and opinions expressed in this report are based on our unbiased view of the product(s) under consideration.
[1] Applies to select preconfigured solutions, contact your sales representative for details. Excludes orders over 1000 instances, hybrid storage, select vRealize (vRA, vRO) components, and some other features. Customer credit approval, site survey, and configuration workbook must be completed before the order is placed. Product availability, shipping, holidays, and other factors may impact deployment time. Deployment includes delivery, standardized installation, and hardware and software configuration. US, United Kingdom, France, and Germany only.
[2] Based on Dell Technologies internal analysis, November 2019