The TYAN Transport SX TS70AB8056 is a 24-bay NVMe 2U1S server platform that combines the benefits of high-speed processing and efficient storage solutions. Housed in a TS70A 2U Rackmount chassis, the system blends compactness with significant processing power, and it is ideal for businesses that require robust data processing and storage and works well as a cost-effective solution for cloud storage applications.
The TYAN Transport SX-TS70AB8056 is a 24-bay NVMe 2U1S server platform that combines the benefits of high-speed processing and efficient storage solutions. Housed in a TS70A 2U Rackmount chassis, the system blends compactness with significant processing power, and it is ideal for businesses that require robust data processing and storage and works well as a cost-effective solution for cloud storage applications.
This system also provides a means to scale resources efficiently while maintaining a balance between performance, power consumption, and cost. TYAN also offers the TS70A-B8056 in a twenty-six-bay version.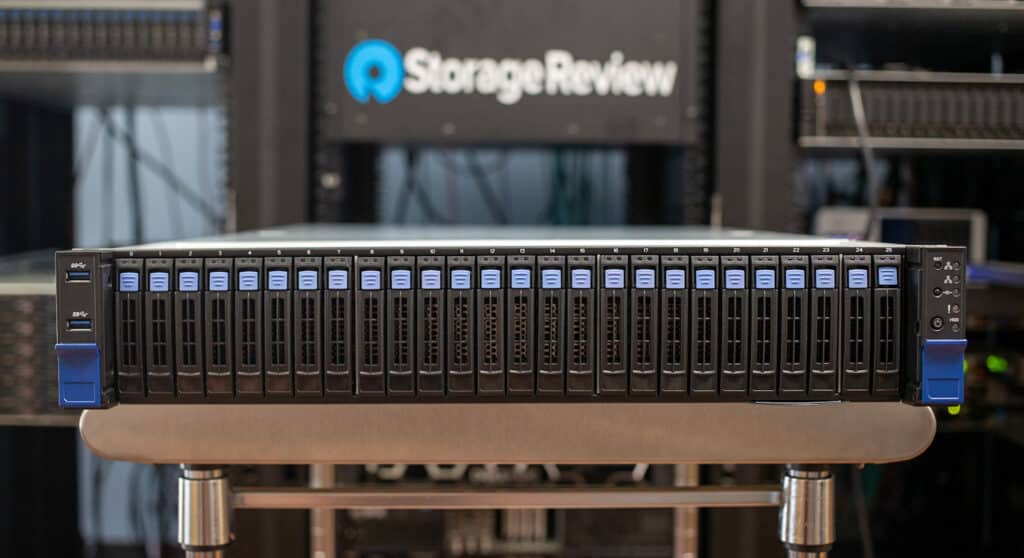 AMD EPYC 9004 4th-Gen CPU Support
The system uses the Tyan S8056GME motherboard, which is an integral part of the unit's performance. It is designed to accommodate a single AMD Socket SP5 processor while supporting the AMD EPYC 9004 Series Processor lineup. The EPYC 9004 4th-gen CPUs (codenamed "Genoa") support 12 channels of DDR5-4800 memory, 128 PCIe Gen5 lanes, AMD Infinity Fabric/Guard technology, and up to 96 cores. These powerful processors are well-suited for demanding workloads in cloud, enterprise, and high-performance computing (like the TS70A-B8056 aims to provide), allowing organizations to optimize server deployment, reduce physical space requirements, and enhance data center sustainability and future-proofing efforts.
In June, AMD made significant updates to its 4th Gen AMD EPYC processors, which are tailored for specific workloads essential to meet the demands of businesses. These updates were announced during AMD's Data Center and AI Technology Premiere event, where they introduced the 4th Gen AMD EPYC 97X4 processors, previously known as AMD Bergamo. These new processors are optimized to offer higher virtual CPU density and improved performance, particularly for AI applications and cloud-based tasks.
As software applications increasingly focus on cloud-native workloads, the ability to develop, deploy, and update them quickly becomes crucial. With its impressive 128 cores, the AMD EPYC 97X4 processors deliver enhanced throughput and offer up to 3.7 times better performance for key cloud-native workloads than Ampere.
TYAN Transport SX TS70AB8056 Overview
Its single-processor design is a strategic decision to optimize power usage and performance while keeping cost-effectiveness in mind. With support for a thermal design power wattage of up to 400W, the system can handle the rigors of high-demand computational tasks.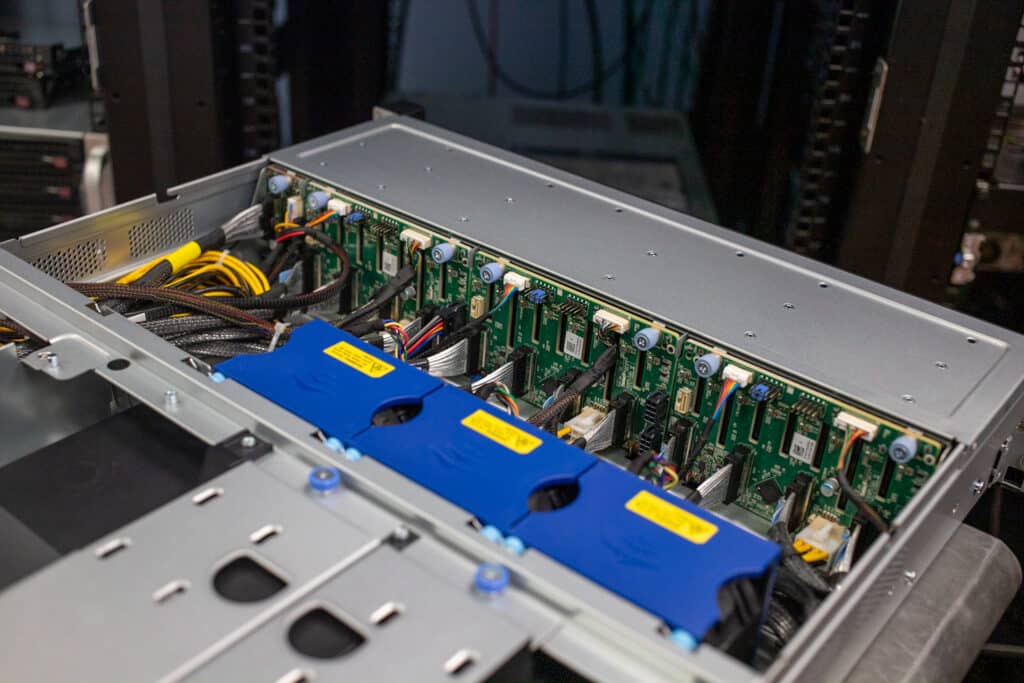 The SX TS70AB8056's 24 hot-swappable 2.5″ NVMe drive bays are certainly a significant selling point of the system. With NVMe U.2 interface, the storage solution offers faster data transfer speeds and lower latency compared to traditional storage interfaces. This ability to quickly write, read, and access data makes the unit ideal for applications that require high-speed data access, such as big data analysis, video editing, or real-time system backups.
Memory capabilities in this system are extensive. It features a generous twenty-four DIMM slots (RDIMM DDR5 memory) with varying speeds depending on the configuration. It can also reach up to 4800 MHz in a single DIMM per Channel (1DPC) setup. Combined with a maximum capacity of up to 3,072GB, the Transport SX TS70AB8056 can handle substantial data-processing tasks and deliver excellent performance for virtualization and memory-intensive applications.
Powered by the onboard Aspeed AST2600 chipset, the system's comprehensive server management features include 24-bit high-quality video compression, storage over IP, and remote platform flash via the AST2600 iKVM feature. The AST2600 IPMI feature also supports an IPMI 2.0-compliant baseboard management controller (BMC), providing robust server management and maintenance capabilities, making remote management a seamless process.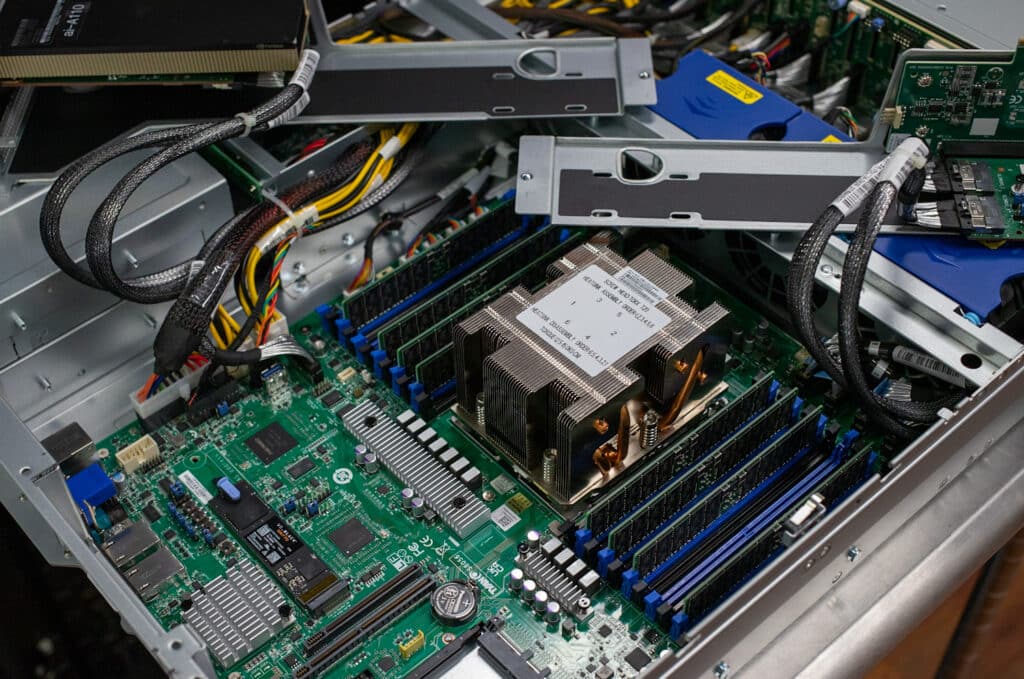 In essence, SX TS70AB8056 prioritizes high-density storage, processing performance, and value for a robust solution in various demanding server environments.
Transport SX TS70AB8056 Design and Build
The TS70A 2U Rackmount chassis (dimensions 27.56″ x 17.26″ x 3.42″) provides an efficient and space-saving solution for high-density server environments. The physical size of this rackmount system allows for seamless integration into existing server racks, aiding in the organization and management of server rooms and data centers.
The front panel's layout and indicators promote ease of use and easy diagnosis of system status. The ID and power buttons feature LEDs and a reset button, allowing users to have straightforward system management. Additional LEDs for HDD, ID, LAN, and system events keep users informed of the system's status. The front panel also includes two USB 3.2 Gen.1 ports for a convenient way to connect peripherals. The NVMe bays are also vertically stacked in a space-efficient manner. They are hot-swappable for efficient cable management.
The back panel of the SX TS70AB8056 server offers a range of connectivity options and features, including two power supply unit (PSU) slots, PSU0 and PSU1, for redundant power configuration. The ID button allows for easy server identification, while the dedicated slot for an OCP (Open Compute Project) card provides possible expandability and customization options. The back panel also features a serial port (COM1) for legacy device connectivity and two USB 3.2 Gen1 ports for high-speed data transfer.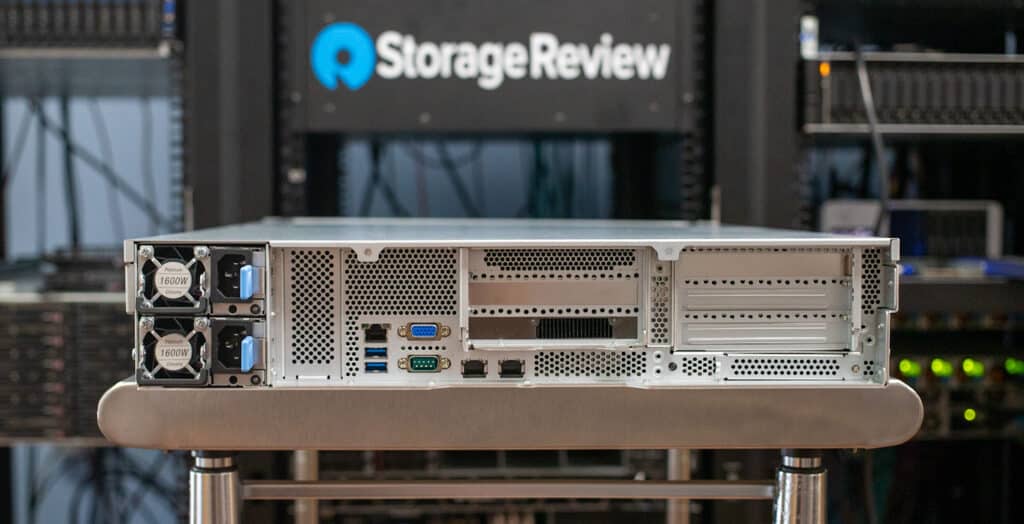 One of the LAN ports (LAN3) is dedicated to the IPMI (Intelligent Platform Management Interface) for remote management capabilities, while the two RJ45 LAN ports (LAN1/LAN2) offer network connectivity. Additionally, there is a VGA port for video output, an ID LED for visual identification, and an Add-On Card field for accommodating additional expansion cards as needed.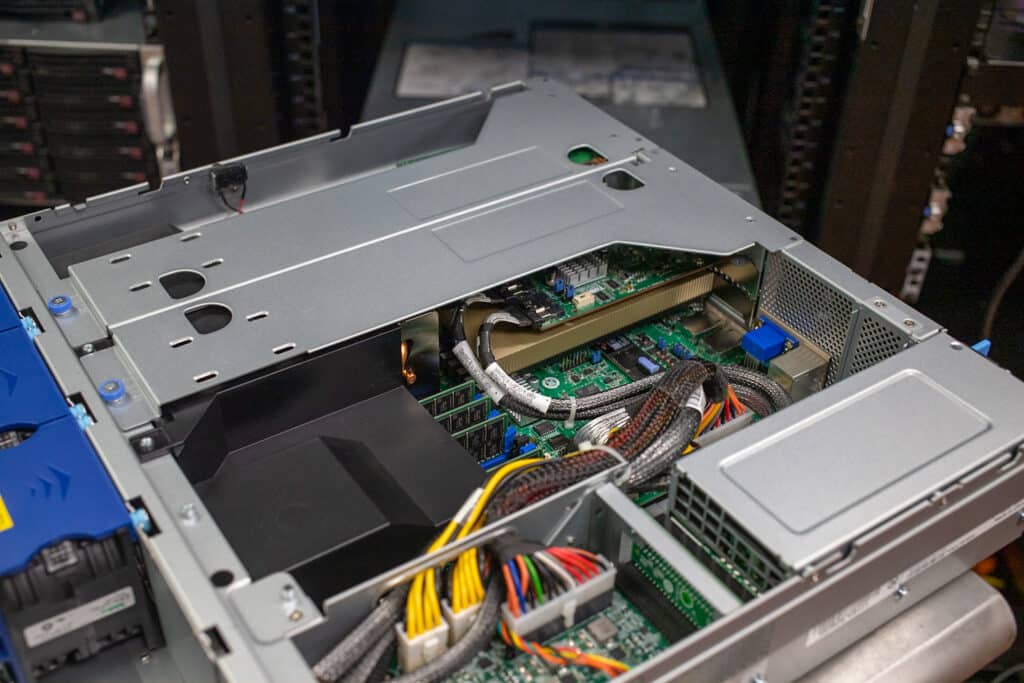 Right away, you will notice that the cooling system's design ensures the components remain at optimal temperatures, even under heavy workloads. It utilizes three hot-swap system fans that blow air directly toward the RAM and CPU, offering redundancy to prevent overheating if one of the fans fails.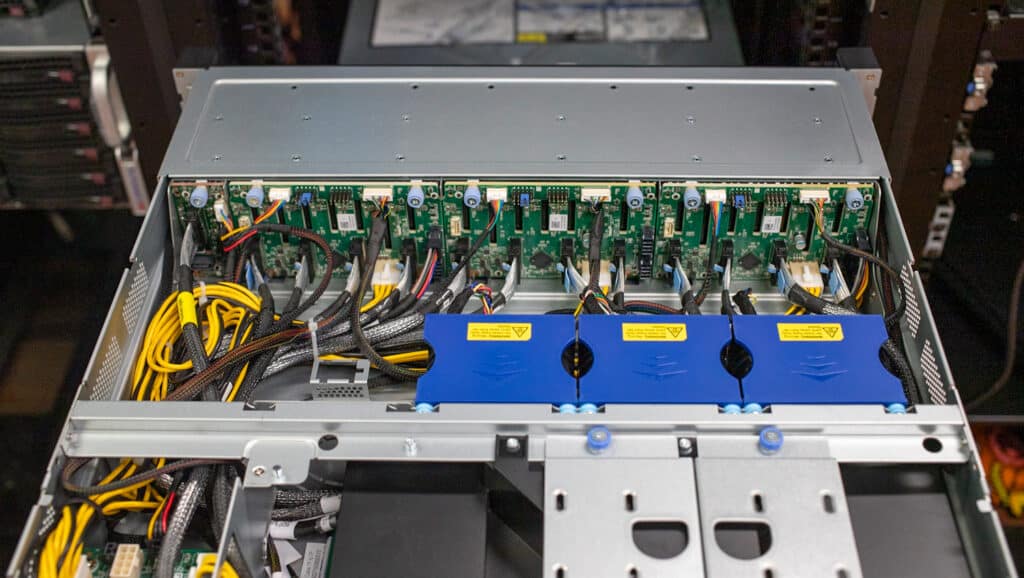 The TYAN server is also equipped with a CRPS (Common Redundant Power Supply) featuring "1+1" redundancy, which means that it comes equipped with two power supply units, ensuring uninterrupted operation in the event one unit fails. Its "80 plus Platinum" efficiency rating further enhances its power efficiency, converting a high percentage of input power into usable output power.
Transport SX TS70AB8056 Specifications
System
Form Factor
2U Rackmount
Chassis Model
TS70A
Dimension (D x W x H)
27.56″ x 17.26″ x 3.42″ (700 x 438.5 x 87mm)
Motherboard Name
S8056GM2NE-2T
Board Dimension
Prop. 14.18″ x 12.16″ (360.2 x 308.8mm)
Front Panel
Buttons
(1) ID / (1) PWR w/ LED / (1) RST
LEDs
(1) HDD / (1) ID / (2) LAN / (1) System Event
I/O Ports
(2) USB 3.2 Gen.1 ports
External Drive Bay
Q'ty / Type
(26) 2.5″ Hot-Swap NVMe
Front Drive Bay Interface
(26) NVMe U.2
Front HDD Backplane Support
NVMe
System Cooling Configuration
FAN
(3) hot-swap 8056 fans
Redundancy
Yes
Power Supply
Type
CRPS
Input Range
AC 100-127V/13A / AC 200-240V/9.5A
Frequency
50-60 Hz
Output Watts
1,000 Watts (100-127V AC input) / 1,600 Watts (200-240V AC input)
Efficiency
80 plus Platinum
Redundancy
1+1
Processor
Q'ty / Socket Type
(1) AMD Socket SP5
Supported CPU Series
(1) AMD EPYC™ 9004 Series Processor
Thermal Design Power Wattage
Max up to 400W* (cTDP)
Memory
Supported DIMM Qty
(24) DIMM slots
DIMM Type / Speed
RDIMM DDR5 4800 MHz (1DPC) / 4000MHz (2DPC) / 3DS RDIMM DDR5 4000MHz (2DPC)
Capacity
Up to 3,072GB RDIMM/3DS RDIMM DDR5 4800/4000 memory
Memory channel
12 Channels per CPU
Memory voltage
1.1V
Expansion Slots
PCIe
(1) PCIe Gen.5 x8 slot
Pre-installed TYAN Riser Card (PCIe Gen.5)
(1) M7136T70-R24-2F / (1) M7136T70-L28-1F
Others
(1) PCI-E Gen.5 x16 OCP 3.0 mezzanine slot
LAN
Q'ty / Port
(2) 10GbE ports + (1) GbE dedicated for IPMI
Controller
Intel X710-AT2
PHY
Realtek RTL8211F
Storage NVMe
Connector (M.2)
(2) 22110/2280 (by PCIe Gen.4 interface)
Connector (U.2)
(2) P2305-4E storage mezz. for (8) NVMe ports / (9) SFF-TA-1016 (MCIO 8x) for (18) front NVMe
Graphic
Connector type
D-Sub 15-pin
Resolution
Up to 1920×1200
Chipset
Aspeed AST2600
I/O Ports
USB
(1) USB3.2 Gen.1 conn. (Type-A) / (1) USB3.2 Gen.1 header / (2) USB3.2 Gen.1 ports (@ front) / (2) USB3.2 Gen.1 ports (@ rear)
COM
(1) DB-9 COM port
VGA
(1) D-Sub 15-pin port
RJ-45
(2) 10 GbE ports + (1) dedicated GbE for IPMI
Button
ID Button / Power Button / Reset Button
TPM (Optional)
TPM Support
Please refer to our TPM-supported list.
Interface
SPI
System Monitoring
Chipset
Aspeed AST2600
Temperature
Monitors temperature for CPU & system environment
Voltage
Monitors voltage for CPU, memory, chipset & power supply
LED
Over temperature warning indicator / Fan & PSU fail LED indicator / Over voltage warning indicator
Other
Watchdog timer support
Server Management
Onboard Chipset
Onboard Aspeed AST2600
AST2600 iKVM Feature
24-bit high-quality video compression / Supports storage over IP and remote platform-flash / USB 2.0 virtual hub
AST2600 IPMI Feature
IPMI 2.0 compliant baseboard management controller (BMC) / 10/100/1000 Mb/s MAC interface
BIOS
Brand / ROM size
AMI / 64MB
Feature
Hardware Monitor / FAN speed control automatic / Boot from USB device/PXE via LAN/Storage / Console Redirection / SMBIOS 3.3/PnP/Wake on LAN / ACPI 6.2 / ACPI sleeping states S0, S5
Operating System
OS supported list
Please refer to our AVL support lists.
Regulation
FCC (SDoC)
Class A
CE (DoC)
Class A
CB/LVD
Yes
VCCI
Class A
C-Tick
Class A
Operating Environment
Operating Temp.
10° C ~ 35° C (50° F~ 95° F)
Non-operating Temp.
– 40° C ~ 70° C (-40° F ~ 158° F)
In/Non-operating Humidity 90
90%, non-condensing at 35° C
Package Contains
Barebone
(1) TS70A-B8056 Barebone
Manual
(1) Quick Installation Guide
RoHS
RoHS 6/6 Compliant
Yes
Transport SX TS70AB8056 Performance
To gauge the performance of the Transport SX TS70AB8056, we put it through a range of benchmarks that focus on testing the equipped AMD Bergamo and GenoaX processors. The system is equipped with 8 x 64GB Kingston DDR5-4800 Registered ECC DRAM modules (KSM48R40BD4TMM-64HMR). Detailed storage performance will come in a subsequent review.
To assess the rendering capabilities of these processors, we started by conducting Cinebench R23 tests on both Multi-core and Single-core configurations. However, it's worth mentioning that Cinebench R23 has limitations in handling a large number of threads, capping at 128 cores.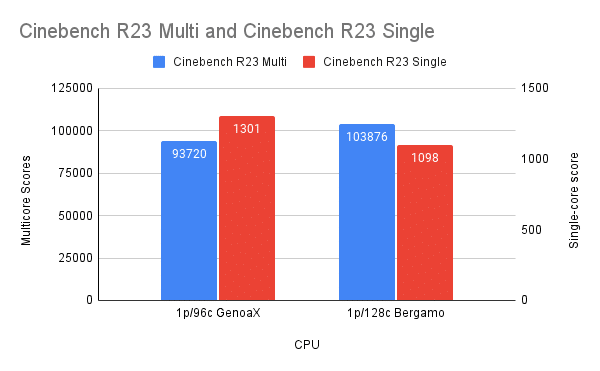 The 9754 delivered exceptional performance in the Cinebench R23 benchmark. It achieved an impressive multi-core score of 103,876, indicating outstanding capabilities in handling demanding multi-threaded tasks such as video rendering and simulations. Additionally, the single-core score of 1,098 showcased the processor's efficiency in handling single-threaded applications with ease.
Next, we ran y-cruncher at 1 billion and 10 billion digit levels to assess their computational prowess, particularly for tasks involving a high degree of number crunching. Lower is better here.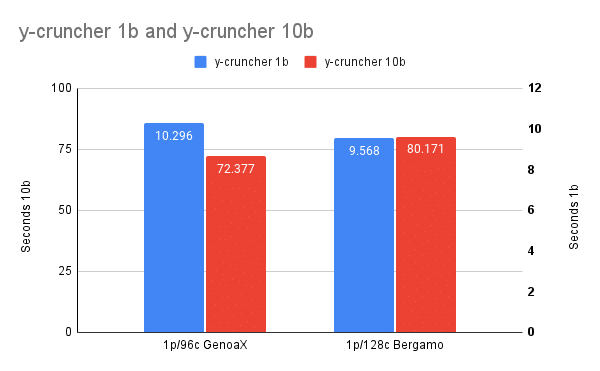 In the y-cruncher benchmark, the AMD processors demonstrated excellent performance when inside the TYAN server. With a score of 9.568 for the 1-billion digit level and 80.171 for the 10-billion digit level, this system showcased its ability to handle high-degree number crunching tasks with efficiency.
Next are the Blender benchmarks, specifically the Monster, Junkshop, and Classroom tests, to measure how well the AMD CPU performs in graphically intensive rendering scenarios.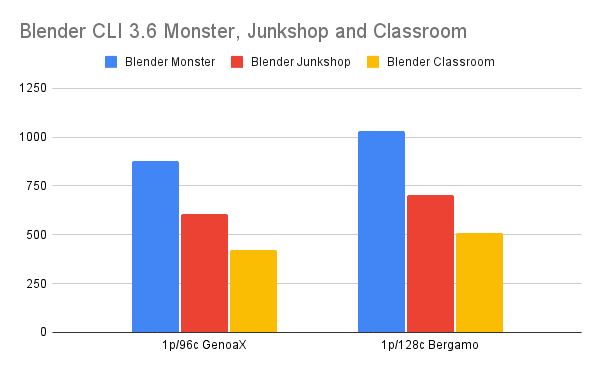 In Blender benchmarks, the CPUs achieved impressive rendering performance. With scores surpassing 1000 in the Monster test, 704 in the Junkshop test, and 507 in the Classroom test, this system demonstrated its ability to handle graphically intensive rendering efficiently.
Lastly, we ran Geekbench 6 CPU tests, known for their broad examination of processor performance in single-core and multi-core operations. This suite of tests provided us with a comprehensive view of the overall capabilities, strengths, and incremental improvement of the AMD CPUs.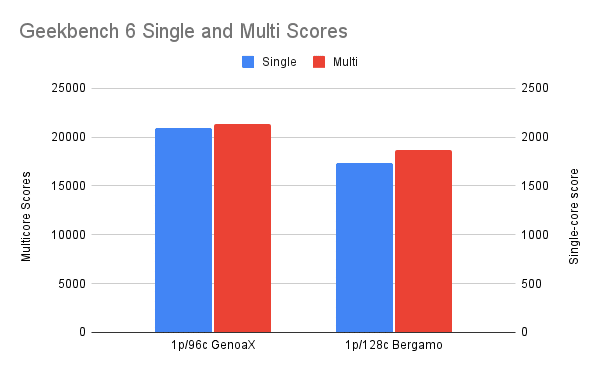 Here are the raw scores for each of the benchmarks. Keep in mind we only ran a stock configuration of the new AMD Bergamo.
| | |
| --- | --- |
| Benchmark | 1p/128c Bergamo |
| Cinebench R23 Multi | 103876 |
| Cinebench R23 Single | 1098 |
| Cinebench MP Ratio | 94.65 |
| y-cruncher 1b | 9.568 |
| y-cruncher 10b | 80.171 |
| Blender Monster | 1031.49474 |
| Blender Junkshop | 704.167826 |
| Blender Classroom | 506.665693 |
| Geekbench 6 CPU Single | 1738 |
| Geekbench 6 CPU Multi | 18683 |
Featuring an array of AI inference engines from top-tier vendors, the UL Procyon AI Inference Benchmark caters to a broad spectrum of hardware setups and requirements. The benchmark score provides a convenient and standardized summary of on-device inferencing performance. This enables us to compare and contrast hardware setups in real-world situations without requiring in-house solutions.
| | | | | |
| --- | --- | --- | --- | --- |
| Processor | Model | Average Inference Time | Median Inference Time | Total Inferences Count |
| 1p/128c Bergamo | MobileNet V3 | 3.90 ms | 3.91 ms | 41,538 |
| 1p/128c Bergamo | ResNet 50 | 10.14 ms | 10.08 ms | 16,919 |
| 1p/128c Bergamo | Inception V4 | 33.17 ms | 33.04 ms | 5,158 |
| 1p/128c Bergamo | DeepLab V3 | 32.16 ms | 32.09 ms | 4,708 |
| 1p/128c Bergamo | YOLO V3 | 44.50 ms | 44.39 ms | 3,739 |
| 1p/128c Bergamo | Real-ESRGAN | 2734.77 ms | 2717.41 ms | 66 |
Conclusion
Overall, the TYAN Transport SX-B8056 is a highly capable and versatile 24-bay NVMe 2U1S server platform that strikes a perfect balance between high-speed processing and efficient storage solutions. With its compact design, PCIe Gen5 slots, and support for a single AMD Socket SP5 processor from the powerful AMD EPYC 9004 Series, the system offers exceptional performance for demanding workloads in cloud, enterprise, and high-performance computing environments. Its scalability, robust data management capabilities, and cost-effectiveness make it an ideal choice for businesses seeking a reliable and future-proof solution for their data processing and storage needs.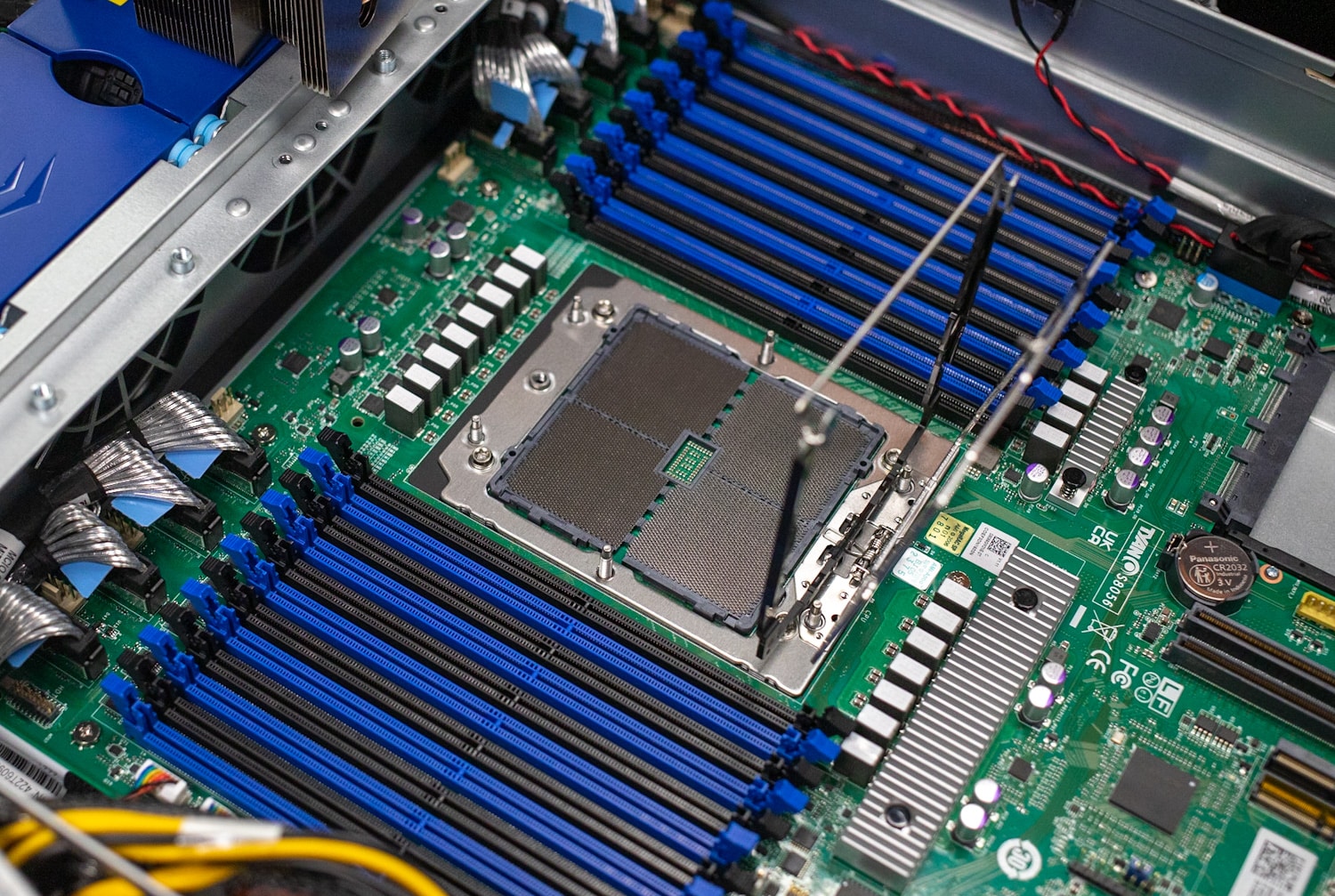 In our performance evaluation, the TYAN Transport SX-B8056 showed great results. The benchmark results (including impressive multi-core scores in Cinebench R23, efficient number crunching in y-cruncher, and excellent rendering performance in Blender tests) highlight the system's capability to easily tackle a wide range of compute-intensive tasks.
These results position the TYAN Transport SX TS70AB8056 as a reliable and efficient solution. In practice, we really like the server as a flexible storage platform that's well-balanced when it comes to the number of NVMe drive bays supported, overall system cost, and performance.
Engage with StorageReview
Newsletter | YouTube | Podcast iTunes/Spotify | Instagram | Twitter | TikTok | RSS Feed