The Ugreen PowerRoam GS1200 Portable Power Station has a strong focus on stability and safety and can meet the needs of various scenarios, whether you're engaging in backyard socializing or working with IT gear on the go. With a 1,200W inverter and 1024Wh LiFePO4 battery, it works well for smaller remote deployments (NUCs, notebooks, networking) at the edge.
The Ugreen PowerRoam GS1200 Portable Power Station has a strong focus on stability and safety and can meet the needs of various scenarios, whether you're engaging in backyard socializing or working with IT gear on the go. With a 1,200W inverter and 1024Wh LiFePO4 battery, it works well for smaller remote deployments (NUCs, notebooks, networking) at the edge.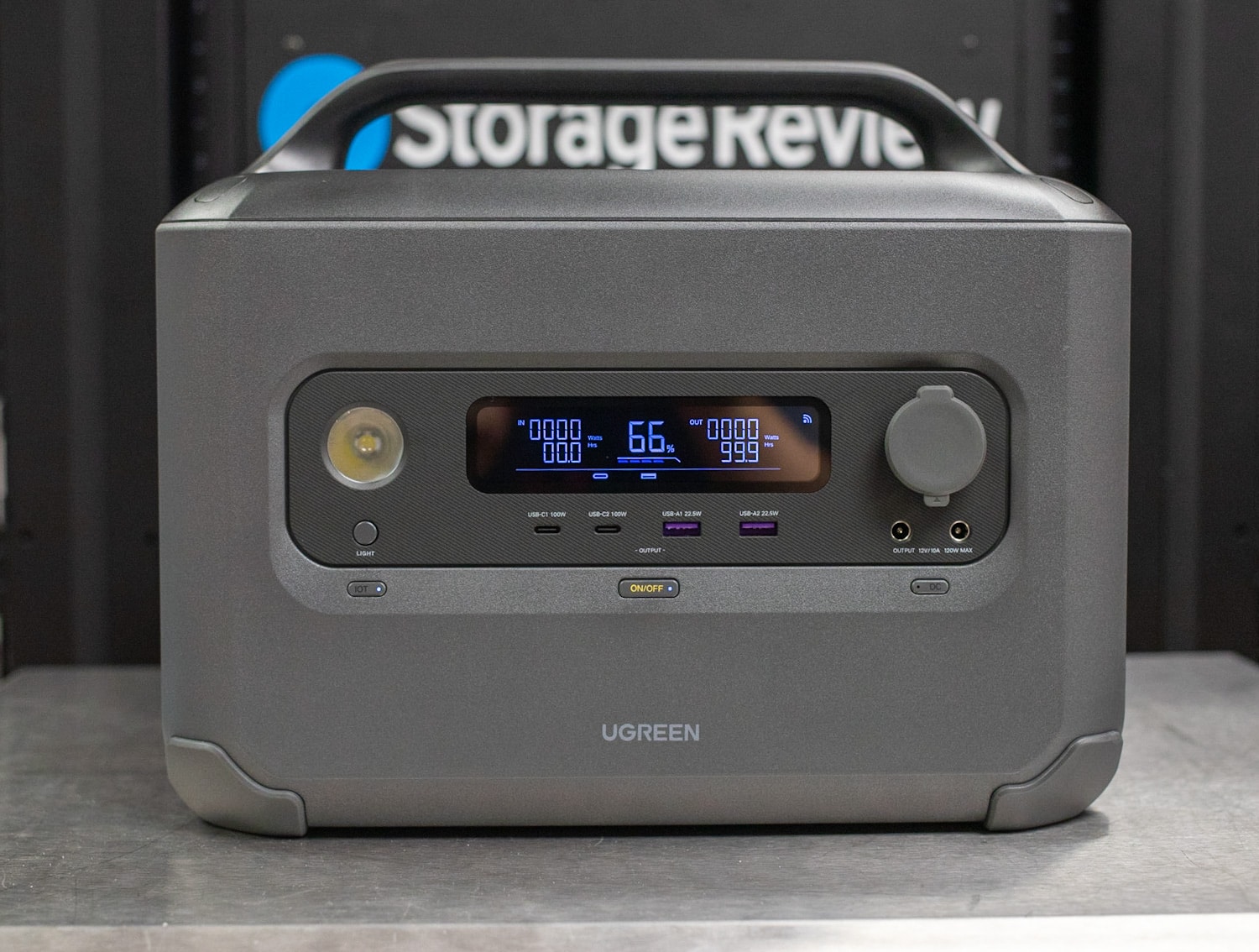 One of the standout features of the PowerRoam GS1200 is its 1,200W inverter capacity backed by a 1024Wh LiFePO4 battery. This allows you to charge multiple devices and run appliances simultaneously, both indoors and outdoors. The built-in power distribution and consumption algorithms regulate voltage, allowing for the use certain high-draw electronics up to 2500W.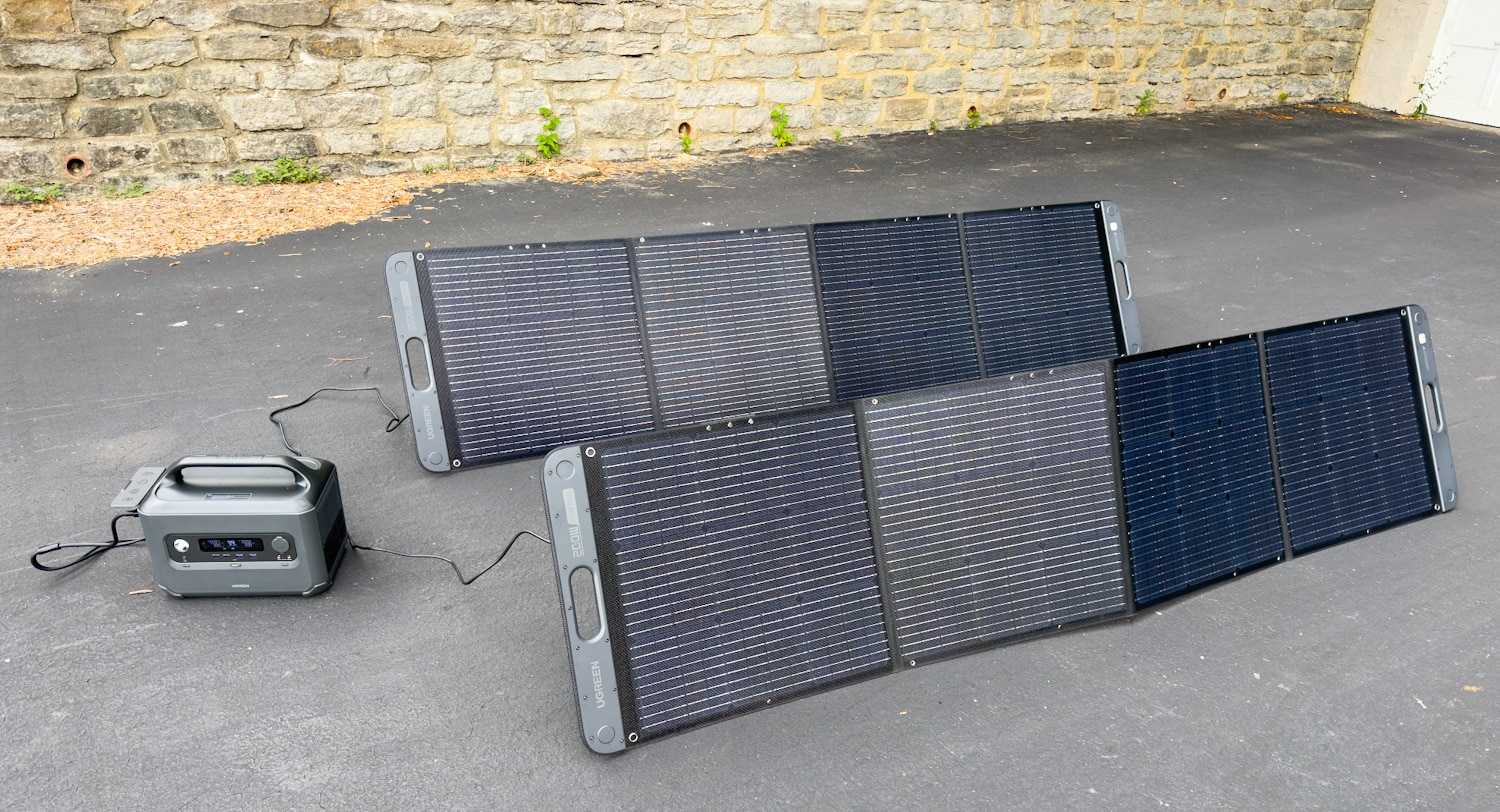 The PowerRoam GS1200 fully supports solar panel charging up to 400W, offering edge use cases the ability to run for extended periods of time, or charging the device in just 4 hours when connected to two 200W solar panels in full sunlight Alternatively, it can be charged on the road in approximately 6 hours. To monitor energy consumption remotely, Ugreen provides the PowerRoam App, which allows users to access power settings, diagnostic checks, and battery charge monitoring.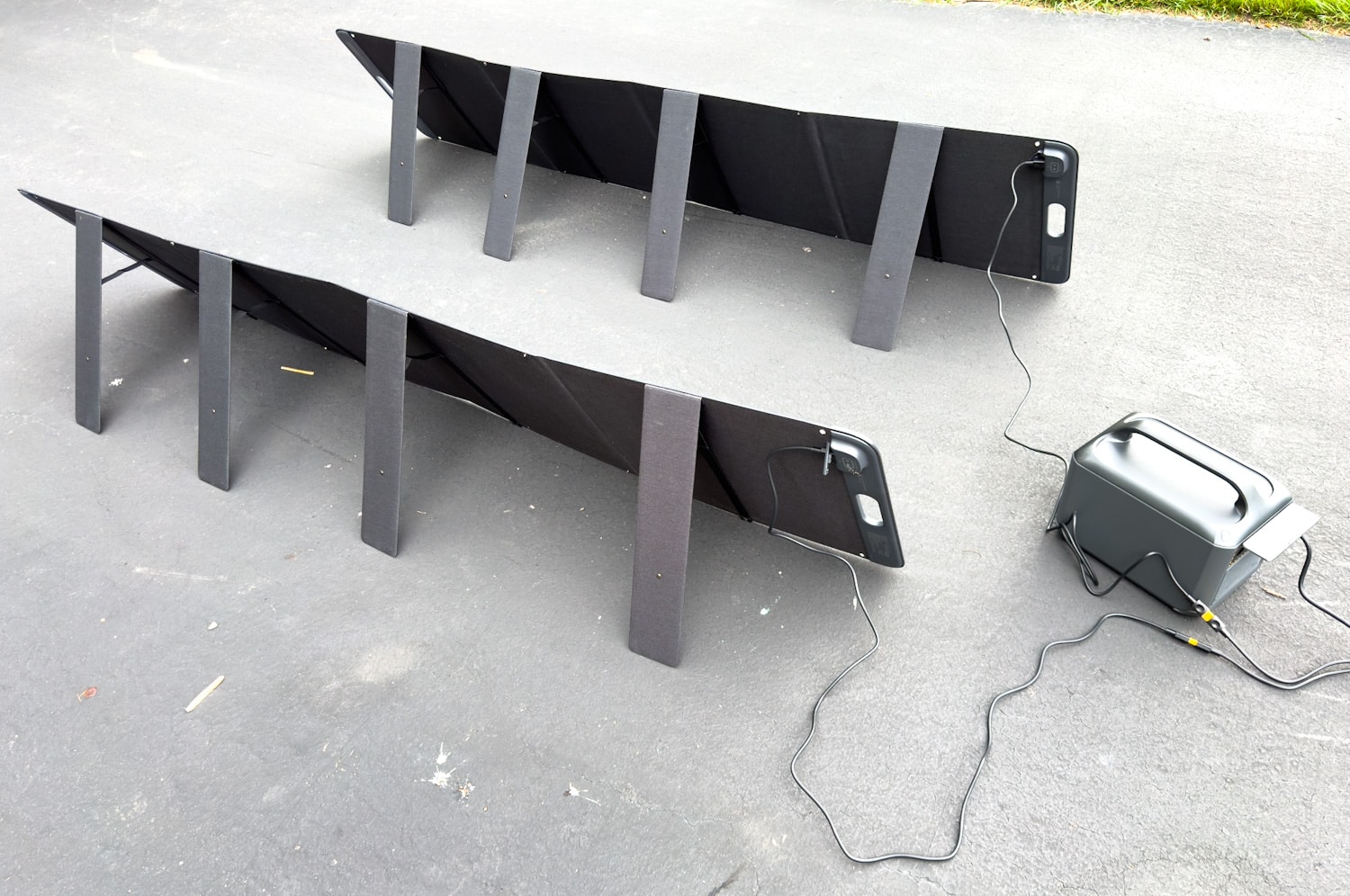 A crucial aspect of any portable power station is its battery performance, and the PowerRoam GS1200 excels in this regard. It is equipped with internal EV-rated LiFePO4 batteries, which are not only capable of sustaining a steady output for over 3,000 cycles but also offer a lifespan of up to 10 years. These batteries are protected by Ugreen's Battery Management System (BMS), which safeguards against over-current, over-voltage, and overheating.
At the time of this review, the Ugreen PowerRoam GS1200 sells for $749, while each 200W solar panel goes for $399.
Ugreen PowerRoam GS1200 Specifications
General Info
Dimensions
34 × 22 × 27 (cm) / 13.4 × 8.7 × 10.6 (inch)
Net Weight
11.5 kg / 25.4 lbs
Lithium Battery Rated Energy
1024Wh 40Ah 25.6V
Input
AC
100-130V~ 60Hz 15A Max
Solar
12-48V 15A 400W Max
DC/Car Charger
12V / 24V 8A Max
Output
AC (×6)
120V~ 60Hz 10A 1200VA/1200W Max
USB-A (×2)
Single-Port: 5V 3A/9V 2A/12V 1.5A/5V 4.5A 22.5W Max (Dual-Port: 45W Max)
USB-C (×2)
Single-Port: 5V 3A/9V 3A/12V 3A/15V 3A/20V 3A/20V 5A 100W Max (Dual-Port: 200W Max)
Car Charger (×1)
12V 10A 120W Max
DC5521 (×2)
Single-Port: 12V 5A 60W Max (Car Charger + DC5521 × 2 = 120W Max)
Total Output Power
1565W Max
Working Environment Temperature
Discharging Temperature
-10℃~40℃ (14℉~104℉)
Charging Temperature
0℃~40℃ (32℉~104℉)
Build and Design
The Ugreen PowerRoam GS1200 Portable Power Station offers a pretty solid design that lends itself to usability and durability. The exterior of the power station is constructed with a heavy-duty polycarbonate ABS shell, providing exceptional protection against wear and tear. It also offers a fixed, integrated handle for transport, which also provides some protection from objects falling from above.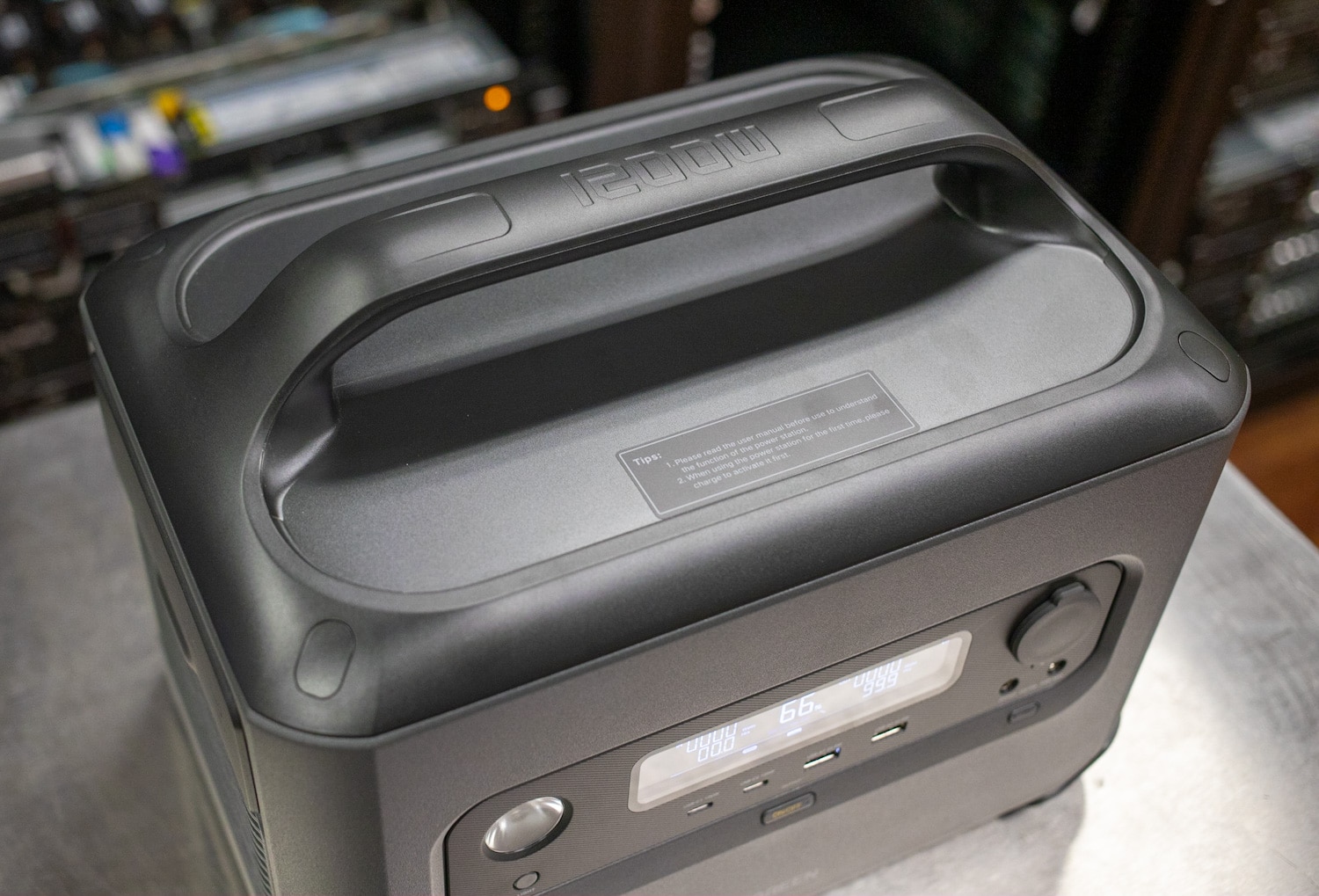 In terms of portability, it weighs in at around 25.4 lbs, which is pretty common in the 1kWh portable power station class. These units can be carried by most people, versus the 2kWh units that close in at nearly 50 lbs. The unit can also operate as a flashlight, although like most of these units, it's more for area illumination unless you are working towards a weight-lifting goal.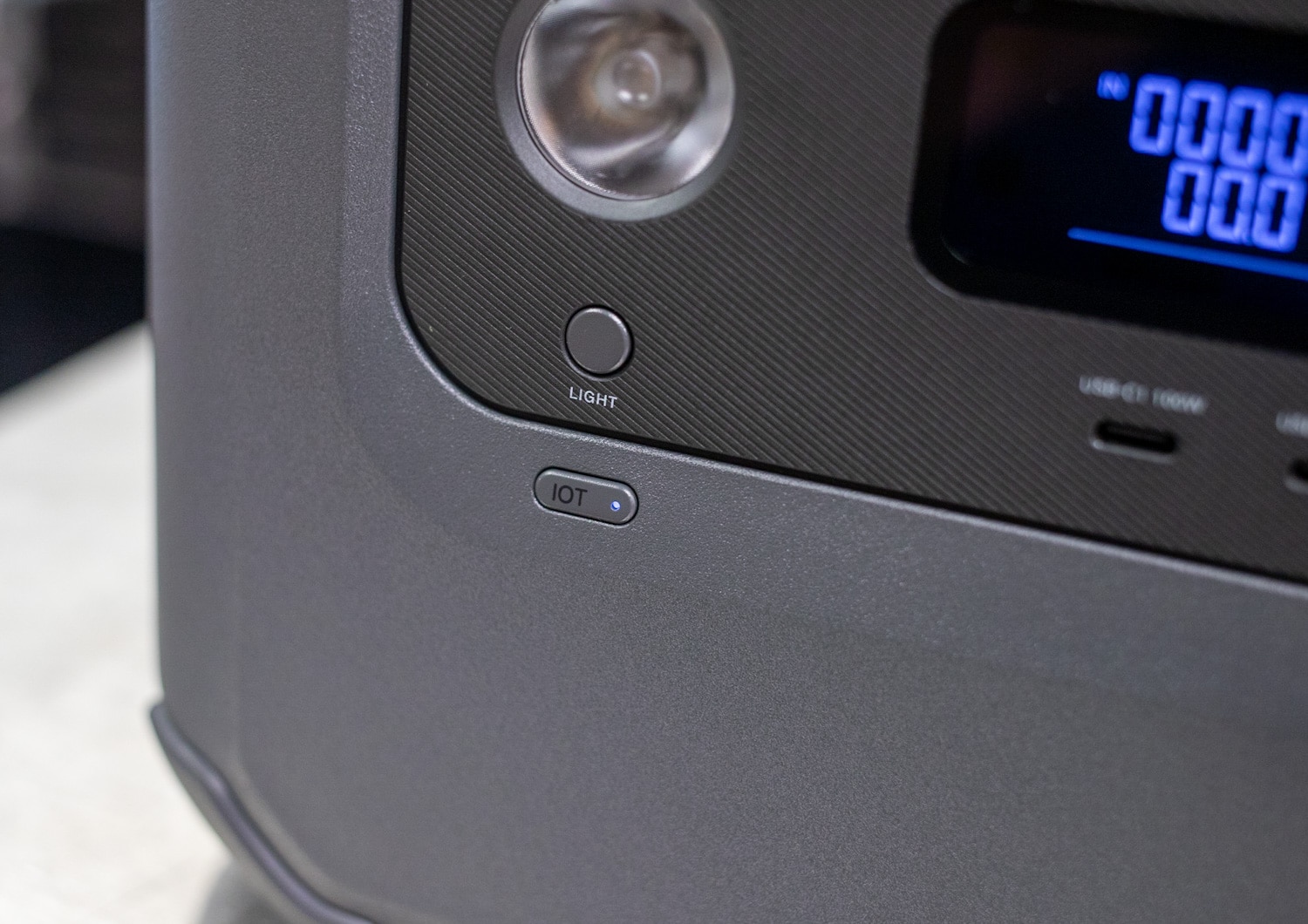 The display, located front and center, allows users to monitor the power station's performance at a glance, ensuring they are always aware of its power capacity and charging status. It provides a lot of useful information in regard to the current status of the system under use. Like most systems, the main items are battery level, power input, and total power output. It also provides counters for total estimated runtime or charge time depending on the devices plugged in. Background information such as the power modes, which inputs are enabled, fan status, wireless connection, and temperature warnings are also shown.
The PowerRoam GS1200 offers a range of output and input ports to handle most situations. It includes two USB-C output ports, two USB-A output ports, two DC5521 output ports, and six AC output outlets.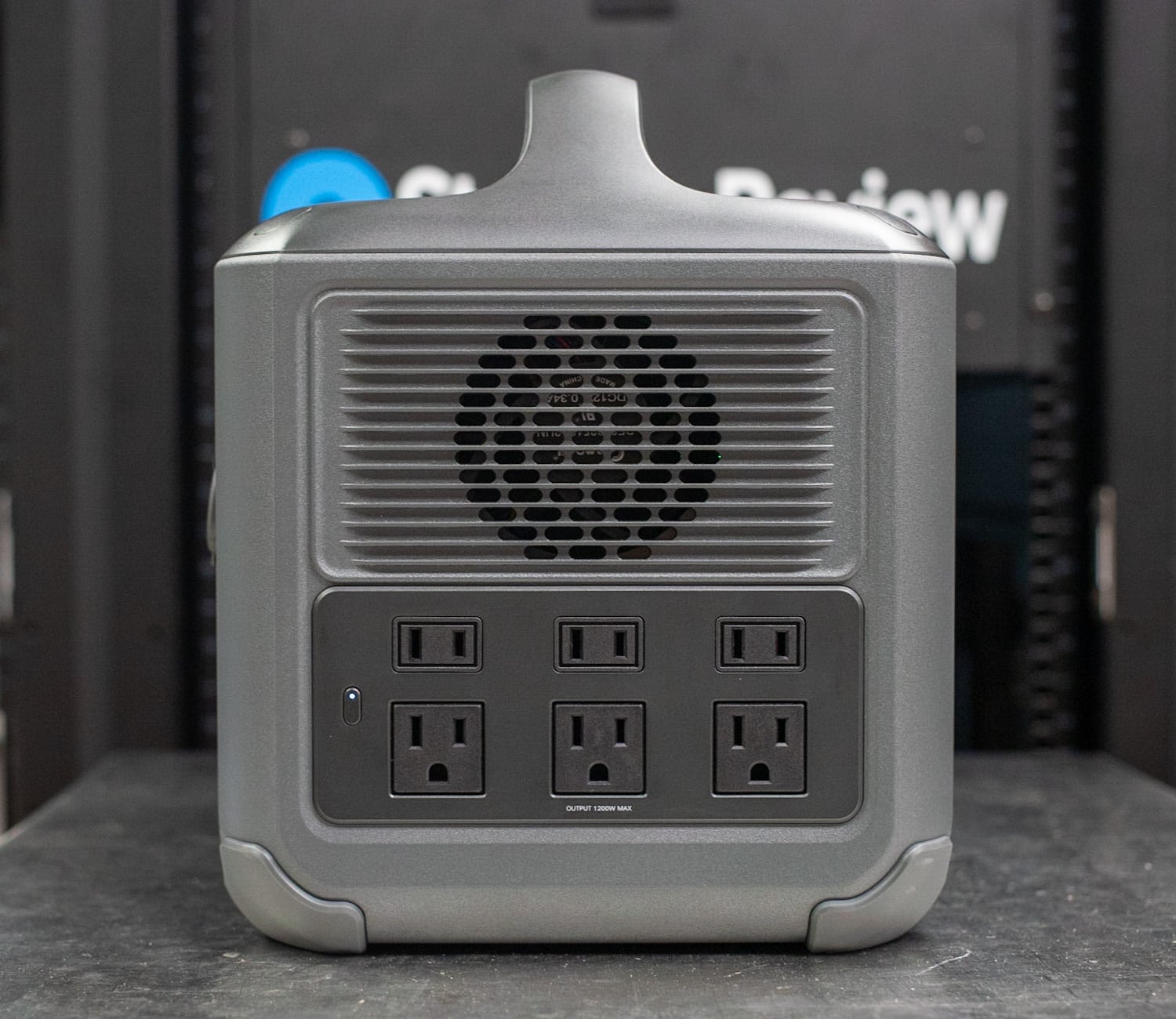 For input, the PowerRoam offers an AC input outlet for charging from utility power and a DC input port for solar or car charging.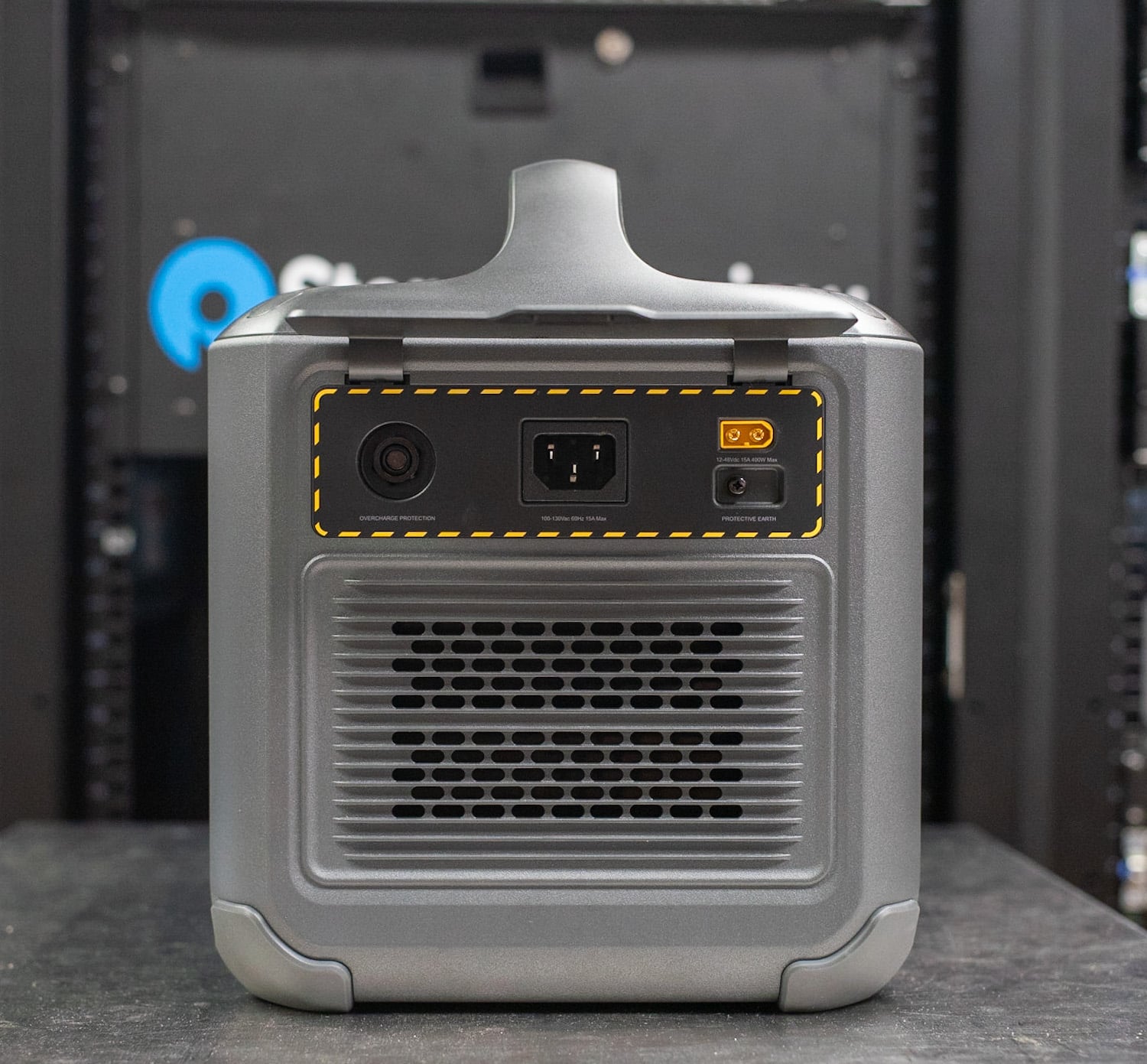 Ugreen App
The Ugreen PowerRoam GS1200 supports wireless management through an app available on iOS and Android. The app works locally over Bluetooth as well as remotely over Wi-Fi if the system has internet access. The Ugreen app worked very well in our tests and offered some useful controls to customize the portable power station.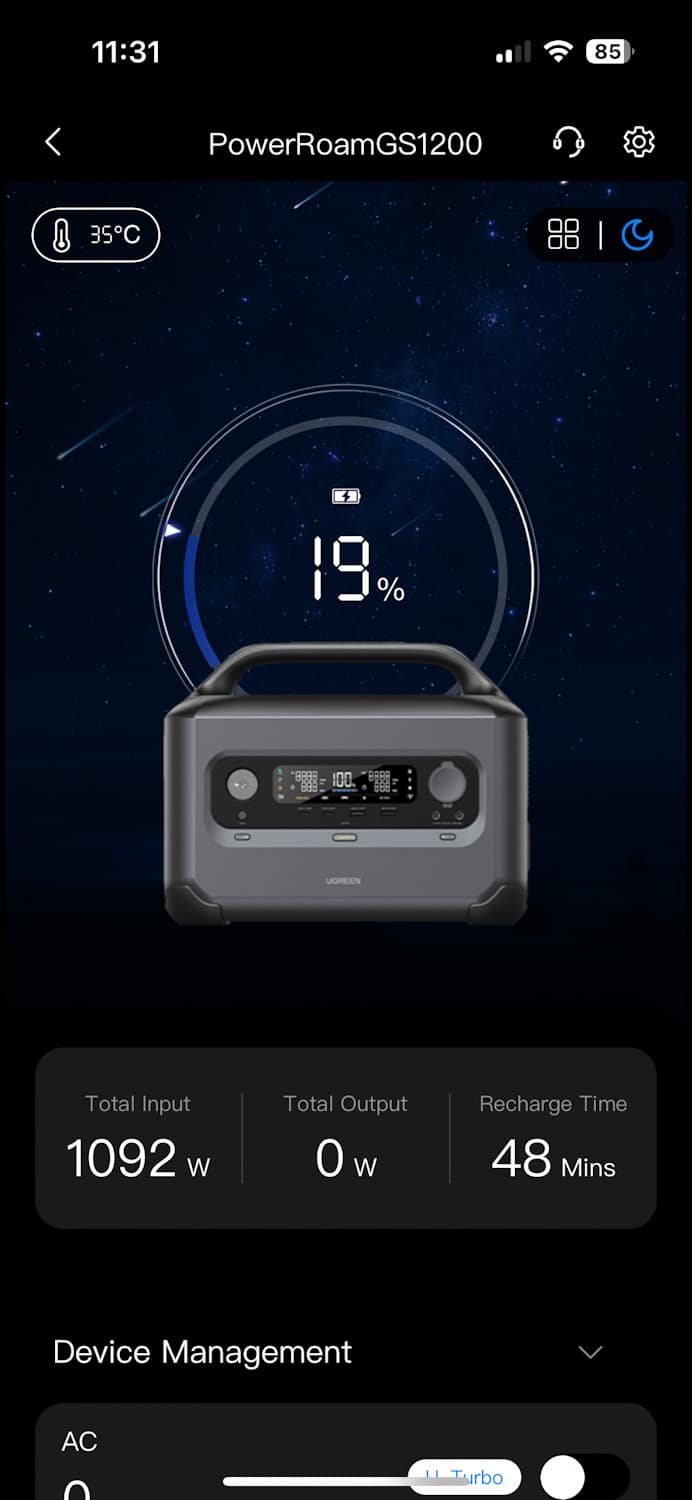 On the main screen for the PowerRoam GS1200 inside the Ugreen app, you see the battery level, system temperature, input, output and discharge or charge time. You can also switch on AC, DC or USB power components individually, which indicate their power draw levels discretely. The flashlight control is also available off the main screen.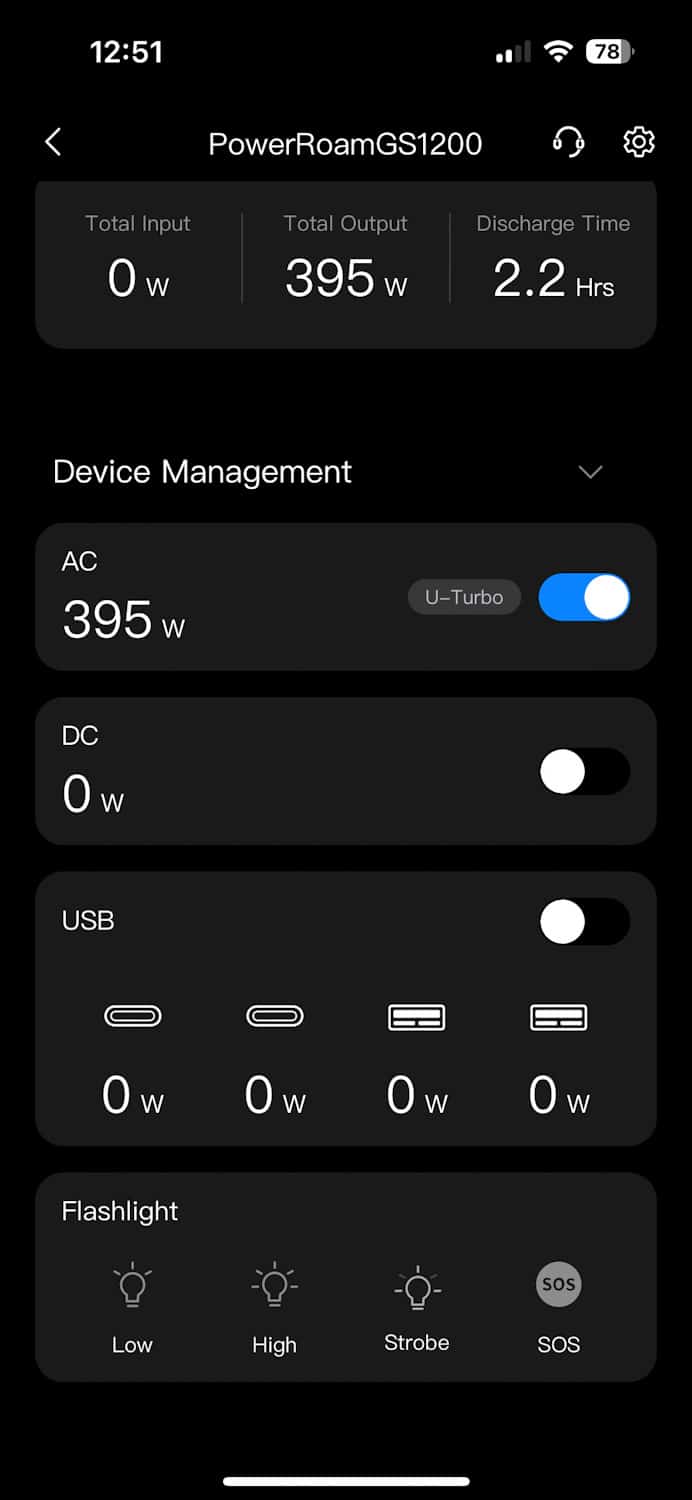 For advanced settings, Ugreen offers a number of options to control power and charging modes. Operating mode adjustment allows you to change how quickly sleep modes are activated.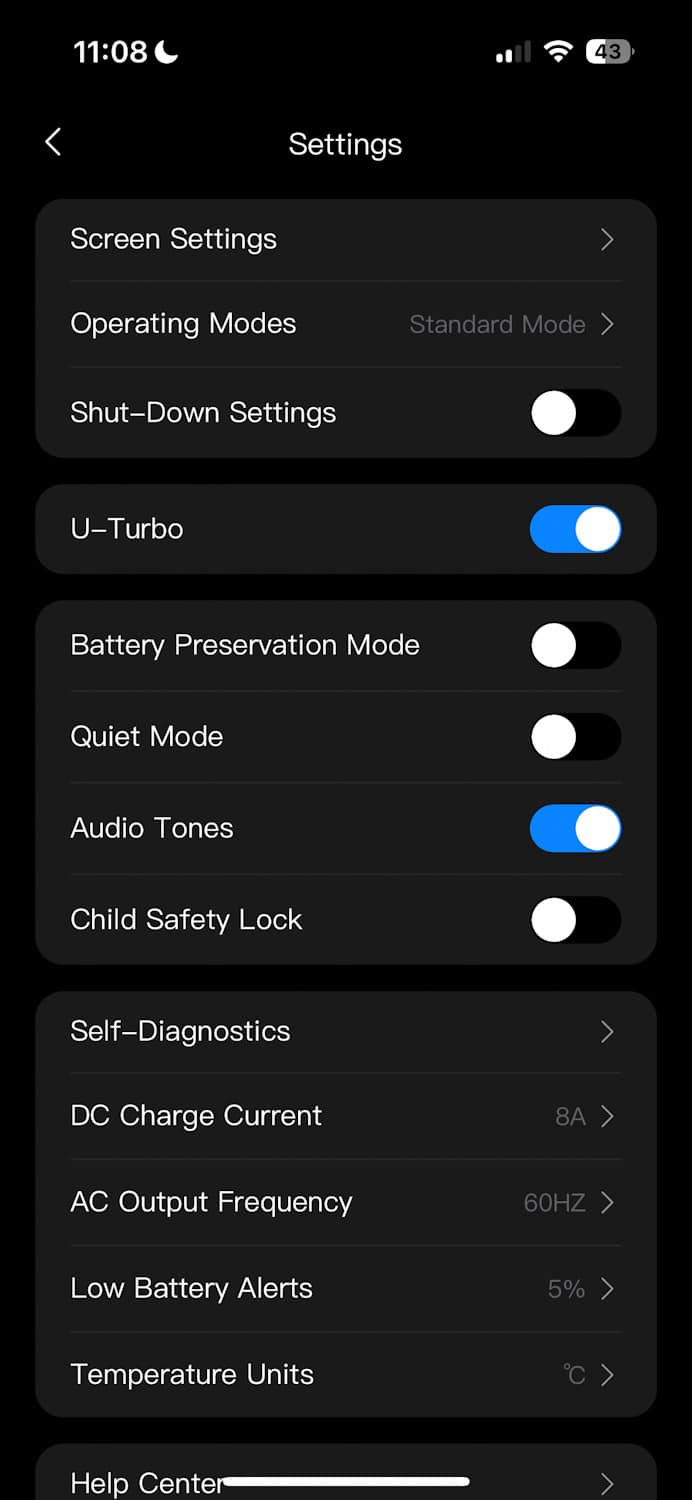 If you want the system to never turn off, this is where you can adjust that. U-Turbo offers a power boost mode for high-power draw devices, while Battery Preservation Mode helps keep the battery charged inside the 10-90% sweet spot for longevity. Charging speed can be controlled through quiet mode which lowers the AC input rate and minimizes fan speeds. DC charge amperage as well as other options can also be adjusted, giving the GS1200 a pretty comprehensive settings menu.
In Use
During our testing of the Ugreen PowerRoam GS1200 Portable Power Station, we closely examined its performance and measured its capacity through a load on the AC inverter. It's important to note that this measured capacity takes into account the efficiency loss through the AC inverter, so users may find additional runtime sticking with DC-powered devices.
The PowerRoam GS1200 comes equipped with a 1024Wh battery. When we attached a 350W load to the GS1200, our measurements indicated an actual capacity of 880Wh, accounting for the efficiency loss during the energy conversion process. This efficiency loss is expected due to the power station's AC inverter. To fully recharge the unit from 0% to 100%, our testing measured input energy of 1120Wh.
In terms of charging speed, the onboard AC charge offered a number of benefits. At its peak, the GS1200 was able to charge at a rate of 1,092W, which will let you get the unit fully topped off in under 1.5 hours. If you need to drop the charge rate to not trip a breaker, you can enable quiet mode in the app. With its onboard AC input, the unit also supports pass-through charging and can act as a UPS. Ugreen rates the system as having a 20ms switchover time.
Conclusion
The Ugreen PowerRoam GS1200 Portable Power Station is a pretty solid offering in the growing portable power space. Offering LiFePO4 batteries and a durable build, it works well for outdoor and remote IT use. The 1kWh size with a 1,200W power inverter gives it a wide operating range, without becoming too large to carry for smaller tasks. For remote use cases, the system can be paired with up to 400W of solar charging capabilities, for extended or continuous runtime depending on the load or solar level applied.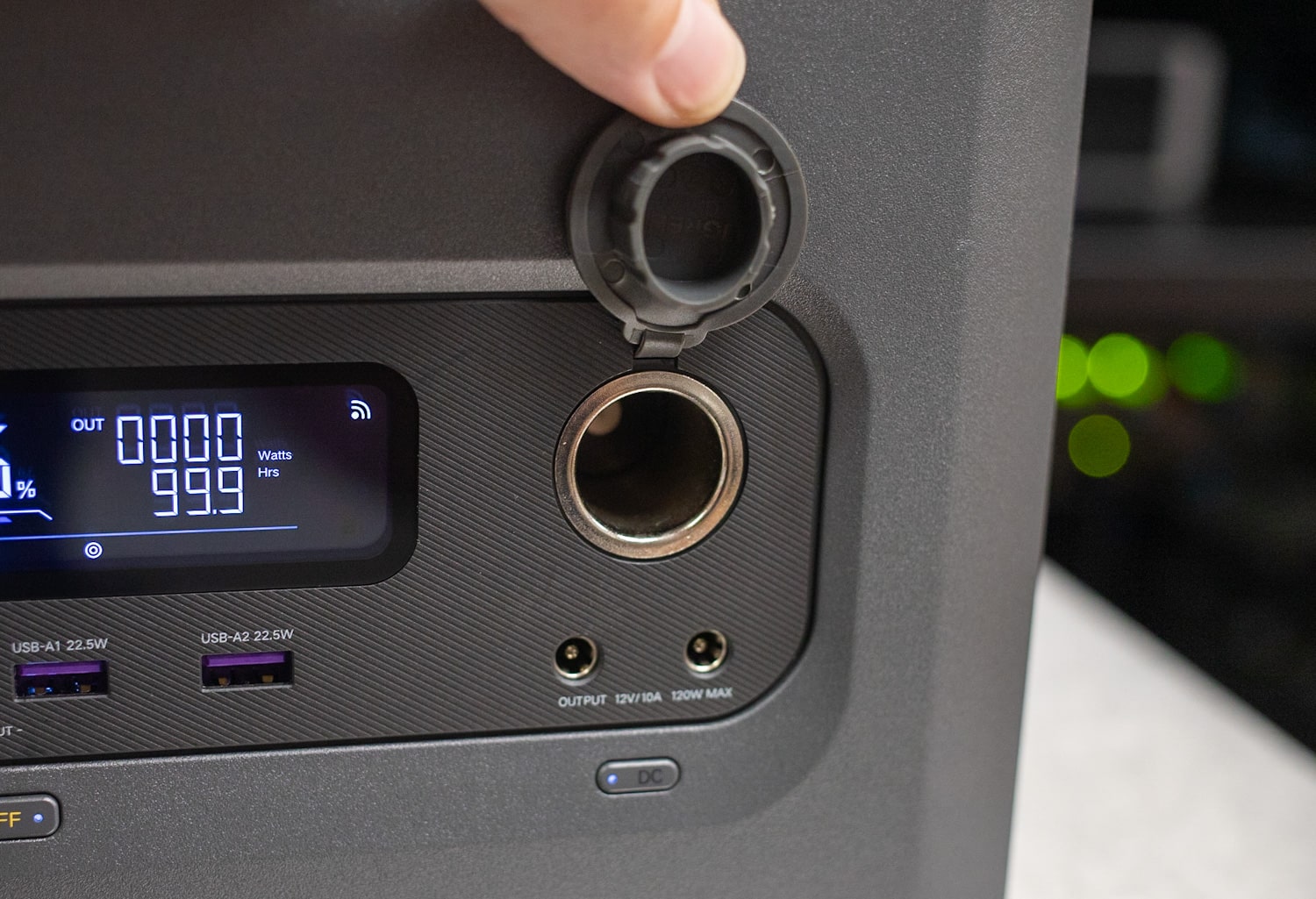 Looking at the total package, the Ugreen PowerRoam GS1200 comes with a lot of features that buyers in this space will enjoy. LiFePO4 batteries, pass-through charging, and a 5-year warranty are all must-haves when it comes to new portable power stations. Even the app, which works locally or remotely offered quite a bit of configuration and remote monitoring capabilities which we like to see in this space. Overall we were pretty impressed with what Ugreen had to offer with this system.
Engage with StorageReview
Newsletter | YouTube | Podcast iTunes/Spotify | Instagram | Twitter | TikTok | Discord | RSS Feed