VMware vSphere Data Protection (VDP) 6.0 is software that is designed to create image-level backups of virtual machines, virtual servers, databases and it can utilize application plug-ins to back up Microsoft Exchange Server, SQL Server, and SharePoint Server. VDP is powered by EMC Avamar and includes built-in replication of backup data to ensure DR compliance. The latest version extends the scale and capabilities of the vSphere Data Protection. VDP can utilize EMC Data Domain Boost assuming it is licensed on the Data Domain appliance.
VMware vSphere Data Protection (VDP) 6.0 is software that is designed to create image-level backups of virtual machines, virtual servers, databases and it can utilize application plug-ins to back up Microsoft Exchange Server, SQL Server, and SharePoint Server. VDP is powered by EMC Avamar and includes built-in replication of backup data to ensure DR compliance. The latest version extends the scale and capabilities of the vSphere Data Protection. VDP can utilize EMC Data Domain Boost assuming it is licensed on the Data Domain system.
VMware vSphere Data Protection 6.0 is the latest update and builds off of VDP 5.5 and VDP Advanced (VDPA) 5.8 (previously VMware had offered two versions of vSphere Data Protection: a more basic version, VDP and an advanced version that extended scale and capabilities, VDPA – as the company moved from 5.8 to 6.0 they consolidated all of the functionality of the advanced into a single product: VDP 6.0). Its new features include: Supporting backups and recovery of databases on SQL Server AlwaysOn and Failover Clusters. The VDP agent for SQL Server have the ability to select a replica backup for SQL Server AlwaysOn. It also supports Exchange DAG. VDP's replication abilities have been enhanced to enable "Replicate and Restore Anywhere." Replicated data can be re-replicated, in the event of losing data at the source a backup can be replicating again and deployed at the source. External proxies can now be deployed in remote locations where VDP doesn't have direct access to the storage on which the protected VMs are running. The reporting process has improved to the point detailed logs can be viewed in the UI and even unprotected clients lists are available. With version 6.0 users can increase backup throughput with up to 8 proxies and 24 concurrent backup streams. VDP 6.0 supports both Linux LVM and VMware's Virtual SAN.

One advantage, and the focus of this review, is VMware vSphere Data Protection 6.0 integration through DD boost to EMC Data Domain systems. This provides global deduplication through Data Domain Operating System (DD OS) software, giving users higher efficiency for protection storage. VDP 6.0 uses the Data Domain Boost library, through API-based integration, to access and manipulate directories and files contained on the Data Domain file system. Data Domain Boost gives visibility to VDP to its capabilities and properties allowing VDP to control backup images, manage maintenance activities, and control replication to remote Data Domain Systems.
VMware vSphere Data Protection 6.0 is included for users that have Enterprise Plus licensing.
VMware vSphere Data Protection 6.0 Data Domain system requirements:
Data Domain Operating system: DD OS 5.4.1.1 and later, 5.5, and 5.5.1.
Data Domain Boost: 2.6.x
Data Domain device type: Any Data Domain system the supports the required DD OS.
Usability
Deploying the VDP appliance in a VMware environment is pretty easy with all things considered. Download the OVA through your VMware portal to the tune of about 4.5GB and walk through the quick setup screens to select which datastore to put it on and apply network settings to make it accessible in your environment. Once the VM is deployed, connect to its IP address and a setup screen takes you through additional setup tasks. These include connecting it to vCenter, applying your license as well as defining how much resources you want to allocate to the appliance in terms of CPU, RAM and storage capacity. Compared to other virtualized backup appliances the setup stage is about the same amount of time invested to get to a point where you can start pasting in licenses and creating your first backup tasks.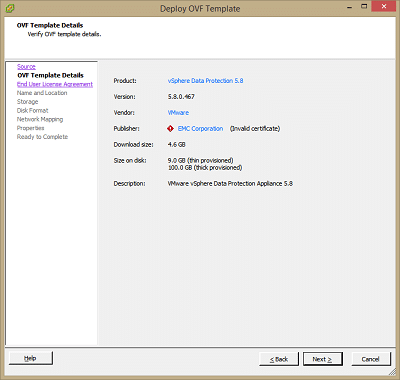 We tested VDP with an EMC Data Domain DD2200 since it offers DD Boost support. VDP can also be configured with internal storage to its VM with its own data reduction features. Depending on your environment VDP offers quite a few options as long as your storage device is up to the task. An interesting feature to help guide admins through this process is a performance analyzer tool to make sure your storage can handle the load from VDP. This isn't as important though if you take the route of connecting it to a Data Domain for backup repositories.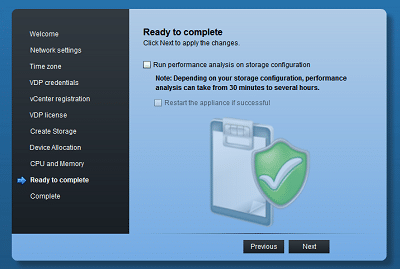 Once the backend of the VDP appliance is configured the management from a backup and restore perspective is handled through the vSphere Web Client. This has its pros and cons compared to other solutions in the marketplace. From a usability standpoint one central management interface for all your VMware needs is handy, since if you are planning on setting up a backup alongside the rollout of a new VM; going to one place to handle all of it helps out. Part of the downside though as you can see below is VDP lacks a central pane of glass interface for all VDP appliances in your environment. For sizing purposes there are limits to VDP on how many VMs each appliance can handle as well as sizing limits. In our environment we leveraged 5 VDP appliances, which all require individual setup and configuration. Others in the space have the ability to deploy agents, which all flow back into one central management console. So from an SMB perspective this might not be an issue if you don't need more than one appliance, but for larger organizations this adds complexity for larger rollouts that can top out at 10 appliances per vCenter.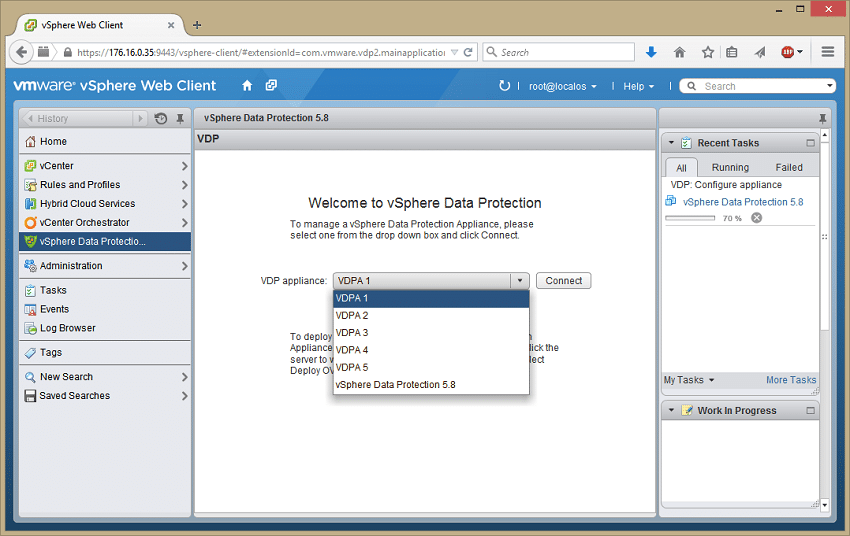 When creating a new backup job users select the type of backup required, which in our case is the guest image. You can also chose to backup application servers.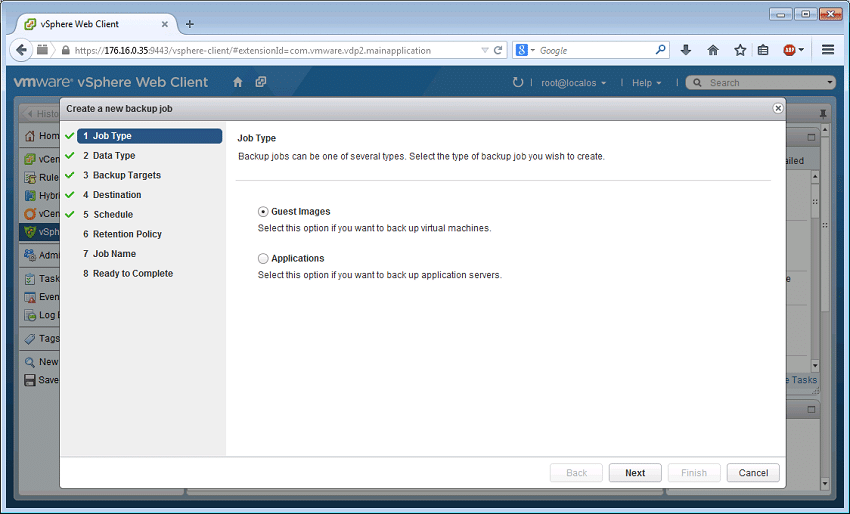 Drilling down through the hosts connected to VDP, users select the VMs to backup, staying within the suggested guidelines per VDP appliance.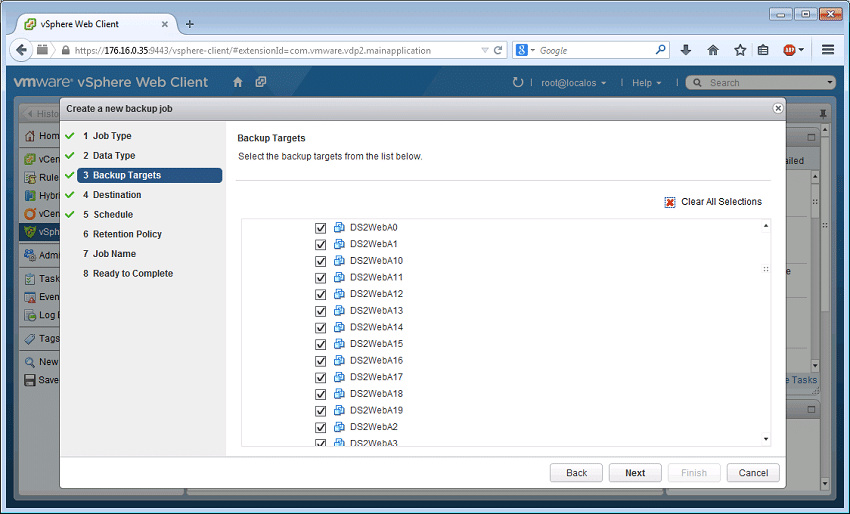 The next step involves where the backup data will reside. This step goes back to how the VDP appliance is deployed in your environment; if backup data sits inside the VM leveraging one type of storage or inside a Data Domain system.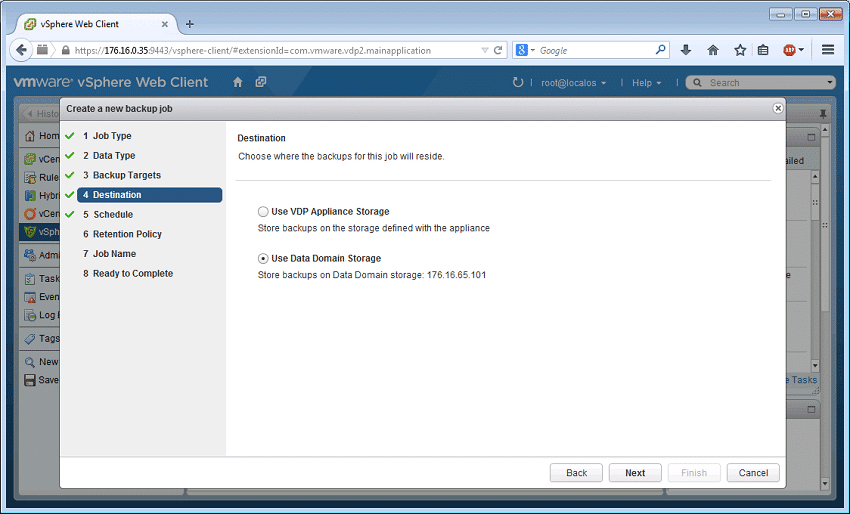 When it comes to scheduling how frequent the backups are handled, VDP offers a wide selection of options. Compared to other backup suites though, you can't force VDP to perform a full backup. This is one area where the lack of a single pane of glass management interface adds complexity to VDP, since you can't easily change or adjust scheduling across multiple backup tasks without leaving one appliance and hopping into another.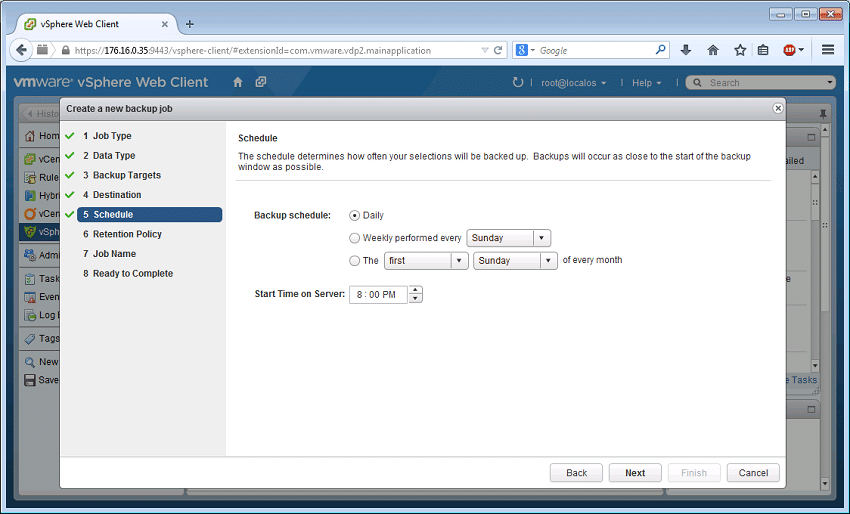 From a backup retention perspective, VDP allows users to selection anywhere from a couple of days to forever. You can also specify a certain date for deletion as well, if that is your target.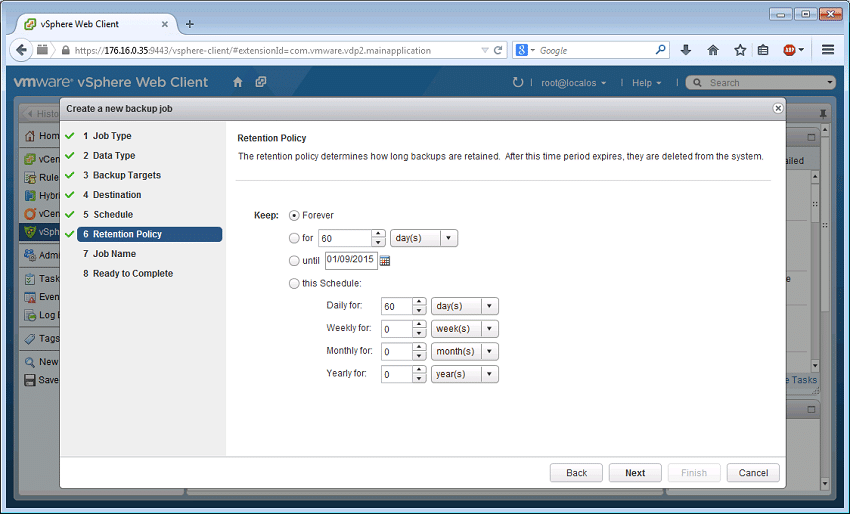 After the backup process has been finalized and running for a period of time its pretty easy to walk through the process of restoring VMs if needed. You drill in through the VDP appliance with the backup task that manages that particular VM and select the VM you wish to recovery. Next you are presented with a list of each backup captured of that particular VM that can be restored. After making the selection the restore process is pretty straight forward, with options to rename the VM or restore as original. You can also leave network connections disconnected in the event you are spinning up VMs for testing purposes to verify they are still functional.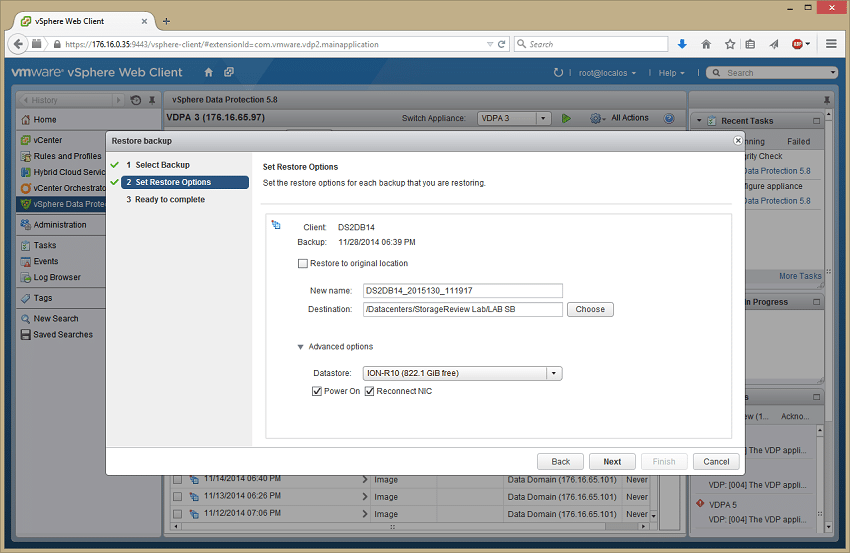 Towards the end of our review cycle as seen from our EMC Data Domain DD2200, VDP paired up well to offer exceptional data reduction levels. We saw almost 1PB of data written form VDP, which compressed down to around 5TB. Not a whole lot more you can ask for from a backup appliance than fantastic data reduction levels!

Conclusion
VMware vSphere Data Protection 6.0 is designed efficiently and reliably to backup and replicate virtual machines, virtual servers, databases and other applications like SharePoint and Exchange. The software is powered by EMC Avamar and can integrate through DD Boost to Data Domain systems providing greater scalability, high performance and throughput, as well as advanced data reliability. With today's move to include the previously-known VDPA features in the new unified VDP 6.0 offering, VMware provides more value to those with Enterprise Plus licenses.
Getting VDP up and running is a relatively pedestrian task, as once installed, VDP is managed through the familiar vSphere interface. Backup jobs are configured with a wizard that helps the user set policies set for target, schedule, retention and other relevant components. Experienced admins will appreciate the depth of features but more generalist admins won't be overwhelmed by the number of knobs. We put VDP to work in our environment, pairing it with an EMC DD2200 connected through DD Boost. With this combination we experienced short backup windows across five main jobs targeting our entire virtualized infrastructure. After more than a month in service we totaled close to 1PB of data backed up, with a footprint after data reduction of just 4.9TB.
The one thing lacking in the current implementation of VDP however is a single pane of glass management interface. For smaller environments like branch/remote office, this issue may not even be realized, but scaling into the 100's of VMs makes management more complex. This isn't an impossible task to resolve however and something VMware will likely address in later iterations, especially if mainstream adoption of VDP picks up under the new licensing scheme. Ultimately for those who have Enterprise Plus, VMware VDP is a highly competent backup and recovery solution that for no additional licensing cost, provides a great deal of value. VDP doesn't aim to be the solution for all backup and recovery needs, but it scope makes it an excellent fit for many smaller organizations or those with a number of branch offices to support.
Pros
Easy deployment model
Integrates with EMC's DD Boost
New licensing unlocks advanced features within VDP license
Cons
No single pane of management for large backup environments
The Bottom Line
VMware VDP 6.0 brings backup and recovery features to smaller organizations, branch/remote offices and others who enjoy the ease of use that VDP offers with the enterprise-grade underpinnings of EMC Avamar. For those using Data Domain, VDP supports DD Boost, providing additional benefits when it comes to backup window and overall data footprint.
VMware vSphere Data Protection 6.0 Product Page