The X-IO Hyper ISE 710 hybrid storage array leverages an unprecedented level of hardware integration between its dual controller system and tiered SAS HDD and SSD media in order to guarantee industry-leading performance and longevity. The 7.2TB Hyper ISE 710 makes use of X-IO's Continuous Adaptive Data Placement (CADP) engine and proprietary In-Situ Remanufacturing technology though a partnership with Seagate to optimize hard drive performance and durability at the individual platter scale in order to offer five years of operation without requiring any drive replacements.
The X-IO Hyper ISE 710 hybrid storage array leverages an unprecedented level of hardware integration between its dual controller system and tiered SAS HDD and SSD media in order to guarantee industry-leading performance and longevity. The 7.2TB Hyper ISE 710 makes use of X-IO's Continuous Adaptive Data Placement (CADP) engine and proprietary In-Situ Remanufacturing technology though a partnership with Seagate to optimize hard drive performance and durability at the individual platter scale in order to offer five years of operation without requiring any drive replacements.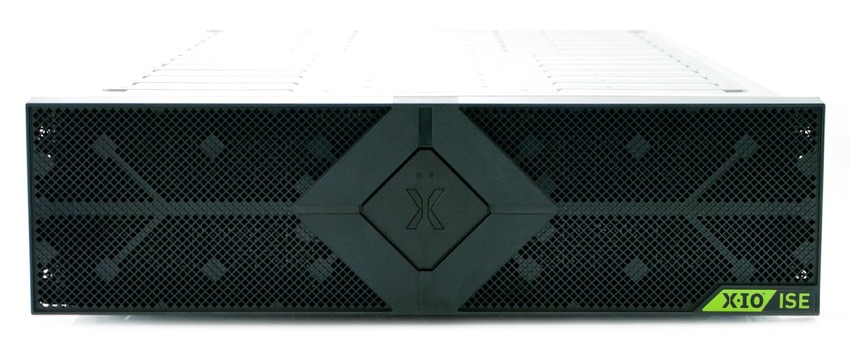 The ISE 700 series is composed of high-performance tiered storage arrays with usable capacities between 7.2TB and 28.8TB. ISE 700 arrays are oriented towards virtualized environments that don't require expansive deduplication or compression functionality; the ISE 700 series focuses instead on automatic tiering, performance, and longevity. In manufacturer benchmarks, the 700 series reachs up to 300,000IOPS sequential read, measuring in-cache theoretical performance from the controllers. The earliest ISE arrays have been in service for more than five years at this point (they started shipping in 2008), and the evidence to date also supports X-IO's notable claims about the expected service life of these devices.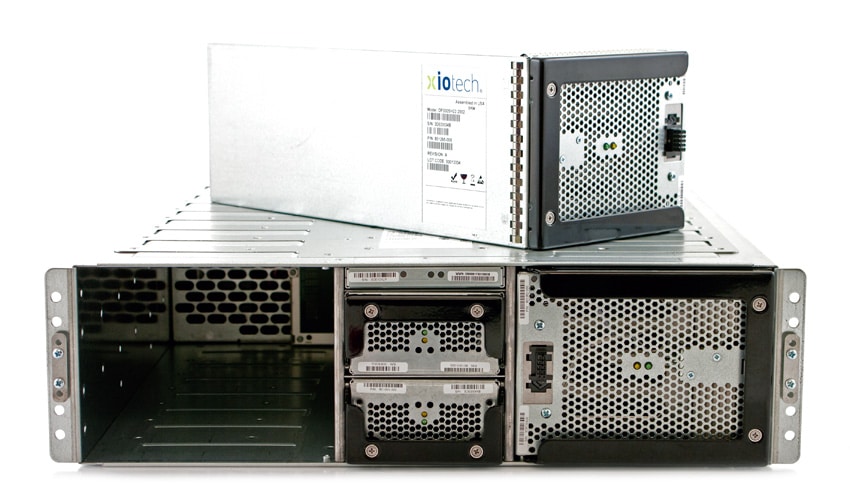 The ISE operating system is built on Linux microkernel and uses a matrix-based RAID model to provide data protection while optimizing the performance of each drive within the system's interchangeable storage media modules, called DataPacs. The ISE arrays use the matrixed RAID architecture as part of its automatic tiering technology as well as to overprovision hard drives within each DataPac on a per-platter basis against loss of capacity and performance through wear. DataPacs are available with between 6TB and 48TB of raw capacity and composed entirely of HDDs or HDDs and SSDs in a hybrid module. Hybrid DataPacs pool SAS HDD and SSD media, and automatic tiering is performed within the DataPac every five seconds by the Continuous Adaptive Data Placement engine to prioritize hot data for SSD storage.
X-IO uses In-Situ Remanufacturing (ISR) technology via proprietary drive firmware to gather and act on telemetry when components of the underlying device are failing or near failure. The system attempts to power cycle the drive, perform a reset, and reinstall firmware before automatically proceeding to recalibrate drive internals, take individual heads and platters offline, and return a drive to service with reduced capacity. Continuous Adaptive Placement and In-Situ Remanufacturing functions are performed within each individual DataPacs, and the total available capacity of a DataPac is presented to the ISE array as a single unit of storage.
X-IO Hyper ISE 710 Specifications
Raw HDD Capacity after sparing: 7.2TB
Raw Flash capacity for acceleration: 1.6TB
Capacity after RAID:
ISE RAID10: 3,226GiB
ISE RAID5: 5,162GiB
Maximum performance: 300,000IOPS
Maximum OLTP workload performance: 60,000IOPS
Max read bandwidth: 1.4GB/s
Max write bandwidth: 860MB/s
Hard drive type : 30 drives @ 300GB 2.5" 10K RPM SAS
Solid state drive type: 10 Drives @ 200GB 2.5" Ent. MLC SAS
Connectivity and Compatibility

SAN or DAS interconnect: 8 Gigabit Fibre Channel; SAN & DAS
Internal controllers: 2
Ethernet management ports: 2
Internal drive interconnect: 6Gb/s SAS
Operating systems: AIX, HP-UX, Mac OS, RHEL, SLES, Solaris, Microsoft Windows Server
Hypervisors: Citrix XenServer, VMware vSphere, Microsoft Hyper-V

Physical and Environmental

Depth: 28.5in/72.39cm
Width: 17.5in/44.45cm
Height: 5.2in/13.2cm
Weight without drives: 72lbs/32.9kg
Voltage: 100-240VAC; 47-63Hz
Current: 6.6A @ 110V; 3.6A @ 208V
Power (typical): 600W
Power (max): 700W
Heat dissipation (max): 2050btu/hr
Build and Design
The ISE 710 is a 3U storage array that comprises five major components: MRCs, power supplies, chassis, DataPacs, and supercapacitors. The internal layout of the ISE series reflects its cooling system, which pulls air from the cold aisle through the array.

Managed Reliability Controllers (MRCs) near the rear of the ISE array use multicore Intel processors with hardware RAID cores, and operate in tandem as an active-active pair that can be hot-upgraded. Each MRC can provide up to four, 8Gbps Fibre Channel connections for a maximum of 64Gb/s of connectivity per array or provide two 10/40Gb/s Ethernet connections for iSCSI for a maximum of 160Gb/s. Redundant power and cooling units are also located at the rear of the array.

The ISE 710 comes with both DataPac bays be filled, 1x hybrid (10xSSD, 10xHDD) and 1x all HDD (20xHDD). The DataPac chassis incorporates sensors to help measure and reduce the mechanical effects of hard drive spindle rotation and optimize airflow.
Management
The X-IO ISE 700 series does not emphasize a comprehensive management functionality or technologies like snapshots and deduplication, which are implemented elsewhere in the storage paradigm. X-IO instead offers extensive management connections with Hypervisors which for their highly virtualized clients, handles much, if not all, of that load. That said, the ISE management interfaces provide a straightforward way to handle configuration and administration with an interface modeled on the Microsoft Windows user experience.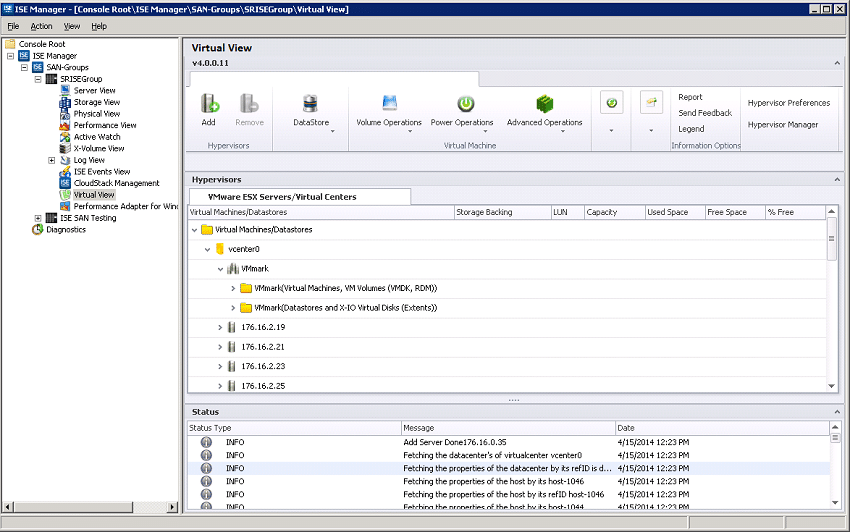 Management is available via Ethernet ports or the console port in the form of the ISE Manager Suite, a CLI interface, and ISE Web Management — although web management is only available for Fibre Channel ISE arrays. For virtualized environments, ISE Manager includes Virtual View to integrate with VMware, Citrix, and Hyper-V management systems. The company also offers connections for CloudStack and expects to release OpenStack support soon.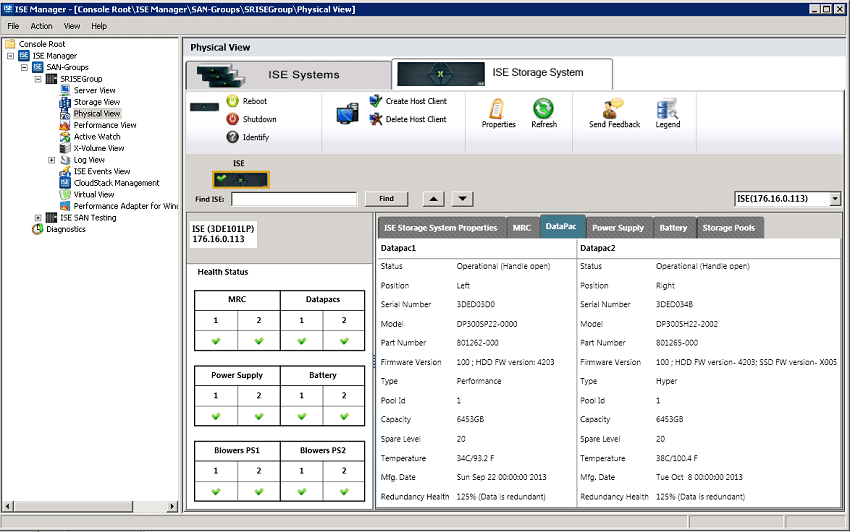 X-Volume is a host-based software solution that pools Hyper ISE LUNs for virtualized storage up to hundreds of terabytes. ISE Mirroring provides synchronous mirroring for pairs of ISEs via Active-Active Mirroring; active-passive replication with Basic Mirroring; Volume Migration between ISE performance tiers; RAID transformation; and Volume Copy to clone production data for testing and development.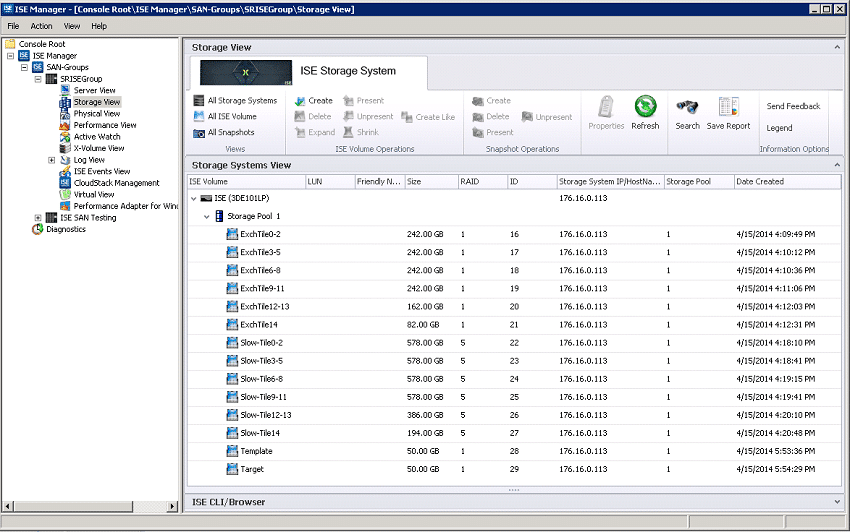 ISE Manager gathers impressively detailed metrics on the usage of SSDs and HDDs which can be used to monitor the CADP engine as it profiles access patterns and automatically tiers data.
Testing Background and Comparables
We publish an inventory of our lab environment, an overview of the lab's networking capabilities, and other details about our testing protocols so that administrators and those responsible for equipment acquisition can fairly gauge the conditions under which we have achieved the published results. None of our reviews are paid for or overseen by the manufacturer of equipment we are testing.
We will be comparing the X-IO Hyper ISE 710 to the Dell EqualLogic PS6110XS and the Dell EqualLogic PS6210XS.
Each of the comparable arrays was also benchmarked with our Lenovo ThinkServer RD630 Testbed:
2 x Intel Xeon E5-2690 (2.9GHz, 20MB Cache, 8-cores)
Intel C602 Chipset
Memory – 16GB (2 x 8GB) 1333Mhz DDR3 Registered RDIMMs
Windows Server 2012 Standard
2 x Emulex LightPulse LPe16202 Gen 5 Fibre Channel (8GFC, 16GFC or 10GbE FCoE) PCIe 3.0 Dual-Port CFA
Aggregate bandwidth: 768 Gb/s end-to-end full duplex
Mellanox SX1036 10/40Gb Ethernet Switch and Hardware
36 40GbE Ports (Up to 64 10GbE Ports)
QSFP splitter cables 40GbE to 4x10GbE
Application Performance Analysis
Our first two benchmarks of the X-IO Hyper ISE 710 are the VMware VMmark Virtualization Benchmark and our Microsoft SQL Server OLTP Benchmark which both simulate application workloads similar to those which the X-IO Hyper ISE 710 and its comparables are designed to serve.
The StorageReview VMmark protocol utilizes an array of sub-tests based on common virtualization workloads and administrative tasks with results measured using a tile-based unit. Tiles measure the ability of the system to perform a variety of virtual workloads such as cloning and deploying of VMs, automatic VM load balancing across a datacenter, VM live migration (vMotion) and dynamic datastore relocation (storage vMotion).
After starting slightly behind the Dell EqualLogic PS6210XS, our previous top finisher in the VMmark benchmark, X-IO's Hyper ISE 710 emerged as the best performer at the maximum workload of ten tiles. The ISE 710 scored 11.60 in the VMmark application protocol only and scored 14.08 overall, versus 11.12 and 13.47 for the PS6210XS, respectively.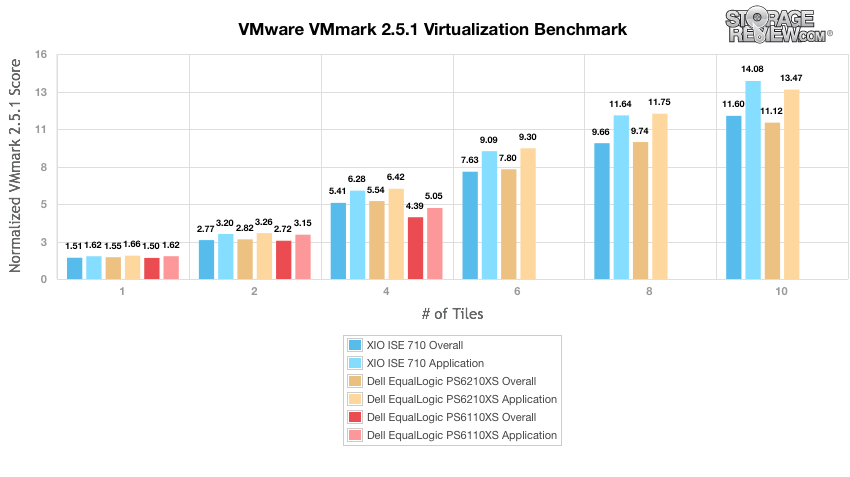 Tracking the internal drive stats during our 10-tile VMmark run, we were able to see data quickly moving off individual HDDs to the SSD layer, adapting the increased I/O demands with minimal delay.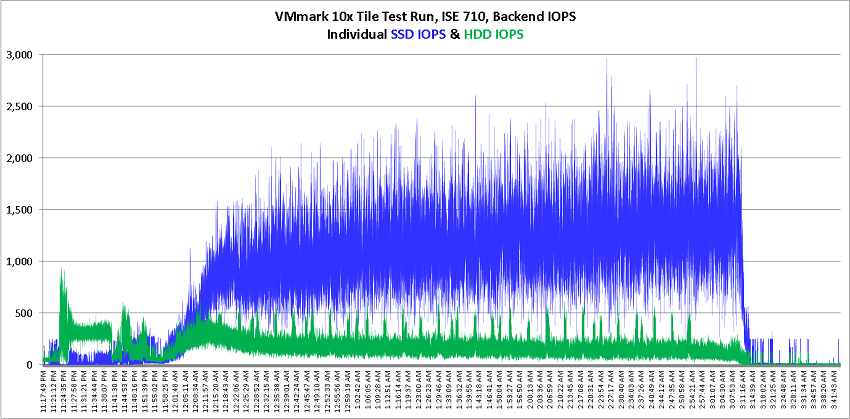 StorageReview's Microsoft SQL Server OLTP testing protocol employs the current draft of the Transaction Processing Performance Council Benchmark C (TPC-C), an online transaction processing benchmark that simulates the activities found in complex application environments. The TPC-C benchmark comes closer than synthetic performance benchmarks to gauging the performance strengths and bottlenecks of storage infrastructure in database environments. Our SQL Server protocol uses a 685GB (3,000 scale) SQL Server database and measures the transactional performance and latency under a load of 30,000 virtual users and then again with a half-size database of 15,000 virtual users.
With a workload of 30,000 virtual users, the ISE 710 and the EqualLogic PS6210XS finish in a dead heat, with the ISE 710 marginally ahead.

Average latencies during the first benchmark of SQL server performance again put the ISE 710 and the PS6210XS in the same performance class.

Each of the arrays benchmarked in our SQL Server protocol is well-qualified to handle 15,000 virtual users, although the ISE 710 continues to maintain a small lead over the EqualLogic PS6210XS.

The average latency performance of the X-IO Hyper ISE 710 distinguishes itself from all of the comparables, coming in at less than half the average latency of Dell's EqualLogic PS6210XS on this workload.

 Enterprise Synthetic Workload Analysis
Prior to initiating each of the fio synthetic benchmarks, our lab preconditions the device into steady-state under a heavy load of 16 threads with an outstanding queue of 16 per thread. Then the storage is tested in set intervals with multiple thread/queue depth profiles to show performance under light and heavy usage.
Preconditioning and Primary Steady-State Tests:
Throughput (Read+Write IOPS Aggregated)
Average Latency (Read+Write Latency Averaged Together)
Max Latency (Peak Read or Write Latency)
Latency Standard Deviation (Read+Write Standard Deviation Averaged Together)
The synthetic analysis incorporates four profiles, including 4k and 8k 70/30 benchmarks which are widely used in manufacturer specifications and benchmarks:
4k – 100% Read and 100% Write
8k – 70% Read/30% Write
Our first benchmark gauges the performance of random 4k transfers comprised of 100% write and 100% read activity. During the six hour preconditioning period we verified the data we were measuring was fully tiered on the SSDs to show optimal performance out of the array when configured as eight LUNs. With the ISE 710 in steady-state, it reached 49,203IOPS for read operations and 30,303IOPS for write operations — beating out the older EqualLogic PS6110XS but performing well below Dell's EqualLogic PS6210XS.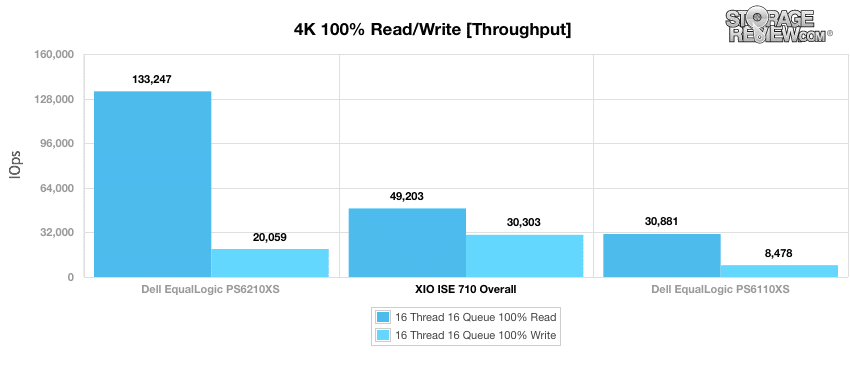 With a queue depth of 256 in our 4k protocol, the ISE 710 maintained an average latency of 5.20ms during read operations and 8.44ms during write operations, again outperforming the PS6110XS but not the PS6210XS.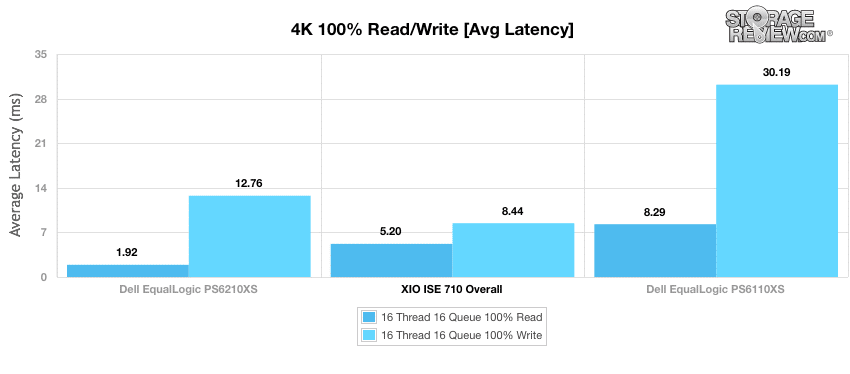 The ISE 710 distinguishes itself from the EqualLogic comparables in our measurements of maximum latency during the 4k benchmark, where the ISE 710 kept latency spikes limited to 51.9ms for read operations and 146.0ms for write operations.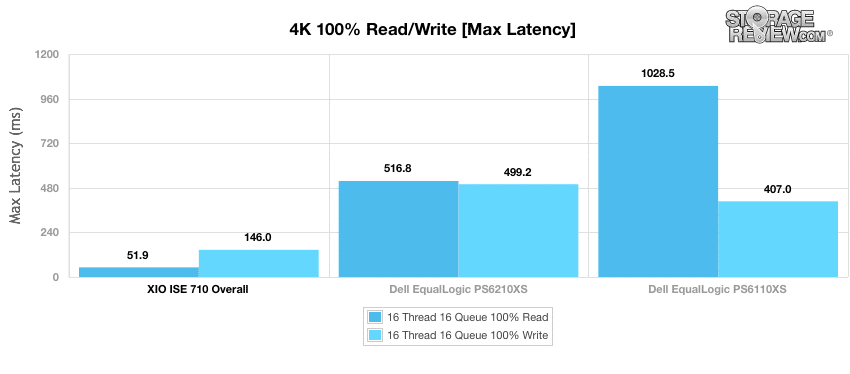 The consistency of the X-IO Hyper ISE 710's latency results is highlighted again by our chart of standard deviation results from the 4k benchmark, where ISE 710 is close to parity with the EqualLogic PS6210XS during read operations, and outperforms the PS6210XS with a standard deviation of 5.43ms for write operations.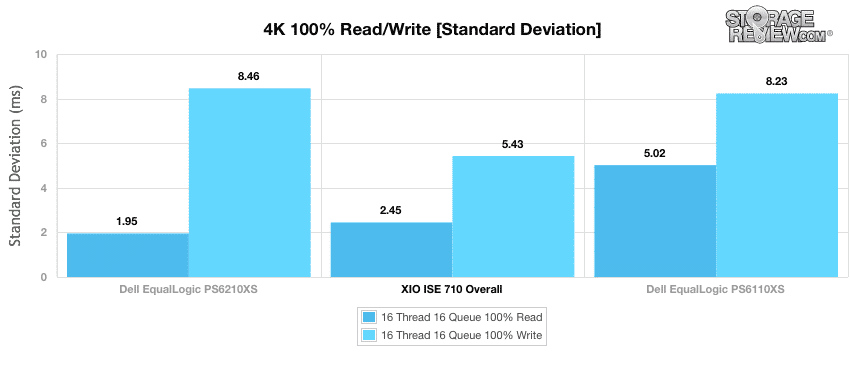 The ISE 710 achieved excellent results during our 8k protocol, which uses a combination of 70% read operations and 30% write operations. The ISE 710 outperformed all of the comparable arrays at every combination of thread count and queue depth.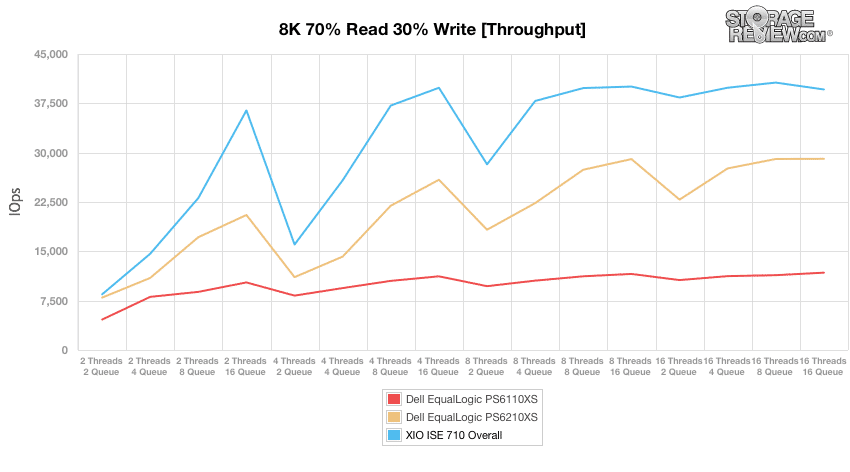 The X-IO Hyper ISE 710 also maintained the lowest average latency throughout the 8k benchmark, never exceeding 7ms.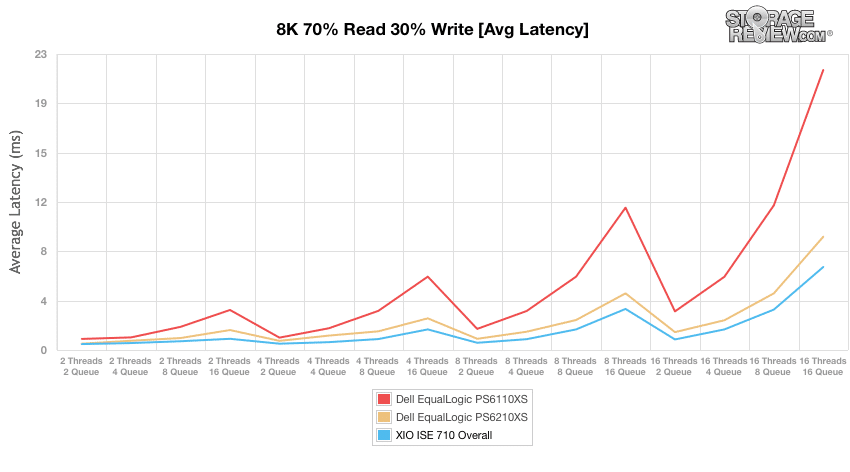 With the exception of a very notable spike with a workload of 8 threads and a queue of 16, the ISE 710 trounced the comparable drives in terms of maximum latency. This type of performance issue is often possible to resolve through a software or firmware update.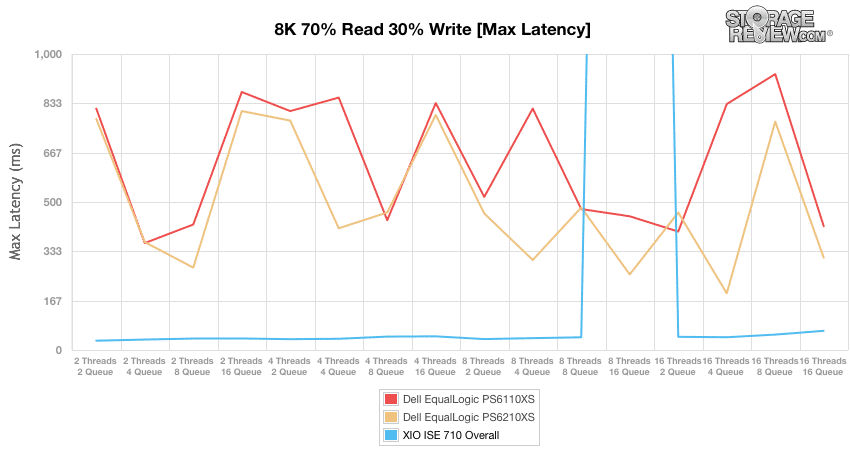 With again the caveat that the ISE 710 had trouble with 8 threads and a queue of 16, the standard deviation results confirm its top-in-class performance during our 8k synthetic benchmark.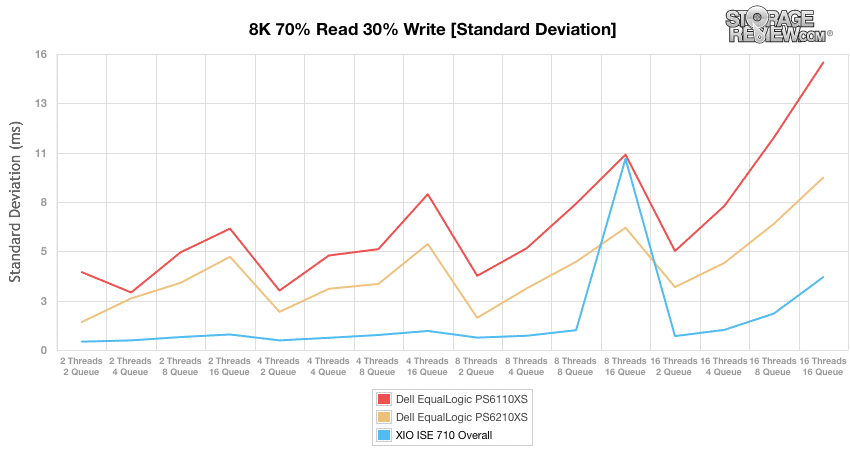 Conclusion
X-IO has successfully executed a very specific vision for how to best leverage flash storage in a hybrid storage array. As opposed to competing solutions that utilize economies of scale to improve performance of hybrid storage arrays, the ISE 710 takes a uniquely granular approach to tuning its performance and service life. With low-level firmware access to the hard drive components within its storage media, the ISE 710 is able to maximize the performance of its hard drive media per platter in conjunction with an automatic tiering technology that proved effective in handling both synthetic and application benchmark workloads. This unique approach also enables them to make and uphold their bold five-year no service needed claims about the arrays, which is an attractive proposition to reduce maintenance overhead and downtime.
When it comes to performance, the X-IO ISE 710 took us by surprise the first day we had it in the lab. We called it the "unicorn" of the hybrid storage space, because of its immediate ability to execute against X-IO's claims in terms of both usability and performance. From the first benchmark testing performance with VMmark, the ISE 710 had no trouble cranking through the tests during its first go, quickly migrating data to its flash storage tier. Compared to other systems on the market,X-IO doesn't leverage a lot of flash, just a modest 800GB usable with vRAID1 overhead. Hwever with an aggressive tiering algorithm combined with high-performance SSDs, the lack of flash isn't a problem for X-IO. In VMmark the 710 had no trouble getting to 10-tiles, trailing the Dell EqualLogic PS6210XS up through 8-tiles, but edging it out on the 10-tile run. In the 15k and 30k VU SQL Server tests, the ISE 710 came in top of the pack. When turning to synthetic benchmarks the 710 fell behind the EqualLogic PS6210XS in 4K random read speed by a significant margin, but held its own in write performance. In our 8k 70/30 test though, it came in on top.
Pros
Remarkable service life without replacing storage media
Strong performance in VMmark and SQL Server workloads
Incredibly responsive migration from HDD to SSD tier during heavy workloads
Cons
No dedupe, compression or snapshot capabilities built in
The Bottom Line
X-IO promised that the Hyper ISE 710 hybrid array outperforms and outlives its competitors. From what we have seen, it has strong grounds to make these claims as the array performed admirably throughout and customers ranging back to 2008 can validate the excellent service record of the arrays.
Discuss This Review