At Accelerate 2023 in Las Vegas, Pure Storage announced several new product updates. On the hardware side, the highlights include a new 75TB capacity DirectFlash Module with plans to get to 300TB, a 1PB FlashArray//E configuration, and FlashArray//X and FlashArray//C R4 updates with Intel Sapphire Rapids controllers and a significant performance boost.
At Accelerate 2023 in Las Vegas, Pure Storage announced several new product updates. On the hardware side, the highlights include a new 75TB capacity DirectFlash Module with plans to get to 300TB, a 1PB FlashArray//E configuration, and FlashArray//X and FlashArray//C R4 updates with Intel Sapphire Rapids controllers and a significant performance boost.
75TB DirectFlash Modules, on the Way to 300TB
Pure's Evergreen strategy of perpetual hardware upgrades includes three core components; the controllers, chassis, and the DirectFlash Modules (DFMs). Pure's DFMs give them a major engineering advantage compared to standard off-the-shelf SSDs. Because they control the hardware, controller, and firmware in their version of the SSD, Pure can be vertically integrated. This means granular control for data management and placement, along with the ability to troubleshoot issues independently without relying on an SSD vendor. Pure argues that this deep integration also lets them be more efficient with the power consumption of each module as well.
Pure's been able to grow its DFMs over time and offers both QLC and TLC versions, depending on the customer's application needs. With this release, Pure has launched new high-capacity DFM options, 75TB QLC DFMs, and 36TB TLC DFMs. What's more, a 150TB capacity demo DFM is floating around at Accelerate, which is expected to be available next year. And Pure isn't stopping there; they see a 300TB DFM available in 2026.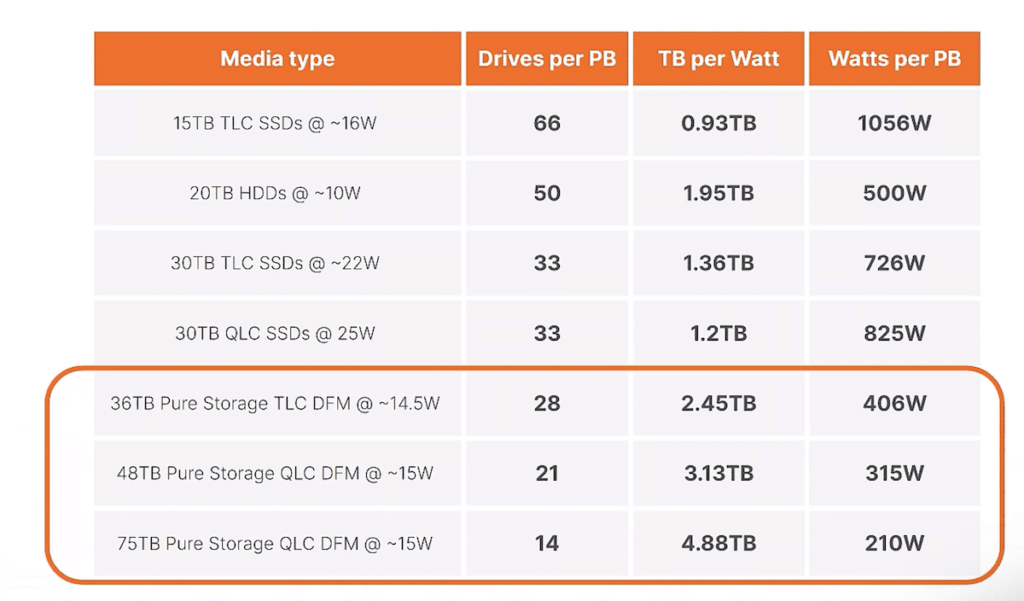 Making more dense DFMs is important for Pure's efficiency messaging. As these drives get larger capacities, the power consumed per TB continues to swing greatly in Pure's favor. Commercially, the largest SSDs available are 30.72TB class, with Solidigm planning a 61.44TB QLC drive this year. As you compare what Pure can deliver in terms of capacity per rack U, these new modules are very exciting. It's also worth noting that Pure also offers data reduction that they commonly quote at 5:1 effectiveness. Hence, the multiplier effect is huge when you layer the massive DFMs and data reduction to get a true energy efficiency picture.

One other note on the new DFMs. They do leverage a PCIe Gen4 interface. However, outside of the FlashArray//XL, Pure's FA and FB chassis don't currently support Gen4. When they do, there's another performance bump available across the board, though Pure contends that the benefits of the storage interface aren't that great due to Pure's inherent efficiency in managing flash and systems like FlashArray//E don't require more performance for their targeted workloads.
While Pure didn't announce anything publicly about new chassis development, our guess is they'll leapfrog Gen4 entirely and offer end-to-end Gen5 in at least some models. This means the chassis will be future-ready when they're ready to deliver a Gen5-based DFM or potentially CXL. Pure may also take that opportunity to squeeze more drives into the FlashArrays specifically, to further their density messaging. That said, Pure seems pretty intent to grow its platform densities via larger drives.
"Small" 1PB Pure FlashArray//E
This past spring, Pure launched FlashBlade//E as a frontal assault on storage systems using hard drives. An issue with that system, though, is that it starts at 4PB, which for some customers was too large. Today's announcement launches the FlashArray//E that can hit the smaller sweet spot of 1-4PB for unified block and file storage.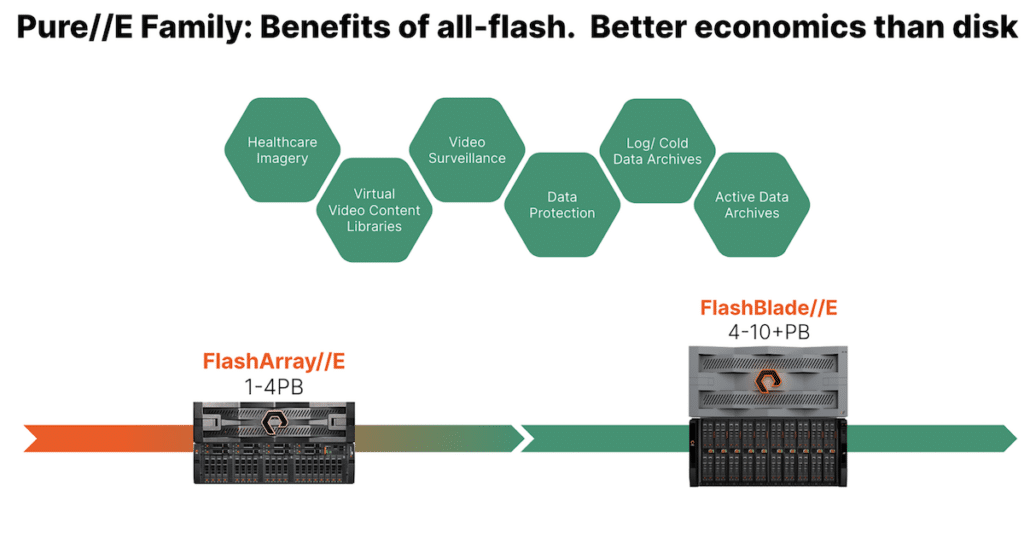 Pure continues to bang the drum of $0.20 per GB  with a three-year contract for these systems, which aggressively targets HDD-based arrays. To clarify the math some, that means a $200K price tag on a PB system, but that's all-inclusive over the three-year life of the system. And as noted above, when these systems are combined with the larger DFMs and data reduction (depending on the data), the rack and power footprint swings heavily in favor of FlashArray. There's also an operational benefit in terms of servicing the system; Pure's DFMs are replaced far less often than HDDs and failed less than traditional SSDs, according to Pure.
There is a slight nuance when selecting the right //E family member for these large-capacity workloads. Besides the obvious starting capacity differences between the systems, there are protocol and expansion considerations as laid out in the below table.
FlashArray//E
FlashBlade//E
Effective Capacity
1-~6PB, depending on DRR
(at 1:1 DRR, max ~3PB; at 2:1, ~6PB)
~3-10PB (little DRR)
File-only (SMB/NFS)
1-4PB raw

Large single namespaces

4-10+PB raw

Extra large single namespaces

S3 Object
Not supported
Supported
Unified File & Object
Not supported
Supported
Block-only
Supported
Not Supported
Unified Block & File
Supported
Not Supported
High-DRR (Dedupable)
Recommended
Not Recommended
Storage-as-a-Service

Evergreen//One //UDR

Min. Commit 500 TiB

Evergreen//One //UDR

Min. Commit 1.5 PiB
Pure FlashArray//X R4 and FlashArray//C R4 Boosts Performance, Efficiency
Pure Storage FlashArray has been a leader in pushing the green wave for data center efficiency, and the new FlashArray//X R4 and FlashArray//C R4 products have taken efficiency to new heights. The new R4 FlashArray models are now boasting up to 40 percent more performance per watt for the FlashArray//X and 48 percent for FlashArray//C when using the new 75TB QLC and 36TB TLC DirectFlash Modules (DFMs). In addition, the FlashArray//X requires 51 percent less rack space per TB, while the FlashArray//C uses 36 percent less.
Several advancements to the R4 controllers enable this leap in performance and efficiency. The FlashArray//X R4 and FlashArray//C R4 upgrades include:
4th Gen Intel Xeon processors:  The controllers were upgraded to the latest-gen Intel Xeon processors, making a significant impact on the performance per watt.
PCIe Gen 4.0: The latest iteration of the PCIe interface standard doubles the bandwidth compared to PCIe 3.0, up to 2Gb/s per lane.
DDR5 DRAM: The fifth generation of DRAM brings an 80% boost in memory speeds, up to 4,400 mega transfers per second (MT/s). Additional performance efficiency is gained through the advancement and expansion of the memory buses provided by the new processor architecture.
DirectCompress Accelerator: Pure-built offload compression card boosts inline compress by 30%. Currently shipping with every FlashArray//XL, with R4 it will now be included with the larger FlashArray//X and FlashArray//C models (//X90, //X70, //C90, //C70).
64Gb FC and 100GbE at full line rate: With PCIe 4.0 x16, 16 lanes are available to each of FlashArray//X and FlashArray//C R4's networking ports, allowing them to run full line rate on two ports of 100GbE, four ports of 25GbE, or four ports of 64Gb FC, with no oversubscription.
NVMe-oF for TCP, FC, and RoCE: Pure Storage offers NVMe-oF for all the major fabric networks—FC, RoCE, and TCP. NVMe/TCP delivers up to 35% improved latency compared to iSCSI, unlocking the full power of NVMe for standard Ethernet networks.
Not Your Typical Refresh
With these advanced technologies and the software and FlashArray hardware to take advantage of it all, this is not a small refresh with a new //E system and big performance gains in FlashArray//C and //X. The sum total is a giant leap in performance and/or efficiency across the portfolio. And in the midst of most large IT vendors focusing on decoupling software from hardware, it's fun for hardware nerds like us to see so many physical kit advances. We're even enamored by the new FlashArray bezels that are aluminum and recyclable now, compared to the traditional plastic bezels that generally are not.
This leap forward in performance and scale means FlashArray continues to be a leader in the storage industry, powering the most demanding applications and business-critical workloads while reducing overall management costs by up to 74 percent over legacy storage. Pure Storage Evergreen//Forever subscribers can take advantage of the massive performance and efficiency gains at no additional cost and completely non-disruptively.
It will be interesting to watch and see if Pure is able to assault the HDD array space as much as they think they can. Pure's claiming no new HDDs will be sold in enterprise storage in 5 years. It's a very bold claim, but one that if organizations take the time to evaluate the cost of flash vs HDDs, could come to pass. And if so, could that spell the end of the hard drive industry?
It sounds fanciful, but the momentum is clearly with Pure as they aim to bury HDDs for good. Watch the hyperscale space over the next few years to see what signs they provide in terms of flash vs HDD spend. Pure thinks they have a compelling-enough argument that even hyperscalers could consider Pure arrays for bulk data storage that's dominated by custom HDD rigs today. If hyperscalers lead the way and slow spending on HDDs, the R&D math gets impossibly difficult for WD, Seagate, and Toshiba in terms of cranking out bigger HDDs that are also rack U and power consumption friendly.
Engage with StorageReview
Newsletter | YouTube | Podcast iTunes/Spotify | Instagram | Twitter | TikTok | RSS Feed