Today Pure Storage announced new Purity software versions for both its FlashBlade (3.2) and FlashArray (6.1) products. These new versions will be delivered through its Evergreen program. The company is promising that the enhancements will deliver new features for every customer, furthering the company's vision for a Modern Data Experience.
Today Pure Storage announced new Purity software versions for both its FlashBlade (3.2) and FlashArray (6.1) products. These new versions will be delivered through its Evergreen program. The company is promising that the enhancements will deliver new features for every customer, furthering the company's vision for a Modern Data Experience.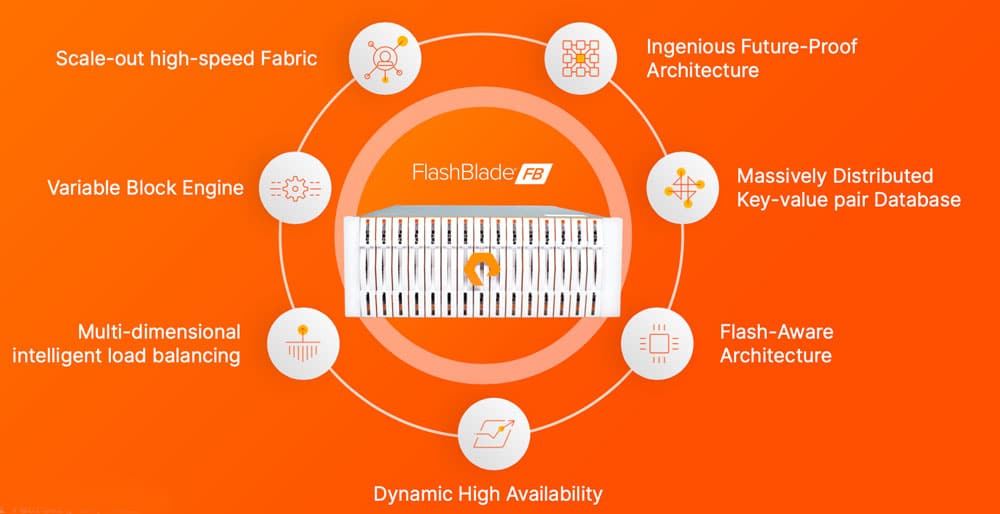 Storage was once seen as more of a static resource, it was there when you needed it and as it ran out, just add more. Well, times have changed and users need their storage to do a lot more. Pure Storage recognizes this and with its Modern Data Experience address these needs. This includes making storage a cloud experience through shared services, enable flexible on-demand consumption, and be delivered as code to application developers and operations managers.
The overall portfolio is seeing updates that are said to increase application performance, continuous data availability, and enhanced protection. Key portfolio updates include:
Data security for enhanced confidence and uptime: FlashBlade and FlashArray are now both strengthened by SafeMode snapshots, providing customers with a robust strategy for business continuity against potential disasters or ransomware attacks. Purpose-built to protect backup and metadata while minimizing data loss and downtime, SafeMode snapshots are created and managed automatically with advanced user security functions to prevent unauthorized access. These security advancements in Purity software ensure rapid restore of data, supporting greater productivity.
Comprehensive portfolio of file services for greater value and more use cases: With its scale-out architecture, file services on FlashBlade create an ideal environment for real-time analytics, AI/ML, accelerated DevOps, and rapid ransomware recovery. For FlashArray, file services enable VDI user profile and file server consolidation on an architecture that balances performance and scalability with ease. Whether customers deploy FlashBlade or FlashArray, they are now able to support all workloads with the features provided in the Purity operating environment, leverage the same data layer, user interface, and capacity pool as well as benefit from global data reduction.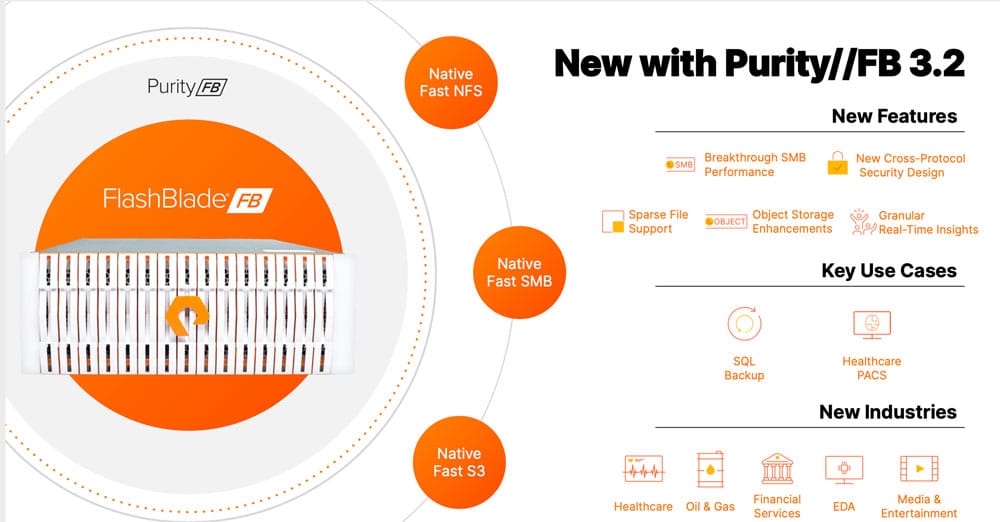 Breaking it down it to separate products, first let's look at the Unified Fast File and Object (UFFO) storage platform, FlashBlade. The company claims that FlashBlade is able to address the demands of modern and diverse applications and support the needs of a wide range of unstructured data. The new enhancements include:
Multi-dimensional performance for Windows applications with scale-out native SMB support: FlashBlade delivers native SMB support that scales out to all blades in a cluster, accelerating Windows applications and extending FlashBlade's rich set of data services, including Replication, File System Rollback, and SafeMode Snapshots for rapid ransomware recovery to SMB workloads. With native SMB, Pure has validated solutions for various healthcare PACS applications and SQL Server Backup at speeds higher than 1TB/min for SQL farms that demand fast backup and recovery.
Improved Security with New Cross-Protocol File Security Design: Allows access control interoperability between SMB and NFS users while preserving access control lists for both, in addition to complying with federal security mandates.
Enhanced operational control for UFFO: Enhanced object security with S3 simple user policies provides access control at the user level. Granular, user-level performance monitoring meets a critical requirement for real-time visibility into the most active users and unified APIs/SDK improves the automation experience across FlashBlade, FlashArray, and Pure1 with unified REST APIs and Python SDK.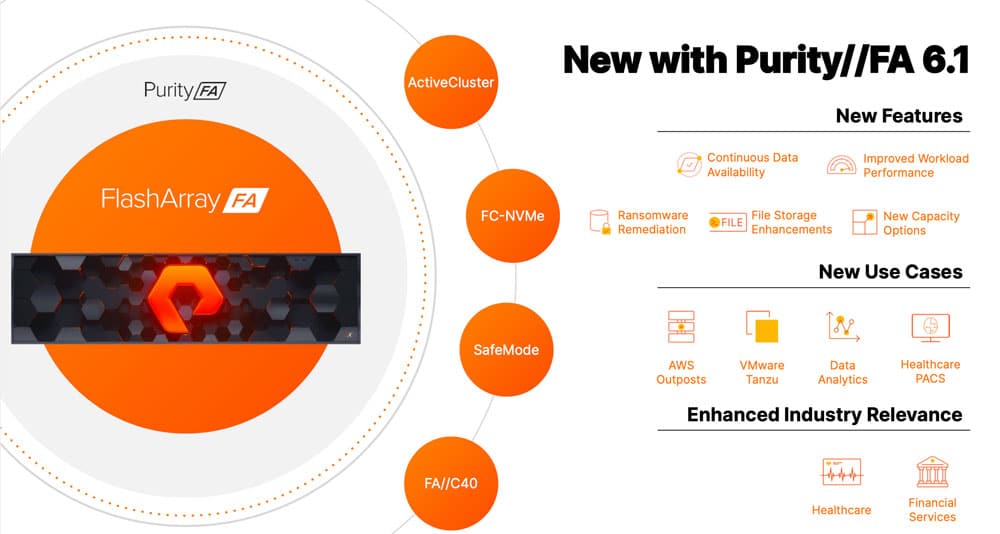 With FlashArray, the company claims it is flexible enough to meet the requirements of tomorrow. The latest version expands the data services necessary to store, safeguard, manage, access, and mobilize data, achieving improved levels of operational agility. With these updates, customers can:
Reduce application latency by up to 50% with NVMe over Fibre Channel. Reduced transaction processing time leads to faster decisions and quicker results. NVMe over Fibre Channel enables increased performance and up to two times higher IOPS and throughput compared to traditional fibre channel protocol. Support for NVMe over Fibre Channel complements Purity's existing support for NVMe over Ethernet (RoCEv2).
Maintain non-disruptive operations of critical applications and systems over metro distances with ActiveCluster over Fibre Channel. ActiveCluster™ requires no additional hardware or software and delivers stretch clustering solutions for any application over any fabric. ActiveCluster is integrated with Pure1 Cloud Mediator, removing the need to manage a cumbersome third-site witness, and is fully-integrated with Purity asynchronous and synchronous replication, enabling a third recovery site to be added anywhere in the world.
Reduce downtime associated with ransomware attacks with SafeMode. The most expensive aspect of a ransomware attack is the downtime experienced by customers in their efforts to get data back online. FlashArray Purity SafeMode helps reduce attack-related downtime with immutable snapshots, configurable policies that retain data up to 30 days, and granular administrative control over expired data that can be restored in seconds.
Leverage all-flash at disk economics with FlashArray//C40. The newest all-QLC addition to the FlashArray//C family delivers deterministic latency and performance compared to hybrid arrays, completing Pure's mission to eliminate the need for disk-based storage systems and creating a seamless path to the cloud.
Pure Storage also announced a partnership with Komprise to enable file replication. Komprise Asynchronous Replication will be used on FlashArray delivering reliable data replication. Key capabilities include:
Granular Data Replication: Since file data sets can be very large, customers can choose whether to replicate entire shares or specific managed directories. Replications can also be scheduled to fit customer needs.
Streamlined Management: Manage multiple FlashArray replications with a single intuitive console. Automate enterprise-scale replications using APIs.
Increased Availability: Minimize data loss with a consistent replication copy always available. Replicate to another FlashArray with speed and agility.
Availability
The updates for Pure Storage Purity for FlashArray are available now. Updates in Purity for FlashBlade are expected in the first quarter.
Engage with StorageReview
Newsletter | YouTube | Podcast iTunes/Spotify | Instagram | Twitter | Facebook | RSS Feed