The Aberdeen AberNAS N21L Series arrays are built entirely with SSD technology and high throughput in mind. The AberNAS N21L delivers high IOPS (320,000 IOPS, 4K Random Reads Specifically for VDI) with a maximum storage capacity of 15.3TB of SDD storage (or 19.2TB if opting for HDDs) in a 2U form factor. The customizations on top of the Linux OS unifies NAS, iSCSI/IP-SAN functionalities, and Fibre Channel Target support into one device giving IT departments their choice of NAS or iSCSI, or FC.
The Aberdeen AberNAS N21L Series arrays are built entirely with SSD technology and high throughput in mind. The AberNAS N21L delivers high IOPS (320,000 IOPS, 4K Random Reads Specifically for VDI) with a maximum storage capacity of 15.3TB of SDD storage (or 19.2TB if opting for HDDs) in a 2U form factor. The customizations on top of the Linux OS unifies NAS, iSCSI/IP-SAN functionalities, and Fibre Channel Target support into one device giving IT departments their choice of NAS or iSCSI, or FC.

Aberdeen has seized on the growing popularity and commoditization of flash, developing this NAS from the ground up with SSDs as the centerpiece, providing an array with high IOPS with low latency. The Aberdeen AberNAS N21L can utilize 16 SSDs benefiting applications such as video streaming, virtual desktop environments, and big data analytics. Of course running on Linux and commodity hardware helps on value proposition side as well. Aberdeen wants to be able to bring SSDs to SMBs, creative shops and others who want the promise of flash but can't make the capital investment with storage vendors that have expensive operating system overhead and the resulting licensing schemes. Calling the N21L a "no frills" flash array isn't quite right, but at the same time it's about as simple as it gets, short of a DIY solution.
Not to be distracted simply with the SSDs inside, the Aberdeen AberNAS N21L Series comes customizable from 2 Intel Xeon E5-2620 6C 2.0GHz/7.2GTs/15M/95W processors up to 2 Intel Xeon E5-2690 8C 2.9GHz/8.0GTs/20M/135W processors. The system supports physical memory from 32GB to 512GB and has 6 PCIe slots internally for interconnect expansion. Aberdeen will customize the storage based on each customer's requirements and currently supports Intel DC S3500 SSDs in capacities up to 800GB and SAS hard drives from HGST (up to 1.2TB) and Seagate (up to 900GB).
The N21L is shipping now with a price that begins around $8,000 with four SSDs and comes with a limited five-year warranty. Our review system is configured with 16 Intel S3500 SSDs in the 800GB capacity.
Aberdeen AberNAS N21L specifications:
Performance and Storage

Configurable Processor: Dual Intel Sandy Bridge-EP Xeon E5-2600
Configurable Memory: 32GB to 512GB ECC DDR3 (Quad Channel Operation) (64-bit OS allows for maximum memory support)
Max Capacity: 15.3 Terabytes (SSD); 19.2 Terabytes (HDD)

Included OS: 1 x Disc-On-Module (DOM)
Supports 10GBase-T, 100BASE-TX, and 1000BASE-T, RJ45 output
Hot Swap: 16 x 2.5″ Bays
Available Expansion Slots: 6 x PCI-E 3.0
Power

Power Supply: 900W Redundant High-efficiency
Off: 46
Boot-Up: 386
Burn-In: 443
Idle: 276

Choice of Data Disk Drives

16 x SAS 6G / SATA 6G / SATA 3G
1.2TB / 900GB / 600GB / 300GB
7.2K/10K/15K or SSD
24×7 Enterprise-Class

Form Factor: 2U, 19″ Rackmount (24.8″ in Depth)
Dimensions (HxWxD): 89 x 437 x 630 mm
Warranty: 5 year limited
Design and Build
The AberNAS N21L Series is a 2U, 19″ rackmounted NAS. The front has 16 2.5″ bays going from left to right. On the right are two USB ports, a COM port and one externally-accessible 5.25″ bay. On the left hand side are the chassis power, reset, and activity/health lights. Compared to other storage arrays we have reviewed, the N21L doesn't take full advantage of the chassis width for 24 2.5″ storage bays as you might see from other 2U storage platforms, although Aberdeen is going with a more cost-effective approach with the N21L and does plan to roll out a more dense configuration in the future.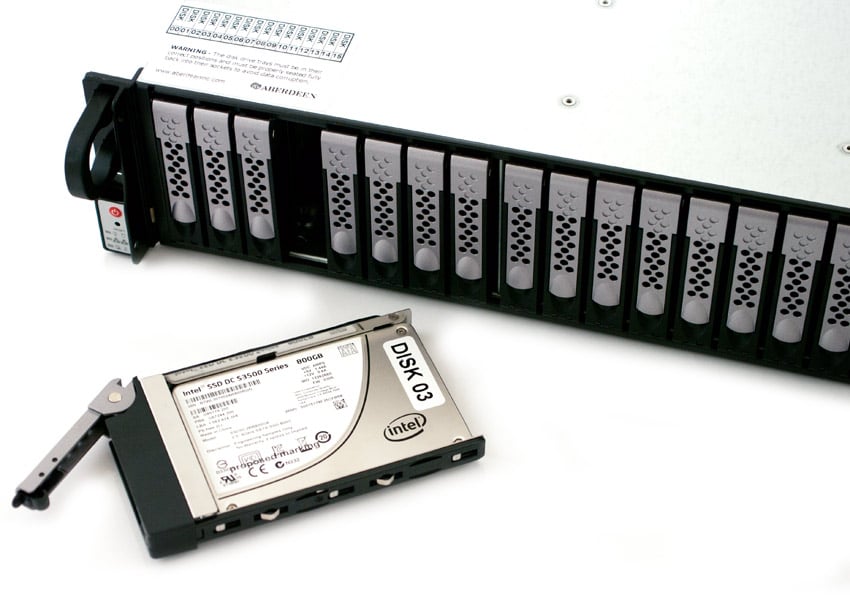 The rear of the N21L chassis has redundant both power supplies on the left and a wide range of connectivity on the motherboard. The board Aberdeen chose for the N21L includes the standard VGA, USB and serial port access, as well as dedicated iKVM and dual 10GBase-t Ethernet ports. This puts high-performance networking on-board from the factory, with 5 available PCIe 3.0 slots for added expansion. In our case we chose two additional Emulex 10GbE Twinax cards to integrate it into our testing infrastructure and VMware compute platform.

Inside the N21L (with cooling cowl removed for the photo) we see a very clean layout optimized for airflow over all stressed components. Visible in this shot an Adaptec 16-port 7-series RAID card with battery backup kit as well as the two previously mentioned Emulex 10GbE adapters.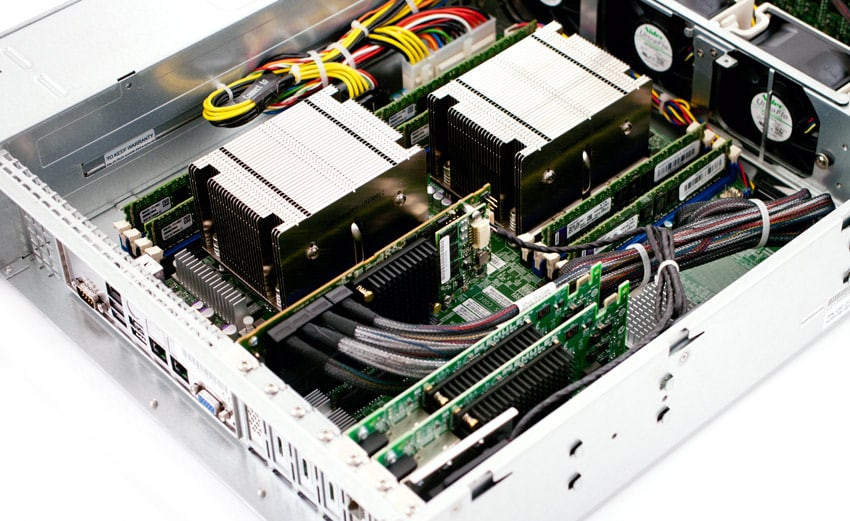 Management Software
Aberdeen includes the same management interface for the N21L as they did with the N31L that we reviewed previously. The management software provided with the AberNAS for the Linux-based N21L gets the job done, but leaves a bit to be desired with its UI compared to other array solutions. The interface enables users access to a wealth of information regarding the N21L but it is often difficult to sift through that data to find the requisite information. Experienced users won't struggle much, but there is a learning curve required to get familiar with the Aberdeen interface. For most users this won't be a big problem since it only took us a few minutes to get the N21L provisioned on our network, but depending on the amount of users or volumes you need to configure in your environment it might cause some frustration.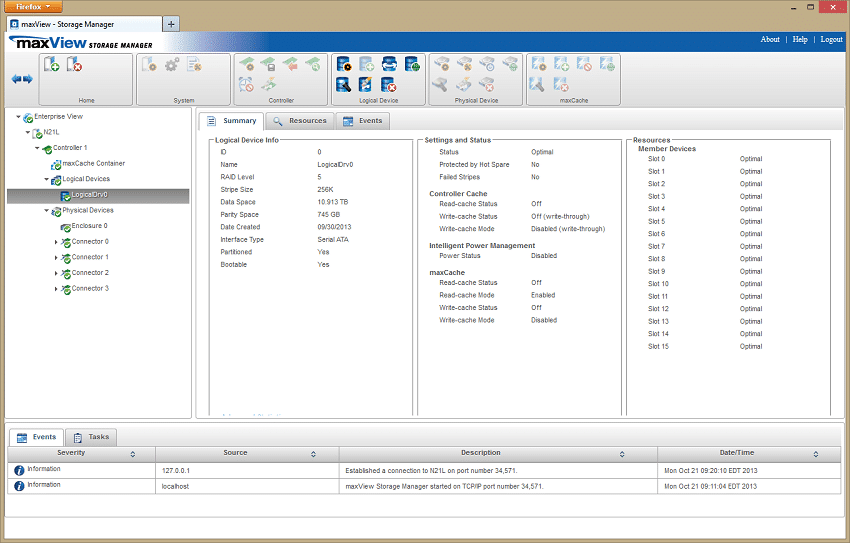 Aberdeen offers a KVM pass-through directly to the Adaptec maxView Storage Manager for storage array management. This gives the benefit of having as much control as possible over the Adaptec RAID card and provides access to advanced features that might not be available through the Web GUI.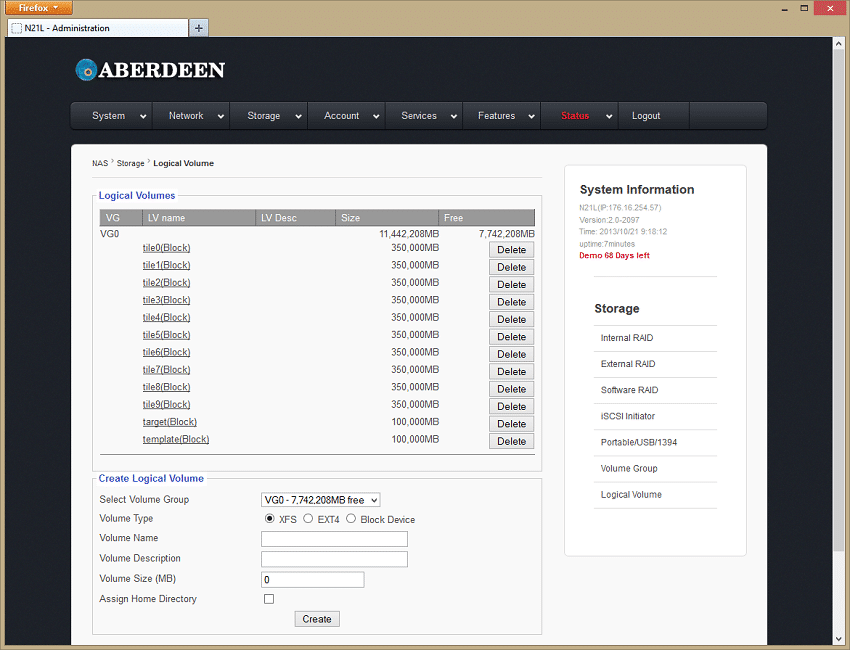 In terms of access to background information, Aberdeen gives users access to nearly all system stats, which is beneficial for those more technically inclined. With a quick scroll, the display shows what processes are running in the background, how much memory is free, and other information such as CPU temp and fan speed.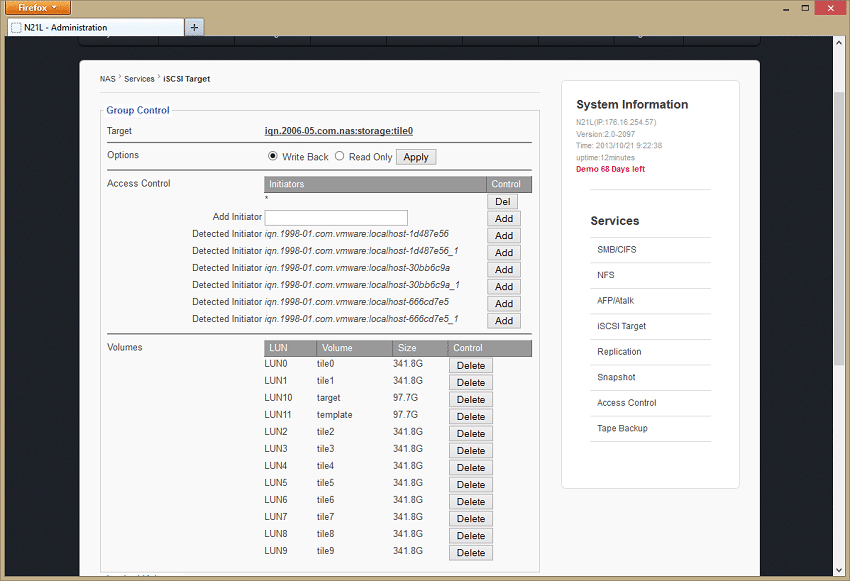 Testing Background
The StorageReview Enterprise Test Lab allows us to provide relevant and unbiased benchmarks of enterprise storage devices by establishing a testing environment comparable to what IT administrators encounter in real datacenter and field deployments. The Enterprise Test Lab incorporates a variety of servers, networking, power conditioning, and other infrastructure to design real-world configurations that accurately reflect the performance of storage devices during reviews.
We incorporate details about our lab environment and testing protocols into reviews so that storage administrators and those responsible for equipment acquisition can fairly gauge the conditions under which we have achieved the published results. None of our reviews are paid for or overseen by the manufacturer of equipment we are testing. Additional details about the StorageReview Enterprise Test Lab and an overview of its networking capabilities are available on those respective pages.
In order to fairly evaluate the performance of the all-flash Aberdeen AberNAS N21L Series, we established an environment that ensures that the AberNAS N21L is the I/O bottleneck rather than the network. This review employs dual Lenovo ThinkServer RD630s paired with a Mellanox SX1036 10/40Gb Ethernet Switch, with connectivity via Mellanox ConnectX-3 PCIe adapters.
2 x Intel Xeon E5-2620 (2.0GHz, 15MB Cache, 6-cores)
Intel C602 Chipset
Memory – 16GB (2 x 8GB) 1333Mhz DDR3 Registered RDIMMs
Windows Server 2012 Standard
LSI 9211-4i SAS/SATA 6.0Gb/s HBA (For boot SSDs)
Mellanox ConnectX-3 10GbE PCIe 3.0 Adapter
Mellanox SX1036 10/40Gb Ethernet Switch and Hardware
36 40GbE Ports (Up to 64 10GbE Ports)
QSFP splitter cables 40GbE to 4x10GbE
Mellanox ConnectX-3 EN PCIe 3.0 Twin 10G Ethernet Adapter
Application Performance Analysis
In the enterprise market there is a huge difference between how products claim to perform on paper and how they perform in a production environment. We understand the importance of evaluating storage as a component of larger systems, most importantly how responsive storage is when interacting with key enterprise applications. To this end, we've rolled out application tests; in this review we've included our VMware VMmark Virtualization Benchmark.
The VMware VMmark 2.5.1 benchmark measures the performance of a given hardware platform by running a set number of Tiles, which contain VMs performing common workloads such as mailserver, web 2.0, database and other activities. In our testing environment by keeping the networking and compute hardware static and swapping out different storage arrays, we turned it into a benchmark that allows us to measure the effect of storage in a virtualized infrastructure.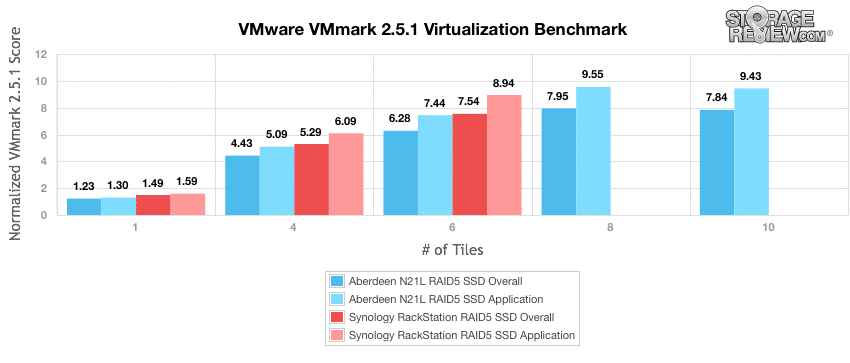 Given the heavy I/O load in VMmark 2.5.1 (about 2,500 IOPS for 1 Tile) the Aberdeen AberNAS N21L was able to scale up to 10 tiles, moving past the Synology RackStation we outfitted entirely with SAS SSDs. While the N21L was able make a compliant run with 10 tiles, performance had peaked at our 8-tile run.
Enterprise Synthetic Workload Analysis
Our enterprise storage benchmark process preconditions each device into steady-state with the same workload the device will be tested with under a heavy load of 16 threads with an outstanding queue of 16 per thread, and then tested in set intervals in multiple thread/queue depth profiles to show performance under light and heavy usage.
Preconditioning and Primary Steady-State Tests:
Throughput (Read+Write IOPS Aggregate)
Average Latency (Read+Write Latency Averaged Together)
Max Latency (Peak Read or Write Latency)
Latency Standard Deviation (Read+Write Standard Deviation Averaged Together)
Our Enterprise Synthetic Workload Analysis includes four profiles based on real-world tasks. These profiles have been developed to make it easier to compare to our past benchmarks as well as widely-published values such as max 4k read and write speed and 8k 70/30, which is commonly used for enterprise systems.
4k

100% Read or 100% Write
100% 4k

8k 70/30

70% Read, 30% Write
100% 8k

128K (Sequential)
With 100% random 4K read activity across 16 threads with a queue depth of 16 against the RAID5 array, we measured strong random performance with an even spread between both of our servers. The AberNAS N21L achieved read performance between 53-55,000 IOPS across both servers or just below 110,000 IOPS in aggregate. Write performance measured 14K IOPS on each server or 28.2k IOPS in aggregate.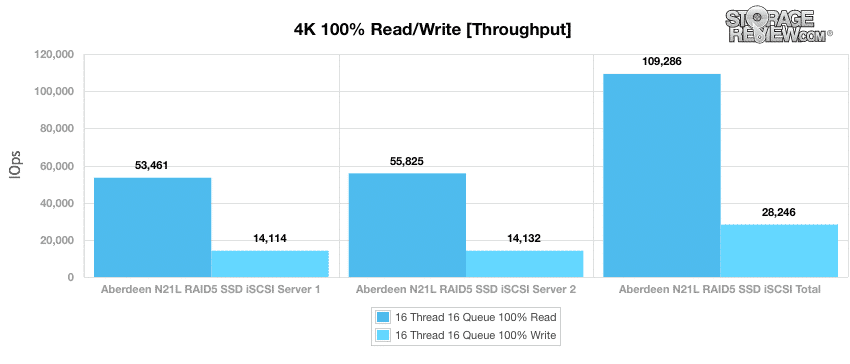 4k read and write latencies were consistent throughout testing of the AberNAS N21L, with average results of 4.68ms for read operations and 18.12ms for write operations across both servers.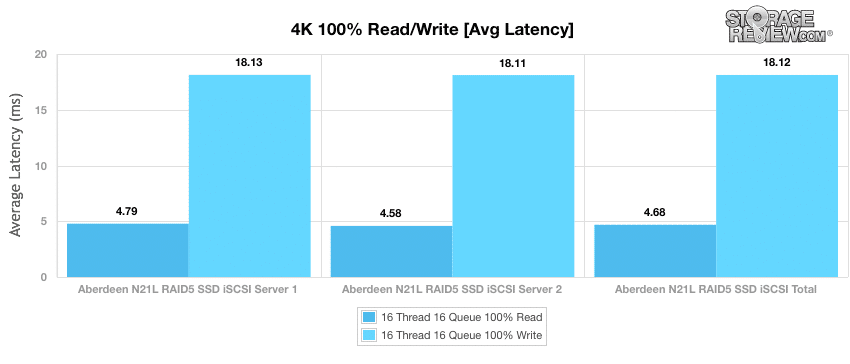 Looking at peak response time in our 4K random test, the AberNAS N21L was able keep maximum latency tame across both of our connected servers, with a peak of 167.9ms on Server 1 in read and 187ms on Server 2 in write.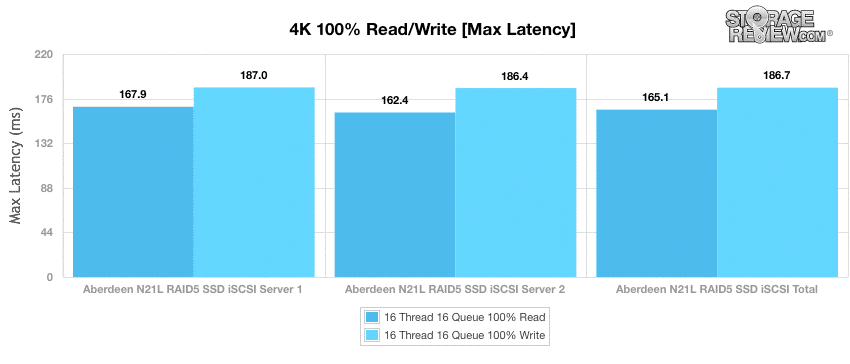 The standard deviation results indicate how much fluctuation existed in latency benchmarks during the 4k testing protocol, which can be useful in identifying trouble spots where the average and maximum latency results fall in line with expectations but specific scenarios have caused inconsistent results that don't show up in other visualizations. With an average standard deviation of 5.25ms for read operations and 8.55ms for write on the AberNAS N21L showed a small preference for Sever 2.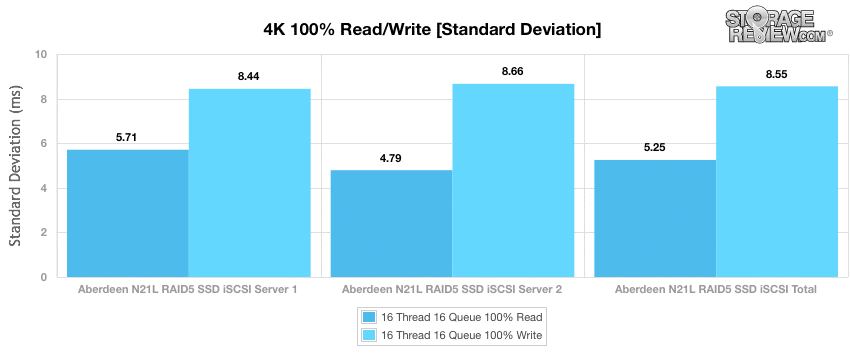 Our next benchmark measures 100% 8K sequential throughput with a 16T/16Q load in 100% read and 100% write operations. The AberNAS N21L was able to attain a combined read throughput of 104,842 IOPS and a write throughput of 12,145 IOPS, with only a small discrepancy in read performance favoring Server 2.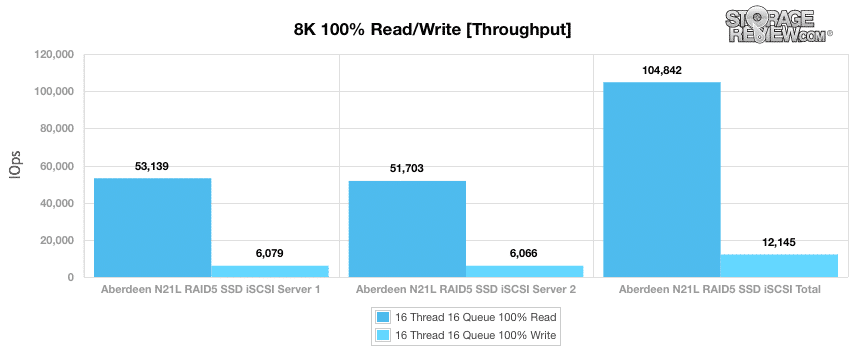 The next benchmark measures 100% 128K sequential throughput with a 16T/16Q load in 100% read and 100% write operations. The AberNAS N21L was able to attain a combined read throughput of 2.8GB/s and a write throughput of 758MB/s. This time there was a larger discrepancy in the read performance with a marked difference favoring Server 1.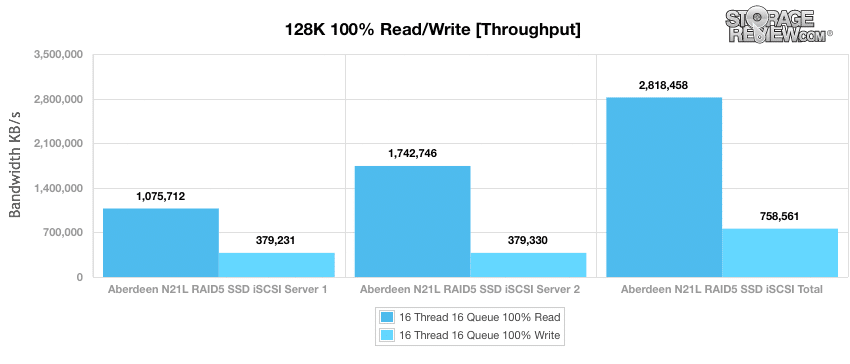 Compared to the fixed 16 thread, 16 queue max workload we performed in the 100% 4k write test, our mixed workload profiles scale the performance across a wide range of thread/queue combinations. In these tests, we span workload intensity from 2 threads and 2 queue up to 16 threads and 16 queue. In the expanded 8k 70/30 test, we measured performance from the AberNAS N21L scaling from 7,000 IOPS aggregate at 2T/2Q to 39,000 IOPS at 16T/16Q.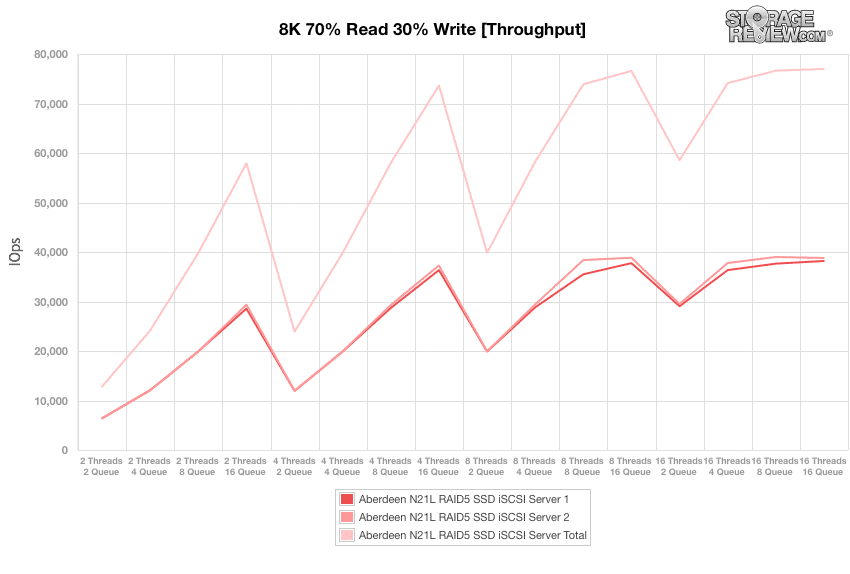 Evaluating the 8k 70/30 average response times, the AberNAS N21L had latency measuring 0.8ms aggregate at 2T/2Q and scaled up to 6.75ms at 16T/16Q.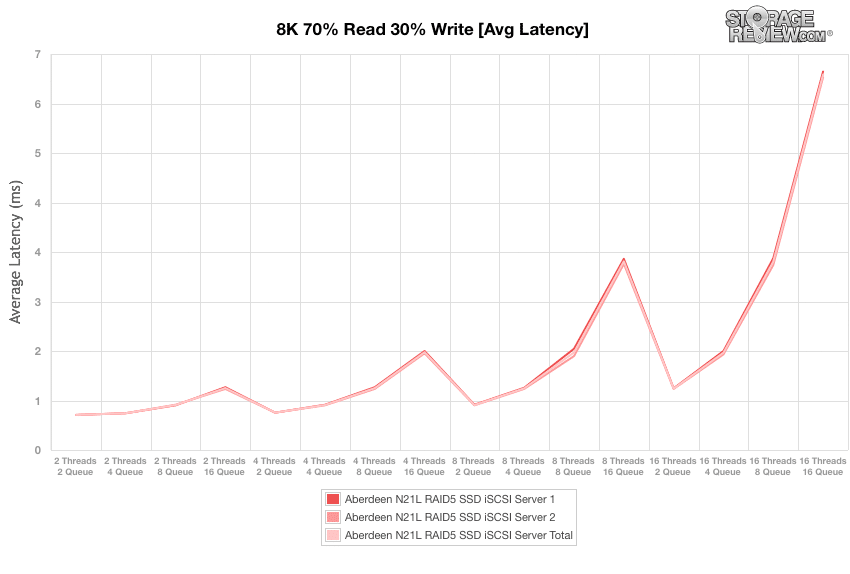 In the maximum latency chart, which indicates worst-case latency across the various workloads and array configurations.  The AberNAS N21L showed a great variability between various workloads, measuring 35ms at 2T/2Q and up to 162ms at 16T/16Q.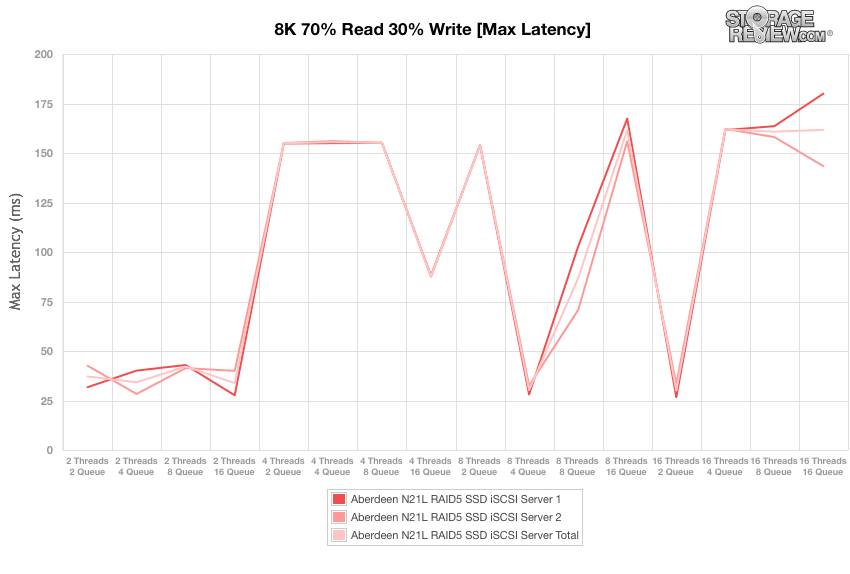 Charting standard deviation for the 8k 70/30 benchmark results reflects the consistent latency performance experienced across the two servers used in the testing protocol.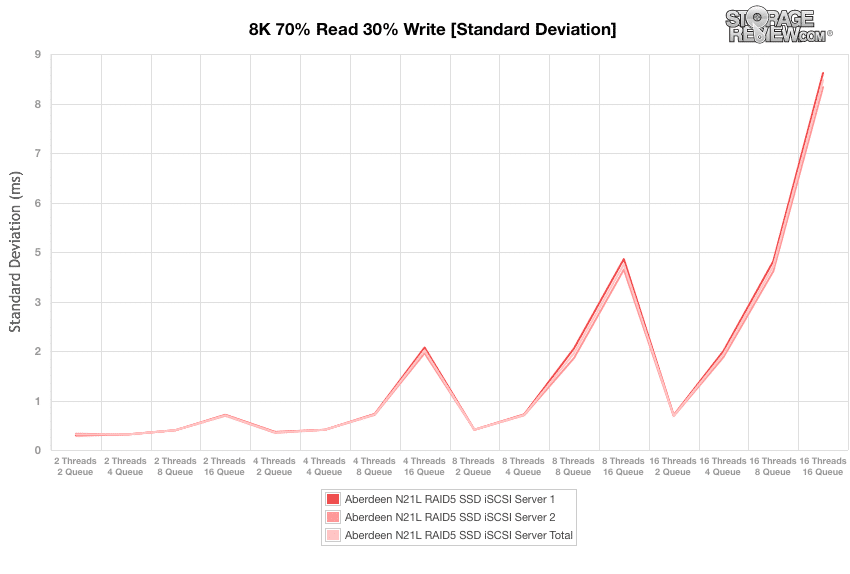 Conclusion 
The Aberdeen AberNAS N21L Series is a 2U NAS that brings flash storage and fast interconnects to the SMB space that otherwise may not be able to afford such an array from the top-tier vendors. With a wide range of customization and being able to run Intel, HGST, and Seagate SSD drives, the AberNAS N21L can be adapted for a wide range of needs starting at a price around $8000.00. The customization point is not a small one either; customers can start with 4 SSDs in their N21L and expand as needed. Alternatively they could create flash and HDD pools to suit their application needs. Such fluidity is not always available with large enterprise array solutions.
Getting rolling out of the box with Aberdeen's Linux-based systems can be a little rough the first time through; their interface UI and layout could be improved. But for those who have been around the block a few times with Aberdeen, the GUI is certainly usable and Aberdeen to their credit, exposes just about every piece of data available to them. While some may expect that much transparency into the array, such data points are not always available.
When taking a look at the performance of our N21L configured with 16 800GB Intel SSDs in RAID5 as shipped offered strong read performance topping 100K IOPS in our random 4K workload and surpassing 2.8GB/s read in our sequential 128K workload. Write performance was lower, although that was expected given the choice of RAID5 in favor of capacity. In our VMware VMmark benchmark, we noted stable performance up to a peak of 10 tiles, with performance scaling up to 8 tiles. If buyers opt to go with another RAID configuration such as RAID10 to offer better write performance we'd expect higher numbers across the board, although usable capacity would be substaintially lower, dropping from 12TB to 6.4TB.
Pros
Reasonably priced system capable of pushing up to 3GB/s
Open platform allows buyers to choose preferred RAID card and network HBAs
Onboard 10Gbase-T networking
Cons
Interface is a bit clunky
Could be more dense (24 bays vs. the 16 offered)
Bottom Line
The Aberdeen AberNAS N21L brings a highly customizable 2U NAS to market that offers enterprise-grade flash storage at a tolerable price point that's capable of driving up to 3GB/s throughput.