Aruba, a Hewlett Packard Enterprise company, has announced the general availability of the Aruba Instant On 1960 switch product family, an expanded series of switches to enable small businesses to deploy a unified, easy to set up, manage, and maintain a high-speed network. The Aruba Instant On 1960 Switch Series includes two 24-port and two 48-port models in PoE and non-PoE configurations and a 12 port 10-Gigabit aggregation switch.
Aruba, a Hewlett Packard Enterprise company, has announced the general availability of the Aruba Instant On 1960 switch product family, an expanded series of switches to enable small businesses to deploy a unified, easy to set up, manage, and maintain a high-speed network. The Aruba Instant On 1960 Switch Series includes two 24-port and two 48-port models in PoE and non-PoE configurations and a 12 port 10-Gigabit aggregation switch.
Aruba Instant On 1960
Whether deployed as part of a business continuity strategy or upgrade project, the Instant On 1960 Series of smart-managed switches seamlessly integrate with existing Instant On indoor/outdoor access points (APs) and can be centrally managed with the Instant On mobile app and web-based GUI.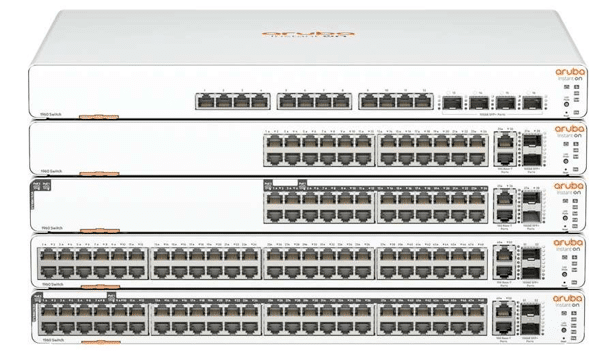 Aruba Instant On 1960 Family
The access switches have two 10GBASE-T and two 10G SFP+ uplink ports for high-bandwidth connectivity. The 1960 aggregation switch comes with 12 10GBase-T and four SFP+ ports, providing 10G connectivity to servers, network storage devices, and access switches alike.
The PoE models deliver up to 30W PoE power for Class 4 PoE devices like access points, surveillance cameras, and VoIP phones, and up to 60W PoE power for Class 6 PoE devices like pan-tilt-zoom cameras and video-enabled IP phones. The 24-port and 48-port PoE models support a power budget of 370W and 600W, respectively.
The 1960 switches can stack up to 4 switches supporting a mix of access and aggregation and can be managed through a single management IP address. That's up to 288 ports, including 16 10G uplink ports, operating as a single switch. Stacking is supported through local and cloud-managed stacking modes, and local stacking provides True Stacking to easily configure, manage and troubleshoot physical switches as a single entity. In contrast, cloud-managed stacking provides ease-of-setup via the Instant On mobile app.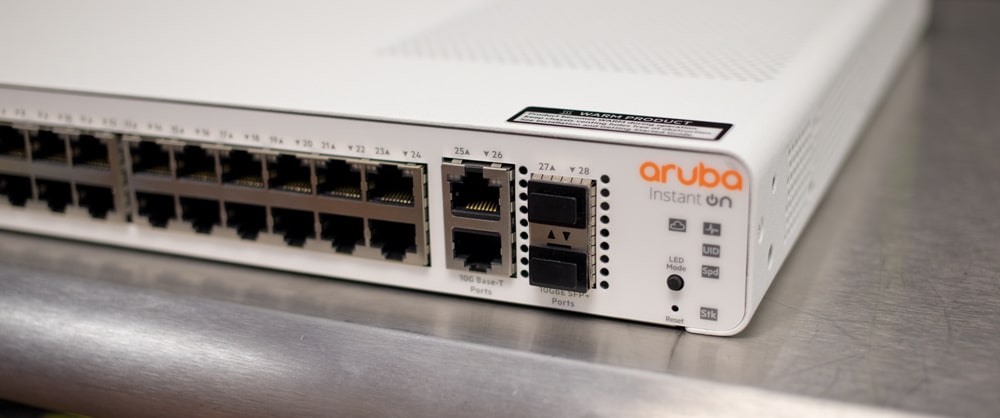 The Instant On 1960 switch series is packed with features typically reserved for enterprise devices. Quality of Service (QoS) features such as traffic prioritization, Class of Service (CoS), Access Control Lists (ACLs), and traffic shaping are standard. The ability to configure PoE is critical, and the 1960 switch allows for granular configuration options such as Auto-PoE power configuration, PoE power allocation, and PoE Scheduling.
Robust switching configuration options include flow control, Spanning Tree Protocol (STP), BPDU filtering, loop protection, link aggregation, VLAN support, auto-recovery, and port mirroring. Routing capabilities include Static IPv4 routing for up to 32 routes and eight VLAN routing interfaces, ARP Tables, and DHCP relay. The switches can also be configured as an IPv4 DHCP server.
For troubleshooting, the diagnostic commands are complete. Event logs, session logging, remote syslog, RMON, cable diagnostic tool, Ping, Traceroute, and a full MAC address table supporting up to 16K MAC address entries.
Aruba Instant On 1960 Day 0
Users can set up, manage, and monitor Instant On switches and access points directly from their mobile device using the Aruba Instant On mobile app. The app guides you, step-by-step, with instructions to install Instant On devices to get your network up and running with no technical expertise. Our experience in setup is that of a novice user, we've never set up an Instant On switch before. In fact, we captured our process live on social media, you can see a supercut on TikTok or Reddit.
Cloud-based access allows you to access the network from anywhere, at any time. The Instant On mobile app automatically detects members, making it easy to set up and manage the stack remotely, through a single dashboard, and without the need to reboot. In our case, we set up the switch locally via the app in our Cincinnati lab, but we also easily shared access with team members across the country. For service providers who manage diverse customer deployments, this is quite appealing. Anything that saves an on-site visit is a blessing.

Aruba sent us the 24-port version for review, the 24G 2XGT 2SFP/SFP+ configuration specifically. Since we went with cloud deployment, first it is necessary to download the app to your mobile device. On the Apple App Store, it is listed as Aruba Instant On. Google Play has it as well. It helps to have that installed before powering the switch, but not a requirement.

After unboxing, we plugged the unit into an existing switch and powered it up. The switch acquired an IP address via DHCP. The mobile app will walk you through the setup process. It is important to note that during the first power on, assuming the switch can talk to the outside world, it will go through an update process which took about ten minutes in our case. At that point the cloud light will alternate colors, making the user aware it's ready to be discovered.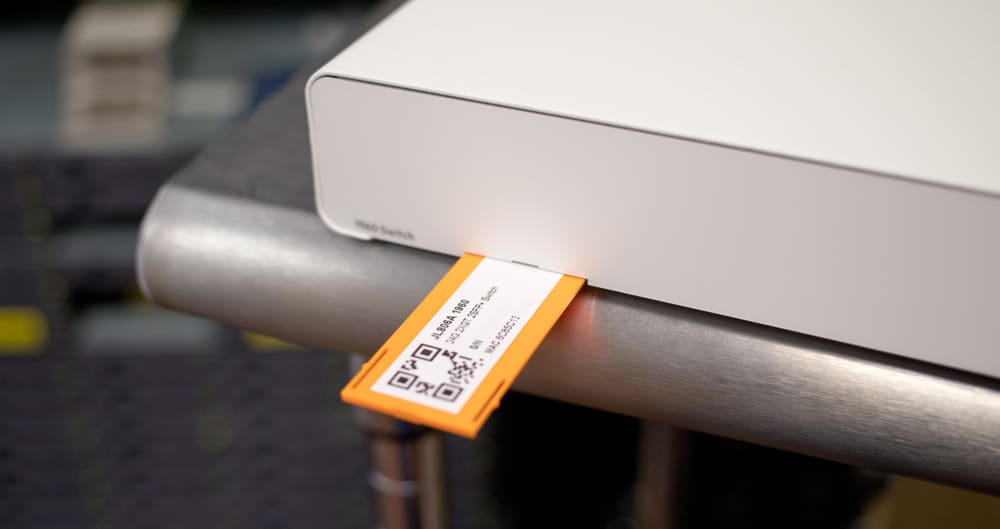 At that point, we scanned the QR code on the pull-out "luggage tag" located on the front of the unit. This loads the app with the switch ID information for easy onboarding, which occurs pretty much instantly.
If you took the time to check the video linked above, you'll note that there was a certain amount of surprise in that the deployment worked as well as it did. Enterprise IT providers have a lengthy history of claiming 15 minute easy deployments but few live up to their own hype. We're glad to report that as first-time Aruba Instant On users, everything went flawlessly. Furthermore, the app is clean, intuitive, and easy to use. A couple of the basic iPhone screen captures are below.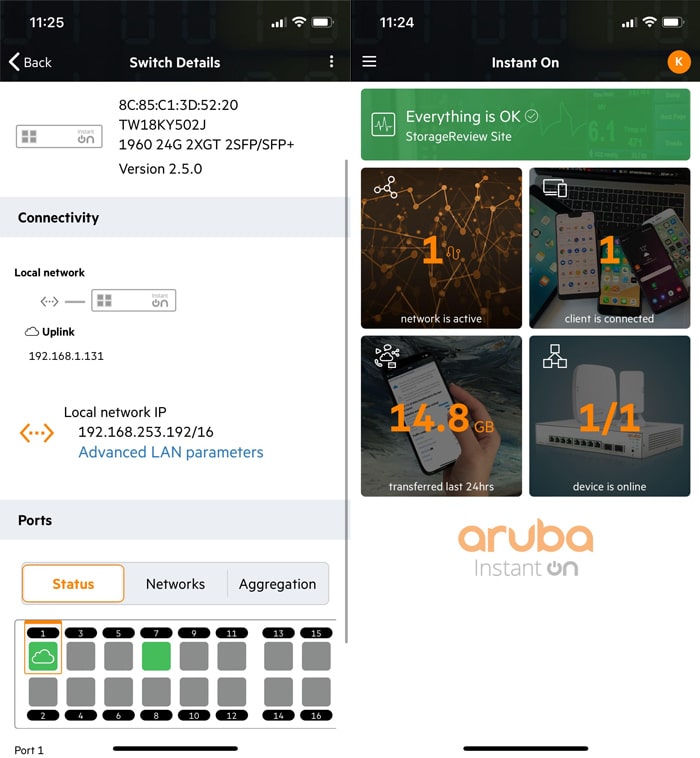 Aruba Instant On 1960 Management
Once the device is up and running, administrators can access the management console using a web browser and connecting to https://portal.arubainstanton.com/ where you enter your username and password. The interface is intuitive and easy to navigate. We switched to the browser for these screen captures, but this is also available via the Aruba app.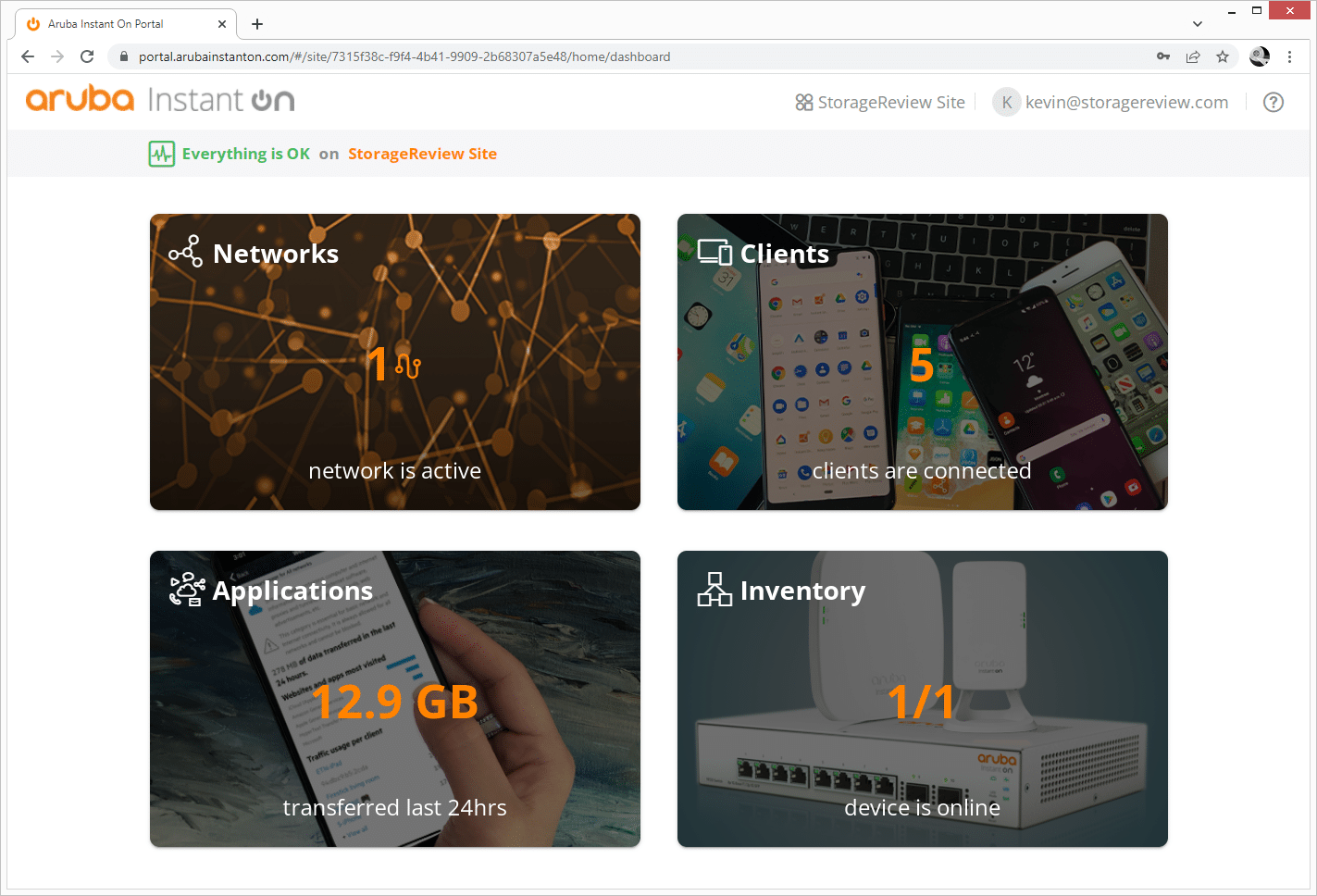 This display will give you all the information you need to determine the health of the switch. The management is broken down into Networks, Clients, Applications, and Inventory. Clicking on any of these icons will take you to a screen with specific details. The interface provides a way back to the main display or navigating to any of the other screens.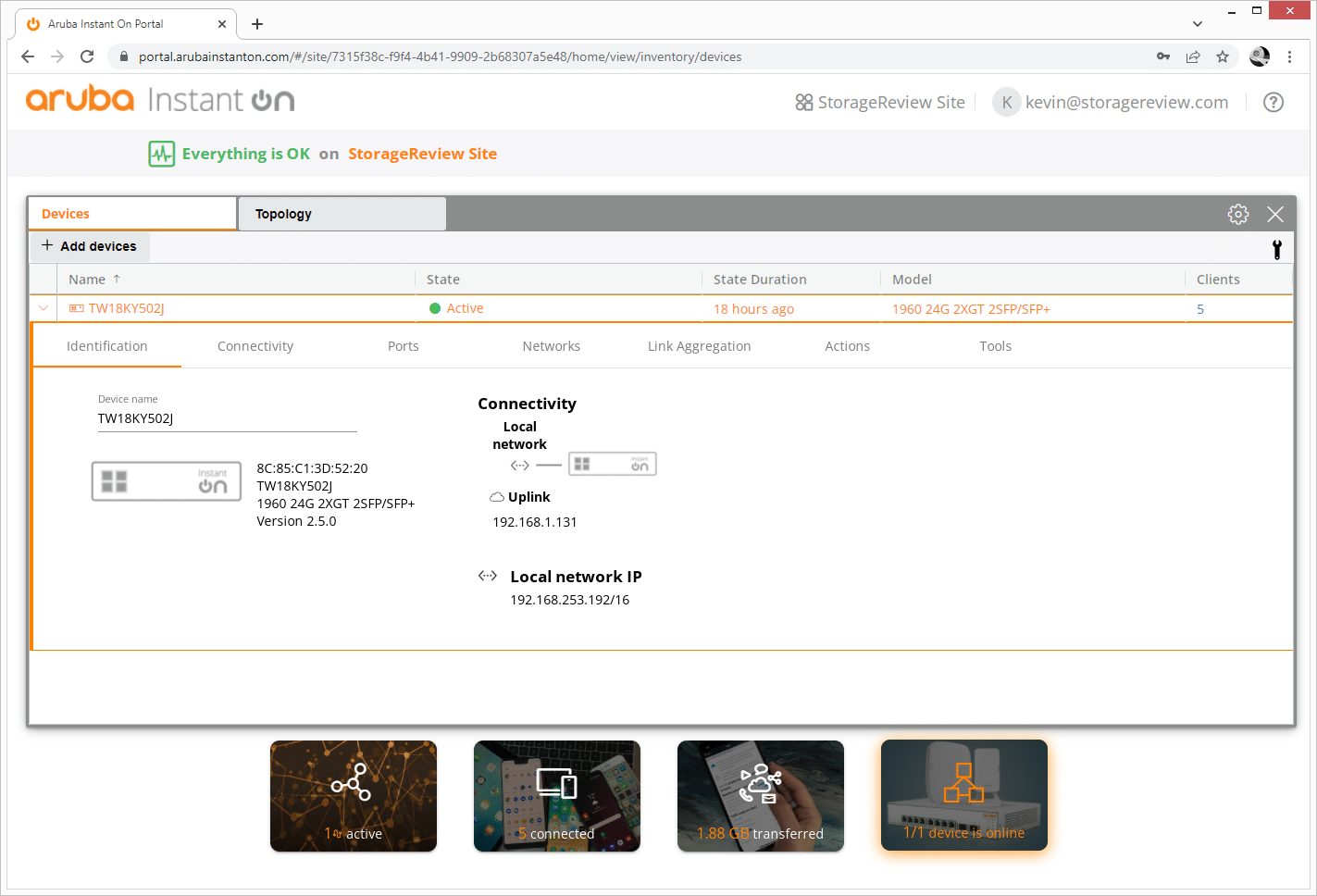 Clicking on the Networks icon will present the above display, providing the details on the state of the network.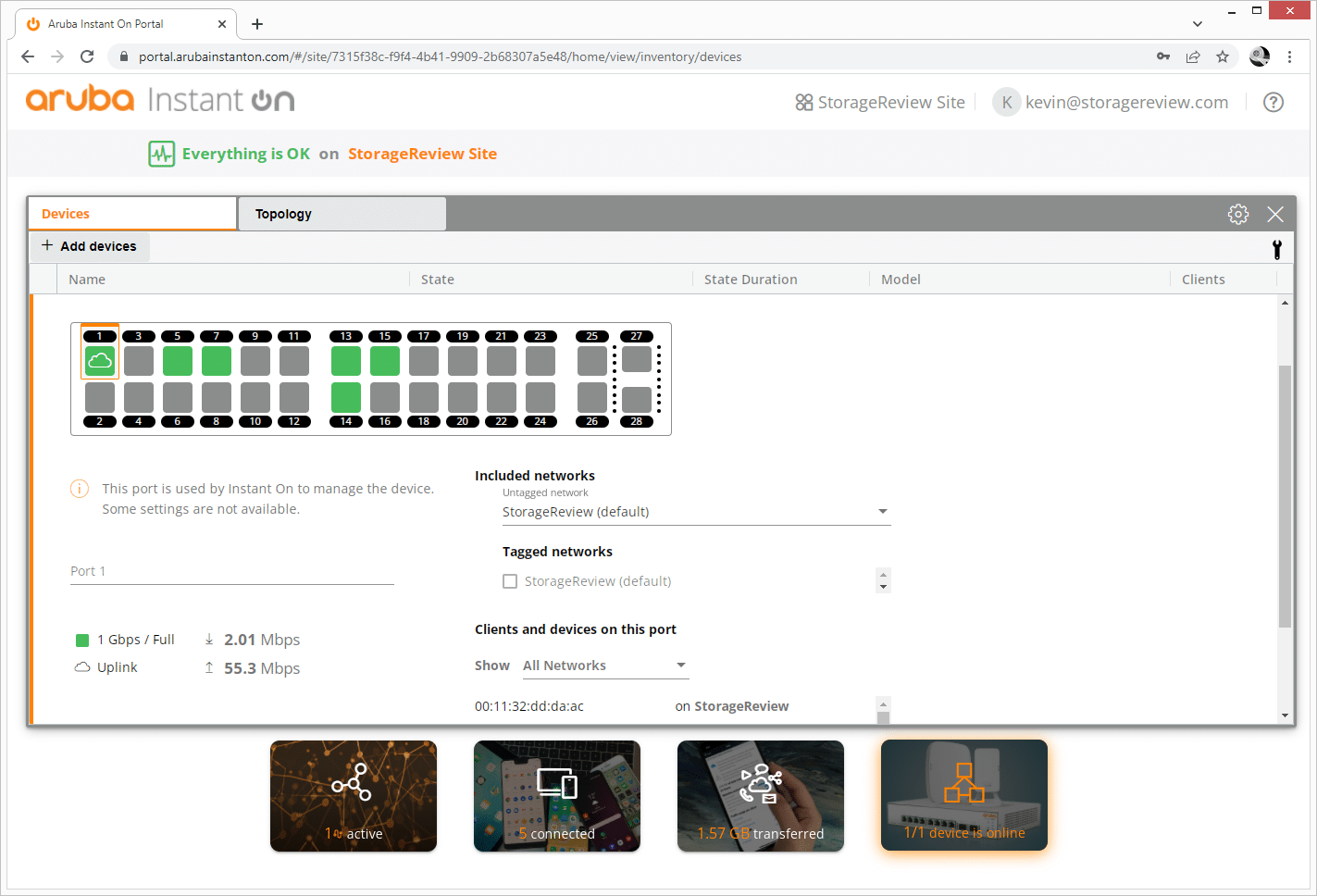 Clicking on the dropdown carat next to the network name displays specifics about the network.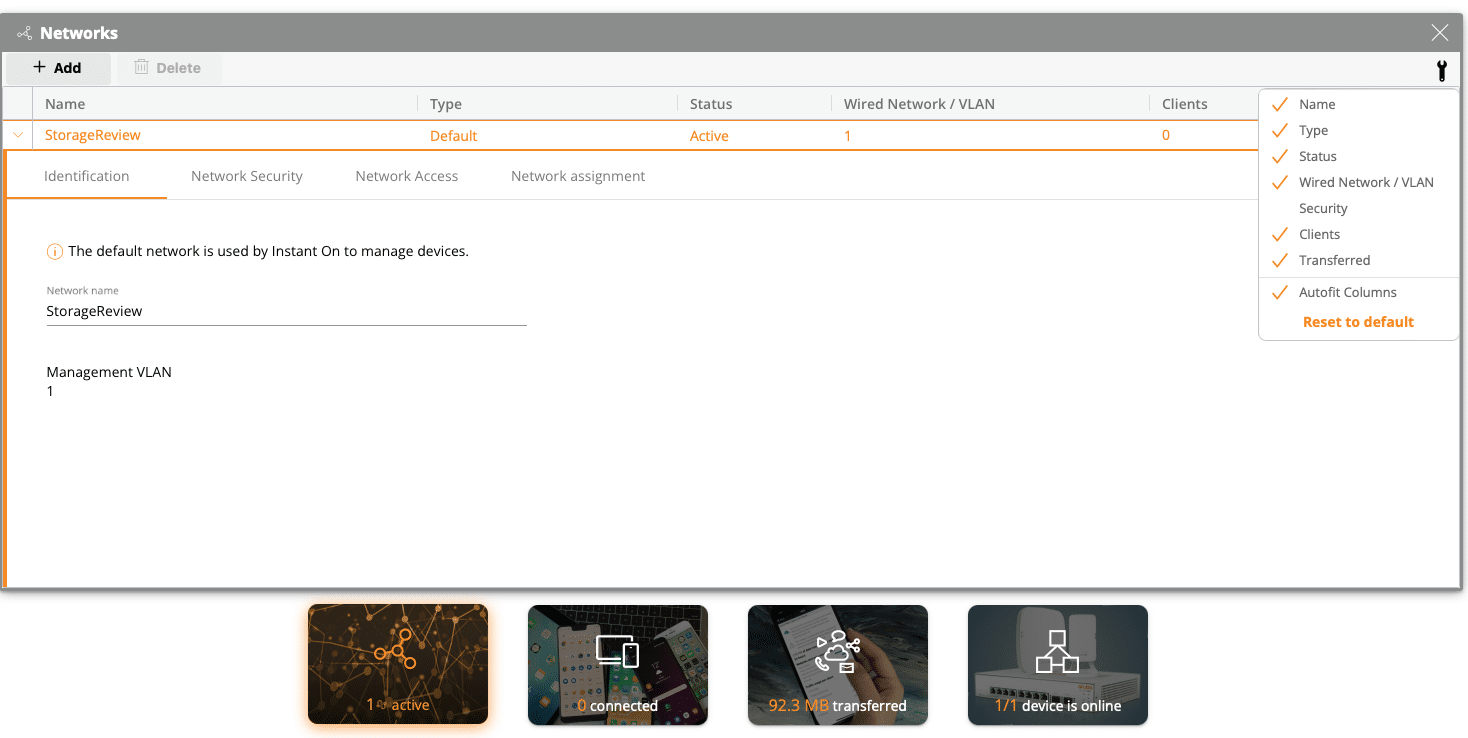 A wrench on the right side of the display lets you select or unselect specific details present on the screen.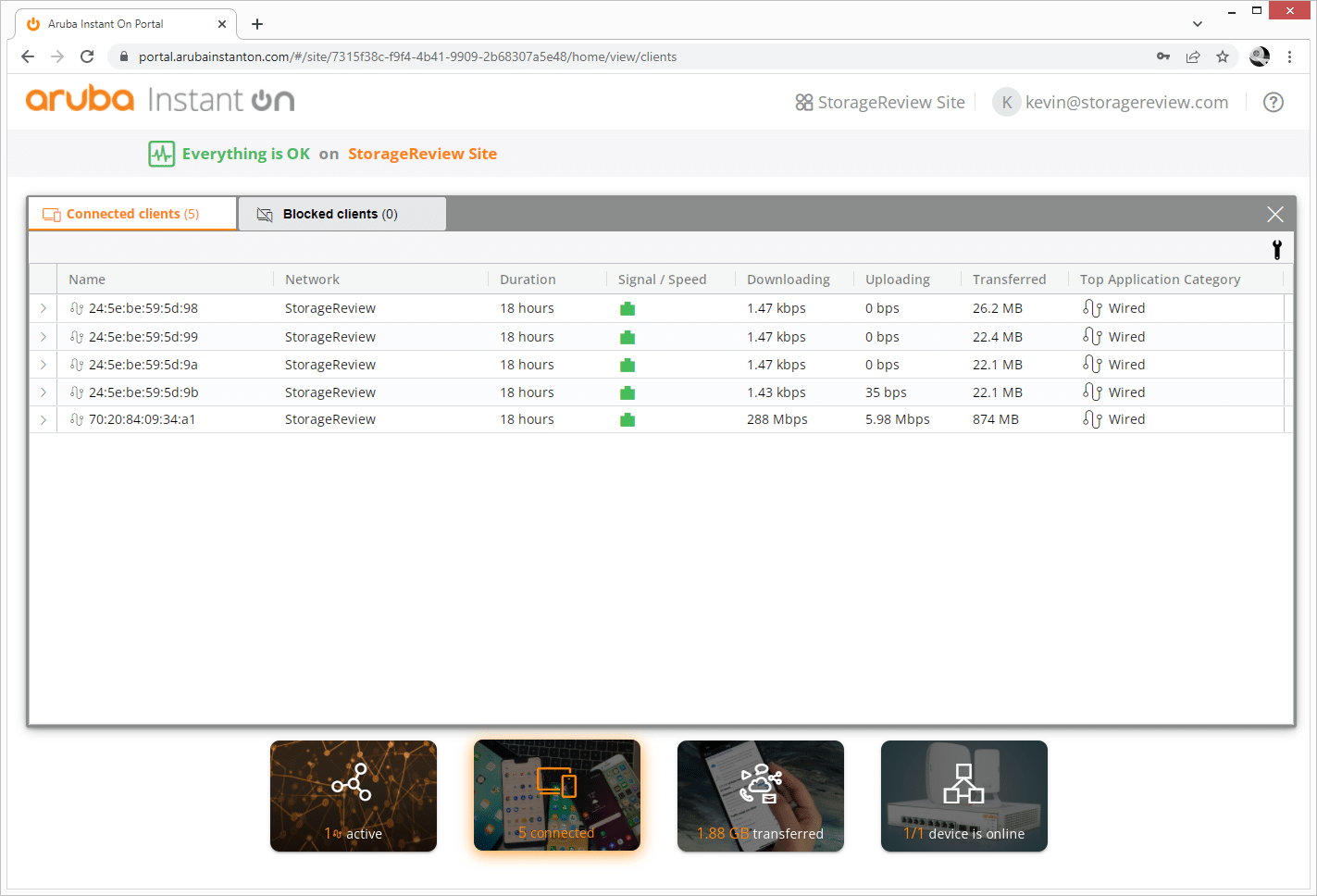 The screen capture above is displayed by selecting "Connected" from the icons at the bottom of the screen. Of course, it is possible to get there directly from the main screen. The screen below shows what can be displayed when this option is clicked, and the wrench is selected.
Clicking on the Application icon displays the traffic traveling through the switch.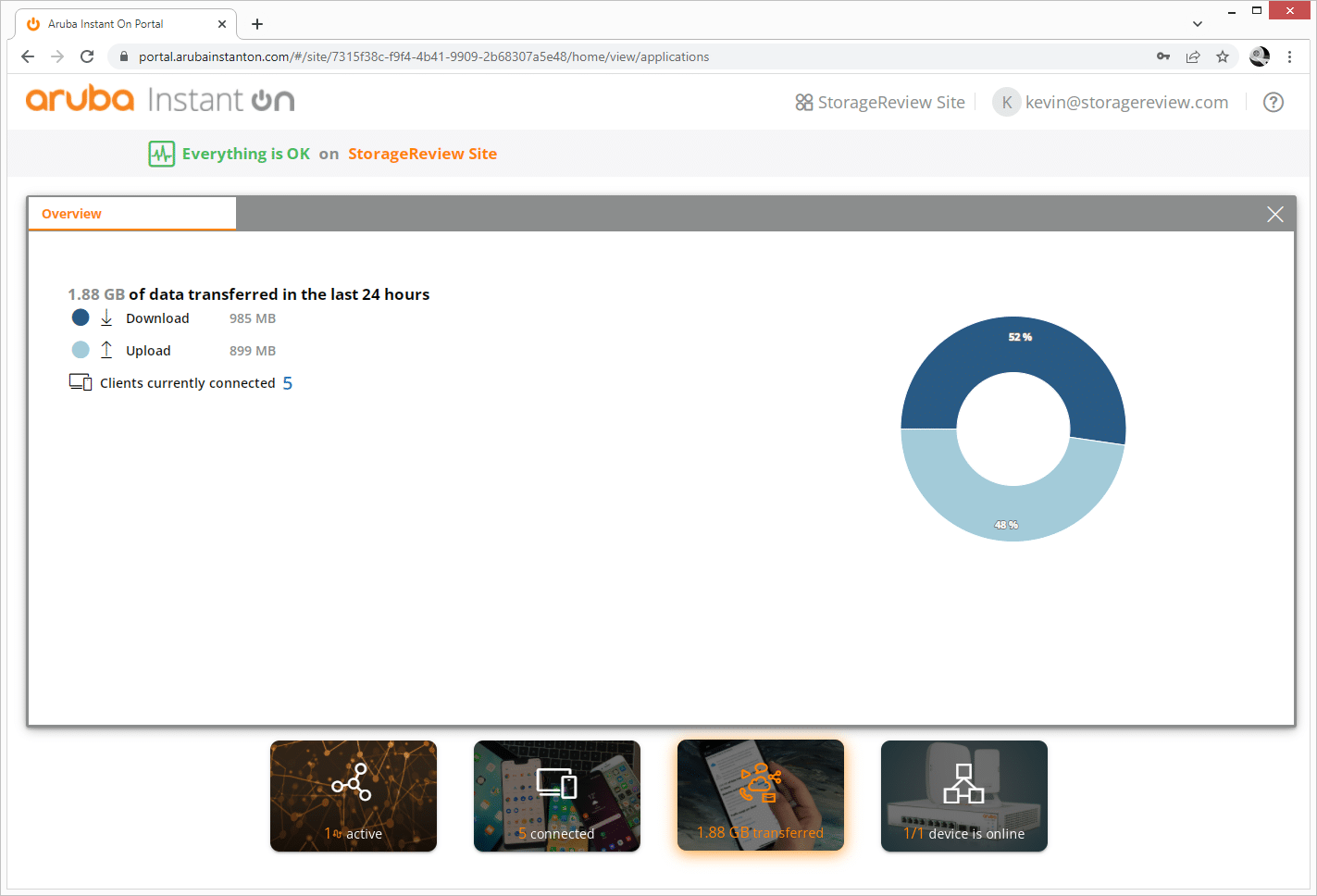 The inventory icon will display specifics about each switch connected to this network. The wrench allows you to change what is displayed on the screen.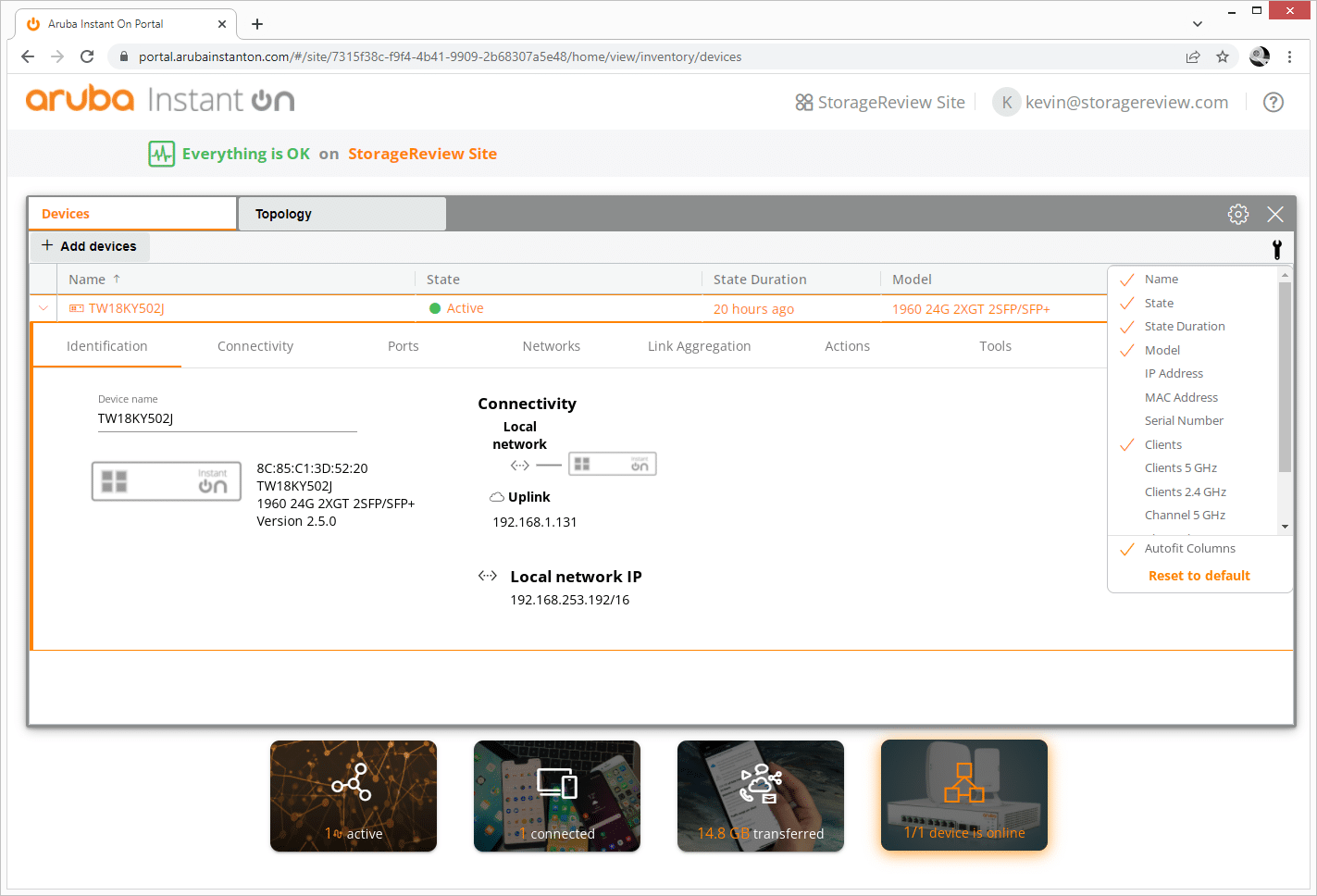 Select that option on the display if you wish to see the network topology. The only other option on this screen is to turn on or off loop protection by clicking the gear on the right side of the display.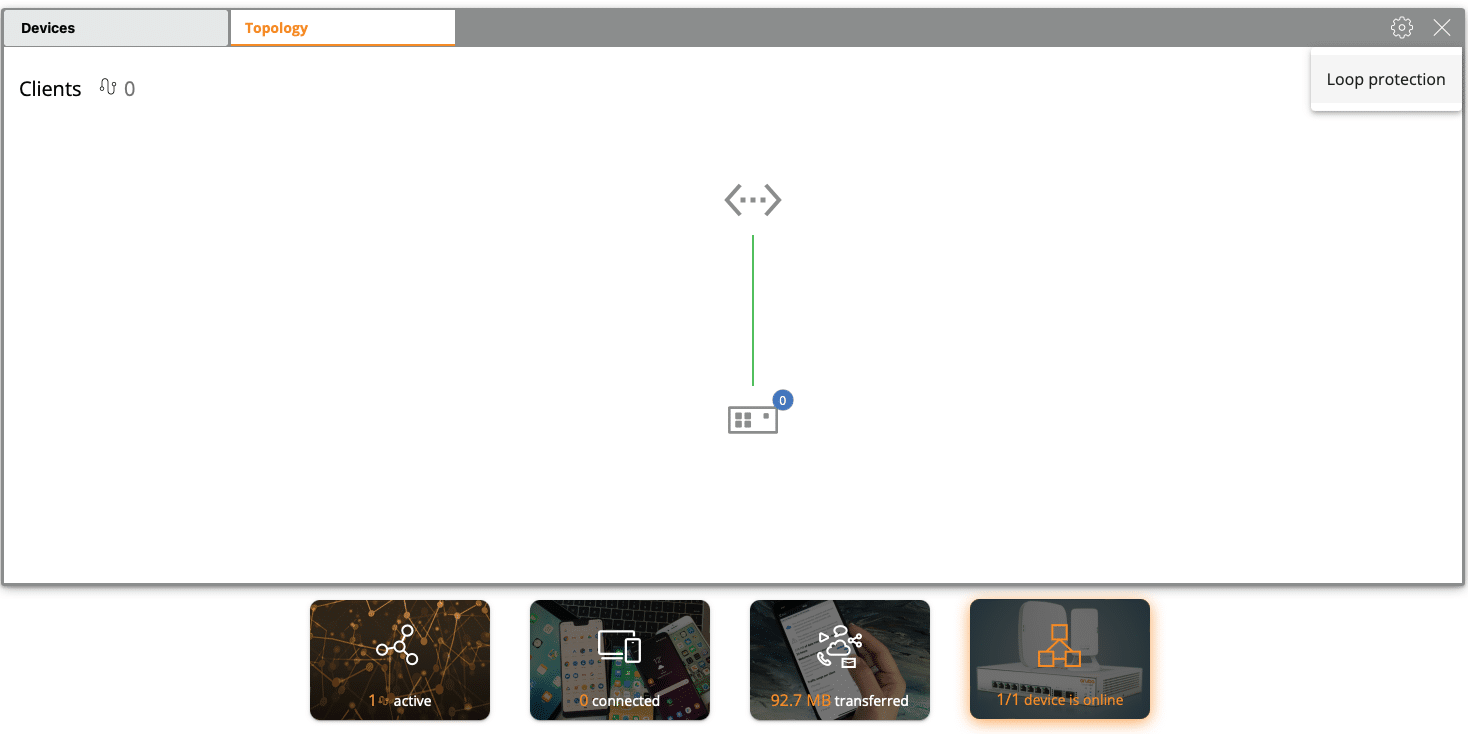 This is one of the easiest switches to deploy and still get details on the overall status of the switch and networks. Updates are even managed automatically during scheduled times, which you can adjust for your organization.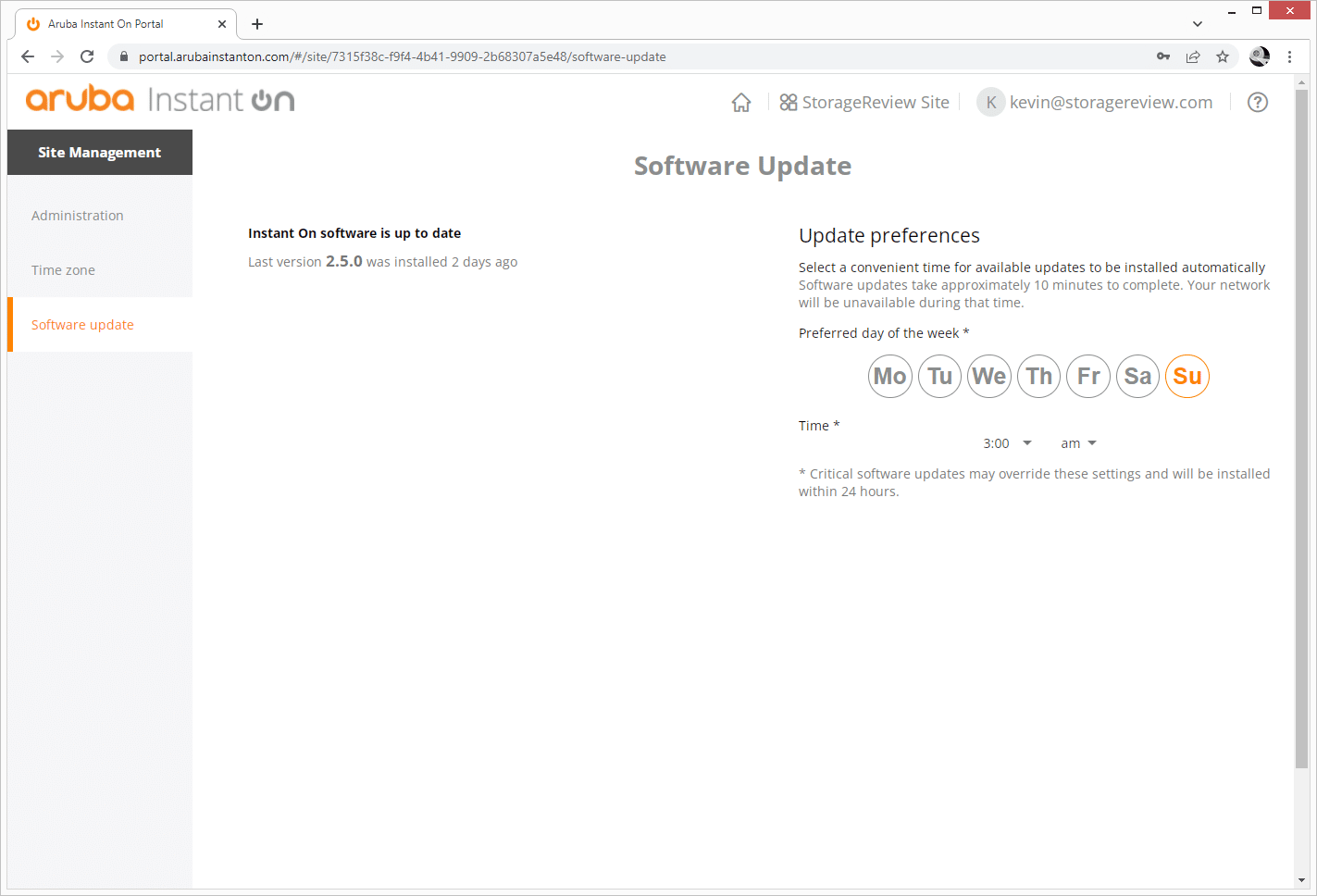 Aruba Instant On 1960 Support
As easy as the 1960 switch is to deploy and manage in our lab, there are cases where you might need a hand either if a service provider or an end-user. Aruba is big on its support and warranty programs, which actually does differentiate them a good deal in the crowded SMB networking space.
First off the hardware is backed by a limited lifetime warranty. Should there be a hardware problem out of the gate, Aruba offers next business day replacement of parts, including fans and power supplies, for 30 days (from purchase); after which parts will be replaced within 10 days.
If you need a conversation or chat assist, 24×7 telephone support is available for 90 days (from purchase). Chat support though is available for the entirety of the warranty period. Software support is available for 90 days (from purchase).
So it is possible for a small business to buy the switch and not engage any further, financially, with Aruba. That said, most orgs will opt for additional coverage, Aruba offers 3 and 5-year extended full support dubbed Foundation Care.
To get a feel for how support works, we went through a basic support scenario. If you are on the web, click on the question mark on the top right of the display, and in the dropdown menu, select support. That will take you to this screen.

If you want to contact support, click on Support center on the left, and that will take you to the next screen. There are several options for support, and an Aruba Community has real users offering support from their experiences. There is also the option to call or chat.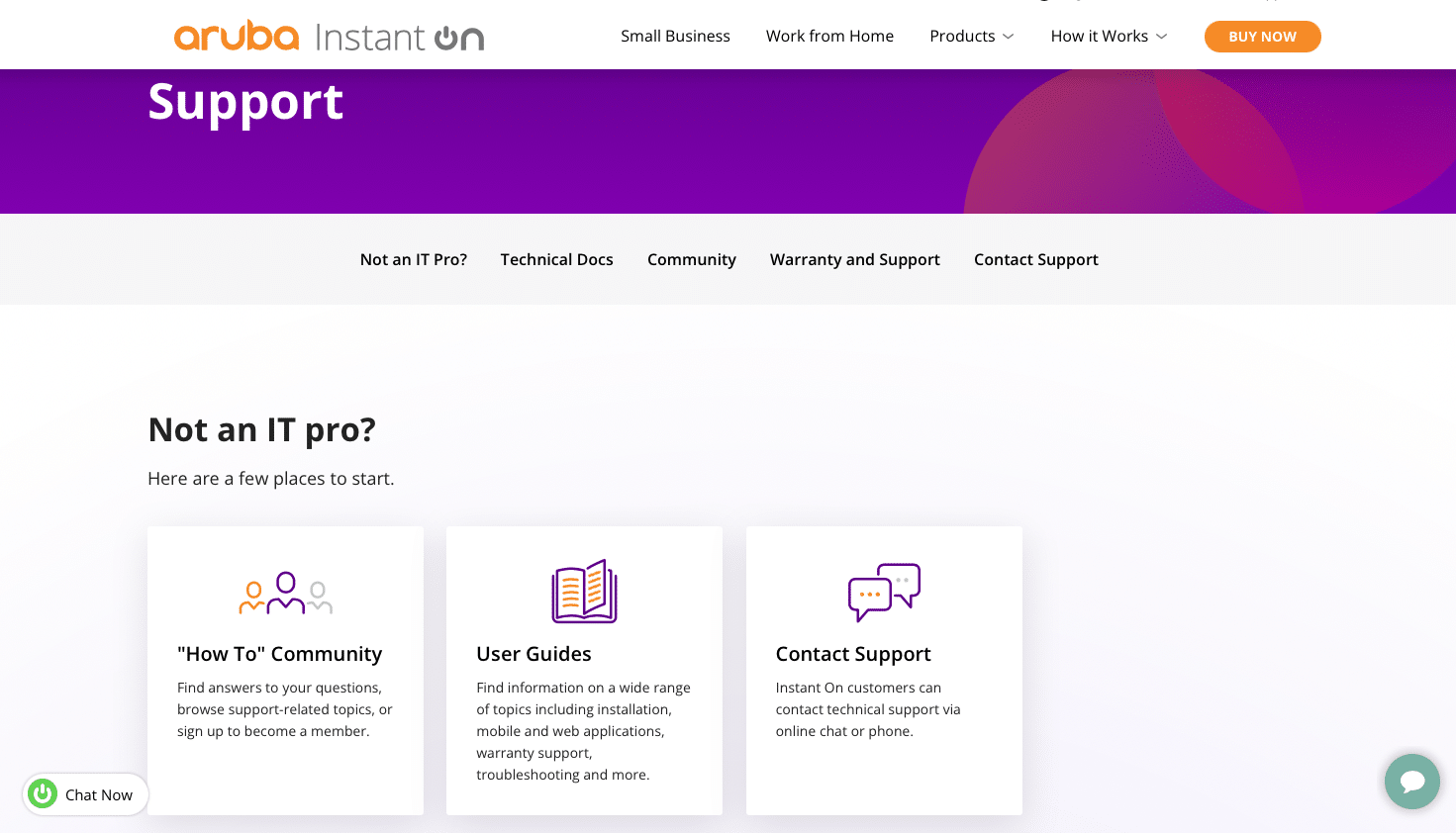 Since I didn't have an issue but wanted to test the response from both a Bot and a Human, I opted for a chat. On the bottom right of the screen, the bot will offer documentation that will address the issue you have described in the initial chat window. Pretty typical for bot-type chat support.
But, to get to a human, you select the Chat Now button on the bottom left, and you will be presented with a screen to put your contact information with a description of the problem.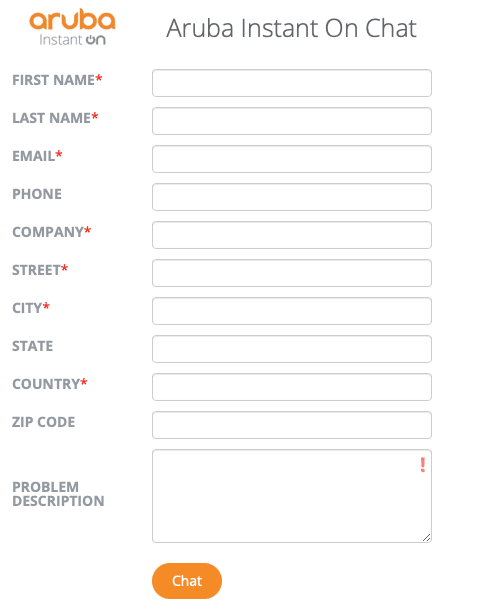 Once that screen has been completed, click on the Chat button, and it will take you to the chat screen displayed below. If you change your mind, you can cancel the chat. Once the support tech connects, you can explain the issue and resolve the problem. The wait time for the agent was about a minute, and they were quick to provide a "solution" for my "problem." I like the option of having both a bot and human chat interface, and this makes getting support easier and far less frustrating. For those looking to stretch their Aruba investment without the extended warranty, the chat is pretty good and may be enough support for small or static environments.

Final Thoughts
The Aruba Instant On 1960 switch series is a full-function switch with a robust command set. With nothing more to buy and ready to install, the switch is a logical choice for a small to medium business that can continue to easily grow its network with the business. Management tools make configuration, setup, and management a simple task.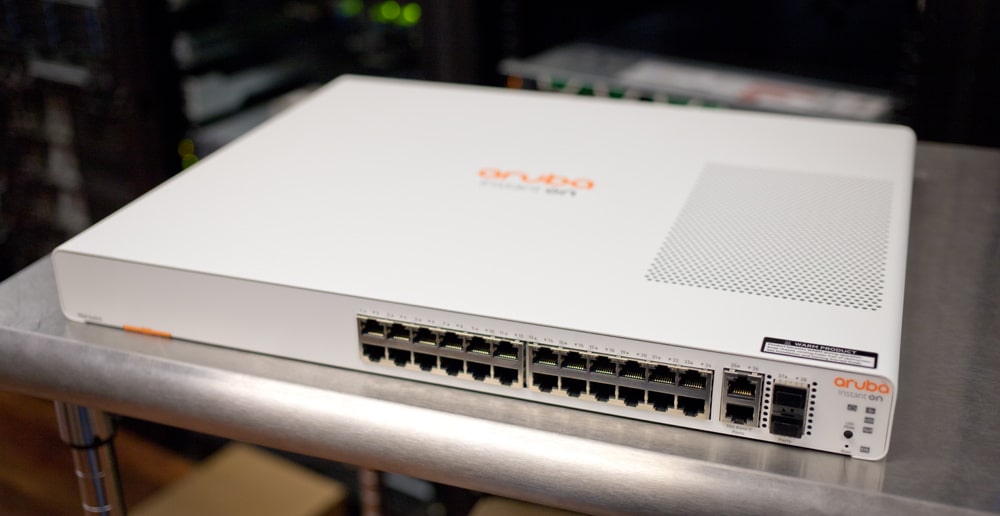 To be clear, our team is novice-level when it comes to Aruba. We had not configured new Instant On gear before and the last time we saw Aruba switching, it was pre-configured and part of a larger infrastructure. We were quite overjoyed then when the switch's index card-sized deployment guide walked us through the process with no issues. Once online we easily shared remote access to our broader team.
In the SMB switching segment, there are a lot of options, too many in some cases to be able to sort out an informed buying decision. Our experience with the 1960 switch has been fantastic though and aside from the ease of use, we're quite happy with Aruba's take on charging for services like the web-management piece. It's very simple, they don't charge. With the Instant On switch, there are no microtransactions, which is unlike the direction others in the market have gone. You buy the product and you can be done without usage or app restrictions. Or buy the warranty if you want more support, in this case, the end-user has options.
Pricing for the 1960 series starts at $799 for a 24-port non-PoE switch and scales up to about $2300 MSRP. These switches are available to order now.
Aruba Instant On 1960 Product Page
Engage with StorageReview
Newsletter | YouTube | Podcast iTunes/Spotify | Instagram | Twitter | Facebook | TikTok | RSS Feed