Sabrent has quietly updated its Rocket 4 Plus SSD with new firmware for its Phison PS5018-E18 controller and Micron B47R 3D NAND TLC memory. These upgrades significantly improve its performance, and though it isn't as fast as the Kingston KC3000, it's priced accordingly and ultimately a solid multi-purpose PCIe Gen4x4 drive.
Sabrent has quietly updated its Rocket 4 Plus SSD with new firmware for its Phison PS5018-E18 controller and Micron B47R 3D NAND TLC memory. These upgrades significantly improve its performance, and though it isn't as fast as the Kingston KC3000, it's priced accordingly and ultimately a solid multi-purpose PCIe Gen4x4 drive.
Sabrent Rocket 4 Plus Specifications
This updated Rocket 4 Plus is based on the Phison PS5018-E18 controller like the original Rocket 4 Plus we reviewed, but now it has updated firmware and newer Micron B47R 3D NAND TLC memory.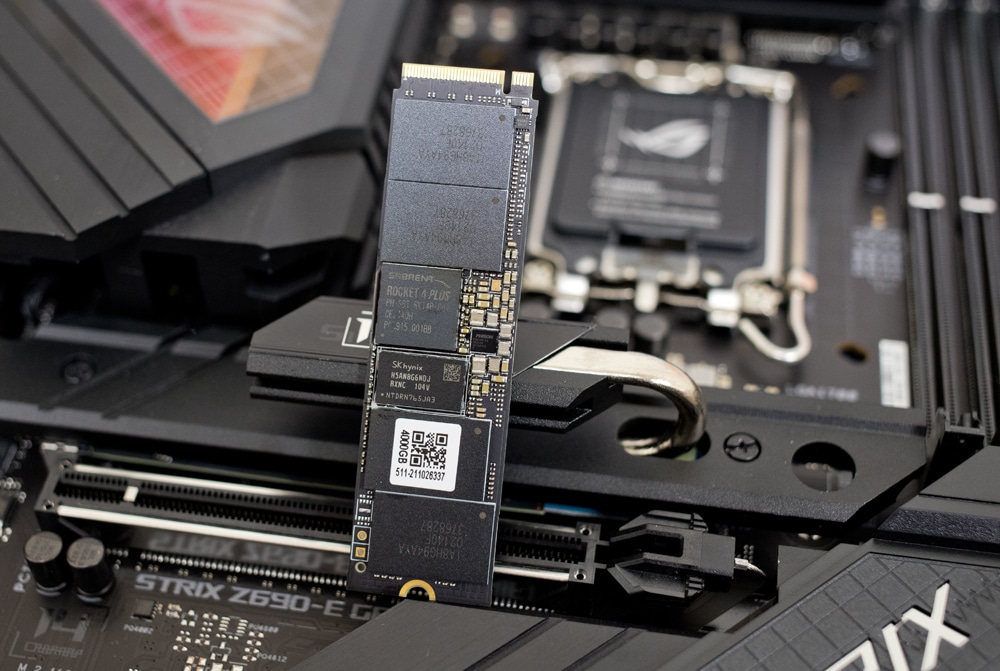 Sabrent isn't labeling the drive any differently despite the upgrades. Even in person, you'd have to look at the memory chips to verify they're the newer NAND. That said, according to Sabrent, all current stock of the older R4P SSD's are now replaced by the new R4P B47 SSD's. If a user wants to check they can bring up our Rocket Control Panel and check the Firmware version The older drives are RKT4P1.2, the new ones are R4PB47.2.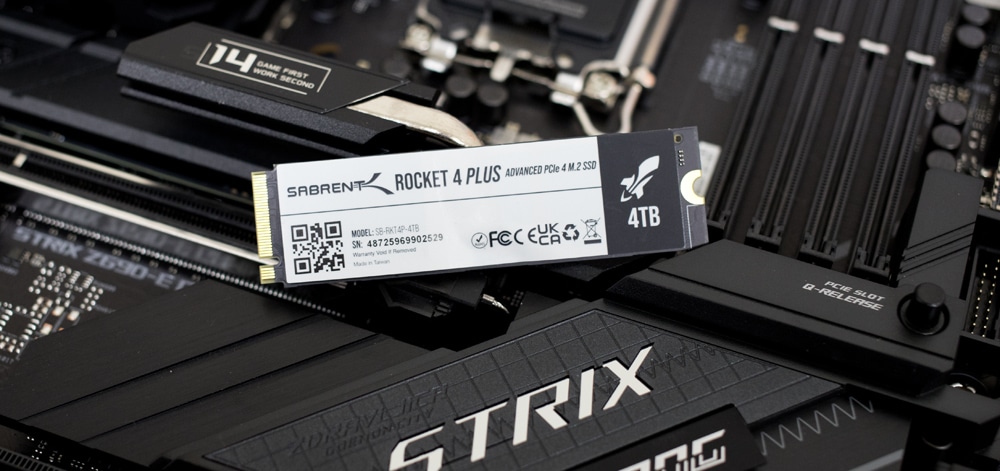 The Rocket 4 Plus is available in 1TB ($159 on Amazon), 2TB ($309), and 4TB ($749) capacities. It's nice to see the larger 4TB capacity offered when many high-end drives top out at 2TB. The drive is back by a 5-year warranty (assuming you register it).
Sabrent is a bit conservative with the Rocket 4 Plus's performance ratings, though in fairness it hasn't updated the ratings since the drive was released. It rates the 4TB drive we're reviewing at a healthy 7GB/s sequential read and 6.9GB/s write, though only 650,000 4K random read IOPS and 700,000 4K random write IOPS. Kingston rates its PS5018-E18-based KC3000 for up to 1 million IOPS in both read and write.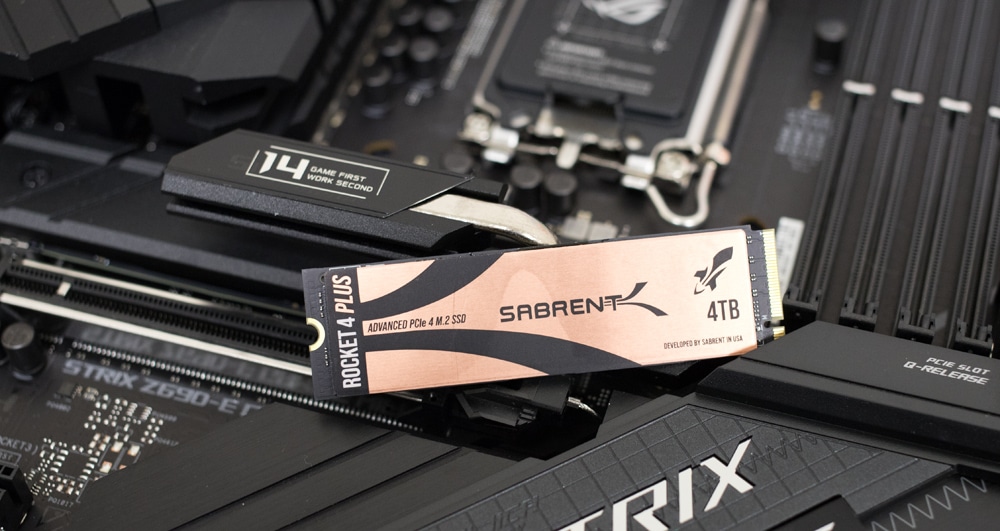 Should you be upgrading your PlayStation 5's storage, Sabrent sells the Rocket 4 Plus with a PlayStation 5-compatible heatsink. The heatsink is a wise investment since the PlayStation 5 has no active cooling to its M.2 slot, so drives without heatsinks can get too hot and overheat under sustained use. Sabrent sells the heatsink separately (Amazon has it for $20). Our Samsung 980 Pro Heatsink review shows how a heatsink can result in improved performance.
The updated Rocket 4 Plus's full specifications are as follows:
Capacities
1TB, 2TB, 4TB
NAND
Micron B47R 3D NAND TLC
Interface
PCIe Gen4x4
Size
M.2 Type-2280
Controller
Phison PS5018-E18
Sequential Read
7000MB/s
Sequential Write

5500MB/s (1TB)
6850MB/s (2TB/4TB drives)

Random 4K QD32 Read IOPS

350K (1TB)
650K (2TB/4TB)

Random 4K QD32 Write IOPS
700K
Power Consumption R/W, Watts

6.3/6.6 (1TB)
7.3/8.2 (2TB)
9.7/9.7 (4TB)

Power Supply
3.3V
Operating Temperature
0~70 deg C
TBW

700 (1TB)
1400 (2TB)
3000 (4TB)

Warranty
5 years w/ registration
Sabrent Rocket 4 Plus Performance
We are reviewing the 4TB version of this drive and comparing it to the following PCIe Gen4x4 drives:
SQL Server Performance
Each SQL Server VM is configured with two vDisks: 100GB volume for boot and a 500GB volume for the database and log files. From a system resource perspective, we configured each VM with 16 vCPUs, 64GB of DRAM and leveraged the LSI Logic SAS SCSI controller. While our Sysbench workloads tested previously saturated the platform in both storage I/O and capacity, the SQL test is looking for latency performance.
This test uses SQL Server 2014 running on Windows Server 2012 R2 guest VMs and is stressed by Quest's Benchmark Factory for Databases. StorageReview's Microsoft SQL Server OLTP testing protocol employs the current draft of the Transaction Processing Performance Council's Benchmark C (TPC-C), an online transaction-processing benchmark that simulates the activities found in complex application environments.
The TPC-C benchmark comes closer than synthetic performance benchmarks to gauging the performance strengths and bottlenecks of storage infrastructure in database environments. Each instance of our SQL Server VM for this review uses a 333GB (1,500 scale) SQL Server database and measures the transactional performance and latency under a load of 15,000 virtual users.
SQL Server Testing Configuration (per VM)
Windows Server 2012 R2
Storage Footprint: 600GB allocated, 500GB used
SQL Server 2014

Database Size: 1,500 scale
Virtual Client Load: 15,000
RAM Buffer: 48GB

Test Length: 3 hours

2.5 hours preconditioning
30 minutes sample period
Starting with SQL average latency, the Rocket 4 Plus's 3ms average latency is competitive and near the top of the chart, on par with the other Phison E18 drives.
VDBench Workload Analysis
When it comes to benchmarking storage devices, application testing is best, and synthetic testing comes in second place. While not a perfect representation of actual workloads, synthetic tests do help to baseline storage devices with a repeatability factor that makes it easy to do apples-to-apples comparison between competing solutions. These workloads offer a range of different testing profiles ranging from "four corners" tests, common database transfer size tests, to trace captures from different VDI environments.
All of these tests leverage the common vdBench workload generator, with a scripting engine to automate and capture results over a large compute testing cluster. This allows us to repeat the same workloads across a wide range of storage devices, including flash arrays and individual storage devices. Our testing process for these benchmarks fills the entire drive surface with data, then partitions a drive section equal to 5% of the drive capacity to simulate how the drive might respond to application workloads. This is different than full entropy tests which use 100% of the drive and take them into a steady state. As a result, these figures will reflect higher-sustained write speeds.
Profiles:
4K Random Read: 100% Read, 128 threads, 0-120% iorate
4K Random Write: 100% Write, 64 threads, 0-120% iorate
64K Sequential Read: 100% Read, 16 threads, 0-120% iorate
64K Sequential Write: 100% Write, 8 threads, 0-120% iorate
Synthetic Database: SQL and Oracle
VDI Full Clone and Linked Clone Traces
Starting with 4k random read, the updated 4TB Rocket 4 Plus showed massive performance gains over the original 2TB version, topping out at 549K IOPS with a latency of 231µs compared to the original's 296K IOPS and 431µs. The Seagate FireCuda 530 did slightly better, though there was no touching the Western Digital SN850.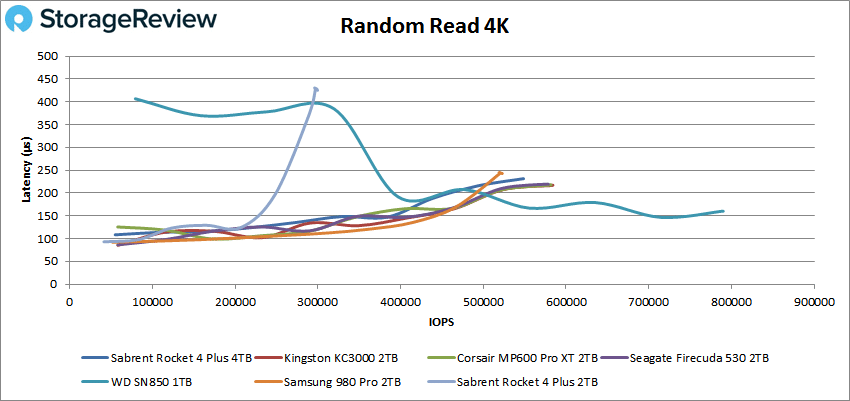 Random write 4k is next, where again the updated Rocket 4 Plus impressed versus the original version; it ended with 455K IOPS and 275µs latency where the original drive reached just 227K IOPS with a far higher 558µs latency. That said, both the Phison E18-based Corsair MP600 Pro XT and the Seagate FireCuda 530 did better.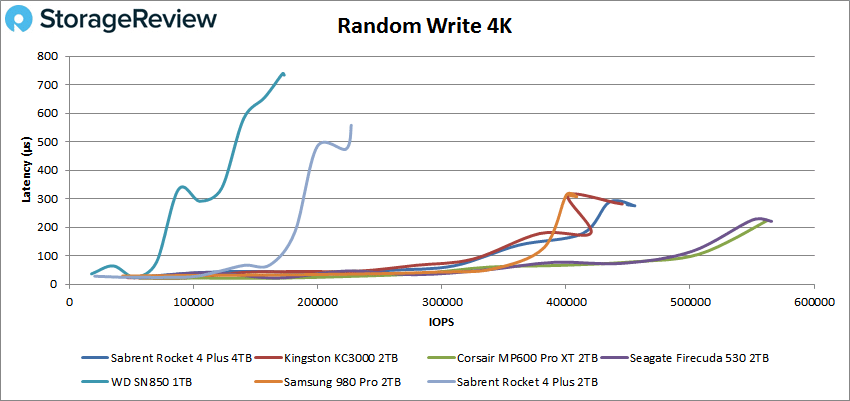 Moving onto sequential read 64K, the updated Rocket 4 Plus reached 5.41GB/s with 368µs latency compared to the original drive's 4.89GB/s and 408µs. Nonetheless, Kingston KC3000 was uncatchable, reaching 6.62GB/s at 301µs.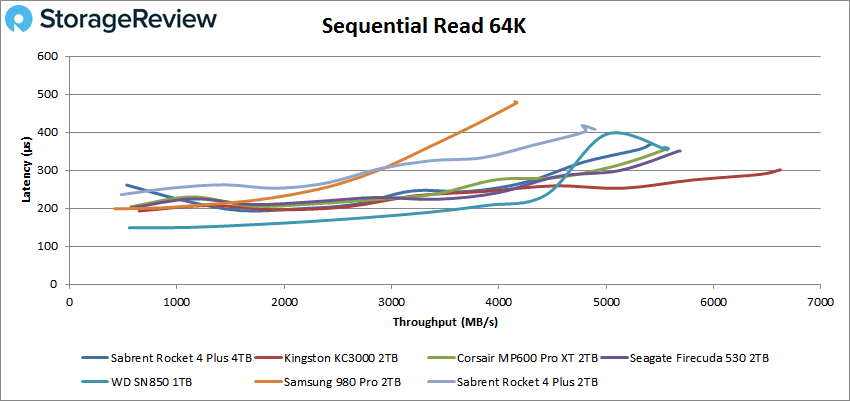 Sequential write 64K is the updated Rocket 4 Plus's most impressive showing yet; it topped 1.85GB/s at just 103µs latency. The FireCuda 530 and the Force MP600 Pro XT achieved higher throughput at the cost of higher latency. The original Rocket 4 Plus was left in the dust.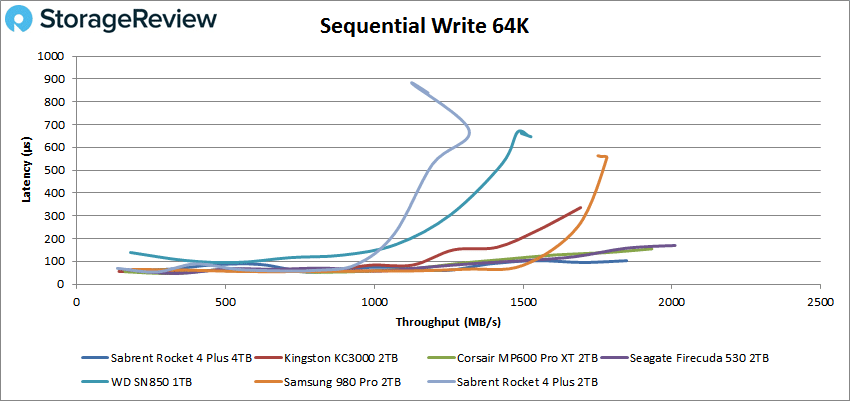 Now we'll move onto our VDI full clone tests. In our boot profile, the updated Rocket 4 Plus came in at 122K IOPS at 280µs, just behind the KC3000's 130K IOPS and 264µs. As has been the case in all tests thus far, it outperformed the original Rocket 4 Plus, which achieved 111K IOPS at 290µs. The Western Digital SN850 also continued to outshine its rivals.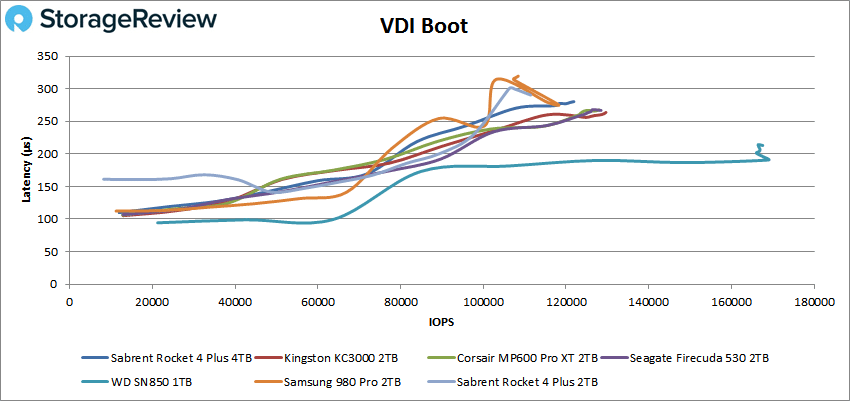 The VDI initial login chart looks almost indecipherable because the drives posted unstable results, though the updated Rocket 4 Plus avoided major spikes; it ended the test at 28.8K IOPS and 1,040µs. It was much stabler than the original Rocket 4 Plus.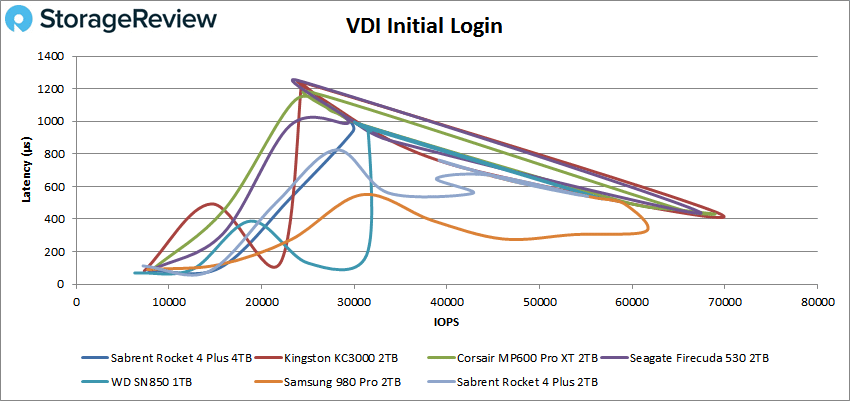 VDI Monday login also showed testing instability among most of these drives, with lots of spikes. The updated Rocket 4 Plus maintained relatively low latencies even though it didn't post chart-topping IOPS; its last showing was 26.5K IOPS and 601µs.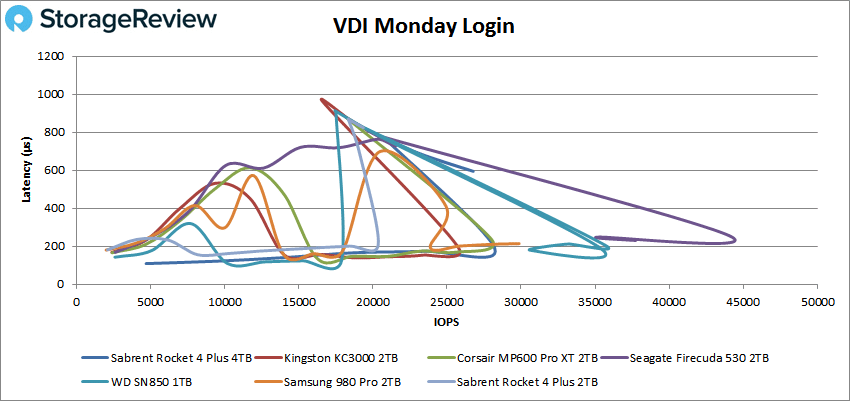 Conclusion
Sabrent's updated Rocket 4 Plus is far more capable in its second iteration thanks to new controller firmware and Micron B47R memory. Our testing showed universally improved performance versus the original drive.
Testing highlights include 549K IOPS in 4K random read, 455K IOPS in 4K random write, 5.41GB/s in 64k sequential read, and 1.85GB/s in 64k sequential write. Other pros include its availability with a custom PlayStation 5-specific heatsink (which can be purchased separately for $20 and used with non-Sabrent drives) and its availability in capacities up to 4TB.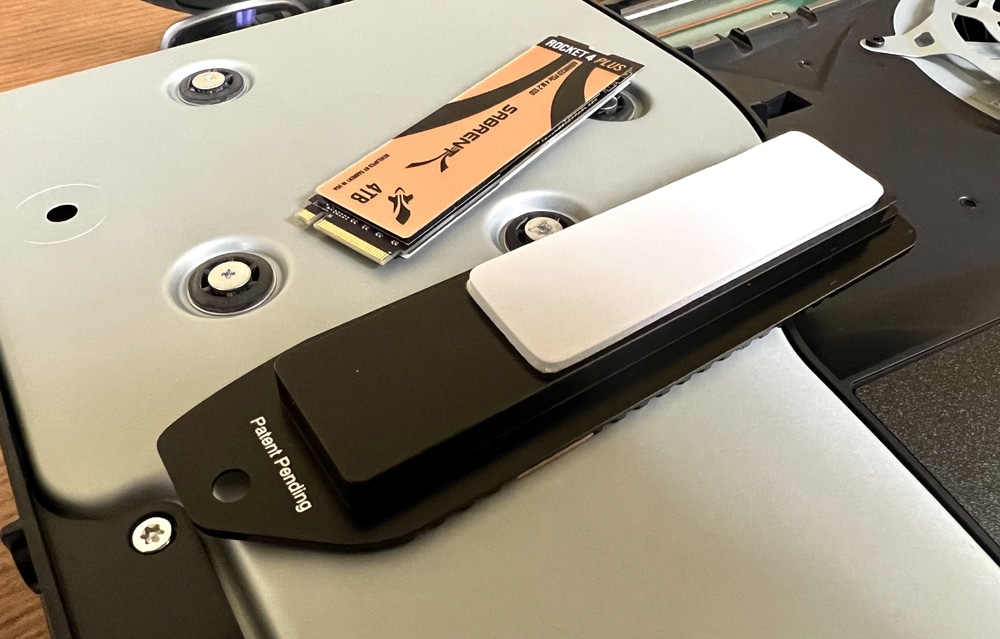 Though its performance is improved, the Rocket 4 Plus settled into the middle of the pack of Phison E18 drives; it was usually outpaced by the Kingston KC3000, the Seagate FireCuda 530, and the Corsair MP600 Pro XT. To its credit, the Rocket 4 Plus is less expensive than the Kingston and Seagate and isn't saddled with a massive heatsink like the Corsair.
Its toughest competition may be the Western Digital SN850, which is an outstanding performer and priced significantly under the Sabrent at the 2TB capacity. The WD SN850 and Samsung 980 Pro don't come in a 4TB model, which gives the Sabrent Rocket 4 Plus an edge for buyers needing more capacity in the M.2 form-factor.
Overall, the Rocket 4 Plus is a reasonable all-around Gen4 consumer SSD but it doesn't stand out in any particular way among Phison E18 drives. The direction Sabrent has gone through is to offer integrated solutions paired with their SSDs in platforms such as the Sony Playstation 5, which gives them reach beyond just the PC gaming arena.
Sabrent Rocket 4 Plus at Amazon
Engage with StorageReview
Newsletter | YouTube | Podcast iTunes/Spotify | Instagram | Twitter | Facebook | TikTok | RSS Feed